Park Shin-hye heads to school for You've Fallen For Me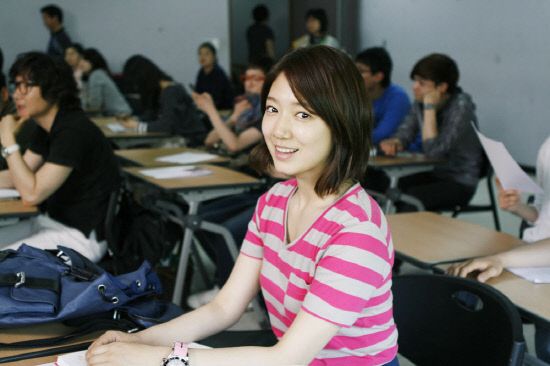 With the madness of all those dramas premiering and teasing and promo-ing these days, I'm not entirely sure that these are the first stills we've seen from Park Shin-hye's new drama, but I think they just might be. I also have a hard time figuring out what to call this drama, whether it's the old title Festival (which is the one that stuck in my head, unfortunately), the new one You've Fallen For Me (which is a little unwieldy to say), or the new English-language one Heartstrings.
Whatever you call it, trust that it'll attract a decent youth following with its two leads, Park and her You're Beautiful co-star/lovesick swain Jung Yong-hwa. At least that's the hope. There's also the "Dream High at college" premise to appeal to the fans of that show, as the characters pursue their dreams in the performing arts while, of course, also falling in love (and into love triangles) and all that drama good stuff.
The young cast also features Woori (Crime Squad) as a rival, and Jung's CN Blue bandmate Kang Min-hyuk (who was so cute but sadly not-so-great-with-the-painfully-awkward-acting in It's Okay, Daddy's Girl). Lee Hyun-jin was recently in the daily drama Good Day For the Wind to Blow, but I remember him more as the young gay student in Boy Meets Boy.
And for those of us who like our drama eye candy a little older (say, out of jailbait territory), there's Song Chang-eui as a famed musical director-producer, and Jung Seo-won (Secret Garden stuntman) as his Number 2.
As for these stills, which were filmed on May 16 at Seoul Fine Arts University: Park plays the role of Lee Kyu-won, for which she cut her hair, whose look is characterized as "comfortable and trendy." Also pretty and girlish, which is a nice change after seeing her dressed as a boy (albeit a fashion-forward idol one) for the bulk of her last drama. (Although, really: Nobody really thought she looked boyish, right?)
You've Fallen For Me is a Wednesday-Thursday drama on MBC, and will premiere on June 29.
Via Mk.co.kr
RELATED POSTS