You've Fallen For Me PD switch rumors denied
Rumors have been swirling about possible changes in the direction of You've Fallen For Me — namely, that PD Pyo Min-su is being replaced — which have been refuted by the production and Pyo, who have confirmed that he is not leaving.
That doesn't mean the rumors were entirely groundless: For the past few days, Pyo hasn't been seen on the set, setting off speculation that he'd leave the production as penance for low ratings. In actuality, it's because he is turning his focus away from directing for the immediate future so he can work on scripts.
PD Pyo, who directed episodes 1 through 4, acknowledged certain issues raised by the viewers, such as its "unfocused plot." He agreed that the plot about getting the big 100-year anniversary musical on its feet has pushed aside the four leads' own stories, but asserted that the following episodes would bring things back to them.
Deciding that the story needed some beefing up, he has been working with the scriptwriter, Lee Myung-sook, and left the directing to a different PD. The assurance also raises a few red flags, though, especially upon hearing that another writer has been brought onboard. Pyo said, "The three of us have been putting our heads together, and after I work with the new writer to make sure the storyline has been stabilized, I'll return to directing."
Pyo added, "There has been talk about me being a director who brings low viewership ratings, but You've Fallen For Me is a story with popular appeal. It would be nice if this gave me the opportunity to shed the nickname of 'low ratings director' in favor of 'popular appeal director.'"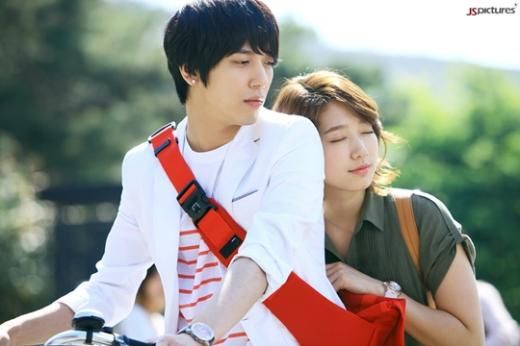 Hmm…I'm not entirely reassured by this reassurance. Does that mean the upcoming scripts were really that much of a mess? Has writer Lee run completely out of steam? Her last (and only other) drama credit was for 2007's Just Run, a comedy that starred Kim Ji-seok, so it's hard to make judgments based solely on her record.
To be honest, while You've Fallen For Me hasn't had the tightest plot till now, I've actually found that refreshing, rather than a glaring weakness — it's the breezy spirit that actually speaks to me. I don't want tons of anguish and angst; I appreciate the casual campus feel and the cute character interactions. I think the lightness of the directing, buoyed by the pretty scenery and color palette, help achieve the drama's fresh, youthful feel.
On the other hand, perhaps Pyo realized that the future scripts weren't going anywhere, and acted quickly to rectify the problem. He's worked on enough dramas (Full House, The World They Live In, Coffee House) to understand the need for proper conflict and direction, and if the writer was struggling, it's probably wise to bring in backup.
I agree that it has lacked focus, and would prefer more time spent on our feisty heroine Kyu-won (Park Shin-hye) than the mopey ballerina (So Yi-hyun). I vastly prefer Shin's (Jung Yong-hwa) interactions with Kyu-won over teacher lady, too (even though I appreciate seeing him going after love and experiencing disappointment, rather than being the standard cold assy hero). And while I'm here making requests, can we have tons more attention on the amusingly cocky director (Song Chang-eui) and scene-stealer Ki-young (Lee Hyun-jin)? Pretty please? Scenes always seem to crackle to life when they're onscreen.
Stronger story is a great thing; I just hope there isn't a huge, jarring change in future episodes. Because now that we're six episodes in, I think if you dislike the premise or the plot or the characters, you're probably going to keep disliking them. So, conversely, if you like it thus far, you probably don't want them to shake it up too much so that it loses whatever made it enjoyable in the first place.

PD Pyo Min-su
Via TV Report
RELATED POSTS