Girl K: Episode 1
Pretty badass. Girl K continues the recent trend of cable offerings that take advantage of their format to do what broadcast stations can't or won't do, and in this case it's by going dark, violent, and edgy. But it doesn't forsake emotion in the name of style, which is key to getting me invested into this character and premise; there's an emotional center here.
My one complaint about this show/TV movie is that it's too short — only three episodes? Dark, suspenseful, and get-your-blood-pumping action scenes, featuring a fierce, kickass teenage heroine? I'm all over it. It's too bad we'll only get such a brief glimpse of it.
SONG OF THE DAY
Kim Jung-tae – "잊어줘" (Forget) from the Girl K OST. Who knew the funnyman/scene-stealer/villain specialist could sing? [ Download ]
Audio clip: Adobe Flash Player (version 9 or above) is required to play this audio clip. Download the latest version here. You also need to have JavaScript enabled in your browser.

EPISODE 1 RECAP
Out of white light, a fuzzy dark silhouette comes into focus: a girl, dressed in school uniform, her shaky breathing audible as she clutches a string of beads in a bloody fist. She faces off against a scarred brute wielding a sledgehammer.
The girl demands, "Who is Jang Se-wook?" She's trembling with rage, not fear, and she screams, "Give me my mom!"
Jumping back a bit, we land in a more mundane setting: a high school, where the girl — CHA YEON-JIN (Han Groo), sporting a bloody lip — is being disciplined by a teacher for fighting again.
Hilariously, it turns out her opponent is not only in worse condition than her, but there are three of them… all boys… who are black belts in taekwondo. Ha!
Yeon-jin sets the teacher straight: The boys picked the fight, and cowardly threw a rock at her. She'd fought back after they'd mocked her — and her fish-restaurant-owner mother — for smelling like bad fish. But it's no use trying to reason with the prejudiced teacher, who says she's lying and tells her to beg forgiveness of the ringleader, who's the son of an important school supporter.
Despite speaking the truth, Yeon-jin looks around and sees everyone gossiping about her, and she's still the poor, sneered-upon outcast. The black belts smirk now that they're back in power, and she clenches her fist angrily…and throws the boys out of the room. Literally.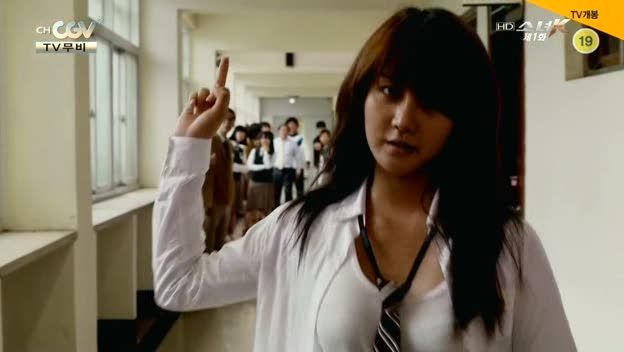 The teacher blusters that she's kicked out, but far from being cowed, Yeon-jin stares at him with such fierceness that he's unnerved into shutting up. She asks, "Did you ever even consider me a student?" As she saunters off, she flips everyone the finger, tossing out, "Goodbye, losers."
Bangkok. In some creepy-looking lab, a woman lies on the table, whimpering in pain and begging for mercy. But the mad scientists continue their twisted experiment, which involves a glass vial containing some sort of liquid concoction. Is that thing supposed to look so phallic?
At the fish restaurant, Mom (name Cha In-sook) watches the news with a frequent guest, ajusshi Sang-ho (Kim Jung-tae). The report is of a shooting, yet another in a recent string of them. (Right off the bat, the fact that Mom and daughter share the same surname indicates that a father was never in the picture. In Korea, kids take Dad's surname, and Mom keeps hers.)
Yeon-jin storms past them and heads to her room. In-sook sees that she's been fighting again and tries to soothe Yeon-jin's hurt, but her words have no effect.
At In-sook's rebuke about fighting, Yeon-jin reminds her that Mom was the one who taught her to fight, insisting despite Yeon-jin's protests. In-sook says that she taught her to defend herself, not to go out and fight.
Simmering with hurt and anger, Yeon-jin lashes out at Mom and vows not to live as pathetically as she does. Rather than get angry, In-sook sighs to herself, as though knowing she can't argue with her daughter on that score.
At the dock, a detective, CHOI TAE-YOUNG (Baek Do-bin), settles in for a long stakeout with an assistant/informant, Bong-gu. Tae-young is here to catch smugglers in the act of importing drugs from Thailand.
A group of teenagers walks by, and Bong-gu calls out to Yeon-jin, being vaguely acquainted with her. She ignores him and continues on with her group of delinquent buddies. They congratulate her on dropping out of school and present her with a gift, and she finds a long necklace, the string of metal beads that Yeon-jin was clutching in the opening scene.
The teens look over at sudden activity down the street, watching trucks being loaded with crates by Thai men. The boys get up and decide to cause trouble, operating on pure testosterone and racism. The leader tells the workers to go back to their country, ignoring Yeon-jin's urging to back off.
Things escalate when one of the Korean teens grabs a Thai man and screams in his face — and gets knifed in the arm. The other Thai workers join in and approach menacingly, and it becomes clear that the foolish boys picked the wrong fight. One teen barely misses getting a machete to the face when quick-thinking Yeon-jin uses her necklace as a whip to deflect the blade. She fights fiercely, probably better than anyone there, and takes down a few attackers.
Having dozed off mid-stakeout, Detective Tae-young wakes up to find the melee in full swing and steps in to break up the fight. Nice of him to jump in when the fight's already over. The gun he holds is a gas gun, and he hilariously mutters to himself nervously to go with the bluff. Even more amusing is how he overcompensates by blustering about all the criminals he's shot with his big, bad, bullet-shooting, totally-not-gas gun.
But as he's rambling, a new figure suddenly appears, carrying a metal briefcase and a totally real, bullet-shooting gun. He opens fire without warning, shooting them one by one. Holy crap, where did he come from? He's efficient and fast, like the Terminator. Which I suppose he is. It's like shooting fish in a barrel for him — no mercy, no discrimination between drug runner or scared teenager.
At the end of the ambush massacre, only Yeon-jin and cop Tae-young are left alive, because they'd managed to hide out of sight.
The Terminator turns his attention to the crate of smuggled munitions, paying particular attention to a vial containing a liquid, the same one we saw being prepared by the mad scientist. Honestly, could you make that tool look more phallic?
Just then, Terminator man hears a sound and finds that there's a third survivor, one of Yeon-jin's friends, Ho-dong. He's about to shoot him in the head — but Yeon-jin leaps out of the shadows and flings her metal rope around the assassin's neck. Holy crap! That girl's got balls the size of Jupiter.
The Terminator drops his pipe of chemical juice, and Ho-dong grabs it and beats the man with the shaft, earning the two teens enough time to run away. Ohh, that seems like a bad idea, kids. You don't bogart a man's contraband hot rod and expect to get away with it. (What? If they didn't want the jokes, they shouldn't have designed it to look that way!)
By the time not-so-intrepid cop Tae-young finally stops cowering and comes out of hiding, the ground is strewn with dead bodies. Another gunfight mystery in the string of recent shootings.
Both teenagers are shaking so hard they can barely talk straight, and Yeon-jin instructs Ho-dong to go home and not speak a word of this to anyone. She takes the mystery vial from him and shoves it aside, leaving it behind as the two split up.
The cops descend on the crime scene, and now that the danger's over, Tae-young's bravado is back in full force. He speculates to his chief that Jang Se-wook is behind this, and must have added black-market arms trade to his existing list of drug crimes.
Since Jang Se-wook is a big fish, the chief tells Tae-young — the worst detective in the division — to take a backseat. Tae-young protests, wanting to prove himself, and decides that he's still got a lead in pursuing the investigation: his informant Bong-gu, and that girl Yeon-jin.
Going home hasn't diminished Yeon-jin's panic, so she calls her friend Ho-dong and says she wants to go to the police. He agrees to meet her at the station, and she finds him outside when she arrives… with a bullet in the head.
Just then, she gets a phone call from home and answers, expecting Mom, only to get an unfamiliar voice on the line. The sinister-sounding man tells her that if she wants her Mom back alive, she'd better keep her mouth shut and do as he says: Terminator man wants his stolen tube back.
In-sook is dragged off by gangsters, not knowing what they want with her but recognizing that they're dragging her daughter into this somehow. Just then, friendly ajusshi Sung-ho comes upon the scene and asks what's going on, worriedly checking that In-sook is okay. And then, out of nowhere, the mild-mannered ajusshi busts out with some major fighting skills, taking down all the gangsters with ease, breaking arms and flipping bodies.
He finds a business card in one thug's wallet bearing the name of Mirae Construction. I'm not sure whether it's the name of the company or the situation that has him more spooked, but he insists that In-sook leave with him right away. She refuses, insisting Yeon-jin will be coming, so he knocks her out with a pressure point and carries her away.
Yeon-jin retraces her steps to find the discarded chemical tube where she dropped it, then rushes to her ransacked home, shouting for Mom. Instead she finds a message left by the kidnappers: a flyer for a seedy massage parlor, with a note scrawled to bring the stolen tube there.
Tae-young had arrived at Yeon-jin's home just moments before she did, and now he sneaks up on her and grabs her, demanding to know what her deal is. He assumes that she's involved, not believing her when she says she doesn't know anything.
She sobs and begs for him to save her mother, but he just cares about his case and tries to cuff her. Instead, he finds himself whirled around and cuffed to a table as Yeon-jin darts off. Ha.
Now for our baddies. These two look remarkably normal, like any white-collar executives, only we're tipped off to their illegal activities as the boss, Chairman Kwon Do-hwan, asks Manager Min about the status of the drugs. Ah, so that's what's inside the all-important vial.
Manager Min reports that the girl who took them is Cha In-sook's daughter, and it's clear that Mom's name means something to them. Furthermore, Manager Min reports that Yoo Sung-ho was also sighted, and assures her boss that she'll take care of it.
Sung-ho drives all night and arrives with In-sook at an isolated house in rural surroundings. She wakes up and tries to leave, but Sung-ho holds her back, warning her, "It's him." She knows instantly who he means, but her hysteria mounts as she insists on going back for Yeon-jin, saying that "he" can't find out about her daughter's existence or whereabouts. She cries, "If she dies, so do I!"
As a compromise, Sung-ho promises to bring her daughter to her, and orders her to stay put because no matter what, she can't go back out there and risk being tracked down.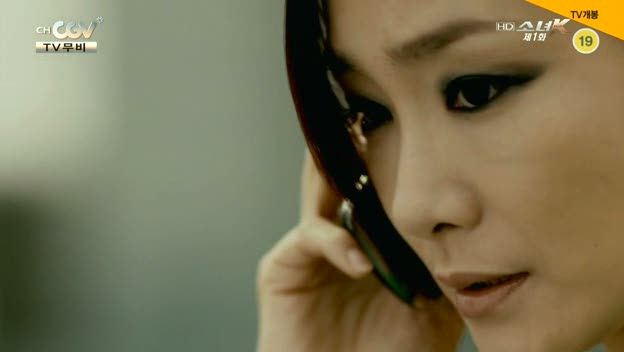 Manager Min calls our mysterious crime boss, Jang Se-wook, to check in on the situation. Although Jang is ruler of his own cabal, he works for the Chairman's organization and Manager Min reminds him he'd better take care of this job properly, because "the item" is important to Chairman Kwon.
Jang Se-wook has photos of the drug pickup gone awry, which include pictures of Yeon-jin fighting. He tells his underlings to find her.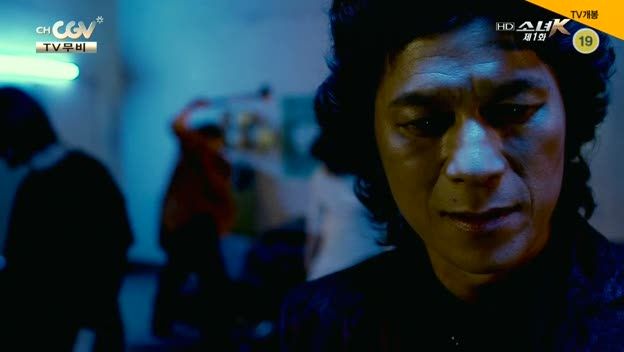 Three of Jang's Thai subcontractors arrive, terrified of him but also outraged at losing six of their own in the botched job. Jang isn't a man to tolerate mutiny, and he motions his henchmen to take care of them. They fight. Which is really more like slaughter.
Now, to fill in some backstory, we flash back to 17 years ago:
In-sook had just given birth to Yeon-jin. Sung-ho had worked under Chairman Kwon and finally stood up to his boss, protesting whatever it was the Chairman intended on doing to the baby. Chairman Kwon had told him, "It's my woman and my child."
It seems like an open secret that Sung-ho was in love with In-sook, despite her being his boss's woman. Sung-ho had been given orders to head to China, ostensibly on a mission but really just to get him out of the way.
Frustrated, Sung-ho had told Manager Min — then in her rookie years — that he didn't know he'd be doing this kind of work when he signed up, and that she should quit. He'd been the one to bring her into the organization, and now calls that his biggest mistake. It seems more one-sided love is in the equation, this time on her part, and she asks what's so great about In-sook. Sung-ho replies that he'd risk his life for her.
Sung-ho had grabbed In-sook, who'd resisted and been in denial about the Chairman. But Sung-ho had warned her that she'd be in danger, and Yeon-jin as well, and had to fight his own teammates to leave. Whatever organization this is, it's so tightly monitored that the members aren't allowed out of the building without approval.
Back in the present day:
Yeon-jin finds the erotic massage parlor and bursts in, going from room to room until she finds the manager, who assumes she's here for a job. She thrusts the drug vial at him, and his attitude changes: He plays along, then reaches for a switchblade to threaten her with it.
Yeon-jin is too wound up to pussyfoot around with a middle manager acting on a puffed-up ego, so she busts out her metal beads and gains the upper hand. She demands to know where Mom is, and the now-sniveling manager stutters that the kidnappers are on their way, and that the boss will know where Mom is. She thrusts the blade into his leg to get the name of the boss: Jang Se-wook.
Jang's mob arrives, and Yeon-jin grabs the tube and bails, jumping out of the second-story window just in time for the scarred leader to see her landing on a trash heap and running away.
It's not long before the men find her and surround her. She clutches her beads, preparing to fight — but thankfully doesn't have to, because Sung-ho pulls up in his truck and urges her in.
Yeon-jin's startled — meek, unassuming ajusshi, here? — but scrambles inside, dropping her cell phone in her getaway. But when they arrive at the house, Mom's not there. While she was waiting, In-sook had received a text from Yeon-jin's phone asking her to come get her.
In-sook arrives at the appointed location, smile fading when she sees Scarface instead of Yeon-jin. He gloats that her daughter will surely come looking for her now, won't she?
Racking their brains for a lead, Yeon-jin and Sung-ho go in search of the one person who might know something about Jang Se-wook: informant Bong-gu. He complains about the constant harassment, having just been pumped for info by detective Tae-young.
Operating on Bong-gu's tip, Tae-young arrives at an abandoned warehouse as minions drag In-sook in, and he calls for backup. She is brought before Jang Se-wook, who lords over his clan in brocade and eyeliner like a glam-loving vampire. Make that a Scripture-spouting vampire, who reads from the Bible and carries out crimes with no sense of irony. In fact, he uses his twisted sense of logic to explain how religion supported his beating of an old grandma. So: psychopath.
Also on the move is Manager Min, who doesn't seem to trust Jang Se-wook to get this done on his own. She directs her own team of agents.
Sung-ho pulls up to the warehouse and intends to go in alone, but hot-headed Yeon-jin jumps out of the car before he can stop her. She runs ahead, and Sung-ho chases after her. He's interrupted by Tae-young, who tries to apprehend him at gunpoint and demands to know Jang Se-wook's whereabouts. Too bad for the bumbling cop, Sung-ho easily disarms him and cuffs him to the railing. Ha!
Minions arrive on the scene to challenge Sung-ho, but ajusshi has mad fighting skills and coldly takes them down. (Tae-young cowers and tries to become invisible.)
Elsewhere in the complex, Scarface and two minions move out. The two are easily neutralized by Yeon-jin, who staggers into view to confront Scarface. Now we're back at the scene that opened this movie as she screams for her mother.
Scarface tells her Mom's fine — "except a couple places I raised my hand to" — nor will he kill her ("I'll just break a few places").
Yeon-jin vows to kill him and charges, her chain flailing. But her blows are ineffectual against his bulk, and he lands a solid blow to her gut with his sledgehammer. She goes down gasping.
She comes back, and while he's got mass and power, she's nimble and dodges every blow. She lands a few kicks on him that send him reeling, but ultimately he's too strong for her and grabs her by the throat, then kicks her in the gut.
She's pretty injured, and he raises his sledgehammer for the deathblow — and then gets kicked aside by Sung-ho.
Now this is a more even fight, and the two men go at it, allowing Yeon-jin to stagger onward. Sung-ho dispatches the guy quickly, moving so fast that Scarface doesn't even have a chance to react before he's stabbed a half-dozen times by his own knife.
Yeon-jin's barely hanging in there by the time she makes it to the inner sanctum, where she sees Mom and blindly charges ahead. That makes her an easy target for the two minions standing watch, who take her down with their blades.
Jang Se-wook asks for the item, and she produces the vial, which he takes.
Mom begs Jang Se-wook to set Yeon-jin free now that he has everything he wants. His men step back, so Mom takes it as tacit approval, and gathers her daughter to take her away.
But no, it's not approval. Jang approaches silently from behind, and stabs Mom right through the core.
Yeon-jin doesn't realize right away what's happened, until she looks down and sees the sword sticking out of her mother's chest. Jang Se-wook quotes Scripture while Yeon-jin sobs, and Mom uses her last breath to tell her not to worry, that Mom loves her, and that she'll always be with her.
Jang turns to leave — Yeon-jin's free to go, sans Mom — but she screams after him furiously. Wordlessly he turns back, pulls out a gun, and shoots Yeon-jin in the gut. Without batting an eye.
Bleeding and fading, Yeon-jing gasps on the ground, reaching out for Mom's hand. The world grows dark, and she falls unconscious.
Manager Min arrives with her team, and sees the two bodies prone on the ground, standing over them with a stoic expression. Sung-ho arrives moments later, face twisting in grief to see mother and daughter lying in their own blood.
But all's not lost, because as the camera pans over, it catches the briefest flicker of life in her fingers.

COMMENTS
Girl K isn't perfect, but it accomplishes what it sets out to do: It creates a fierce heroine who develops quite a lot over the course of one hour, establishes a stylish and dark ambiance, and throws in a sharp edge with its violence and action. I'm not a big fan of violence purely for violence's sake, but when there's a good narrative reason for it, I can appreciate some blood and gore. And there's certainly plenty of it. But I also appreciate that the producers seem to realize that there's danger in overdoing the action — lest it seem repetitive — so they also mix it up a little. For instance, there's one scene where the action is played offscreen, providing some comic elements to lighten the moment.
If regular dramas are sanitized, romanticized representations of life, then Girl K goes the other way. It's definitely stylized — dark shadows, stark lighting, saturated colors — and it's hardly realistic, but I enjoy hearing people talk like real people, by which I mean mumbling, fighting, swearing. (And not the gentle swears of network stuff, but the hard stuff.)
I love things with strong moods, and this certainly has that. It's a little gritty — not as gritty as, say, Ajusshi or The Chaser, but more so than we usually see on television. Definitely the opposite of slick, glossy trendies — of which I am also a fan. It's just nice to have range.
Lead actress Han Groo has been widely praised for her debut role, and I'd say it's deserved. She reminds me of Im Joo-eun in Hon, actually; they were both fresh faces and new to acting, but have a compelling rawness and natural style that really works with their characters.
It won't be till the next episode/installment that we get into the meat of the secret organization, so it remains to be seen how they play out that storyline. I wasn't totally keen on the drug/mad scientist angle, but as a plot device it gets our story to where it needs to be, and puts Yeon-jin on the warpath. And she's so compelling as this pint-sized ball of rage that I'm willing to go with it, just to see her develop.
Yeon-jin has an appealing complexity to her character and manages to show vulnerability, hurt, insecurity, fear, and toughness, which makes her a pretty awesome heroine. Girl K has elements of the surreal, such as when it deals with things like special drugs and secret shadow organizations, but when it gets into Yeon-jin's psyche, it's gritty and real. It's like Veronica Mars crossed with Sydney Bristow — how can she not be awesome?
In fact, it's for this reason that I'm bummed this isn't a longer show, because there are so many really intriguing aspects of this girl being trained to be a killer, and then juggling high school, which we'll see in the next segment. That's a series premise right there. Well, I'll just have to enjoy the three episodes we get.
RELATED POSTS
Tags: Baek Do-bin, cable programs, featured, first episodes, Girl K, Han Groo, Kim Jung-tae, Park Hyo-joo