Jang Geun-seok as Kim Haneul's pet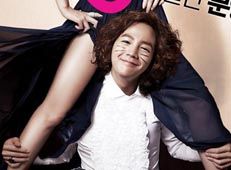 How cute is this official promo poster for You're My Pet? My first reaction was to Awww at the cuteness… and my second was to belatedly realize that things are looking… a little… risqué there. Rawr. In more ways than one.
I feel like a broken record about this movie, so here's the nutshell version of the plot: Kim Haneul is a successful careerwoman who's unlucky in love. She encounters Jang Geun-seok, and decides to take him in as her pet-friend-housemate. Romance develops.
The movie, based on a Japanese manga/drama, also has a projected release date and is now planning to be in theaters in November.
Also: I knew Jang Geun-seok was a cat man! Everything about his look is admittedly sort of awful (unruly curls, frilly shirt, cuffed jeans), but somehow he just looks adorable despite it all.
Via E Daily
RELATED POSTS
Tags: Jang Geun-seok, Kim Haneul