Flower Boy Ramyun Shop posters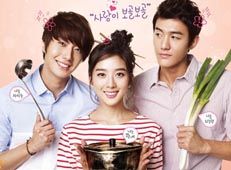 Now those are five words that seem randomly thrown together. Flower. Boy. Ramyun. Shop. Posters. What next, a drama about Pink Ice Horse Train Monsters?
Silliness aside, this drama looks adorable. Bubblegum-poppy, cotton-candy, pink-hearts-and-ponies cute. I know I know, don't judge a book a cover lest ye be judged, or something like that, but I can't help really, really wanting Flower Boy Ramyun Shop to be a winner. And not just because I'm thinking three years is a long time to see Jung Il-woo shine as a lead again.
The drama premieres on October 31 on tvN. Just in time to share in the sweetness with all your Halloween candy. Assuming it lasts that long.
Via Mk.co.kr
RELATED POSTS
Tags: Flower Boy Ramyun Shop, Jung Il-woo, Lee Chung-ah, Lee Ki-woo