Flower Boy Ramyun Shop's press conference
Yum yum yum.
The cast of tvN's new Flower Boy Ramyun Shop showed up for their drama's production press conference on October 27 at Seoul's CGV theater, and they're all looking adorable. And while lead actress Lee Chung-ah is looking fresh and flirty, I can tell you she's not the one(s) I'm looking at.
Why hellooooo there, Jung Il-woo! I love that he's playing the youngest role he has in years, while Lee Ki-woo just got out of the army, and yet they look the same age. Even if their characters — the Ramyun Princes? We need a nickname, stat — have got to be about a decade apart.
As you probably know by now, the drama is a romantic comedy centered around a ramyun shop: The heroine runs it, a talented chef cooks at it, and a high school chaebol owns it. On top of that, a staff of young pretty boys is brought in to work at it. It's Coffee Prince-esque in setup, except with a different configuration of the main love triangle. I've seen enough boss-assistant romances where the woman's always the assistant, so I'm looking forward to seeing one where the heroine's the noona to our hero. He may have his chaebol weight behind him, but she's got age privileges, and that means she's got a certain ability to boss him around some, too. I can't wait.
The drama is directed by Pyo Min-soo, who is a respected PD who hasn't really had a ratings hit in years but whose projects I find refreshing, each in their own way. He'd struck it big (huge, enormous) with young love in Full House, then went after slower, more thoughtful work for a while (Insoon is Pretty, The World They Live In), but has been coming back round to lighter, more comical material (Coffee House, You've Fallen For Me). I think he has a pretty good hand with youthful romance, so I'm hoping he brings out all the fun and zest that a premise like this has to offer.
Aside from the main trio, the drama also features a cast of new faces, starting with actress Ho-su, who appears to be making her drama debut in this project. The trio of actors posing together are Do Sang-woo, a 23-year-old model and vocalist; Song Jae-rim, a 26-year-old model and actor from movies Grand Prix and Actresses; and newbie Jeon Bong-hyun.
Pictured below them are Park Min-woo and Jo Yoon-woo, two more new faces with fresh resumés.
Flower Boy Ramyun Shop premieres on tvN on October 31 and airs on Mondays and Tuesdays.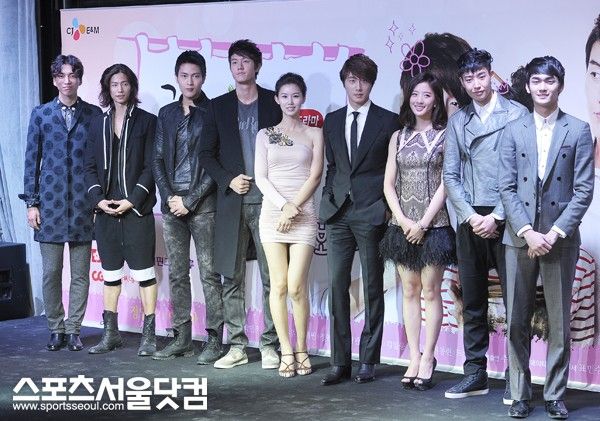 Via Osen
RELATED POSTS
Tags: Flower Boy Ramyun Shop, Jung Il-woo, Lee Chung-ah, Lee Ki-woo, press conferences