Han Ga-in joins Uhm Tae-woong in movie romance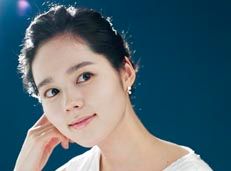 Han Ga-in, from last year's Bad Guy and also Mrs. Vampire Prosecutor (in real life, that is — no, the crime-investigation drama hasn't taken a suddenly romantic turn), is picking a movie for her next project, her first in seven years. It's called Introduction to Architecture, which you may recall recently cast Uhm Tae-woong as the male lead.
The two leads first meet in an Introduction to Architecture class at college — he's an architecture major, she's a music major — and fall in love. Some years later after the hero has become an architect, they reconnect when he takes on a new client, and who should walk in the door but his first love. Aw, I'm such a sap for these lovers-reunite-after-separation stories. There's something so sweet about the idea that nothing's really ever over, and that sometimes a love you thought was gone can come back in a natural, cyclical way.
Directing is Lee Yong-joo, who's exploring a different kind of story after writing and directing the 2009 horror flick Possessed. At least let's hope he is. I'd hate to settle in for a sentimental love story and then get surprised with ghosts and possessions.
Introduction to Architecture will begin shooting in December, and plans for a 2012 release.
Via Star News
RELATED POSTS
Tags: Han Ga-in, Uhm Tae-woong