Man of Honor releases poster, more stills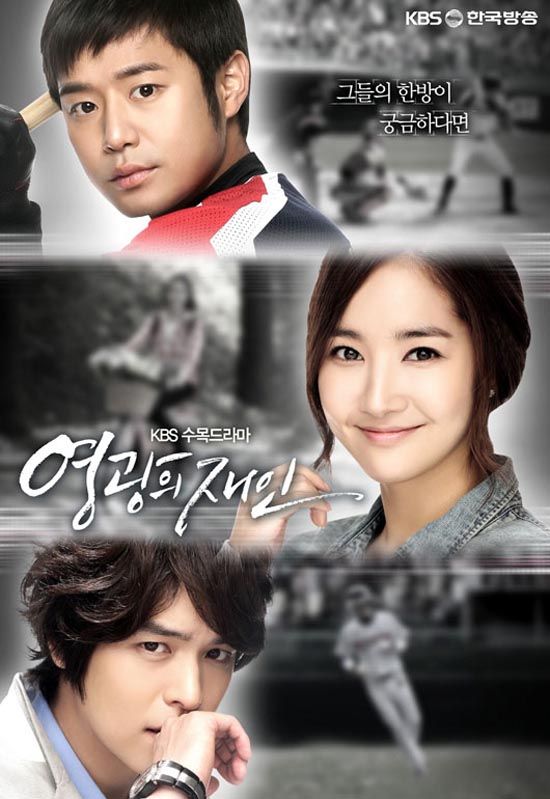 I'd known Man of Honor was about baseball, and that it was from the Baker King producers, but it wasn't till I took a good look at these latest stills that the story and conflict really sunk in.
And now that it has: Aw, man — it's a sports drama and a total underdog success story? I know those two things tend to go together, but again, it's one thing to know it intellectually, and another thing to put facts with faces. Cute, dejected, sad faces. Just look at that hang-dog, lonely look on Chun Jung-myung's face and try resisting pulling for him. It's a losing battle. He's Tak-gu, but in a uniform and with bigger fists.
The love triangle at the center revolves around Chun's hero character, his rival Lee Jang-woo (also a chaebol's son), and the bright and irrepressible heroine played by Park Min-young. I'd expect a few more romantic entanglements from other supporting characters (there's Lee Jin, for one, hanging out in the cast), but based on promo material, this looks to be a three-top drama.
There's also an extensive cast, and I'm betting there's quite a bit of parental angst thrown into the mix. The supporting actors include: Choi Myung-gil, who appears to have gone from scary bitchface mom in Miss Ripley to a warmer version here as the hero's mother; the always wonderful Lee Ki-young as the hero's noodle-shop-owning father; Sohn Chang-min, out of his soldier's uniform from last year's Road No. 1 to play a chaebol CEO; High Kick 3's patriarch Ahn Nae-sang as the heroine's father; hilarious character actress Jang Young-nam (Hello Ghost) as her mother; Choi Ran (she of most of the Hong Sisters dramas) as the heroine's "fascist-like" nurse supervisor; Kim Sung-oh, who can play creepy or dorky with equal skill; and Lee Moon-shik.
Man of Honor premieres on Wednesday on KBS.
Via Review Star
RELATED POSTS
Tags: Chun Jung-myung, Lee Jang-woo, Lee Jin, Man of Honor, Park Min-young