Gaksital in talks for an extension
Oy, an extension? I could sense this coming, but would really have preferred restraint on KBS's part. Gaksital (Bridal Mask) has been doing pretty well in the ratings, despite not being a runaway hit (it's been in solidly in the 15% range, compared to around 11% for Ghost and 8% for I Do, I Do), but I suppose it falls into the category of drama that's more buzzworthy than its numbers might suggest. And with people talking about the show and visibility rising, KBS is all set to extend it by four episodes, for a total of 28.
Currently the extension is yet unfinalized, as producers and broadcasters are still ironing out negotiations. The directors are reportedly considering it favorably, while the production company is handling talks with its actors; according to KBS CP Lee Gun-joon, the outlook is favorable and a final decision will be announced shortly.
I'm always in favor of keeping a drama shorter, and that hasn't changed with this case. I fear that tacking on more episodes will slow down the currently speedy pace, which would be a damn shame since the pace is so important to the vibe of the show. You can't have plodding action, or it just gets tedious.
I also sense much angst in the future for our conflicted protagonist Kang-to (hero seems a bit of a semantic stretch) (Joo-won) and his best-friend-turned-adversary Shunji (Park Ki-woong), which is probably going to break my heart; any more of that than absolutely necessary just prolongs that pain. The romantic angst between Kang-to and his first-love-turned-adversary Mok Dan (Jin Se-yeon) will probably also step up, as well as the somewhat-more-interesting connection between Kang-to and the Japanese-Korean spy Rie (Han Chae-ah)—but frankly that's just window dressing to the true conflict of friend versus friend, bro versus bro, bro-killer versus mom-killer's bro.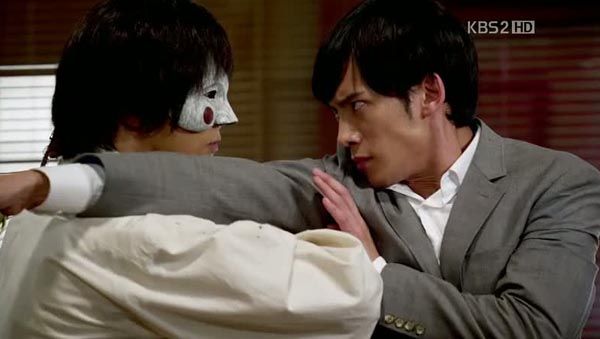 However, if the darned extension must happen, as I think it will, I will look at the glass as half-full and try to be optimistic. The reasons being:
I can actually see Gaksital accommodating four extra episodes, especially considering that we're still early in the game. There's plenty of time to draw out more story points in a way that doesn't (hopefully) drag out the ending unduly just to fill the added airtime (*knocks madly on wood*). And I do find the plot well-written, with a brisk pace that blazes through story; that speed works to its advantage in sweeping you into the action, but slows down enough to feel the contemplative moments.
Then there's the tidbit that Gaksital was originally conceived of as a 30-episode drama, though KBS chose to settle with 24 in the end. At least that means writers and producers were confident in having the material to sustain the running time.
The drama is set to air Episodes 9 and 10 this week, and has scripts completed up to Episode 14. CP Lee said, "Our drama has no last-minute scene-by-scene script pages. We won't have any of those in the future, either." (Ideally you want scripts to be released by writers whole, episode by episode. However, thanks to the mad time crunch of the live-shoot system, many dramas resort to shooting episodes piecemeal as writers churn out pages of the script in chunks, not whole scripts.)
I've never found an extension to be worth it, but would it be naive of me to hope that it will this time? It could happen, couldn't it? Don't burst my bubble.
RELATED POSTS
Tags: Gaksital