Kim Ji-hoon cast in comeback drama with Choi Jung-won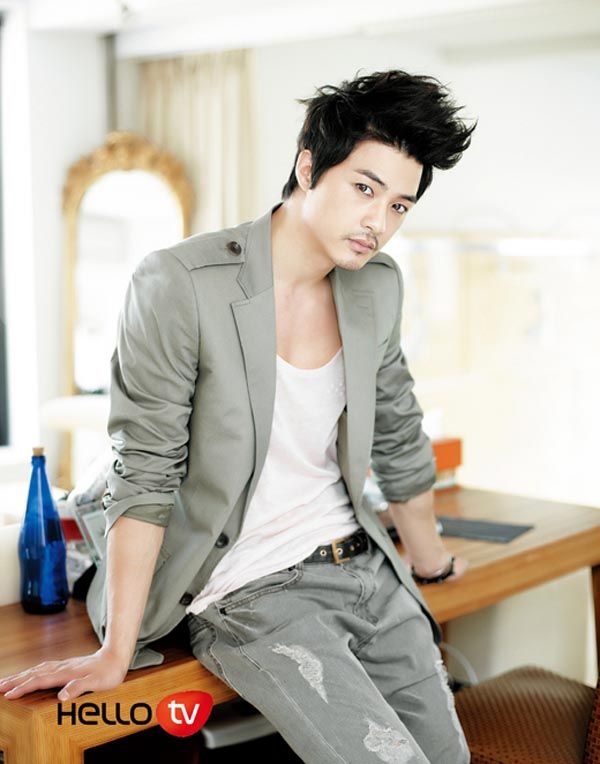 Good news: Kim Ji-hoon is out of the army and has a new drama!
Bad news: It's not a Joseon X-Files sequel. Sigh. Oh well, you can't have everything. (Still: The hope lives on…)
The project is a KBS weekend drama titled My Daughter So-young, and the production company has confirmed that Kim Ji-hoon will be reuniting with his Wish Upon a Star co-star Choi Jung-won. Good news: They were totally adorable together in that. Bad news: They're playing twins. Eek! Where will all that romantic chemistry go? We're just chock-full of halfway-filled glasses today.
Kim Ji-hoon's character is the peacemaker middleman between his sister and their father Chun Ho-jin, who seems to specialize in playing negligent fathers (he was the weak-willed two-timer dad in Will It Snow For Christmas, the weak-willed president and absentee dad in City Hunter, and the uber-strong-willed but violent police-chief dad in Gaksital). The main storyline of the show is the "simultaneously close and distant relationship between a father and daughter, and their reconciliation." Oof, that could be really good stuff; well-scripted father-daughter conflicts have a way of getting to me.

Choi Jung-won, Lee Sang-yoon
That means the main romantic pairing goes to Choi Jung-won and Lee Sang-yoon (The Duo). I guess there are no hard feelings when Lee Sang-yoon got un-cast from director Yoo's last drama Brain, even though Lee expressed disappointment in the late-game recasting hullaballoo last year.
Park Jung-ah (Smile Dong-hae) also joins the cast as Lee Sang-yoon's younger sister; I wonder if that means she'll be Kim Ji-hoon's romantic partner. Or maybe they'll just be sidekicks to their dating siblings. Somehow I doubt it; family dramas tend to love pairing up everyone and tying everything up in neat bows. Joining them is CN Blue idol Lee Jung-shin, though there isn't any info yet on his role.
This is a weekend family drama, which is generally a class of shows I skip. But I'm warming to the genre in spite of the long running times (usually 50+ episodes), because I've seen enough good ones to know they can be cute, funny, and warm when done right. This drama follows one current show that falls into that category, Kim Nam-joo's popular You're a Stroke of Good Luck / You Who Rolled In Unexpectedly, which is performing strongly.
Furthermore, My Daughter So-young has a solid production team onboard; it's written by So Hyun-kyung of 49 Days, Brilliant Legacy and Prosecutor Princess, which were pretty solidly written and had distinct crack-y traits. PD Yoo Hyun-ki of Brain and God of Study directs.
My Daughter So-young premieres on September 15.
Via My Daily
RELATED POSTS
Tags: Choi Jung-won, Kim Ji-hoon, Lee Sang-yoon, Park Jung-ah