Movie Review: Tazza: The High Rollers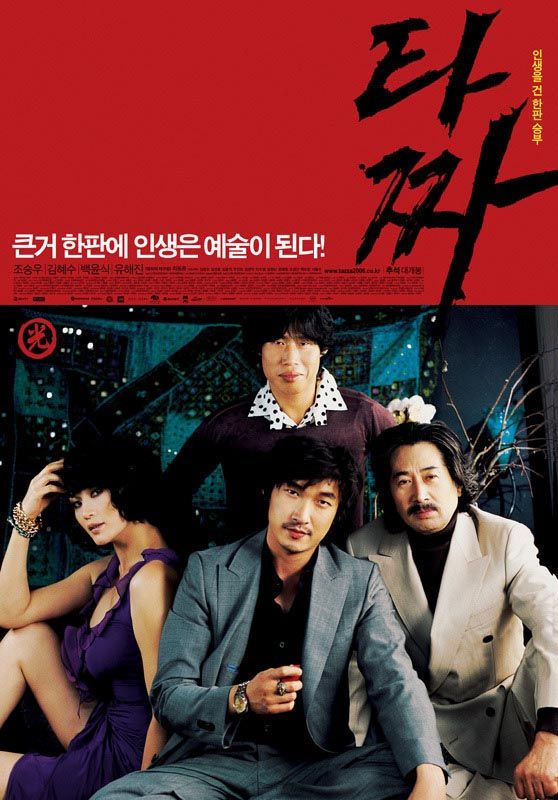 Although it would fail to reach the lofty numbers set by The Host in the summer, Tazza: The High Rollers would turn out to be the big film of the fall of 2006. Building upon the success of his heist film of 2004, The Big Swindle, director Choi Dong-hoon's Tazza returns to the world of con men and swindlers, but this time delves into a world of card-playing con artists and gamblers. Perhaps part of the draw came from the fact that the film is an adaptation of a popular comic book series, but the strong performances and slick direction probably also helped the film, which stumbles a little in the story and character development department because of adaptation distillation.
The film begins in media res as ace gambling cheat Kim Goni (Jo Seung-woo) and his rambling partner, Go Gwang-ryeol (Yoo Hae-jin), cleverly swindle some men out of their money and escape, searching for the notorious gambler-crime boss Agui (Kim Yoon-seok). Then the film flashes back to the past as we observe the gambling-obsessed Goni steal and lose all of his family's money in a high stakes card game, only to discover that he was actually swindled.
As Goni goes on a hunt for the con artist-gambler, Park Moo-seok (Kim Sang-ho), who cheated him of his family's money, Goni encounters Mister Pyeong (Baek Yoon-shik), a legendary card player (called a "tazza") who spares him some money. Goni, impressed by Pyeong, hounds him until he is made Pyeong's only disciple, promising to quit once he earns back his family's lost money. As Goni becomes a skilled cheat under Pyeong, he is introduced to the sexy Madame Jeong (Kim Hye-soo), herself an accomplished con artist who runs an illegal gambling parlor. And Goni finds himself torn between the promise he made to the man who taught him everything he knows and the exciting woman who wants him to use those skills for profit.
The film, and I suppose the original comic book, has quite a few good twists and turns, helping to keep it interesting despite occasionally feeling like the story is lumbering due to the film's lengthy 140 minute runtime. And unlike Choi's later film, The Thieves, there are fewer characters to deal with here allowing for deeper characterizations, particularly for Goni and Madame Jeong, although we're still not looking at more than two dimensions in either case. But with this dedicated character time, we are also treated to character development and the dramatic tension from the choices that Goni has to make, which help give the film more substance as we face competing values and see an actual theme.
However, Goni's arc doesn't really feel all that complete and there are many loose strands that are unresolved, including his relationship with gambling/cheating, his relationship with his family, his relationship with Pyeong, and his relationship with the coffee shop woman, Hwa-ran (Lee Soo-kyung), that he later meets. Likewise, Madame Jeong's story is interesting, but is struck with so immense a logic hole in the film's final twist that the twist doesn't seem justified and character stops making sense. Perhaps the reasoning was in the comic book and never made it into the film, but she actually is the most interesting and sympathetic character in the film due to her struggling with her affection for Goni, until the story logic caves in on itself.
One thing the film does well is that it mostly avoids the need to understand the hwatu-based card game being played. The game is presented as a relative of poker with a high hand winning and the film doesn't dwell in the mechanics of how to get there. Part of this is because the gamblers are all cheats and there would have to be a lot of explanation to go deeper into just how these gamblers are cheating and this is also what I find a bit too loose in the film as well.
Unlike a gambling film like Rounders, Tazza is not at all about the game or playing it well, but, like Choi's other crime films, Tazza is about the crafting and execution of a con. Unfortunately, because it is about cheating (enabled by the small palm-friendly size of the hwatu card), the game's rules suddenly lose all meaning and it's easy to wonder why some of the more thuggish characters even bother put up a legitimate-looking game when they are just going to beat the money out of the other person if they lose. Consequently, the actual fact that a game is being played almost seems inconsequential and dramatic tension is lost. Were the film better weaved around legitimate gambling, it might be easier to care about the fact that they are indeed playing a game.
On the other hand, the use of the card game does give the film a strong sense of character, both in adapting this world of criminals and swindlers that prey upon gambling thrill seekers in seedy dens. It helps transport the audience into an entirely different world, further helped by solid production values and art direction. Tazza is a good looking film and gives director Choi all the materials he needs to deliver some slick intrigue. And, even with all the issues in the story, Choi still manages to put an eye-catching polish on the film, with clean visual direction and excellent handling of the actors.
Kim Hye-soo is the standout for this film, partially because her character is given the most internal conflict to work with, pulled by her greed on one side and her attraction to Goni on the other, and her several moments of internal conflict and uncertainty contrast so well with the self-assured con artist without seeming out of character that her performance is striking. Baek Yoon-shik is predictably charismatic here as well and Yoo Hae-jin actually manages to inject quite a bit of pathos into his comic sidekick. All this makes Cho Seung-woo seem merely adequate in the leading role.
I couldn't say how well Tazza succeeds as an adaptation, but it's clear that much of the time spent on character was sacrificed to drive the plot in the film. In 2008, SBS would produce a television drama adaptation of Tazza as well and I'm curious if the greater space of a series would have helped make the characters more compelling, give more life to the actual card game aspect, and actually complete some character story arcs. The film seems almost rushed to get all the plot points out, despite its long runtime, that it often neglects selling those points, although it fortunately doesn't forget to at least cobble together some character development and loose themes.
I'm not convinced that Tazza is a particularly solid film. There is just too much in the story that doesn't fully execute to convince me wholeheartedly, but it's also not hard to see why it gained the popularity that it did back in 2006. Despite its storytelling weaknesses, Tazza is a slickly directed film with mostly strong performances that help breathe a lot of life into the abbreviated stories of its characters. In fact, if you don't pick up on the story logic wobbling and are able to let yourself get lost in the twisting plot, Tazza has the potential to even seem brilliant. But in many ways, the film is also like its characters: If you can actually spot the sleight of hand in the storytelling, it can take a lot of the fun out of the otherwise fun film. 7/10.
Tags: Baek Yoon-shik, featured, Jo Seung-woo, Kim Hye-soo, Kim Yoon-seok, Yoo Hae-jin