Movie Review: Oh! Brothers
2003 turned out to be banner year for Korean film, boasting a number of successful high profile films in Korea, some of which, like Memories of Murder, A Tale of Two Sisters and Old Boy, would gain cult followings internationally. The year also proved to be fertile ground for a number of comedies as well. While none of them gained the strong international acclaim of their dark and serious contemporaries, several comedies broke into the top ten of the year and a film called Oh! Brothers, a debut feature by Kim Yong-hwa, would be the second most successful comedy that year behind My Tutor Friend, with somewhere north of three million admissions.
Kim Yong-hwa went on to write and direct several popular films including 200 Pound Beauty, Take-Off, and the recent gorilla-playing-baseball film Mr. Go. Oh! Brothers demonstrates that making such populist entertainment was the director's interest from the start, crafting an accessible and rather safe film that could be described as the collision of the Academy Award-winning Rain Man and the Robin Williams vehicle Jack.
You see, Kang Sang-woo (Lee Jung-jae) is a sleazy photographer who makes a living by following and taking photos of wealthy people who are cheating on their spouses and blackmailing the cheaters to stay quiet. Already indebted to a corrupt cop, Captain Jung (Lee Moon-shik), things get worse when his estranged father passes away, leaving him a sizable debt to pay as next of kin. But Sang-woo learns that if he can locate his missing former stepmother, she will have to take over that debt.
The only lead he has for her whereabouts is via the half-brother he never knew he had, twelve-year-old Kang Bong-gu (Lee Beom-soo), who attends a school for special needs children. When he gets to the school he is shocked to find that his brother looks like a fully grown man because of his rare genetic condition progeria. Not succeeding in getting information about Bong-gu's mother, but with a doting diabetic man-child brother on hand, he gets an idea and puts his brother to work, having him pretend to be a gangster to intimidate debtors to collect for a loan shark. But even as he exploits his brother to pay off his own debts, he slowly becomes attached to the trusting child in a man's body.
Now, having read up on accelerated aging after watching Jack many years ago (which used a fictional disease), I know that progeria doesn't work the way that Oh! Brother depicts it. That's my one factual nitpick about the story. On the macro level, the film does resemble Rain Man and Jack, but is ultimately a very different film from either, being more of a straight mainstream commercial comedy and aims for a bit of slickness. And that keeps it from really seeming like a copycat of either film and more like an original idea, which is good.
But the execution is far from as elegant and slick as it intends on being, especially with so many different events happening in the story, many of which are superfluous and resulting in far too many plot strands that go nowhere. For example, there are simply too many characters in the story with Sang-woo's boss (Kwon Tae-won) being a character whose role could have easily been folded into Captain Jung's.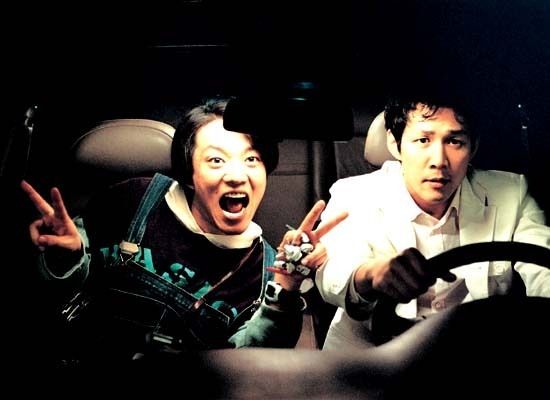 There are multiple debts and money issues for Sang-woo to deal with, when any one of them could have been made significantly troublesome for Sang-woo, letting us cut out a whole lot of unnecessary business in the plot. And then there's the whole business with quasi-love interest Eun-ha (Kim Jun-hee) that doesn't really net the story much aside from a couple small laughs.
Furthermore, the threads of the story don't really come together well, resulting in what feels like a rather unearned ending when it comes to Sang-woo's woes with Captain Jung and then what feels like an extended coda after that ending that resolves Sang-woo's issues with his father. And that dilution that comes with far too many poorly tied together plot threads results in a story that is barely memorable— even though some of the elements, like the delicate line that the naive Bong-gu has to walk as he's intimidating their targets for money, and the dramatic irony used in those moments, can be fairly amusing. There's also a subplot involving another estranged family, which is probably the only subplot that really works well in the film, although it suffers from not being well married to the main plot.
And if it weren't for the decent chemistry of the leads with each other, Oh! Brothers could have turned out to be a test of patience thanks to the mediocrity of the script. And while you can't credit either Lee for subtlety in their performances, they both manage the comic part of their partnership pretty well, even if Lee Beom-soo perhaps mugs a little too much and Lee Jung-jae veers to the edge of being unlikable at times. Director Kim handles the film fairly well considering it's his first feature with no distracting flourishes, but occasionally the attempts of slickness, especially around Sang-woo, fall flat, although that might also be because Lee Jung-jae isn't able to pull off the larger-than-life persona he needs at the top of the film.
Yet, despite the film's issues with having too many things going on in the story and not tying those plot threads together well, the film also manages to deliver on the promise of its premise, and that might explain why it managed to capture the audience that it did. Even though it was aiming for the mainstream, it also still worked some higher-concept humor and made it accessible, even if the film was still rather hit and miss with the gags, giving it a little more comedic complexity than some of its blunter peers.
Director Kim shows a talent for clean, character-centered direction, which is good, but he and Lee Jung-jae aren't fully able to deliver the Sang-woo they are telegraphing. On the other hand, Lee Jung-jae does work much better when his character becomes more grounded and has good chemistry with the goofy Lee Bem-soo, and that, combined with those moments where the story is focused on Sang-woo and Bong-gu working as debt collectors, are amusing enough to get even a critical viewer through the film.
And I suppose that's a winning enough combination to make it a hit, but it's understandable why this film was overshadowed by its high-profile peers in other genres. It simply doesn't execute some of its best ideas as well as it could. As such, I wouldn't say that Oh! Brothers is a film that would necessarily merit hunting down, but with appropriately tempered expectations, I could also imagine it being a modestly enjoyable viewing for most. 6/10.
Note: Both the Korean and Japanese DVDs of this film appear to be out of print and there do not appear to be any legal means of streaming or downloading this film at the moment.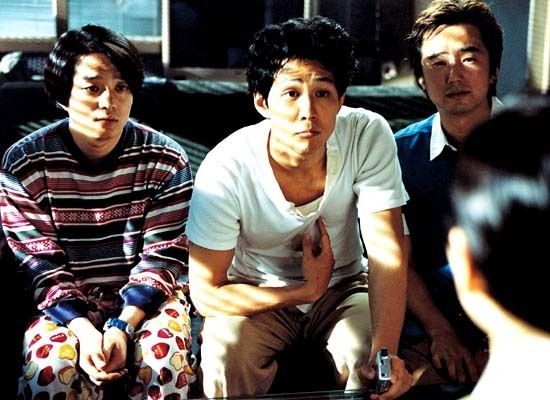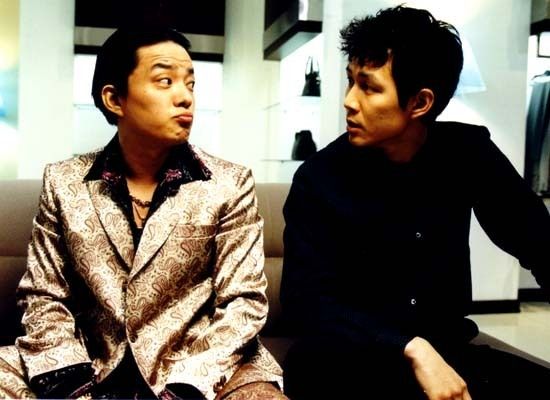 Tags: featured, Lee Beom-soo, Lee Jung-jae