Who Are You: A wrap-up chat
We may have not recapped every episode of tvN's ghost-cop-melodrama Who Are You on Dramabeans, but since a couple of us have been keeping current with the series, we thought we'd weigh in now that it's over.
I've got HeadsNo2 here with me as we chat through our feelings on the ghosts, the romance(s), the ending, and whatever else floats into our heads. (You can catch our Episode 1 recap if you need a refresher on the premise.) Note that we do talk freely about the ending, so know that this post is going to spoil you on the main plot points and twists if you aren't up to date with the series.
SONG OF THE DAY
Yoo Sung-eun – "사랑이 자라서" (Because love grows) from the Who Are You OST
[ Download ]
Audio clip: Adobe Flash Player (version 9 or above) is required to play this audio clip. Download the latest version here. You also need to have JavaScript enabled in your browser.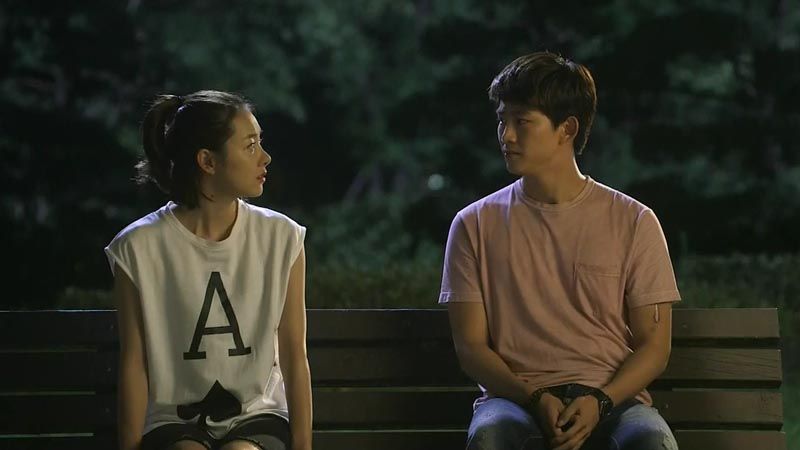 javabeans: So, tvN's Who Are You ended last week and while I saw it all, man has a week done a number on my memory because that show has already faded from my radar. The thing is, it was a pleasant watch and I had no big problems with it, but it was never very exciting.
HeadsNo2: It's a bit fresher in my memory since I finished the final two episodes yesterday, but yeah, it was a pleasant watch without any huge upsets and yet I still liked it enough to want to talk about it… but I don't really know what to say.
javabeans: I have no bad feelings about the show and it did exactly what it set out to do, and I think within the world of the show the story resolved satisfactorily (mostly). But… it was kind of a cold drama to watch. I wonder if it's just the story it was telling that made it that way—procedural, ghosties of the week, quick resolutions to the cases—or if it's because I could never get invested in either of the lead characters or actors.
HeadsNo2: Okay, I was just going to ask whether it was a story or acting issue that made it feel a little cold. I didn't feel totally detached while watching, but I wasn't glued to the screen either. (But I still don't think it was pure fluff. What was it, then?!)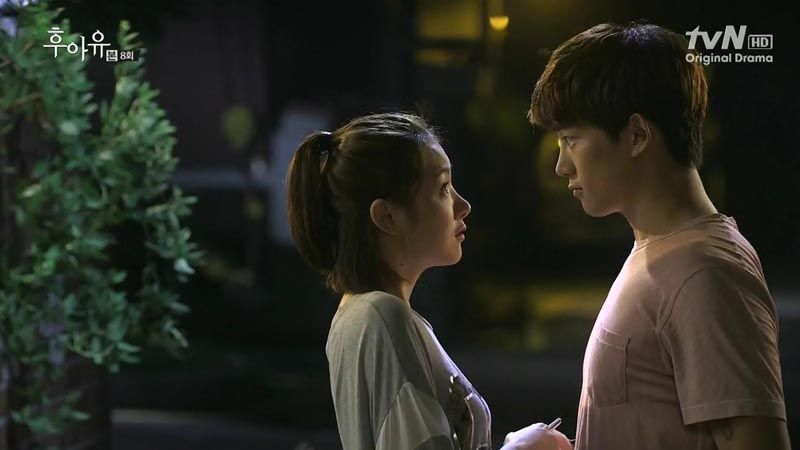 javabeans: Y'know, I bet the problem is a bit of everything. Story-wise, it had the requisite parts, right? You have the coma girl waking up after six years and she can't remember stuff, and she's trying to help ghosts move on to the hereafter, and she has a cute puppy-boy love interest, and a heartbroken dead fiancé guy, and all in all that's a lot of potential emotion. But then the show had this odd fixation on the cases of the week, like it was using its characters to bolster up the cases, and not the other way around.
HeadsNo2: The problem with procedurals and a case-of-the-week format is that they know it's temporary, we know it's temporary, so why so much of it when there's only sixteen episodes to tell a story?
javabeans: Exactly. Nobody cares, but you're propping up this illusion that we all care. I will say that the one time I did actually feel anything was when Kim Jae-wook was involved (as the lingering ghost who's trying to protect heroine girl Shi-on), which was both the thing the show did right and the thing I felt most disappointment about. That's a weird dichotomy, but there you go: He would look so tragic, especially in the days when she couldn't remember him, and I would want to cry for him. But the show really didn't make the most of having him there or all that wonderful pathos built into the setup.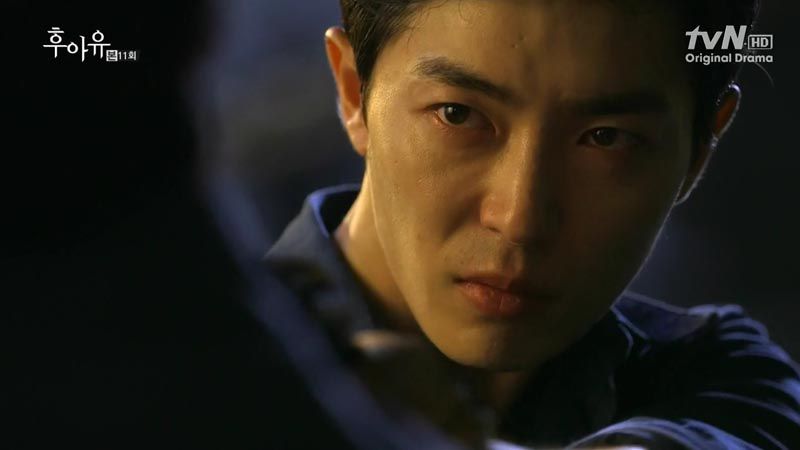 HeadsNo2: I was really excited for his character to have more to do, and the show definitely teased at that when he started earning points with the shaman (every ghost drama has a knowing shaman) so she'd convey messages to the heroine for him. I also liked that he couldn't talk to Shi-on (So Yi-hyun's character), which totally added that extra layer of tragedy. His whole character was a walking tragedy now that I think of it. In the good way, I mean. Good tragedy?
javabeans: Yes, his moments were the only time when I felt my emotions engaged in the show. And when we find out WHY he died, that whole scenario just felt so awful and sad and like a Greek tragedy in the way multiple things contributed to the death. Not just one bad guy doing one bad thing, but a series of details that added up (even Shi-on had a role, in having him take off his bulletproof vest before he got shot, for the utterly mundane reason of having him try on a new shirt).
HeadsNo2: Well, "died." Can we talk about that?
javabeans: Grarrrrrrrrughhhhhhhhhh.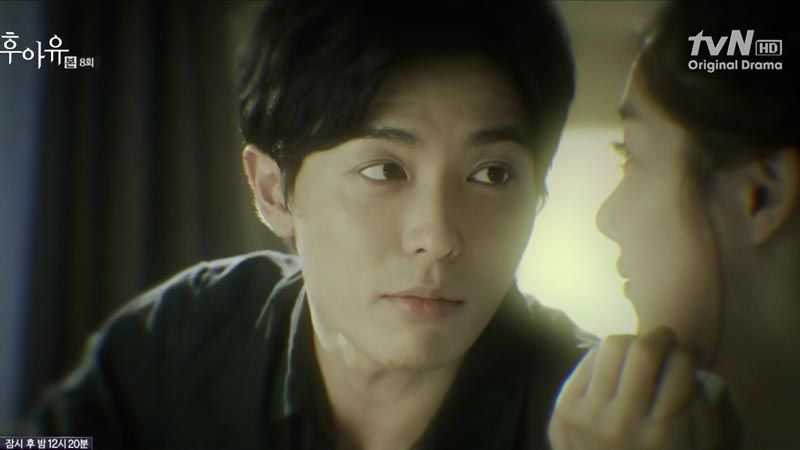 HeadsNo2: Okay, okay, so when that twist happened I thought, "Maybe this'll be a cool plot turn!" But I'm not sure if the premise on that was flawed or whether the ending kind of made that twist meaningless.
javabeans: I think a huge part of the "he didn't really die!" twist is that the reveal of his coma body seemed built in to just give us that Episode 14 cliffhanger (or whatever the episode number was). There was no dramatic effect to leaving him technically alive that couldn't have been achieved had he just died as we thought, except to make us think the show had Keyser Soze'd us for a minute. Only it hadn't.
HeadsNo2: Right, it actually would've been just as heartrending had he been dead, but that he was still holding on to the world of the living just for her.
javabeans: I knoooooooow. She didn't need his physical body to be there when she said goodbye! She could have moved on anyway, with just his ghost! Which is exactly what happened in that scene, only there was also a body next to the ghost, so you didn't know where to look and that was just awkward.
HeadsNo2: Oh, so awkward. Especially when his body flatlines and she's telling his body to wake up when his ghost was… standing right behind her.
javabeans: Like, I wanted to cry for the poignant moment but I was kind of confused instead. Were you shouting at her to look at the ghost, not the body? This is your last moment with him! Don't look at the shell who can't respond to you! Look at the ghost who's smiling at you and telling you goodbye!
HeadsNo2: Yes! The one you were just talking to! Why wouldn't she try convincing his spirit to stay?
javabeans: I think maybe, maybe, the one point that the he's-in-a-coma tangent could have added is that it gave Taecyeon his noble hero moment of stepping back and letting her choose. (Although… then the other guy dies so there's no choice anyway.) But this is where we go from story concerns to acting ones, because I could never believe their romance. And I say this really really liking Taecyeon and thinking he was adorable and did his job—I just… he's Song Seung-heon. There is a mental block there that he can't get past in becoming a character.
HeadsNo2: But he can act, so.
javabeans: Well, he's better, but is that maybe worse? That he's a better actor but still not credible conveying that emotion? Dunno. I just don't think they had chemistry. I was totally onboard with his character, like the fact that he falls for her first, and that he just shows up to take her to work every morning, and that he's the indefatigable puppy who's going to be there for her all the time. There's that built-in tension because even if you love Kim Jae-wook for her, Taec is the guy who's alive. That was all great stuff, but I couldn't engage. So then none of the angst really landed for me.
HeadsNo2: I really did love his character, and I did like how characters in general were handled. Even down to the silly PPL side characters like the other lost-and-found officers.
javabeans: The bumbling idiots? Yes, they were terrible as officers (who graduated you guys, seriously?) but cute as comic fodder.
HeadsNo2: To be fair, every officer in this show was terrible at being a police officer. Remember when the hero and heroine had to call cops to their cop retreat?
javabeans: OMG. You are cops… and you get in trouble so you call in reinforcement cops… to your gathering of cops. ARE YOU COPS OR AREN'T YOU COPS.
HeadsNo2: I think the show was positing that lost and found cops are like the mall cops of cops? I was a bit confused, but I ran with it. It was fun to have their little underdog ragtag group on screen.
javabeans: Right, they're the bottom of the cop ladder, in that Gun-woo (Taec) initially has this chip on his shoulder about being assigned to the cop boonies. But Gun-woo pretty easily transfers to the violent crimes unit, so it's not like they're merely security guards.
HeadsNo2: And all the units are interchangeable and in the same building, which still becomes an issue when Gun-woo and Shi-on are dating. He's like, "It's only a floor away!" but the final episode was all about how separated they were because he made the move to the violent crimes unit.
javabeans: LOL I know! Like they hadn't seen each other in daaaaaays.
HeadsNo2: I feel like I'm jumping around a ton, but speaking of that final episode, didn't it seem to go on for daaaaays?
javabeans: I feel like the show really ended when Kim Jae-wook went poof, and then they were like, Oh wait that's not our main story actually ha ha. There's this other couple.
HeadsNo2: I was waffling between being content with the happy ending or miffed that it was all filler, but I guess the only alternative would've been to lay on the tragedy. So happy = good?
javabeans: I liked the ending when I first saw it, but it's one of those where the longer you think about it, the less it fits together. Can we address the whole thing about her seeing ghosts, then not seeing ghosts, then Taec seeing ghosts? I felt pretty satisfied with the ending tonally, but this whole show is about Shi-on being able to see ghosts, and getting this paranormal power without any defined reason. Invisible hand of fate or what have you. Which is fine until you then try to do something else with the skill, like transfer it to a different person. Rules! Where are the rules?
HeadsNo2: When Taec started seeing ghosts at the end, I assumed the rule was that you'd see ghosts if you were in a coma. So anyone in a coma can see ghosts! Which kind of takes the special factor out of the heroine seeing ghosts, but then she stopped seeing ghosts, and then the shaman still saw ghosts as usual…
javabeans: The show seemed to think that's all the explanation it needed to provide. But that just flattens the whole premise out and makes the rest of the drama less special in retrospect.
HeadsNo2: I always wondered why only the shaman could see and hear ghosts while Shi-on could only see them. And then the whole thing with Gun-woo seeing ghosts came in and all I got was confused.
javabeans: Ending with Gun-woo seeing ghosts felt like a one-off joke, except nobody considered that the joke actually means something in this world—how does that logic continue past the fade-out? So now I'm sitting here wondering what happens next month, like if they become some sort of Moonlighting partnership, solving ghost-crimes together in between cutesy dates? And then suddenly everything turns into that joke.
HeadsNo2: Except now I'm confused about why Shi-on stopped seeing ghosts, because it seemed tied to her ability to see Kim Jae-wook's character. When he died (for REAL!), she stopped seeing ghosts. So were her abilities tied to the coma, or not?
javabeans: As in, was he her portal to the ghostworld? Don't you feel like this is the point where the writers get in your face and start waving their hands around, going, "It makes sense! Woo-OOO-ooo! Don't think about it anymore!"
HeadsNo2: Yes. I think this is that point. Buuuuut, wouldn't it have made more sense if she kept her ghost-seeing powers? Gah, why am I still wondering about all these details? I don't think they were supposed to matter this much.
javabeans: I don't think they were, but that's what happens when a show ignores its own continuity. Or just doesn't treat it as important. Because even though Who Are You was a show I didn't get too worked up over, in the end we're given a puzzle piece that doesn't fit, only it's the last one remaining in the box and what else are we supposed to do with it but try to make it fit? So we're just turning it this way and that, wondering what to make of it, like a monkey with a screwdriver.
HeadsNo2: And again, it's kind of that same conundrum in that I wasn't so lost in the show that it mattered all that much… but seeing that I want to study it, it must've mattered. I'm lost about how I feel with this show.
javabeans: I think it's because you create this show with paranormal elements, so there's a premise that exists outside of our reality and therefore we need rules to understand it. If it were a rom-com that didn't make sense we'd just move on and figure it was badly written. But if you go into a show like this, shouldn't you make sure the premise works?
HeadsNo2: I feel like the premise worked more or less before the ending, especially in the beginning when we were getting the case-of-the-week deal. I liked the little details of the cases, like how Shi-on saw that one ghost girl how her corpse was—either freezing cold in the ground or about to be cremated, etc. It made her ghost-seeing powers feel meaningful (kinda).
javabeans: When Kim Jae-wook was first revealed to be in a coma, I wondered if it was a pure fanservice issue—like we all loved him so much we wanted to believe there was more out there for him. And then they killed him anyway and I was like, huh, that's worse. Because you gave me a cookie and then took it away.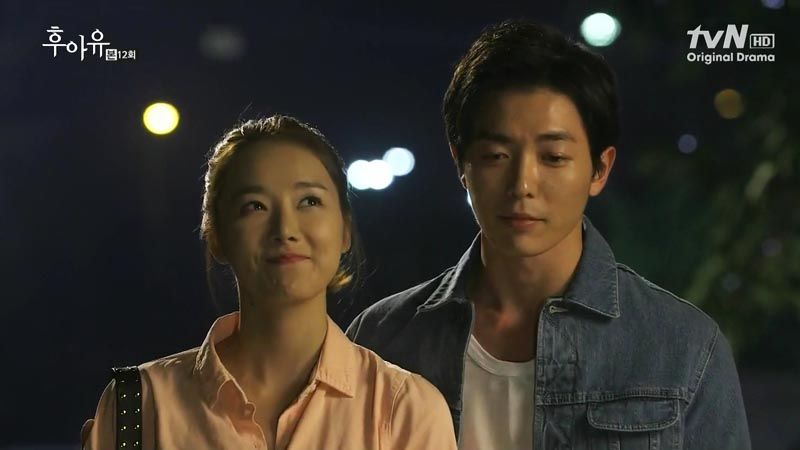 HeadsNo2: I know, it's like you teased at the possibility that he totally could come back to life since he's held on in a coma for this long! And then he didn't. Now that I think about it, there was one other little detail where he was concerned where I was (naturally) confused. Remember how the shaman kept warning him that he'd risk losing his immortal soul as we got closer to the end?
javabeans: OH NO HIS SOUL. And then, nevermind! Ha ha! Move along now.
HeadsNo2: I totally thought they were going to go somewhere with that.
javabeans: They really should have! That was such a great point in Arang and the Magistrate, where death was better than non-existence. And in that world it meant something to lose your existence retroactively, even if you were already dead.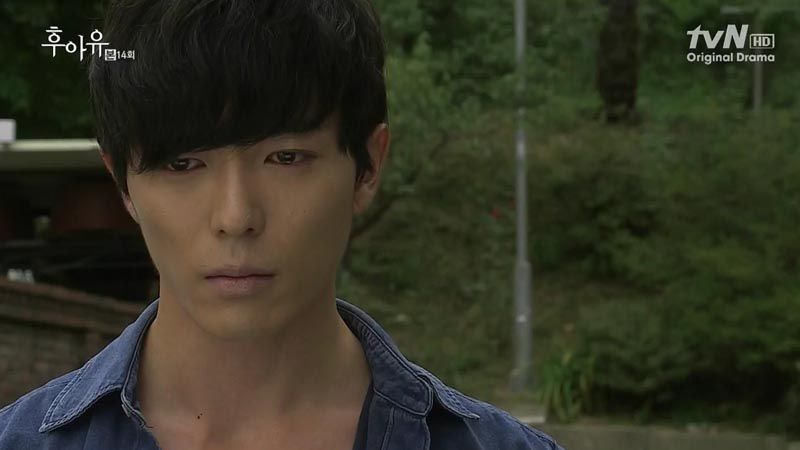 HeadsNo2: Right, like they were going to introduce some sort of risk to his character, or something. Something.
javabeans: I really thought they had built a more complex mythology when they introduced that point, and it was interesting. And then the shaman sort of let it slide.
HeadsNo2: Kim Jae-wook's character was definitely a positive for me, but I wish they had done more with him. I guess the premise wasn't in his favor on that one though, considering only one person could see and hear him. I still don't think it was a flawed premise though, just… maybe not quite fully realized?
javabeans: No, it wasn't a flawed premise through and through. I think they took it in places that didn't work with the established rules, though.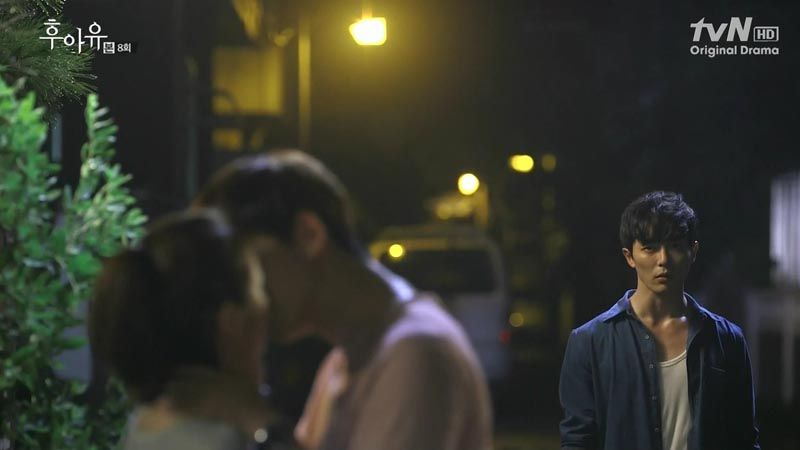 HeadsNo2: Which does make me think that the coma-reveal for his character was fanservice, but if so, it was really mean fanservice! Who Are You giveth and Who Are You taketh away.
javabeans: I did really like the point where his ghost gets all jealous of Taec—that was a nice development. And when Taec then gets badly hurt and Kim Jae-wook is the only one who can sorta-help, and he hesitates and you wonder if he's going to let the hero die out of jealousy… I wish they did more with beats like that.
HeadsNo2: I know! Because when they had those beats, they were great. Same goes for Taec's jealousy/inferiority complex when it came to Kim Jae-wook, which is definitely another reason why I liked Taec's character. Even if the final choice (him or Kim Jae-wook) was manufactured, he was never the sort of hero to act cold or keep secrets, so he let her choose. Even if it wasn't a choice. Details, details.
javabeans: I was a fan of his character, which is why it was disappointing to me that the romance didn't ring true.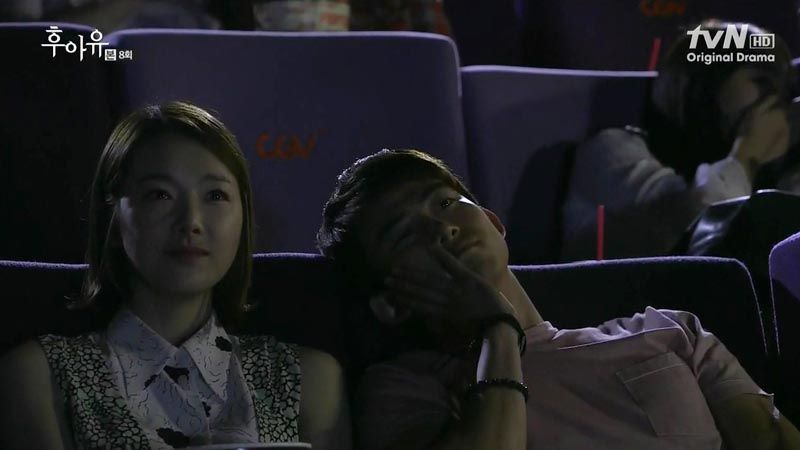 HeadsNo2: He tried so hard to sell it, though. Like A+ for effort. And I am glad So Yi-hyun took on a role that didn't require her to be a stone-cold bitch, though I'm not sure if she was super ready for it.
javabeans: She's one of those actresses who is technically fine but for whom I feel little. I don't dislike her and she's not actively bad—she does what is needed. But maybe she's to blame for the main romance falling short, because I could buy that Taec had a crush on his noona. I just didn't believe she reciprocated. She doesn't have that extra layer to draw me in to her feelings.
HeadsNo2: Whereas I feel like Taec has the raw talent to get to that point, he's just a bit green still.
javabeans: Oh I dunno about that… Ha. He has the charisma and some skills but…
HeadsNo2: Okay okay, so he'll never be great, but he's so adorable. I just can't speak badly of him.
javabeans: He's super adorable, especially in roles like this (and in Cinderella's Sister) where he gets to be adoring and dorky. But I can't see him carrying stronger, more emotionally genuine characters, at least not yet.
HeadsNo2: Kim Jae-wook needs to be in more things though. Stat.
javabeans: How bummed were you when he took on this second lead role, and then wasn't even allowed to speak for most of it? COME ON.
HeadsNo2: Short answer: Really, really bummed. Long answer: He did so much with silence though. I was kind of amazed. I think other actors could have sleep-walked through this kind of role, but Kim Jae-wook was able to convey such sadness through his eyes. I sound all adoring, but gah. He got to me sometimes/all the time.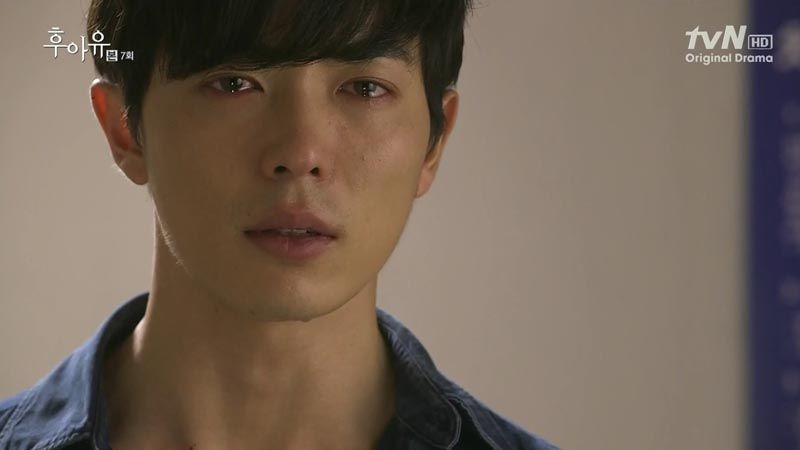 javabeans: Basically he needs to do another drama asap, and it should be a hero's role, and he should get a happy ending. And show his abs. You don't go to army and not do the abs!
HeadsNo2: BUT HE DID. He did. *cries*
javabeans: Okay, MORE abs. Is that asking for too much?
HeadsNo2: When is asking for more abs ever too much?
javabeans: Never, if you know which side your bread is buttered.
HeadsNo2: So true. So basically, if Kim Jae-wook ever reads this: Please do more things. All the things. Love, us.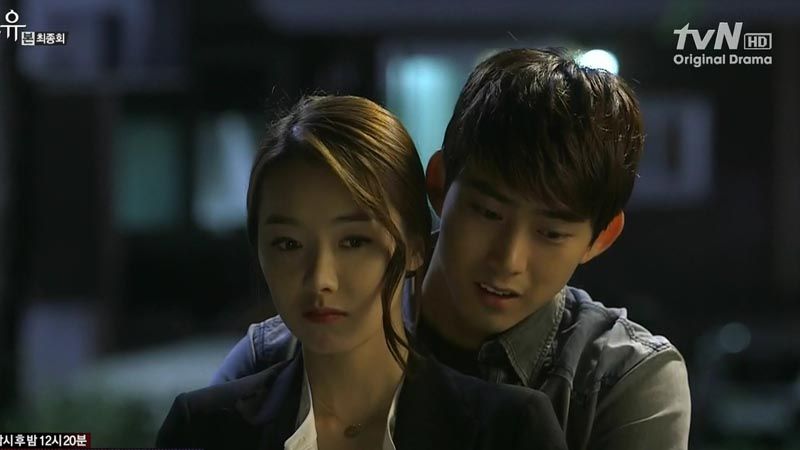 RELATED POSTS
Tags: conversation post, featured, Kim Jae-wook, So Yi-hyun, Taecyeon, Who Are You (tvN)