Full Sun: Episode 6
Hunting down answers to get to the truth is never easy, especially if you aren't prepared for the ones that await you. But that's what our heroine needs to do if she wants to prove to everyone, including herself, that she's more than a naive girl born with a silver spoon in her mouth. So while the enemy is much stronger and more terrible than she could ever imagine, it's up to her to become far stronger if she wants to prevent things from being taken away from her.
Ratings remained steady for Full Sun, and Episode 4 had a tiny tick upwards with 3.6%.
SONG OF THE DAY
V.O.S. – "죄 (Sin)" for the OST [ Download ]
Audio clip: Adobe Flash Player (version 9 or above) is required to play this audio clip. Download the latest version here. You also need to have JavaScript enabled in your browser.
EPISODE 6 RECAP
Se-ro catches Young-won in his arms, then turns on his heel out of the office. Young-won chases after him, still demanding answers, and Se-ro says he suspects her father is recycling dirty money. Ooh, why are you protecting her from the truth?
Anybody would be a fool not to figure out as much, Se-ro argues, and now he knows that Young-won cannot beat her father. She must fight her damndest if she wants answers from her father—it's not like Daddy Han would have his precious daughter killed, after all.
But Se-ro points out that Young-won lacks that courage, so she can go ahead and keep living a life where she sees, hears, and speaks no evil like a fool.
Kang-jae rushes outside after receiving a panicked call from Jae-in, who cries that Se-ro knows the truth. She blames her guilty conscience for not catching Se-ro when she could, to which Kang-jae awkwardly stammers that it was probably love that held her back.
He bends down to wipe her tears and says they can't have a conscience in their line of work. Plus, she wouldn't be crying about Se-ro in front of him right now if she did.
Se-ro arranges a meeting with Daddy Han and Young-won about reconsidering the jewelry supplier offer with FL Gemstones (the sham gemstone dealer). Even though Young-won is willing to trust Se-ro's opinion, Daddy Han is far more skeptical about all the eerie coincidences that make the deal seem too good to be true.
Se-ro has documents to back up his claims, but Daddy Han says the only paper he believes in is money. Daddy Han simply wants his daughter to run a company she's proud of (gasp, did you… listen to your daughter?), but Se-ro challenges that statement: is it problematic if the company does well?
Then Se-ro drops the bomb about Madam Baek's power-hungry intentions to take over Belle la Fair for herself and that he and Young-won heard it in person. Se-ro ignores Young-won's urging to stop, but this tidbit doesn't change Daddy Han's mind, and he declares that no one in this family will approve of the deal.
Daddy Han gets up at that, and Young-won stops Se-ro from going after him, upset that he completely ignored her request to keep this news from her father. She asks if he's toying with her family now, but Se-ro believes he's doing his best to help her and intends to see it through.
Then he stands in front of Daddy Han's car, which screeches to an abrupt stop, and confronts Daddy Han with his spoken accusations interjected with his thoughts: "You killed Gong Woo-jin… Aren't you sorry to your daughter? Aren't you… sorry to me?!"
That effectively gets a rise out of Daddy Han, and Se-ro charges on to stand up for Young-won, saying that she's no more than a scarecrow in her own company where things are simply taken away from her. He's sure that's not what Daddy Han wants for his little girl, "so please, as her father… protect your daughter!"
Then Se-ro apologizes for his rudeness with a deep bow. At first I thought Se-ro was just projecting his anger, but now I'm also thinking that he's giving the chairman a fair warning to protect what he holds most dear.
That latter intention becomes much clearer when Se-ro meets with Kang-jae about their next steps. When Kang-jae asks if Se-ro is okay with conning an innocent woman, Se-ro replies that Young-won is simply Daddy Han's daughter in his eyes.
Madam Baek is informed of recent developments and cries that she never gets anything the easy way. Oh boo hoo, manipulative witch. She can't hide her alarm however when Daddy Han instructs his son to prepare to study overseas. No, not Haitai!
Young-joon wonders if this means Mom has been found out, but he gets upset when she says Young-won ratted her out. "Is noona someone to do something like that?" Aw, it's endearing that you would take your noona's side in this.
After Daddy Han learns that his name has appeared on a blacklist of offshore companies, he calls Secretary Ahn saying that he still feels uneasy about Se-ro. He's too lazy to make the call, so they'll make Se-ro come to them.
Which means they target poor Grandma, who's confused as to why she's suddenly getting evicted. She grows worried that Se-ro won't be able to find her should he ever want to return, and then breaks down crying. Oh, Grandma.
The douchey move does the trick to provoke Se-ro, and Kang-jae has to physically hold him back and shake him to come to his senses. There's nothing Se-ro can do and he'll only expose himself this way, Kang-jae reminds him.
Kang-jae concedes that he was short-sighted in how he handled Daddy Han, but he vows to take care of Se-ro's grandmother. "You went through a lot," Kang-jae acknowledges, "but your opponent is stronger and more despicable."
Se-ro cries angry tears at this truth, and once he's calmed down, he asks if they can access Woo-jin's email, determined to find any more dirt on Daddy Han. There's an ambitious glint in his eyes as Se-ro adds that Young-won deserves to know how her lover died and just how horrible her father is.
Young drops by Grandma's house and sighs deeply to find it ransacked again. Grandma asks her to read a letter meant for Se-ro, and we cut away to Daddy Han lording over how he'll make sure that Grandma has nowhere else to go. Young-won asks if the elderly woman has somewhere to stay tonight.
Se-ro bolts up at the news and roams the streets in search of his grandmother, to no avail. He eventually ends up at his old home and collapses next to the doorway at the mess. Like a little kid who came home from school, Se-ro murmurs, "Grandma, I'm home."
Little does he know that Young-won has brought Grandma to her studio, citing that neither of them can go home tonight. Despite Young-won's insistence, Grandma doesn't feel right about staying here, which is when Young-won presents her with a handmade gift—a jewelry box for her keepsakes. Aww.
As they lay in bed together, Grandma is disheartened to hear that her grandson is the reason behind why Young-won lost someone very dear to her. Young-won informs her that her father was behind her eviction, but doesn't want to apologize for it and masks her kind hospitality as two people who have nowhere else to go.
Grandma cries that Young-won would believe her if only she met Se-ro once. Fighting tears, she refuses to sing the song from the other day, so Young-won starts singing it herself.
Back at home, Se-ro vows that he'll repay his enemies in kind: "I'm going to steal everything I can from them. I did well, didn't I, Grandma? I'm the best, aren't I? I'm damn good, aren't I?"
Tears fall from Se-ro's eyes as he asks if his grandmother knows that Dad passed away. He breaks down, sobbing.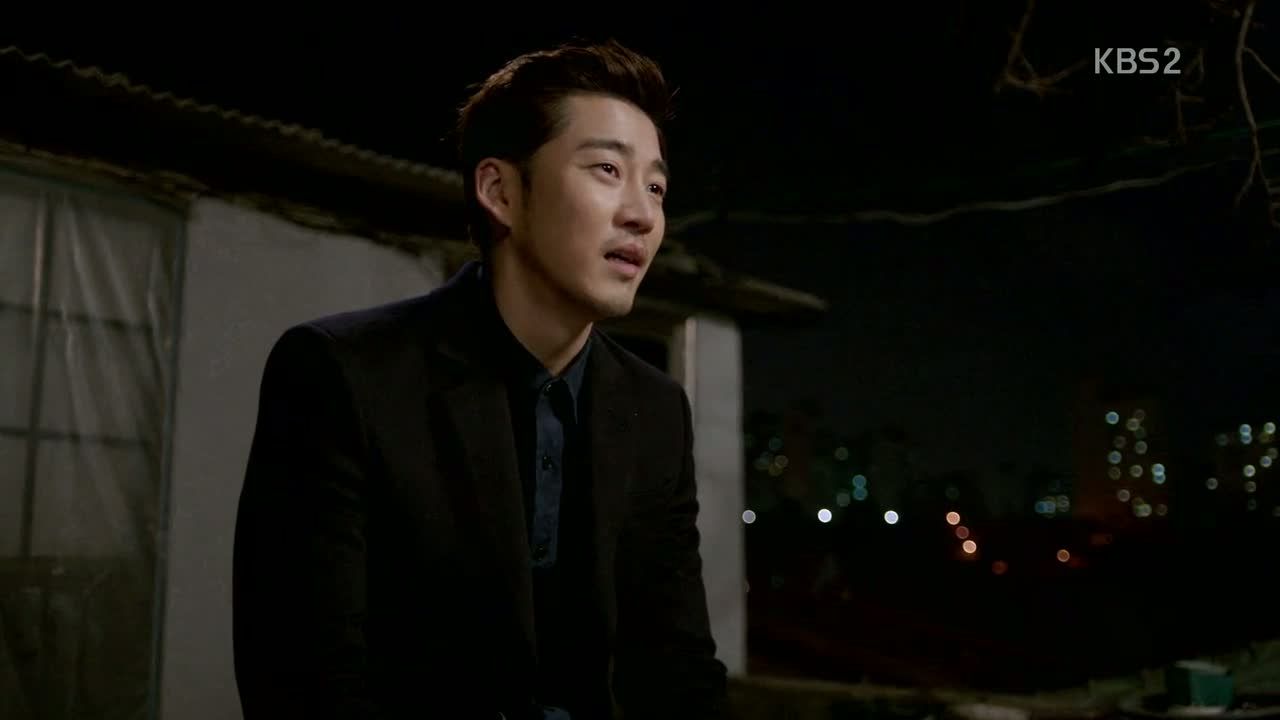 Daddy Han is still a closed door on the jewelry supplier deal, and as he walks away, Se-ro recalls that he saw Daddy Han when he was being dragged back into custody. He accepts that answer but warns, "You'll regret it." And we know in dramaland, they always do.
Se-ro decides to change their approach and back up Madam Baek to install her son as head of the company. Seems only right to return the favor when Daddy Han took away his grandmother.
Madam Baek is delighted for the support since she didn't get much headway with the company's board members. She invites Kang-jae to name his terms, but he's more interested what she plans to do next.
Madam Baek lays out her plans in detail, like an urgent board of directors meeting while Daddy Han is away next week to unseat Belle la Fair's current president. She'll also buy their first blue diamond as a gesture to seal the deal.
She's surprised at Kang-jae's confidence to persuade the company's execs, but it's enough to plant a seed of trust in him.
Team Leader Kang confronts Se-ro about how he acquired those pink sapphires because from what he heard, the dealer was an older gentleman. Hong gulps nervously but Se-ro dismisses those ridiculous rumors and takes his leave.
But his eyes widen when he steps outside and sees Grandma walking in the courtyard. He's about to approach her, identity be damned, when Young-won comes running. He turns his face away and watches from above as his grandmother is sweetly persuaded to stay with Manager Min.
So when Se-ro swings by Young-won's studio, he casually mentions Grandma in their conversation, asking why she'd be sympathetic to a stranger. But Young-won replies that he did the same for her when he stood up for her, for which she's now grateful.
Se-ro tries to send Young-won out of the studio, using the excuse that Team Leader Kang doubts him and his skills. Young-won cheerily replies that it'd be stranger not to be suspicious given Se-ro's cold demeanor.
She agrees to talk to him though, and when Team Leader Kang suggests they should do some more digging on Lee Eun-soo, she's inclined to believe in their new team member because he's too brutally honest to deceive anyone.
If only Young-won knew that Se-ro is currently rifling through the company files on her desk as they speak. He makes off with one about the company's board of directors for Kang-jae.
Kang-jae still looks on edge even after he hears that Grandma is safe and well and asks how. But Se-ro asks why Kang-jae has stayed by his side all these years, even when he wasn't always on good terms with Dad.
To that, Kang-jae explained that Se-ro always followed him around when he was young, and the happy memories actually make Se-ro… laugh? Like a genuine smile? Aw, it makes me happy to see him happy for once.
Then Kang-jae says they'll set up house in Hawaii after this job, imagining their lavish lifestyle to great detail (though he doesn't give a straight answer whether Jae-in is in this fantasy, hm).
Se-ro is totally on board with the idea of livin' large, and they end up joking and laughing under the stars looking like a pair of bumbling idiots. Man, their hyung-dongsaeng relationship is adorable.
The con artists get their hands on a genuine blue diamond for the auction, courtesy of their rich businessman Shin Pil-do. It appears that Kang-jae is the only one who's met the rich benefactor, and when he puts everyone to work, Hama hilariously cries that he doesn't have a job to do. Ha and aw.
It's awkwardly adorable how Kang-jae tries to drop hints for Hama to leave the room already until he finally has to drag the man out himself. Jae-in is left confused, but she follows his instructions and picks up the box on the floor containing a diamond necklace. Aw, that's sweet.
Se-ro is instructed to keep Young-won away from the auction today. Too bad he's a step too late because he's told that Young-won already left without him… and that's how Young-won runs into her stepmother with Kang-jae and Jae-in in the lobby. Eek, awkward.
Young-won speaks with her stepmother alone, who offers to reveal the awful truth about her father. Young-won can barely swallow the corrupt business practices going on in Belle la Fair without her knowledge, especially when she learns that her father is behind them all.
Madam Baek has heard that Young-won is digging into her father lately, but she'll be lucky to find anything out of the ordinary on the surface. Young-won wonders why her stepmother is suddenly telling her all of this, to which Madam Baek barks back that messing with Young-joon was her tipping point.
Young-won asks if her maternal love was all a lie then, and it's like you can see the image of her motherly figure crumbling before her very eyes. She's unable to believe that there never existed a moment when her stepmother truly cared for her—what about the times she was sick or packed her lunch or supported her union to Woo-jin?
But Madam Baek says it was all part of her act and now she's had enough. Oof.
Se-ro spots Young-won on her way out and asks if she's okay. Still shaking, Young-won wonders what she might find if she actually rifles through her father's secret vault. I'm pretty sure she means this in the metaphorical sense, but we know that Daddy Han actually has a physical one.
The auction goes off without a hitch, and Madam Baek meets with Kang-jae to sign off on the contract stating that Belle la Fair will deal exclusively with FL Gemstones should Young-joon become the new president.
And whaddayaknow, Young-joon drops by to sign the paperwork himself, having agreed to do things Mom's way. Nooooooo Haitai, you can't be eeeeeevvvillll!
Then we get a broody scene as Young-won sits at the bustop for hours, crying. Se-ro watches her in his car nearby, and they both recall past memories. When Young-won eventually gets up to hail a taxi, Se-ro follows her.
She heads to Daddy Han's office, boldly charging past security and makes herself at home, rifling through his desk for clues. Ooh, could we see more of the assertive Young-won from now on? I like her.
She doesn't find any dirt though and grows more desperate by the minute. It isn't long before Daddy Han is informed and she's dragged out by Secretary Ahn kicking and screaming the entire way.
In a shrill voice, Young-won demands to know how long her father plans to further deceive her. And that's when Se-ro dramatically swoops in and grabs Secretary Ahn by the lapels that he'll take Young-won with him.
In the car, Se-ro reproaches Young-won for actually doing as he suggested in such a brazen manner. Young-won confesses that her lofty speech of Belle la Fair's future was all pretend when really she just liked doing whatever her mother did.
Se-ro isn't interested in playing comfort fairy, and Young-won asks, "Is living fun for you?" He doesn't answer.
She asks where they're going and he says they may as well see the ocean. Tears falling from her eyes, she agrees.
Young-won is fast asleep by the time they reach the seaside, and Se-ro turns off her phone at Daddy Han's call. He watches her sleep for a few seconds before turning his attention to the incoming waves.
Se-ro wakes the next morning to Young-won cheerily knocking on the car window. She invites him to come out and play, on the condition that he make no mention of work or family—so basically everything. Ha.
As the con artists await the board of directors' decision, Hama jokes how interesting things would be if Se-ro and Young-won had feelings for each other. Jae-in is not amused.
Hong bursts in just then, and before their disappointment that he didn't get anywhere near the meeting sinks in, he surprises them with his latest intel on Woo-jin' emails… which also included a threat. Now all they have to do is let Young-won see that email.
Back at the seaside, Young-won tries to make small talk at the restaurant and asks how they met five years ago. When he doesn't answer, she pouts that he has to talk so that she can keep her mind off of things.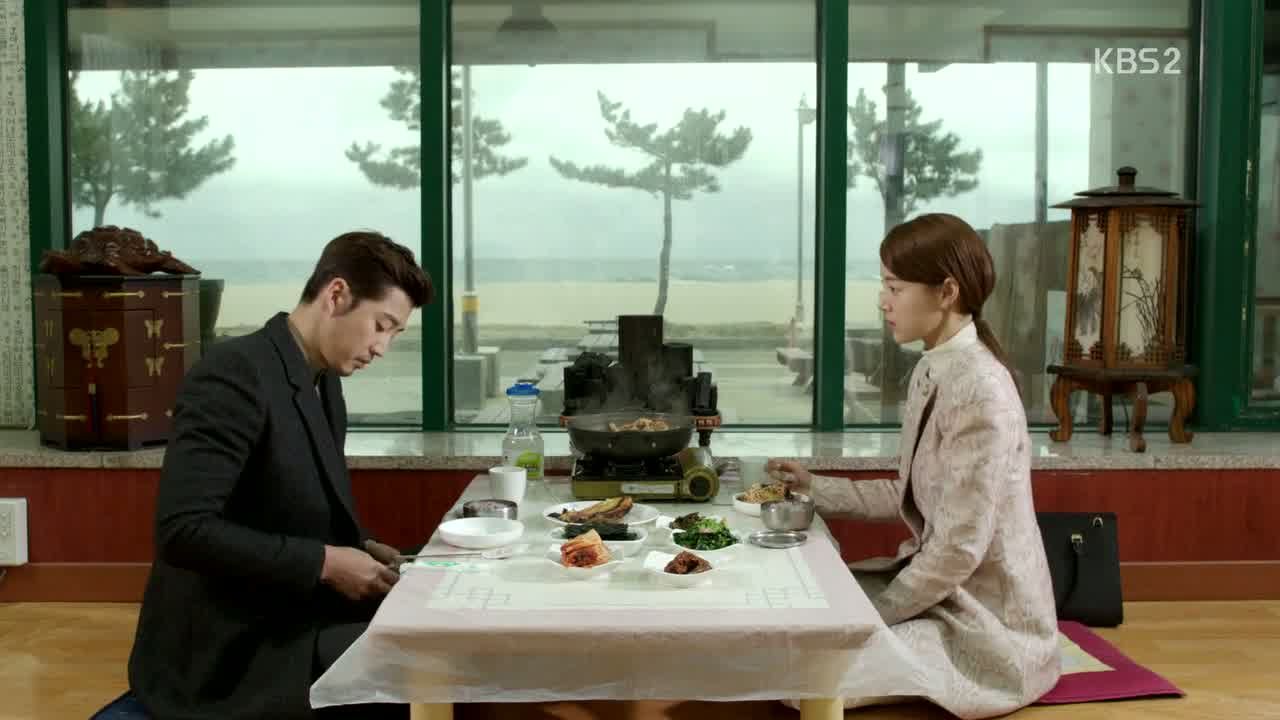 So she asks what he's thinking about right now, and Se-ro answers, "That I shouldn't have brought you here." Heh, it's a start. She presses for more, and Se-ro replies, "That you're really bothersome."
But then his following answers get increasingly truthful: "Wondering if I'm trash. That you weren't Han Young-won. That I wasn't Lee Eun-soo."
Se-ro suggests they spend the day here and he watches her overlooking the ocean, until he finally says they should get going. Young-won encourages him to smile in their beautiful surroundings—does he not know how to smile?
Then Young-won says it must be hard to actively hate someone and to forgive your enemies. But Se-ro cuts her off, saying that forgiveness isn't that easily given. She agrees, but she also knows that hating someone isn't something anybody can do.
Se-ro remarks that she's got a lot to say today and Young-won says it might be the last time she can say these things because "I'm getting fired today." Wait, what? How did you know that?
Those seem to be the same questions running through Se-ro's brain, and he asks if she agreed to come down here knowing that she wouldn't be Belle la Fair's president when she returned.
She nods, saying that it would have been lonely if she came alone but she's grateful that Se-ro accompanied her. Se-ro can't get over how Young-won knew that she'd be ousted, and she apologizes for putting him through so much.
"What are you sorry about? What are you so grateful and so sorry to me for?" Se-ro asks. Young-won starts to walk away without an answer, and Se-ro grabs her arm.

COMMENTS
I'm still trying to wrap my head around just how Young-won found out that she'd be out of a job when we didn't see anyone tell her that the oh-so-secret board meeting would take place today of all days. She knew that Madam Baek would want to drive her out, but how could she have known the date and time unless someone told her about it or she somehow find out? It's actually driving me nuts, but I suppose that's what cliffhangers are for and pray that we get answers next week.
It's an interesting twist actually to see Young-won actively search for answers in this episode, and then prove that she in fact knows more than she lets on. Sure there are plenty of other things that she's in the dark about or refuses to believe (especially when it concerns her father), but this innocent lamb is determined to find out how far that corrupt rabbit hole goes as her naivete shatters while gaining knowledge of the truth. In pieces, of course. Baby steps for the tragic heroine.
I was wondering what role Young-joon would have in this show, and honestly a little sad at the tiny slivers of Sohn Ho-joon in each episode. So on one hand, the possible birth of villainry makes Young-joon a far more interesting character than the meek son to Madam Baek thus far. On the other hand, Young-joon is also loyal to his half-sister (or so it would seem up to this point), so it'll be interesting to see if he continues to act under his mother's puppeteering or if he'll ever break away from his hold on her.
I find interesting villains absolutely fascinating, since it gives great depth to a character and just plain fun to watch when executed well. And let's face it—watching Daddy Han plot and scheme in his secret vault isn't all that exciting. So Young-joon's turn to the dark side might be a brief or longer story arc, but I'm excited to see what's in store, and maybe curious how the con artists will handle an impudent young tyrant.
Lastly, I love that we got to see a spark of life and laughter in both Young-won and Se-ro. They've been drowning in anguish for so long that I'd forgotten that they knew how to laugh in the first place, and it's just nice to see them crack a smile even in the midst of their distress. Getting ousted from running the company ought to take some burden off of Young-won's shoulders, but most of all, I loved watching Kang-jae and Se-ro shooting the breeze on the rooftop with such infectious carefree laughter that lights up even the darkest of nights.
RELATED POSTS
Tags: featured, Full Sun, Han Ji-hye, Jo Jin-woong, Kim Yuri, Song Jong-ho, Yoon Kye-sang