Movie Review: Memento Mori (1999)
There are not many sequels in Korean cinema if you compare it to the endless stream of sequels from Hollywood, but sometimes a rousing success will lead to them. And the enormous success of Whispering Corridors in 1998 led to one of the most prolific series in Korean film, let alone Korean horror, with the first sequel showing up just over a year later in 1999.
As with the original Whispering Corridors, the sequel Memento Mori (1999) is a relatively low-budget affair with writer-directors handling their first feature film. In this case, we have Kim Tae-yong and Min Kyu-dong, both of whom would go on to have both critical and commercial success, the former making the Korean critical darling Family Ties and the latter having a more recent hit with All About My Wife. In addition, the film also features the debuts of four actresses who would go on to have healthy screen careers, with only Lee Young-jin having had any prior experience as a child actor.
Memento Mori is atypical of what we normally imagine to be sequels as it retains none of the characters or mythology from Whispering Corridors and instead builds an entirely new story, only sharing the setting of an all-girls high school. It also deviates quite a bit from what we would expect from a supernatural horror, with that element only taking place in the final third of the film. Instead, what we have is mostly a romance drama set in the often brutal social environment of high school, told in a non-linear fashion. And I would guess that it will be hit-and-miss for most, depending on the viewers' tastes.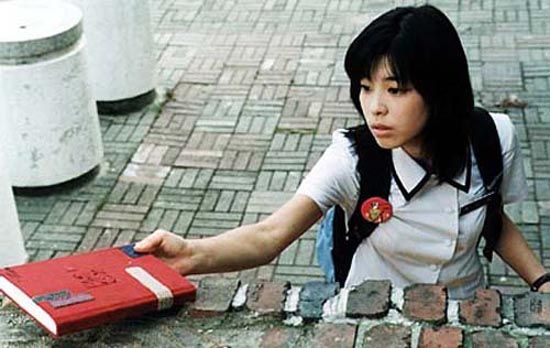 It all begins when Mi-na (Kim Gyu-ri) discovers the discarded diary of her athletic classmate Shi-eun (Lee Young-jin), which Shi-eun shared with her once close friend Hyo-shin (Park Ye-jin). As Mi-na becomes more engrossed in the diary, which also reveals that Shi-eun and Hyo-shin's relationship was more than friendship, she becomes more curious about them, creating tension with her best friends, Yeon-an (Kim Jae-in) and Ji-won (Gong Hyo-jin); Yeon-an is rivals with the intelligent but socially outcast Hyo-shin. And then Hyo-shin commits suicide for reasons that Mi-na and we will discover and the environment at school goes from merely tense to terrifying.
Rather than your standard linear Aristotelian dramatic structure, Memento Mori is built more like a mystery, moving closer and closer to the truth of why Hyo-shin committed suicide as layers of tension are brought out, first by the social pressures of high school and later by Hyo-shin's haunting of the school. Unfortunately, the drama in the first half of the film is a bit more convincing than the supernatural frights of the second half, because the supernatural happenings aren't terribly pointed or motivated and Mi-na's place as the protagonist is never quite made clear.
What Memento Mori does especially well is to immerse the viewer in the absolute chaos of high school, including the often brutal ways that students treat each other when they fight, insulting each other by means of attacking their insecurities, whether it's girls sniping at Ji-won's flat chest or rumor-mongering about Hyo-shin having been pregnant even immediately after her death. This also figures into the examination of Hyo-shin's place as the decidedly bullied student who happens to be a teacher's pet.
The pressures of growth and long-term implications for their social standing as women are also a theme, especially made clear in a scene where the girls do their annual health check-in, with a teacher measuring their bodies and vitals and many of the girls crying to take a second measurement get better numbers. And it's in those social pressures that Shi-eun and Hyo-shin have their taboo relationship, highlighting just how difficult it would be to maintain any association with the bullied Hyo-shin, let alone a romantic one.
It's made clear by the time that she's haunting the school that these are the sins for which Hyo-shin is getting her revenge. What's not clear is how Mi-na really fits into the story aside from being an engrossed observer. There are points where she does try to befriend or at least engage Shi-eun, but it never really amounts to much, nor is it clear why Hyo-shin's ghost haunts her in particular and we are left to guess that it's either because of her invasion into her beloved private diary or perhaps out of a jealousy for Mi-na's growing interest in Shi-eun.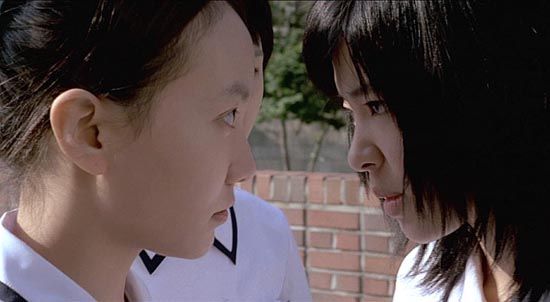 There are several story elements that don't really seem to make any sense at all, including a telepathic connection between Shi-eun, Hyo-shin, and Mi-na that is never fully utilized or explored in any meaningful way. All the flashbacks also can get difficult to sort out at times and the directing doesn't do an exceptional job of making clear what time period we are looking at, or how Mi-na is able to surmise all these flashbacks from reading the sometimes cryptic diary. There are also a few scenes that simply don't make any sense at all in the logic of the film, even though they might make sense thematically. Finally, the actual haunting element almost seems extraneous as the exploration of the social horrors of high school is frightening enough without it.
But Memento Mori certainly has higher production values than its predecessor, demonstrating just how quickly Korea's film industry modernized in the wake of its success. The film stock and cinematography have clearly upgraded and the director team makes good use of it overall. There is a point where the special effects get a little silly and that's towards the end of the film during the haunting. Aside from special effects abuse, some of the ghostly haunting scenes are directed and performed well, although the actual logic of some of those scenes is questionable.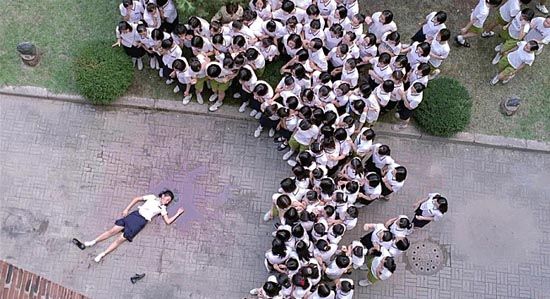 The cast is also pretty strong considering that most of them are performing for their first time here. And this is fortunate as the romance as well as the examination of social pressures and bullying are story centerpieces for Memento Mori. Watching it, I can see how Mi-na was engrossed by the story of Shi-eun and Hyo-shin's relationship, from its development from friends to lovers and into how it fell apart in light of the abusive social environment. It's a bit remarkable because of its lesbian romance, which was at the time controversial (and might still be). The fact that a film with clout, like this sequel to the hugely successful Whispering Corridors, could present such a relationship positively in such a hostile environment is almost a meta-extension of the story itself.
And so for its daring and what it gets right — and despite its flaws — I think that Memento Mori is certainly worth watching. At least for those who can handle the spooky imagery towards the film's end. 7/10.
Note: Memento Mori, like Whispering Corridors, appears to have gotten pretty wide home video release in many markets around the world, including North America and UK/Europe via Palisades Tartan, as well as in Hong Kong, Taiwan, and Japan at the very least. As such, DVDs in your native region coding should still be fairly available for purchase for most.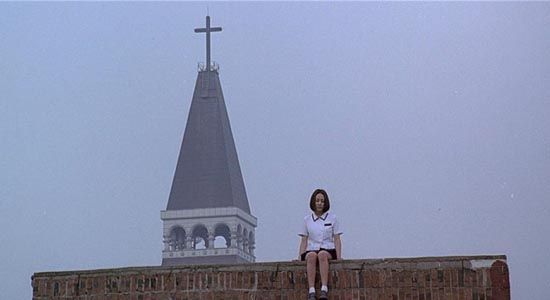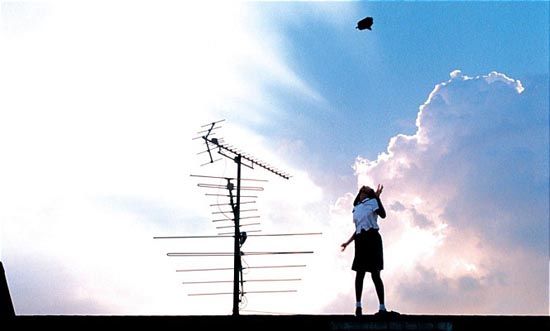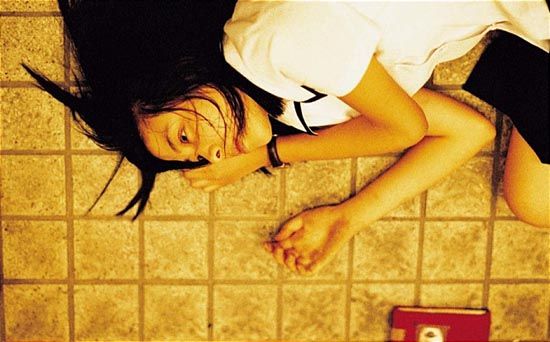 RELATED POSTS
Tags: featured, Gong Hyo-jin, Kim Gyu-ri, Lee Young-jin, Park Ye-jin