Witch's Romance: Episode 12
Ji-yeon struggles through her confusion about her upcoming marriage to Shi-hoon and, thanks to the support of friends and family who aren't afraid to ask the hard questions, is forced to ask herself if being married to Shi-hoon will truly make her happy. Dong-ha decides it will be easier for Ji-yeon if he removes himself completely from this bewildering love triangle (but as we all know, fate often has other plans than the ones made by idiots, even at their noblest). Shi-hoon begins to realize that maybe he isn't the leading man of this show after all — and decides to take matters into his own hands.
EPISODE 12 RECAP
Crying as she reads the book (and the message Dong-ha wrote in it), Ji-yeon makes a decision and hurries to the door, only to find that Dong-ha is standing just outside. Startled by Ji-yeon's tear-stained face, Dong-ha asks in concern if everything is okay. She steps outside, and as she wipes the tears from her eyes, he can't help but notice the engagement ring on her finger.
Before she can say anything further, he apologizes for his actions earlier when he pushed her against the wall at the spa. Promising that she won't need to worry about him any longer, he tells her that he'll be moving out as soon as he can find a new place, so they'll no longer be running into each other.
When she starts to protest, he takes a deep breath and says that he's going to forget her. After all, he's still young, so he should focus on growing his business and meeting other people. He leaves with a friendly "hwaiting" and an offer to give her an exclusive interview if his company becomes successful. Ji-yeon silently watches him go as she fights to control her emotions.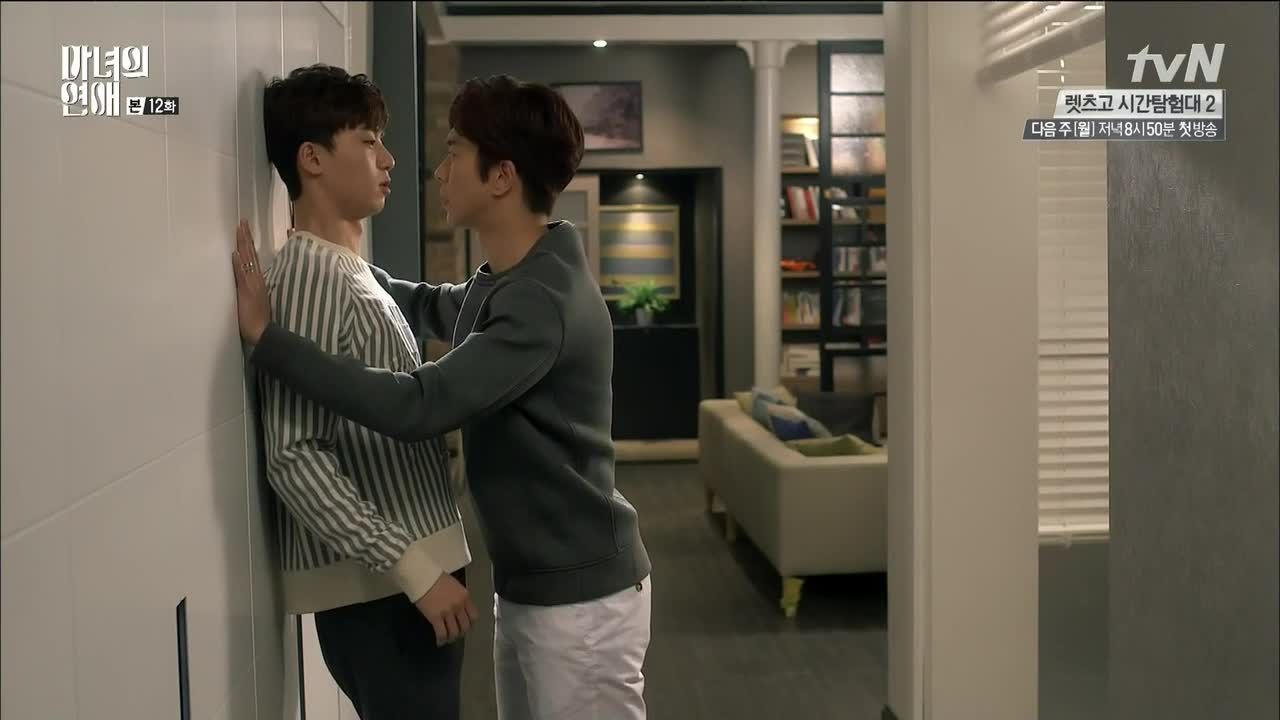 Back in the apartment, Soo-chul does his own cornering of Dong-ha as he insists that he can't leave. Dong-ha affectionately says he's overstayed his welcome, and tries to deflect the attention by joking about Soo-chul's string of girlfriends. But Soo-chul is on to his buddy's tactics, and demands to know the real reason why Dong-ha is moving out.
Dong-ha momentarily gets serious when he says that Ji-yeon is getting married, which baffles Soo-chul as he later muses to himself: "But what about that kiss [in the courtyard]?"
Early the next morning, a sleepy-head Ji-yeon lets her mother into the apartment, and is horrified when she sees that Shi-hoon is also there, embarrassed to let him see her in her "just woken up" state of disarray. She scurries off to get dressed, and once she's properly coiffed and attired, Ji-yeon discovers that Mom's morning visit was with a purpose: to set a wedding date.
She's already got a few dates and available venues picked out for next month (because "why wait?"), and even though Ji-yeon clearly seems uncomfortable with the speed of the wedding preparations, she can't protest the logic behind it.
Ji-yeon sits in distracted silence as Shi-hoon drives her to work, until he gets her attention so they can talk about their upcoming meeting with the wedding planner. She promises to double-check her work schedule, before she goes back to silently staring out the window. The awkwardness between them is just so unbearable.
Dong-ha is busy apartment hunting, and despite the landlord's devotion to his "inspiring" wallpaper, Dong-ha is a bit horrified by the dingy little room. But it's within his price range and available ASAP, so he says he'll consider it.
In perfect contrast to Dong-ha's hole-in-the wall dump of a room, Shi-hoon visits a spacious and luxurious condo where he plans to live with Ji-yeon for their first year of marriage, which he seems to have already planned out.
Meanwhile, Ji-yeon leaves work early, stating exhaustion as an excuse, and delegating assignments to her team. As she hands over a file to Rin-ji, the younger woman's eyes bug out when they see the flashy engagement ring on Ji-yeon's finger. Looks like the Trouble Maker office found some new gossip.
Returning home, Ji-yeon recognizes Dong-ha's father ringing the doorbell at Soo-chul and Dong-ha's apartment, but no one answers.
When Ji-yeon later invites Soo-chul over to give him some homemade food Mom made for the boys (aw, she's the best!), she convinces him to stay for a cup of tea. He congratulates her on her upcoming marriage, admitting that he had originally hoped she would have gotten together with Dong-ha. Join the club, buddy.
But he reassures her that Dong-ha is doing much better now, focused instead on making money — even though Soo-chul refuses to believe that Dong-ha could willingly move out. That is, until Ji-yeon mentions that she saw Dong-ha's father earlier that evening, and Soo-chul is hilariously shocked and panicked as he tries to figure why Papa Yoon would be there.
When Ji-yeon tries to get him to spill the beans about Dong-ha and his father, Soo-chul seals his lips, saying she won't get the information out of him like she did when she found out about Young-chae.
Na-rae has been pestering a normally eager-to-please Min-goo with random pregnancy cravings, only to push them away because the scent makes her sick. So when she disappears upstairs to deal with her nausea, Min-goo is relieved when Dong-ha arrives to help out at the restaurant.
After closing up, Min-goo presents Dong-ha with a dinner comprised of all the rejected delicacies that Na-rae had originally craved. He vents his frustration at how Na-rae sends him on all these errands to get her food from all over area, and he does so willingly and cheerfully, but her only thanks is to reject it because she says it smells horrible. It's reached a point where whenever she calls out his name, he wants to run away.
The true runaway, however, is Na-rae, who overheard everything Min-goo said. She shows up unannounced at Ji-yeon's, where she plans to stay a few days. She tells Ji-yeon that Min-goo won't even miss her while she's gone, since apparently she was such a burden to him.
As to be expected, the Trouble Maker office is buzzing with the news of Ji-yeon's engagement. Young-sik follows her around like the excitable puppy he is, asking about all the details of how his hero Phillip Noh proposed (trying to figure out how it could top the portrait he made of her), but she blows him off when she finds out about a new scandal brewing: It's about a woman who died while being transferred to a new hospital, because the doctors at the original hospital were too preoccupied with a VIP patient.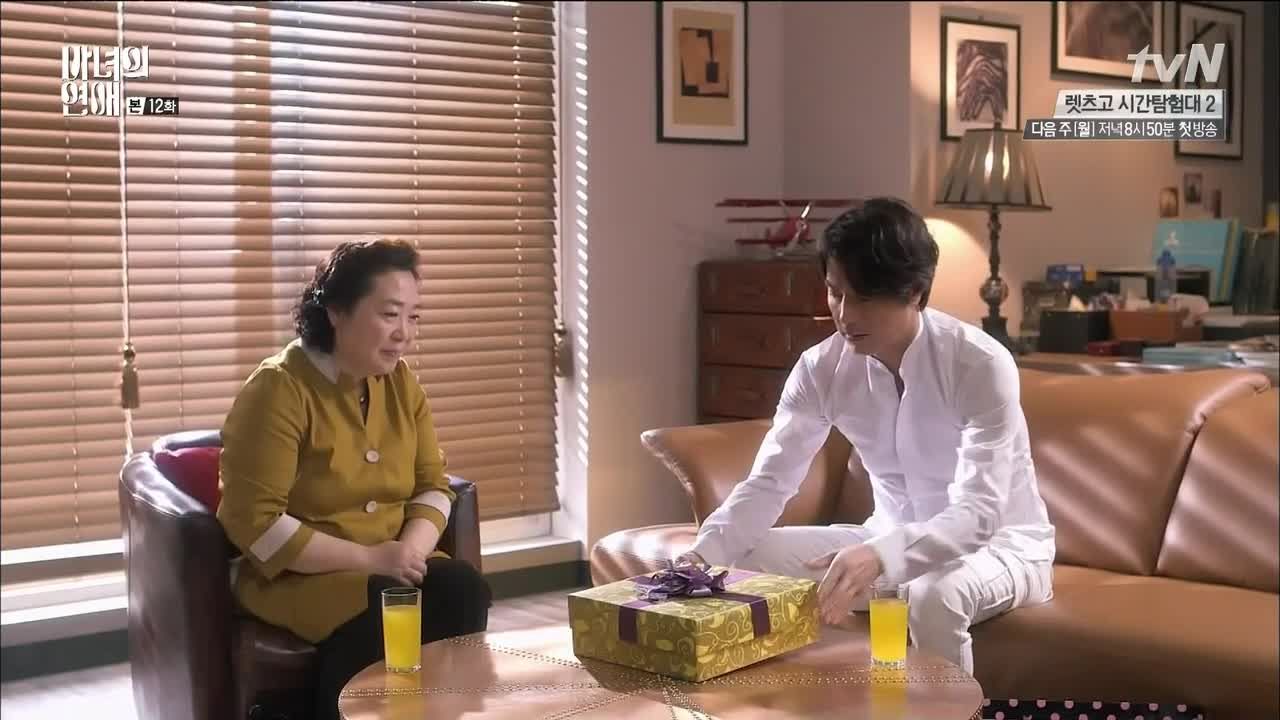 After meeting with the wedding planner (a meeting that Ji-yeon had to skip in order to interview one the doctors at the hospital), Mom hands over a box that she was planning to give to Ji-yeon directly, but thinks is best coming from Shi-hoon. He opens it to reveal the pretty shoes that Ji-yeon had bought for their original wedding, six years ago.
Mom tells him how Ji-yeon would try on the shoes each night, months before the wedding, so excited about wearing them — but all I can think about is the superstition that if you give shoes to your lover, she'll run away from you (which also makes me wonder if this is Mom's genius and sneaky way of breaking them up).
But then she admits that, considering all that happened in the intervening years, it seems like a miracle of fate that he and Ji-yeon have been given a second chance. He promises her that he'll do his best to live well and be happy.
As Shi-hoon is showing Ji-yeon around the condo he's selected, she wonders if perhaps they're rushing their wedding. After all, they've just started seeing each other again. Shi-hoon gets straight to the matter: "Is this about Dong-ha?"
He admits he knows Dong-ha likes her, and adds that he understands she's concerned about Dong-ha because they used to recently work and live together, whereas he was gone for six years. When she hesitantly admits she's still confused about how she feels, Shi-hoon takes her hands in his, promising that he won't let her feel anxious anymore, and reassures her that as time passes, everything will be all right.
Soo-chul intercepts Eun-chae as she's on her way home, and when she asks him straight out if he likes her, he stutters his astonishment at her audacious question — and then is adorably offended that she'd try walk away before he could answer. She sweetly informs him that she only sees him as an "oppa" in the brotherly sense: someone who is comfortable and dependable.
A depressed Soo-chul returns home, flopping over the side of the sofa. Dong-ha tries to leave, but Soo-chul stops him and asks Dong-ha if he ever felt like Ji-yeon (who he calls "noonim") was like a real older sister. He answers his own question, saying of course not, because you can't have romantic feelings for a blood relative. As Dong-ha tries to snap him out of his depressed reverie, Soo-chul refuses to be considered as just a "brotherly oppa."
Ji-yeon returns to apartment, horrified at the mess Na-rae has made as she apparently tried to eat everything in Ji-yeon's kitchen. Happily slurping down the mangoes Ji-yeon bought her (by biting through the skin instead of cutting them up, which, ew), Na-rae admits it's amazing that her appetite is back. Ji-yeon is just totally grossed out by her friend's messy ways — I'm thinking this is one shared living arrangement that won't last long.
As the women settle into bed, Na-rae says Min-goo hasn't bothered to call. She assumes he's too busy living the high life without her, and warns Ji-yeon to rethink getting married, "since all men are the same." Ji-yeon updates her friend about the condo she looked at with Shi-hoon, and Na-rae asks if this means things are now totally over with Dong-ha. Ji-yeon wonders how something can be over when it never even started in the first place.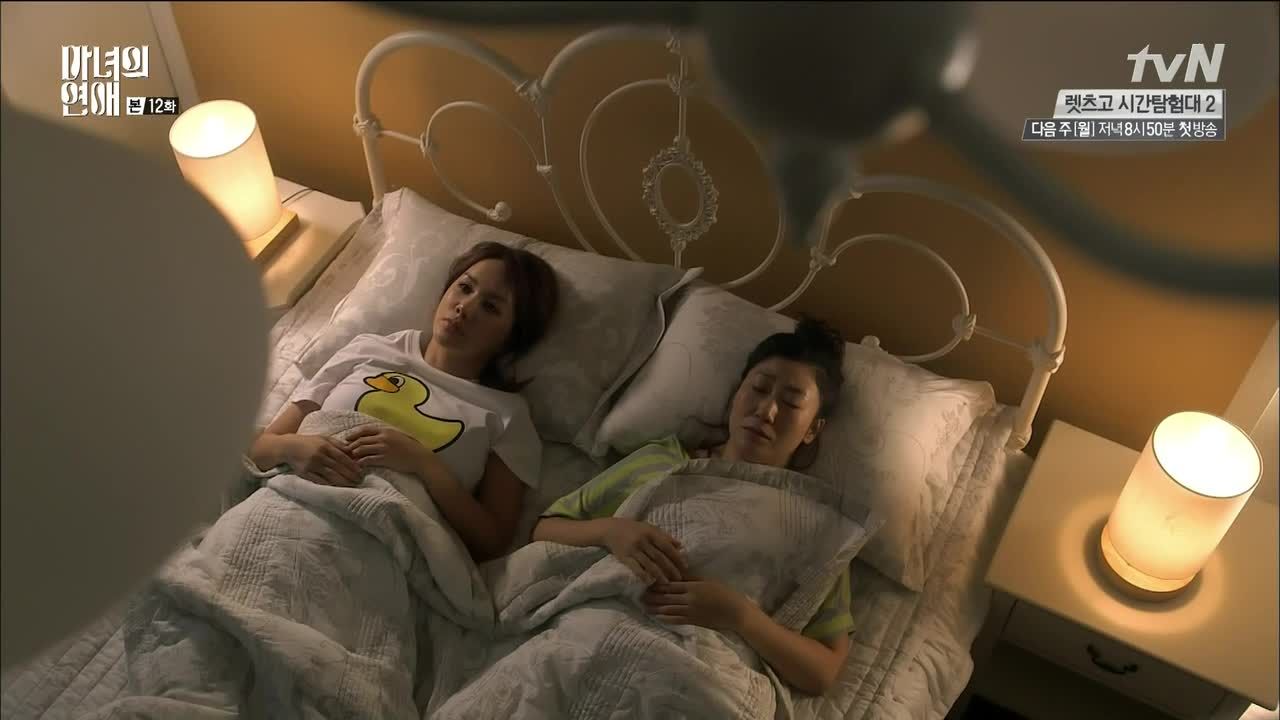 Returning to her role as Voice of Reason, Na-rae points out that the only reason Dong-ha decided to move on was because Ji-yeon never confessed her true feelings to him. But Ji-yeon says that since he's decided to move on, she wants to support that decision; she doesn't want to be selfish and hinder him on his fresh start. Oh, the double-edged sword of noble idiocy.
But Na-rae finally asks the question we've all been dying to know for weeks now: How does Ji-yeon feel about Shi-hoon? She says that he's a good person, and she's getting a second chance to marry the same man — shouldn't she be grateful for this chance as she leaves her thirties? Is it really true that, after time passes, everything will be okay?
The next day at work, Ji-yeon is astonished to see that the news about the hospital patient dying has grown even hotter, so she orders her team to track down more information, but pulls Eun-chae aside for a private debriefing. Turns out that the hospital that had denied the patient service is the one run by Dong-ha's father.
Eun-chae, who knows about Papa Yoon because of her sister, promises that she won't reveal the connection with Dong-ha. (Let us take note that, once again, Ji-yeon tries to quietly protect Dong-ha.)
She blows off yet another wedding planning session with Shi-hoon to focus on the story. He's suspicious, though, when he sees her get into a taxi after telling him she's stuck in a meeting — but he doesn't pursue her. Instead, he heads over to her apartment to drop off some wedding catalogues, and Na-rae is happy to let him in.
As he's filing the catalogues away on her bookcase, he oh-so conveniently spots the Paulo Coelho book Dong-ha left behind, and sees beneath the "Will you stay with me?" note, another message: "I'm sorry… for being so late…" with a tear splotch in the middle of the ink.
But Shi-hoon doesn't let any emotion across his bland expression, so who knows how he feels as he shelves the book to instead focus on Na-rae, who deals him an extra blow by telling him that men tell lies to protect themselves, but women tell lies to protect the other person. She's referring to the fact her husband isn't her first love, even though Min-goo assumes he is — but it looks like Shi-hoon is finally realizing just how much he truly doesn't understand about Ji-yeon's relationship with Dong-ha.
Ji-yeon stops by the restaurant, letting Min-goo know how much Na-rae misses him. He rushes out to go and get her, leaving Ji-yeon to mind the restaurant while he's gone. She promises to scare off the customers for a couple of hours, but it looks like she won't be doing it alone as Dong-ha shows up for his part-time shift.
They sit in uncomfortable silence on opposite ends of the bar, until Ji-yeon ventures to ask him how Master of Part-Time Jobs is going, and she matches his less-than enthusiastic reply of "so-so" when he asks her how her marriage preparation is going.
The awkwardness begins to dissipate — as does their physical distance — when Ji-yeon tells Dong-ha all about her new assistant. He's determined to find a weakness, and is unsuccessful until he finally discovers the new assistant doesn't know how to drive. When Ji-yeon points out that now he's being the competitive one, he insists that he's just a sunbae looking out for a hoobae (yeah, because having a job two whole months makes you an expert). But the important thing is they're back to being all adorable smiles and teasing banter.
After dinner celebrating Na-rae's return home, Ji-yeon and Dong-ha slowly walk up the steps to their respective apartments, where Dong-ha breaks the news that he will be moving out next week. She tells them they should have a party before he moves out, like he and Soo-chul gave her when she move back to her apartment. He reluctantly agrees.
As Mom preps her hanbok (for the wedding photo shoot, I presume), she worries if Ji-yeon is okay with getting married. She admits that she wanted Ji-yeon to marry so she wouldn't be lonely, and would have someone she could depend upon and lean on, to live happily live forever with someone who cherishes her. But she doesn't want Ji-yeon to get married just for the sake of being married.
Finally, she asks the vital question: "Are you sure the person you want to be with forever is Shi-hoon?" Six years ago, Ji-yeon couldn't stop talking or thinking about her marriage to Shi-hoon, but now Shi-hoon is the one who takes care of all the wedding details.
Ignoring Ji-yeon's explanation that she's just been busy, Mom points out that she's only ever wanted her only daughter to live well, and not worry about other people — to be happy and joyful. Ji-yeon's mother starts to tear-up as she pulls her daughter into a hug, and I do, too, because she's the best Mom ever.
On the day of the wedding photo shoot, Ji-yeon's face is inscrutable as she gazes at her reflection, finally seeing herself in her wedding dress. She tries to force a smile, but it doesn't quite seem to stick. Na-rae is the mood maker, though, as she cheerfully rushes into the wedding boutique in her bridesmaid dress, and the two are super cute as they pose for selcas.
But as they drive to the photo shoot, Na-rae experiences shooting pains in her abdomen and starts to panic. Ji-yeon immediately directs the driver to reroute to the hospital.
Min-goo is practically on the verge of a nervous breakdown as he and Dong-ha arrive at the hospital, and Ji-yeon shows him in what room he can find Na-rae. But Dong-ha is frozen in place, captivated by the sight of Ji-yeon in her wedding dress. His face is exactly the awe-filled, totally stunned expression a bride would want to see from her groom on their wedding day.
The two of them wait together, sitting side-by-side, tense to hear word about Na-rae. She returns to the waiting room with a big smile on her face, happy that her abdominal pain turned out to be nothing more than just gas. After Min-goo and Na-rae leave to get another exam, Ji-yeon stumbles in relief, the shock wearing off.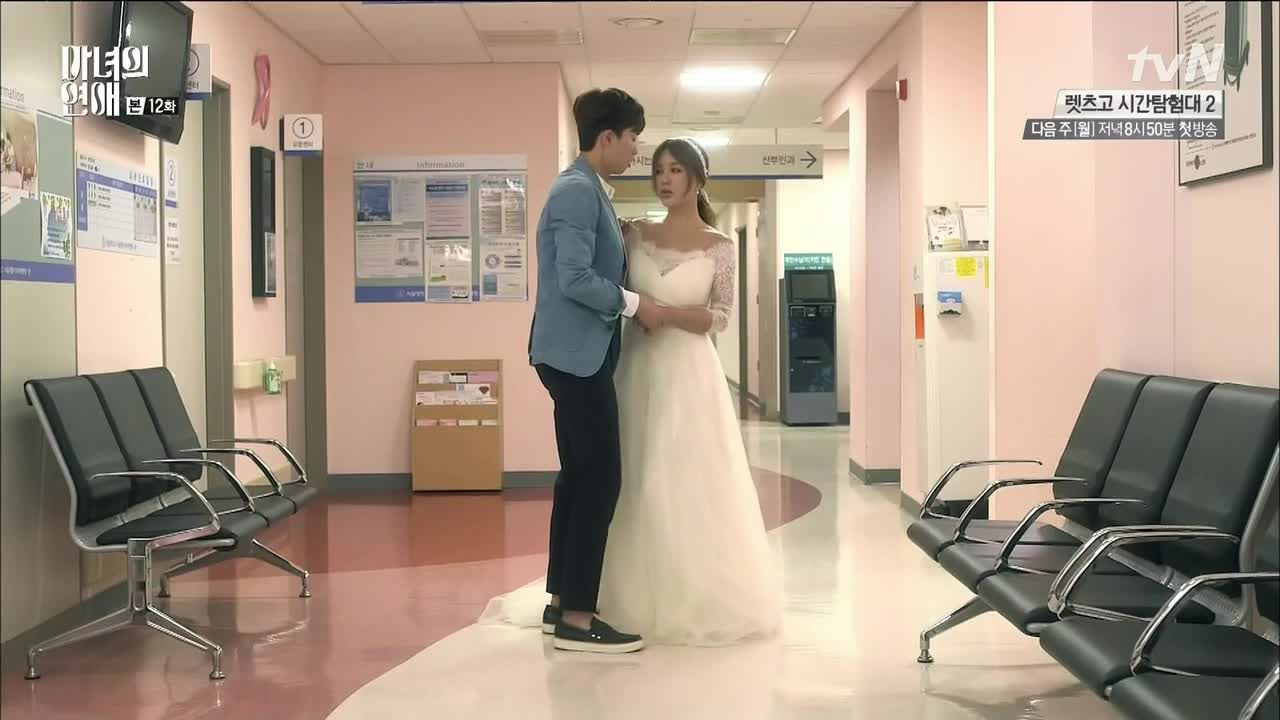 Dong-ha catches her in his arms — and that's when Shi-hoon rounds the corner, having recently discovered about Na-rae's emergency rush to the hospital when he was trying to get in contact with Ji-yeon, but her phone was in Na-rae's purse.
He watches as Dong-ha gently (and with great concern) guides Ji-yeon to a seat, and he seems fully aware of the way Dong-ha is unable to take his eyes off of Ji-yeon. Quietly, Shi-hoon slips away, unnoticed.
When Min-goo apologizes for disrupting the photo shoot, Ji-yeon suddenly remembers Shi-hoon and runs out of the hospital, hoping she won't be too late to the studio — and Dong-ha stares after her with his sad puppy-dog eyes.
She finally arrives at the studio two hours late, but no one is around except for Shi-hoon. She apologizes for ruining everything, and he reminds her that he's a professional photographer.
But before they can take their photos, he gives her the old wedding shoes, placing them gently on her feet. (She's totally going to run away now, right?)
He sets the automatic timer on the camera, and Ji-yeon sits stiffly in the ornate chair as Shi-hoon stands next to her. The camera flashes over and over as they pose for their wedding photos.
Dong-ha packs his suitcase, officially accepting that Ji-yeon is marrying "the polar bear," and, with one last look around at the apartment they used to share, promises to start his life anew.
Back in Shi-hoon's house, he and Ji-yeon look through the wedding photos they took. As he selects a favorite photo to take with him, he tells her he thinks that she was right — they rushed their wedding and the rekindling their relationship. She keeps missing their appointments, and he's always left waiting. As he pours himself a glass of whisky, he muses over the fact that she spent six years waiting for him, but he got tired waiting just two hours for her at the photography studio.
Ji-yeon apologizes again for not calling him earlier, but Shi-hoon tells her that the words he's heard most from her since he's been back is "I'm sorry," and it's become annoying. Shi-hoon thought that they would be able to get along just like old times, but he was deluded: "I like you, but not to the point where I can endure everything."
Tears and confusion fill Ji-yeon's eyes as Shi-hoon deals the final shocking blow, declaring that they should call off the wedding, pretending their marriage plans never happened.
COMMENTS
Oh, Shi-hoon; you ass.
I don't think anyone has been particularly convinced that Shi-hoon was actually going to be the end-game in this drama, just because of the way they've made it so clear that Ji-yeon and Dong-ha are pretty perfect for each other (not to mention, hello, a little thing called "chemistry").
But I admit I wasn't expecting that. Maybe I was expecting too much, actually, since I'd been hoping that Ji-yeon would finally make her own decision about Shi-hoon, and break up with him by her own agency. Not being forced into another break-up just because he made that unilateral decision without checking with her first.
Then again, has he done anything where he made the decision to check in with her first? I mean, this is the guy who returned to Korea to publicly express his feelings for her with that ridiculous portrait, which, if she hadn't gone to the press conference, she would have found out from the newspapers. This is the guy who plans their first year of marriage, and overrides any serious concerns she might have with a "it'll be okay, don't worry."
I'd like to think that he's actually doing this out of some bizarre sense of "noble idiocy" because he can clearly see that she and Dong-ha have a thing together, something that he will never be able to have with Ji-yeon as we currently know her, and is stepping aside to allow her the freedom to pursue Dong-ha with a unfettered heart. Except, he's not stepping aside so much as he's brutally smashing any option she might have wanted to consider, just because of how it makes him feel. He's metaphorically slapping her in the face by saying, "You might have cared enough to start things up again with me after six years of never hearing from me, but I can't handle two measly hours waiting for you." (At least, I felt like I was punched in the gut when he said that. Pretty sure my gasp could be heard across town.)
I'd totally be willing to consider that maybe he's actually trying to be an extra-huge jackass so that Ji-yeon will never have lingering feelings or "what-ifs", and will instead remember him as the jerk who broke her heart, again. Or maybe that's his true personality — maybe he's really that awful and selfish. I can't really tell, because the character is so bland and boring that I have no idea what his true personality is really like (all I know is he makes everyone around him cry, which is not exactly a selling point). Sometimes I wonder if he really exists, or if he's some faded memory of Ji-yeon's past that she's somehow projected into reality, so desperate is she for need for closure.
But what woman in their right mind would choose to be dumped like that?
I suppose that's the important word here: "choose." Because I feel like Ji-yeon hasn't been able to choose much lately, and that bothers me. Seeing her so insecure and conflicted, when I know she's much more capable of figuring out a path and a solution, saddens me. I was so happy to have a glimpse of that "Lois Lane" take-charge reporter again, because that's the Ji-yeon that sparkles and is vibrant, who is happy and joyful, who lives her life and doesn't care what anyone else thinks. To spend the rest of her life with someone who will cherish her for who she his, crazy bed-head and all. (And can I get another shout-out for an awesome drama-Mom who fully supports her child, and just wants the best for her?)
I felt it was symbolic that the first time Dong-ha sees her in a wedding dress (even though it isn't for him), she's bathed in a ray of lovely sunshine. For Dong-ha, Ji-yeon is light. Their whole interaction at the hospital, a place where a woman should feel out of place in a wedding place, felt so right, like they were in cathedral instead of a waiting room. They were surrounded by lovely bright pastels, back-lit by the perfectly situation rays of sunshine. It felt so light, airy and romantic — just how a wedding should feel.
Contrast that to when she finally arrives at the photography studio, where the lights are out, everything is dark and dreary and depressing. Ji-yeon looks uncomfortable in her surroundings, her glow is gone. The mood is hushed and sombre. Instead of taking a wedding photo, you would think they were prepping for a funeral.
Considering the fact that we still have two weeks left, I do have hope that we'll see the return of the original Ji-yeon, the "witch" Ji-yeon. I have hopes that she'll use her investigative powers for good and help figure out the truth behind Dong-ha's father and "the incident," perhaps getting them to reconcile, and maybe Dong-ha can move on with his life without being stuck in his million dead-end jobs.
And also find a way to convince him that she loves him as much as he loves her, and truly wants him to remain in her life forever (with, of course, lots of kissing — because, y'know, we can never forget the kissing).
RELATED POSTS
Tags: featured, Park Seo-joon, Uhm Jung-hwa, Witch's Romance