Fated To Love You: Episode 11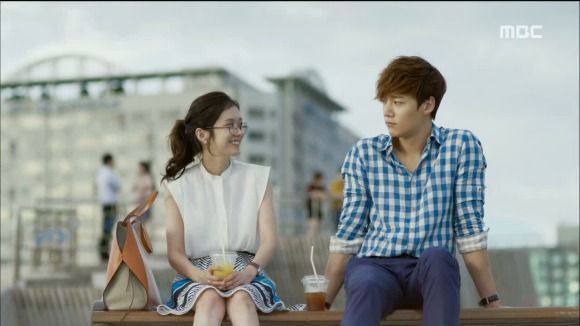 Brace yourselves, everyone—this is not an easy hour. We see the fallout of the worst birthday present ever, and it's up to one incredible heroine to pull herself together to protect everyone in this family. It's a heavy burden to bear, having to listen to hurtful words and being tough as nails waiting for her greatest joys in life to come back to her. And no one is better for the task than Keddongie's mother.
It was an extremely tight ratings race on Wednesday—the difference between first and third place was a mere 0.6%. Joseon Gunman came up top with 10.5%, It's Okay, It's Love edged out with 10.1%, and Fated To Love You took third with 9.9%.
SONG OF THE DAY
Younha – "Say Something" [ Download ]
Audio clip: Adobe Flash Player (version 9 or above) is required to play this audio clip. Download the latest version here. You also need to have JavaScript enabled in your browser.
EPISODE 11 RECAP
We open with Gun driving through a tunnel, looking oddly troubled. As a limo passes by, he looks over at the passenger inside: himself, holding the heart-shaped lollipop Mi-young gave him. Huh? What the hell is going on right now?
What follows are snippets for what's to come (for us, as viewers) but the recent past for Gun. A tear rolls down his cheek as he now recalls the hurtful exchanges with Mi-young: questioning her intentions for marrying him and whether the child growing inside of her is really his, being unable to recognize Mi-young (who hastily took off her wedding ring), and being told how he doesn't recall what happened in the past three months.
Seeing all that makes me uneasy because these means all signs point to amnesia, but if anything, we're seeing the moment everything comes flooding back to him at the top of the hour. Gun breaks down in sobs.
We rewind back to the day Gun's sudden collapse, as Yong comes running to tell the disgruntled Jangin board members about the news. Over at the hospital, Gun comes to and literally jumps at seeing Se-ra. He wonders why he's at the hospital since the last thing he remembers is leaving for Macau. Notgoodnotgoodnotgood.
Manager Tak grabs his boss in a relieved (but painful) bear hug, and seeing Se-ra and Manager Tak's perplexed faces has Gun half-jokingly wonder if he's been in some kind of accident. He freaks out when they don't answer.
Now we learn more about the mysterious illness that has plagued the Lee family line: Huntington's disease, a neurodegenerative genetic disorder. According to Doctor Moon, memory loss is one of the symptoms, though that alone isn't enough to make a diagnosis. Moreover, Gun hasn't shown any physical symptoms, such as chorea (involuntary jerky and writhing movements), so the best thing to do now is wait and see.
(I looked up some more info out of curiosity, which I think helps anchor some details: The average onset appears between a person's 30s and 40s, though the chance of earlier onset increases with a larger number of repeats in the family, like the Lee clan. Symptoms affect behavior, movement, and psychomotor abilities, and also include dementia. Life expectancy significantly drops once symptoms appear to, on average, 10 to 20 years.)
While a distraught Mi-young rushes into the hospital, Se-ra grabs Gun in a headlock like old times when she sees him lingering outside of his room. She can't help but hug him when he calls her "my Se-ra," and that's when Mi-young walks into and sees them together.
Devastated, Mi-young stands agape as Gun walks hand-in-hand with Se-ra right past her. Oof. But then Gun doubles back, having recognized Mi-young's face after all: "You know me, don't you?" he asks.
"Yes, I do," she answers. She can barely hold back her tears as Gun identifies her as that strange woman from their ring-losing-dog-chase incident—their first encounter—and asks if Daniel is her boyfriend. Oh god, this is only the beginning and we might have to endure 50+ more anguish-filled minutes of this?!
Mi-young learns of Gun's amnesiac state from Se-ra, who explains that Gun doesn't remember his married life with Mi-young at all. Since forcing his memories or receiving shocking news could negatively affect him, she requests that Mi-young step out of the picture.
Gun isn't used to the hot weather, still thinking it's May. He's given his possessions that were on his person when he came into the hospital. He doesn't recognize his wedding ring.
Daniel drops Mi-young off at her mother's restaurant, both sympathetic to Mi-young about her husband's memory loss and angry at Gun for hurting her again. But Mi-young says Gun's probably having a more difficult time than she is, and believes that he'll remember her and Keddongie again.
Before bed, Mi-young tells Keddongie about her very long day: "Seeing your father who never once got sick in the hospital, Daddy looked so weak. Daddy always took care of Mommy. You're going to pray with me that Daddy recovers his memory, right?"
Mom continues voicing her disappointment in Gun, noting how neither of them have seen a trace of him. Her maternal worry kicks in when she hears that Gun is sick, only to go to bed hearing that he's got hurt feelings.
Mi-young receives a text from Daniel soon afterwards, saying how he may not be the first but could be the last person who wishes her a happy birthday. He's also sent her a funny video, which makes her laugh.
She celebrates her birthday twin in a soft voice: "Happy Birthday Gun."
Gun has a meta-moment at the hospital, wondering if he's like one of those amnesiacs you see in the dramas (ha, it's A New Leaf and Fantasy Couple). He isn't too troubled by the fact he can't remember the past three months, since he has people like Se-ra to fill him in.
He does, however, have a belated eureka moment: If Se-ra's here, then does that mean she accepted his marriage proposal? Se-ra apologizes for making him wait so long, saying that she's going to quit ballet and stay with him. He's over the moon to hear it, then shows her the ring, asking if Se-ra gave it to him.
Se-ra steps outside to take a call before she can answer, though. She sees Gun ogling over the ring on his finger.
At Lee Manor, Manager Tak comes up with the elaborate excuse that Gun is throwing himself into his work, so as not to startle Grandma Wang about Gun's condition. But just as she rises, Doctor Moon jumps in to stop her, issuing complete bedrest until he says otherwise. I love how he emphasizes that she must, must follow doctor's orders.
Gun wonders why he's still in this stuffy hospital room if he's feeling perfectly fine. But then he has a thought: Does his memory loss mean the onset of his genetic disorder?
At the same time, Mi-young is told to be patient to make sure Gun is mentally at ease. The same goes for Mi-young, since she needs to think of the baby.
Gun barges in just then, worried about his health. He recognizes Mi-young, whom he calls "ke-ban-ji" or "dog-ring," and he wonders why she keeps appearing in front of him. He asks if someone she knows is hospitalized here, and she nods.
He asks who that is, but then sees his own medical records on display. He asks why the doc is discussing his condition with a stranger, and is told that this woman is his personal secretary. Mi-young's Doctor Moon, say what? face cracks me up.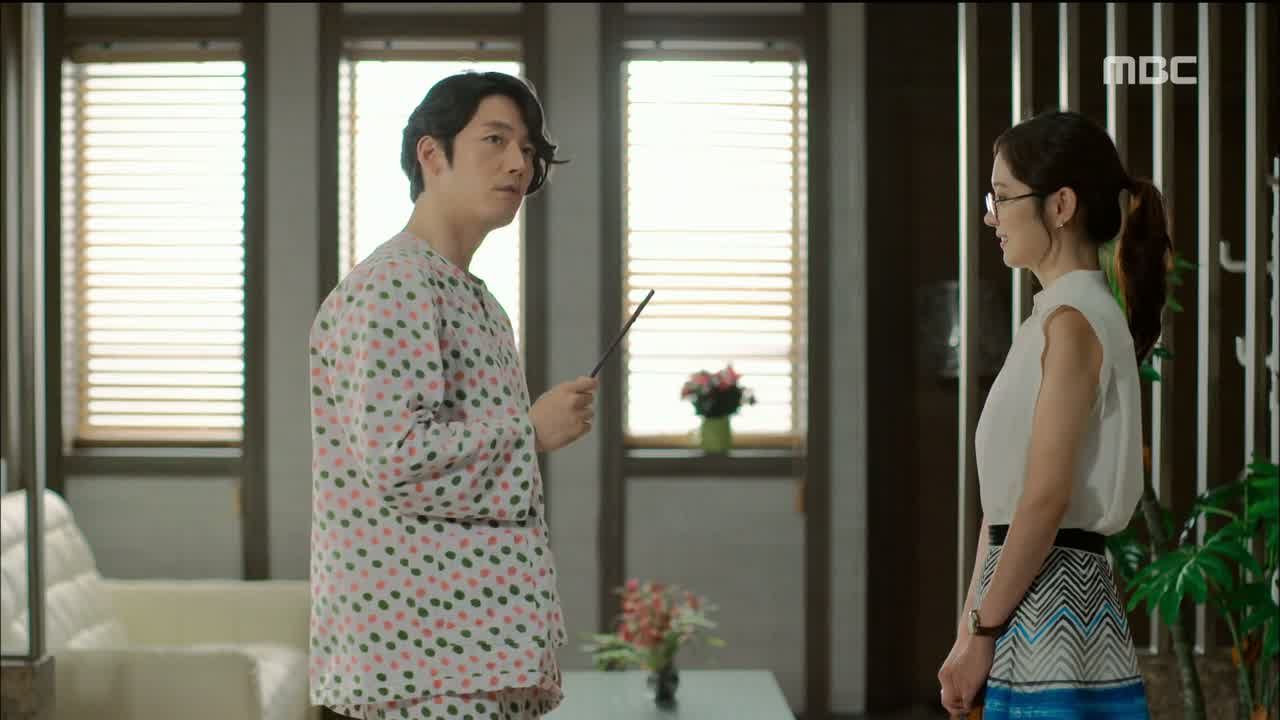 Now back in the hospital room, Mi-young hastily tucks away her wedding ring before Gun whips around to interrogate her. He asks for her name and remarks how pleasant it sounds. When she says it's pretty common and ordinary, Gun unknowingly repeats the same words he told her in Macau—that a common name means that a lot of people like it.
She plays along with the secretary ruse, spinning this story of how he was so impressed by her running abilities when they first met that he invited her to apply for the company, and she eventually became his secretary. Gun laughs at that idea: "As if."
He has a hard time believing it, and then yells at Manager Tak when he joins them. Having heard about the ruse, Manager Tak addresses Mi-young accordingly, and even fist-bumps Mi-young to show off what a great combo they were. Ha.
He dismisses them both, but calls Mi-young back again to ask if she knows about this mysterious ring he found. His girlfriend said she didn't give it to him, so why does he have it? She answers, "It's mine."
She says she entrusted it to him and offers to take it back now. But Gun childishly doesn't give it to her, claiming that he can't trust her words. So until his memory returns, he'll be keeping it. He muses, "But you and I keep crossing paths because of these rings. How strange."
Once out of earshot, Manager Tak shares with Mi-young that Gun was on his way to meet her for her birthday when he collapsed, even ignoring a board meeting that would decide his future. He tells Mi-young not to beat herself over it because Gun's always worrying about her.
Se-ra is displeased to see Mi-young hanging around Gun at the hospital after their talk. Mi-young apologizes, but she can't stand by when she knows Gun became sick because of her. "I want to help him and look after him until he recovers his memory."
Se-ra scoffs at that, and asks if Mi-young thinks she means a great deal to Gun. She's read about their contract marriage in the papers—all that will be left waiting for her at the end of this road is divorce, isn't it? "We'll be able to find that out when Gun recovers his memory," Mi-young answers.
Mi-young talks to Keddongie on her way to her mother's, telling the little one to be patient and not be upset that Daddy can't remember them. He's sick right now, after all.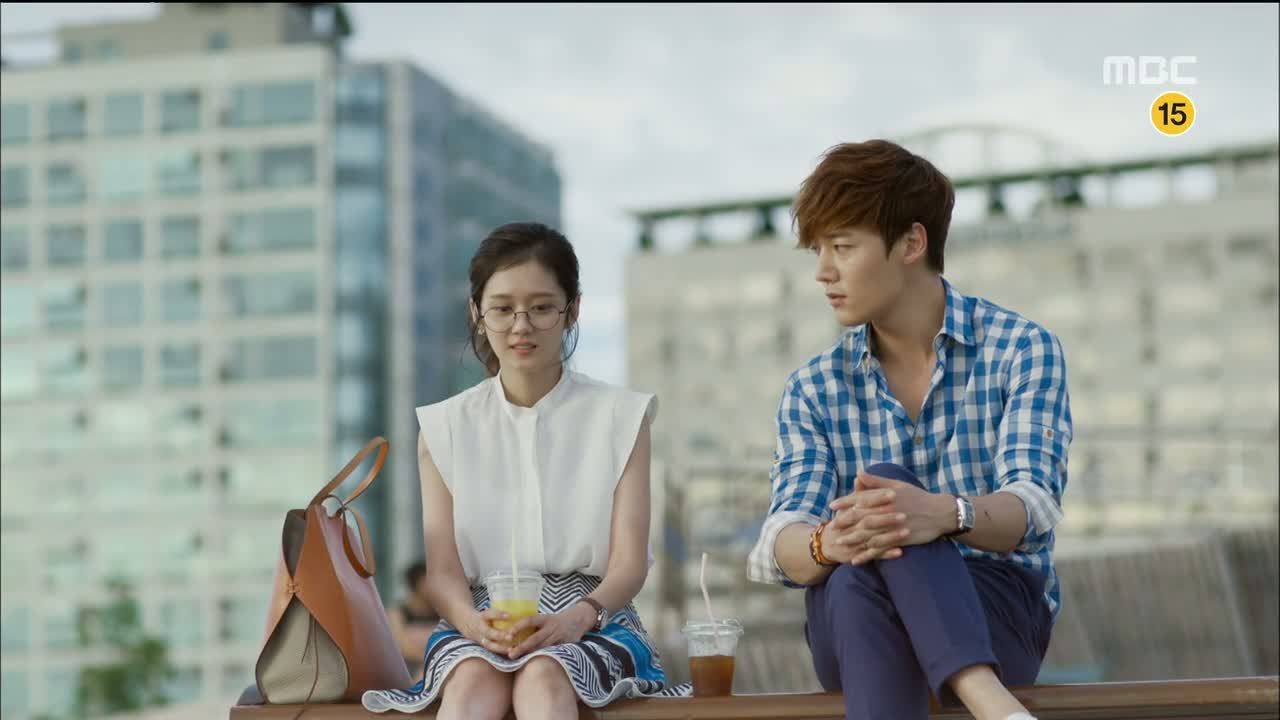 Daniel happens to be waiting for her, and the two relocate to chat. She thanks him for his humorous gift, and he asks if she remembers what he said on her birthday. You know, that bit about how he'd actively pursue her now.
She says she understands that he was worried about her, and grateful that she has a good person like Daniel by her side. Eek, officially friend-zoned? Daniel seems to realize it too, hanging on the "good person" compliment.
He asks about Gun, and Mi-young says that she's relieved that Gun hasn't completely forgotten about her. He smiles at her optimism even now, and reminds her that there's no need to say that she's okay when she isn't.
Se-ra's mother pays a surprise visit to her daughter and gapes to hear of her plans to quit ballet. She asks if Se-ra is planning to see Gun, and just when I'm half-expecting her to slap her daughter any moment now, she throws aside the lunchbox Se-ra was preparing for him instead.
Se-ra's bottom lip literally quivers as her mother tells her to re-examine herself for chasing around a married man, and that ballet is her only shred of dignity left.
Meanwhile, Gun is worried over what will happen to the most important people in his life if his disease really has kicked in. Aw, Manager Tak's on that list. But aside from his grandmother and Se-ra, Gun can't shake off the notion that there's someone else…
So he checks his phone, and aw—he has Mi-young and their baby saved as "Snail ♥ Keddongie." He's surprised when Mi-young picks up, and she quickly explains away the nickname (dalpeng-ie) that likens to how she can do a variety (dayanghada) of tasks.
He immediately tests her words, giving her a laundry list of errands to complete in the next half hour. He asks if these kinds of personal errands bother her, but Mi-young is smiling because this means she gets to see Gun. Aww.
As for Gun, he acknowledges that she's not half-bad. I will love it if you fall in love with her all over again. He decides to check the news, which ack—you'll see the headlines about your contract marriage! And that's exactly what he sees.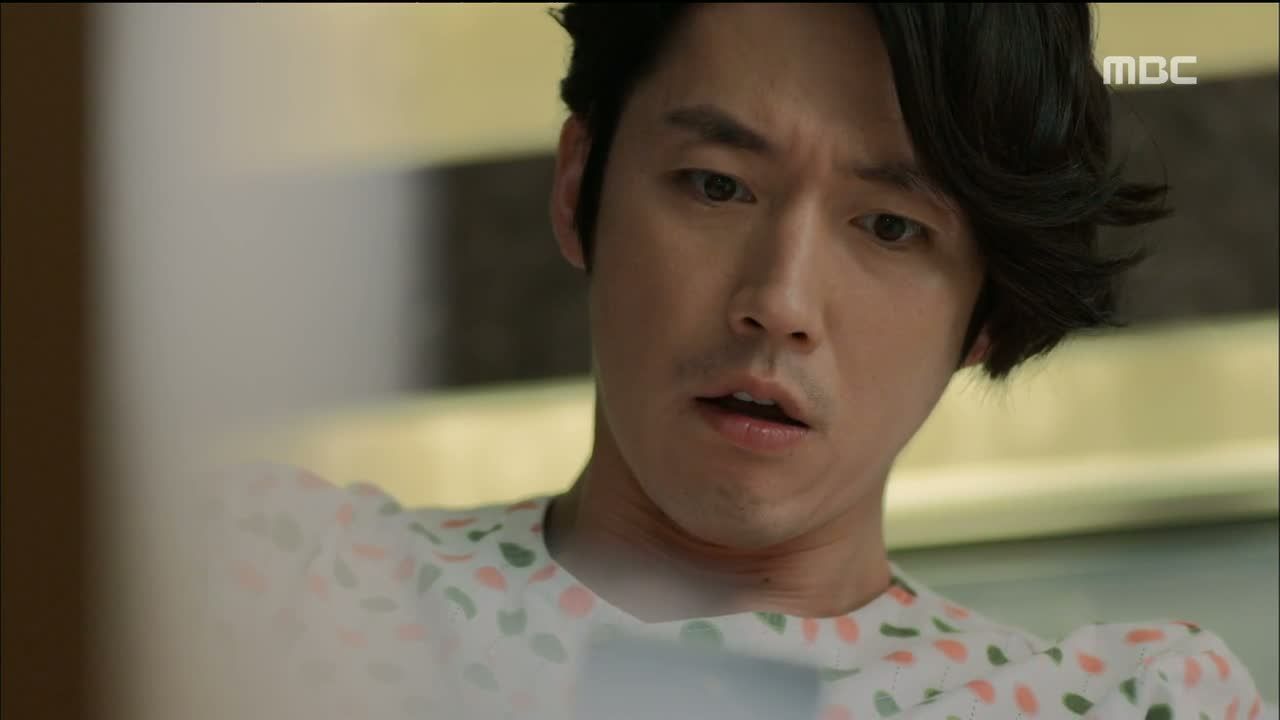 Mi-young arrives at the hospital with her arms full of clothes, documents, and food. She makes sure to take off her wedding ring, but Gun exits before she enters, taking the items out of her hands with a solemn expression.
Once changed, Gun and Mi-young sit down at a cafe where Gun tries calling her "Secretary Kim" a few times. He's amused when she responds readily, and asks if she really works for him.
Flustered, Mi-young slips up and calls him the more affectionate "Gun-ee-sshi," an address he picks up on. He asks why she lied about being his secretary when in fact, she's not. Mi-young apologizes, and he asks how she could stick to that lie when they made headlines not too long ago.
Mi-young honestly says that she didn't mean to deceive him, but cites how the doctor said that shocking news would be detrimental in his current state. Gun acknowledges that it must be great if they had a one-night stand and held a shotgun wedding. That's what everyone's saying, Gun says. Is it true?
Gun is in disbelief when Mi-young confirms them. Why would he leave his Se-ra to do something like that with someone like Mi-young? Ouch.
But he isn't finished yet: "Is it true that you married me based on the condition that you would receive money, have the baby, and get divorced? Did I, by any chance, make that offer?" I thought it'd hurt less because we've seen it once already, but this is just worse.
"There were many things that happened during those three months you can't remember. Although I can't say them now." Mi-young answers softly.
Gun has heard enough, resigning himself to the idea that they were in a contract marriage and "I didn't love you in the slightest, right?" Someone pick up the broken pieces of my heart off the floor.
And if it couldn't get any worse, it just did—Gun points to her stomach and asks, "Is that baby you're carrying my child?" There are tears in Mi-young's eyes, but she still somehow answers, "Yes. Keddongie is your baby."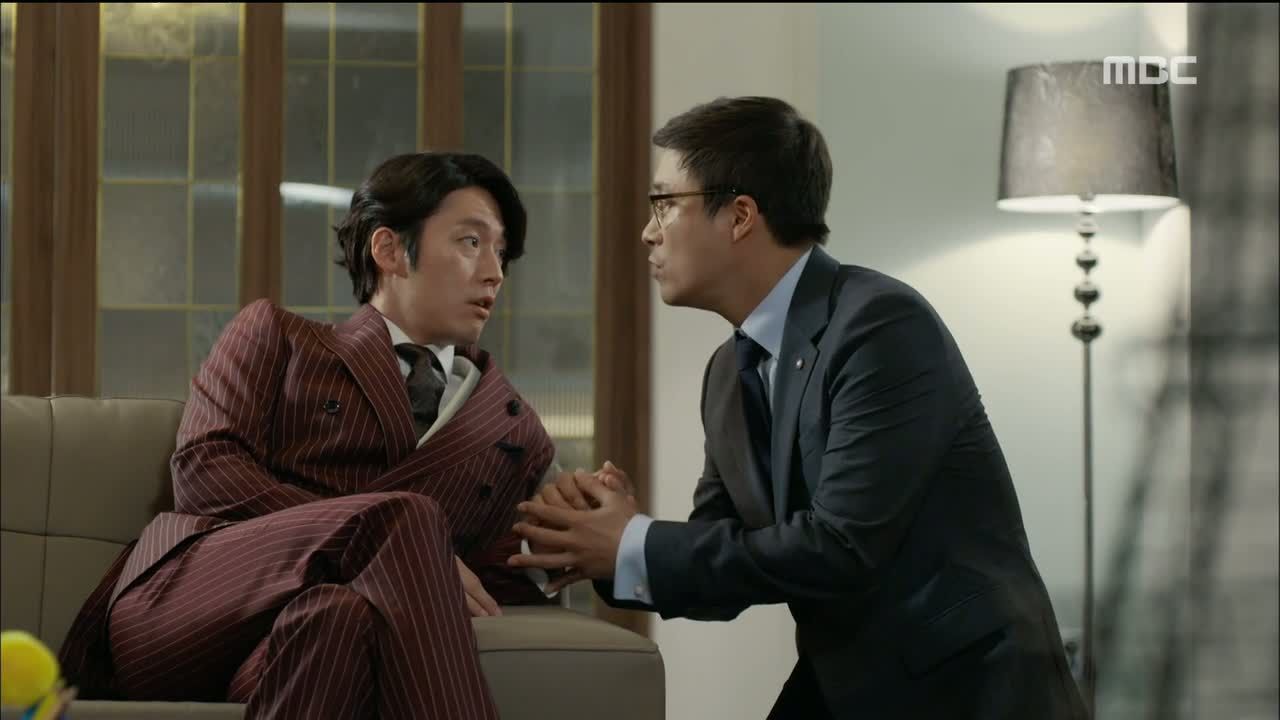 Gun returns to Lee Manor, and is totally confused when his grandmother tells him to bring Mi-young home. Manager Tak ushers Gun into his quarters, where he explains that Grandma Wang knows nothing about Gun's amnesia.
Gun asks if it was fun making him look like a fool about his relationship to Mi-young, to which he's told that they were thinking of his health. He flicks Manager Tak's hands off of him, while his secretary suggests that Gun doesn't do anything he'll regret.
"This really isn't it. This… isn't it," Manager Tak emphasizes, and Gun takes issue with inserting his name in those words (Lee Gun and "this" are homonyms in Korean). It's adorable how much Manager Tak worries about the newlyweds, and reminds Gun to eat in his room on account of his morning sickness. Ha, I totally forgot about that.
Gun sighs over the wedding photo and children's books, and while looking around the bedroom-nursery, he asks, confused, "What happened to me?"
Mi-young's family sit around her as she eats, perhaps wondering the same thing we are: If she's okay. She says yes, confident that Gun will come back. Mom worried for her though, saying that only fools would stay married after what she's been through. Mom plans on returning the money Gun gave their family too and snaps at Mi-ja's suggestion that Mi-young could get alimony from her divorce.
At work, Gun is introduced to Daniel whom he recognizes from the hospital, and the latter's use of calling Mi-young by name has him inquiring what kind of relationship the two have.
Daniel can't suppress a laugh and tells Gun that they had a similar conversation like this one once. He repeats it verbatim, including how Gun referred to Mi-young as "my wife," and that he in turn deliberately referred to her by name. "That should be enough of an answer to that question."
Gun stops him from leaving because he feels Daniel has more to tell him. Daniel does: "I hope that you regain your memory as soon as possible. That is, if you want to know just how kind and grateful a person like Mi-young is. You may even lose that chance if you're too late."
Gun is distracted at lunch with Se-ra, but when he tries to bring up the topic about his marriage to Mi-young, Se-ra changes the topic, saying that it doesn't matter to her that he can't remember these past few months.
Once their meal arrives, Gun stares at his plate, strangely hesitant about eating snails all of a sudden. I don't know if he sees the animated snail, but we do. Se-ra on the other hand, happily digs in, even offering one to him.
The prenatal teacher and her twin drop by to say hello just then, and Gun doesn't remember how he knows either of them. He's astounded to hear that he's been taking prenatal classes and bought baby supplies.
Se-ra rises from her seat, upset, and Gun takes off after her. She's offended by those women's judgmental eyes and demands to know what he'd been doing instead of settling things with Mi-young. "What's the problem?" You saying all of this right now.
Gun promises to take care of everything, but there's a child involved. But Se-ra cuts him off, "So what? If it's because of the baby, she can have the baby and you can take it home. I'll even raise that child myself like it were my own. So settle it with her."
He asks for a little more time, but she doesn't see why he'd need it. "I even gave up ballet for you. I gave that up, but what are you hesitating for?" Not Cool, Se-ra.
Gun examines the various baby things at home, like the Keddongie mug and baby outfit. He starts reading Mi-young's letters to the baby, which express her joy and fear about becoming a mother.
He reads about Mi-young's fascination with how two such different people can share so many similarities, and how they'll all spend the day tomorrow together.
A tear falls from Gun's eye as he reads the final few lines: "Meeting your dad was one of the happiest things that ever happened to me."
Gun is fighting a headache when he returns to his office to see Se-ra waiting for him. She's eager to spend the day together if he isn't busy, and notices that the pictures of them together aren't on his desk.
He finds them in his desk drawer, where he also sees something else: the heart-shaped lollipop. He takes a long minute to look at it, which makes Se-ra nervous. It's at that moment he recalls a snippet of an exchange—him giving a chip and being given this lollipop in return.
It's followed by more broken memories from Macau, like his proposal decorations being taken down and hearing Se-ra apologize to him. He asks, "Did you… not come to Macau three months ago?"
He realizes that Se-ra wasn't there for his proposal, and walks out holding the candy in his hand, completely lost in his own thoughts.
Se-ra chases after him, begging him not to go. "Se-ra…" Gun says weakly. "I feel… like I lost something really important to me." With that, he pulls out of Se-ra's hold on him and takes off. Go Gun Go!
And now we're back to the opening sequence, where Gun is driving through the tunnel, where Mi-young's face, voice, and happy memories with her come flooding back to him. Her heartfelt confession about her feelings and the fear it brings rings in his ears, and he recalls when Mi-young was taken away from Lee Manor and from him.
Tears streaming down Gun's cheeks, he calls out in between his sobs: "Dalpeng-ah! Keddong-ah! Dalpeng-ah!"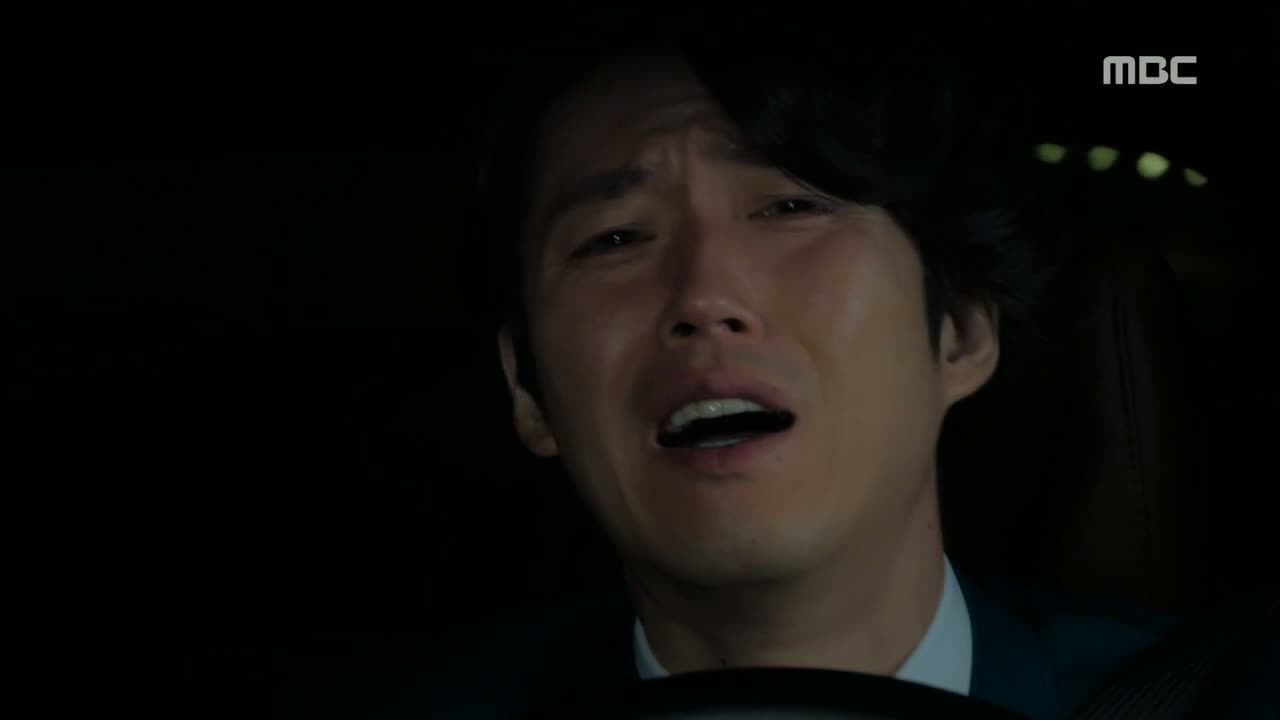 COMMENTS
Man, that was a tough hour to get through. We've been spoiled with such delectable moments in this series that despite knowing that there would be some kind of angst on the horizon, I wasn't looking forward to an inevitable turn in the story. You could call it a mind-heart battle, where my brain knew a conflict had to come, but my heart wouldn't be prepared for nor accept whatever it would be. Not for This. Show.
I knew that it had to be something drastic to forcibly keep our inseparable couple apart, and I feared amnesia. So I wasn't thrilled when that's exactly what we got, because again, that mind-heart battle: My mind would argue that because Gun is in love with Mi-young now, he would need a system reset to consider feelings for Se-ra again; my heart would say, screw you, Amnesia—go take a timeout next to your friend Noble Idiocy. At the very least, I appreciated that we saw the moment Gun recovered his memory at the beginning, giving us an assurance that this was a very temporary thing. It didn't, however, make it any easier to get through the episode, watching Gun be even colder to Mi-young because he couldn't even remember her. Just writing about it still upsets me. There were times I couldn't even bring myself to laugh at the much-needed humorous moments, since they were still undercut by the inner pain that Gun and Mi-young weren't together.
At first, I wanted to sympathize with Se-ra, because I could see how seeing the old Gun, the one who loved her for years, would want her to pick up right where they left off. But as the hour progressed, I continued to see her lie by omission to Gun and eventually saw her use the emotionally manipulative card against him. It would honestly be a pity to see Se-ra's character go down this traditional second female lead route (read: crazy bitch), even if it is inevitable so that we would root for Mi-young (which we would, anyway). I've realized that Se-ra was nearly always the one with the upper hand in her relationship with Gun, because he would jump through hoops to please her. It's only when I compare Gun's relationship with Mi-young where he enjoys taking care of her that I think that being with Se-ra probably wasn't good for him in the long run.
Then our other suitor Daniel said that he'd pursue Mi-young just last episode, only to… not. I'd wondered why he didn't, thinking that perhaps he was being considerate towards Mi-young and her recent emotional trauma. But then I also considered the possibility that Daniel didn't feel it was a level playing field to compete for Mi-young's affections against amnesiac Gun. Perhaps that was why Daniel nudged him to remember before it was too late, but then again, he's also been friend-zoned in this hour. On an optimistic level, there could-maybe-not-really be hope for him yet, but that would also mean something even more heartbreaking between the newlyweds.
Even in perhaps the most heart-wrenching page in her married life thus far, I'm still impressed by how Mi-young could hold herself together, especially when Gun told her that he didn't love her and questioned if the baby was even his. After hearing him speak the most incredible things about her, it was painful to hear and she was still confident that Gun would come back. So it was such a relief to see him come out of his amnesia spell in one hour, but if this episode means that this is the actual onset of his degenerative disease, then that easily means it could happen again. And again. And if that happens, then… I don't know. Welcome back, Gun.

RELATED POSTS
Tags: Choi Jin-hyuk, Fated To Love You, featured, Jang Hyuk, Jang Nara