Odds and Ends: The KCON 2014 wrap-up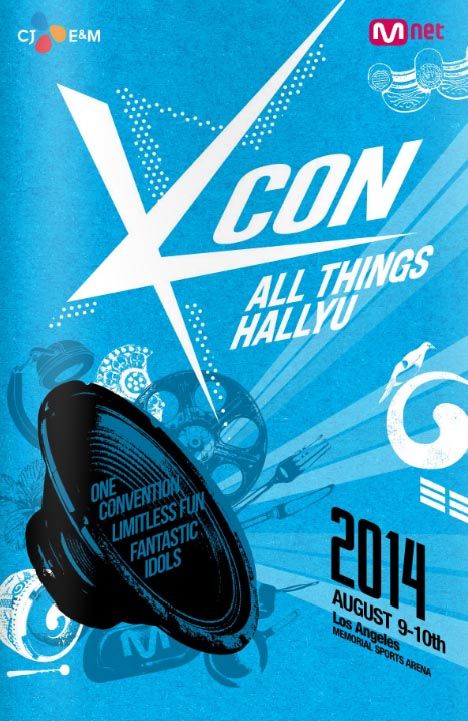 javabeans: Well, I know what I did this week—spent it recovering from KCON. I know technically we only were "on" for two hours (we had one hour-long panel on each day), but it sure took a lot out of me.
girlfriday: The heat might've had something to do with that.
javabeans: And the forty thousand con-goers at the event.
girlfriday: It's also possible that we're recovering from the weekend we spent eating and drinking.
javabeans: Is there such a thing as beef detox? I should really keep in mind that just because HeadsNo2 can eat her weight in cow doesn't mean I have to beat her. Sometimes people can just win at things.
girlfriday: We all win, mostly because you brought homemade makgulli. And lots of it, too.
javabeans: Just be glad nobody confiscated the suspicious cloudy liquid in my bags at the airport. And that the containers didn't leak so that I had to show up to KCON smelling like a wino on a three-day bender.
girlfriday: To be clear, we did actually go on a three-day bender. She just showered in between.
javabeans: Even though I then came home smelling like beef, because of course I managed to drop grilled meat on every single item of clothing I wore that weekend.
girlfriday: Maybe we should tell people about our panels. Or we could talk about the travesty in scheduling, where the Dramabeans panel was counter-programmed with Seung-gi's fan-meet. *cries*
javabeans: Who would do that, who?! We should be glad they switched the time of Seung-gi's event at the last minute, because otherwise we might not have had a panel. Or it would have been me on that stage talking to myself.
girlfriday: Hey, I'd do that for you if Lee Min-ho came around.
javabeans: That's sweet, but totally a bald-faced lie. You'd be elbowing me out of the way, motherfucker.
girlfriday: Is it my fault that your face is in my elbow's way?
javabeans: This is all moot, however, as we did not have time to go to Seung-gi's event anyway, or Lee Seo-jin's (what a random star to bring to KCON, isn't he?). I was really really hoping this was some kind of top-secret Na PD stunt and that he was going to make Seojinnie and Seung-gi do some missions while there, and was probably more disappointed than was reasonable when that didn't happen.
girlfriday: And for their safety's sake, the other fans should probably be happy that I missed Seung-gi's event. Waaaaaaaaaaah. Gummimochi tried to make it up to me and entered me in a drawing to see him, 'cause she's a good friend like that.
javabeans: We weren't sure how many people to expect at our panels, so it was nice to see a full crowd out there… although maybe they were just there to see Sean Oppa. (It was really cute how Heads, who has been calling Sean Richard "Sean Oppa" behind his back for a year, accidentally said it to his face and was totally embarrassed. I'm pretty sure he didn't mind.)
girlfriday: Nobody minds being called oppa. Ever.
javabeans: Did you like how he got a hero's welcome? He was a few minutes late, and basically got the whole crowd to erupt into cheers at his arrival.
girlfriday: Next year, I'm coming late too.
javabeans: The Saturday panel was hosted by Viki, which means they picked the topic (trends in dramaland) and we mostly just rambled on about things like genre trends, product placement, the production environment, and so on.
girlfriday: Also, it was nice to be on the Viki panel with Sean again, since we already knew him and it was easy to riff off of each other's comments since we'd done this last year too.
javabeans: Yes, it helped have rapport. Last year I remember not being sure if I should talk more or less, or if I should speak up or cede the conversation to keep things smooth, but this year it was like chatting with a buddy.
girlfriday: And now we have a running joke every year at KCON, where we accompany Sean across the main thoroughfare and he gets to strut like a boss.
javabeans: I'm pretty sure he introduced us to his friends as his posse.
girlfriday: Then on Day 2 we had the Dramabeans panel, where Gummimochi and HeadsNo2 did a fantastic job of preparing lots of questions to throw at us.
javabeans: We've done a number of panels now, but this was by far my favorite—there's just a level of rapport you have when you're familiar with each other and know each other's speech patterns and understand where the conversation is going in the moment. They had prepared questions and an outline to work off, but we mostly treated it like a fun conversation amongst ourselves.
girlfriday: Yeah it's hard to interject with one-liners when you have to be polite. Interrupting you guys is just a regular thing I do—
javabeans: —right, it's the stuff of our everyday conversations. We covered a pretty wide range of topics, such as why second leads always get bypassed even when they seem so much better for the heroine, why knives always get blurred out in crime dramas, how variety affects your image, how we feel about the idol influx in dramaland…
girlfriday: …Why there's no such thing as a 60% ratings king in dramaland anymore, the new broadcast models we're seeing in cable…
javabeans: The lightning round was a fun wrap-up, where Heads and Gummimochi made us describe dramas in five seconds or less, with no preparation. It was fun, except when I was struck speechless and scrambling for words to string together. "It's about a girl! Who dresses as a boy! Who falls in love with a boy! Who thinks she's a boy!"
girlfriday: I think the lightning round should be called the sweating round.
javabeans: Well yeah, 'cause when you say "Gaksital" and my only answer is to well up with emotion and be overwhelmed by my feelings, I'm not sure what to do about that.
girlfriday: I'm pretty sure that still beats my metaphor description of The Moon That Embraces the Sun as: "Two moons and a sun can't be in the same place at the same time!"
javabeans: I totally left the panel and thought up way better answers and was bummed that I didn't do a better job.
girlfriday: SO MUCH REGRET. Though really, you made up for all of our flubs by busting out in song: "Almost Paaaaradiiiiiiiiiiiiiiiiiise~!"
javabeans: It makes for a much better punchline than "RIch asshole abuses poor girl into loving him."
girlfriday: Why does that description fit so many dramas?
javabeans: That should really be our topic for next year. We'd never run out of things to talk about, that's for sure.
girlfriday: Should we mention the concert?
javabeans: I feel like everyone went to KCON for the concerts and therefore there is plenty of that already posted online, but I suppose it wouldn't hurt to weigh in on it. Even if I don't have much to say other than that Jung Joon-young's weirdness is pretty epic (as opposed to being cute-quirky—he's just weird).
girlfriday: He's hilariously, genuinely weird. But a rock star who looks like Kang Dong-won can do whatever… even if it's dance like a muppet.
javabeans: Or a Power Ranger. Oh, also SPICA is my new favorite girl group (…in that I now have one favorite girl group), Jung Yonghwa is a freaking rockstar when he performs (to the extent that everyone else rather fades into the background), and Girls Generation was more or less fine but lacking that choreographic military precision I was expecting of them (they were probably the flattest performance, actually).
girlfriday: I don't think I've ever seen a girl group like SPICA where everyone actually SINGS. They were great.
javabeans: They do exist, but they're oddly rare for the industry. (Remember SES?) Nowadays you need everybody to be a "concept" member—the face, the dancer, the rapper, the leader, and whatnot.
girlfriday: I loved SES! They were also like a gazillion years ago, sigh.
javabeans: I do think the whole convention was put together much better than last year, with more thought given to the types of panels, and the marketplace and food options, with more things to look at and buy. There's still stuff that can be improved, of course (…like actually letting people inside in a decent timeframe, rather than making them stay in line for five hours), but I was glad to see general improvements all around.
girlfriday: It was fun for us, so I hope everyone who came had a good time, and thanks again for braving the crowds to fill our tent both times!
javabeans: Yes, we always love meeting you guys in person whenever we get the chance. We were happy to be invited back this year, and we hope you enjoyed it too!

RELATED POSTS
Tags: conversation post, Odds and Ends