Discovery of Romance: Episode 9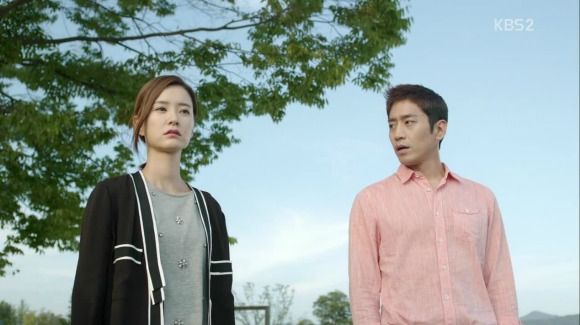 Questions are answered and emotions come to a head, as our leading man comes face to face with his past behavior for the first time. Tae-ha makes a realization that rocks him to the core on many levels, which could be a real game-changer. And Ha-jin had better figure out whether his interest in Ah-rim is purely brotherly or not, or he could stand to lose everything.
EPISODE 9: "I said 'I love you' hundreds of times…"
On their way to the orphanage, Ha-jin asks Ah-rim why she changed her mind about taking him with her today. She says the little boy having the surgery would feel more comfortable if he met the doctor first. He asks if she's wearing makeup which makes her feel self-conscious, and she wipes it off, saying there's no point trying to look pretty for him.
Ha-jin and Ah-rim stop at a mall to buy gifts for the kids, where Ha-jin pays for everything against Ah-rim's protests. He says it's redistribution of wealth from the rich to the poor, like she always says, and asks her to just take what he gives her.
Tae-ha and Yeo-reum stop at the same mall for lunch, and Tae-ha sees Ha-jin and Ah-rim shopping but manages to keep Yeo-reum from spotting them. He notices her purse which she's been carrying since they dated, bragging that he got it for her with his first paycheck, but she insists she bought it herself.
Tae-ha remembers their dating days, when he'd been excited to take Yeo-reum to the subway station to find the purse stashed in a locker. Yeo-reum says she doesn't remember it that way — she remembers the day, but claims it was a necklace that he bought her, not a purse. She says the purse was an apology later for breaking plans with her three times in a row, and that she's since thrown the necklace out. Ouch.
Tae-ha grumbles that he was a lot better than she remembers him, and Yeo-reum agrees that it was a beautiful time but it passed quickly. Now whenever she sees him, all she thinks is that beautiful things only last for a second.
Yeo-reum excuses herself to the restroom and runs into Ah-rim on the way. Ah-rim asks politely what brings Yeo-reum here, to which Yeo-reum retorts that it's none of her business. Ah-rim calls her out on her rudeness but Yeo-reum just says she has no reason to be happy to see her, and hopes not to see her again, though she does finally tell Ah-rim her name.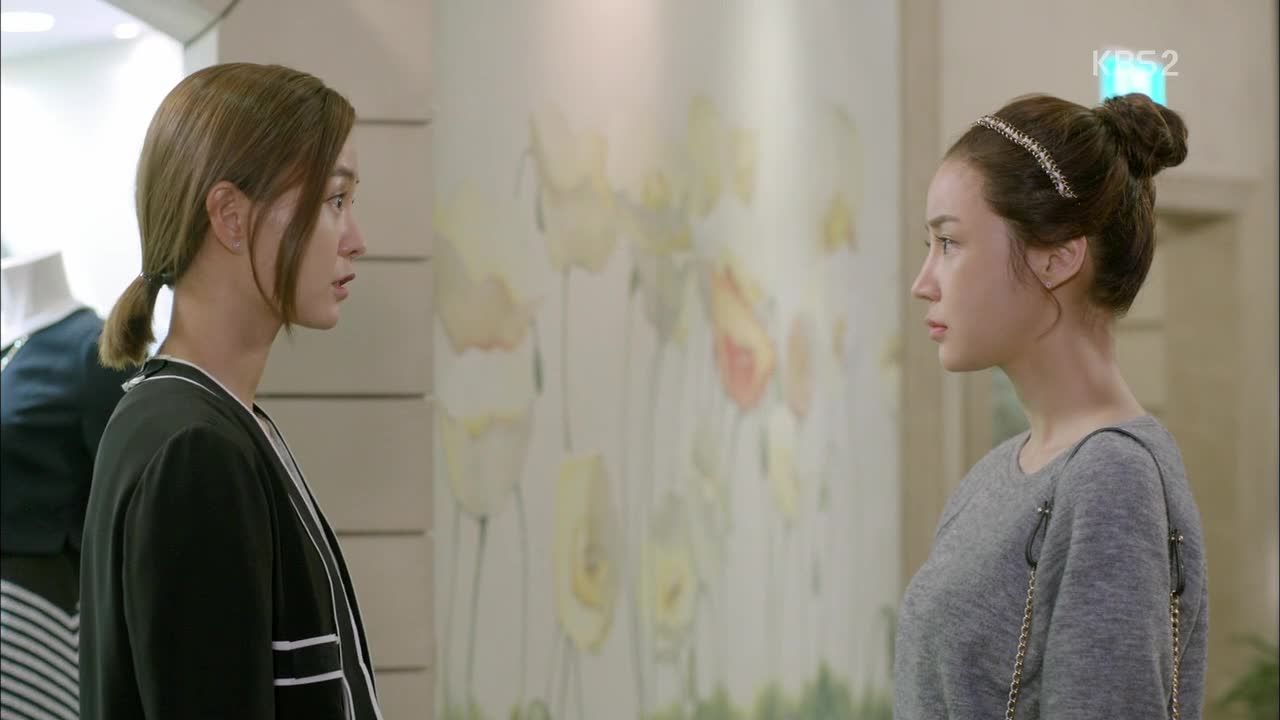 A grouchy Ah-rim then finds herself in an elevator with Tae-ha, who asks her if she's here alone and takes offense at being called "ajusshi." She bites his head off and says she's here alone thankyouverymuch, then asks who he came with but he declines to answer. Yikes, everyone's so super-touchy.
Ha-jin starts to call Yeo-reum and thinks about how he feels guilty that he's been lying to her, remembering his mother's words that he doesn't need to tell her about Ah-rim and being adopted. Ha-jin and Ah-rim stop for lunch and she asks about the guy who saw them hiding from Yeo-reum that night, and he just says it's some guy who works with his girlfriend.
Meanwhile Yeo-reum thinks that it was strange how Tae-ha didn't want her looking towards a certain store, and Ha-jin's caginess when he told her he had a seminar today. She calls Joon-ho who says Ha-jin didn't come to work and doesn't mention a seminar. She mulls over whether to call Ha-jin but knows it will cause a fight, and decides against it.
Sol meets with Director Yoon to go over some project details, and she returns the handkerchief he lent her the night that he drove her home. He asks her to a movie then gets all nervous and says it's not a date, just a job perk, but he's so adorably flustered that it's obvious that to him, it's totally a date. Sol makes his day by accepting.
Later that day, Joon-ho pops his head into Sol's room and sees her in all her topless glory, which freaks him out way more than it does her. His legs give out and he mutters to himself that she doesn't need that boob job she wanted, HAHA. When she comes out of her room he can't keep his eyes from jumping down to her chest, hee, and gets further freaked out when she nonchalantly asks him to zip her up.
Sol informs him she's going to a movie with Number 12, and he gripes that he's supposed to be Number 12, so she invites him along. The guys spend the whole movie glaring at each other and having silent wars over who gets to share Sol's popcorn, which is the cutest thing ever.
Back in the car with Tae-ha, Yeo-reum can't stop thinking about Ha-jin and his behavior that morning, acting as if it was a normal day and he had nothing up his sleeve. So, exactly the same thing she was doing, then? She asks Tae-ha to stop the car and gets out for some air.
Yeo-reum thinks to herself that they only just made up after fighting over Ah-rim for a week, and when Tae-ha joins her she tells him she figured out that he saw Ha-jin at the mall. She asks why he didn't tell her since it would have aided his cause of splitting them up, and he says he doesn't care for foul play, but still denies that he saw Ha-jin.
Yeo-reum says this is why she can't be with him, because what he wants comes first and if he really wanted her he wouldn't mind foul play, which is just so backwards. She calms down and tells him that she's nervous because Ha-jin said he was going to a seminar today, but then she saw Ah-rim at the mall. Tae-ha rightly points out that they're together too, and that it's no different from Ha-jin's perspective.
Tae-ha reluctantly tells Yeo-reum that when he went for drinks with Ha-jin, Ha-jin had told him that Yeo-reum was The One and that there was nothing going on with Ah-rim. He figures there must be some other reason Ha-jin can't tell her about Ah-rim, and advises her to find out what that is before she gets suspicious.
Sol and her dates head to a cafe where the passive-aggressive shenanigans continue, and Sol is either oblivious or very good at pretending she is. Yoon gets the drinks and Joon-ho spots Eun-gyu with his girlfriend a few tables over, fighting over the fact that he only takes her places where he has a coupon. She's being really mean about it, and Sol gets up wordlessly and goes over to their table.
Yoon and Joon-ho look on as Sol complains that Eun-gyu used to always use coupons on their dates too, calling him a cheapskate. In fact, she tells the girlfriend, he's such a cheapskate that he saved all his military paychecks to pay his sister's tuition. She says she only received one birthday gift in the ten years they knew each other, but she was so grateful for it that she cried that whole night because he wore the same pair of shoes for a year to afford it.
Working herself up, Sol says that he uses coupons because he's saving to buy a house for his future bride, and advises the girlfriend not to date him if she can't understand that he saves on the little things in order to afford the big things.
Yoon catches himself with a moony smile on his face as he watches Sol, seeing her in angelic light with sparkles all around her, hee. He shakes it off for a moment, then succumbs to the mooniness. Joon-ho also sees the light and sparkles as he watches Sol tell Eun-gyu's girlfriend to leave because she doesn't deserve him, and he clutches his pounding heart.
Sol apologizes to Eun-gyu for going too far, but he stops her to thank her and apologize. She shakes him off and goes back to her admirers, who high-five each other at their girl's awesomeness. She takes a fortifying drink of her latte, and the foam on her upper lip triggers a hilarious Secret Garden moment, complete with soundtrack –- both guys lean in to kiss it off her, but are stymied when Sol licks it off herself.
Ha-jin pulls up at the orphanage and has a flashback to their childhood when he brought Ah-rim back after being injured, and she was taken from him by the nuns. Ah-rim enjoys the feeling of being home, and tells Ha-jin that she grew up here until she went to college. She's mobbed by a group of adorable children, and introduces Ha-jin to the boy who will be getting the first surgery for a large burn scar on his neck.
Ah-rim and one of the nuns watch Ha-jin playing with the kids, and the sister quickly susses out that Ah-rim likes him. Ah-rim says he has a girlfriend so she keeps it to herself, promising she won't get greedy and want him. She watches him patch up a boy's scraped arm and remembers her childhood oppa doing the same for her face, still unaware that her oppa and Ha-jin are the same person.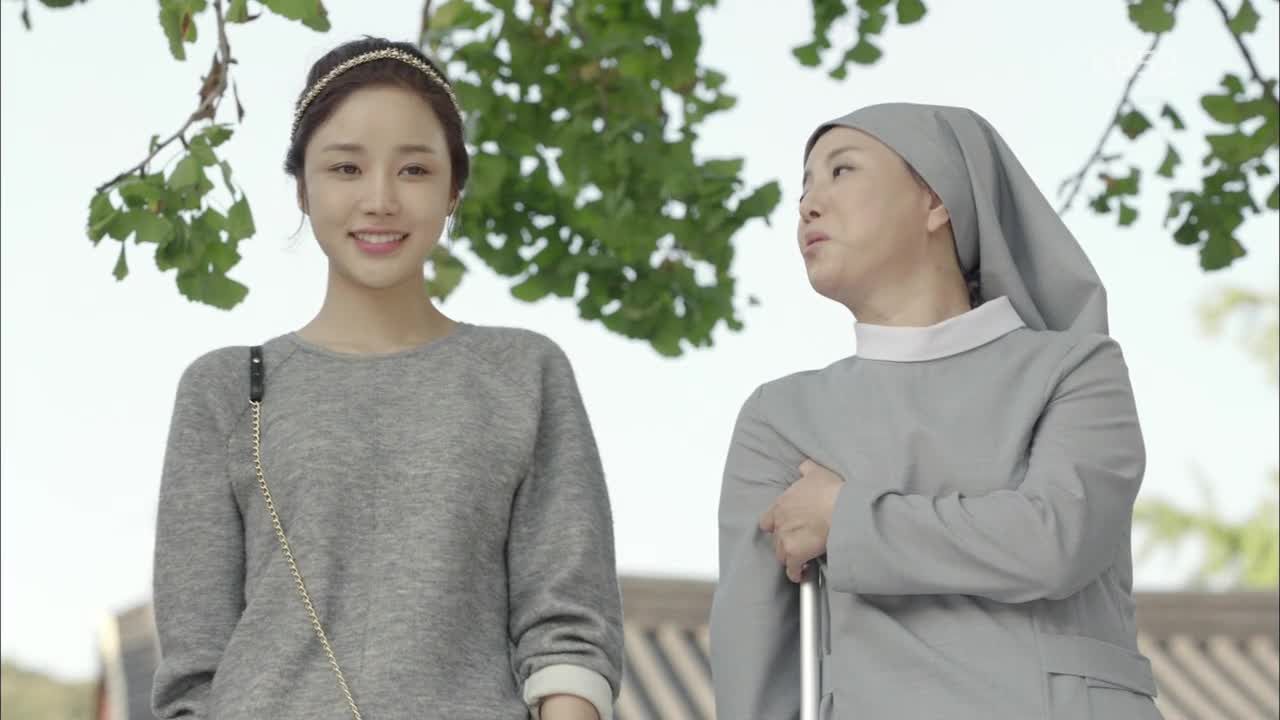 Tae-ha and Yeo-reum reach the lumber mill and check out some special wood, where Yeo-reum is praised for her ability to recognize fine lumber. They take a walk nearby and Tae-ha asks her if she remembers camping here, but Yeo-reum insists they've never been here before. Tae-ha half-teases that he wants to keep checking if she remembers things from their time together, because all of them, even the fights, are precious to him.
Yeo-reum says her fight with Ha-jin will be precious too, but Tae-ha quips that you have to break up before that can happen, so they should break up soon, heh. Yeo-reum whines that she's only dated two guys and both of them are "used cars," and Tae-ha calls her psychotic. He urges her again to break up with Ha-jin, promising to be really good to her. Cute.
On the way back to Seoul Tae-ha stops at a familiar lake, and it takes Yeo-reum a minute to recognize it as a place they came once with her father. A strange look crosses her face and she refuses to get out of the car, so Tae-ha goes by himself and remembers Yeo-reum setting up a picnic while her father fished.
Alone in the car, Yeo-reum starts to breathe heavily and looks like she's having a panic attack, and when Tae-ha again asks her if she wants to get out, she's unresponsive. Something is seriously wrong. She rouses enough to yell at him to get them out of here, and becomes unresponsive again when he starts to drive.
Worried, Tae-ha asks what's wrong with her and whether she needs a hospital, but he suddenly freezes as a memory comes to him — he'd been walking with her father, who had told him that Yeo-reum had been crying a lot lately and asks him not to make her cry in the future. Tae-ha is all smiles as he promises that he plans to marry Yeo-reum, but her father is strangely serious as he warns Tae-ha not to live like him and his wife.
Her father is full of advice about how to deal with Yeo-reum, and Tae-ha jokes that he must be going somewhere far away, but her father doesn't smile. Tae-ha remembers that those were his last words with him. I'm getting a very bad feeling.
In the car, a stunned Tae-ha stares at Yeo-reum and remembers Director Yoon telling him there was no record of an accident on the day that her father died. He forgets to watch the road and nearly drives into a road block, and he throws himself across Yeo-reum to shield her from the impact.
Yeo-reum's eyes open, but instead of seeing the road, she's locked in a shadowy memory of a rope, and feet hanging in midair as she enters a room. Oh no. No no no, anything but that. The car stops just before impact, and Tae-ha is relieved for only a moment until he sees that Yeo-reum is unconscious, and nothing he does wakes her.
Yeo-reum's mother is, coincidentally, making her monthly trip to her husband's memorial site with Producer Bae, who wonders why Yeo-reum has never come here. Mom just says it's too hard for her, and Bae says she's been better since she started dating Ha-jin. Mom knows she's only pretending to be okay, and wonders how much her husband must have hated her to take his own life. She blames herself for hanging on when he asked to be let go, musing that in hindsight she should have let him be with the one he truly wanted. That's interesting.
Tae-ha takes Yeo-reum to the hospital and the doctor tells him that she passed out from a sudden drop in blood pressure and heart rate in response to stress. He sits by her bedside and thinks back on their recent argument where she'd reminded him that she'd tried many times to call him right around the time of her father's death, but he'd never answered.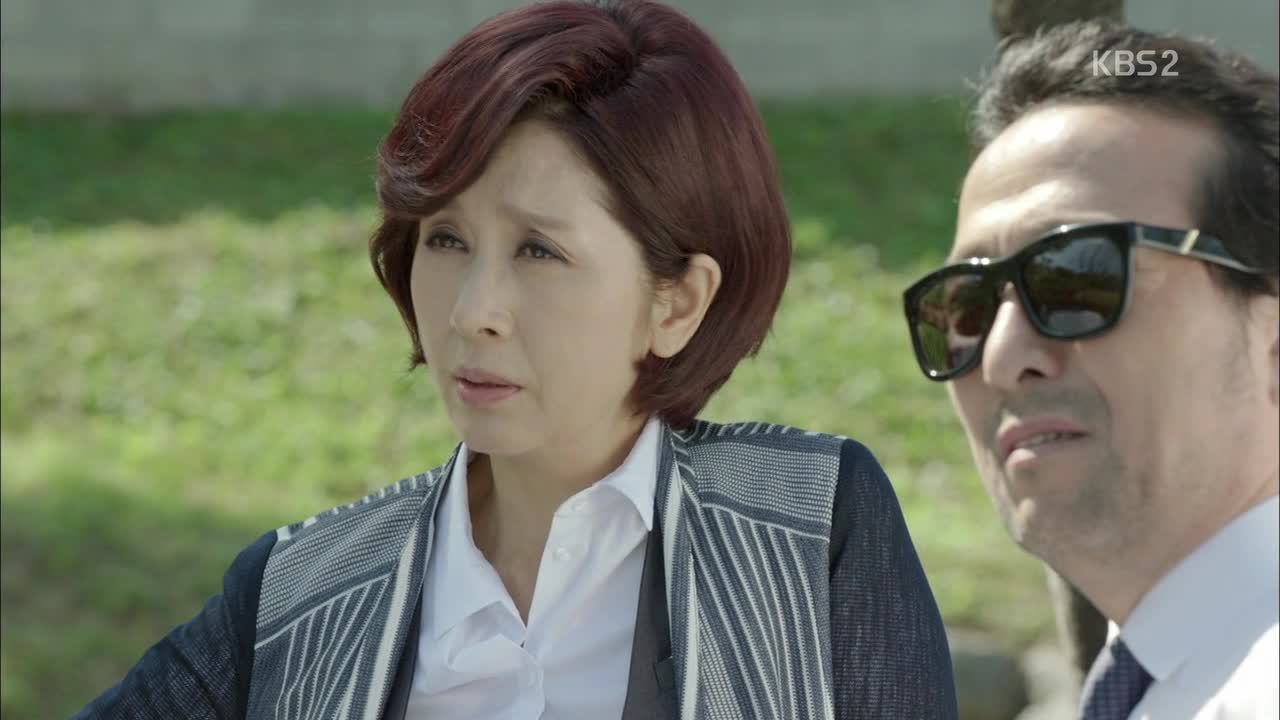 He seems to have put the pieces together and figured out why she never told him her father died, and he begins to cry. He remembers all those calls he blew off or didn't answer — he'd been tired from work, or in a meeting, and even once helping a coworker who'd been injured, but all of those excuses seem flimsy now in the face of what Yeo-reum had been going through.
He watches over Yeo-reum and thinks to himself that there were days back then that he couldn't go to her, but there had been days he could have but chose not to. He remembers her crying at the train station that last day, asking if he wasn't even curious why she was sad, and thinks that it was the last time she'd needed him. His hands shake and he sobs in earnest, as he wonders why he never even asked her what was wrong. He'd told her hundreds of times that he loved her, but he didn't even know what love was. Tae-ha realizes that he can never dare to say "I love you" to Yeo-reum again, and that he has no right to say those words.
Ha-jin and Ah-rim eat with the kids, who invite them to stay the night. Ah-rim says they can slip out once the kids fall asleep, so Ha-jin agrees. They all settle down in a big room together with Ha-jin and Ah-rim a respectable distance apart, but the kids keep shuffling places until they're lying together in the middle.
Ha-jin asks again how long Ah-rim lived here, and she tells him that she stayed until she graduated high school, then she left with only the three million won (just under $3000) from the government to live on and a college scholarship. Ha-jin asks if she blames her brother for being separated from her, and she (finally!) says he wasn't her biological brother, but since she has no memory of her real parents, he was her only family.
In a small sad voice, Ah-rim says she missed her brother and cried a lot. But she's done blaming him and she's sure he lived a good life, so she's okay. Ha-jin says he couldn't have had that good a life since he left her behind, but Ah-rim says she would have chosen to be adopted too, if she were him. She starts to cry and stops talking, and Ha-jin also has to choke back his tears.
Yeo-reum wakes up in the hospital to find Tae-ha still hovering by her bedside. He reminds her of what happened and says they'll never go back to that lake, and admits that he should have listened to her, today and back when they were dating. Yeo-reum is pale and drawn but she wants to go home, and Tae-ha says he'll take her. She seems to notice a change in him, but doesn't comment on it.
Joon-ho monitors his heart rate and declares himself fine, then stomps out to order Sol to come upstairs. She's eating and refuses, and he notes how messy she is while she eats. Joon-ho puts his stethoscope back in his ears and tells Sol to say again what she said to Eun-gyu's girlfriend about not deserving him, but then takes it back because surely his heart wouldn't pound when she's got food on her face and is sitting hunched over her food like a Neanderthal.
They start to argue and she yells at him to leave her alone, and even though she sprays food all over him, it's close enough to what happened earlier to set Joon-ho's heart thumping again. The cute love theme as Sol chomps her rice and scratches herself is hilarious, and poor Joon-ho reels in horror. He wails that there's something wrong with his heart, and Sol just marvels at the crazy man.
Ha-jin drops Ah-rim and the little boy with the burn scar off at her place, and Ha-jin tells him he'll do the surgery the day after tomorrow. He tells the boy to eat whatever he wants the next day to get strong, and gets an invitation to lunch in return.
Tae-ha calls Sol to come get Yeo-reum when he gets to their place, and he offers to piggyback her inside but despite her weakness, she insists on walking. She's dizzy so he holds her close to lead her in, and Ha-jin pulls up right in time to see them walking close together. Joon-ho and Sol come out asking what happened to Yeo-reum, which sets off Ha-jin, and he jumps to the wrong conclusion and stalks towards Tae-ha with fury in his eyes.
COMMENTS
First of all, I have to correct the impression I gave last week that my annoyance with the characters indicates that I'm not enjoying the show as a whole. I'm actually liking Discovery of Romance very much — I had just hit a point where I was very frustrated because I didn't understand why anyone was doing anything, and I wasn't liking the characters all that much at that point in the story. In fact, I think it's a sign of good writing that the characters and their actions were wringing such strong emotions out of me, and my annoyance at the characters in no way indicates that I don't enjoy the show itself very much. Because I do!
The episodes since then have shed some light on why the characters are doing some of the things they do, so I'm feeling more sympathy and am much less confused and frustrated at certain characters and their behavior. Most especially Tae-ha, because I understand a bit more how he could say he loved Yeo-reum in the past and that he likes her now, yet he hasn't been acting like it very much. I think he's just been caught up in his own confidence that he always gets what he wants — all he has to do is want it, and he can have it. He didn't feel the necessity of actually working for her heart and showing her his feelings, because he'd said it so she should believe it, and that was just that. That's the way it always worked in the past, so he had no reason to believe it wouldn't work the same way now.
I think the realization of why Yeo-reum didn't tell him about her father's death just hit him like a ton of bricks, and made him see that sometimes, if you love someone, you should just be there for them when they need you even if you don't know why. True, he didn't understand why she kept calling and refusing to tell him what the problem was, so it was easy to say it couldn't be that important if she wouldn't even say what was wrong. But he knows now that the correct response wasn't to blow her off. I'm not saying he should have dropped everything for her, but even he admits that he could have made time for her and didn't. He should have known by her behavior that she just needed him, and would tell him why in her own time.
I also understand now where Yeo-reum was coming from when she just kept asking him to come be with her and not ask why, because finding her father that way had to be bad enough without then having to say the words. All she wanted was for her boyfriend to be there for her and just not make her say "My father killed himself and I found him," out loud. Even aside from the cultural stigma around suicide, I can't imagine how hard it must be to go find a loved one that way and then have to actually say those words out loud. It was so horrible that she never even told her two best friends. So I can sympathize with Yeo-reum's need to just be able to lean on someone without having to explain. With that on top of the other problems they'd been having, it's no surprise that Yeo-reum felt that she couldn't count on Tae-ha, and broke up with him.
I think Tae-ha sees now why his actions were wrong to just assume that it couldn't be that bad if Yeo-reum wasn't telling him what was happening. And I understand now what she was trying to say at the train station on their last day — that the fact that she wasn't talking should have been indication that whatever it was, was very very bad. I'm not saying either one of them handled it well, but I can see better now why they made the choices they did. Communication has always been their weak point and their downfall, and hopefully now that Tae-ha has pretty much guessed what happened and knows that lack of communication was the final nail in the coffin, he can do something to fix that between himself and Yeo-reum.
As for Ha-jin, I understand a little more why he's staying silent too, at least with Ah-rim. His fear of her resenting him for being adopted and leaving her behind is understandable, and I do think he believes that he just wants to help her because he lived a good life and she's had it hard. But I don't think it's entirely innocent, otherwise he would be talking to Yeo-reum more and not letting her come to the worst conclusions, and I think his consistency in choosing Ah-rim over Yeo-reum is suspect. I still don't know exactly what his feelings are towards Ah-rim, nor do I think he even knows, but he's going to have to figure it out quickly. Because Tae-ha now knows what he did wrong and he's going to step up his game, and if Ha-jin doesn't want to lose Yeo-reum he's going to have to start getting real honest, real fast.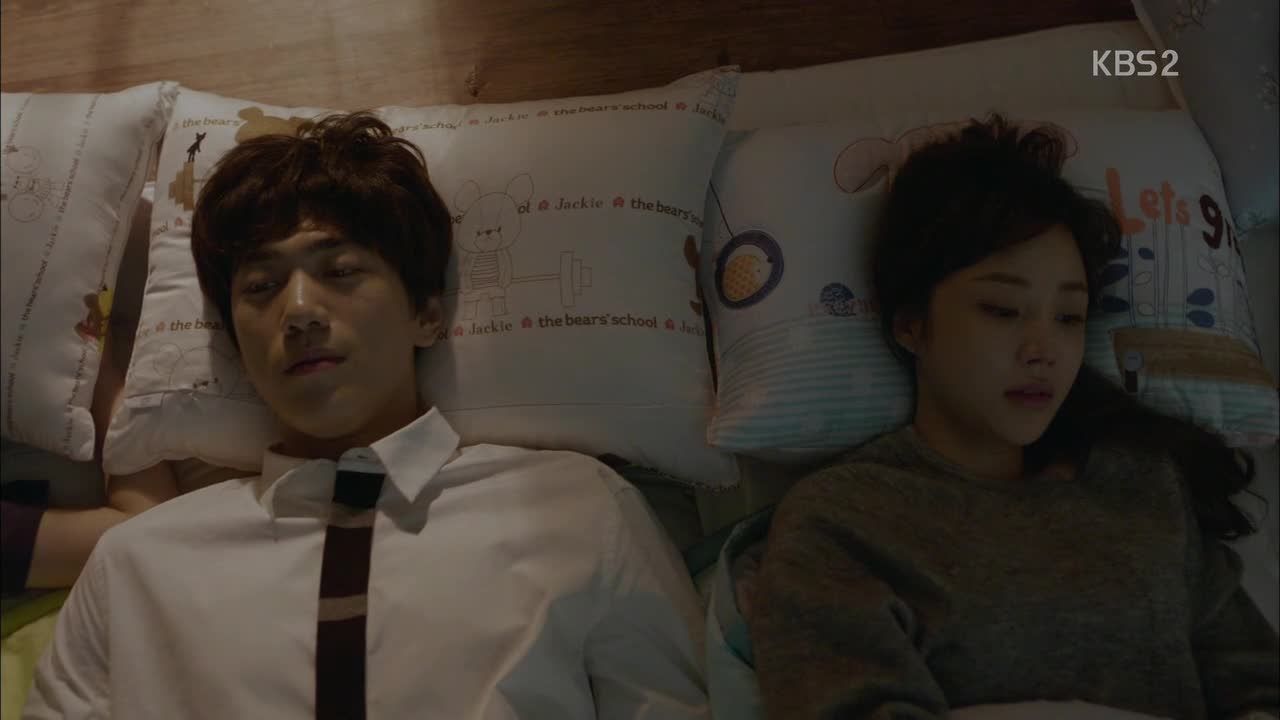 RELATED POSTS
Tags: Discovery of Romance, Eric, featured, Jung Yumi, Sung Joon