My Secret Hotel: Episode 6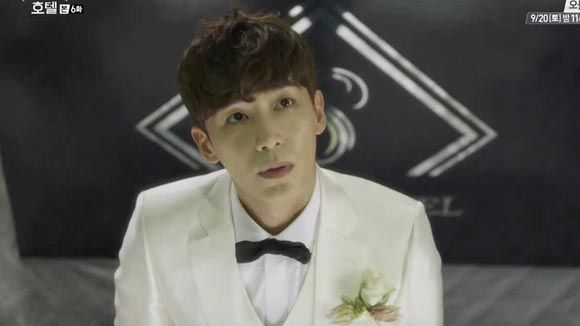 The mystery as it stands is still being constructed: Alibis, motives, alliances and relationships between characters shift and change, keeping the central mystery of Hwang's death as mysterious as ever. The focus of this hour skewed almost entirely to the romance, with about 6.5% to the mystery. I actually have no complaints; even though it's sometimes uneven in its transition between mystery and rom-com, both aspects are effective enough in their turn to keep us completely absorbed in the moment. Strangely, not a lot happens, but I don't mind at all. The show gets away with having less content by fleshing it out with a lot of substantial character moments. And feels.
EPISODE 6 RECAP
Three minutes — the time it takes ramyun to cook — is long enough to fall in love, Sung-gyum tells Sang-hyo. He asks her to date officially, and gives her thee minutes to reply. Right then, Sang-hyo's phone vibrates and we see that it's Hae-young, but she doesn't answer.
With one minute to go, she starts to confess something to Sung-gyum but is cut off when a car speeds by, and Sung-gyum quickly pulls her in to avoid it. The car is Hae-young's: He witnesses the accidental hug and curses himself for his drive-by.
Meanwhile, three minutes are up: "I'll assume I got my answer." But then Sung-gyum relents and instead gives her three days.
In her apartment, Sang-hyo says to herself, "Never mind three minutes… I fell in love in three seconds." She reminisces how she and Hae-young first met, when she was a server and spilled food all over him. A googly-eyed Hae-young can't take his eyes off her and asks her out immediately. "Give me a little of your time… I want to talk to you. Just an hour — no, just thirty minutes." It's nervous and awkward until she says yes. Aww.
Hae-young is now sitting outside her apartment, thinking about her, while up above, Sang-hyo nurses a coffee on her balcony, thinking of him. He wonders if she's really forgotten everything.
Elsewhere, police have tracked down and arrested the three poker thugs. The ringleader tries to run but is cut down very quickly by Detective Kim (did he just run into your fist?), who conducts the world's most hilarious arrest: "You have the right to remain silent, but it's better if you don't." And he tops it all off with a wink. HAHA.
At the station, the gamblers admit to the detectives that they were at the hotel, until Team Leader Cha threw them out. They deny killing Hwang even though he "deserved to be killed." Detective Kim orders them locked up for now.
Another detective brings Kim some new evidence: Unusual CCTV footage shows that the video for July 23rd is identical to August 23rd (the day of the incident), proving someone has tampered with them.
The next morning, everyone at the hotel is congratulating Sang-hyo for securing Hae-young and Soo-ah's wedding. The strain of smiling wears on her.
In his office, Hae-young is brooding on Sang-hyo being with Sung-gyum while his co-workers discuss his… performance issues. When he catches them, they all laugh it off as innocent talk about building strong structures…so they stand tall and straight — oh no, please, stop, the subtext is killing me.
Jung-eun strides in like Catwoman in a slinky skirt with a thigh-high split. She spreads herself out on Hae-young's desk, all legs and scary pout and wants to know if Hae-young feels anything. He just tells her to get out.
Disappointed Jung-eun promises to really leave him alone now, but in exchange (and her eyes travel south)… he should see a doctor. The whole encounter confirms his colleagues' fears about his manhood. Poor Hae-young, he's so confused.
Sang-hyo is visiting with GM Lee. He's also pleased at her success, but comments that she doesn't look so happy. As she's about to leave, she asks GM Lee if he ever had a woman he loved. "I was wondering if the memory of love fades with one's own effort," she explains, and laughs at herself a little.
Sang-hyo catches up to Eun-joo waiting for an elevator. When it arrives — with Sung-gyum inside — Eun-joo dives in and tries to shut the door on Sang-hyo. These two, ha. Sang-hyo foils her but stops short when she sees the other occupant. Sung-gyum is undisturbed by the sudden meeting and pulls her on.
Awkward quiet ensues. Sung-gyum asks her if she's thought about whether she'll date him. Eun-joo starts at that, and Sang-hyo frantically pushes buttons to escape. She runs out with the excuse that she forgot something, and Eun-joo follows. Sun-gyum just looks pleased.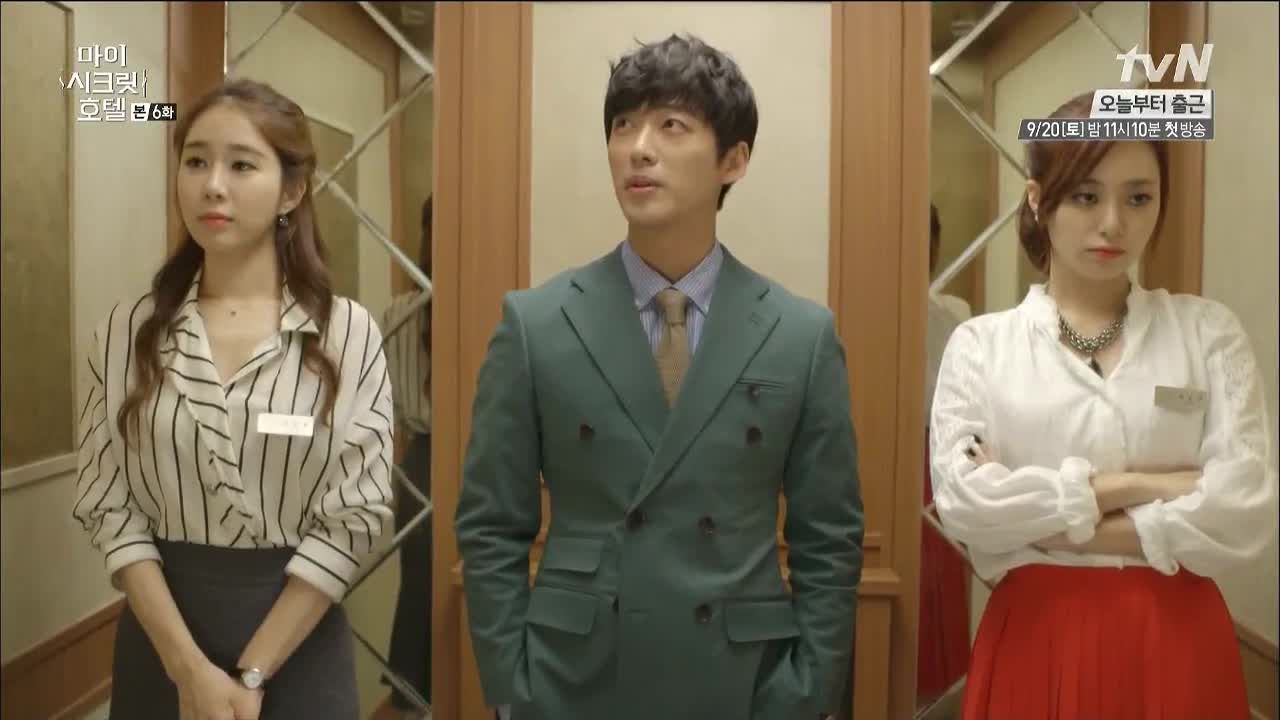 Sang-hyo hides while Eun-joo runs around yelling for her. She overhears a female employee in distress — it's Slimy Manager's office. He harasses and threatens the woman, playing on her fears about losing her job if she doesn't go along. Sang-hyo's voice cuts in, telling him to drop his hand. She lets the employee escape and warns Slimy Manager — who is, in fact, vice general manager of the hotel — that she'll finish him at the ethics committee meeting if he doesn't apologize to the employee. He mocks her because he's a slimy twat.
Eun-joo's found her again, so it's time to run. She flies into Detective Kim and asks him to watch her back; she's about to bolt when she turns back and seals her request with a wink. HAHAHAHA. Poor smitten Detective Kim tries to block Eun-joo from following, but she elbows past anyway.
Team Leader Cha takes Detective Kim to the security office where he explains that each day's film is moved to an archive every night. Kim says this means someone had to have switched the recording. Only four people have access to that archive, Cha says: GM Lee, Jo Sung-gyum, Slimy (Vice General) Manager, and himself. Cha confirms that he himself would have moved that day's video, too.
A guard (the same one from Episode 2) chimes in to tell Detective Kim that on the wedding day, he saw Slimy Manager emerging from the archive room while everyone else was at the wedding hall. While Detective Kim chews on that, a look passes between the guard and Cha.
Based on the new evidence, Detective Kim escorts Slimy Manager to the station, while Kyung-hee and Sang-hyo look on.
Eun-joo finally has Sang-hyo cornered. She wants to know if she's really going to date Sung-gyum. Sang-hyo hasn't decided yet and Eun-joo insists she should tell him no right away, because she likes him. Sang-hyo makes to leave without satisfying her, when she catches sight of Hae-young, who's overheard everything. He lets out the quietest sigh.
Soo-ah is trying on her new new wedding dress, with Young-mi and Kyung-hee attending; she can't wear last time's dress because it would be bad luck. Young-mi wonders at how rich she must be to throw away a dress she wore only once. Soo-ah throws back, "Do I look like I can't afford that?"
When they are alone, Young-mi shows Soo-ah pictures on her phone of her "friend" who resembles Soo-ah. Soo-ah takes one look and is sure that it's herself — she suddenly realizes when and where they're from, and her face says it isn't good. Young-mi confirms it was last month in Hong Kong, and passes her a sheaf of the original photos. In the background of each selca of Young-mi is a canoodling couple, one-half of which is unmistakably Soo-ah.
Thoroughly rattled, Soo-ah asks how much Young-mi wants. Ah, blackmail. "For each photo, the price of your wedding dress." When Soo-ah objects, she retorts, "You look like you can afford it — or can't you?"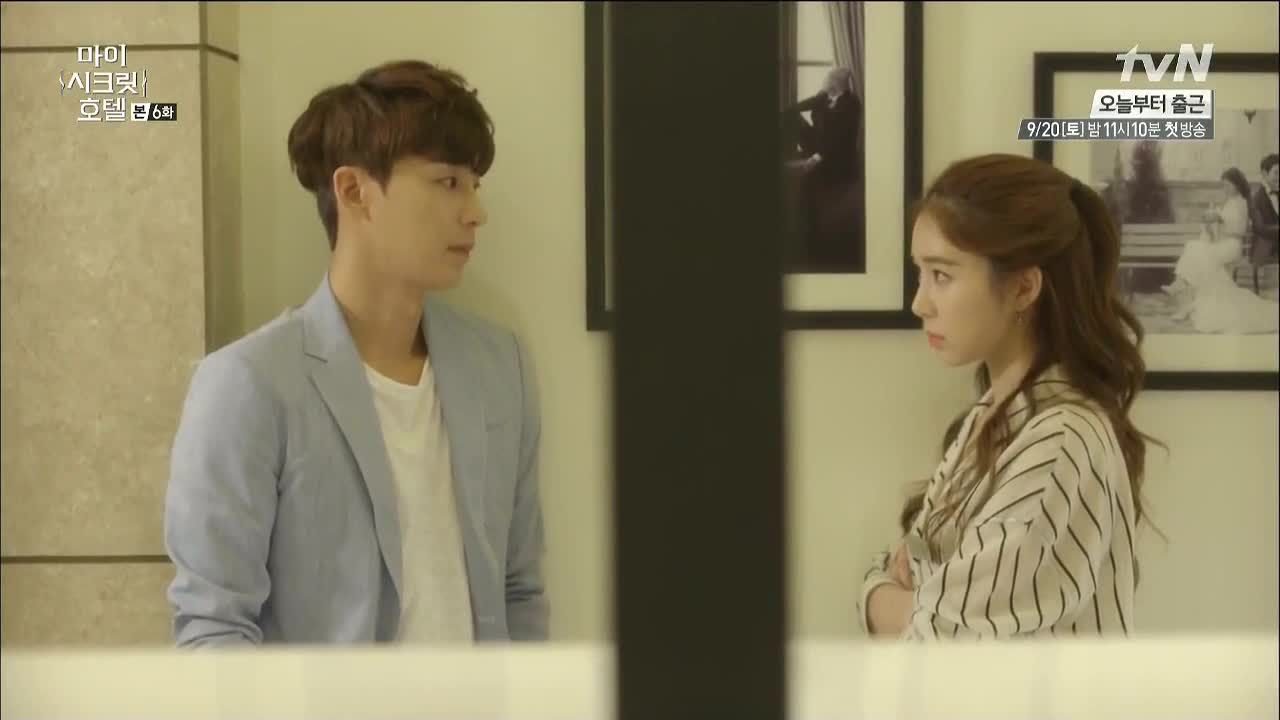 Sang-hyo runs into Hae-young and urges him to meet Soo-ah, who's waiting for him. But he's fixated on the question of whether she will date Sung-gyum, and she says there's no reason for her not to. If that's the case, Hae-young argues, why didn't she say so to Eun-joo? Even before he finishes asking whether she might have any feelings towards him (Hae-young), she cuts him off with a denial. Switching to formal address, she requests for him to come finish the wedding preps.
In the car park, Soo-ah gets upset with Chauffeur Kim (whose name is Ki-ho) and cries that it's all his fault. By now, it's clear there's something between them — he must be the other person in Young-mi's photos.
Hae-young and Sang-hyo are surprised to find Soo-ah gone when they arrive at the fitting suite. Young-mi passes on the message that something urgent came up (blackmail…) and the groom should take care of the rest.
In their office, Gi-chul is gossiping about Slimy Manager's arrest in connection with Hwang's murder and Young-mi looks shifty at the mention of his name. Gi-chul is uncomfortable with the detectives coming round and blusters when Young-mi asks if he did something wrong. Young-mi delivers a speech about how people ought to live their lives right, which makes Kyung-hee smile weirdly at her. I have a feeling she knows more than she lets on.
Detective Kim is still putting pressure on Slimy Manager (by playing copycat to his whining, ha) about the swapped tapes. Slimy extracts a promise that the hotel won't hear about it before admitting he switched them to hide the elevator harassment incident that Sang-hyo witnessed. He insists he had nothing to do with Hwang's incident, but Detective Kim keeps him locked up to check his alibi first.
Team Leader Cha reports to GM Lee about Slimy Manager's arrest and what happened to the CCTV footage from that day. GM Lee receives something on his phone which makes him sigh that he thought getting rid of Hwang would be the end of it, but he's still haunted by the dead man. He tells Cha that there's something they need to take care of.
Sang-hyo tries to get Hae-young to choose a theme for his wedding, but he is listless and tells her to choose whatever she likes. She moves on to flowers, and he's just as uninterested. Just then, she notices Kyung-hee looking unwell and sends her home.
Out of their sight, Kyung-hee wavers on her feet. GM Lee and Cha pass by to see her clutching the wall, and Lee asks if she's ill, but she says she's fine. Cha pauses an extra moment, but leaves without comment.
Alone in the office, Hae-young repeats that Sang-hyo should just choose whatever she likes, because he doesn't care. She says he should tell her what type of wedding he wants so he won't regret it later.
"Then how about this?" He starts, "Instead of an extravagant dress, the bride wears a clean and down-to-earth one-piece dress. In her hands, rather than a ready-made bouquet, she holds some flowers that she likes." A small church, he adds, without any guests or fanfare — just two hearts. Sang-hyo immediately recognizes the description of their own wedding, and tears up.
She reminds him that that didn't work out, so this time, he should do it properly. She gets up for coffee, but her hands are shaking so badly that she doesn't see Hae-young coming up behind her and spills hot coffee all over him.
He tells her it's okay, and past and present intercut as he says the same words as the first time they met. "Give me some of your time. Just one hour. No — just thirty minutes." He has to tell her something before the day is out. He holds onto her and tells her he'll be waiting for her in the car park. Overwhelmed, she runs out.
Sang-hyo cries alone in a corridor and in his car, Hae-young waits.
In his apartment, Sung-gyum keeps typing and deleting a text to Sang-hyo when there's a knock at the door. It's Sang-hyo, who tearfully tells him the truth of her short marriage seven years ago: "I fell in love with him the moment I met him… I loved him to death and hated him to death. I tried so hard it nearly killed me. So that it wouldn't kill me, I erased it from my memory."
Sung-gyum asks if she's telling him because she felt pressured about dating him. She replies that he should know — and would he date her, even though she's divorced? He tells her that he also had a first love, so he doesn't have a problem with her past.
"Even if that past is right in front of me?" She finally confesses that her ex-husband is Hae-young, whose wedding she is planning. Now Sung-gyum adds up the meaning of all of those times he saw her upset. He asks her angrily how she could hide something like that, and takes back what he said about waiting for her answer: "From this moment on, we… are dating." And he kisses her.
Hae-young is still waiting in his car and perks up adorably when he sees Sang-hyo… but right behind her is Sung-gyum and she gets into his car. Sad Hae-young. She notices him too late, and looks away.
Sung-gyum drops her home. He thanks her for telling him, and also for dating him. He asks her to smile tomorrow: "Then I'd feel like I helped."
Hae-young calls Shi-chan to drink with him, and asks him to stay with him for the night, which causes Shi-chan to spit-take. Not like that, dummy. If he's left alone, Hae-young is afraid he'll go to "that woman." It's a night of surprises for Shi-chan, who's flabbergasted that Hae-young saw her (he doesn't know it's Sang-hyo), especially right before his wedding. So what happened? Hae-young admits he was rejected: "There was something I had to tell her, but she didn't want to hear it."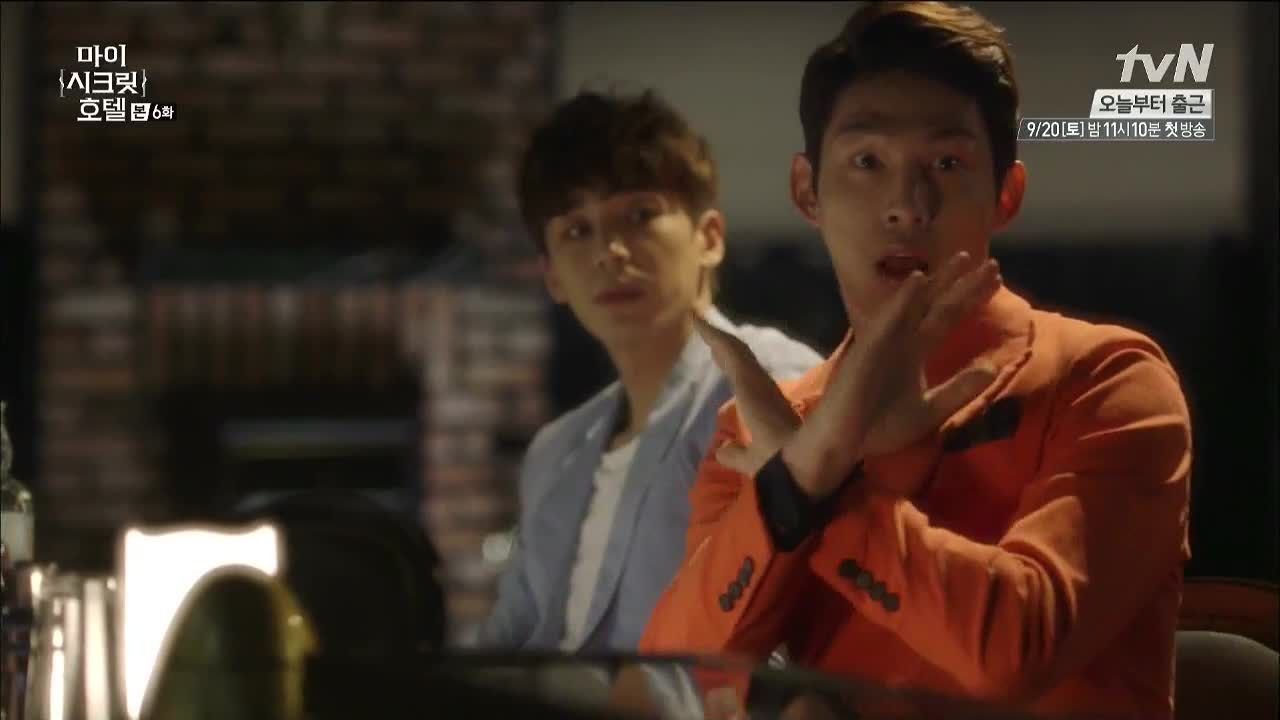 He asks Shi-chan if he should really go ahead with this marriage. Shi-chan reminds him that he told him to think it through at the start; he reveals to us that the real reason for Hae-young's marriage was because his father refused to have heart surgery if he didn't do it. In the face of that, Hae-young couldn't refuse, and he didn't care who it was: "I figured all women were the same unless it was her."
Sensible Shi-chan points out he still got rejected, and Soo-ah is by no means a poor substitute: She's pretty, from a good family, and crazy about him.
Or not: In her car, Soo-ah is arguing with Chauffeur Ki-ho, to stay out later — so this must be a secret date. Soo-ah says that they won't be able to be together like this after she's married: She'll forget Ki-ho then, and be a faithful, loving wife to Hae-young. She tearfully begs him to stay together, since there's not much time left. Moved, Ki-ho kisses her.
Hae-young moons around outside Sang-hyo's apartment, regretting not staying with Shi-chan. As her lights go out, he wishes her goodnight.
In the morning, Hae-young watches her leave, telling himself it's the last time he gets to see her like this. Were you there all night?!
Wedding time already, and it's Hae-young's turn to walk the aisle. With a last look at Sang-hyo and a wistful smile, he goes, followed quickly by Soo-ah. Hae-young looks up at where the broken skylight used to be, and wishes for another body to fall.
The officiator asks for their vows, and after the longest few moments, he gives his. They are really married. I am nearly crying here.
Facing the guests, Hae-young only sees Sang-hyo. "This is how it ends," he thinks.
Someone is calling Hae-young — WHAT?! OH MY GOD WHAT.
It was a dream. It was all a dream. Shi-chan wakes him up at his desk and feeds him coffee. Shi-chan reproaches him for spending the night at the office when it's his wedding day today. Hae-young says, "It's the day my nightmare becomes reality."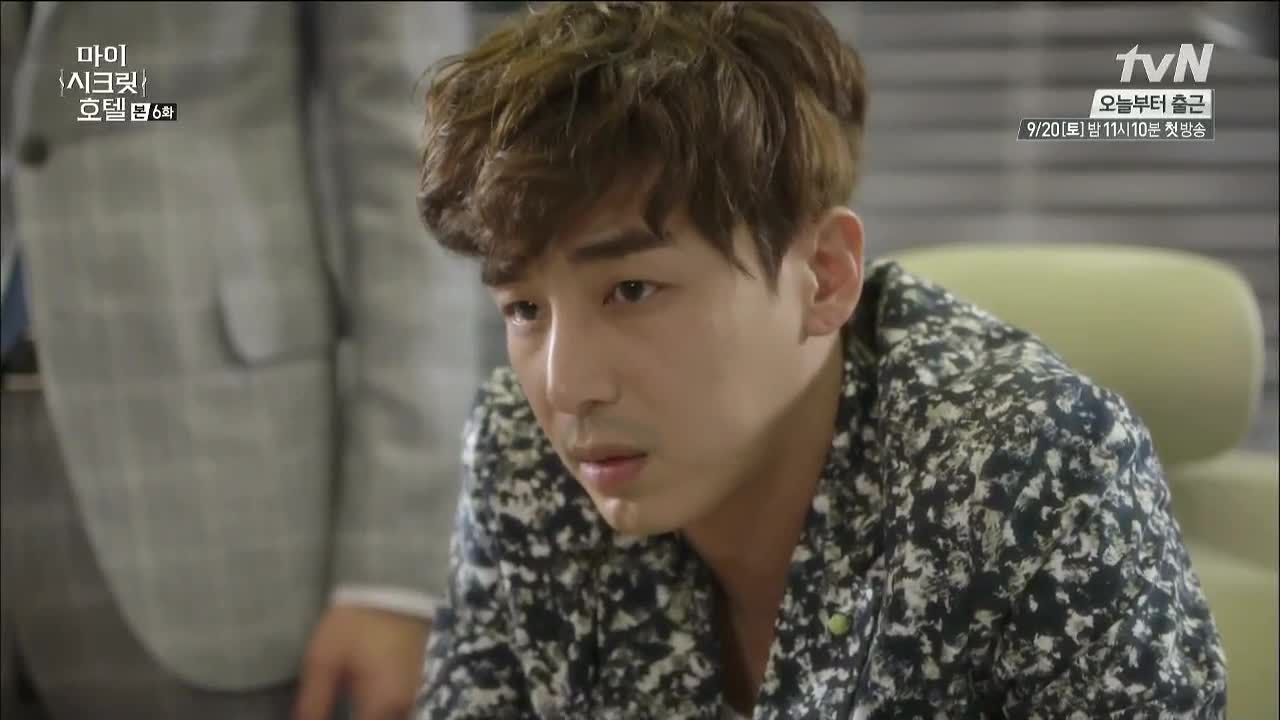 Shi-chan doesn't have time for his self-pity, and packs him off to get ready at the hotel, as per Soo-ah's orders. It might well be the gallows, with Hae-young's expression.
The wedding hall is in the last steps of its preparation. Kyung-hee checks up on Sang-hyo, worried that she looks nervous. She sweetly sends her off to take a break, since there's still plenty of time.
Shi-chan and Hae-young arrive at the hotel, but Shi-chan forgot the ring in the car. Hae-young: "Why didn't you just lose it?" Shi-chan tells him to go on ahead but warns him not to sneak out. (That's a great idea! DO IT!)
Of course, this is exactly when Sang-hyo is also coming out. They walk towards each other — and then past. But Hae-young stops her, and acknowledges how hard she's worked. She congratulates him on his wedding.
In their heads, they each say goodbye to the other, and carry on walking away in opposite directions.

COMMENTS
I'm not gonna lie: I thought it was real. The fakeout. When it broke, I actually screamed out loud (= relief) and then had to have a sugary snack and a long break. For a second there, I was all over the place: My OTP-shipping heart was a wreck, while the other (sensible) part of me was thinking what a great twist it was for the story, because it's such a game-changer.
Speaking of game-changers, I'm impressed with Sung-gyum for really committing himself. Sung-gyum is enigmatic in that he is an actual enigma: When he started his angry speech, I was ready to curse him for a jerk — the lesson being, "always let someone finish their sentence." Of course, I doubt they are meant to be (and a girl can't have a foot on two ships, unless she wants to drown), but I think it's important for Sang-hyo to be with someone who isn't Hae-young. It will give her a better perspective on herself, her flaws and her strengths, and also, I think it will also restore some much-needed faith.
Sung-gyum might be her boss, but he also sees her primarily as a successful colleague with big potential. It's the good side of the professional-personal conflict: because he sees her as a professional first, he defaults to respectful distance, and it's his strength when pitched against Hae-young. He can be cool in the head while Hae-young bleeds his soul out of his eyes, strategize while Hae-young reacts. Plus, I think it's good for Hae-young to have Sang-hyo definitely off-limits — as the engaged one, that's been him so far, and reversing it will a) take the burden of policing their interaction off Sang-hyo, and b) produce lots of jealousy-motivated fun. We've seen both of them a little jealous, but we're yet to see either of them do something wacky with it.
(And come on, the romance I reeeeally want is between Sang-hyo and Detective Kim. Give an ajusshi a wink chance!)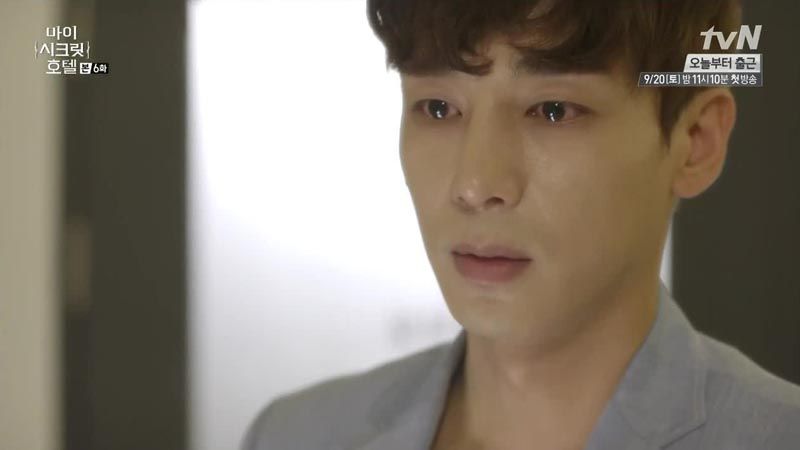 In line with the "Country House Murder" genre, we're going the path of a cerebral mystery rather than a suspenseful one. For that reason, I'm more surprised that certain obvious things still aren't being asked about the murder. My biggest question is where did the body fall from? Is there a chute from the roof that ends in the wedding hall? The blood had been dripping onto the glass for a while before the body followed. Was the body meant to fall through? Where was he killed and where was the murder weapon (the bloody ice pick) found? Why not look for motives as well as alibis? I've watched Detective Conan, I know how it should work!
The gamblers' segue and the Slimy Manager arc both feel like dead-ends to me: the latter has already been wrapped up, a dud even as a red herring (although not unsatisfying — he needed stopping). This episode doesn't add anything new to the central mystery, although there are lots of new side-developments that could add up to some kind of motive. In addition to the suspiciousness of Young-mi coming into sudden wealth, she has now turned blackmailer on Soo-ah. Soo-ah, meanwhile, has been having an affair with Ki-ho — not a one-sided crush, but with reciprocated feelings. To complete the triangle, we find out that Hae-young is definitely not a willing participant, and the forthcoming nuptials are the result of emotional blackmail from his father.
There still isn't enough to draw any meaningful conclusion about the circumstances surrounding Hwang's death. We seem to be circling around the perimeter of the real meat of the mystery, which is somewhere between the dead Hwang, GM Lee (with Team Leader Cha), Sung-gyum, and the mysterious US connection. I wouldn't, at this point, be surprised if Soo-ah's father knew something useful, as well.
I'm curious about what more Sung-gyum is holding back, what with his unspecified "special reason" for choosing this hotel, and what his history is with GM Lee, with whom he had bad blood even before the murder note — is it simply business rivalry, or something more? I'm also waiting for some earlier connection between him and Sang-hyo to emerge, because I think the US connection somehow includes both of them. The more I think about it, the more it seems like Sung-gyum is the fulcrum around which the mystery revolves.
Meanwhile… there's still a wedding to avert — it's not too late, is it?
RELATED POSTS
Tags: featured, Jin Yi-han, My Secret Hotel, Namgoong Min, Yoo Inna