My Secret Hotel: Episode 7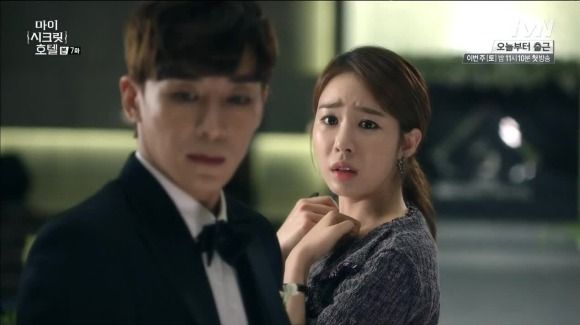 After a break last week thanks to the Chuseok holiday, My Secret Hotel is back! Yay! It's a busy day at The Secret Hotel as everyone prepares for the wedding that will save their jobs and the hotel's reputation. Now that they've been given a second chance, will the bride and groom get to finally say their "I do's" without murder and mayhem interrupting their perfect day?

EPISODE 7 RECAP
Sang-hyo sits outside in the hotel garden, thinking about her last interaction with Hae-young where she had congratulated him on his wedding. When Sung-gyum calls her, she pretends that she's super busy with wedding preparations — but he's standing right behind her, watching her yell at her imaginary staff.
She apologizes profusely for lying to him, and he sighs in his teasing way, wondering how he should handle the fact that not only is she relaxing on the job, but she keeps avoiding him even though they're officially dating now. Sang-hyo continues to bow in apology, but he stops her to say that he's leaving this morning for a business trip — will two days be enough for her to forget about Hae-young?
He also asks her to tie his necktie (that he bought for himself as a gift from her, awww). As she focuses on tying it, he suddenly asks if they should get married. Sang-hyo is taken aback, but he reminds her that she was the one who proposed first, in her drunken confession. At the very least, he promises that when he returns from his business trip, he'll officially inform the hotel staff that they're now dating.
Sung-gyum teasingly adds that she'll need to hide from Eun-joo in the meantime, but too late: Eun-joo has been watching them, and has confirmed that Sang-hyo and Sung-gyum are dating. But it's not like they're married yet, she reassures herself: "We'll have to wait and see who actually walks down the aisle."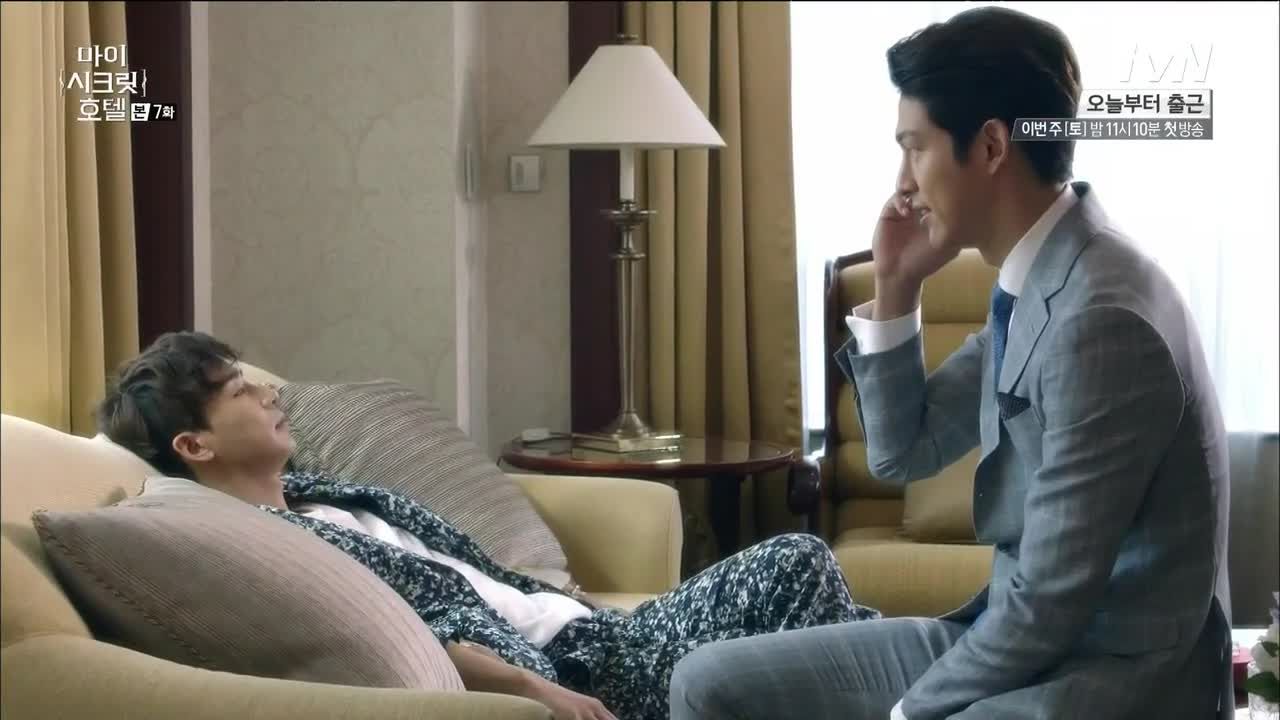 Speaking of walking down the aisle, Hae-young is sprawled out in his suite, ignoring calls from Soo-ah. He's not in any rush to change into his wedding suit, either, despite Shi-chan's pleading. After Hae-young ignores yet another call from Soo-ah, Shi-chan picks up the phone, assures her that it's okay she's running a little late, and then tricks Hae-young into taking the call.
She can't believe they're finally getting married, and adds: "You know I really love you, right? Even after I get married, my heart will feel the same. Really." But even though she's saying everything to Hae-young over the phone, she's looking directly at her driver, Ki-ho.
Tears brim in her eyes as she clutches Ki-ho's hand. She speaks into the phone but her words are actually for Ki-ho: "Even after I get married, I will love only you." Ki-ho silently mouths, "Me too."
But Hae-young is oblivious to the drama behind her phone call, and just hangs up after saying he'll see her later. Shi-chan has to literally force him into the bathroom to shave and get dressed for the wedding. Hae-young stares glumly into the mirror, sighing for the umpteenth time as he gets ready. But Shi-chan is just delighted he finally looks presentable enough as a groom, even if his expression looks like he's ready to go to a funeral.
As Ki-ho drives her to the hotel, Soo-ah is crying so hard her mascara is smudged all down her cheeks. He suddenly asks her if they should run away together, and she looks at him in surprise.
Everything is perfectly set up in the wedding hall, and Sang-hyo sighs in satisfaction that it will finally be over. As she's giving a last-minute security debriefing to Team Leader Cha, he reminds her that they don't have to worry about pickpockets any more.
She's not fully convinced that Hwang was the pickpocket, though, and asks him to still keep an eye on things. Lurking around the corner is Gi-chul, who's visibly shaken at overhearing that Hae-young's wallet was found under Hwang's body. Team Leader Cha gets a brief glimpse of Gi-chul, and it all seems pretty suspicious.
In one of the waiting rooms, Sang-hyo debriefs Hae-young's parents on the timeline for the ceremony. His father uses her full name (as seen on her name tag) to pleasantly request a glass of water, and Mom wonders where she's heard that name before. Sang-hyo's worried that they'll figure out she was Hae-young's first wife, but his mother decides there must be a celebrity with the same name. Whew.
Hae-young continues to sit glumly in his suite, wondering if it's really his fate to marry Soo-ah after meeting Sang-hyo again. Shi-chan is pulling out all the stops to reassure him that marrying Soo-ah is for the best when the phone rings. It's Soo-ah, and she's calling off the wedding.
Sang-hyo, having just arrived to take him to his parents, panics at the news and demands he goes after her. She yells that she got on her knees to beg for this wedding — doesn't he know how vital this wedding is for the hotel, the wedding department, and her future? He asks her, frustrated, if she's more concerned about the ceremony than the fact that he just got dumped by his fiancée.
In a daze, Sang-hyo slowly makes her way down to the wedding hall, where she watches in concern as her employees continue to prep for the ceremony. Kyung-hee informs her everything is ready, but when Eun-joo asks why the bride isn't in the waiting room, Sang-hyo has to finally admit to everyone that the bride ran away. What was going to be the perfect wedding is now cancelled.
Hae-young's got a plan, though — one that makes Shi-chan do a literal spit take — but apparently it's enough to reassure Soo-ah's mother that she'll be able to save face. We don't know what the plan is yet, except that Shi-chan has some extreme doubts about it. But Hae-young is confident: "I'm following my destiny."
Inside the wedding hall, the hotel employees are worried about what they should do next, and what to tell the reporters. Sang-hyo apologizes again, but Hae-young arrives to inform everyone that the wedding will continue. She assumes Soo-ah finally arrived, but Hae-young has another bride in mind: Sang-hyo.
He tells her that it's for both their benefits — he won't look like the poor groom who got stood up at the altar, and she'll get to save the wedding department. She thinks he's crazy, but he just wants to do it right this time, unlike the way they got married seven years ago.
Sang-hyo is far from convinced, but Eun-joo thinks it's incredibly romantic, and quickly figures out how to spin the past-love-meeting-again-as-fate story for the press. She tells Sang-hyo that the only way to save the wedding department is to go through with the wedding. Despite Sang-hyo's protests, the staff is in favor of her being the new bride.
Team Leader Cha provides a welcome interruption as he informs Sang-hyo about Soo-ah's mother literally shoving the guests of the bride out the door, and she leaves to take care of it, telling Hae-young not to follow her.
While Hae-young nervously waits to find out if Sang-hyo will agree to his plan, Eun-joo takes over the wedding details. She orders everyone to replace the cards that have Soo-ah's name on them and rearrange the guest seating for only the groom's guests. There should be nothing and no one with any connection to Soo-ah at this wedding.
Sung-gyum arrives at a resort, and is surprised when the staff rushes out to greet him. He had hoped to stay as an ordinary guest to get a feel of the place, but GM Lee tipped off the staff that he would be there. Disappointed, he's ready to turn around and leave when someone calls out "Goong-min oppa!" and throws herself into his arms, mistaking him for her husband. HAHAHA! It's a cameo from Namgoong Min's "wife" from We Got Married, trot singer Hong Jin-young.
Back at The Secret Hotel, Sang-hyo is trying to figure out what to do. Kyung-hee gives her some advice: "Do you know what people regret most before they die?" She tells her that most people regret not loving enough. If she had the chance to take care of any lingering feelings, she would take it. But Sang-hyo's more worried that she'll get hurt again because of those lingering feelings.
The wedding guests are being let into the hall — but only the groom's side. Eun-joo is satisfied that everything should go well, since they've replaced everything with the bride's name on it. But one guest finds it all very strange, since that's not the name he remembers, and points at the wedding cake that still has Soo-ah's name on it. Whoops!
Eun-joo rushes over and shoves the last piece of name-change evidence in her mouth before anyone else can see it. Disaster averted! Except Jung-eun is also a guest, and knows full well who the true bride should be. She stands up and loudly demands to know why the bride's name has changed.
The rest of the guests start to realize that there's been a switch, and Eun-joo grabs a microphone. She passionately weaves a story worthy of a drama (er, so to speak) about first love, fate, and miracles, and soon all the wedding guests are fully invested in the touching story of Hae-young and Sang-hyo's second chance at love. Except for Jung-eun, whose sour face indicates she's not buying Eun-joo's PR nonsense.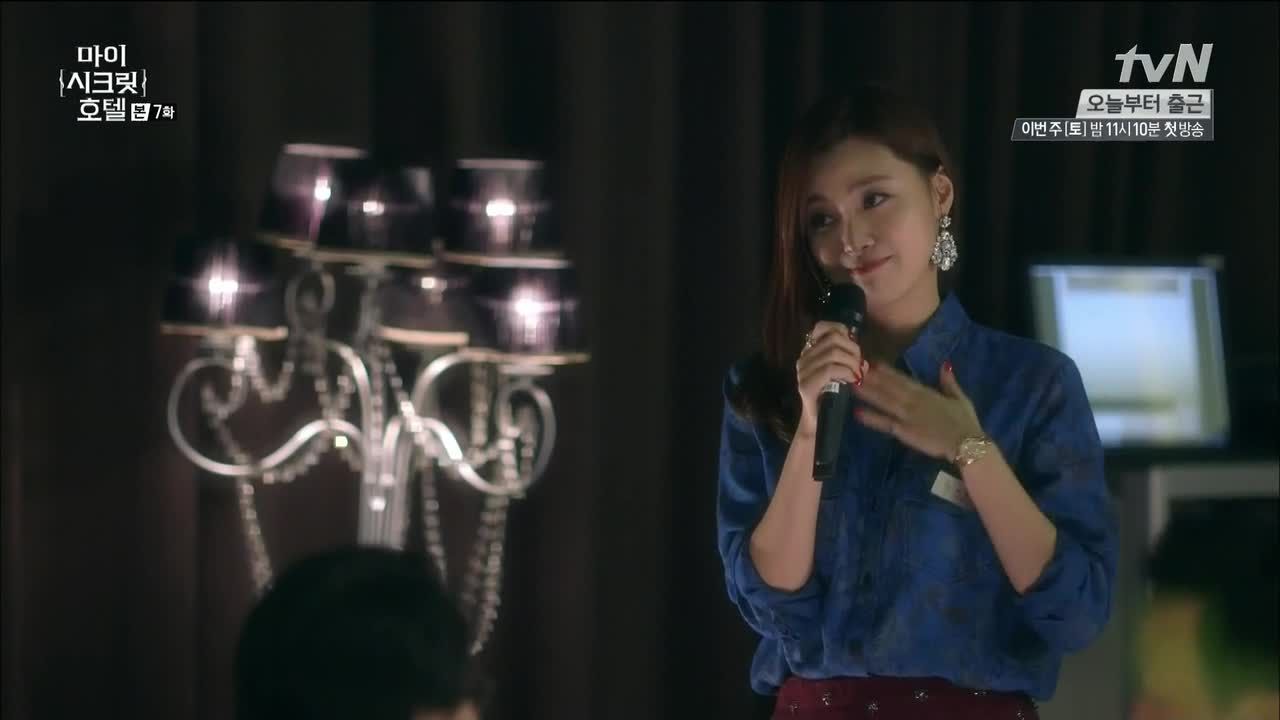 Team Leader Cha reports to GM Lee about the wedding situation (and ha, he gets reprimanded for only telling him now). Sang-hyo also arrives at his office, fretting about what to do. He gives her a fatherly pat on her shoulder, gently telling her that no one can force her to get married.
Eun-joo's already set the wedding in motion, though, as Hae-young walks down the aisle. Shi-chan announces the arrival of the bride, and everyone turns toward the doors in expectation, but they remain shut. Shi-chan tries to reassure everyone that the bride is just nervous, but Hae-young looks like he's ready to admit defeat.
Just then, the doors swing open to reveal GM Lee beside Sang-hyo in a stunning wedding gown. She smiles to reassure GM Lee that she's okay with going ahead with the wedding, and he escorts her down the aisle.
Hae-young looks absolutely awestruck to see Sang-hyo walking toward him, and he can't hide his smile. Kyung-hee suddenly remembers that the placards in the wedding suite still have Soo-ah's name on them, and sends Young-mi to go replace them. Under the watchful eye of Team Leader Cha, she gripes about how long she's going to be a lackey as she stomps up the stairs.
Grumbling, she replaces all the name placards and then flops down on the bed strewn with rose-petals, sighing at how nice it must be to stay in such a room. She pulls out a necklace and says that even if blackmailing Soo-ah didn't work out, at least Hwang gave her another chance to make a living.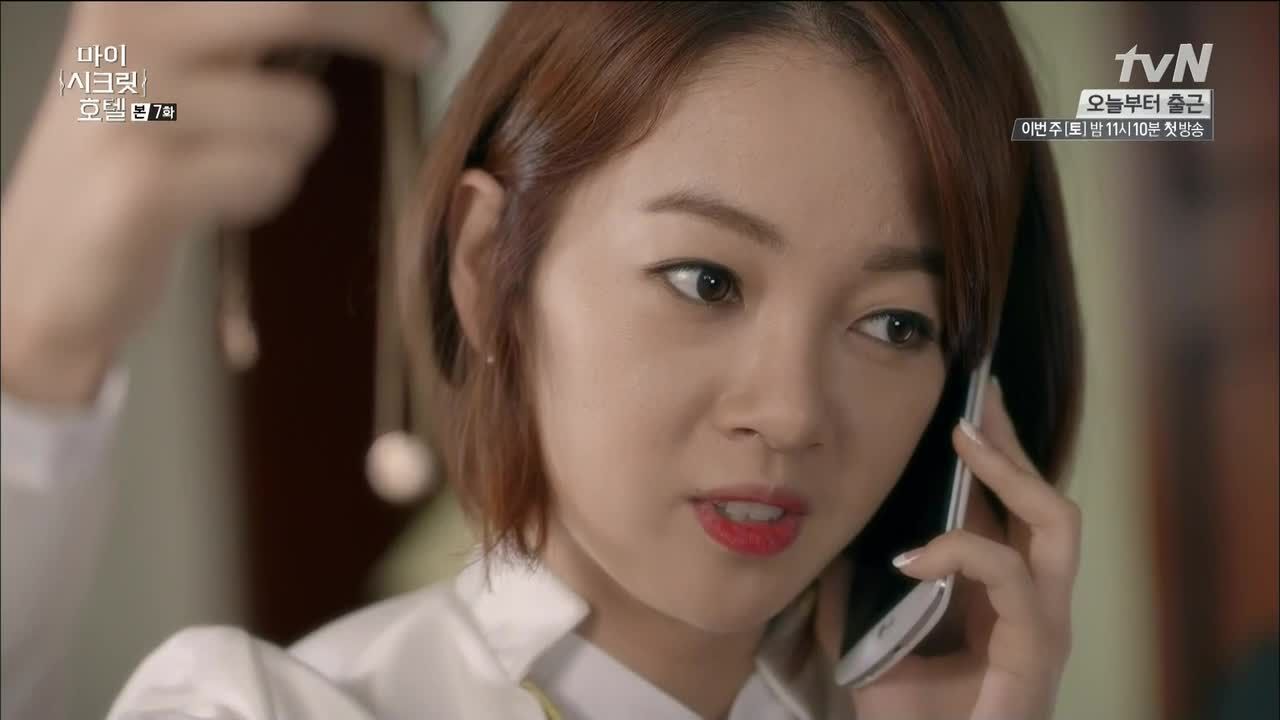 She calls someone on her phone, asking if they've thought about taking her up on her offer. She threateningly advises the other person to make a decision quickly since she's already offered it to the "other party." The hotel suite door slams shut and she spins around to see who's there.
Back in the wedding hall, Hae-young needs no encouragement to say his vows, and Sang-hyo also gives her wedding vows with a big smile. But she's crossed her fingers while doing it, ha!
In the hotel suite, Young-mi is arguing with an unseen person, insisting that the necklace is hers. But it doesn't matter anyway, because if this mysterious person doesn't want to buy it from her, she has someone else who will.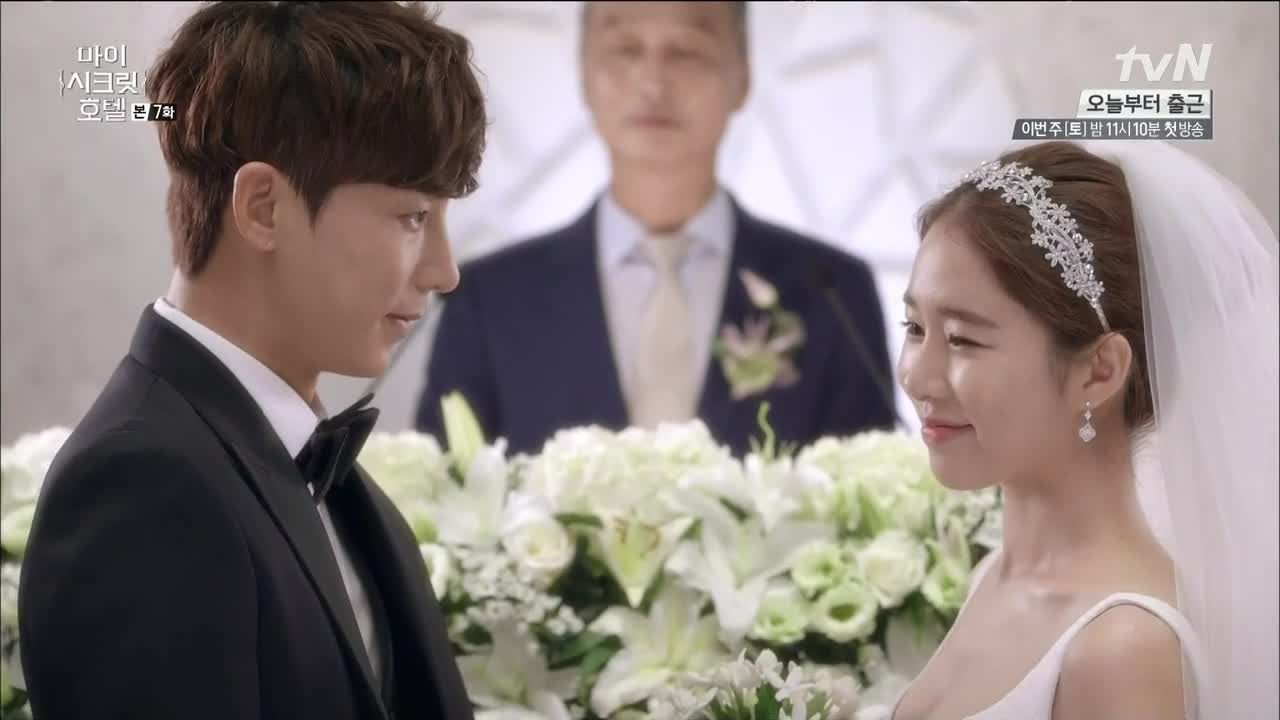 The vows now exchanged, everyone in the wedding hall is cheering for the newlyweds to kiss. Through her gritted-teeth smile, Sang-hyo warns Hae-young not to even think about it, but he just smiles and pulls her closer.
Young-mi finishes her preparation of the suite's bathroom, and is just about to leave when someone hits her hard in the back of her head. It's enough to make her immediately start bleeding, and she dazedly stumbles backwards towards the large jacuzzi tub.
To all the guests' cheers, Hae-young and Sang-hyo kiss, and she has to remind herself that it's just for show.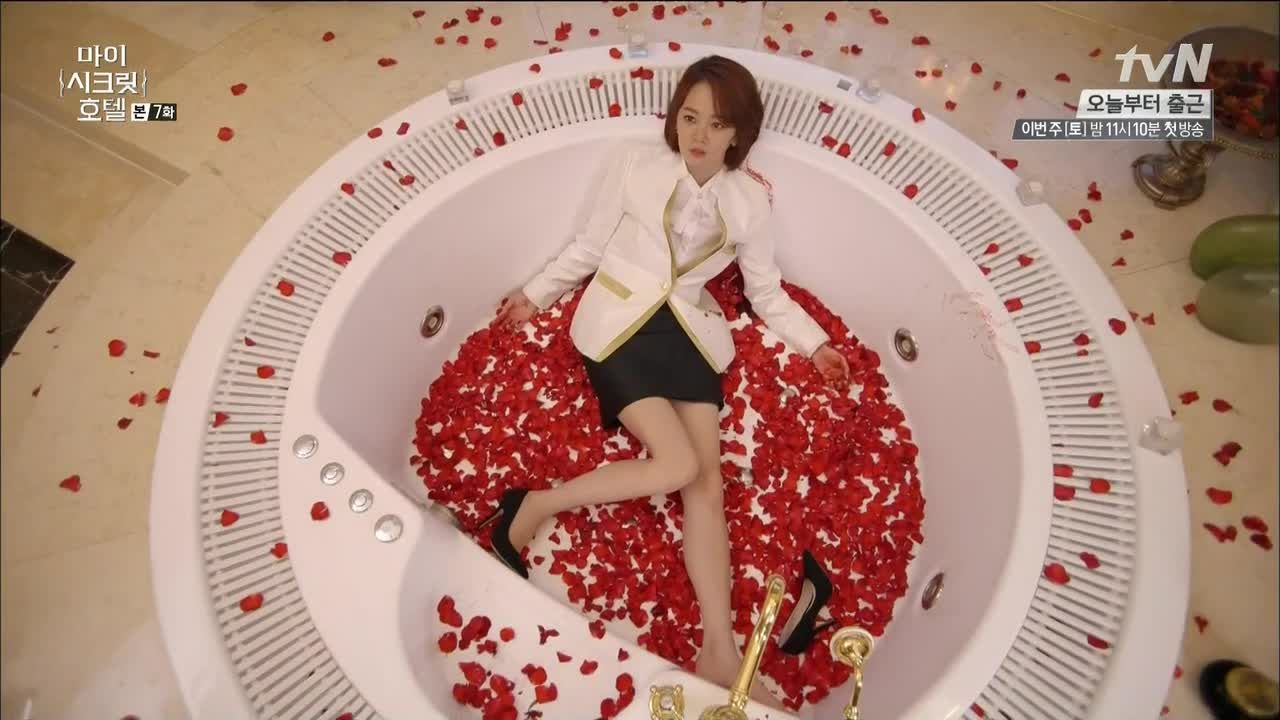 Stepping away from her attacker, Young-mi trips and falls into the bathtub, where the second blow to her head immediately kills her. Her blood mingles with the red rose petals at the bottom of the jacuzzi.
Detective Kim is at the police station, ready to dig into a bowl of jjajangmyun (and he even winks at the delivery boy!) when one of the other detectives reports on the phone call Hwang made the night he died — it was to Sung-gyum's mother. That puts Hwang's threat of, "I'll talk to your son if you don't listen to me," in a whole new light.
Especially since we get a glimpse of Sung-gyum's call record after he checks in with his assistant, Simon. Suspiciously, the last call he received was from Young-mi.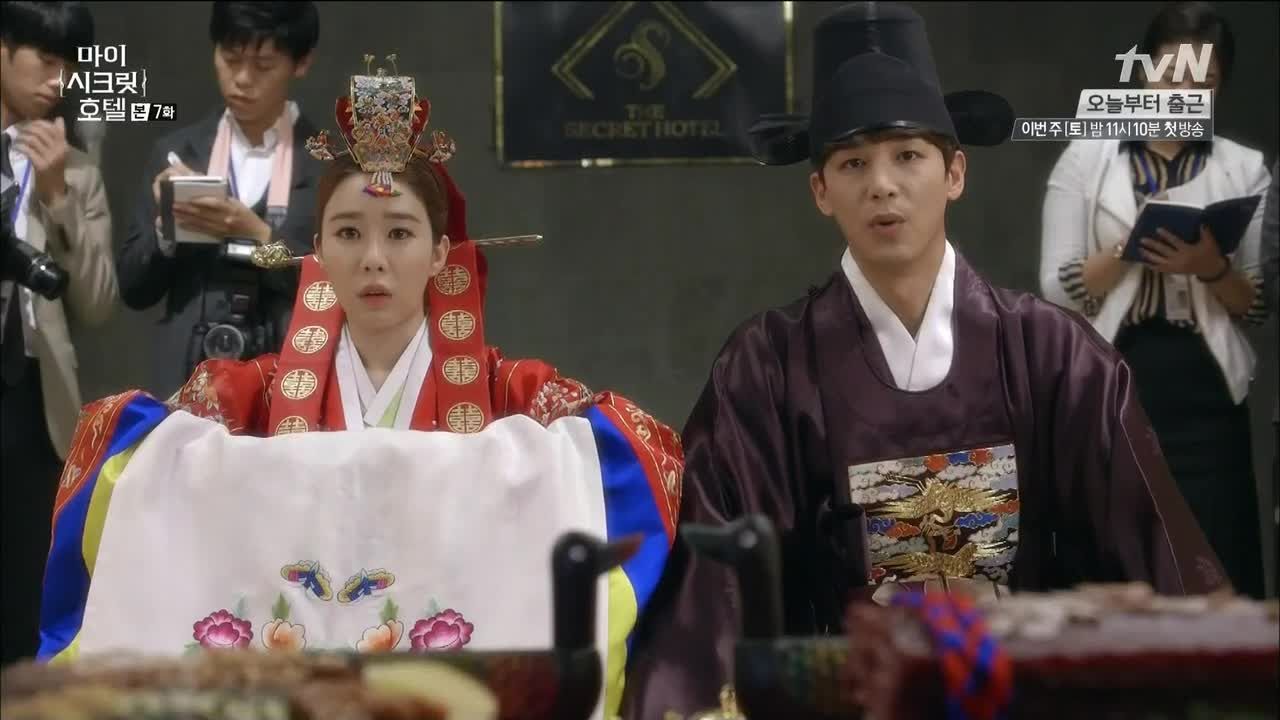 Meanwhile, Sang-hyo and Hae-young are continuing with the traditional part of the wedding, as the reporters' cameras flash while the couple formally bows to Hae-young's family. Even though Hae-young's mother is a little surprised at how suddenly everything happened, his father hopes that they'll live happily ever after. The rest of Hae-young's extended family hilariously keep telling Sang-hyo how she should behave since she's marrying "into a family like ours," much to her growing concern and befuddlement.
Back in their casual clothes, the newlyweds arrive at the honeymoon suite, exhausted by the ordeals of the day. Sang-hyo wonders what kind of family he's from to make such a big deal about her marrying into it: "Does your family own a BBQ restaurant?"
He tells her that it's actually a big-name construction company — but don't worry, his brothers will take over the management rights. She's surprised to learn that he's essentially a chaebol, and then sighs that even after marrying him twice, she doesn't really know anything about him.
She's not too bothered by it, though, since it's not like she's really married to him, and calls Eun-joo to know when she can leave the honeymoon suite. But Eun-joo tells her she has to stay all night because some of the reporters are staying in the hotel and they need to keep up appearances. Yeah, sure that's the reason.
Sang-hyo is annoyed, and yells at Hae-young for dragging her into this mess in the first place just so he didn't end up looking like a fool left at the altar. He's about to tell her that there was another reason, but her phone rings — it's Sung-gyum.
She freaks out for a moment before answering, and when Sung-gyum asks if the wedding went well and she was able to send Hae-young away, she looks over with wide eyes at Hae-young sitting next to her. She tries to silently shoo him out, and he finally heads towards the bathroom, but only after loudly saying that he's going to wash up so Sung-gyum can hear him.
Sung-gyum asks if anyone else is with her, but she says she's alone. Hae-young's about to open the door to the bathroom — and find Young-mi dead in the tub — when he hears all the lovey-dovey talk of, "I wish I could be there with you." Turning back around, he snatches the phone from her and hangs up on Sung-gyum.
She's angry that he took her phone from her, but he's angry (or just jealous) that she's supposed to be acting like a married woman and is flirting to another man. Once again she reminds him that it's a fake wedding and to stay out of her business: "Why do you keep dragging me into your hasty weddings?"
But she's too irritated to deal with him right then, and crawls under the covers avoid him. Eventually Sang-hyo falls asleep on the bed, and Hae-young watches her from his spot on the couch, smiling at seeing their names on the wedding placard. When he notices she's waking up, he quickly pretends to be sleeping.
Now it's her turn to watch him sleep as she wonders if she was too harsh on him earlier (and aw, he smiles so cutely when he hears that). Then she heads into the bathroom, and screams when she sees Young-mi's body.

COMMENTS
I'm a total sucker for the fake marriage trope, especially if it means forced cohabitation and keeping up appearances, so I have absolutely no problem with this little twist. Even though I know it isn't the wisest move either could make, especially given their past, I'm really looking forward to seeing them sort out their issues with each other and just be honest about what happened when they were younger. I get the feeling that their marriage didn't last more than three months originally because they were young and stupid and didn't know what they were doing, so I'm hoping this fake marriage ends up becoming some sort of couples therapy. Also I'm just hoping there's a lot of bickering and cute shenanigans, because hey, this is Dramaland.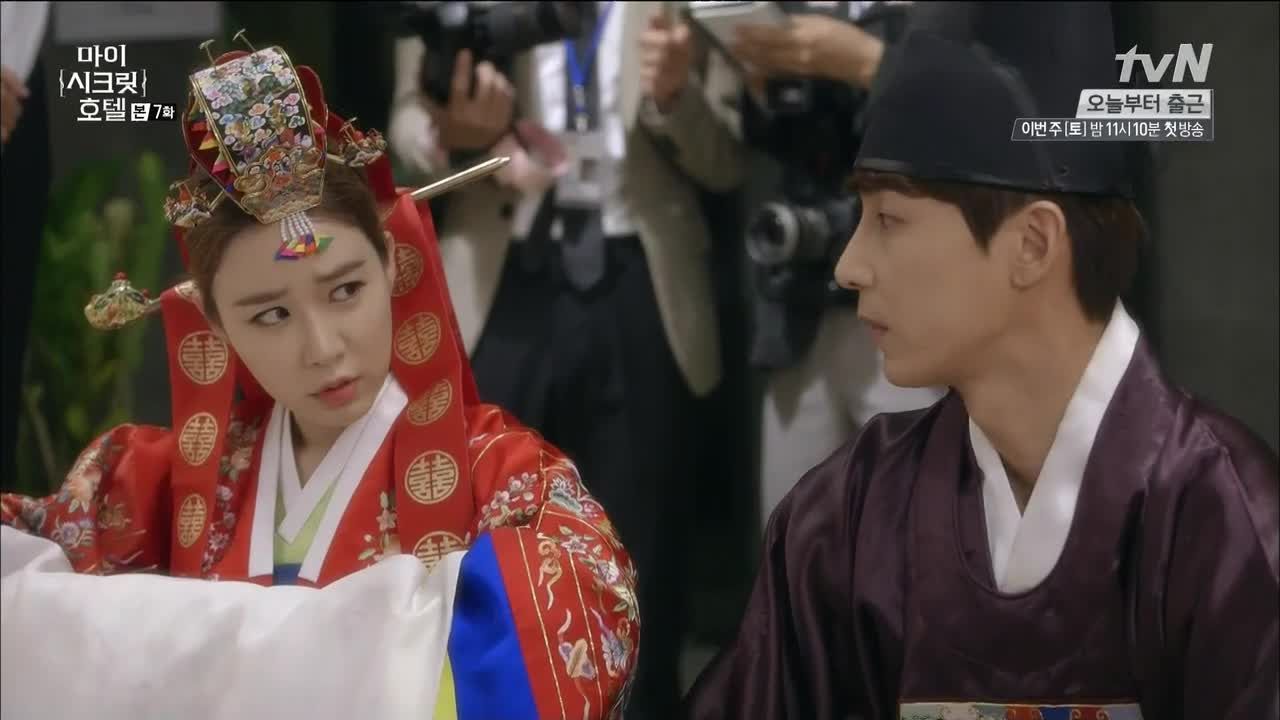 Also, another mystery! Yay! Okay, not "yay" for killing off Young-mi, whom I actually enjoyed as a character because she was a kind of neutral evil force that added an interesting dynamic to our plot. So I'm sad that not only is that character gone, but she seems to be just a plot point to move things along. But I do like the fact that there's another murder to solve.
Although, it seems more like the wedding curse is less about getting divorced in three months and more about finding a dead body. But Young-mi obviously knew something about Hwang's death, and now the show seems to be suggesting that Sung-gyum also knows something about it. Or at least is potentially one of the people she was trying to blackmail with the necklace. Plus, if you add in the fact that his mother was the one Hwang spoke to on the night of his death, there definitely seems to be a connection.
Then again this show is awfully fond of the red herrings, and we're barely halfway through. So it can't be Sung-gyum who's the killer, right? But he definitely has his secrets and while I feel for him when he returns and discovers that Sang-hyo and Hae-young are "married," he's still on my do-not-trust list. There are just too many secrets about him that we're still not privy to yet, and I still get a sense of danger (which is the point, I think, based on the glimpses of his character in those moments when he's alone and staring broodingly and mysteriously out the window). So even though I'm pretty sure he's not the murderer, there's still something super shady about his past (or his parents' past).
Speaking of past secrets, as cute as it was to have Hong Jin-young appear and mistake Sung-gyum as her husband "Goong-min," it also totally took me out of the episode for a few minutes. There's still a part of me that wonders if it's a plot point I should actually pay attention to, because Sung-gyum is so mysterious that I would totally believe that he somehow had a wife that he pretended not to know. But I'm pretty sure it was there just as a wink-and-a-nod to We Got Married. Which, again, cute cameo — but totally unnecessary and it disrupted the flow of the episode for me. (Although, you do have to wonder how many women just literally throw themselves at Sung-gyum, since it kind of reminded me when Sang-hyo was drunk and proposed to him.)
I feel a little silly spending so much time focusing on other characters when this entire episode was 90% about Sang-hyo and Hae-young and their relationship, but I'm pretty excited that there's still a backbone of mystery that makes this show more than just a rom-com. Of course, it's definitely predominately a rom-com, and like I said, I'm really happy and hoping we get lots of bickering and cuteness from Hae-young and Sang-hyo as they figure out how to handle their fake marriage. But I'm curious about all the dead bodies. Why are they dead? Who killed them? And will there be any of the wedding staff left alive by the time the show ends?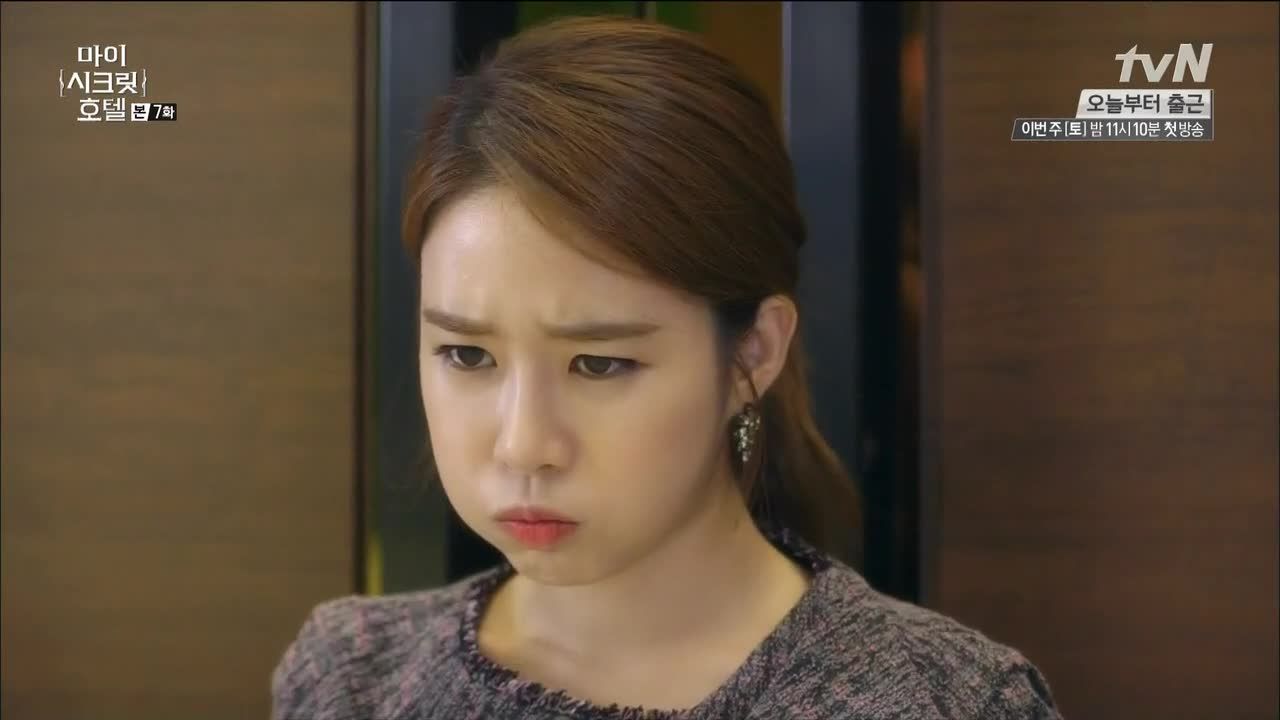 Because Kyung-hee has cancer (which made her little "the thing most people regret before they die" speech so much more powerful than Sang-hyo could realize), and Gi-chul was awfully jittery when he found out about Hae-young's wallet. He wasn't on my radar originally, but now I'm certain there's something going on with him. Unless, of course, it's just another red herring. I just hope he makes it to the end. Although I'm not particularly averse to more dead bodies, especially if that means we get more than one meager scene with Detective Kim per episode (and that jjajangmyun delivery boy totally didn't think twice about winking back! Love it).
I'm also assuming that this was the end for Soo-ah — but in the good way, not the "dead in a bathtub" way. I'm actually really happy for her. Yes, she seemed like a nuisance and a bratty second (third?) lead, but that moment when she was on the phone with Hae-young, but pouring her heart out to Ki-ho, was really powerful. Maybe she will come to regret it and show up again in our drama to stake her claim on Hae-young, but I hope not. Not just for Hae-young's sake, but hers, too. When she threw off her veil and seemed so happy and free about running away with her true love, it made me think that this was the end of Soo-ah's drama, the one where she's the heroine and was trying to do her filial duty by marrying the man her parents wanted her to marry, but following her heart instead. I wish her and Ki-ho a lifetime of happiness.
It is interesting that this show keeps mentioning the importance of marrying for love and not circumstance, because I believe that Sang-hyo and Hae-young's first wedding is purely out of love, whereas this second wedding was strictly due to circumstance. Sang-hyo went through with the wedding to save the hotel, not because she loves Hae-young (or so she can keep trying to convince herself). So I feel the show is going to have to iron out the delicate balance of not just marrying in the heat of the moment on a whim of love, but also the importance of marrying because it is the wisest choice, if not the most romantic.
Although maybe I was just swept up in Eun-joo's passionate speech, because as practical as their fake wedding was, it still felt pretty darn romantic to me.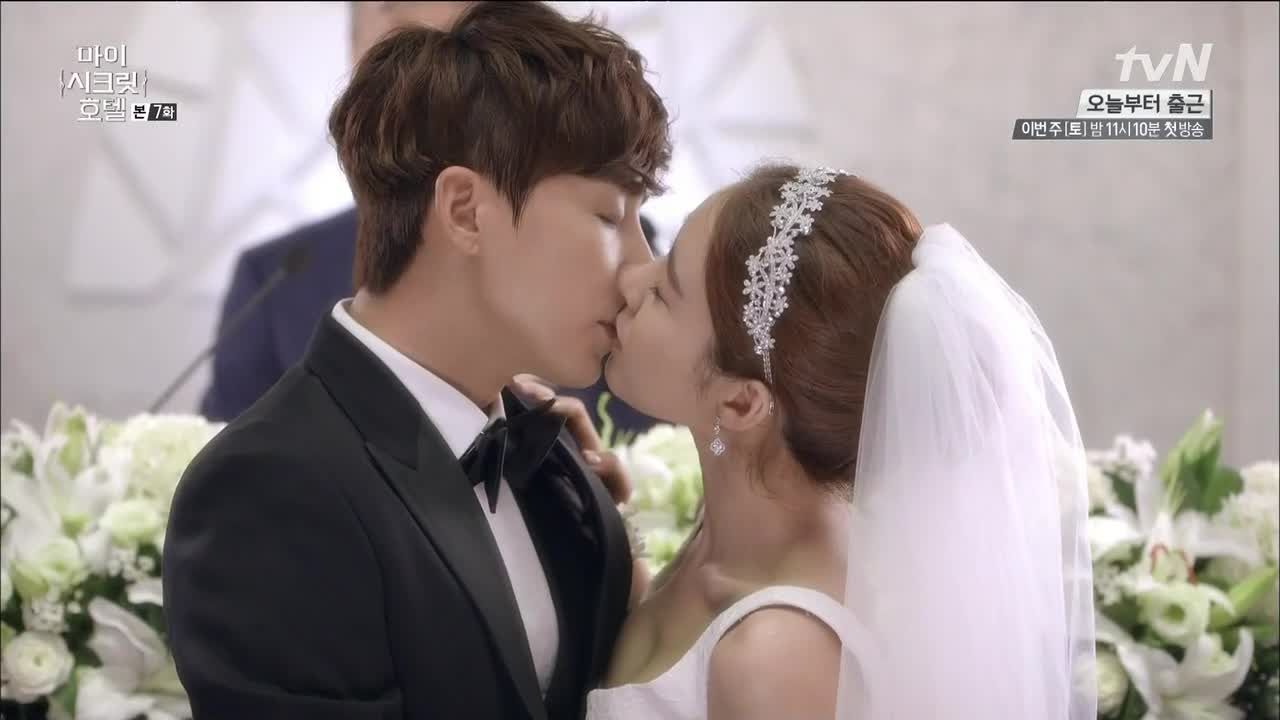 RELATED POSTS
Tags: featured, Jin Yi-han, My Secret Hotel, Namgoong Min, Yoo Inna