My Secret Hotel: Episode 12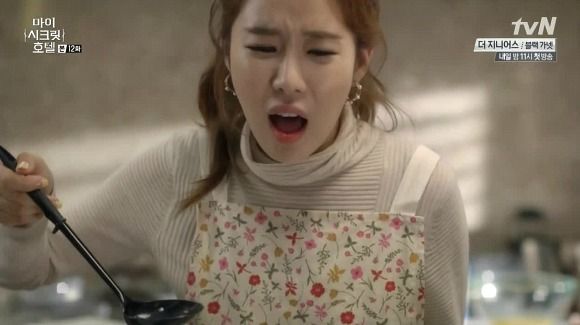 It's got to be asked: With a week to play with, does Hae-young have a plan, or is his grand plan to wing it? I sincerely hope he's got more game than he's shown so far, because in every previous encounter, he's come off worse even though the chances are always tipped in his favor.
Then again, maybe it's that very advantage that ends up being his biggest disadvantage, because what he has to do is regain Sang-hyo's trust, which is so much harder the second time around than the first.
EPISODE 12 RECAP
"That's why I was going to marry Soo-ah." In desperation, Hae-young explains to Sang-hyo's back how his dad refused to get surgery until he married, and if his parents find out the marriage is a sham, the shock might really finish him.
Sang-hyo keeps walking, but Hae-young's last entreaty makes her stop: She's going to give in. She confirms that it's only for one week.
Hae-young is so overjoyed that he sweeps her up in a bear-hug, which she tries to wriggle out of. He lets go only to plant a kiss on her forehead and she asks what the hell he's doing. Hae-young: "I'm kissing my wife." Hee.
He hurries her inside to pack, with Sang-hyo dragging her feet and protesting all the way. She reluctantly calls Kyung-hee to let her know she's taking the day off work, but is affronted to find out that the reason is to clean Hae-young's house. He says she can't look like a stranger in "their" home, so she needs to familiarize herself with it — where the bathroom is, where the rice cooker is—
And now she's afraid she'll even have to cook, and starts rapidly dialing again, but Hae-young stops her: They have to go fix the house up to look like they're newlyweds — words which leave Sang-hyo whimpering.
He perches on the edge of her bed as she packs. He nonchalantly asks if Sung-gyum ever slept over, but quickly plays it off: "Never mind if he didn't." She scoffs at his assumption, and suggestively asks if he thinks Sung-gyum could leave a woman like her alone.
He begins to jabber, but she cuts him off: Unlike him, Sung-gyum is a gentleman. Hae-young asks if that means he's a beast, but she counters, reminding him of his medicinal needs when it comes to beasting. Hahaha.
To prove himself, he backs her into the closet, while she tries to ward him off with a hair dryer, and he gets the last laugh. Still got it, eh?
On the drive to Hae-young's house, Sung-gyum's earlier words echo in her head — couldn't she think of him? She tells Hae-young she's worried about how to explain it to her boyfriend, and he's upset that she keeps mentioning Sung-gyum in front of him. They bicker, but also both smile to themselves, enjoying it.
Elsewhere, Hae-young's parents discuss him. OH. Is that how it is? We see that he called them begging them to delay their departure by a week and stay with him: "My life depends on it." He privately vows to win Sang-hyo back within that time, no matter what.
Sung-gyum looks for Sang-hyo in her office and finds out she took the day off. On his way back, Eun-joo catches sight of him and hides behind a pillar to avoid him. But when he confronts her, she can't stop a tear from slipping out, and he asks if they can talk.
In his office, he tells her he liked the confident Eun-joo, who was attractive. Since he doesn't want to be uncomfortable with her, can't they be friends?
She thanks him for his words, and promises to settle her feelings and wish them well — and abruptly changes tone with an eyeroll: "Did you think I would say that?" She asks what woman stays "friends" with a man she likes, and rightly points out he selfishly wants to ensure his own comfort, but she has no intention of playing along. Sang-hyo is Hae-young's bride, and she will be his. And, she yells at him, when that time comes, she'll pay him back. Oh, I love her.
Hae-young has a giant wedding portrait installed in his apartment. He keeps flip-flopping about where to hang it — first one wall, then another — until Sang-hyo erupts that they should just hang it wherever, and he immediately agrees.
She interrupts his rocking-chair reverie in front of the portrait with the observation that his place might look nice at a glance, but it's covered in dust. And that's why he wishes she'd stay there for good. O rly, that's your best line? Sang-hyo makes a face of disdain at him, too.
She heads into his bedroom and Hae-young trails behind her. She makes herself clear: Although they'll have to share the room because his parents will be there, she'll have the bed and he can take the floor — and if he so much as touches her, she's gone.
She's so grossed out by the bed she thinks he shared with Soo-ah that she gets the whole mattress sanitized, which I didn't even know you could do.
The sanitizing truck operator thinks they're a couple, and Hae-young slings an arm around his wife and says they'll have a baby soon, while she smiles daggers at him and asks if there's a way to get rid of an 180cm-long tick. Haha.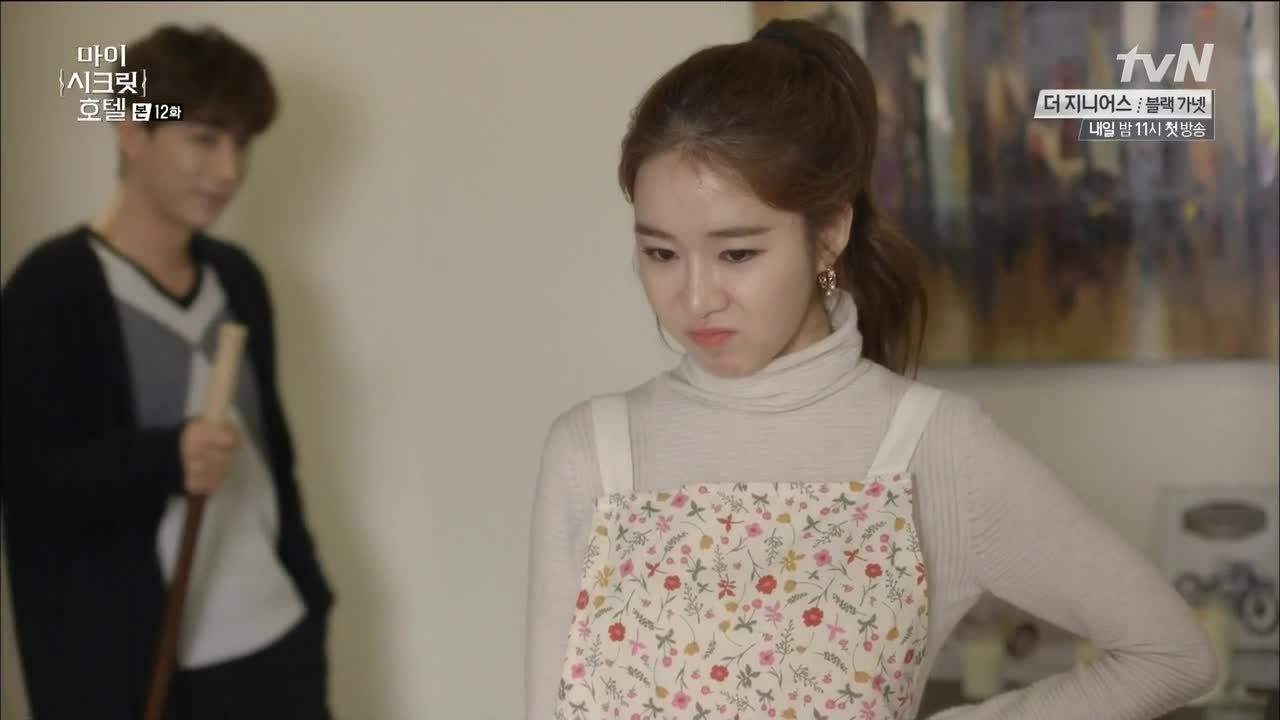 Just then, Sung-gyum calls and she busts out her best aegyo. But she's alarmed that he wants to come over for dinner and tells him not tonight. He jokes that she'd better not be having a secret affair.
After he hangs up, she plays a joke on Hae-young by pretending her call is still ongoing. She giggles and coos "I love you, too" into the phone, when he grabs it from her and begins a long tirade against Sung-gyum to stop talking inappropriately to his wife, but doesn't realize nobody's there. She takes the phone back and reminds him she's doing him a favor, not the other way around, so leave her man alone. It rattles him that she says "my Sung-gyum."
Detective Kim waits outside Sung-gyum's office because Simon won't let him inside. He examines the PA, recalling Slimy's words about how he has the look of a murderer, when Sung-gyum arrives.
Kim asks him bluntly this time: Did he kill Young-mi? Sung-gyum remains unruffled, and they engage in a stare-off. Meanwhile, Team Leader Cha reports to GM Lee that the detective is meeting with Sung-gyum. Cha thinks it was true after all that Young-mi approached Sung-gyum.
Hae-young calls in at the firm to tell Shi-chan he's spending the day with Sang-hyo. Shi-chan tells him they'll work hard even if the boss isn't there, but as soon as he hangs up, he lets all the workers clear off early.
Jung-eun comes to the empty office but is unhappy to hear Hae-young is with Sang-hyo — didn't they break up? Shi-chan tells her there are other cool men apart from Hae-young, to which she blankly replies, "Who? Where?" He whispers into her ear, "Me!" before running away. Aww! All the ships are lining up. But it's totally lost on her.
Sang-hyo and Hae-young are busy cooking; he inexpertly chops vegetables while she burns everything. I… don't think either of these two has any idea how to cook. Hae-young finds her efforts entertaining while she gets increasingly stressed out, and burns herself. Now concerned, he whisks her away, while she worries that his parents will get there before they're ready.
Speaking of: Outside the door, the elders have arrived and overhear the anxious argument the couple have about finishing "it" before they get there. Hilariously misunderstanding it for the newlyweds enjoying a quickie, the parents quietly retreat for a bit.
Hae-young treats her burn, and Sang-hyo is touched by his care, which again brings Sung-gyum's words back to her mind. For a change, instead of snapping at Hae-young, she softly tells him she's fine, now.
Sung-gyum gets a call from Soo-ah's father to have dinner in the hotel restaurant. When he arrives, Soo-ah's there alone at a table set for two. She makes the excuse that her dad couldn't make it. Delightfully transparent, she tells him not to think she engineered this situation to get close to him or anything.
Eun-joo spots them and rescues him from the almost-date by pretending they had previous plans. But since they're all there, she invites Soo-ah to join them, much to the latter's dismay.
A game of one-upmanship ensues as both ladies try to get Sung-gyum to side with their menu choices, but he frustrates them by making his own orders. With the tension over steaks and wine, he abstains from salad. Because who wants to get into a tug of war between two women?
The newlyweds have laid out a spread for his parents, and Hae-young says she made a lot of effort for them. He fusses over her injured hand, which turns into a fight of smiles and hand-holding (read: bared teeth and fist-clenches), until he hooks an arm around her and asks his father to accept her into their family.
The food doesn't look too bad… until they taste it. Mom notices the burnt undersides of the fish and side dishes, while dad struggles with the tough meat. Mortified, Sang-hyo apologizes, but Mom sweetly says that it's nothing and everyone's first time can be hit-or-miss, and both parents do their best to soldier through without hurting Sang-hyo's feelings.
The awkward threesome at the hotel restaurant finish and Soo-ah pretends to be dizzy from her wine so she can't drive. She wants Sung-gyum to take her home, but Eun-joo's already got her sorted with a substitute driver: Outmaneuvered, she reluctantly leaves.
Sung-gyum thanks Eun-joo for her intervention and invites her for a drink, just the two of them. Eun-joo gushes thanks and asks where they'll go — and again drops the façade abruptly with the same words: "Did you think I would say that?"
She gives him a strong dressing-down and says what we're all thinking: If he's not interested in her, why is he stringing her along? He accepts the criticism without a word, and she says she's not in the mood for a drink tonight. After she goes, he remarks to himself that he almost felt bad.
In Casa Hae-young, his parents notice him gazing at Sang-hyo, and tell him to go be with her. As she cuts fruit, he comes up behind her with a backhug. Is that a good idea when she has a knife in her hand? Mom and Dad think they are enjoying a couple-moment, so they quietly creep away to leave the kids alone.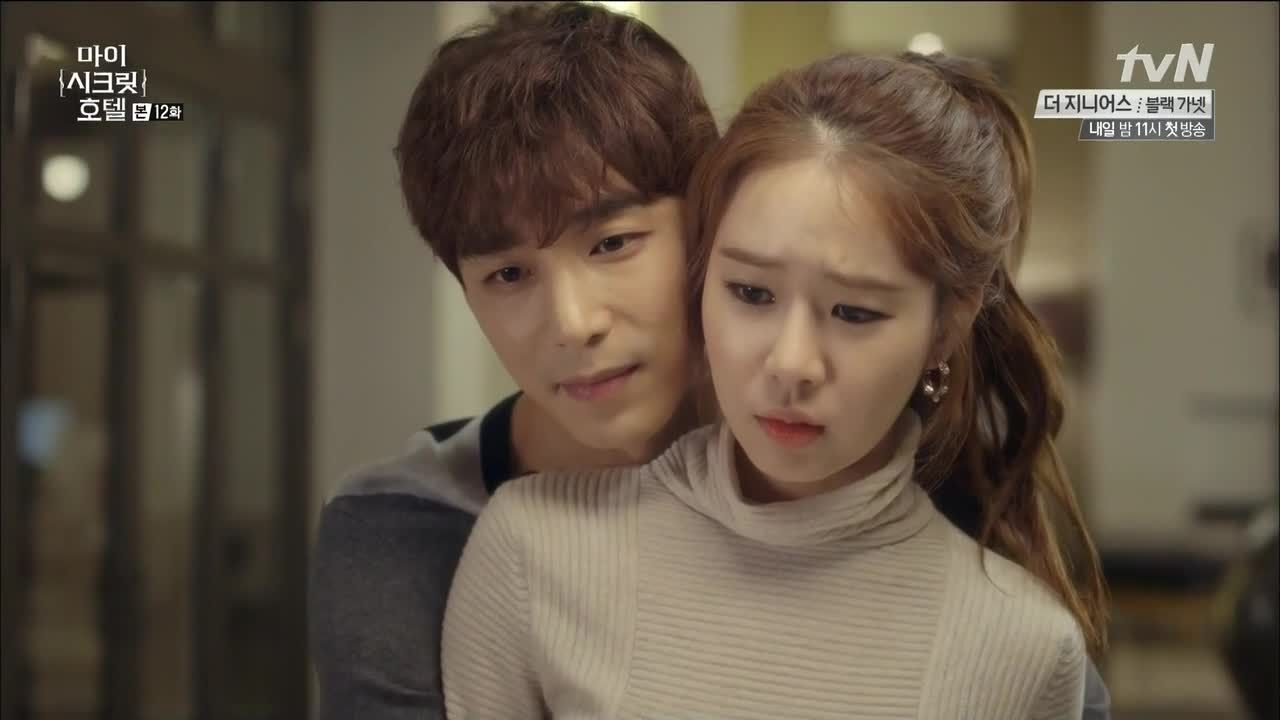 Still holding her, Hae-young tells her how happy he is that she's with him. Sung-gyum's words come back to her again, and she snaps out of it: "Won't you let go?" she demands. "I won't let go," he replies. She stamps on his foot, which does the job, and points out she's holding a knife.
Sang-hyo falls into Hae-young's bed, exhausted: one day down. She sends him to his spot on the floor, where he gazes up at her. He earnestly thanks her for treating his parents well, and for staying.
She settles in, but tells him she won't sleep until he does. He tells her she needn't worry about him trying anything: He's not that wicked. He turns over to face away from her.
It's her turn to watch him. She remembers another time, seven years ago, when she pestered him to sleep facing her, but he didn't want to because he had an early morning. If he were to look at her, all his chances of sleep would disappear…
In the present, Hae-young smiles at the same memory and turns over again to sneak a look at Sang-hyo. He's surprised to find her wide awake, looking down at him. She tells him she can't sleep, and he asks if he should help her. The air is so thick with their history, I don't know how they're breathing.
Another flashback takes us to a different night, when she couldn't fall asleep. He took her into his arms and sang her a lullaby until she did. She turns down his offer now, and this time, she turns over to face away from him.
Over a late-night meal with his partner, Detective Kim rehashes his interview with Sung-gyum. What did he talk about with Young-mi? Sung-gyum revealed the first note she had sent him with the information that his father was murdered — although, he tells Kim, she didn't tell him who she thought the killer was.
As for the last time he spoke to her, it was about her price for handing over the evidence that would reveal his father's killer. Since he was leaving for his business trip, he sent Simon back to meet her, but she never showed up for the appointment.
Detective Lee asks why he can't just arrest both men, and his boss points out the lack of any evidence that Simon is connected to the case, and Sung-gyum's airtight alibi.
In his suite, Sung-gyum dithers over whether to call Sang-hyo or not. When he finally does, there's no answer. She's asleep — and being watched over by Hae-young. He climbs onto the bed to remove the phone, and when he sees it's Sung-gyum, he cancels the call with some pique.
Sung-gyum sends her a text insead: "Sang-hyo, I missed you a lot all day." Hae-young reads it and isn't happy… but then that Grinchy evil smile comes over him and he gets tapping back.
It's adorable how excited Sung-gyum is that she replies, but he's baffled by the message: "Shut up and hit the sack."
Hae-young silently cracks up. Mischief managed, he tucks her phone back under her pillow and starts taking couple-selcas with his own while she still sleeps.
Morning finds them cuddled up together on a single pillow, and she nestles in closer. But when she stirs awake and sees him, she screams and catapults him straight onto the floor.
A little later, she emerges to find Mom has already made breakfast. She apologizes but Mom says it's okay and invites her to taste the delicious soup. Hae-young looks on, enjoying the warm vignette of his mother doting on his wife.
Sung-gyum waits outside Sang-hyo's apartment to take her to work, but she's busy at Hae-young's house, taking her leave of the elders. Hae-young tells her to hurry home and not dally with random guys.
Mom suddenly remembers the wedding present she got them, and sends her son to fetch her bag. Sang-hyo hears the word cha (tea) and lists every tea she can think of, and says she definitely likes all of them. Mom chuckles and tells her it's not that kind of cha. Hae-young returns with the bag and Mom now hands over a set of car keys: It's that cha (car).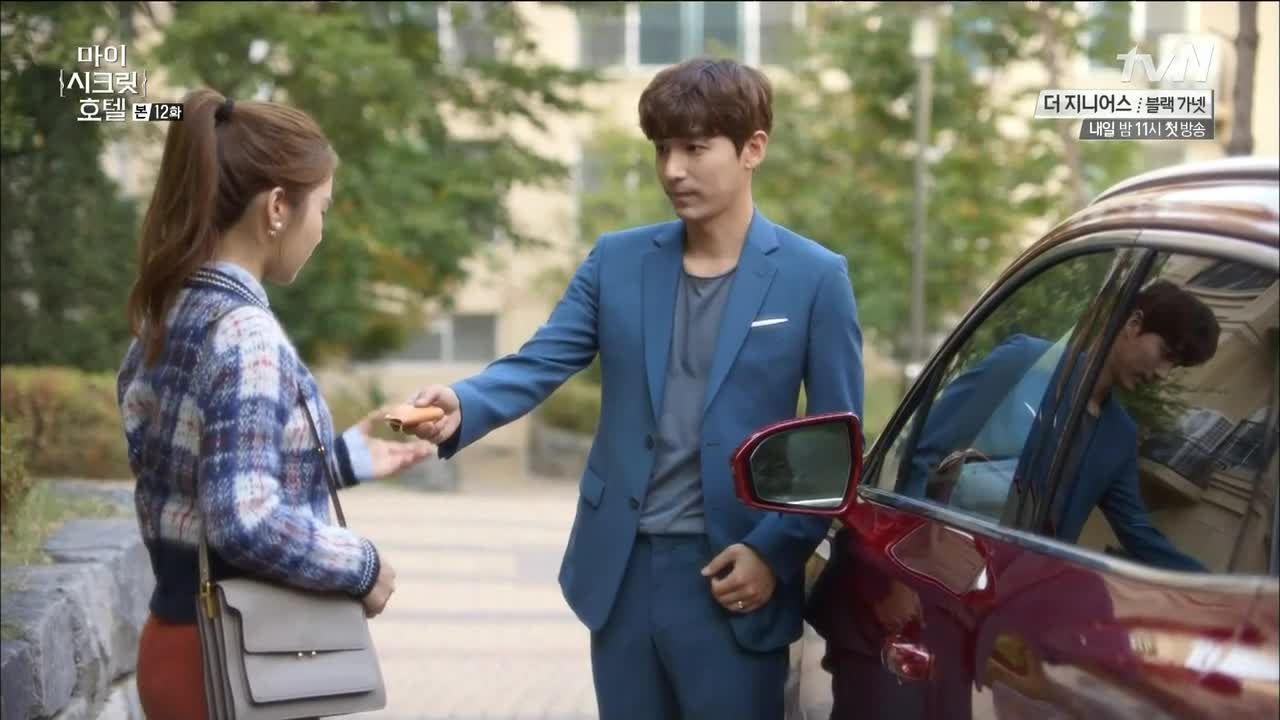 Sang-hyo's mind is a little blown that their wedding gift is a whole car. Hae-young's not too happy about it: If she has her own wheels, that means he can't chauffeur her around anymore. But she can't accept the gift, since the marriage isn't real, and he immediately counters that they can make it real. But for now, he delivers the keys into her hand, and urges her not to disappoint his parents, who are watching. She relents, and the couple say goodbye and leave together.
Mom and Dad are pleased that Hae-young is so happy. In a flashback to the wedding day, Hae-young begs his shocked parents to trust him — he won't disappoint them again. He kneels in front of them and confesses he sincerely loves Sang-hyo — she's the only woman he's ever loved, and he never wants to lose her again.
Sang-hyo wants to know why he's in her car and not his own. Hae-young expresses doubt in her driving skills, which indeed prove to be erratic. He holds on tight and she's so busy concentrating that she misses Sung-gyum's call. He's left wondering if she went to work early.
The couple make it to the hotel in one piece and she returns the key to him because she doesn't want talk, plus he needs to get to work himself. He promises to pick her up later but she tells him not to come back, ever. They bicker again and it's cute… until Sung-gyum pulls up with a grim face.
The men exchange barbs and Sung-gyum asks her why they're coming to work together: Is something going on? She denies it but hangs her head and Hae-young asks if being with him is some kind of crime. She urges him to leave, and Sung-gyum tells him to butt out, too. Sung-gyum decides he and Sang-hyo'll leave since he won't, and he pulls her along by the wrist.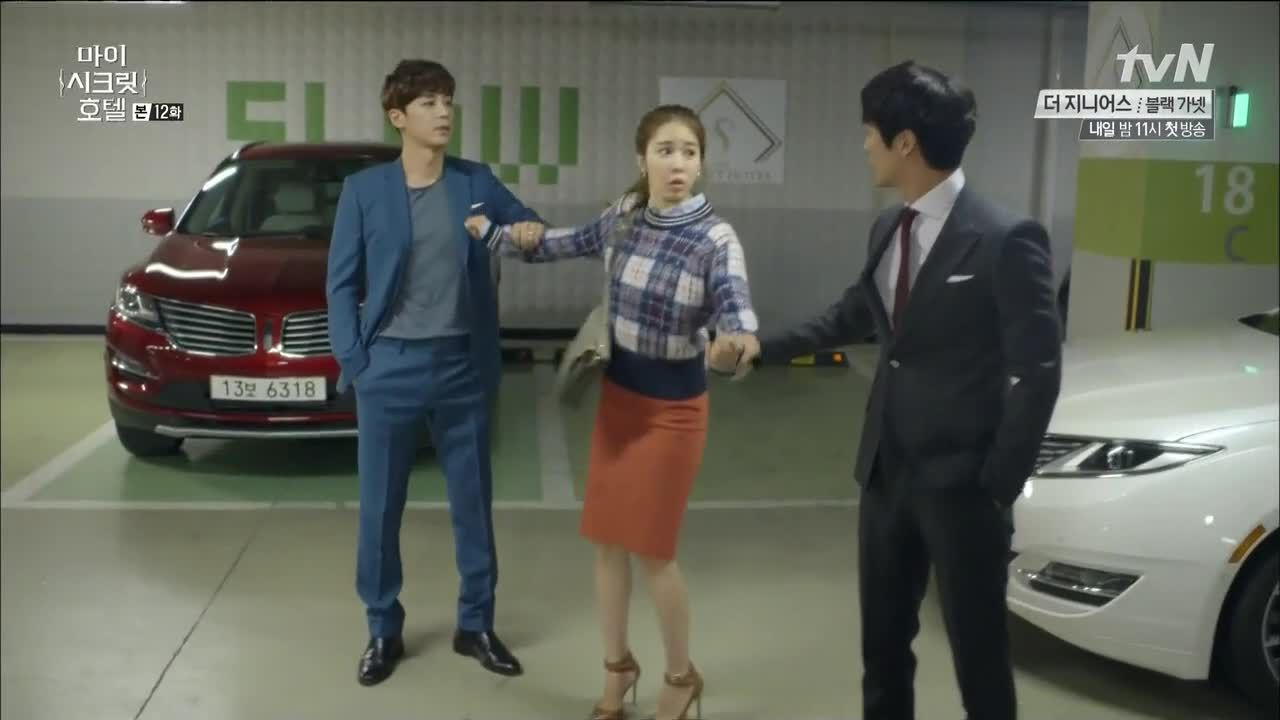 Not about to be robbed, Hae-young grabs the other wrist, and she is jerked between the two boys in a ragdoll tug-of-war as each tells the other to let go. Hae-young: "She's my wife." Sung-gyum: "She's my girlfriend." Ugh.
She breaks free of both of them and the boys are now spoiling for a fight because they're idiots. Sang-hyo pushes Hae-young away from the fight but he persists, so she tries Sung-gyum instead. His blood is up though and the boys go for each other. Sang-hyo inserts herself between them but they push her out — desperate, she seizes Sung-gyum in a tight embrace and begs him not to fight.
Hae-young calls her name, but she's fixed only on Sung-gyum. He grabs her wrist to break the hug, spinning her towards him, and ends up in a tense face-off with Sung-gyum.
COMMENTS
Ugh. Ugh ugh ugh. UGH.
The Sang-hyo sandwich. Sigh. Such a big backwards step. I won't waste words on it, because we all know what's wrong with it.
I've stopped pretending the mystery matters this episode. The only mystery here is, how does Hae-young manage to mess up every ribbon-wrapped opportunity to change her mind? Coasting on past successes, he's still not taking my advice: CHANGE. Do something different! Do EVERYTHING different. I've shipped you dammit and my advice is good, TAKE IT argh ldkjgldkgjl.
Why Sang-hyo agreed to Hae-young's ruse is a good question, because the answer tells you a lot about what's in her head — her inability to turn her back on him, even though she has no obligation to help him, even though common sense screams she shouldn't. Rather than simple goodwill, it's clear she reacted to Hae-young's personal distress, and not his dad's condition.
It both is and isn't surprising that the situation was deliberately contrived: the former because his pain lent truth to his story (probably because his pain is the story), and the latter because of course the prankster would be up to something. The worry is that he's only thought up to the point of getting her into his house, but doesn't have a game-plan for the rest, which is my impression from this episode. I get a feeling this is characteristic about his general approach to life — he doesn't think about long-term outcomes and consequences. In other words, he goes for winning the battle rather than winning the war, which is the opposite of Sung-gyum.
There's no point getting into the ethics of his misleading her (and a little misleading isn't necessarily bad for the parties involved), but I won't fault him for trying: He needs to do this much. He may be childish and wrong and immature, but you can't argue with the profound depths of his pain. It's when he dwells on it that makes him so grave and so adult — almost like childishness is a refuge from the big, great hurt awaiting him if he looks at it head on.
I haven't decided what I think about his hugs. I hesitate to use the words "forced" and "struggle" because it suggests violence or violation, and I think Hae-young's actions don't go over the line. There's no power-play in it — it's pure affection and actually seems to be Hae-young at his most innocent. He's aware of the difference, too, given his reassurance to Sang-hyo about not trying anything on her in the night, and also, when he does use contact to "control" her, although that is part of the bigger dynamic of his back-and-forth with Sang-hyo, where she gives as good as she gets, and therefore isn't worrying.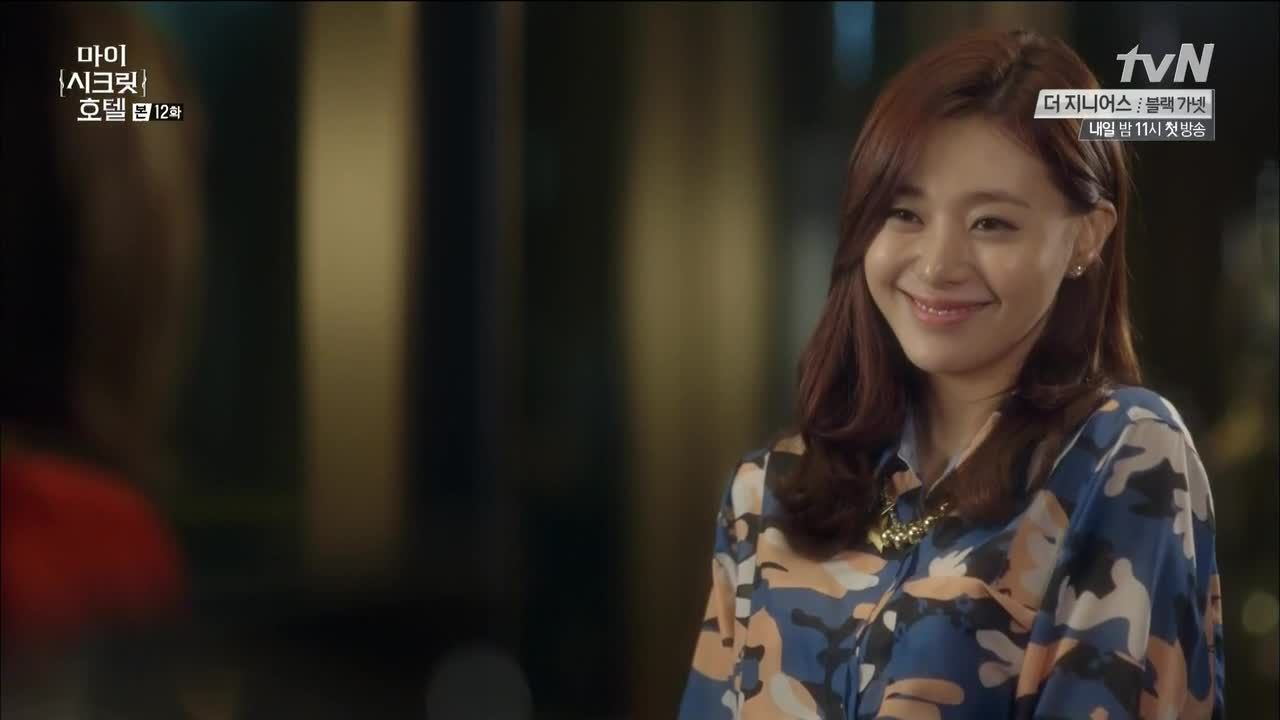 On the other hand, isn't Eun-joo just the bees' knees? She's blazingly direct and doesn't let Sung-gyum get away with a thing. The problem for the women with him is that his authority position means they have to interact with him as a superior before as a person. Eun-joo actively removes that barrier and levels the field when she discards his title and adopts his name — something Sang-hyo hasn't done. Like Sang-hyo, she's also excellent at taking back power, but her style is much more boisterous, which suits Sung-gyum's phlegmatic personality better. Although Sang-hyo was forward with him to start with, she's been holding back more and more.
It's difficult to say whether Sang-hyo has been giving the boys mixed signals: I think matters are muddied because she's honestly confused. She hasn't ever welcomed any of Hae-young's attentions, although she occasionally finds herself lulled into momentary acceptances, so I don't think she's being ambiguous. In fact, the strength of her resolve is striking, considering just how all-over-her Hae-young is, and how hard it is with so much unresolved history not to fall back into old habits: I could map every moment of when she's leaning towards and pulling herself back from him. Because she's struggling, I'm unwilling to call that capricious inconsistency: just human.
Sang-hyo's flashback of their bedtime conversation — her many questions and his easy answers — show they clearly had no problem communicating then. But as problems become more complex, so does the way you need to communicate, and they broke up before they learned how to weather it. This is their basic and critical problem right now: how to talk to each other about things that matter. If they can't figure it out, they won't have a future.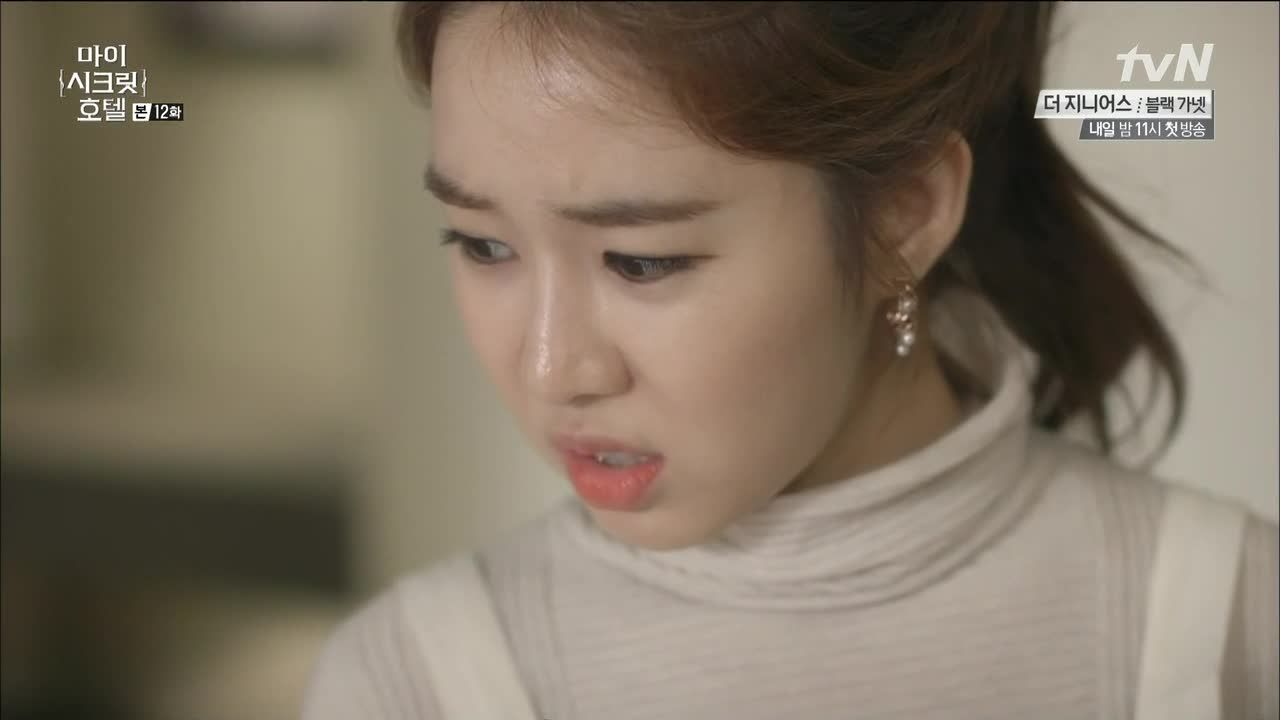 Sung-gyum is odd. After having dinner with two women who are interested in him who aren't his girlfriend, and leading on at least one of them, I'm not sure that he can claim any high ground against Sang-hyo. Eun-joo lays the blame for his disingenuity squarely on him, and I think she's right. Dating Sang-hyo because he likes her hasn't made him a different person — although maybe he should be. Then again…playing house with your ex when you have a boyfriend is probably a no-no, as is having a boyfriend when you're married to someone else. So maybe none of them are really on a winning side.
There is very little to add to the investigation round-up: Even though Sung-gyum came clean with the note, it's obvious he's holding back much more. Conclusion: He may be the murderer — or he may not. If he is, I'm sad for Eun-joo.
I came close to losing my patience with the triangle of nincompoops this week. It's gotten to a point with this episode where it's not enough to have isolated funny or heartfelt moments. We need some faster plot movement and more overall coherence in the story. I don't feel like four episodes are enough for Sang-hyo to have a believable change of heart, unless it turns out Sung-gyum is a murderous murderer and sends her crying to the nearest available muppet. Of course, it could be fine, but I don't want to be rushed into it, and the time feels short.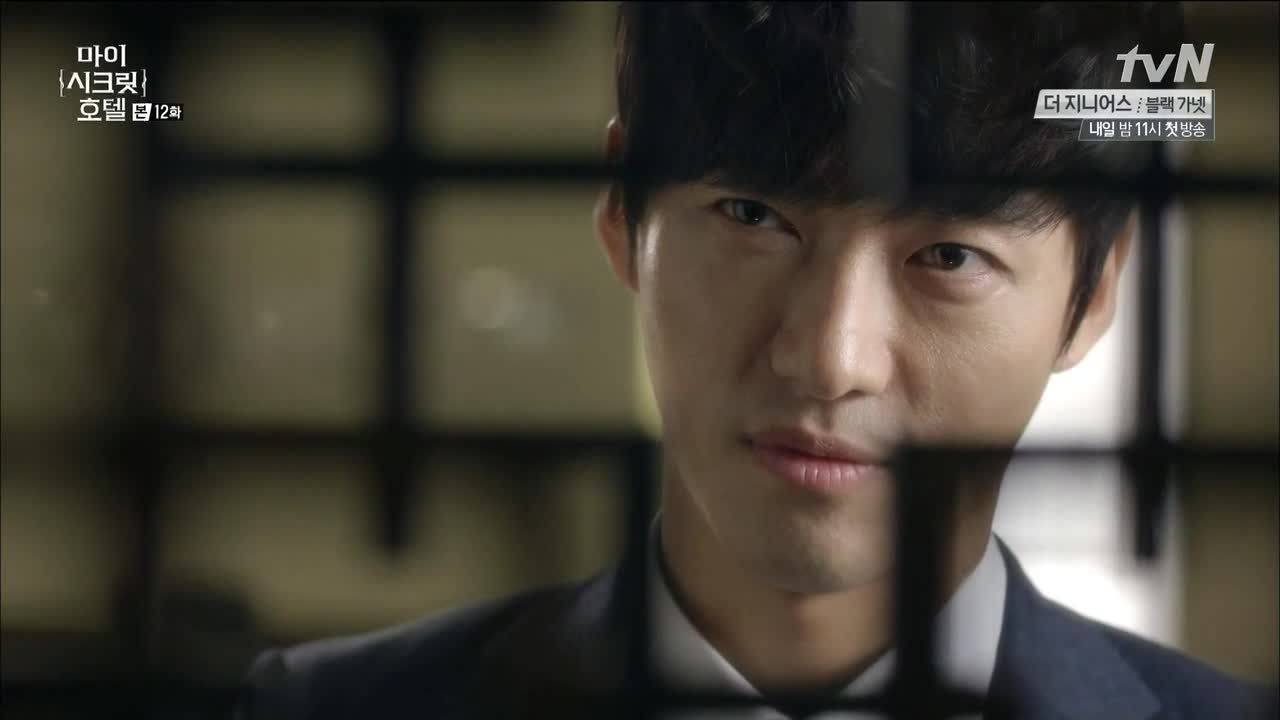 RELATED POSTS
Tags: featured, Jin Yi-han, My Secret Hotel, Namgoong Min, Yoo Inna