My Secret Hotel: Episode 14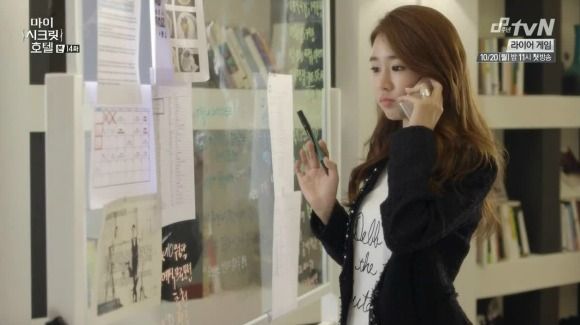 After a frustrating previous week, this satisfying episode delivers some decisive moments for several characters, both on the mystery front and (mostly) the romance, as well as bringing in, perhaps, the final key figure for the former. It turns out that madcap and nonsensical plans have their uses, and sometimes it only takes small moments to turn accepted truths on their heads, especially in matters of the heart. And if there's a conversation we've all been waiting 13.5 episodes for, it happens — it finally happens and it's glorious.
EPISODE 14 RECAP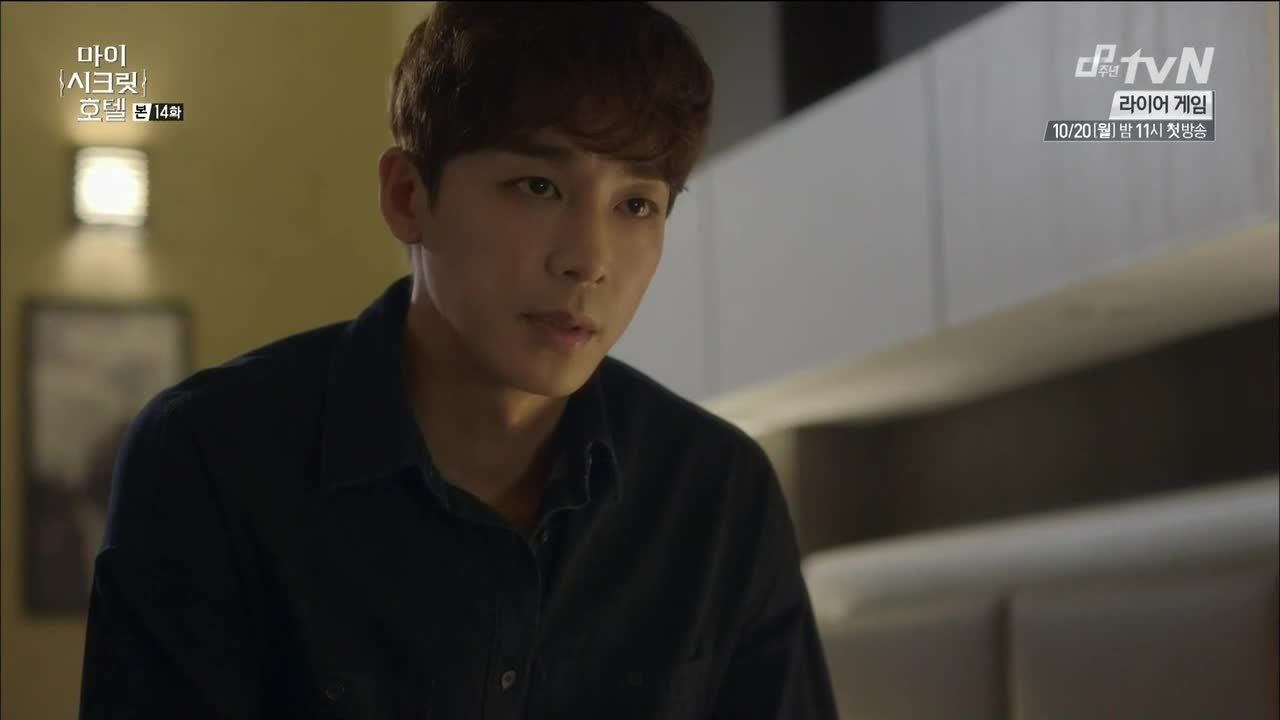 Sang-hyo tells Hae-young she came back to live with him until the rumors about them quiet down. He reminds her she left even after he begged her not to — is she here now "for the hotel's sake"?
He turns away from her, and shakes off her hand. He repeats her words back to her: "Let's stop." She cajoles for one more chance, but sad and resolute, he retreats to his room. Alone, he thinks about what a hard day he had: "I don't want to get hurt anymore either."
Sang-hyo can't bring herself to knock at his door, but after a moment, lets herself in. She wants to talk, but Hae-young says there's nothing to say. She complains how much courage it took to come back, and he says she should take that courage and leave.
She protests he's never refused her — except for the day he left. She asks for this as a "last favor" to make up for that time. He won't look at her, but as she turns to go, he catches her arm.
He asks again if she really came for the hotel's sake, before dismissing the question himself — instead, he asks for five seconds, and pulls her into his arms. He think to himself that he'll try one last time, "Even if I cry because of you again."
Alone in his suite, Sung-gyum thinks back to his earlier conversation with Sang-hyo. When he asked if she was really being shaken up by Hae-young, she replied that she didn't know. Although she likes Sung-gyum, whenever she's with Hae-young, she keeps going back to her feelings from seven years ago, no matter what she tells herself. She tells him she needs to find out what her true feelings are. Sung-gyum asks what happens if it's love. What would happen to him if she chose Hae-young over him?
A knock interrupts his contemplations, and Sung-gyum opens the door to Gi-chul, who has something to tell the director.
Hae-young outlines his conditions for Sang-hyo living there. First and most important: no skinship allowed with Sung-gyum in public or in private. If she wants to keep their happy marriage credible, she also can't say she's dating him.
Sang-hyo sulkily agrees but adds that he'd better not touch her either. She decides to use his parents' room and it's his turn to be nonplussed. He argues that they're a married couple but she reminds him it's a fake marriage. He finally cracks a smile.
Secondly: no working late. When she argues that sometimes she has to, he magnanimously allows it but adds the condition that she has to let him know, extracting another grumpy agreement.
His third condition? "Call me yeobo." (An endearment for spouse, similar to "honey.") Hahahaha. Sang-hyo sputters that she wouldn't call him that even if they were married for real.
He starts to tell her the last condition, but she's already fallen asleep. Gazing at her face, he says, "I love you, Nam Sang-hyo." Kneeling down beside her, he drops a soft kiss on her forehead.
Sung-gyum broods on Gi-chul's information that Team Leader Cha killed Hwang, and that GM Lee is in league with him. When the latter arrives to meet him, Sung-gyum asks what his relationship is to Cha. More specifically, did he order him to kill Hwang and Young-mi?
He shows GM Lee the letter Young-mi sent him, and says he didn't kill her, so the culprit would have to be GM Lee. This causes the older man to take out his own letter. "If the card is true, one of us is the perpetrator," he tells Sung-gyum.
A woman makes her way down the hotel hallway. Sang-hyo, passing, asks the stranger if she needs help. The woman introduces herself as Sung-gyum's mother and asks for his office, and Sang-hyo leads the way.
The two women bump into GM Lee leaving Sung-gyum's office and it is evident from their surprise and discomfort that the elders know each other, although they don't let on. Hm. Mom hurries past him to her son's office, while GM Lee throws a dazed look back at her.
Sung-gyum greets his mother with surprise and warmth, and Sang-hyo goes to get tea. While she's away, he bashfully tells Mom he has someone he likes. Mom is thrilled, and he promises to introduce her to Sang-hyo. She starts at the name, and checks again if she heard right: Was it Nam Sang-hyo?
Eun-joo pumps Sang-hyo for information — that was Sung-gyum's mom? She accuses her of trying to steal her mother-in-law, and the outburst takes Sang-hyo aback. But Eun-joo moves on and asks for a hair tie; she wants to make a good first impression.
Eun-joo — now wearing a properly demure dress and with her hair tied back — enters Sung-gyum's office and welcomes Mom. She's prepared a room for her and even had her luggage taken up. She notices Sung-gyum's chuckling and he says it's because her clothes and everything are so different. She insists she likes this style. Lolol, love her.
Mom asks Eun-joo to escort her to her room. On the way, she asks her if Sang-hyo is close to her son, and Eun-joo, bless her, says not at all — in fact, Sang-hyo is already married.
At Hae-young's offices, the team present "Project: Sleep Together." Uhh. Shi-chan complains that their work is disturbed by Hae-young's mood-changes, which blow depending on how Sang-hyo's treating him.
To solve his problems, they propose a housewarming party. They'll engineer a spin-the-bottle drinking game to get her tipsy, then talk their boss up to her, and finish it off with a round of egging them to kiss. If she's not drunk enough, they'll stay and occupy the other room so she has to share with him. I don't know why they think this is a) not morally questionable, or b) will work, but Hae-young is all, "Well if you really want to…"
Sang-hyo gets a call from her hubby, telling her about the evening's plans and she gets worried. Shi-chan takes the phone to tell her to just order food and hangs up. Disgruntled, Sang-hyo grumbles they can order it themselves.
Everyone arrives together at the newlyweds' place and Sang-hyo is a little anxious. She bars Hae-young's entrance, demanding explanation, but he says he couldn't stop them. When she holds up a fist to him in threat, he — HAHA — counters the "rock" with an open palm, calling "paper." He grins at his own joke, and also because Sang-hyo just got pwned.
Sung-gyum looks for Sang-hyo in her office and is surprised to find out she's already left, and hears about the housewarming party she's having with her husband.
Sung-gyum's mom, meanwhile, talks to someone on the phone about Sang-hyo: "It's her, isn't it?" She says her son can't be with her, and that she can never accept her: "You know the reason why, General Manager." Ohhh…
Sung-gyum overhears the tail-end of the call and asks her if she knows GM Lee. Shaken, she replies that she met him a couple of times long ago. It dawns on him that she knows more than she's telling about his father's death but despite his plea for information, she continues to insist it was a mere accident, and he should forget about it.
The housewarming plan is underway and the bottle lands neatly on Sang-hyo. She tries to beg off with the excuse she can't hold her liquor, but the team start chanting — even Hae-young gets into it. She caves… and nominates dark knight Hae-young to drink for her. HA. Thus commences several rounds of the bottle landing on Sang-hyo, and Hae-young throwing back the drinks. Lololol.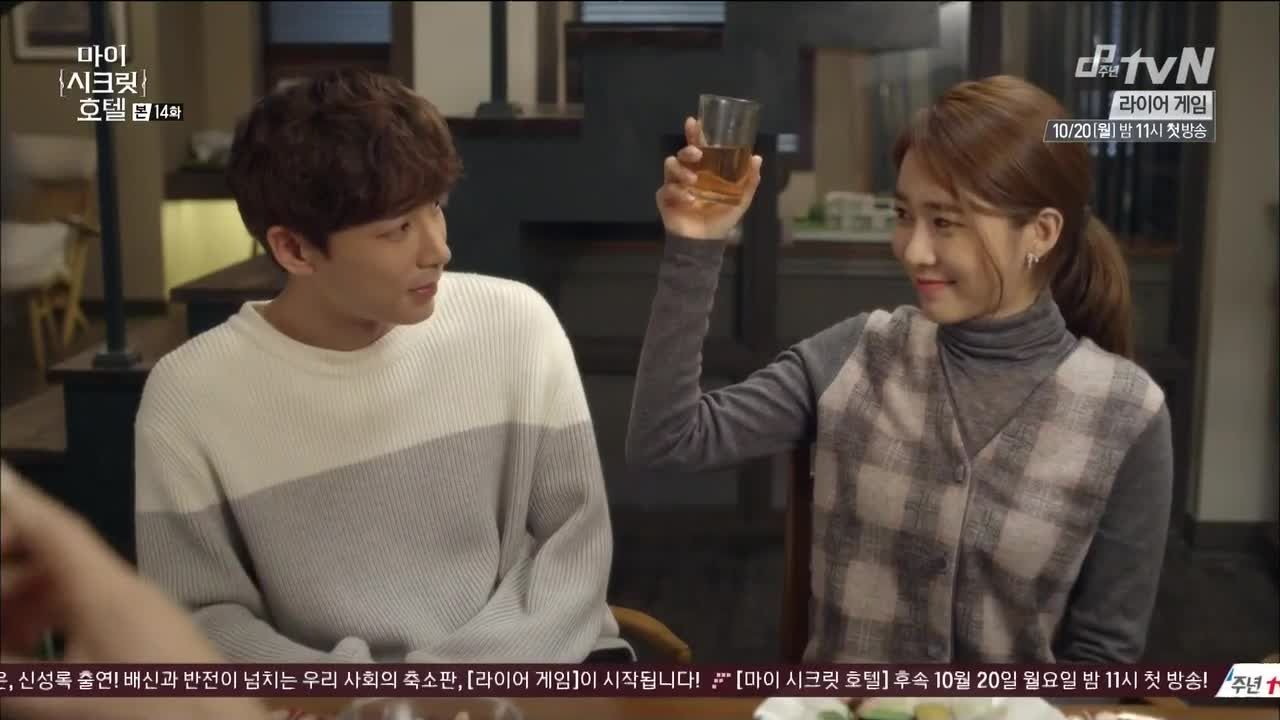 The team now move onto "Compliment the Boss" stage, which starts off as planned, but gets derailed when she remarks that it must be tough with a boss like him. "His personality isn't that great," she says, and does a spitting-image impression of how he must tear into them at work.
Poor soused Hae-young is so out of it he has no idea what's going on, and the team weepily drink up sympathy and beer, adoring Sang-hyo for understanding.
Eventually, the boys deposit drunk Hae-young into bed and leave Sang-hyo with him. She awkwardly has to stay in the room to maintain cover, so… the plan was a success?
Only the two of them now, she smiles at his sleeping form and puts a pillow into his arms. He clutches it and murmurs, "Sang-hyo, don't go." She sits down at the foot of his bed, and touching his face, she says, "The way you look sleeping… is the same as before."
The next morning finds them asleep in the same position. Hae-young rouses first, and seeing her face, he echoes her words, "The way you look sleeping… is the same."
Elsewhere, Sung-gyum's mom has a sharp phone conversation with someone — GM Lee? — demanding he get Sang-hyo away from her son.
In the GM's office, Sang-hyo questions why she should need to take time off when she's already taking care of the rumor situation by living with Hae-young. Lee says that as long as she and Sung-gyum are in the same hotel, the rumors will persist, and so for his sake, she should go.
On her way out, she bumps into Sung-gyum. They sit down and try to catch up, but it's awkward. She stiltedly tells him that she's decided to take some leave. He tells her she needn't stop working, since GM Lee is just trying to separate them. Instead, he'll stay away from her for the time being.
He asks her to go somewhere with him one last time — he has something to say. She agrees, and GM Lee comes along just then and breaks things up, so she goes on her way.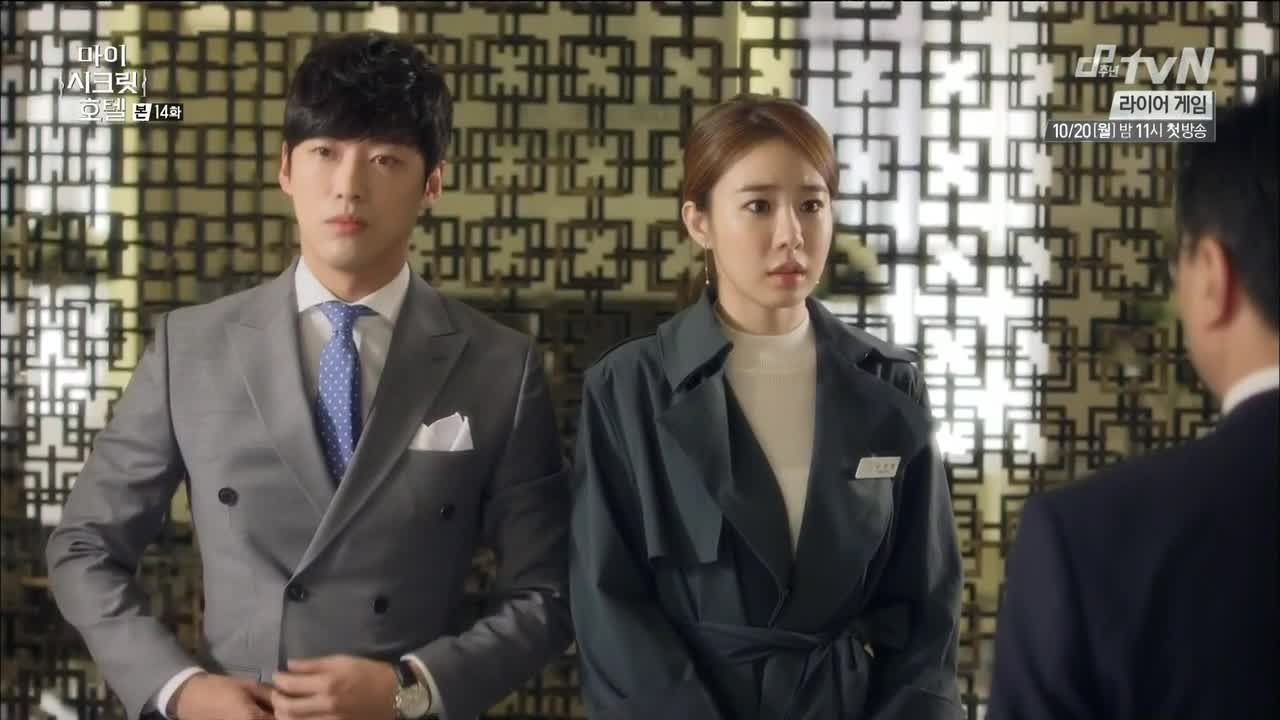 Lee reminds Sung-gyum that he told him not to shake her up. Sung-gyum acknowledges the GM's dislike of him, but asks if it isn't too much to make her take leave. Lee replies that if they're together, Sang-hyo would end up getting hurt. Sung-gyum contradicts his words and vows he'll protect her, no matter what.
Back in his office, GM Lee discusses his frustration about the situation with Team Leader Cha, who tells him not to worry — he'll take care of it. Ominous.
As Cha leaves the office, he crosses paths with Kyung-hee. He asks if she's okay — the GM is worried about her. She makes to leave, but he catches her wrist and urges her to go to the hospital. Gravely, she asks him to just ignore her, so she can keep working at this hotel.
At the office, Hae-young is distracted by his morning's memories of Sang-hyo. He puts his work aside and is about to leave when Shi-chan pops in and suggests going for a drink. Hae-young can't, because he's got a dinner to make: "Now… I'll start doing things. The things I wanted to do for Sang-hyo all this time."
He goes home with a bag full of groceries and calls Sang-hyo to tell her not to eat dinner and come home early — he'll be waiting. On the other side, we see Sang-hyo's with Sung-gyum, looking momentarily guilty.
They look at an apartment together, and since she likes it, Sung-gyum says he'll take it. At her surprise, he jokingly asks if she thought he was asking for them to live together. He then admits his mom wants him to go back to the U.S. but he's making it clear to her he's going to stay because of Sang-hyo.
He signs the contract with Sang-hyo beside him, and asks her to dinner with him, promising it won't take long. From a distance, Cha watches them from his own car, and follows.
Meanwhile, Hae-young concentrates on following a steak recipe on his phone. His efforts at chopping potatoes are clumsy and sincere, and he even gets a burn from hot oil.
Pretty pleased with his efforts, he sets a sweet table, complete with candles and wine. Finished at last, he congratulates himself and thinks that all that's missing is Sang-hyo.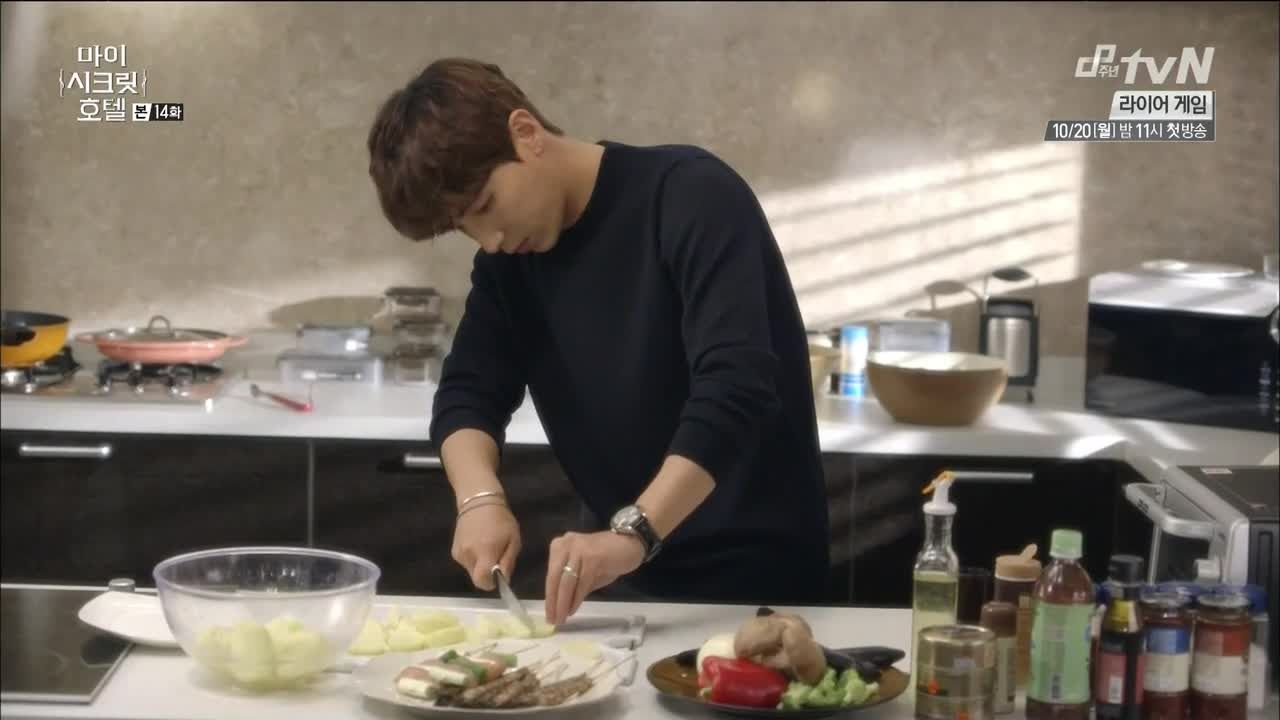 At the restaurant, Sang-hyo keeps looking at the time. Noticing her restiveness, Sung-gyum lightly suggests that tea could be better than a meal, and she agrees, with notable relief.
Sung-gyum remarks that it feels unfair that Hae-young gets the chance to do his best, while he can't do anything but wait for her answer. He tells her that he wanted to show her for the last time, how sincere his feelings are for her — but his words are interrupted by Hae-young phoning her.
She doesn't take the call, and Sung-gyum says that whichever way she's wavering, he's not giving up. He asks her to remember that he'll be waiting, hoping that the three-month divorce rumor turns out to be true.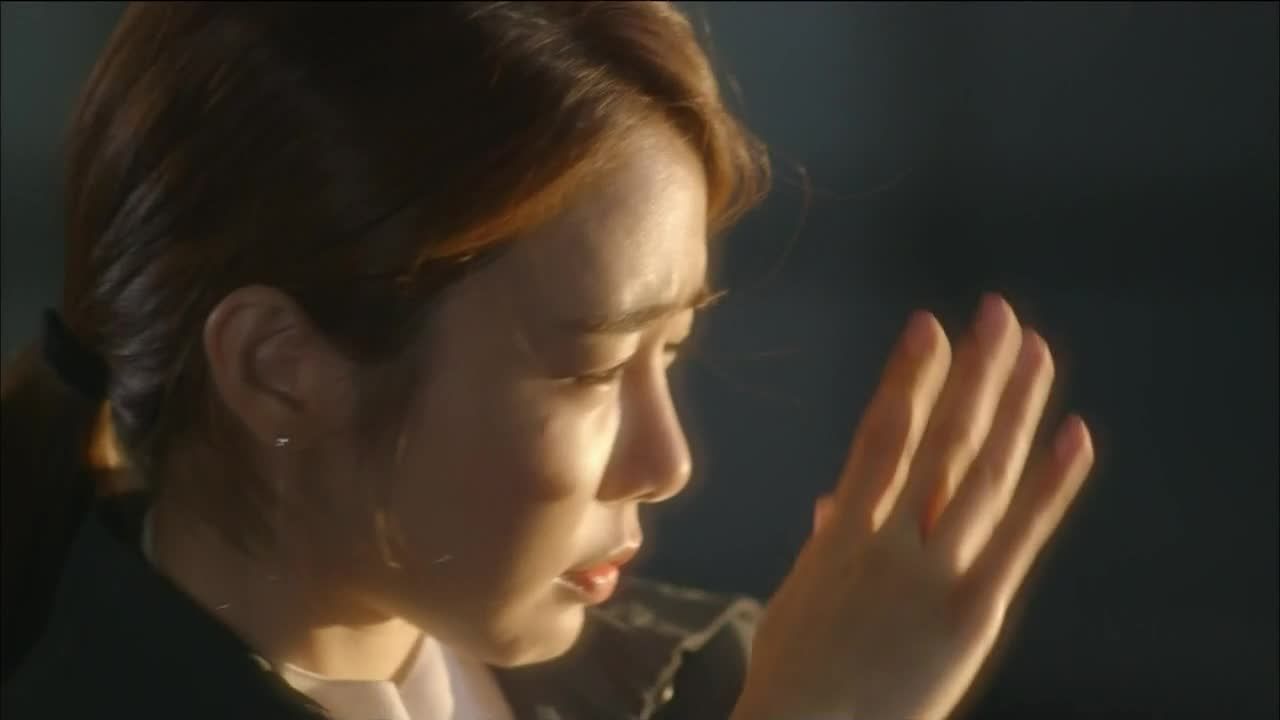 Outside, he leaves her at a corner while he gets the car. As he goes, Cha watches them, and catches her in his headlights like a rabbit. Sung-gyum looks back, and the car barrels towards her…
Hae-young is tired from waiting and wonders where Sang-hyo is. He tries her phone again, but someone from a hospital answers instead, telling him there's been a car accident. Frantic, Hae-young knocks over the bottle of wine as he rushes out.
He flies through the hospital, desperately seeking Sang-hyo, who is in the ER. When he finds her, she appears unharmed — and he realizes she's with Sung-gyum.
Sang-hyo is shocked to see him. Sung-gyum apologizes, but Hae-young interrupts his explanation with sharp words. Sang-hyo tells him that he got hurt saving her from the accident, which makes him turn back to the injured director and offer a formal thanks.
Hae-young tries to leave but Sang-hyo insists on staying. He tells her, "I'm really angry right now, but I won't leave you."
Sung-gyum also tells her she should go, since all three of them can't stay. Sang-hyo leaves first, and Hae-young acknowledges Sung-gyum, expressing the hope that they don't meet again.
When both of them have left, we finally see that Sung-gyum has been concealing a more serious injury. Aww.
Outside the ER, Hae-young has reached his limit. He asks Sang-hyo how she really feels. He questions whether she can't trust his feelings because she thinks they're light and fickle — but what about her? From the moment he met her until now, he tells her, his feelings towards her haven't changed once.
"But you left," she says. "You left without a word, did you forget?" Hae-young points out that he asked about her feelings, but she's still busy blaming him. He asks, "Did I really leave you? It wasn't you who left?" She didn't follow with the plane ticket he'd left her, and in his most stricken voice, he says she didn't wait for him — she didn't do anything for his sake.
Sang-hyo flashes that she waited but he cuts her off — waiting two days or two weeks isn't waiting. She didn't wait until he came back. Angry, she calls him stubborn and accuses him of having had no thought of coming back, but he returns that she shouldn't be stubborn either.
Worn out, he asks her again to look at her heart, and find out who's really in it: him, or Sung-gyum?
The doctor stitching up Sung-gyum's wound rebukes him for hiding it, but the nurse says it must have been because of Sang-hyo — she would've been too shocked. A flashback to the accident shows us that Sung-gyum had gotten Sang-hyo out of the way of the car in the nick of time, but landed on a glass bottle.
Finished, Sung-gyum gets gingerly into his car. He thinks of GM Lee's words that Sang-hyo would end up getting hurt because of him.
At the police station, Detective Lee confirms Simon had an alibi that put him in a nearby teahouse at the time of Young-mi's death, eliminating him as a suspect. Lee wonders how they'll find the perp, but Detective Kim says he's found who it is — now he just needs evidence.
It's one of the two: GM Lee or Sung-gyum. With their rock-solid alibis (the GM at the wedding and Sung-gyum at the resort), Detective Lee wonders how it could be either. Kim says if Sung-gyum ordered Simon to kill someone, who might GM Lee have ordered?
He notes that to commit murder in a busy hotel, it would have to be someone who knew everyone's comings and goings, and could manipulate CCTV footage at will. One person fits all those criteria: Cha Dong-min. He sends Detective Lee to find out the relationship between him and GM Lee.
GM Lee, meanwhile, shouts at the guard for his messy method that caused the accident and warns him not to get involved again — he doesn't want any more trouble. Cha hangs his head but says he'll take care of any problems.
Sung-gyum's mom fusses over him — he insists it was nothing but she begs him to go back to the States together. He declines again; for the sake of the woman he loves, he can't go back.
When Sang-hyo gets back to their apartment, she finds it just as Hae-young left it: dinner ready with candles still burning, and the bottle of wine smashed on the floor. She looks for him, but he's not home — he's busy drowning his sorrows in drink. Just as he passes out at a bar, Jung-eun comes and claims him.
Sang-hyo imagines the scene of his receiving the news about the accident and running out fearing the worst. She sits at the table, and seeing all his thoughtful efforts, his sincerity finally comes home to her. She cries, not knowing what to do now.
COMMENTS
THIS is the conversation I've been waiting for all this time. They use their words! They spit it out! It's so messy and painful and angry and hurt, but it's exactly what they need. They need to fight — to slice open each other's wounds, and finally cut out the poison.
I'm so glad Hae-young finally didn't let her off the hook there. I was worried after he let her back in that he would relapse, but he calls her out on taking advantage of his feelings this whole time — including in their past. It's significant that he knew it, so his anguish is justified when he points out she never did anything for his sake. She got away with it because he let her, but it's right — because he loves her — that he doesn't let her.
When he tells her she should've waited until he came back, I think it's a valid protest for him, because it's all tied up in what he's made of and how she misjudges him. That's what cuts him the most — he depended on her to have faith in him, and she didn't. She keeps assuming she knows what's in his head, and keeps mistaking him. With this fight, Hae-young finally demands that she look at him and see him, but more importantly, look at herself and read her heart.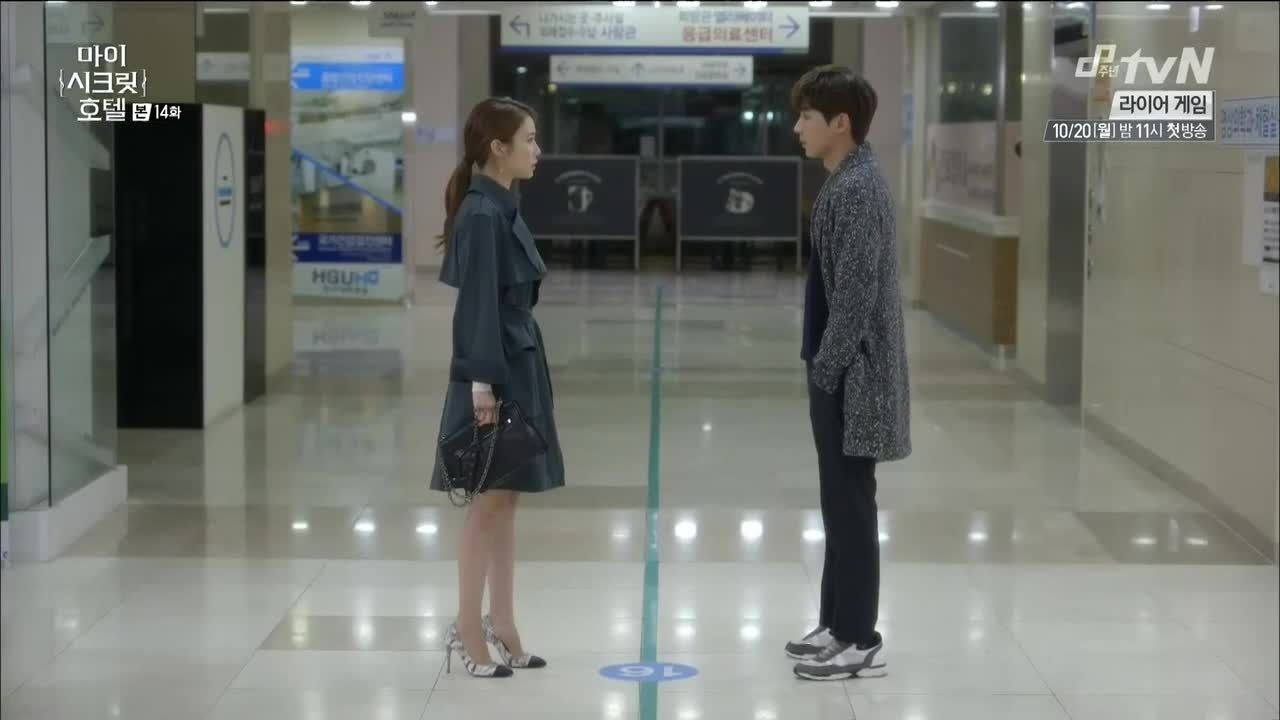 While her complaints about him are valid — he shouldn't have left without a word — it becomes irrelevant, because she should've gone after him, if only for her own sake — to get answers, to punch his lights out, something. Her end-problem is passivity, and maybe even a sense of entitlement — she receives love but doesn't return it in any of the forms the same love demands, whether in faith, service, or sacrifice.
In this episode especially, Sang-hyo is as childish as Hae-young has been. But it's against the backdrop of her pouting and whining that we see Hae-young really bloom. For someone who's spent most of the show taking refuge in immaturity, his constancy reveals a strength of character his flashes of gravitas already hinted at. This earnest, faithful man inside the flippant exterior is the reason why I've believed in him all along, even through his character lows — that deep pain that always gets me came from here. This is who I felt he could be right from the beginning.
Sang-hyo's vacillation the last few weeks has bothered me — for better or for worse, she married Hae-young, and it was past time for her to own up to that decision. Even using the hotel's cause as a front, we all knew the real reason was to address her regrets, so it was churlish and contradictory to agree to the charade but not play along. But what is great about the current reversal is that she now has to earn back Hae-young's good grace, and working for it will force her to grow, and maybe even gain a new appreciation for him.
Now that she's owned up to herself (and to Sung-gyum) that she has unfinished feelings she needs to examine, she can stop constantly fighting against herself whenever she's with him and allow herself to feel whatever she feels. Admittedly, her frequent side-trips with Sung-gyum are confusing and unhelpful, but hopefully with her growing realization about Hae-young's sincerity, I think we've just passed the point where he can compete anymore.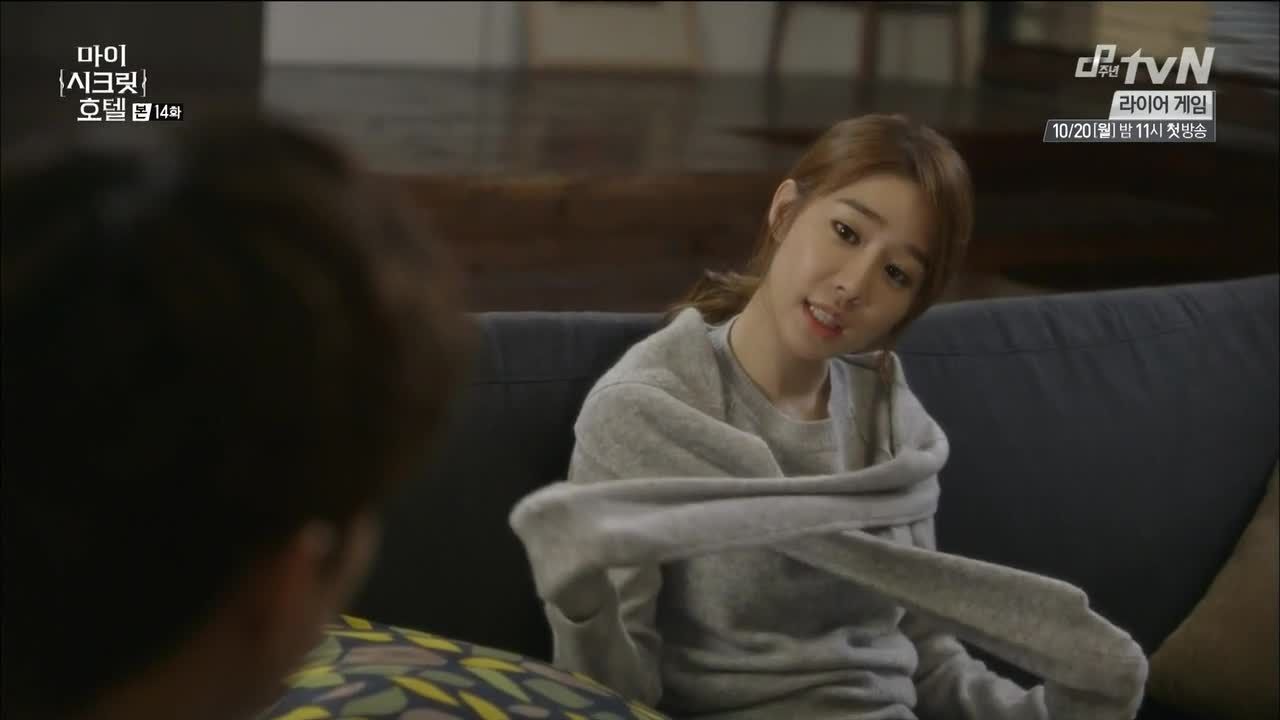 The mystery has picked up, although I think it just got more tangled. We all saw Sung-gyum's mom coming, and I wonder what her deal is with GM Lee. My unimaginative speculation is an affair, and if we really want to make it makjang, Sang-hyo can be their biological daughter. Or Papa Jo's. Or maybe the "accident" of Papa Jo's death is their shared secret… which could make sense, but is boring, and wouldn't explain the link with Sang-hyo. In any case, I want the reality to be more complicated and subtle than an uncomfortable birth secret and possible incest.
Given the obvious hints in the last two episodes, we're probably meant to have realized the missing necklace doesn't belong to a woman, which rules Mom out. The necklace is still both key and catalyst — first found in dead Jo Min-tae's hand, then disappearing and turning up later to kill Hwang and Young-mi. We can only assume it's now in the hands of the real killer.
The signs point too obviously to Team Leader Cha for the present murders, but I'm unwilling to believe it's him — it's too convenient. He's too well-placed in that control room to miss anything, so unless he's covering for someone (Kyung-hee?), he should have enough resources to pin the culprit down himself. Knowing Detective Kim's modus operandi so far, it's still possible that Cha is a last feint, to close in on the real culprit.
I haven't let go of the idea that there are at least two murderers running around (because I like my crimes complex! Give it to me, Show!), so I don't know how much credit we should give to Detective Kim's shortlist — whether it's those two for storytelling convenience, or because there's a definitive reason to believe it.
Like everyone else, I wonder if it's Sung-gyum — it would give a nice layer of complexity to his character, especially with how strong his feelings run for Sang-hyo. I was actually moved by his real fear for her in the accident, and his stoicism in hiding his injury. People with relatable feelings are so much more interesting as murderers than psychopaths. But on the opposite note, after his heroics this episode, I don't want him to be a baddie. I really need Eun-joo to live happily ever after.
RELATED POSTS
Tags: featured, Jin Yi-han, My Secret Hotel, Namgoong Min, Yoo Inna