My Secret Hotel: Episode 16 (Final)
It's here: the end, with all its answers. The mystery of Papa Jo's death now unraveled, the big questions that have been piling up remain: Who killed Hwang and Young-mi? Why? Where is that misbegotten necklace? Will people stop moping and acting like kids, and grow up? Why did Hae-young lie, dammit? Will Jung-eun get her comeuppance? Will the misunderstanding ever EVER get cleared up? Where on earth is Soo-ah? And the one I care about the most: Does my homey Eun-joo live happily ever after?
FINAL EPISODE RECAP
Morning finds Hae-young alone, preoccupied with thoughts of Sang-hyo. In her house, she asks herself which man she's crying over.
Sung-gyum drops into the planning offices looking for Sang-hyo. She hasn't arrived yet and isn't answering her phone; Jjajangmyun helpfully tells him he needn't worry, since her husband's taking care of her. As Sung-gyum leaves, he thinks of his apology to her the day before for not being able to wait for her, and he's glad Hae-young is at her side.
Except he's not. Still alone, and now curled up on the floor, Sang-hyo collapses, just like seven years ago, noting to herself she's doing it again.
At home, Hae-young concludes a phone call about selling the place: He plans to leave the country as soon as it's done. Gi-chul calls him, wondering if Sang-hyo is sick since she didn't turn up to work. Hae-young begins to fret but catches himself.
It's a busy morning at the firm: Shi-chan harangues Hae-young by phone about not being there when they have to prepare for an important client. He asks his friend if he's has made up with Sang-hyo, but Hae-young just promises he'll be there soon and hangs up.
Shi-chan is puzzled — did they make up or not? He tells the team to hide their projects until they know whether Hae-young is okay. He's realized that Sang-hyo is "Samantha" from seven years ago, and tells them Hae-young's backstory of when he vanished — resurfacing three months later to work like a devil and finish a six-month project in a fraction of the time, before disappearing again.
But when he came back after that, he was a broken man — in a spasm of grief, he tore apart their office and raged at Shi-chan for calling him away. He spent a year combing hotels throughout the U.S., searching for her, but never found her. The next year, he was lost in drink until his dad rescued him.
The team wonder at how he could stake everything on one woman, and one of them suggests it's possible because it's Sang-hyo. Shi-chan says it's possible because it's Hae-young — because when he falls in love, he sees nothing else: "That's the kind of person he is."
Still driving, Hae-young makes a sharp U-turn and heads to Sang-hyo's. At her door, he rings and knocks, calling out her name, but she's still passed out on her floor.
At the hotel, Mom confides to GM Lee that she can't face her son. Sung-gyum cuts their tête-à-tête short, asking if they're not ashamed to be consoling each other, when one of the two certainly killed his father — are they now trying to renew their past love? He tells her to return to the U.S. immediately, if she doesn't want to lose her son.
Back at the station, Detective Kim remains unconvinced that Cha Dong-min killed for GM Lee. While Detective Lee is sure it's case closed, Kim is sure it isn't over yet.
In some more late-night solitary brooding, Sung-gyum thinks to himself that even if GM Lee is Sang-hyo's father, he has to pursue him to the end about the two recent murders: "I can't give up now."
Somehow, Hae-young managed to get into Sang-hyo's apartment, and she's now tucked into bed with an IV. The doctor tells him her fever's coming down, but it could've been bad. After the medics leave, he tends to her, until he's interrupted by a call from Shi-chan, who's frantic because some important clients have been waiting for him for hours at the office. Unmoved, Hae-young just says sorry and hangs up.
Turning his attention back to Sang-hyo, he wonders what's giving her such a hard time if it's not him.
The next morning, she finally wakes up and sees him. Hae-young explains he came to investigate when she didn't show up for work the day before. Worried that he's been there all night, she tells him to go, but he's unhappy about leaving her alone.
He offers to take her to work but she insists she's fine. When he's about to call Sung-gyum to go with her instead, she stops him — the director's having a hard enough time with the hotel, so she accepts Hae-young's lift for now.
During the drive, she examines him. She wants to trust him because he seems sincere when he's in front of her, but when she looks back at him, that sincerity seems like a lie.
About to part ways in the hotel lobby, she turns back to him and asks him not to come looking for her again, even if she's sick. She tells him that while it may be easy for him to come and go, it's really hard for her. He quietly contradicts her, saying that it was never once easy to return to her. Rather, leaving was difficult: "Because I lost you. I know what it's like to be without you."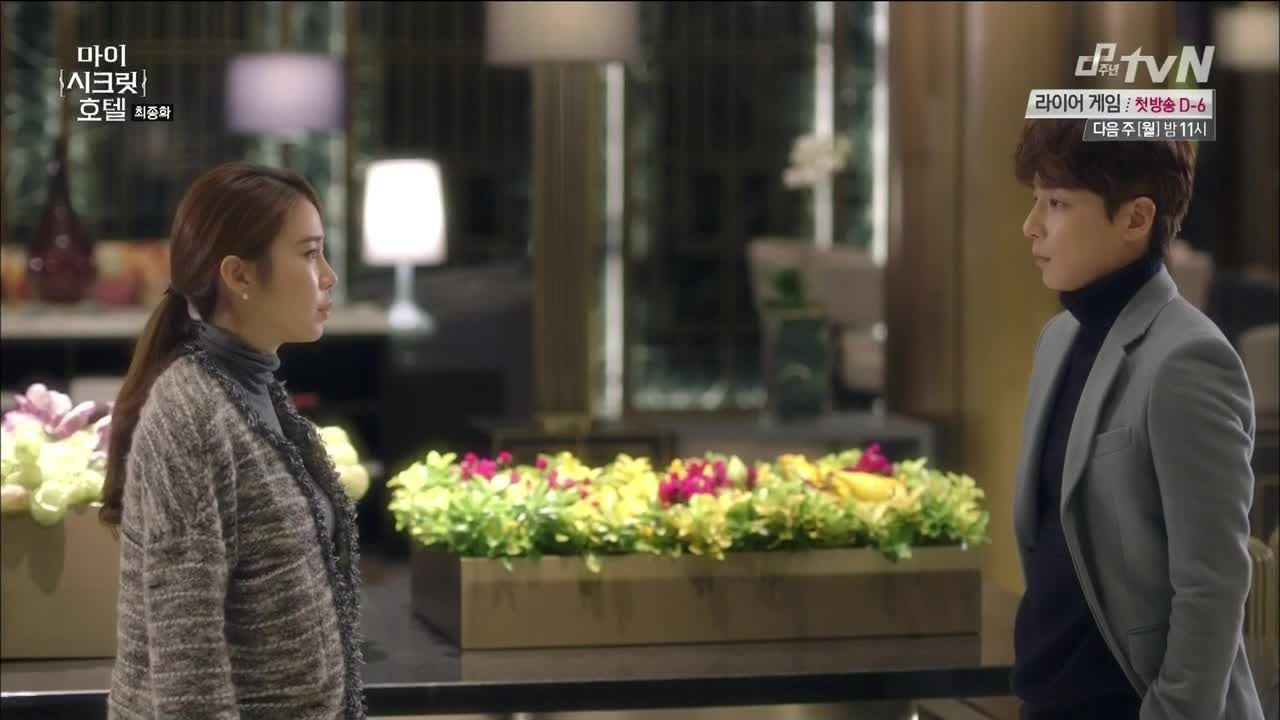 Sang-hyo says that it's hard for her to turn her back to him. But it's even harder when he wavers and clings to her. She tells him they should be like strangers now, each going their own way. Hae-young checks to ask that she really wants him to go away completely. He accepts it: "If that's what you want, I'll do that. Sang-hyo, I won't come back again… until you come to me."
Eun-joo collects Sung-gyum's mom from her suite, to take her to the airport. She claims Sung-gyum couldn't make it because of a meeting, although what he's really doing is brooding (again) in his office. On their way out, GM Lee intercepts Mom, and asks if she can't stay. Kyung-hee watches the encounter from a distance. Hm.
In his office, Sung-gyum asks the GM about the report he just got from Simon. Lee tells him it's true: He's protected his mom for 30 years by keeping her secret, but now he wants to protect her another way. Sung-gyum thinks this is nonsense — even if he covered for Mom back then, he's still responsible for a further two deaths now. Lee denies the charge, and requests Sung-gyum's blessing, since she won't accept him if her son doesn't approve. Sung-gyum can't allow it, though — he went so far as to give up his love in order to punish him.
In GM Lee's office, Kyung-hee confronts him about his plans with "that woman." She cries that she waited twenty years for him to just look at her. She appeals to him with her illness, to just let her be with him, but he denies her: "For Dong-min's sake, you can't say this."
At their firm, Hae-young tells Shi-chan that he's returning to the U.S., because he can't leave Sang-hyo completely while he stays. His friend is dismayed and asks if he's going to ruin himself with drink again. Remembering Sang-hyo's admonition not to drink so much, he assures him he won't.
That night, Sang-hyo takes the wedding ring out of her dresser and slips it on, amid falling tears. Hae-young, working late at the office, ponders his own with a sad smile.
The next day, Kyung-hee packs her belongings and gives Gi-chul and Jjajangmyun encouraging words that sound awful lot like a goodbye. To Sang-hyo, she hands in her resignation, which the young manager doesn't want to accept.
Kyung-hee says it's time for her to move on, and tells Sang-hyo about her twenty-year unrequited love for the GM: When she started working there straight out of high school, the GM looked after her through her struggles. She knew it wasn't exceptional treatment, since he was good to everyone, but that made her like him even more.
Sang-hyo argues that isn't any reason to resign, but Kyung-hee offers her advice instead: not to hesitate between her suitors, but to follow her heart. Even if it's a wrong choice or ends in pain, it's better than wasting time — because there may not be as much time as she thinks. So, she says, "Spend it loving someone."
Detectives Kim and Lee mull over the whereabouts of the necklace — if Cha killed Hwang and Young-mi for it, how could he just "lose" it? Kim finds the idea of GM Lee using the guard to kill people out of character for a man who forgave him for killing his own nephew.
He concludes that the guard must be hiding something more. Detective Lee says it must be love — why else would he make a false confession if not to protect a beloved? He's (finally) onto something: Kim remembers what he saw at the hotel before — Kyung-hee crying at Cha's feet — and runs out.
Kyung-hee visits Cha in custody, and smiles that it reminds her of the first time they met when he was 18, and she and GM Lee had come to see him. She tells him she confessed her feelings to Lee but he refused her. "Thank you, Cha Dong-min, for loving me," she tells him, "I won't say sorry, but your heart… I'll take it with me."
She turns away and starts to cry. Sensing something wrong, he calls after her, reverting to "noona," and pounds at the dividing glass.
At home, she folds up a letter… and places the missing necklace of top of it. Nooo, don't do it!
The detectives hammer at her door but there's no answer. Kim tries the handle, and inside, they find no sign of her until they simultaneously discover the note and the necklace on the table…and Kyung-hee's body in the bathroom, with her wrist slit. Both men are saddened and solemn.
Later that night, Detective Kim informs a shocked Sung-gyum of Kyung-hee's role in the two deaths. In her suicide note, she wrote how she came back to the hotel that night and witnessed Hwang threatening her beloved GM. Overcome by anger, she stabbed him and ran away — and Cha, seeing events from the security office, took care of the body. She didn't know what happened to Hwang until his dramatic plummet at the first wedding.
She realized Young-mi had the incriminating necklace and tried to get it back, resulting in an accident when the latter tripped and took her fatal fall. Again, Cha covered for her, deleting the CCTV and ultimately taking responsibility for it all. Her last request was that her secret not be revealed to the hotel staff.
Sung-gyum observes that the actions of the three — GM Lee, Kyung-hee and Cha — were ultimately driven by love. Detective Kim turns over the necklace to him.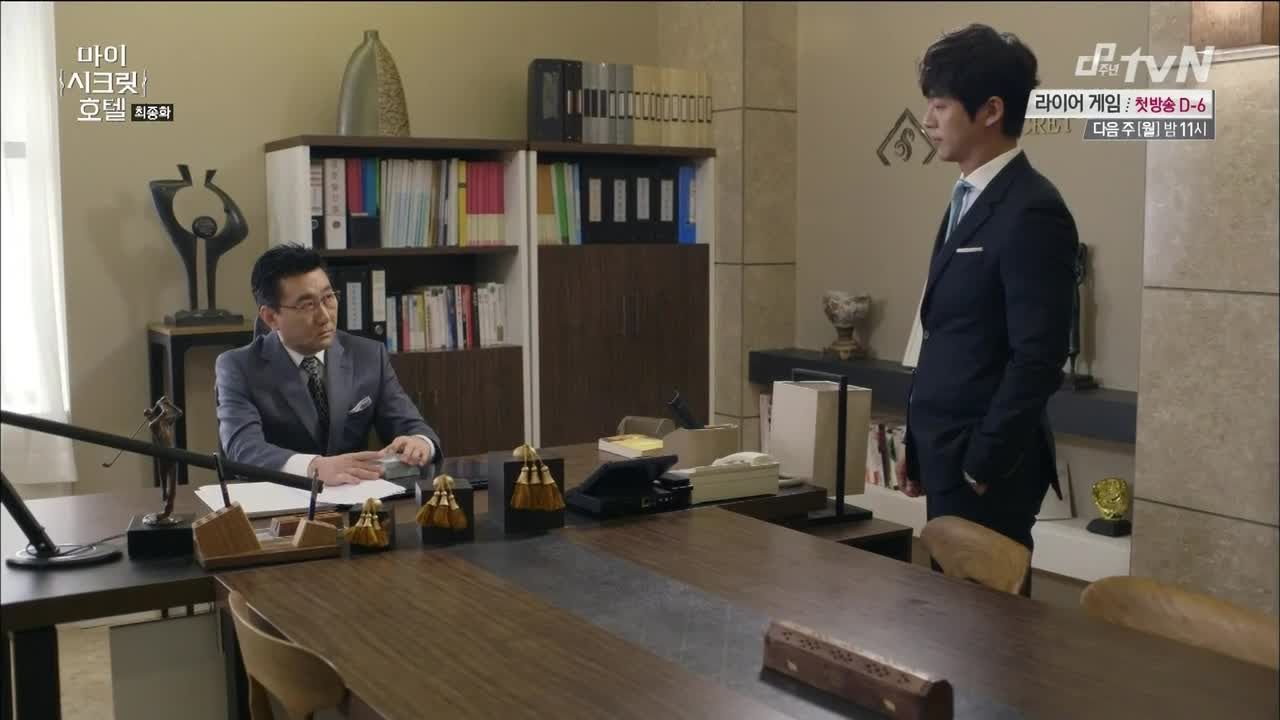 The next morning, Sung-gyum drops by GM Lee's office and gives the necklace to him, along with the news that he's leaving the hotel. In an oblique acceptance of the elders' relationship, he asks Lee to take good care of Mom.
Ready to leave, Sung-gyum takes a moment to think about Sang-hyo again. Contrary to what he had thought, GM Lee said he wasn't Sang-hyo's dad. Sung-gyum remembers Mom saying she could never accept Sang-hyo because she couldn't forgive her father — that father, the GM confirms, is none other than Hwang Dong-bae. Wait what?! But not in any of the ways that mattered, though — doesn't that count?
But Sung-gyum isn't ready to give up on Sang-hyo yet. They meet, and Sung-gyum tells her he resigned, and plans to return to the States after a little break. He asks if she found out about her feelings.
She apologizes, but he says it's his own fault for trying to hold onto her when he knows her true feelings. Dude, nobody gonna blame you for trying! He remarks how hard they tried to be together, but in the end, her heart was already with Hae-young, It wasn't Hae-young who tried to change her feelings, but him — because that's how much he liked her.
In one last effort, he tells her that if she asks him to stay because she needs him, only then will he take her back. Getting up, he says a light goodbye, and takes off.
It's back to business as usual at The Secret Hotel as Sang-hyo meets new wedding clients — and Soo-ah! She's here to meet her unni, and tells her Hae-young is leaving for the States. She figured it must be because things are over with Sang-hyo, and she doesn't think he'll come back.
She shares what he said when she pestered him to marry her: Would she be okay if he never loved her? In his life, he had only loved one woman, and even though they broke up, she's the only one in his heart.
Sang-hyo doesn't know what to do with this information. Soo-ah also tells her that he went back to Las Vegas to look for her, but she was already gone, and the landlady told him she'd left with another man.
Sang-hyo struggles with this startling revelation, and a just-arrived Detective Kim chimes in that it sounds like the truth. He came by to tell her the case is closed, and also reveals that he saw the old photo of her that Hae-young still carries in his wallet. Processing it all, Sang-hyo excuses herself.
Alone, Soo-ah's and Detective Kim's words percolate in her head, but it's Kyung-hee's words that strike her most, how it's better to love while there's time — made especially poignant now by her passing. Sang-hyo admits to herself that she's still scared.
That night, Hae-young regards the photo from his wallet, which he didn't manage to burn after all. Singed picture in hand, he wishes Sang-hyo well. When his doorbell rings, he looks up, suddenly hopeful.
…until Jung-eun, much the worse for drink, spills inside. Wailing like an inconsolable toddler, she begs him not to leave.
Sung-gyum sits in front of a campfire, wondering if he and Sang-hyo are really over. His ruminations are interrupted by the news that a woman is here to see him. Please be Eun-joo, please be Eun-joo…
Assa~! He laughs a little to see her (because of course). She admits his mom told her where to find him, and she's ready to cart him back. He's not ready to go yet, so she settles down to stay with him instead. He can't help smiling at her mien, and joins her.
Sang-hyo paces at home, and spends all night mulling everyone's words. It's a new day when she finally makes a decision. Running out, she hails a taxi and finally arrives at Hae-young's door. Oh no.
Ugh, Jung-eun answers, dressed in little more than Hae-young's shirt. Word for word, the scene replays just like New York as Jung-eun asks her if she wants to come inside. Like then, Sang-hyo, wrestles to maintain her composure, and turns to go.
Inside, Hae-young scolds Jung-eun for taking his clothes. The doorbell rings again and she tries to stop him from getting it, but he snaps at her to get dressed. He opens the door — Sang-hyo came back!
She has one question: "Both seven years ago and now, why is that woman in your house wearing your clothes?" He's stricken and confused. She tells him she quit her job and went after him to New York. She demands again: Why is that woman in his house, wearing his clothes?
Staring at Sang-hyo in disbelief, he roars at Jung-eun, who hightails it out like a coward. Turning back to Sang-hyo, he asks again and again: "You came? You really came… to me?"
He breathes her name, and folds her into a backhug, both of their faces wet with tears.
Poor Eun-joo shivers in the cold morning, having stayed out all night with Sung-gyum. He suggests they go in now, but she's determined to duke it out until he gives up on Sang-hyo — and tells him to hurry up ('cause it's cold!).
He offers her his hand, and after a moment's hesitation, she takes it — making sure to point out it's only because he asked. Ohmygaaah so cute how she holds on and follows him like a little duckling. Love her.
She's excited to find a heart-shaped stone in the dirt, he tells her it's his — no really! She doesn't care, she's keeping it — she has a good feeling about it.
Curled up together, Sang-hyo and Hae-young can't apologize to each other enough for all the misunderstandings. Sang-hyo says she'll go with him to New York if he wants her to, or wait if he wants her to wait, which makes him draw her into a wordless embrace.
They visit Kyung-hee's memorial together, and leave flowers. Sang-hyo calls her "unni" and tells her how much she misses her.
It's departure day for Hae-young. At the airport, he tells Sang-hyo his work might take a while, and she promises she'll wait until he comes back.
They say their goodbyes, and to his departing figure, Sang-hyo thinks, "You're not asking to go together," while he thinks, "Because I know how much the hotel means to you." Aww. You've come a long way. Once he's gone, she can't help crying a little.
But then… Hae-young's voice calls her name. He didn't go after all! He reminds her, "I told you I'm not going anywhere without you again."
Launching herself at him, they clasp each other tightly. He wipes the tears from her cheeks, and smiling into each other's eyes, they finally kiss.
EPILOGUE: ONE YEAR LATER
Sang-hyo and Hae-young are about to sit down to an alfresco dinner out when Eun-joo takes them by surprise. She's back from studying abroad, and is delighted that her fake couple are still together. They sit down together, and the ring she casually shows off immediately catches Sang-hyo's attention: Is she getting married? Who is it?
Eun-joo says he's coming right now — aww, I know it's Sung-gyum but it's still awesome, and it's a warm reunion. Sang-hyo congratulates him on his marriage, which we find out hasn't actually happened — yet. Eun-joo's working on it! The boys high-five, and throwing an arm around Sung-gyum, Hae-young says, "Jo Sung-gyum. I missed you."

COMMENTS
Aww! I ADORE Eun-joo. SO MUCH. Even her choppy locks, which grew on me. I half-expected that to be like the end of Bride Wars, ha! And: I'm so glad we didn't get sold a stupid time skip, which are my personal bête noire.
Overall: a satisfying, warm ending, and I'm happy with how it wrapped. This episode did a lot to bring us back from the pre-finale makjang upswing and return the show to a better place. I'm not sure now it ever had the ability to live up to the original expectations, though; a complex mystery requires a level of execution beyond your usual rom-com staples, and despite a valiant foray, it didn't ultimately deviate far from the standard formula.
The endgame couple was never a mystery and rarely truly threatened — it was never a question of "if" but always of "how." People have complained about Sang-hyo's character shift, but I think there are legitimate reasons for it rooted in her breakup and subsequent recovery process to become who she was at the start of the show. In a straightforward regression, Hae-young's reappearance in her life throws her back to that traumatic transition period. In her own words: "I keep going back to seven years ago" — so in a sense the real conflict is between her past and present selves.
They also deliver the important and axiomatic reminder that love isn't enough. But it's not about who left or who's waiting for whom — that's all window dressing. The problems in Sang-hyo and Hae-young's relationship boil down to 1) communication, and 2) trust, where the failure to communicate causes the loss of trust. I do wish they had addressed the lying issue, because that's big — Rule No. 1: If you have trust issues, you need to start by telling the truth. Aside from that point, though, I'm glad they resolved their issues at at the root, because now I can believe they'll figure out how to keep their lines open and wires uncrossed.
Kyung-hee's last words to Sang-hyo were moving, falling all the more deeply knowing her days are numbered. "Follow your heart" can sound trite, but what she's essentially saying is don't live stuck between things — always keep going forward, come pain or mistakes, because movement is always better than stasis. If you don't make decisions, it's as good as giving up your agency, and that is the crux of her advice: Take up your own agency — don't be passive, live actively. Because life is short. And she's really the best person to say it.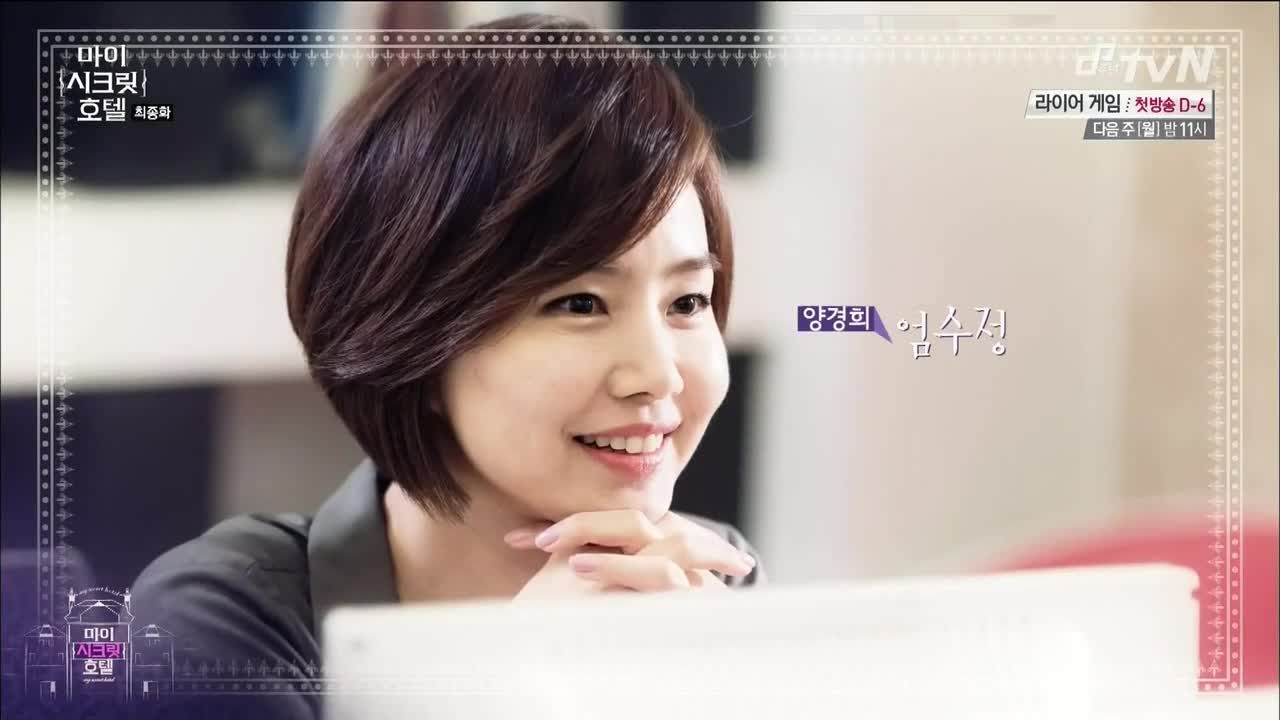 Writer-change onwards, the show's coherence as a mystery faltered. It reminds me somewhat of God's Gift, which was so meticulous and clever in its construction — there were early signs that the quality of our mystery wasn't going to match, but they felt similar in that both of them set up something bigger than they could sustain and ultimately fell short in their handling. Thankfully, it didn't lead to a plot-implosion, but it did drag it down, because the show was so busy keeping the mystery a mystery that it failed to develop it properly.
But I'm glad we didn't end up with the typical birth-secret runaround — which is where I thought it was headed given the previous episode. Contriving that conflict would have been a lazy way to make people root for the OTP by default instead of giving the unconvinced better reasons, so I'm pleased it didn't go there.
For the eventual culprit, Kyung-hee's character got badly short-changed. She was criminally underdeveloped (…sorry, couldn't resist), to then have all the game-changers crammed in at once this episode. Which didn't work out horribly per se, but it made for uneven pace…but then she had to kill herself? It's too tragic. I've wondered about her since the early episodes — especially since her terminal condition would, in a way, absolve her of consequences — so I've always kept the possibility it was her pretty close to the surface. My stumbling point was motive — I couldn't find one. So absorbed in the nuances of the Cha/Kyung-hee loveline, an alternate one didn't occur to me, although I also think they didn't start hinting that until literally this episode. I generally hate "because it's love~!" as an all-encompassing conceit, but it's surprisingly compelling as a motive, not only for Kyung-hee — love and the desire to protect. It's so relatable.
And why none of us could dig up a motive for anyone all these weeks? Because — in a cleverly subversive twist — nobody did any actual murdering! It's all involuntary manslaughter! Actually, this was something this episode did well: to take high drama elements and wind them down into something quieter and everyday, imbuing eventual weight through emotion rather than melodrama.
If there's one thing I'm really mad about, it's the topic of Sang-hyo's supposed dad. 1) It's practically irrelevant (didn't stop Sung-gyum, did it?), and 2) I don't see how they can drop that little stinker without telling us who her MOM is. For a while, I thought it might have been Kyung-hee (or even Sung-gyum's mom) — we can probably nix that theory since it doesn't make sense for several reasons — but it does leave this ANNOYING mystery.
Whether they successfully integrated the romance with the mystery is probably a matter of opinion. I think they dovetailed at best — the same world and set of characters, but different stories. There were crossovers from romance to killing and back, but they were two fairly distinct trajectories, that converged more at the end. I think for a real integration, the murdering had to have had some immediate and meaningful consequences for the romance/s (other than stopping weddings), instead of being the side-dish to their primary concerns.
Too much time was spent on the romance's backs-and-forths; it could have been halved and had its impact sharpened. Instead, the will-they/won't-they suffered too many iterations, and the show often shot itself in the foot by working up to something, only to undo or mitigate it shortly thereafter: For example, the hospital-fight seemed like a turning point for both characters and story, but got a reset by the next episode, rendering it irrelevant. With a misunderstanding so big, spanning years and continents (lives ruined, blood shed…oh wait, wrong show), I would have liked a bit more denouement to give depth to that resolution.
I'm disappointed that my secret wish of Sang-hyo and Hae-young emerging as crime-busting amateur detectives didn't materialize — because what's the point of a "killing romance" if the romancers aren't investigating the killing? Although maybe it's better that way, since we didn't have enough of our entertaining detective as it is. He deserves his limelight whole.
RELATED POSTS
Tags: featured, Jin Yi-han, My Secret Hotel, Namgoong Min, Yoo Inna