Movie Review: Peking Restaurant (1999)
The food created by Chinese immigrants to Korea is a major part of Korean culture, like how American Chinese food has become embedded in American cuisine. A lot of Koreans eat no small amount of jjajangmyeon in their lifetimes; such is the prevalence of this culinary tradition. And, in 1999, Korea even produced a film about a restaurant practicing this tradition, titled Peking Restaurant (北京飯店 or 북경반점, also known as Chinese Restaurant, The Grand Chef, and a variety of those words in combination). It's a drama about a small Sino-Korean restaurant with a proud tradition that never really dazzles with its storytelling flavors, but has a warm enough journey that it might still satiate some viewers.
In Peking Restaurant, young Yang Han-guk (Kim Seok-hoon) arrives at the titular restaurant, the Peking Hotel, to pay back a debt his father had with its proprietor, Mister Han (Shin Gu). So he joins the kitchen staff of the restaurant, which is like a little family, but trouble is brewing as Head Chef Joo (Myung Gye-nam) has a difference in opinion with Mister Han. Soon, a crisis arises and the restaurant might be forced to close, leaving it in the hands of Han-guk and the remaining kitchen staff to save the Peking Hotel.
While Han-guk is ostensibly the film's protagonist, in many ways, he's sort of an interloper at the Peking Hotel's kitchen, coming in from outside, galvanizing the kitchen staff and inspiring them to save the day. He does become part of the team, but he doesn't have a journey. He's the same character at the beginning of the film as he is at the end, except for perhaps improved skill in cooking Sino-Korean food.
Instead, the film is kind of more about the transformation of most of the rest of the kitchen staff, from being employees of the Peking Hotel to becoming invested in it and its patriarch. And seeing Han-guk act as that catalyst while making his way into the hearts of the staff and Mister Han's daughter, Mi-rae (Myung Se-bin) is surprisingly affecting.
That said, Peking Restaurant never really gets deeply into any of the characters, so they are fairly one-dimensional, choosing instead to superficially spend time with competing restaurants. However, none of that time spent with other restaurants even pays off that much in the story, so those moments tend to drag. Also, while the film hints at the beginnings of romance between Han-guk and Mi-rae, it never really makes anything of it, nor does that tension really push Mi-rae's moment of character development — which really just seems to happen without proper motivation.
Peking Restaurant also sports a bit of an episodic narrative structure with three independent crises for the kitchen, the last of which is cheaply resolved, sapping it of drama and never really creating anything resembling a greater statement or theme for the film. Perhaps that's why, by its end, Peking Restaurant felt rather light and inconsequential.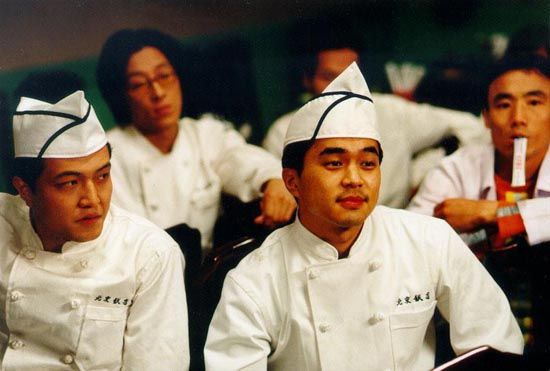 Because of that, I think what ultimately makes Peking Restaurant work really comes down to the performances by the kitchen staff and the chemistry they forge. While many of the actors are relatively young at the time and occasionally their performances are rough when solo, their chemistry when together is quite strong, evident from the moment that Han-guk, fellow kitchen boy Taek-joong (Jung Joon), and delivery boy Chang-won (Kim Joong-ki) begin their introductory drinking game early in the film. They capture the awkward water-testing one-upmanship that men often engage in with almost theatrical tension, Taek-joong's exasperation at the volume of alcohol being drunk by Han-guk and Chang-won helping to vent it with comedy.
And since Peking Restaurant's journey is built on the collective of the kitchen staff, that we get to spend so much time with them working and living together really helps sell the story in a way that almost makes up for its shallow, meandering writing. That core group chemistry combined with the episodic nature of the narrative ends up making Peking Restaurant feel a bit more like a short miniseries that has been placed end-on-end and, fortunately, a series can make do with shallow stories if their characters and cast come together well.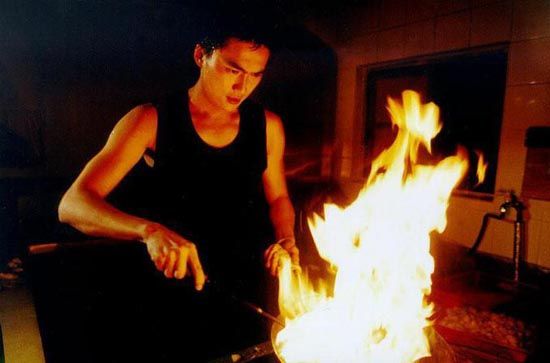 In terms of direction and production, there is no shortage of food photography in Peking Restaurant, but the absolute roughness of the production (the film was made before the Korean film industry really upgraded itself) keeps it from reaching the more appetizing levels of other food and restaurant films. Director Kim Ui-seok handles the film fine, adding in a couple neat crane shots, but mostly just works to establish and then follow the film's core strength: the characters. A wise choice. Appropriately, the score is generally composed of Chinese-inspired synthesized music.
This means that, like the Peking Hotel itself, Peking Restaurant doesn't look or sound like much. It's not really the kind of film you praise for its strong cinematography or direction. Even the story isn't especially compelling. But what ended up convincing me was the cast and the natural chemistry between the kitchen staff. Yes, it feels a bit like serial television narrative due to its episodic nature, but it fortunately makes the best of that structure by focusing on watching the group change and grow together. And like the Sino-Korean dish, jjajangmyeon, Peking Restaurant might not be especially fancy, complex, or deep, but it satisfies with warmth and a focus on doing a couple simple things well. 7/10
Where to watch it: Unfortunately, being a lower-profile film from the Korean New Wave, Peking Restaurant didn't have much of a home video release and its Korean DVD is long out of print. Chinese American distributor Tai Seng Entertainment did release a Region 1 DVD and while it's out of print, you might still be able to find used copies on secondhand or auction sites.
Tags: featured, Kim Seok-hoon, Myung Se-bin, Shin Gu