Falling for Innocence: Episode 1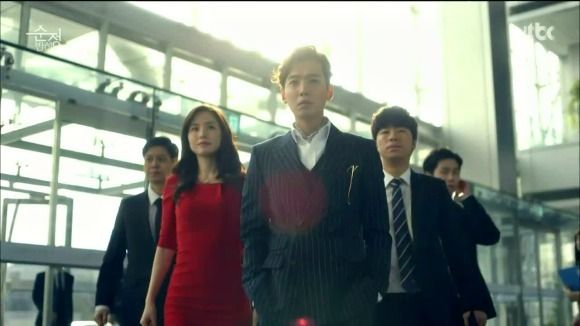 Meet the man who lacks a moral compass and whose dictionary doesn't contain words like empathy or kindness. It's a hard-as-nails businessman whose life we'll follow for sixteen episodes in JTBC's newest melodrama Falling for Innocence as he attempts to regain everything he lost as a child. His ambition knows no bounds and there's nothing that Kang Min-ho won't do if it means getting closer to his ultimate goal.
What Min-ho lacks in emotion, our titular heroine makes up for in heart. And she isn't afraid of going up against the big man either. They say life is what you make it, and Min-ho will make sure that he squeezes every penny he can before his time is up.
SONG OF THE DAY
EXO – "Hurt" [ Download ]
Audio clip: Adobe Flash Player (version 9 or above) is required to play this audio clip. Download the latest version here. You also need to have JavaScript enabled in your browser.
EPISODE 1 RECAP
As an ambulance races down the streets, its bloody passenger narrates in voiceover: "God, fate, miracles. I didn't believe in things I couldn't see. I've lived a life much too heartless and cruel to believe in those measly emotional notions."
The man with the head wound being wheeled into the hospital is KANG MIN-HO (Jung Kyung-ho), who slips in and out of consciousness as his friends react in shock to see him in the ER. "The only thing I can do is to calculate and be prepared for the day my heart stops beating."
The camera pans over to a neighboring gurney holding another injured man as Min-ho finishes his narration: "But on that night… God began toying with us."
We turn the clock back to seven days prior to meet our heroine KIM SOON-JUNG (Kim So-yeon), running down the streets dressed like Elsa from Frozen. While her appearance draws attention from curious passersby, Soon-jung hurries back to Hermia Group's headquarters, where she currently works as the chairman's secretary.
Soon-jung is both fastidious and competent at her job, as she orders the other secretaries to round up the board members and keep the inquisitive at bay about this emergency board meeting.
In the boardroom, Hermia Group's CEO Chairman Kang (Park Young-kyu) is displeased at the hot-button issue of an ingredient found to be harmful to humans allegedly discovered in one of their skincare products.
Legal affairs director LEE JOON-HEE (Yoon Hyun-min) interjects just then to inform the room of a more pressing issue: Gold Partners, a major bond investment firm whose consulting services Hermia sought two years ago about securing foreign capital has recently bought a large quantity of Hermia bonds. He suspects this recent incident may be tied to a desire to become Hermia's largest bondholder.
Chairman Kang is quick to declare that their company should sue Gold Partners if they did indeed breach contract by collecting intel and buying up bonds on the sly, but Joon-hee believes it won't be that easy—not because of Gold Partners itself, but because the man they have to deal with.
As if right on cue, Soon-jung enters to notify her employer that Gold Partners' bond investor James Kang is on his way here as they speak. With that, Joon-hee does the honors of a full breakdown on the "corporate serial killer," which we get to see via montage: a cold-hearted, calculating businessman who would do practically anything for money.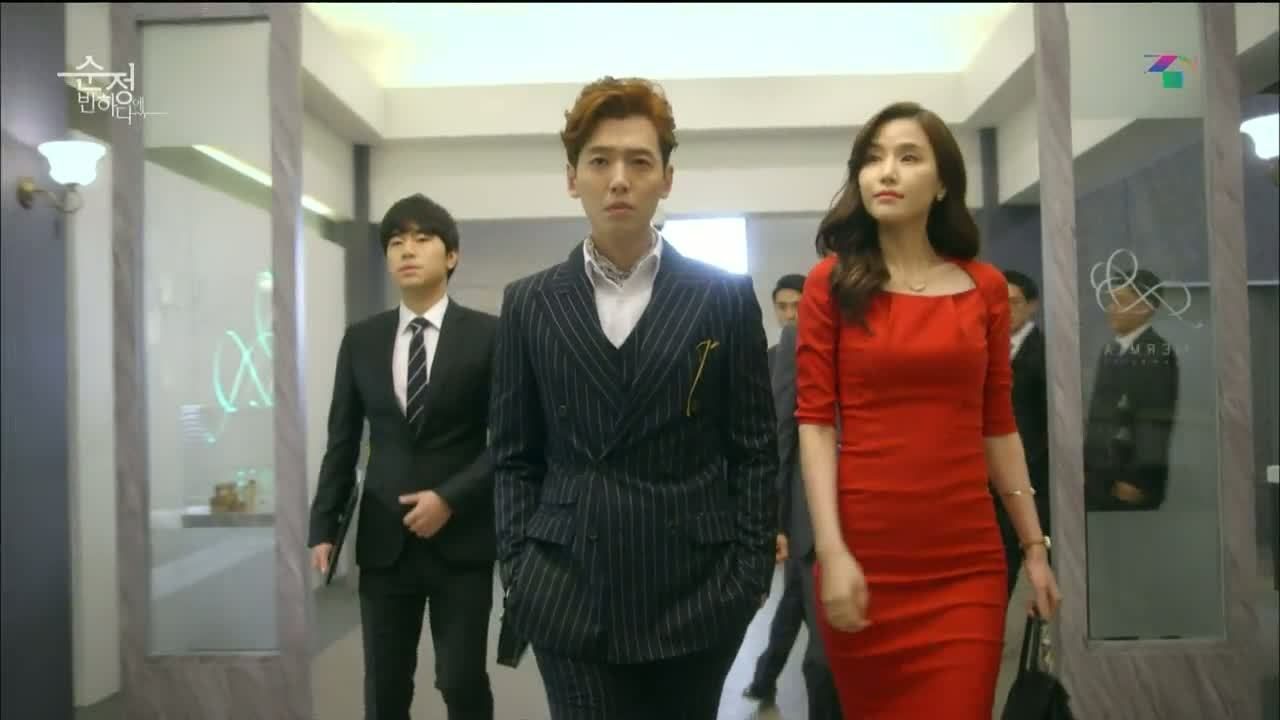 Described as a sociopath without a conscience, we see multiple examples of a heartless investor at work—in his refusal to risk profit to help the poor, readily taking over businesses which are indebted to him, and smirking at furious protesters. And that man's name is Kang Min-ho, otherwise known as Chairman Kang's nephew.
Min-ho and his entourage pull up to the building just then, and damn—would you take a look at the glory shot of that evil bastard? Soon-jung collects herself moments before greeting the visitors in a calm, clear voice.
Getting asked to see a visitor's pass leaves Min-ho insulted, and it seems that Soon-jung's unyielding reputation precedes her. Soon-jung remains professional, however, as she turns away the visitors who demand an audience without first making a prior appointment.
She's just following protocol, she explains, and she reserves the right to turn anyone away — even the President — if they do not have an appointment. And to prove that she's not kidding around, Soon-jung readily sets off the security alarm when Min-ho takes one more step.
Incredulous, Min-ho scoffs at her audacity, but that's when Joon-hee intervenes to break up the confrontation and lead their visitors inside.
As Chairman Kang happily shares an embarrassing memory about his nephew whom he last saw twenty-five years ago, Min-ho recalls that peeing incident as one his father praised him for. Even though Min-ho knows he's ruffling feathers by insulting his uncle, he doesn't stand for being talked down to because of his age.
In fact, he's quick to remind the disgruntled board member, as well as everyone else, to repay their owed bonds to him on-time, lest he sell them off as bad investments. Chairman Kang believes that his company doesn't owe Min-ho a single penny, reminding his nephew that buying a client company's bonds violates their business agreement.
Amused, Min-ho returns that Gold Partners is the world's largest investment firm, making it near impossible to know every department's affairs. But Chairman Kang takes that as a blatant lie and excuse—how could one be unaware of what goes on under his own roof?
"Why doesn't it make sense?!" Min-ho demands furiously. In a raised voice, Min-ho fires back that even within their own family, he apparently had no idea about the matters concerning his own parents.
After collecting himself from the outburst, Min-ho explains that his deceased father, who was known for his philanthropy, was charged for embezzlement after his death. And in a mysterious twist of fate, all those shares were later transferred to Chairman Kang, not long after his CEO nomination.
Chairman Kang is willing to get in the ring with Min-ho, though he reminds his nephew that setting business goals rooted in avenging the past will only end up in his own demise… just like Min-ho's empathetic parents. But Min-ho has a sharp tongue of his own—even a murderous king's reign only lasted fourteen years, which means his uncle's end is long overdue. Ooh, them be fightin' words.
On his way out, Min-ho hangs back to ask Soon-jung how she knew that he only drinks cold beverages. That's because Soon-jung remembers the "young master" enjoyed cold desserts as a child, and the address pings Min-ho's curiosity.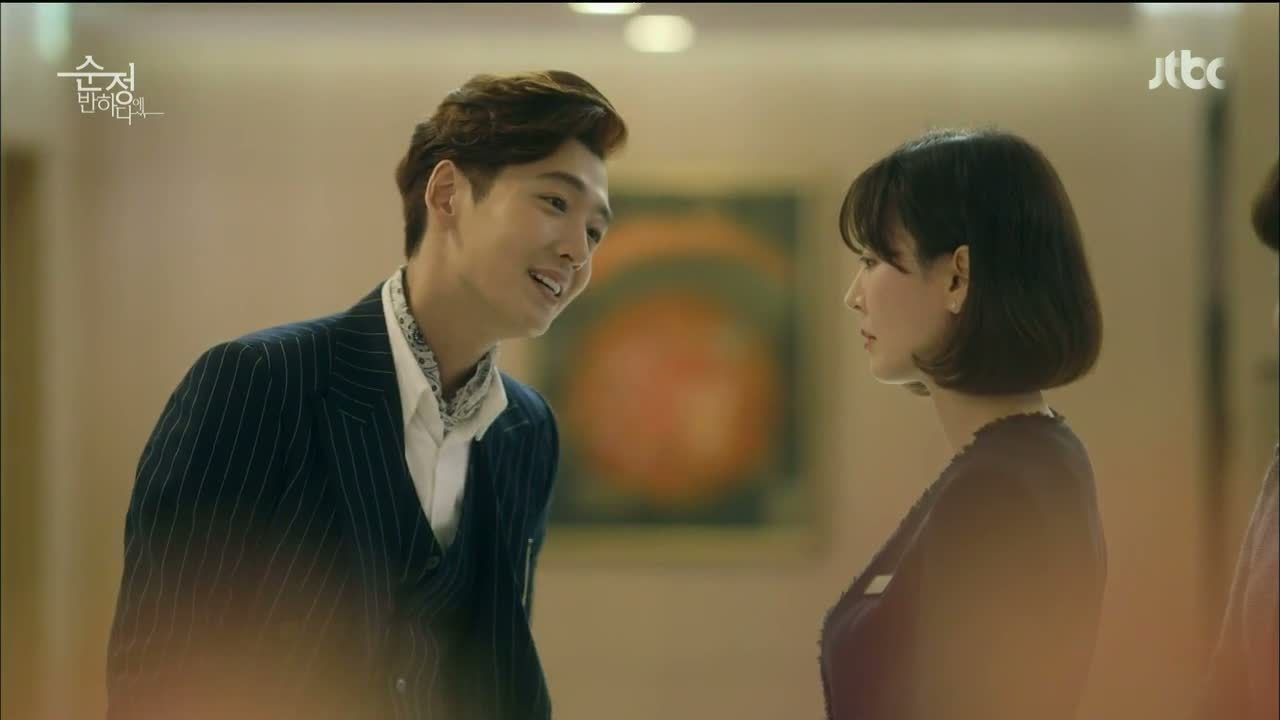 It doesn't take long for him to remember his late father's secretary's daughter, but this is no happy reunion for him. He tells Soon-jung that he was so enraged at the news of her father's death that he hardly slept afterwards. To think—that he'd run into that traitor's daughter in these halls!
He remarks that it's like father, like daughter in their disgusting loyalty to his uncle. Why, he should expect that her father's betrayal gene was passed down to her. Soon-jung holds her tongue, replying instead that she chooses to live taking after one's parents good traits and not the bad.
Min-ho is willing to test that life principle of hers and suggests that they meet some other time.
Soon-jung takes to the roof to release that pent-up frustration, a habit Joon-hee is well-aware of. He has to remind her that there's no one around before she drops her speech down to banmal, and it's evident that the two are good friends.
Soon-jung understands where Min-ho is coming from, but Joon-hee's concern for her remains the same. Even before she says it, Joon-hee promises that he won't tell her boyfriend about what happened. She doubts that a date to get her mind off of things will help, since her violent crimes detective boyfriend has been on stakeout for days.
Well it looks like the detective isn't on stakeout anymore when we see MA DONG-WOOK (Jin Gu) chasing a criminal through the streets and up to an outside parking lot. He tries stopping the guy by standing in front of the stolen car, but the perp guns it and zooms off a few hundred feet before slamming into another car.
The confrontation that starts off as a fist fight escalates when the perp starts swinging a golf club at Dong-wook, who stays relatively calm until the guy barely misses hitting his expensive watch.
Taking it off, Dong-wook says his nickname is "Peter Pan." But the guy only has eyes for the watch when Dong-wook throws it into the air… then goes in for a punch before hurling the guy's head through the window. Oh, and the nickname? "Because I'll beat you until you bleed."
Dong-wook doesn't have time to see the crook off to the police station, as evidenced by his partner telling him to run along so that he won't be late. Later that evening, that same female detective (who also happens to be Soon-jung's friend) and another detective drag Soon-jung off the streets and into a personal interrogation in a darkened room.
Soon-jung is charged of stealing a man's heart and has the right to a personally-chosen attorney. Cue Joon-hee, who immediately declares her guilty and the friends walk off.
The lights flicker on just then, illuminating the stage and a crowd forms behind Soon-jung. Dong-wook launches into a serenade to Yoo Hee-yeol's "Whenever," as the lovebirds' romantic story plays out before us: they'd known each other as children which later blossomed into young love. Heh, Dong-wook's prank of marking Soon-jung's face as "Dong-wook's" is adorable.
At the end of the performances comes the highlight: "Soon-jung, my lady. Will you marry me?" He swears his allegiance to be good to her, and she returns the salute. He offers up the bouquet, and ha, she tries to have a go at him before drawing him in for a hug.
The friends gather around to congratulate the newly-engaged couple and send them off. Joon-hee, however, casts another look at the couple before throwing away the meds he picked up for her. Aww, way to break a girl's heart, man.
Dong-wook takes Soon-jung to see her dream house—a two-story house with a terrace and garden. After regaling her with the story that he met the crabby owner because he was caught for public urination, Dong-wook gifts her with a butterfly hairclip.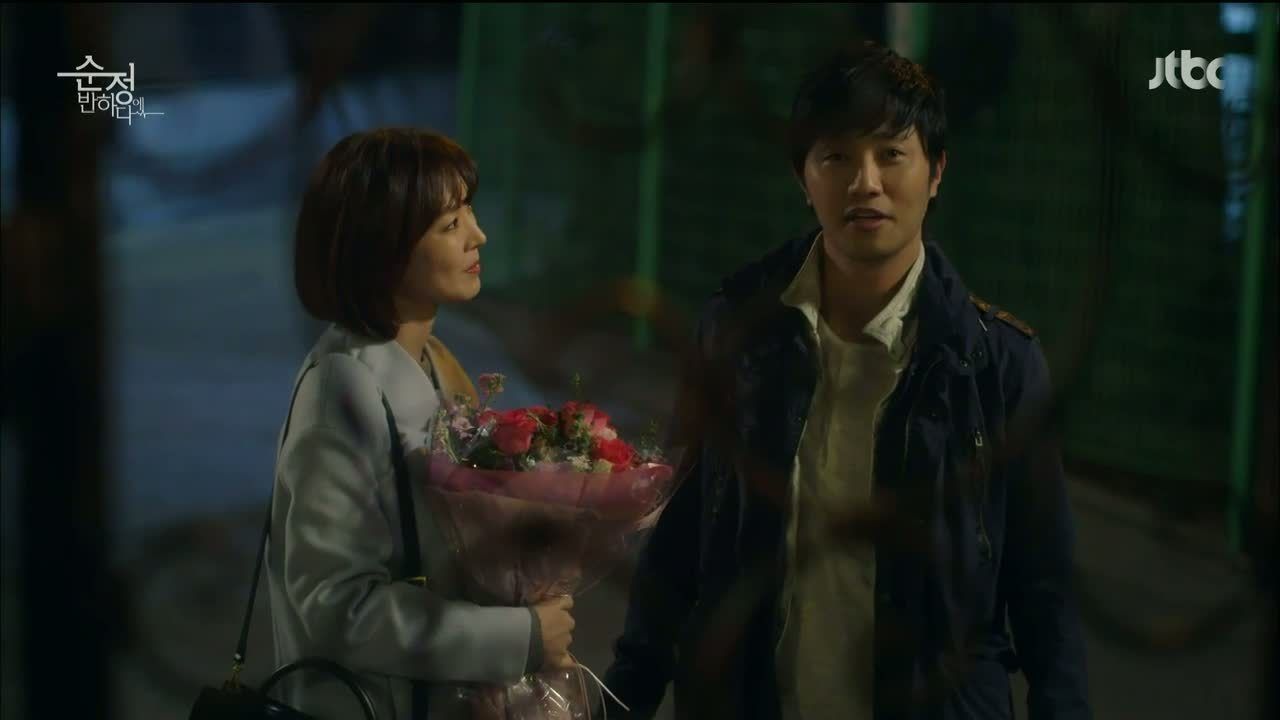 He knows it'll take years until he's able to afford this kind of house, but promises that they'll move in here before their first child starts school. It's the sentiment that really counts, but Soon-jung happily starts dreaming about how to fix up the place. The thought of a happy married life together brings tears to both of their eyes, and Soon-jung asks if there isn't a ring. Ha, my kind of girl.
Dong-wook tries to gloss over the issue in his Gyeongsangdo accent, and Soon-jung jokingly says the engagement's off then. Their bickering is downright adorable, but it also catches the attention of the annoyed grandma inside and the happy couple runs off.
Following a gratuitous shower scene (thanks for keeping your promise, Yoon Hyun-min!), Min-ho stays up in his hotel room recalling painful memories from twenty-five years ago: At his father's funeral, his mother was convinced that it was Min-ho's uncle who embezzled funds, not her husband.
"Do you have any proof?" the now Chairman Kang had asked. He'd encouraged her to face the truth—that his older brother and her late husband deceived them all. Min-ho and his mother had been denied access to the building the following day, and his mother was shocked to learn that her husband's secretary was now the vice president.
The betrayal cut deep, and Min-ho's mother could only shed tears in court while Soon-jung's father testified that he learned of the late chairman's tax evasion issues when the man was in a coma. He confirms that the transfer of shares to the late chairman's brother was also approved prior to the man's death.
That's how all of Hermia ended up in the present Chairman Kang's hands. To cement an already tragic childhood, young Min-ho had returned from school one day to find his mother hanging from the rafters. Good god.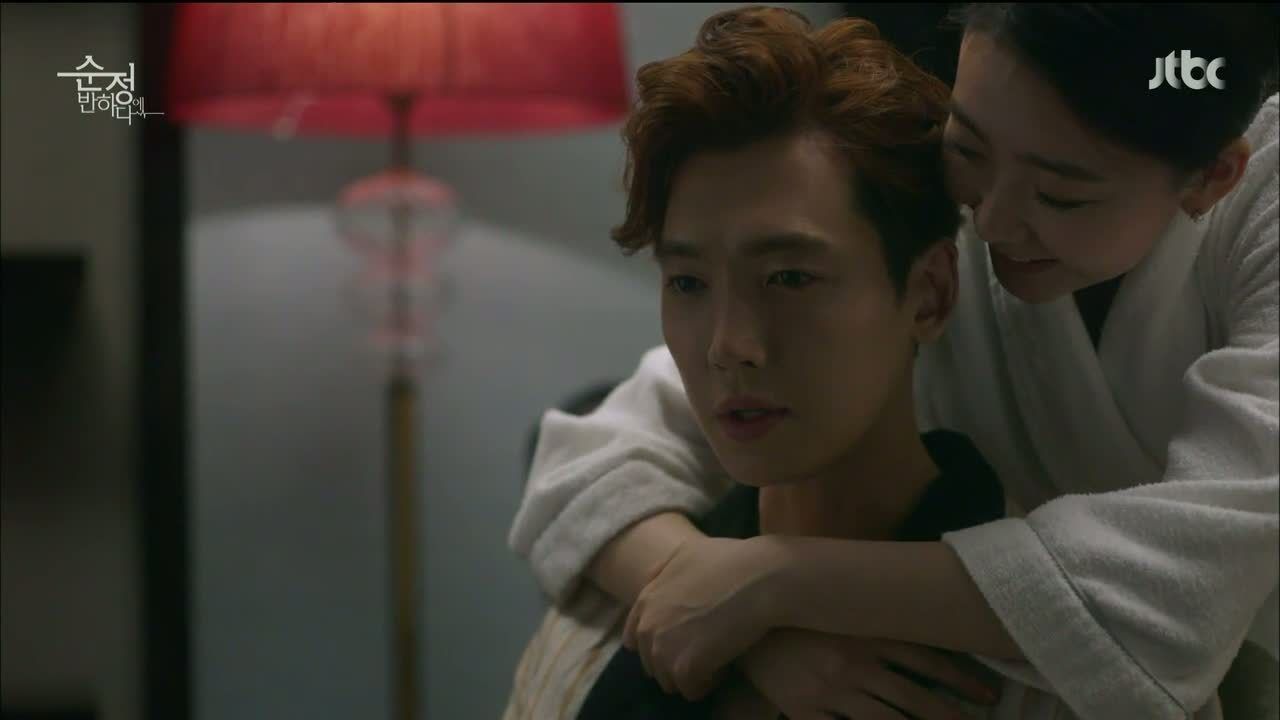 Now we know where that callousness stems from, and Min-ho coolly dismisses the woman who cozies up to him out of his hotel room. When she asks for one kind word, he tells her, "You'll be my last woman." She packs up her things in a huff, and it's after she leaves that Min-ho sighs that it's true.
Downing a pill with a glass of wine, he tells himself: "Just a little longer. Let's hold out for just a little longer…"
In Chairman Kang's office, Joon-hee reports back that they must try and postpone the announcement verifying the harmful ingredient found in their product lest the company's bonds are left up for grabs. The responsible party for the tainted ingredient has mysteriously disappeared as well, which begs the question of whether Min-ho bribed them off or not.
In any case, Chairman Kang resolves that they need to keep their bondholders happy and at bay, then asks where his wife is right now.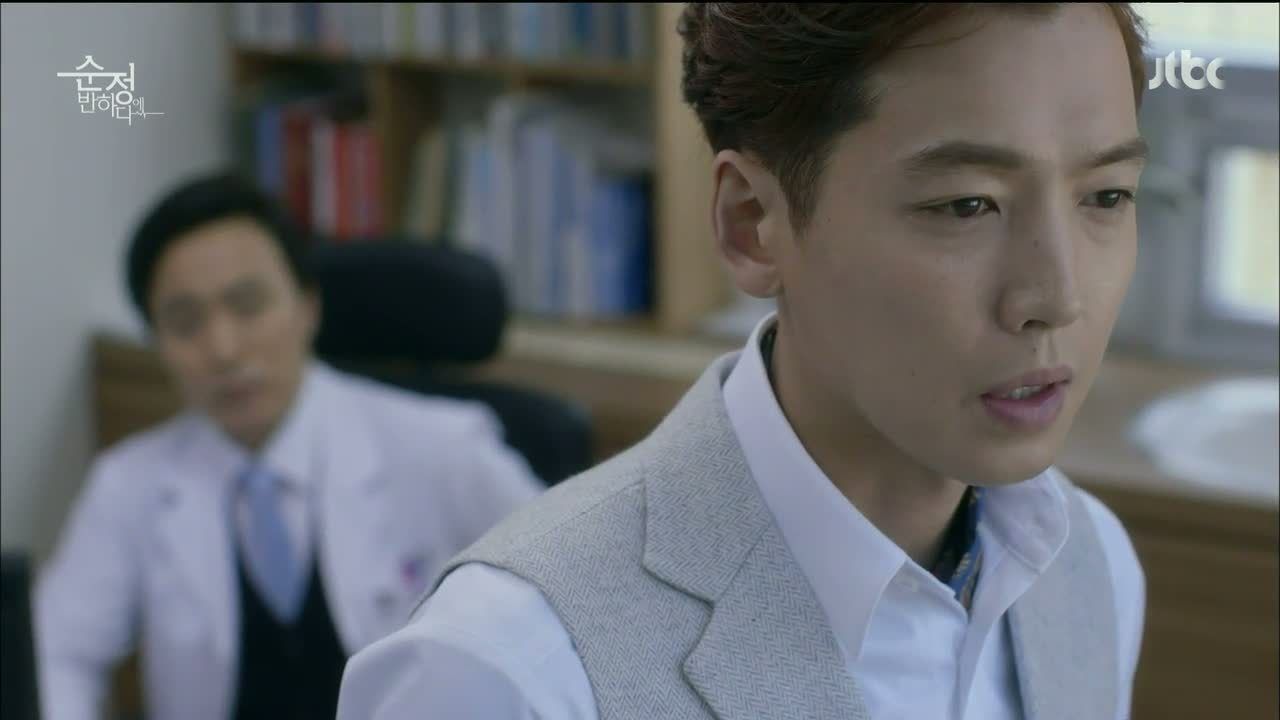 The answer is in bed with another man, whom Soon-jung sends off on his way. She's already prepared the mourning clothes Madam Min needs for the funeral later that day. When the chairman's wife asks why Soon-jung isn't dressed the same, Soon-jung replies that she has a very important appointment to keep today.
Min-ho's latest medical tests result in grave news: he'll be lucky if his weak heart lasts him another month. His dilated cardiomyopathy must be genetic because the late Chairman Kang suffered from the same condition, and Min-ho flatly accepts the news as if being told about the weather today.
If time is ticking against him, he'll need to work harder, unusual words for a dead man walking. His doctor suggests that they wait for a donor, but Min-ho has long accepted that he wouldn't make it past his 35 years of age. "There's a one percent chance of finding a donor match, and I won't risk the rest of my life on that measly one percent," Min-ho argues.
Min-ho receives an irate call from his business partner HAN JI-HYUN (Gong Hyun-joo) the next day, demanding to know why he's suddenly selling off the Hermia Cosmetics central factory when they haven't even become Hermia's majority bondholders yet. Min-ho isn't all that concerned because he'll do that and sell back the factory within a month's time.
It just so happens that Dong-wook's father works at that very factory, and has already guessed from his son's excited calls that the couple is here to announce their engagement. Dong-wook's father considers this good news in the midst of the rumors that the factory will be sold off soon.
It's sweet how Soon-jung has such an amiable relationship with her future father-in-law, and warm towards Joon-hee's father—who works as a security guard—as well.
Min-ho is surprised to see Soon-jung at the factory and takes it upon himself to introduce himself to the workers: "I'm the late Chairman Kang's first-born son, Kang Min-ho. It's me, the nine-year-old child that was abandoned after you all inducted my uncle as chairman! That's me!"
Soon-jung protests while his men appraise the factory, only to be told that the first thing that needs to go are the employees who sit around collecting their wages. "Human butcher," Soon-jung returns. "The moment you start putting a price on people, you become a human butcher. Those were the words of the late chairman."
She turns to the frightened employees, declaring that anyone who cooperates with Min-ho will face the consequences. But that only amuses Min-ho, who has a proposal of his own: anyone who remains in this factory after three minutes' time will be first in line for restructuring.
Rather than being a scumbag, Min-ho considers himself more along the lines of a garbageman cleaning up the trash. His lofty speech is interrupted when something hits him from behind, and Dong-wook grabs him by the lapels and asks if everything here belongs to him then.
Min-ho dusts off his shoulders, taking this emotional outburst as a prime example why he has no choice but to sell it all. That earns Min-ho a taste of Dong-wook's fist, and Dong-wook gets another couple of punches in before getting pulled off.
I find it amusing that Dong-wook isn't at all sorry about what he did or scared of Min-ho's threats when they're at the police station. He shrugs off the suggestion of reaching a settlement, even when a hotshot prosecutor comes to Min-ho's aid.
Dong-wook recognizes the prosecutor, asking if he still accepts money under the table from the victims. Then when Joon-hee pulls aside the prosecutor for a chat, Min-ho mutters at what a small world it is. "They all know each other…"
Both Joon-hee and the prosecutor acknowledge that they're both uncharacteristically involved in such petty matters. Agreeing to drop out if Joon-hee takes care of the settlement, the prosecutor remarks on how Joon-hee's loyal service to Chairman Kang is common knowledge in their legal circles.
When Soon-jung attempts to convey her apologies on Dong-wook's behalf, Min-ho sees no point in issuing his forgiveness or overlooking this incident. But like the savvy businessman he is, he would entertain the idea of striking a deal.
There is one thing he does want, and when she asks what that is, Min-ho bends down and answers, "You."
Soon-jung is distracted during Joon-hee's explanation that they have no choice but to try and reach a settlement. She excuses herself from hanging out with the boys, and Joon-hee sends Dong-wook to run off after her.
Min-ho's offer of making a deal if Soon-jung calls him later that night weighs heavy on her mind as she trudges up the hill back home. She whips back around to Dong-wook (who's been following her like a puppy) and orders him to offer up his head.
He adorably obeys, but instead of giving him a noogie, she softly pats him on the head. She does, however, pinch his cheek, and Dong-wook returns that if this is some attempt to get them to break up, it won't work because he won't ever let her go. Aw. "There's no such thing as 'farewell' in my dictionary."
She has no intention of letting him go either, though adds that him being her boyfriend could be cause for trouble. Soon-jung covers up that comment with a scolding, and then Dong-wook pulls her into an embrace, telling her that he loves her and that he's sorry.
An exhausted-looking Min-ho returns to his hotel to address the news of tomorrow's Hermia bondholders' meeting. He isn't surprised since losing even one supporter on Chairman Kang's side would make Gold Partners the majority bondholder. He orders his secretary to attend the urgent meeting set up to discuss tomorrow's meeting in his stead, waving off his secretary's concern for his health.
Soon-jung waits until Dong-wook leaves before calling up Min-ho. She climbs into a taxi just as Dong-wook doubles back to see her leave. She pulls up to Min-ho's hotel and travels up to his suite.
She presses the doorbell a few times before Min-ho's voice finally answers on the other side. He opens the door — his face looking pale — and falls right into Soon-jung's arms.

COMMENTS
I thought I'd seen it all when it came to stony-hearted characters in dramaland, and then there's Kang Min-ho, because he is an ass. But I suppose I can take comfort in the idea that Falling for Innocence kept their word in delivering a ruthless corporate shark to our screens. I admit I was nervous looking at the show's promotional materials, because the light-hearted meta teasers and bright posters pointed more towards a romantic comedy than the melodrama it's touted to be.
So I'm relieved to find that Innocence has dramatic depth, both in its characters and storyline. Despite being a merciless asshat, Min-ho's arc is interesting enough that it keeps me from writing him off, and that's even before the upcoming heart-swap comes into consideration. He's got nothing to lose (but time) and his business motive is simple: he doesn't do anything that reaps no profits, and does practically anything that will. While the revenge angle against his uncle is nothing new to k-dramas, we can see that the grudges run deep and that his rage continuously bubbles just below the surface. Min-ho had been given the short end of the stick as a child, so I can understand where his bitterness is coming from, though of course it doesn't absolve him of all his cruel actions.
Which brings me to Soon-jung's insult of calling Min-ho a "human butcher" at the factory. I should clarify that while it isn't fully the first definition one thinks of (i.e., someone who literally chops up humans) there's still plenty of scorn contained in those words. Butchers were once considered the lowest of low in terms of the social order, so to be called a butcher of humans hits upon the despicable kind of lifestyle Min-ho leads. Furthermore, Soon-jung touches upon Min-ho's lack of seeing value in people with that following line, in that putting a price on people like slabs of meat to be sold only shines a spotlight on his own inhumanity.
I do love our heroine in Soon-jung here and appreciate that she isn't afraid to speak up when the occasion calls for it. I hope we continue to see that feisty side of Soon-jung, and I rest assured that Kim So-yeon can carry us through both the humorous and dramatic moments of her character. It's evident that Soon-jung's ties to all three men (Min-ho, Joon-hee, and Dong-wook) go back for years, two of them back to when they were children. At first, it seems odd that Min-ho and Dong-wook wouldn't know each other, but it could easily be that they knew Soon-jung at different times of her life, like when she was the chairman secretary's daughter and then unexpectedly became the vice president's daughter. And plus, if the men knew each other, it would only insert more truth into Min-ho's mutterings about just how small this dramaverse already is.
Furthermore, I'm intrigued by how Min-ho is already interested in our heroine, and sure—while his intentions probably aren't well-meaning since he believes her to be a traitor's daughter, his piqued interest makes far more sense than an uncaring fellow who's suddenly head over heels in love with her because of someone else's organ. Despite falling into her arms in a sickly state, I'm sure Soon-jung will continue to find Min-ho insufferable while he has a weak heart… and perhaps his new one as well.
I'd be lying if I told you that I wasn't bursting at the seams with excitement about the Heartless City bros reunion in Innocence. It practically pains me to watch Jung Kyung-ho and Yoon Hyun-min be pitted against one another in this show, especially since their off-screen bromance is so very real. But I just love it when these two actors are on screen — both separately and when they're together — because they do illuminate my screen with their stage presence. Leave it to Jung Kyung-ho to play the cold-hearted businessman and Yoon Hyun-min to chase after my own heart with this: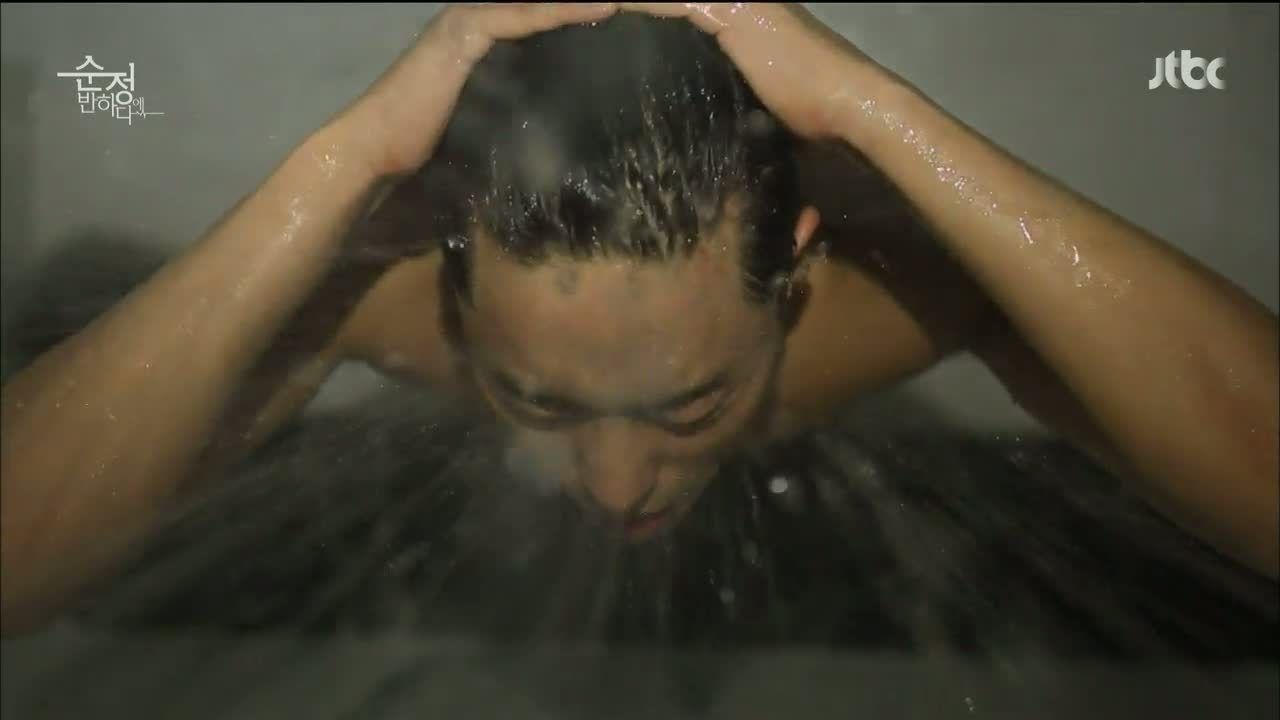 RELATED POSTS
Tags: Falling for Innocence, featured, first episodes, Jung Kyung-ho, Kim So-yeon, Yoon Hyun-min