Falling for Innocence: Episode 7
With other people pulling the strings of his own revenge, Min-ho finally has the time to sit with his emotions and begin to examine the reasons behind his literal change of heart. Not that he has to dig too much into himself since the people around him ask the critical questions for him. Still, it's to Min-ho's credit that he actually cares that he was once the cruelest corporate monster that walked the Earth.
Getting out of the friend zone has never been tougher than it is for Joon-hee, but if this episode is any indication, he's finally going to act upon that decades-long crush he's been harboring for the girl who's been completely oblivious about it.
SONG OF THE DAY
Park Ji-min – "Hopeless Love" [ Download ]
Audio clip: Adobe Flash Player (version 9 or above) is required to play this audio clip. Download the latest version here. You also need to have JavaScript enabled in your browser.
EPISODE 7 RECAP
We pick back up with the street kiss, which surprises both Soon-jung and Min-ho alike. His own astonishment overpowers the resulting slap in the face as he gasps, "How could the likes of you… How could I… you…"
He isn't even aware of an incredulous Soon-jung's departure shortly afterward, left breathless by the revelation that he indeed has feelings for her.
Met with a surprise party at his home led by Ji-hyun and Joon-hee that evening, Min-ho doesn't see the point in celebrating with those who went behind his back to carry out their own actions. Joon-hee defends that he felt he was following the natural order of things in revealing Chairman Kang's terminal illness, but Min-ho counters that uncalculated risk could have brought them both down.
Ji-hyun breaks up the argument between them—despite the rushed proceedings, it's still a time to celebrate. Everyone except Min-ho raise their glasses to the hope that Chairman Kang will forfeit his Hermia management rights before he breathing his last.
As previously planned, Ji-hyun nominates Joon-hee to fill the now-vacant Hermia CEO position at the next board of directors meeting. Enraged by the news of his dismissal, Chairman Kang marches back to headquarters in his weakened state. Seeing the faces of his betrayers himself only makes his blood boil, and vows to fire everyone who double-crossed him.
Min-ho arrives just in time to stop Chairman Kang from being manhandled out of the building. He calls his uncle into his office where he says monotonously that his appearance here won't change anything now.
Chairman Kang roars that he won't back down, vowing to switch out those traitorous board members for new loyal men. But Min-ho retorts that his uncle's name is being smeared across the papers as they speak, and the legal affairs department is busy preparing cases for Chairman Kang's dismissal instead of damage control.
Min-ho will give the dying chairman twenty-four hours to hand over his management rights and stock, lest Chairman Kang wishes to be caught up in a messy legal case at his deathbed. Min-ho doesn't flinch when his uncle angrily grabs a fistful of his shirt, telling him to think of the family he'll be leaving behind.
Even in his sickly state, Chairman Kang desperately holds onto his nephew, who breaks his hold and leaves the dismissed chairman on his knees. Min-ho can barely catch his breath when Soon-jung checks in, and then sends her away to attend to Chairman Kang.
Soon-jung finds Min-ho up on the roof, where he's still struggling to collect himself. He declines the idea of seeing Doctor Jo, blaming his own weakened mental state. He doesn't welcome Soon-jung's genuine concern for him and downplays his momentary display of concern for his uncle earlier.
She speaks up in Chairman Kang's defense to give the dying man a chance at a death with dignity. When Min-ho counters that sympathy won't get him what he's after, Soon-jung points out that he of all people understands the kind of loneliness one feels at death's door.
Driving Chairman Kang out like this won't make Min-ho any different than the man he's despised for the past twenty-five years, Soon-jung continues. At Min-ho's silence, Soon-jung takes a handkerchief to wipe the accumulating sweat on his face, worried about his health.
She doesn't know that the close proximity makes Min-ho's heart beat quicker and louder, and he stops her from calling the doctor. He says he'll be fine after getting some rest, and Soon-jung leaves him with the handkerchief along with the offer to let her know if his condition worsens.
Following our periodical check-in with Ok-hyun's detective buddy discovering a phone at Noh Young-bae's place that could potentially be Dong-wook's phone (which was missing at the crime scene), we flash back to the board meeting earlier that day when Ji-hyun informed the directors that Joon-hee will continue to be chairman even after Hermia is sold.
It looks like Joon-hee is more than ready to assume his new position, leaving his old office at the end of the workday. He collects Soon-jung to take her out for a nice dinner at an eatery they once visited after a school trip. He even points out the doodle Soon-jung made on this very table which reads: "Soon-jung and Soon-jung's underling were here. May 12."
It's interesting that Joon-hee remembers all the memories made here down to the minute details whereas he has to Soon-jung's memory about that time. There's another reason why this place holds special meaning to him: it's where he failed in confessing his feelings for her.
He saved up for a week to bring her here that day, but it wasn't enough money for one more dish that would've bought him enough time for his confession. Soon-jung tries to laugh it off, but Joon-hee says he decided to become a far more successful and powerful man so that he wouldn't feel so paltry in comparison.
And now that dream might actually come true because he may become Hermia's newest chairman. Oh man, why do I feel like he's jumping the gun by telling her this now? In any case, he took her out tonight to share in this moment of achievement together. She's genuinely happy for him, and Joon-hee vows that he isn't going to hesitate in his advances towards her.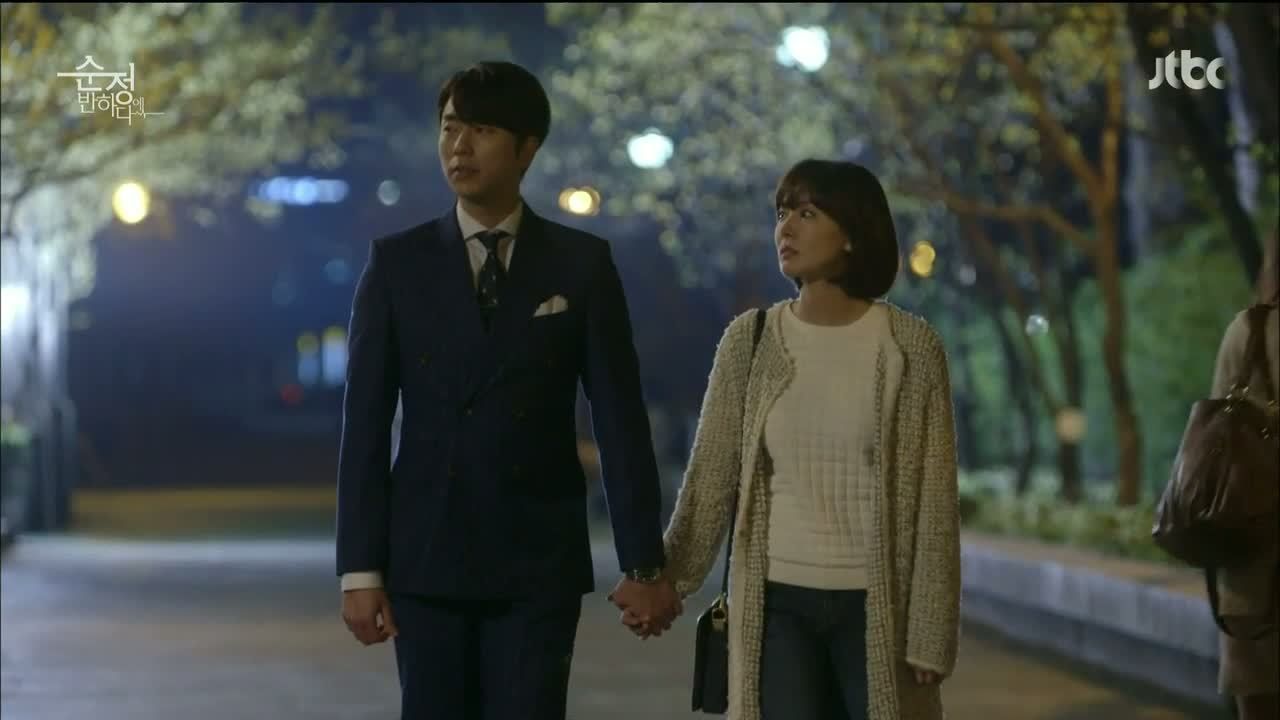 Which is probably why Soon-jung still feels a bit awkward as they walk back to the parking lot. She's taken aback when Joon-hee unexpectedly takes her hand in his; he asks that she appeases him for a few minutes because it's a special day for him—in exchange, she can fire away any questions she might have about his upcoming promotion.
So they walk hand-in-hand, talking about how his position will make the factory workers happy. But Joon-hee is more interested in making Soon-jung happy, words that causes her face to fall. When her attempt to free her hand of his fails, Soon-jung tells him that she's never thought of him more than a good friend.
Joon-hee masks his hurt of being verbally friendzoned—he's okay with that for now, but he isn't going to wait much longer. He's hidden his feelings for her for over twenty years because of Dong-wook, but he won't any longer. What he wants is for her not to look at another guy and give him a fighting chance for once.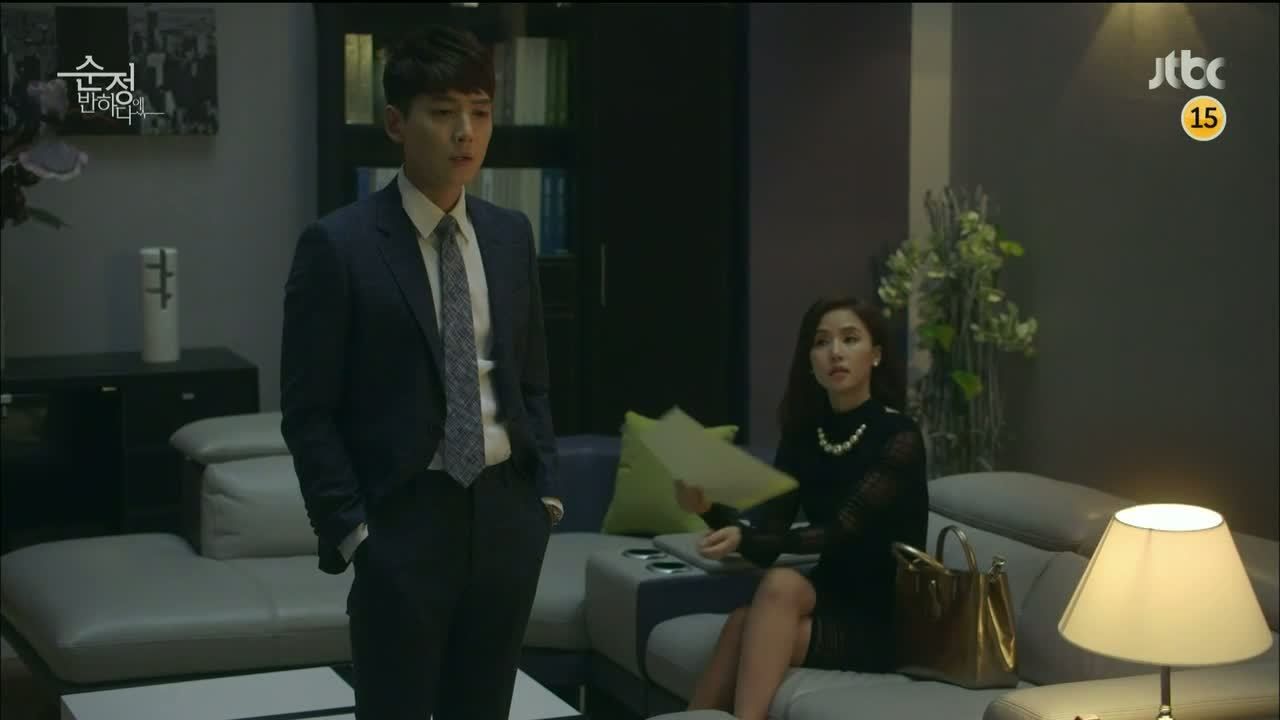 At the news that Chairman Kang's condition has taken a turn for the worse, Ji-hyun has gone ahead to arrange with a prosecutor to restrict access to all outsiders, including family members. It's a move to hasten getting their hands on the management rights before the man croaks any day now, and Min-ho's sliver of sympathy has Ji-hyun wondering what's gotten into him lately.
"You used to do even crueler things than this in the past," she reminds him. He'd do practically anything if it endangered his money—what's with the innocent lamb act now?
Telling him to get Chairman Kang's seal himself tomorrow, Ji-hyun reminds him that this is the revenge he's been preparing for over a quarter of a century.
At least Min-ho finally begins to question his motives for vengeance out loud while Secretary Oh cheerily declares that Min-ho will achieve his life goal tomorrow at last. Next thing we know, he's waiting up for Soon-jung at the steps to her place and wondering what he's going to say after returning her handkerchief.
Seeing Joon-hee drop Soon-jung off saddens him enough to take his leave, so his back is already turned when Soon-jung starts walking.
It should come as no surprise that the pre-paid phone found in Young-bae's place isn't Dong-wook's, but its records indicate that it made calls to only one number. Furthermore, there was a call made on the day of Dong-wook's death. That points towards the possibility of the one Young-bae reported to, and Ok-hyun's detective buddy has done all the work by even locating what general neighborhood of the other phone number.
And instead of taking any precautions, Ok-hyun calls that number immediately. Joon-hee is on cloud nine thinking of his evening with Soon-jung when his other phone starts ringing. When he angrily picks up, Ok-hyun asks if it's Joon-hee on the other end.
A little later, Ok-hyun's detective buddy speaks with Joon-hee's father, who is surprised and nervous at hearing his son is currently being investigated in regards to Dong-wook's murder.
Ok-hyun, meanwhile, takes the helm in the interrogation room, where Joon-hee acknowledges that he was in contact with Young-bae because the tampering case would be an embarrassment to the company. When she asks if he was able to find out the person responsible for the incident, Joon-hee counters that the company sought to bury the case rather than exposing the truth.
That's why it was necessarily to speak via pre-paid phones, Joon-hee explains, and he doesn't see why the product tampering has anything to do with Dong-wook's death. Ok-hyun is upfront about her suspicions, noting the coincidences that the last person Young-bae and Dong-wook saw and spoke with was Joon-hee.
Ok-hyun confirms Joon-hee's summary of her suspicions—that he was responsible for the tampering and his friend's murder—but that only spurs Joon-hee to point out that she's presuming that story to be true. He pulls out his legal guns, noting that she's accusing him without evidence, then invites her to look through all of his accounts.
He'd be a much richer man if he were the criminal mastermind behind it all, he adds. He'll gladly hand over the documents that support his case, and advises her to gather solid evidence before accusing someone as a murderer.
It looks like Ji-hyun was able to use her prosecutor friends to obtain an arrest warrant against Chairman Kang as well, news that Soon-jung immediately blames Min-ho for when he arrives at the hospital. But he cuts her off to ask if there's a helipad on this hospital and orders her to follow him.
He tasks her to enlist the hospital staff to transport Chairman Kang into another room before the prosecution arrives. But by the time Soon-jung heads back to collect the man, the chairman has disappeared.
The prosecution team arrives to search the room, then heads back out when Chairman Kang is nowhere to be found. Min-ho stays behind to pick up the note his aunt threw at him—it's for him, and Chairman Kang warns that things won't go as Min-ho planned because he won't ever give up as Hermia's longtime CEO.
Min-ho lets that letter sink in before exiting the room, his steps quickening with each stride. Soon-jung follows him out and into Hermia's headquarters, where Min-ho heads straight for the chairman's office.
And there Chairman Kang sits, or should I say slumped over at his desk. Soon-jung gasps at the sight. Min-ho walks over, calling for his uncle (rather than the usual derisive address of "chairman"). He takes his uncle's hand off of the nameplate only for it to thud onto the desk. Oh crap, is he actually dead?
Now Min-ho looks like a lost little boy as he tries to shake his uncle's shoulder awake. He catches Chairman Kang's lifeless body in his arms and is left in disbelief as his eyes well up in tears. "Why?!" he cries out. "What's so special about this measly position?! Answer me!"
He asks that question over and over while crying over his uncle's body. Not long afterwards, the employees pay their final respects to the deceased chairman.
Secretary Oh returns from Chairman Kang's off-screen funeral to find Min-ho holed up at home. Noting some chest pains, Min-ho orders him to look into his donor on the DL, since they both know that doing so is illegal.
It's no surprise Min-ho hasn't been showing up to work either, which naturally means he's unaware of some of the recent changes taking place. That includes Soon-jung getting her old job back as the chairman's secretary now that Joon-hee is the new Hermia CEO.
Joon-hee calls Soon-jung into his new office where he has a food and magazine spread waiting for her. He encourages her to speak in banmal when they're alone, adding that he prepared all this and blocked off a few hours so she can finally rest after taking care of the late chairman's funeral proceedings.
When she declines, Joon-hee tells her that she's served others her entire life, so now it's about time someone did something for her. He pettily tells her that leaving now would only make him look silly, and that boyish attempt breaks her down.
Still, that doesn't excuse Joon-hee from doing actual work, and Soon-jung hands over the documents before enjoying herself. Joon-hee's new role as chairman won't become official until after the board of directors' meeting in a month's time, at which point they won't be friends anymore. So… you're going to woo your own secretary…?
Soon-jung musters the courage to walk up to Min-ho's home in regards to work, but chooses not to head inside. As the days progress, she sends text messages about upcoming interviews and dealings at the office while Min-ho spends his days lazing about at home without sending a reply.
Still, Soon-jung remains persistent, asking about his health and informing him about the board of directors' meeting next week. One message includes picture of the cherry blossoms and asks him where he is, and her last one tells him that he should visit the mountains tomorrow (where his father is buried?).
She finally gets a reply while chatting with Ok-hyun at a cafe. She misinterprets Ok-hyun's agitation about Joon-hee as interest in him and doesn't know why his name makes her so antsy.
Anyhow, Min-ho's text asks her to meet him at his house. She rushes over and looks relieved to finally see him. She admits that she worried that Min-ho might've been affected by his uncle's death, which he denies. He was simply getting the break he never allowed himself to have.
He asks her to take him up to the mountains today because he doesn't know where his parents' gravesites are. Once there, Soon-jung excuses herself so that Min-ho can pay his respects to his deceased parents.
"I'm here, Mom and Dad," Min-ho says. "It's Min-ho." He acknowledges that this visit is twenty-five years too late, but like a child, he looks for affirmation on a job well done. It was a long and difficult journey for him, but now that everything's done, he'll come to visit them every year.
Joon-hee sits down with Papa Ma and the other union leaders about the layoffs at the central factory shortly after Chairman Kang's death. Papa Ma points out that Hermia hasn't even declared bankruptcy yet and the only person they can turn to about the matter is Joon-hee, who promises to bring the matter to the board once he officially becomes chairman.
It's mysteriously raining by the time Min-ho and Soon-jung travel down the mountain. Min-ho says there wasn't much to talk about, and then jokes that it's his first time driving in the rain before stopping suddenly just to scare her. Dude, not cool—that's super dangerous.
He gets his instant karma seconds later though, when a tire gets caught in a ditch. Soon-jung runs out with an umbrella and offers to call a taxi while she waits here for a tow truck.
But Min-ho notices that she's getting drenched just to keep him dry, so he pulls her close under the umbrella. He says he can't leave her alone in the middle of nowhere and gets annoyed when she says she's only doing her duty.
They remain within close proximity for a few moments before Soon-jung pulls back, only for Min-ho to draw her close again. Night falls as Min-ho and Soon-jung wait in the car in their wet clothes. They're out of gas and the tow truck isn't due to arrive for a few more hours.
The sound of Min-ho's stomach grumbling breaks the awkward silence between them. Soon-jung smiles when Min-ho tries to cover up the sound as best he can, then suggests that they munch on the leftover food and soju that was offered to his deceased parents.
While Ok-hyun and her detective buddy tail Joon-hee's car after work, Soon-jung strikes up a conversation while their car is towed back into town. And ha, they did break into the food and drink after all.
She asks why he lived in hiding for so long, and Min-ho acknowledges that she was right about him. He led a life that made him no different than the uncle he hated so much, consumed with revenge.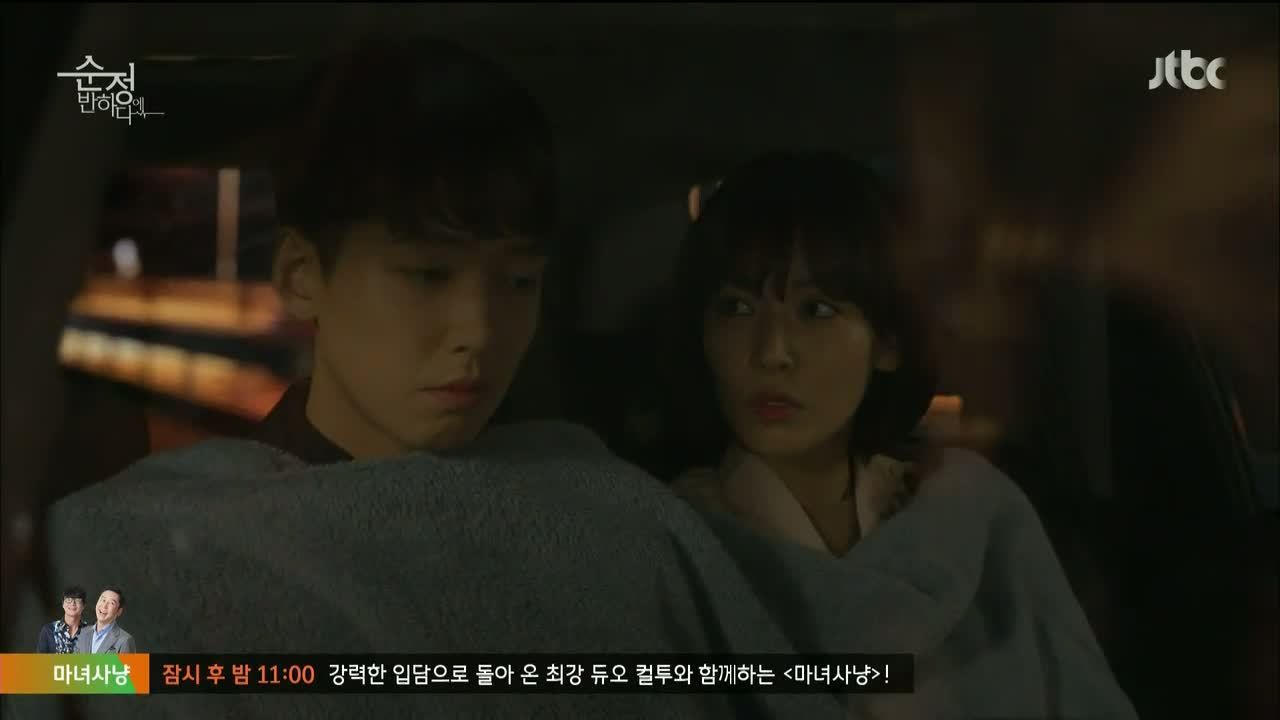 She asks if that's why he didn't have all that much to say in front of his parents. Min-ho says he felt ashamed in front of them, and it felt like his parents were wondering how their son turned into such a monster.
Soon-jung says today's a strange day, and this might just be the soju talking now, but she believes his parents don't think of him as a monster. Even if he were to kill countless numbers of people, no mother would be hateful to their child.
If Min-ho's mother was still alive today, she'd probably tell him: "I'm sorry. I'm sorry to have left you all alone." Min-ho meets her gaze as Soon-jung continues the words: "If you were going to hurt this much, if it was going to be this hard on you, why did you live this way?"
Soon-jung says it still isn't too late for him to start leading a better life, one that isn't disgraceful. Those words affect him, and Min-ho says there's something he hasn't told her yet.
His voiceover is accompanied by a shot of Joon-hee browsing engagement rings while Ok-hyun and a forensic analyst search for traces of blood on Joon-hee's car. Something pings, and Min-ho's voiceover narrates, "Something I mustn't ever say. And if I do say it, I feel like it'll mess everything up."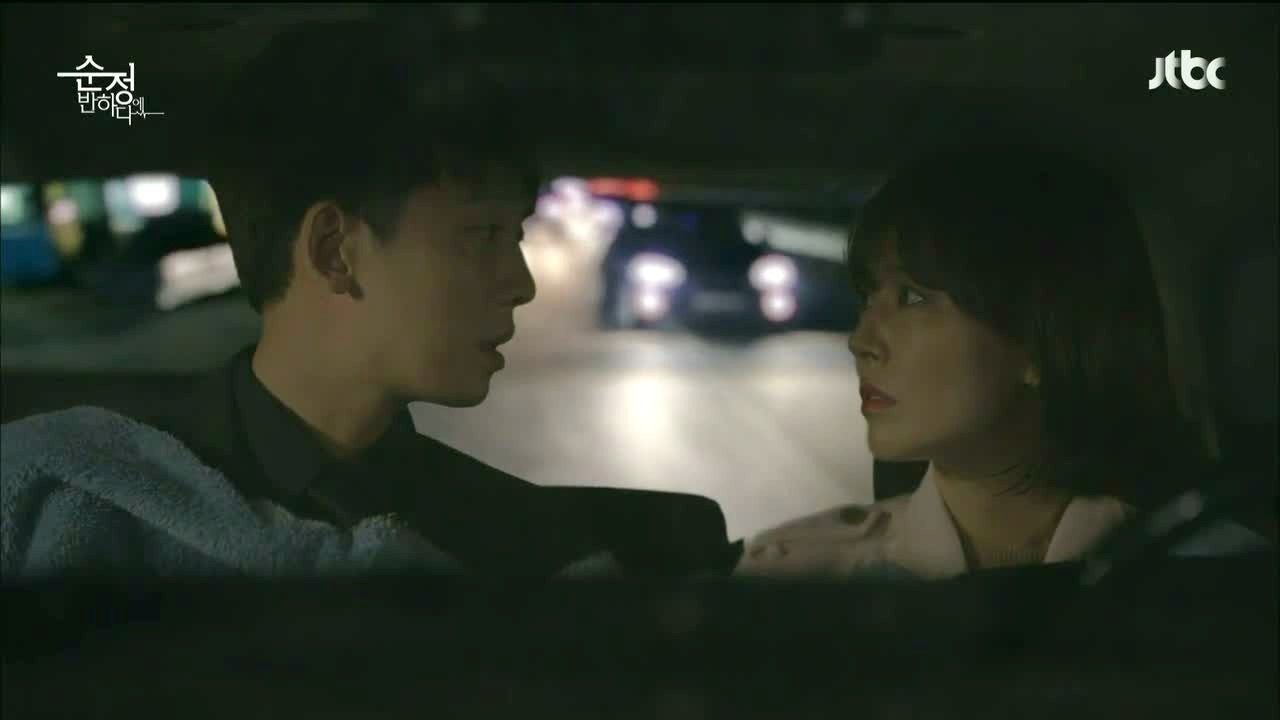 Soon-jung asks what that is, and Min-ho turns to her to say, "I like you. Whenever I see you, I get nervous and feel hurt. That's because… whenever I see you, I feel ashamed and disgraceful. Whenever I see you, I want to become a good person and a good man to you."
He admits that today is a weird day and holds her gaze for several more moments before swooping in with a kiss, followed by another.

COMMENTS
Funny how two bottles of soju can act as its own truth serum when it comes to confessing one's feelings for another. We could be here for hours comparing this closing kiss to the one from on top of the hour, but for now, my takeaway would be to acknowledge it as a progression of Min-ho's revelation of his growing feelings, to speak the words about how that's affected him, and finally acting upon them.
And I get that his confused emotions and continual change of heart are what the show wants us to draw from Min-ho… if only we could see much more of those introspective moments played out before our eyes and ears. We still lack much in that area—the show attempts to make up for it by having its other characters (see: Ji-hyun, Secretary Oh, and Chairman Kang) ask what should be self-reflective questions to Min-ho himself. In lieu of crucial contemplation, we get gaps in time from when Min-ho examines himself in his mutterings, to some time later when he's made a decision we see in action but don't fully understand where it came from. Often times, it feels like we're watching a hero that clams up whenever we try to dig for answers.
Understanding who Min-ho was in the past, who he is now in the present, and who he's turning into the future is of utter importance because he's the one character that drives this series forward. He's had his fair share of confusing moments, like his change of heart towards his uncle's failing health. All of that questioning about why it strikes odd is still very much internal; it's of little help when our heroine is the one alluding to his buried emotions because like Joon-hee said, we risk jumping into presumptuous territory. And that's somewhere we never want a show to be in.
It honestly surprised me to see Chairman Kang pass away so quickly after introducing his illness. The story moved through his death, off-screen funeral, and Min-ho's grieving period so swiftly that I can't help but wonder if the production wanted to sweep Min-ho's illogical revenge under the rug as quickly as possible. I wouldn't be surprised if it were true since we'll be hitting the halfway mark with the following episode. But if anything, it did give us a moment for Min-ho to realize that he had turned into someone that was no better than his ruthless uncle, acting on the grounds of vengeance.
But because the revenge was so central to Min-ho's initial motivation, I do worry about where the narrative will take it from here. Losing a villain means that someone else would need to take his place, and Joon-hee would be the next prime contender. Having these two men duke it out for the company would appear to be the next step, which can only mean that Soon-jung will end up caught in the cross-fire and possibly fade into the background.
While I can understand that Min-ho needed time to sort out his feelings and where he stands in this hour, I do hope that he doesn't stay in mopey territory for too long. He seemed to adopt a sort of defeatist attitude once the controls of his own revenge were taken out of his hands, because that's what other people thought he wanted. Or something. The show is dropping hints to future actions, like his query about his organ donor. One can only hope that by digging into the recent past will open up the possibilities for his reason to live for the future.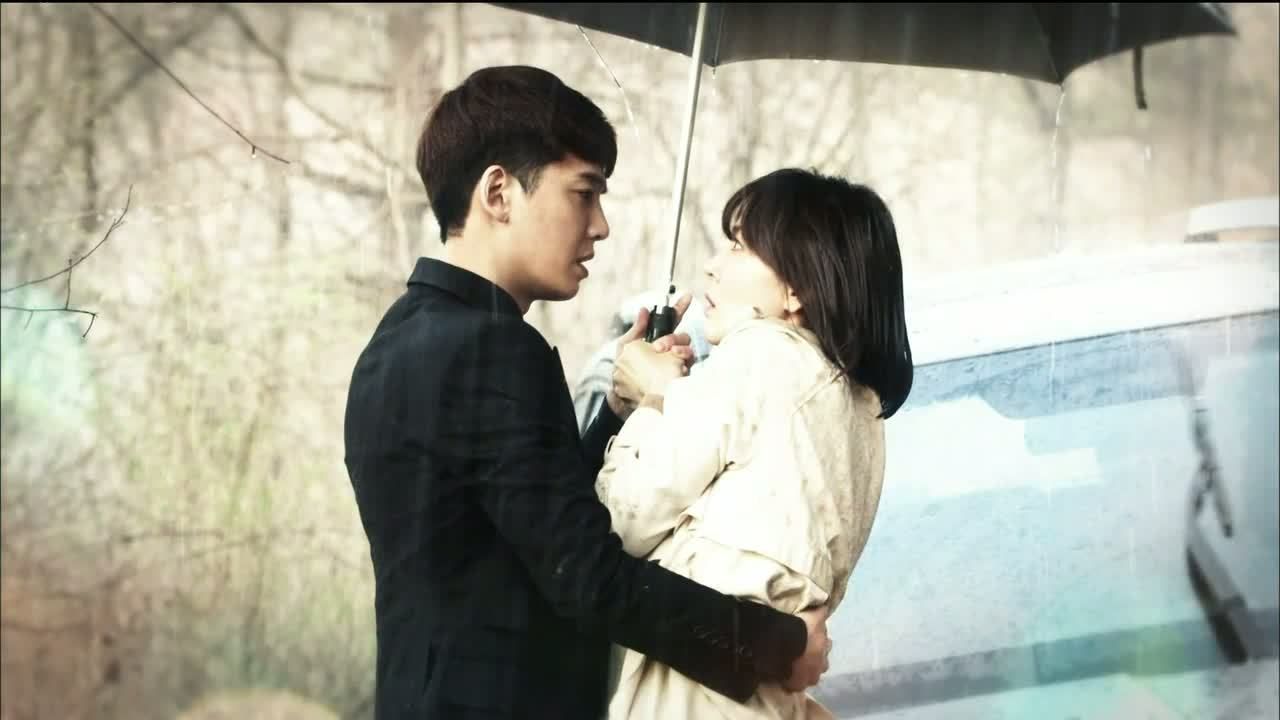 RELATED POSTS
Tags: Falling for Innocence, featured, Jung Kyung-ho, Kim So-yeon, Yoon Hyun-min