Girl Who Sees Smells: Episode 4
There's a brand-new murder to solve, which raises doubts about the Barcode Killer's pattern and whether or not he's become a loose cannon. Cho-rim makes herself even more valuable to Mu-gak as a partner, as she's able to see clues that nobody else can see. But there are personal feelings starting to get mixed up in their partnership, which threaten to ruin everything.
EPISODE 4 RECAP
Lieutenant Yeom stares at Cho-rim, seeming to recognize her as the missing daughter of the Barcode Killer's victims. But before she can say anything, Mu-gak introduces her with the name he knows her by, Oh Cho-rim. He says she's his friend, apologizing for her drunk state, and Yeom seems to accept that Cho-rim isn't who she thought. She instructs Mu-gak to try to break Baek-kyung's alibi, and heads home.
Mu-gak brings Cho-rim a coffee, but she ignores him and shuffles a lap around the room, then sits back on the sofa and collapses with her head in his lap. Aww, his befuddled expression is so adorable. He awkwardly scoots out from under her and watches her sleep with an interesting, searching expression on his face.
In a dark room somewhere, a man wearing rubber gloves opens a surgical kit and selects a scalpel. His face is concealed behind a cap and hoodie. We see a body next to him, and he begins to carefully and precisely carve a pattern of lines into the person's left wrist.
Cho-rim wakes up in the morning to find herself being observed by four curious faces, and jumps up in alarm. She's still at the station, and the detectives are all regarding her with expressions varying from amusement to annoyance. They assume she's some drunk who wandered in to sleep, but Mu-gak quickly corrects them, saying that Cho-rim is his friend.
She runs out in embarrassment, and Mu-gak follows, but by the time he catches up Cho-rim has remembered how he let her down the night before. She yells that she was kicked out of Frog Troupe because he never showed up for her audition, and she wells up with tears and tells him that her life is over now.
Mu-gak makes a snippy remark which earns him a slap, then a full-on fist to the jaw, but his non-reaction only reminds Cho-rim that he can't feel pain. It's not fair that she's hurting so much, but she's the only one that can feel it. She says that she assumes they won't meet again, and leaves. He goes to the roof to think, where he's joined by Detective Tak, who tells him he's going to talk to Baek-kyung but that Mu-gak doesn't need to come along.
Instead Mu-gak goes to the Frog Troupe theater to talk to the director, and explains that it's his fault that Cho-rim's audition was a disaster. He asks for another chance, so the director asks how he intends to be responsible. He orders Mu-gak to make him laugh. Right now. Eep?
The rest of the troupe leave the room to give them privacy, and Woo-ya sneers that he'll bomb and they'll be free of Cho-rim forever. But suddenly the director and Mu-gak come out of the room, the director laughing so hard be can hardly breathe. Mu-gak's usual bland expression makes him laugh even harder, while the troupe can only gape at the men.
The director calls Cho-rim to come talk with him, and he tells her she really doesn't do anything right. But she did pick a great partner in Mu-gak, and for that she gets another chance at performing her skit. There's one catch though — she has to do the skit with Mu-gak. Cho-rim groans, remembering how she punched him and said she never wanted to see him again.
She shows up at the station, but Mu-gak is sulking and refuses to acknowledge her presence. She brings energy drinks to the other detectives in apology for that morning, and they all seem to like her except for Detective Ki, who remains grumpy. Ha, she skips right past Detective Yeh and hurts his feelings, and comments that Detective Tak must be tired from watching his baby, though he insists he's not married.
Mu-gak tries not to care as Cho-rim charms the detectives, but he can't keep his eyes from skittering over to see what she's doing. So freaking cute. He keeps ignoring her even when she brings a drink for him, but she gets an idea and whispers something into Detective Kang's ear which makes him laugh. Mu-gak nearly breaks from his jealousy, but rolls his eyes when Kang announces that Cho-rim wants to do a skit about the police.
He takes her to the roof to ask what she's doing here, and she says she's apologizing to the detectives for sleeping at the station, and thanking them. Mu-gak insists he was the one who let her sleep there, reminding her that it was only a few hours ago that she said she never wanted to see him again. Awww, he's actually pretty hurt.
Cho-rim says with regret that she said it without thinking, and apologizes. Mu-gak softens and accepts her apology, and there's that almost-smile again. As he leaves, he says he can't practice their skit tomorrow, and Cho-rim does a little happy dance that he still plans to help her.
They go have sushi at a place that offers unlimited refills, and of course the manager shoots Mu-gak dirty looks as he takes in his huge stack of plates. Cho-rim marvels that Mu-gak really can't taste the spicy food, and when he steps away to take a call, she hides a giant heap of wasabi under his next bite to test him.
Hilariously, Mu-gak saw her in a mirror, so when he sits back down he turns the plate to switch their bites. She watches him eat with narrowed eyes but he shows no reaction whatsoever, so she eats the other piece, the one with the extra wasabi. She cringes from the taste, and Mu-gak just blandly hands her a glass of water. Pfft.
A man is found dead in the park, and Detective Tak is on the scene first. He's quickly joined by Lieutenant Yeom, then Mu-gak with Cho-rim in tow. She hangs back to observe while he joins the others to investigate the body. Yeom groans in frustration to see the pattern of lines carved into the man's wrist, as they realize they may have another barcode murder on their hands.
The rest of the team show up, and Yeh remarks that it's only been a month since Ma-ri's murder, which would mean the Barcode Killer is changing his pattern of one or two murders per year (there was a young man murdered at the same time as Ma-ri). Yeom claims there's no hard evidence this is another barcode murder, but Tak points out that the lines carved into the victim's arms were the only concrete evidence in the other murders, too.
They decide to identify the man first, then worry about whether this is another barcode murder. As Cho-rim watches from behind the police tape, a looming figure in a hat and hoodie stands behind her, observing everything.
The dead man is identified as a personal trainer who works at a nearby gym, and his body shows signs of being strangled along with the trademark barcode cuts. Detective Kang orders the team to check into Baek-kyung's alibi for the night before, when they assume the man was murdered. But Detective Yeom stops them and says it may not be a barcode murder, telling them to determine where the man was before his death.
Kang asks if she'll be responsible if this does turn out to be a barcode murder, reminding her that she dismissed Ma-ri's disappearance as a possible barcode murder, too. He sends the team out to follow his instructions, but Mu-gak hangs back to say he'll check out Yeom's hunch.
He takes a photo of the victim to Cho-rim, who informs him that this morning, she noticed that the scent on the victim's pants was completely different than the one on his jacket. Usually a person's clothes carry the same scent, such as Detective Kang's cigarette odor and Detective Tak smelling like an infant. But the victim's pants smells of beer and soju, while his top reeked of barbeque. The strength of the barbeque scent means he was exposed to it no more than two days ago.
Mu-gak takes the photo to a barbeque near the gym where the employees often eat, and the ajumma swears he ate there just a couple of days ago — though she only sees the clothes, because Mu-gak carefully keeps his thumb over the man's face. He shows her a different photo of the victim when he was alive, asking as if it's a different person, and now the ajumma doesn't think he looks familiar. Interesting.
Mu-gak finds Cho-rim grilling up some meat inside, and she says she can't think when she's hungry. Ha, when he reaches for the meat, she begs to have at least five pieces before he starts chowing down, so he counts out exactly five pieces for her. He asks how she knew this was the place the victim ate, and she tells him she also saw the scents of the particular charcoal this place uses.
Mu-gak interviews the gym employees next, and the manager confirms that he took them all out for barbeque as a treat. Mu-gak asks if the victim went to eat with them, but it turns out he quit about a month ago. Apparently he was a troublemaker, always borrowing money from his coworkers, and wasn't well-liked.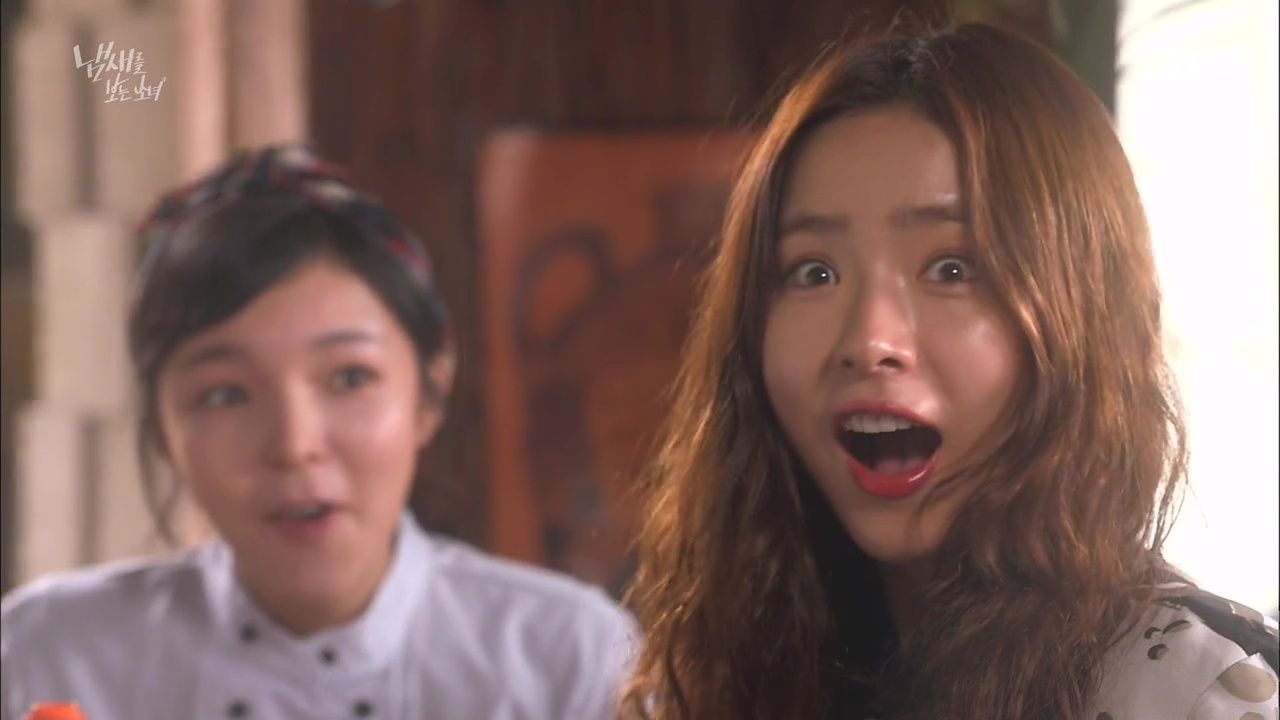 HAHA, Cho-rim gets stuck on one of the machines and has to be rescued by the most vocal employee, a man who goes by the name Andy. Mu-gak glowers with jealousy as Andy touches her to free her, and gets even grumpier when Cho-rim is all excited that the handsome trainer gave her three free guest passes.
Cho-rim joins her friend Ae-ri at yet another job, and even she whines that her friend has had too many jobs, haha. She gripes about Mu-gak tricking her into eating the wasabi booby-trap, and Ae-ri asks if Cho-rim likes him. Cho-rim denies it, but Ae-ri points out that she talks about him constantly these days.
Suddenly she cries out that he's just walked into the restaurant, and Cho-rim's expression of excitement totally gives her away. Annoyed, Cho-rim leaves, and she sees a cute little dog running all by itself on the street. She's sideswiped as a man runs past, knocking her over, and Cho-rim fangirls when she sees it's the famous chef Jae-hee.
He says he's trying to catch his dog, and she tells him to go after it, but he's worried she was hurt when she fell. He takes her to see his friend Baek-kyung, who examines Cho-rim's sore wrist. Jae-hee goes to find his dog, leaving them alone, which scares me to death. Baek-kyung examines Cho-rim's other arm and sees a large surgery scar, and she also mentions some pain in her hip.
Baek-kyung takes some x-rays and comments on the metal plates and pins in Cho-rim's arm and hip. She's fine except for a sprained wrist, and she tells him about her accident three years ago. He can't find his pen and borrows Cho-rim's to take notes in her chart, and Cho-rim notices the doggy scent on the leash that Jae-hee left behind.
Lieutenant Yeom studies the evidence at lunch, while the other detectives sit at the next table and sarcastically conjecture on who could have carved the lines on the dead man's wrist if it wasn't a Barcode murder. It couldn't be a copycat, because the detail about the barcodes was never leaked to the public. They joke that maybe it was a cop who murdered the man, and Yeom shoots them dirty looks.
Mu-gak joins her with his (overly-filled) lunch tray, and it's satisfying to see the detective who previously snubbed him look offended that he doesn't sit at their little Mean Girls table. He whispers to Yeom that they should consider the victim's former coworkers as suspects, offering to explain in private.
Meanwhile Baek-kyung studies Cho-rim's x-rays after she leaves his office, focusing on the plates in her bones. He pulls out an old file labeled "Choi Eun-seol," and removes the x-rays, which just happen to match Cho-rim's films perfectly. Well crap, he knows who she really is.
Mu-gak tells the gym manager that a homeless man claims to have witnessed a man in a training suit being carried into the park at night. A key fell from the man's pocket, and the homeless man had thrown it into the bushes. Mu-gak thinks the key may have been a locker key from the gym, asking if he can bring the key for confirmation once they find it. Andy seems particularly interested in their conversation, and listens closely.
Yeom organizes an undercover operation, where the detectives stake out the park in case the murderer comes back for the lost key. Detective Ki dresses as a bum, Yeh and a female cop pose as a couple canoodling on a parkbench, and Mu-gak and Detective Tak watch over from the car. Mu-gak notices that Tak's phone has a baby's picture for an avatar when he gets calls from home, and Mu-gak hilariously says his nephew is a handsome kid but oops, it's a girl.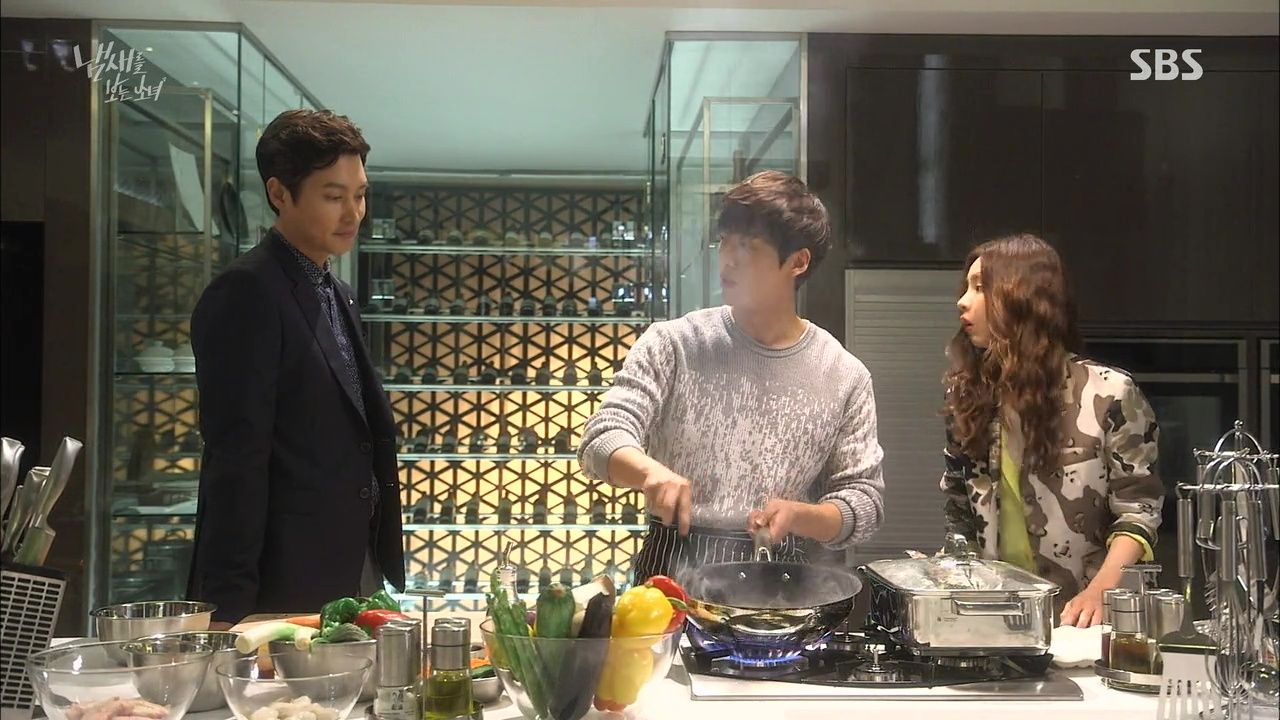 Jae-hee's dog prances through the streets alone, but having seen his scent on the leash, Cho-rim quickly finds the pup hiding in some boxes. Jae-hee makes dinner for her as a thank-you, inviting his doctor friend Baek-kyung to eat with them. Why do I feel like Cho-rim is an innocent bunny in a den of wolves right now?
His dog, whose name is Moong-chi, keeps barking and scratching at a certain door, so Cho-rim offers to feed him. Baek-kyung tells her that Moong-chi was a gift from Ma-ri, and Jae-hee thanks her again for finding his pet. While Cho-rim is in the restroom, Baek-kyung tells Jae-hee that he knows her and has been wanting to see her again for a while.
Moong-chi won't stop barking at the door, and Cho-rim asks what's in the room that the dog wants so badly. Jae-hee says it leads to his underground storage, where he keeps wine and food. He goes to quiet the dog, and Cho-rim gasps at his delicious cooking.
Nothing is happening at the park, and Mu-gak tries to make up for his "handsome nephew" comment by complimenting Tak's niece Jia's name. Poor Tak, his little feelings are too hurt to let Mu-gak off the hook. The detectives all regroup in the morning, but nobody saw a thing all night.
Detective Kang accuses Yeom of making up all the so-called evidence, but suddenly Detective Tak calls out that he's found an expensive-looking pen in the bushes. They identify the pen as belonging to Baek-kyung, and detain him for questioning.
The Chief of Police observes the questioning, asking if they're confident they can arrest him as the Barcode Killer soon. When Detective Kang says they can, the chief orders Lieutenant Yeom off the case and back to her own department. He gives Kang back control of this case, and Kang can't help but throw a little "neener neener" gesture to Yeom as he leaves.
Detective Ki questions Baek-kyung, who claims he lost his pen at the hospital. In the hall, Mu-gak apologizes to Lieutenant Yeom for her getting caught in the crossfires of his theory that one of the trainers killed the man. Yeom agrees that this isn't a Barcode murder, and that the lines carved into the victim's wrist are only a copycat.
Therefore, the man must have been killed by someone who knew of the Barcode Killer's MO — and that leaves the cops. She wonders if there could still be some association with one of the trainers who work at the gym.
Cho-rim calls Mu-gak after going to the gym to use her free pass, and having seen something about the trainer, Andy, that made her sit up and take notice. She says that she saw familiar scents on him — the same scents that she's seen on Detective Tak. There's a scent of medicine mixed with the baby scent that makes it unique, but both men are carrying it.
Mu-gak rushes to the gym to arrest Andy, who turns out to be Detective Tak's brother. Mu-gak pieces together the random clues, which now form a very clear picture of the victim's death. He describes a fight between Andy and the victim, where Andy had cut, then choked his former coworker to death. He'd called his brother for help, and Detective Tak had taken off the man's bloodied jacket and replaced it with Andy's clean one.
Detective Tak had also been the man in the hoodie who'd carved the barcode into the victim's arm, though we now see that he'd been horrified at his own actions. He'd carried the body to the park, and later planted the pen that he'd stolen when he'd gone to Baek-kyung's office to question him.
Mu-gak takes Andy to the station, and when Detective Tak sees him he realizes the truth is out. He wails at Andy for not following the plan — Andy was supposed to blame his brother if he were caught, so as not to leave his wife and daughter alone, and both brothers are wracked with sobs as the whole team watches.
That night Mu-gak goes to Ae-ri's latest restaurant, and she texts Cho-rim that her cop friend is there. Cho-rim is with Woo-ya, who'd asked her out to eat for some reason, but she says she can't go after all because her great-aunt died and runs off.
Mu-gak isn't there alone though, and he's soon joined by Lieutenant Yeom. She's buying him dinner for catching the real killer and getting her assigned back to the special investigation team. She also brings him a card giving him access to the police database of special cases, and Mu-gak's face lights up.
This is the thing Mu-gak has been doing all this for, the one reason he joined the police force after his sister was killed. Now he can access her file and find her killer. He's so happy that he gifts Yeom with his first genuine smile, and he's positively glowing. His expression is so open and excited, Yeom can't help but grin shyly back at him, and it's obvious that she finds him attractive.
Cho-rim enters the restaurant, a bit nervous but looking forward to seeing Mu-gak. But instead of finding him alone, she sees him at a table with a pretty woman, both of them looking at each other like they're the only two people in the world. Seeing Mu-gak smiling for the first time, and that beautiful smile directed at another woman, Cho-rim's own excited smile dissolves.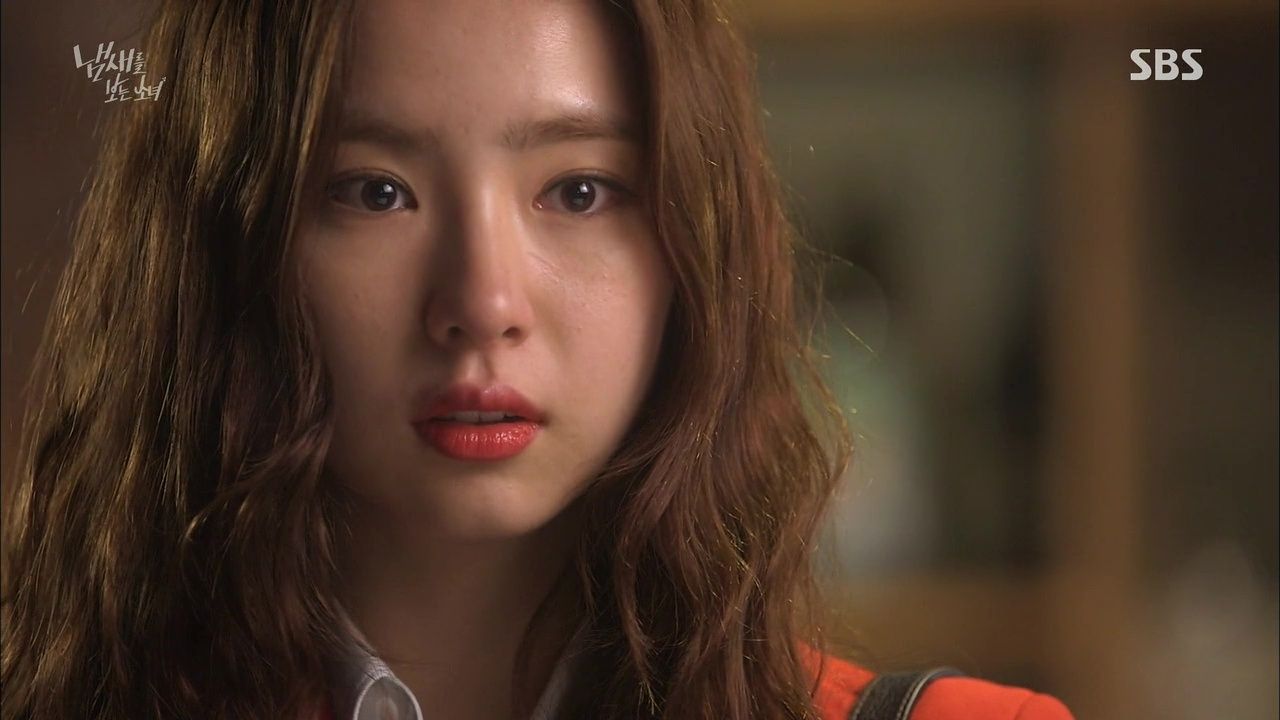 COMMENTS
I'll admit that, though I like the quick pacing of the show, I wouldn't have minded if the romance part of our story had taken a bit longer to kick in. I'm not really complaining because I do love me some romance, and I have a feeling that Mu-gak and Cho-rim's love will be epic. But Cho-rim's little mindless flirtations and Mu-gak's resulting confusion are so cute, I could have done with another episode or two of them dancing around their growing attraction. But since I do like romance, I'm also happy to see Cho-rim starting to respond to Mu-gak as more than just a partner, and realizing that she might actually like him as more than a friend. Though, oof, that has to be tough to see the guy you just maybe possibly realized you like, smiling for the very first time — at another woman. Poor Cho-rim, this is probably her first love (that she knows of) and she barely gets a chance to register her feelings before they get stomped. But if I know this show, and Cho-rim, she'll say something pretty soon and this misunderstanding will be cleared up quickly.
I'm enjoying how Cho-rim is able to help Mu-gak solve his cases, because her ability to see scents makes her a unique resource that only Mu-gak can utilize. I love how he trusts her judgment when she says she knows this is the restaurant where someone ate, or this person must be related to this other person. It would be so easy for him to brush off her deductions based on her young age and lack of life experience, but he always fully believes her once she explains how she knows something. It doesn't hurt that Cho-rim is one smart little cookie, and she never makes a statement about the scents she sees unless she knows for sure she's right about them.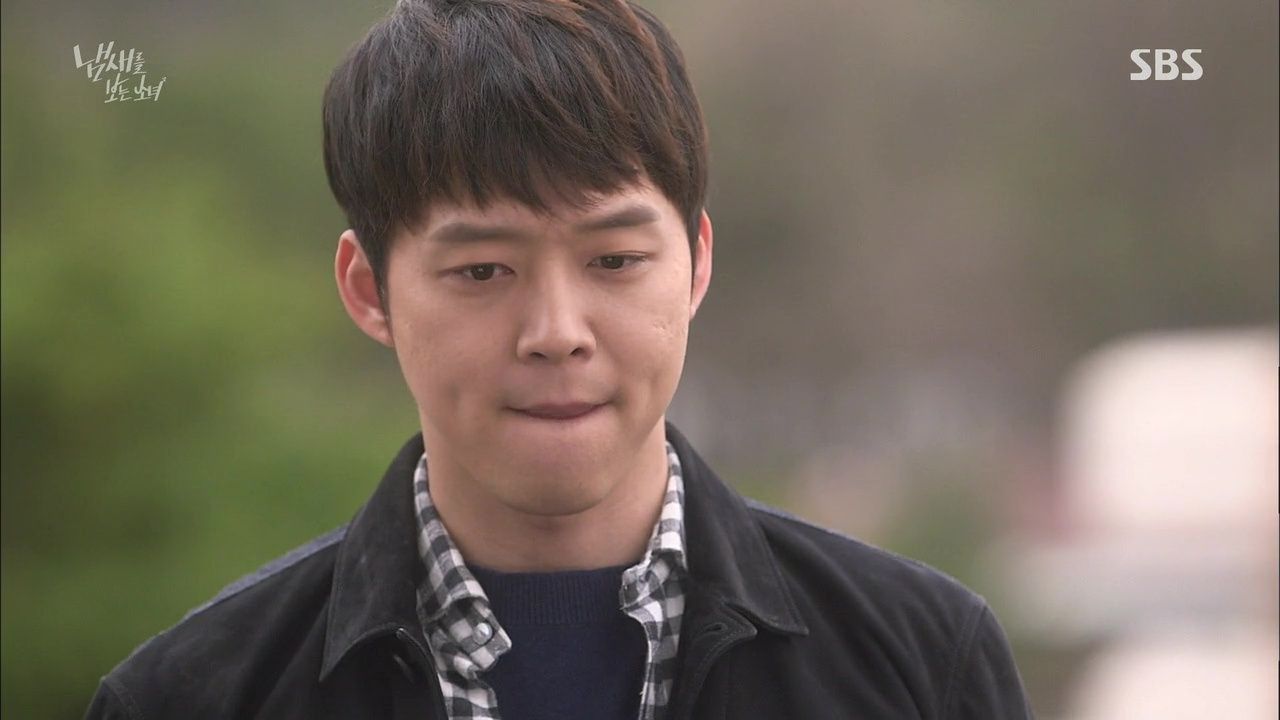 But Mu-gak is smart too, in the way he uses her clues. I was expecting a lot of awkward situations where he makes claims to the other detectives that he can't back up without revealing his source and being laughed off the police force. But instead, he carefully does his own investigating until he can convert Cho-rim's scent clues into real ones, making sure he can back up her findings with verifiable fact before presenting those findings to the other detectives. He's actually a much better detective than he originally seemed — that or maybe it's Cho-rim's influence that's making him better than he was alone.
I'm starting to have some doubts about doctor Baek-kyung's likelihood of being the Barcode Killer, because as some readers have pointed out, it does seem like the show is pushing him hard as the main suspect. It's all just so obvious. Not that no drama has ever revealed it's main baddie early-on before, but I feel like this show is giving us way too many reasons to be suspicious of chef Jae-hee also (though if Baek-kyung starts constantly asking after everyone's health, I'll retract this statement). I also don't necessarily think they're working together anymore, though that's just based on the fact that Jae-hee seemed surprised that Baek-kyung already knows Cho-rim, and I could very well be wrong about that, too.
Basically, more kudos to Girl Who Sees Smells for keeping us on our toes, and laying out the clues and suspects with enough transparency to allow us to have fun making wild guesses at the truth, but holding enough cards close to it's vest to keep us doubting even our own theories. All I can say is, keep up the good work, Show!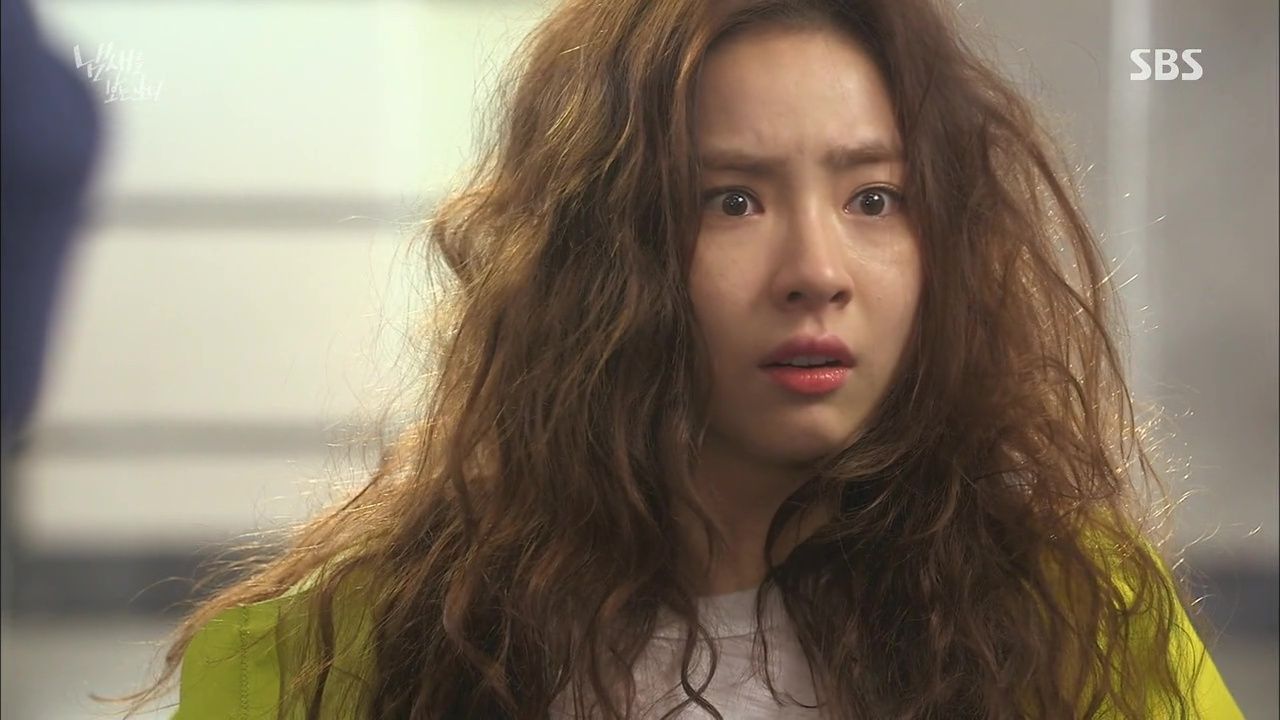 RELATED POSTS
Tags: featured, Girl Who Sees Smells, Micky Yoochun, Namgoong Min, Shin Se-kyung, Yoon Jin-seo