Falling for Innocence: Episode 16 (Final)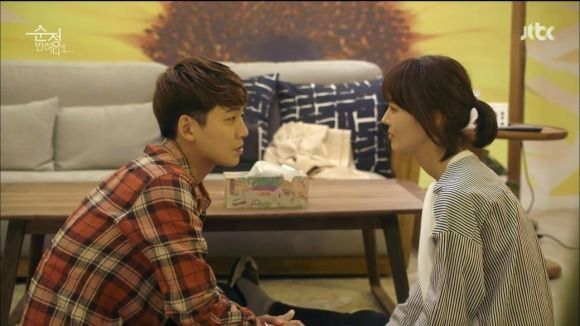 Sweet and bubbly with a pinch of business time, this is a finale that heightens the drama, lays out its separate but loosely interlocking plot threads, and then poofs those threads into a neat little bow. How did we get from Point A to a Point B so full of sunshine that it may as well be listed as a treatment for depression? The world may never know. And that's okay.
SONG OF THE DAY
History – "Might Just Die" [ Download ]
Audio clip: Adobe Flash Player (version 9 or above) is required to play this audio clip. Download the latest version here. You also need to have JavaScript enabled in your browser.

FINAL EPISODE RECAP
After the romantic fishing trip, Min-ho flashes back to Dr. Jo's dire warnings about the side effects of the immunosuppressives he'll now be taking. The list is frightening, but Min-ho steels himself with the mantra that he can only feel the pain because he's alive.
With Hermia's bankruptcy looming on the horizon, the position of the company's legal trustee will either fall to Joon-hee or someone Min-ho's appointed—though Joon-hee feels assured that he'll come out victorious, as he later brags to Min-ho.
Min-ho just tells him that they'll see what happens, even though Joon-hee is trying his darnedest to lobby his legal connections, most importantly the bankruptcy case's judge, to make sure things go his way.
While Min-ho's loyal advisors wish him well on his last day as chairman, Joon-hee gloats to Ji-hyun that everything is going as planned. Ji-hyun gives him further cause to preen when she tells him that Gold Partners' marketing team has been pulling double time to get his name out there—that way, when he becomes the legal trustee of Hermia, he'll have the public's support too.
Min-ho says his fond farewells to his secretarial staff before asking Soon-jung to help him carry his belongings downstairs. He just wants some alone time with her, though she can't help but be concerned that he's only looking sicker by the day.
By way of distraction, Min-ho pulls her into an embrace and stays there. Soon-jung protests weakly due to the public nature of the hug, but Min-ho doesn't care. As to his new unemployed status, she doesn't see it as such a bad thing, because it means he can finally take a well-deserved break.
She can't say no when Min-ho cutely asks if she'll celebrate his unemployment with him later, nor can she when he asks her to just stay holding him for a little while longer. It takes her some time, but she returns the embrace fully.
Ok-hyun is currently having to serve her probation at a school, where the besotted Secretary Oh joins her to talk about how to stop Joon-hee. Ok-hyun bemoans how she should've just gotten that door open that day, but becomes distracted when she spots Secretary Oh sporting a loose cufflink.
In the process of fixing it much the way a mother would her child, she gets close enough for Secretary Oh to kiss her on the cheek. She slaps his lips immediately, then chases him across the schoolyard until her detective buddy calls—he's found the junkyard where Joon-hee scrapped his murder vehicle.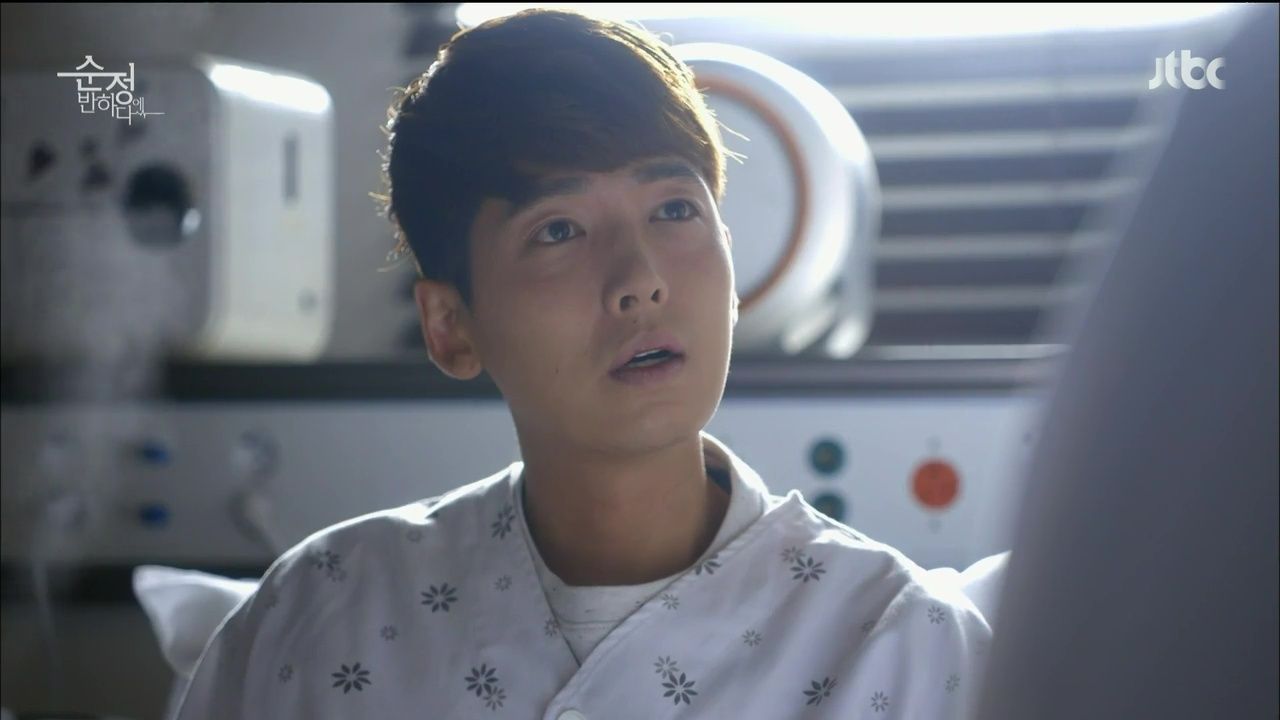 Min-ho shows up for his plasma separation procedure and immunosuppressive injection dutifully, but Dr. Jo is decidedly less optimistic than his patient. They're running out of options, and Min-ho is running out of time.
Despite hearing the grim news, Min-ho looks at the situation in his compulsively glass-half-full sort of way, since they still have options they haven't tried. He's not giving up hope yet, so neither should Dr. Jo.
Ok-hyun sits Soon-jung down as she prepares to tell her about Joon-hee, even though they haven't been able to find the car he dumped with the DNA evidence on it.
When Ok-hyun tells her that she wants to talk about Dong-wook's case, Soon-jung is quick to remind her that the case has already been closed—more for her own sake than Ok-hyun's.
But Ok-hyun breaks the news that it's not such an open and shut case, since it wasn't just a hit-and-run like they'd initially believed, but an actual murder. If Joon-hee's father took the blame for someone else's crime to the grave with him, who does Soon-jung think he did that for?
Soon-jung refuses to believe it at first, almost to the point of abject denial. "Why would he kill Dong-wook?" she asks, genuinely mystified. She's ready to leave without hearing more when Ok-hyun gives her Joon-hee's motive: He was the culprit behind the product tampering case, Dong-wook found out, and so Joon-hee murdered him to cover it up.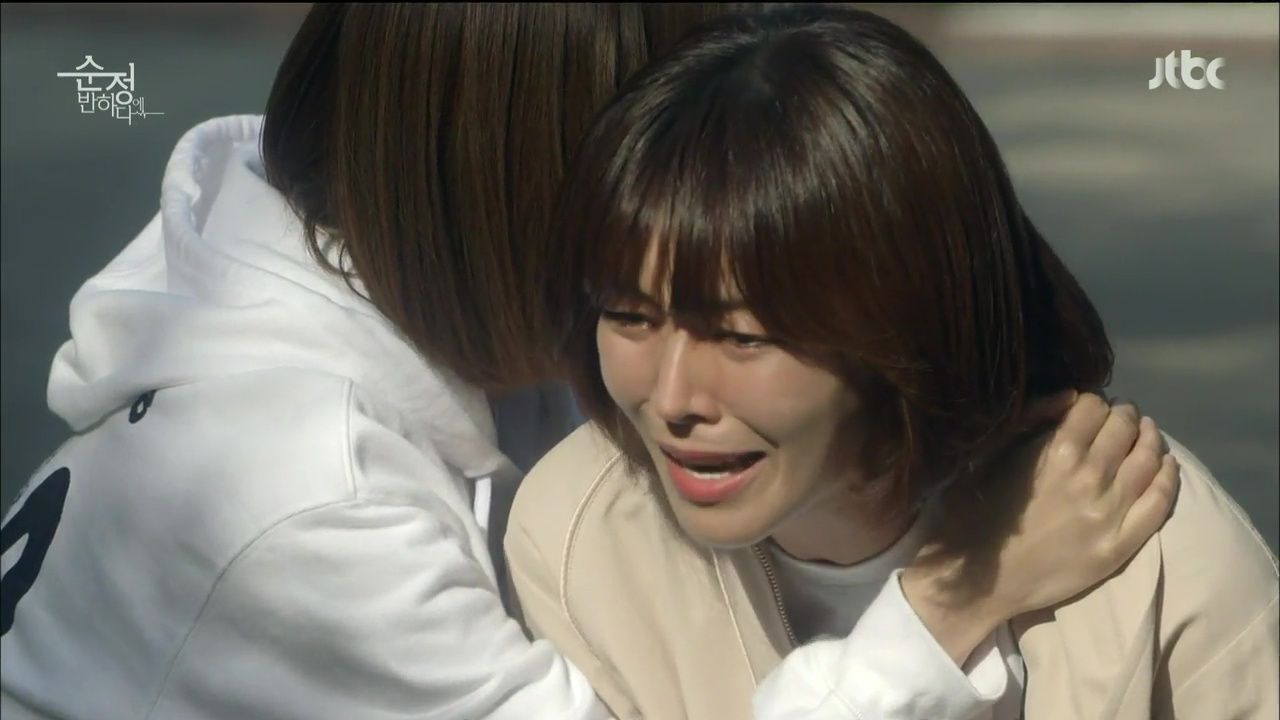 That's when it really hits Soon-jung, and her desperate attempt to get some air goes awry when she sinks to her knees sobbing. "How could he do that to Dong-wook?! They were best friends. They spent twenty-four years together!" she screams uncomprehendingly. Poor thing.
Papa Ma takes Min-ho out for a meal as consolation for his last day as chairman, taking special delight in Min-ho's enjoyment of a dish his son always loved. But Papa Ma wants most of all to remind Min-ho to keep his chin up, because he and everyone at the central factory knows he tried his best.
He reminds Min-ho that the way of the world favors those who throw caution to the wind to achieve their goals, and this time, it was Joon-hee and Gold Partners. How could Min-ho have ever hoped to compete against a force like that? "Just as your uncle ended your father's dream, Joon-hee and Gold Partners are ending your dream using whatever means possible."
Min-ho still feels responsible, despite Papa Ma's cheerful demeanor in telling him that he should still be proud of himself. He's grown up well, he's a good person, and his employees will forever be grateful to him. Aww. Can't Papa Ma just adopt Min-ho?
Soon-jung goes home to find Min-ho waiting on the steps, unaware at first that Ok-hyun called and told him about their conversation. She hides her pain by smiling, while Min-ho makes a half-joke about why his terrible fate includes liking her more than she likes him. It puts him at such a disadvantage, he whines.
Even though today was his last day as chairman and he should be comforted for it, he recognizes that she needs comforting more than he does, and will gladly give it to her.
Soon-jung's reaction to him revealing that he knows about Joon-hee and Dong-wook is surprisingly tame, and she graciously accepts the consoling hug Min-ho gives her. "I'm so relieved to have you next to me," she admits, which makes him light up like the Fourth of July.
Unfortunately, Min-ho's go-to consolation methods are an epic fail, since he can't clean Soon-jung's ears without poking too deep or cut her nails without drawing blood. Haha.
He pouts cutely that he was just trying to do what his mother did for him whenever he cried, and Soon-jung can't help but laugh. "You comfort me in such strange ways," she giggles. "No matter how serious the situation is, you always make me laugh."
Later, Soon-jung sees a picture of Joon-hee in the newspaper and remembers Ok-hyun telling her that their only hope for the truth lies in obtaining the fish watch that Dong-wook clawed off his wrist. Hmm.
She calls Ok-hyun at her probation job where Secretary Oh has bedecked them with Superman and Superwoman aprons to tell her that she'll do it—she'll get the watch out of Joon-hee's house. Secretary Oh calls Min-ho to tell him what she's planning, but Soon-jung won't answer when he calls.
Instead she goes straight to Joon-hee's house while Min-ho calls Ok-hyun/Wendy in fits. How could she have let Soon-jung go by herself? Short answer: She's a terrible friend.
Things are pretty awkward between Soon-jung and Joon-hee, mostly because she couldn't think of any good reason to explain her sudden visitation other than to talk about Hermia's future.
Joon-hee sighs that that's all she wants to talk about but obliges her nonetheless, unaware that Min-ho, Ok-hyun, and Secretary Oh have gathered in his parking garage. But because they can't risk exposing Soon-jung by banging on Joon-hee's door, they set off his car alarm instead to distract him and give Soon-jung time alone in his place.
She sets to work the moment Joon-hee excuses himself, weirdly searching everywhere a watch wouldn't be (bookshelves and couch cushions and media consoles, oh my) before she comes across the fish watch.
But Joon-hee's return catches her off guard, and she's unable to pocket the watch before he arrives. She hides it under her feet until he's distracted by another car-related call, and very obviously kneels down to pick it up while he's on the line.
Still, it's not enough to arouse his suspicion and she gets out without further delay, making her a bundle of nerves when she delivers the watch to Ok-hyun in the lobby. It'll take some time to have the watch tested for blood, but Ok-hyun hopes to do it in time to knock Joon-hee down a million pegs, since today's the day he'll be named as Hermia's legal trustee.
Min-ho has his own ace in the hole though, as he makes a call to the newspaper office where he was attacked before. Did Joon-hee not remember that he lives in a digital age where memory cards can be copied?
Joon-hee wins the court ruling to become Hermia's legal trustee during its bankruptcy and returns to Hermia triumphant, followed by a group of eager reporters. But they all turn their heads when Min-ho shouts from the entrance: "Hey, Murderer!"
In front of the reporters, Min-ho calls Joon-hee out for being Dong-wook's murderer, as do Ok-hyun and her buddy when they show up to arrest him. Their warrant is based on Noh Hyungnim's testimony as well as from the scrapyard's owner, not to mention the DNA evidence they found (very, very quickly) on the fish watch.
It's enough to have Joon-hee carted off in handcuffs, while a dozen flashing cameras follow his every move. He glares hard at Min-ho until he disappears out the door, and Min-ho glares right back.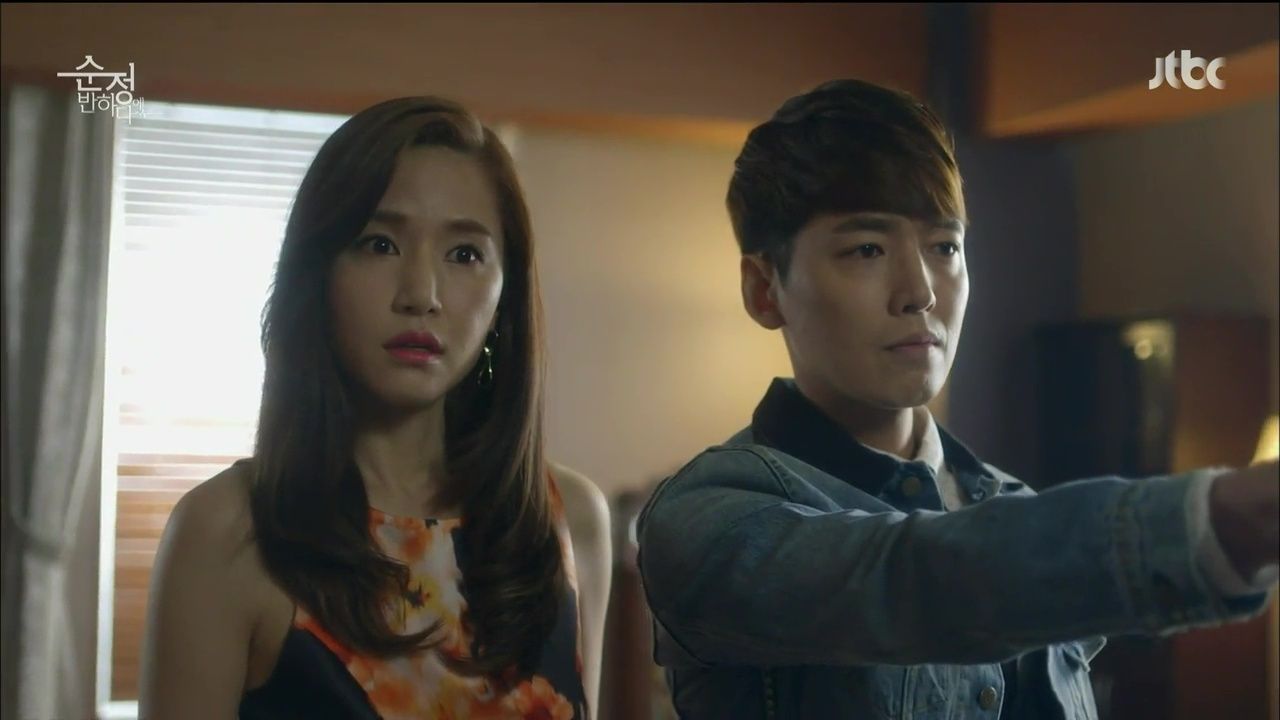 Min-ho goes to Ji-hyun next so he can show her the news reports flooding in about Gold Partners' nefarious plans for Hermia. Min-ho's responsible for the leak, which is what he took to the newspaper instead of a copy of the memory card. Because no one knows how to make those.
Using his past with Gold Partners as proof, Min-ho in essence threw himself under the bus in order to throw Ji-hyun and Joon-hee under too. The media is scandalized that Gold Partners didn't have Hermia's best interests in mind, which is apparently enough for Hermia to be able to sue Gold Partners despite its bankruptcy.
Whatever the case, all the blame now moves onto Joon-hee, and Hermia is in a much more advantageous position than before. Min-ho knew that this could end badly for him as well and prepared for it, enough to tell his boardroom advisors that he'd turn himself in along with the evidence that Gold Partners was manipulating Hermia and self-destruct with Gold Partners in the process.
Min-ho brings it home to Ji-hyun when he dares her to fight him on Gold Partners' behalf, even though she'll lose. And Gold Partners will have to pay their weight in compensation fees to Hermia, so, game over. Or something.
On their special set of stairs, Min-ho sighs to Soon-jung that he won't get away from this case without facing punishment for his past with Gold Partners. He's okay with that though, because it was all to save the company. (How does exposing Gold Partners for being shady give Hermia money it doesn't have to sue Gold Partners for being shady?)
Min-ho's only regret is that he won't be able to see Soon-jung when he goes to the prosecutor's office tomorrow, and possibly in the near future while he pays for his past. He lights up when Soon-jung suggests that they spend the night together instead, though of course he wants to know what they'll do.
Unfortunately her plans to watch TV and cook aren't as scandalous as he'd like, but he's all in anyway. They have an idyllic night eating his terrible food and playing silly board games, but end the night lying in bed. They joke about Min-ho's good looks netting him prison popularity before talking about their future, and all the things on their list they'll accomplish once he's served his time.
He tells her that he'll wait on the stairs where he always waits when he's freed, and just smiles warmly when Soon-jung yawns that she's sleepy and half-consciously wonders why Min-ho's hands look a bit blue. (Is he losing circulation?)
She falls asleep facing him, and Min-ho sighs, "You have to keep on smiling even if I'm late, or if I take longer than expected. You have to smile. That's the Kim Soon-jung way." He repeats the same words to her the next morning as they part tearfully, with Min-ho being escorted away in a police car.
In Joon-hee's interrogation room, Ok-hyun presents him with the confessions of the thugs he hired to brutalize Noh Hyungnim and Min-ho as further charges against him. Not to mention the product tampering case that's been reopened because of him.
She also adds that Gold Partners has thrown him to the wolves by blaming everything on him, and that all his prosecutor friends have turned against him now that he no longer has Gold Partners' support. Even Ji-hyun is skipping town to save herself.
Cut to Ji-hyun, who's upset that Operation: Hermia Takedown has failed and that Gold Partners will have to pay compensation. She undergoes some rigorous interviews on her way to the airport, but methinks that's all the closure her character gets/needs, and certainly more than she deserves.
Soon-jung gets some off-the-record time with Joon-hee in the interrogation room with one burning question on her mind: "It wasn't just anyone. It was Dong-wook. It was Dong-wook! The person we were friends with, Dong-wook! How could you do something like that?!"
"I did it because it was Dong-wook," Joon-hee replies solemnly. "In front of his shallow sense of righteousness, the friendship we had for twenty-four years meant nothing to him." Soon-jung cries uncomprehendingly, wondering how Joon-hee had the nerve to stay by her side after doing something so horrible.
Joon-hee honestly believed that as long as he won and climbed higher, whatever transgressions he'd committed would be covered up. Even now, he argues, he's the one taking the fall while the higher-ups are getting away with their crimes. "Why? It's not because I'm worse than them. It's because I don't have any power," he explains.
Soon-jung just shakes her head as she asks how he became this way. There's nothing left for him now—his father's gone, he's lost all his supporters, he's ruined his life. "What did you hope to gain by coming this far? In the end, we've lost our friendship, and you threw away that precious life."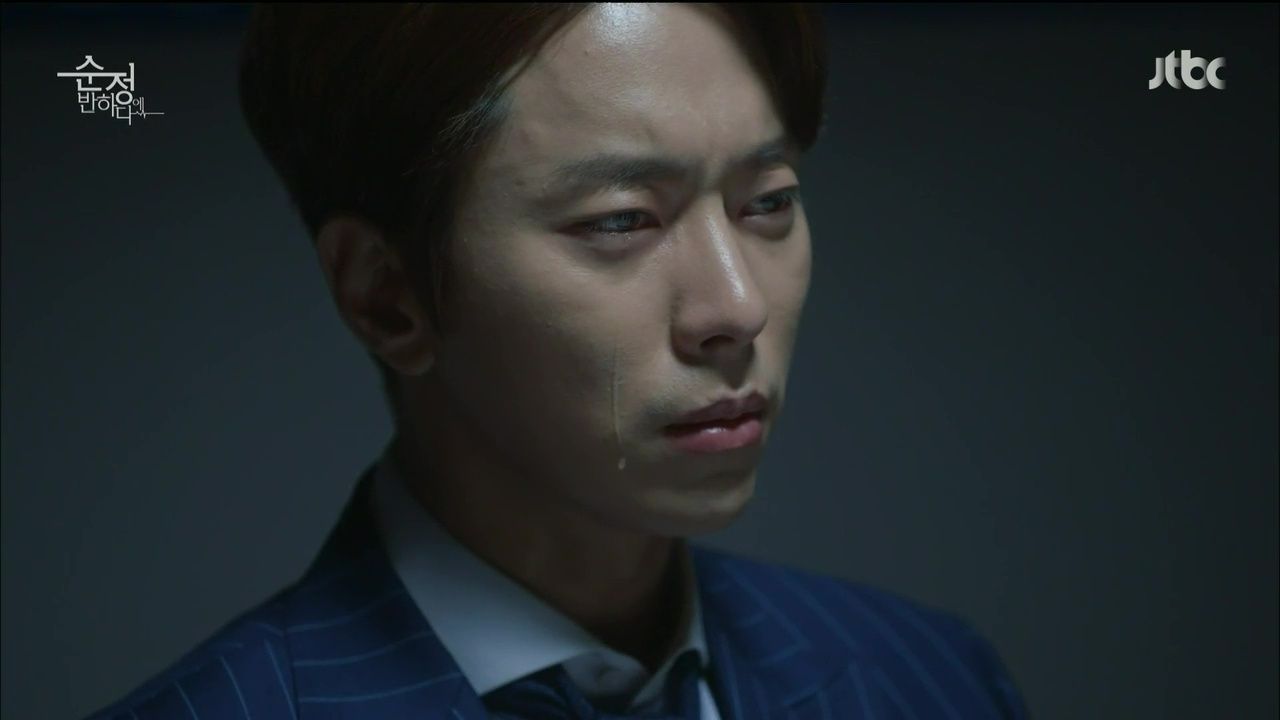 Joon-hee's face contorts in pain before he allows a (very manly) tear to fall. Soon-jung just cries, and for the first time, Joon-hee seems to understand the ramifications of what he's done.
Due to the severity of Min-ho's illness, he's given a short and suspended prison sentence and probation. Soon-jung finds out about his transplant rejection only when the verdict is handed down, which comes as a total surprise to her.
Secretary Oh transports a tired-looking Min-ho to the stairs he told Soon-jung he'd wait for her on, and that's where she finds him. He greets her when she arrives and reaches out to her as the world turns blurry, only moments before he falls unconscious.
A tearful Soon-jung rides in the ambulance with him to the hospital and looks on powerlessly as doctors try to revive Min-ho's flatlined heart. All we see is Min-ho's unresponsive face after a final shock from the defibrillator, and then Soon-jung's shellshocked face. Is he…?
Three months later.
Soon-jung is busily preparing for Ok-hyun and Secretary Oh's upcoming wedding as Ok-hyun's maid of honor. Even Papa Ma is coming, which means everyone that needs to come is coming. Except for the person that helped them meet, but that's a topic Ok-hyun deliberately stops Secretary Oh from going into.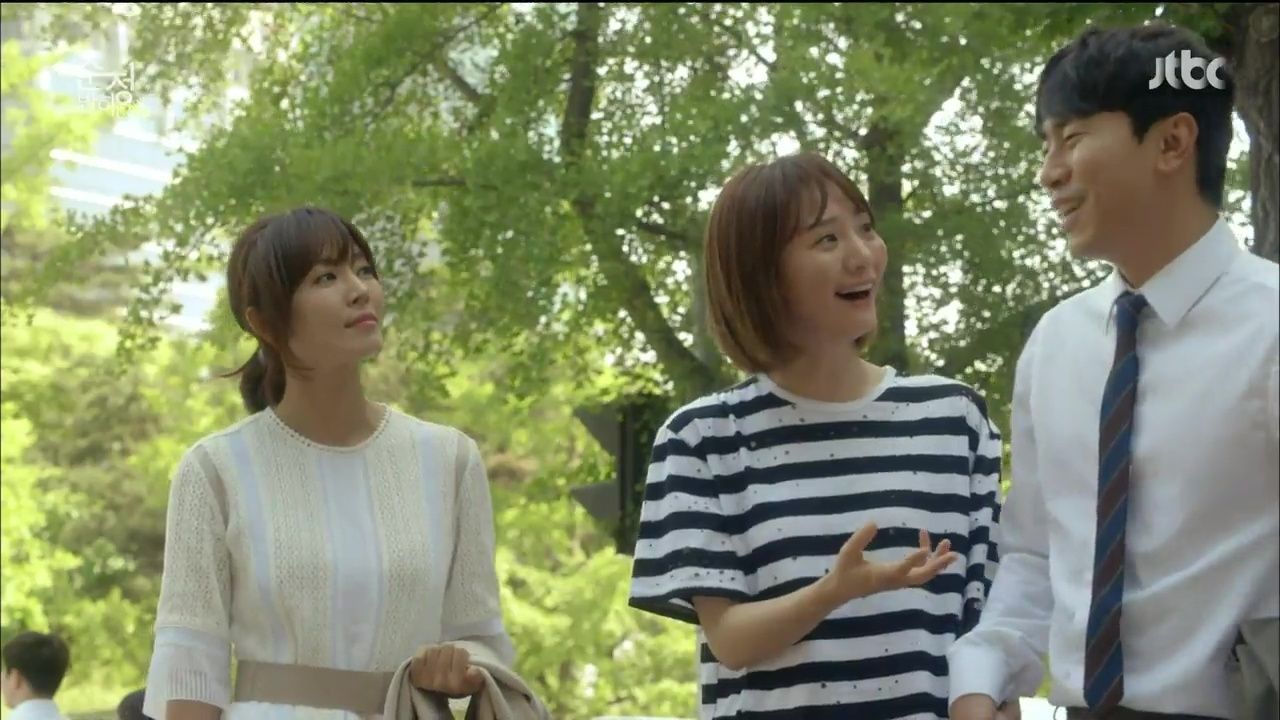 In voiceover, Soon-jung narrates everyone's separate happy endings, from Min-ho's dedicated secretaries to Director Yoon and his hitherto unknown wife. Papa Ma received a promotion and now runs the central factory, as well as the sales for the New Product.
"When I think about how you made this happiness of ours possible, I start to miss you," Soon-jung narrates, as she visualizes Min-ho walking across the street from her like he used to. Even a free lollipop reminds her of him.
It's the day of the engagement party, and Soon-jung is brought there with the help of a taxi she didn't call. Hmmm. Similarly, what at first seems to be a reservation mistake at the venue turns out to be an opportunity, as the party is taken outside to be dazzled by decorations someone's arranged.
They see a figure standing behind one of the white curtains, and the wind blows…
…To reveal Min-ho, looking straight out of a catalogue. They all smile to see him as though they weren't expecting to, with Min-ho's cheeky greeting consisting of just, "Hi."
Turns out they weren't expecting him because he was supposed to be away on business, and not because he should be dead. "Wendy and Tinkerbell are getting engaged," Min-ho says as he raises a glass. "Of course Captain Hook must be present."
The party is a happy one, especially with the knowledge that Min-ho has been reinstated as Hermia's CEO. He and Soon-jung hold hands at the table, smiling.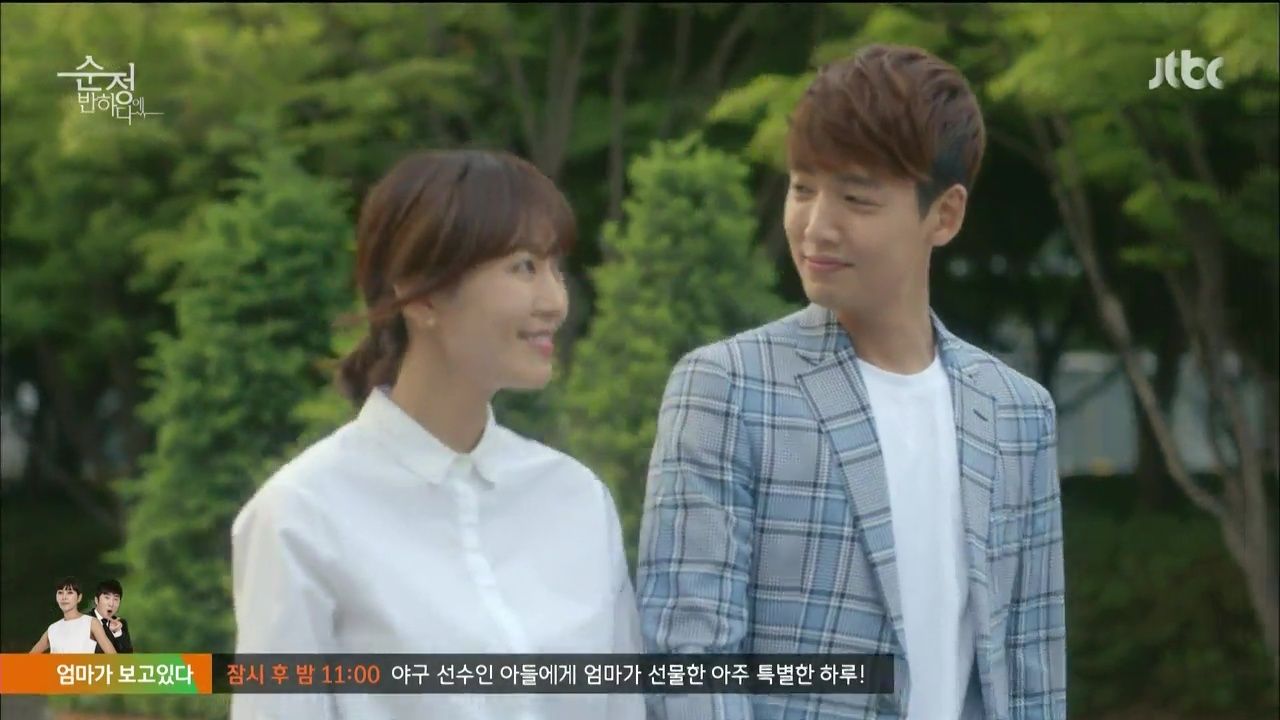 They leave holding hands, while Min-ho has his "dessert" in the form of a quick kiss. Aw. He explains that he'll always make time for love over business, though they only have this weekend before he has to go stateside to finish the expansion happening there.
That gives them thirty-six hours to kill, and as they walk away in total bliss, we hear Soon-jung say in voiceover that Min-ho's learning how to coexist with the people he wants to protect.
They sit on their stairs and watch the people passing, with Min-ho ruling that he'll kiss her every time someone passes walking left, while she'll have to kiss him every time someone passes walking right.
At first all the kisses are his to give, until an enormous group of people passes walking right. Min-ho whoops in joy as he takes off his jacket and shoes in order to ready himself for all the kisses she'll have to give him. Haha.
Soon-jung giggles when he leans in for his payment, and says in voiceover, "For the rest of my life, I'll do my best to live beside you and love you. Because this life would be a waste simply to love."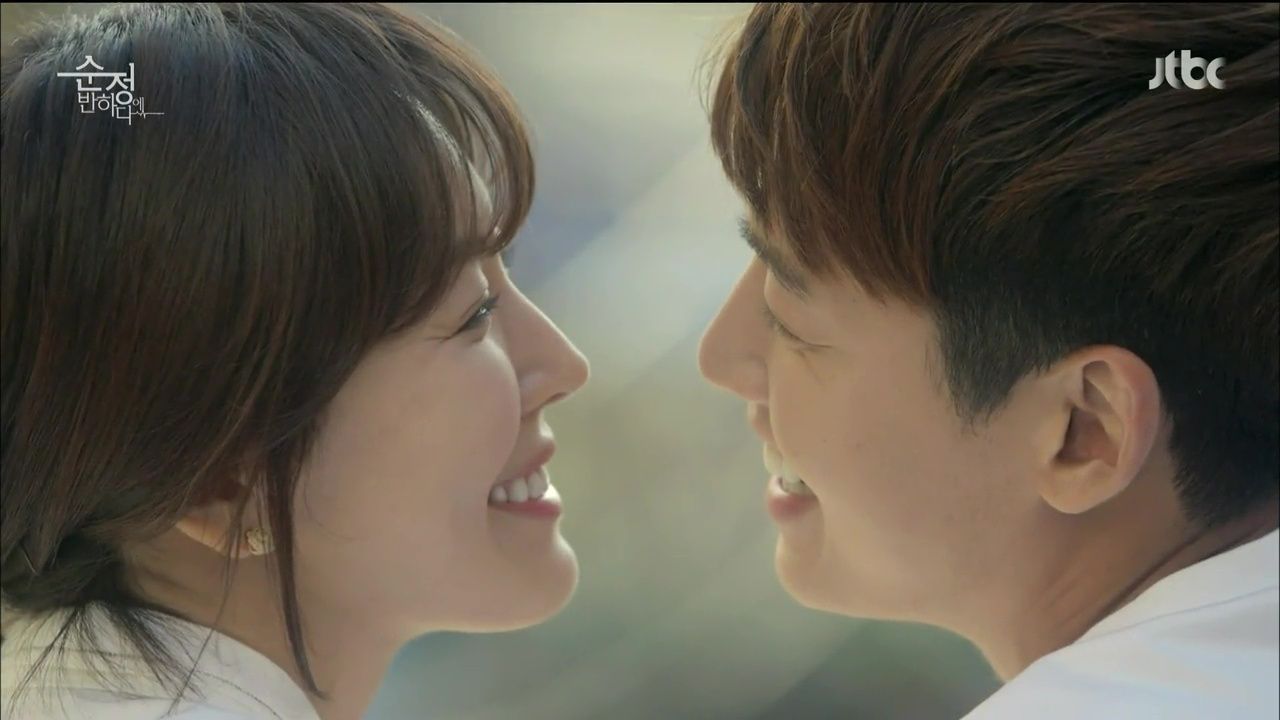 HEADSNO2'S COMMENTS
I can't figure out whether it's better that the show introduced the transplant rejection thread only to magically solve it and make it entirely moot, or worse that they put the focus on a really unnecessary plot point without a solution in mind for the sole purpose of causing drama that was then made entirely moot. I've said it before and I'll say it again: Time skips are not a panacea, dramaland!
And that's especially true for life-threatening illnesses, which aren't the kind of thing that gets better with time or solves itself the way human relationships sometimes can in fiction/life. Putting aside the fact that Min-ho's transplant rejection issue came way later than it medically should have, the show put a lot of effort into having us believe that his life really was at stake, so to wipe that away without a real explanation in the final hour feels cheap. Don't get me wrong—I'm not out for blood or wishing that Min-ho would have died, only that if the point of introducing his dire situation was to make us worry for him so that we'd be relieved when he came out fine, it didn't land. Mostly because the show wasn't interested in doing that so much as it was interested in killing time, as Soon-jung would say.
It's also disappointing that the show chose to go with the transplant rejection story as a source of last minute drama when it used Min-ho's fake amnesia scene in a very meta way, seemingly telling the audience that it knew amnesia would be the tawdry and overused way to go, but that it was better than that. And then it wasn't so much. Ah well, can't win 'em all.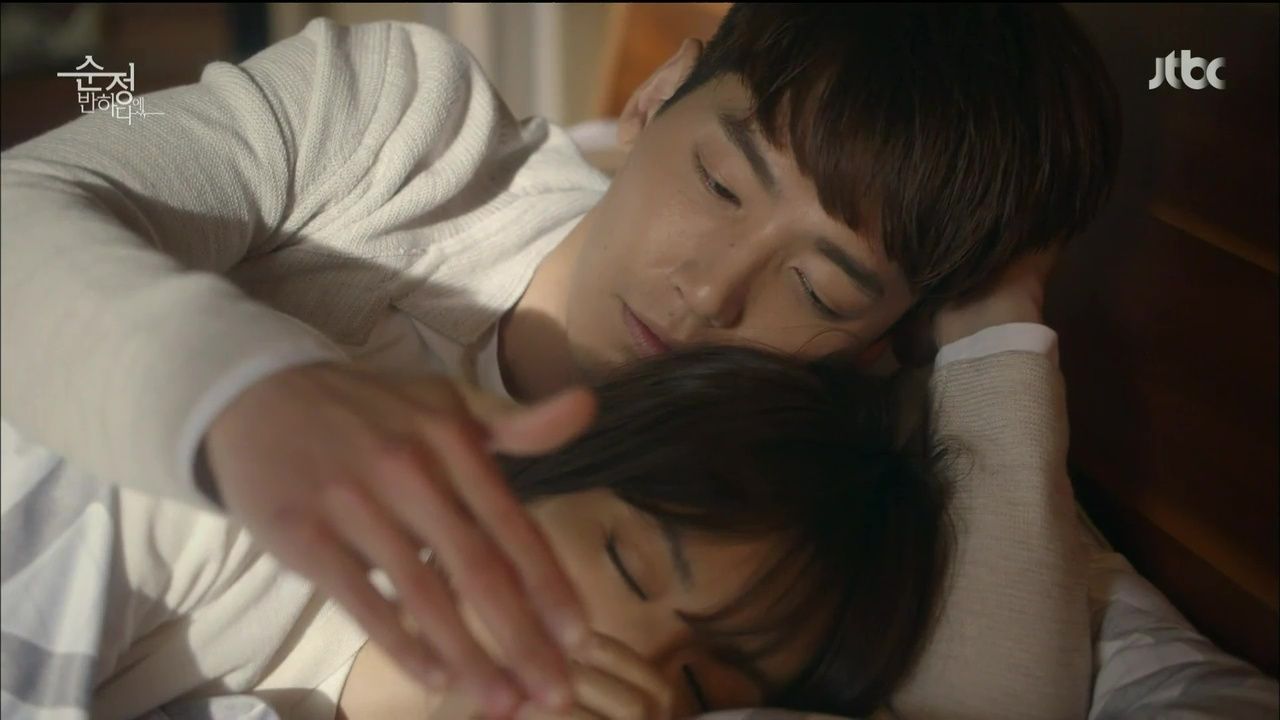 While Soon-jung and Min-ho's relationship ended on a light and bubbly note, I did find myself wishing that Soon-jung would've been given a bit more agency in… well, everything. Where did the smart, capable, driven secretary from the beginning of the show go? Min-ho was right in pointing out that Soon-jung could always be found with tears in her eyes, and that's probably due to her ending up as such a reactionary character rather than a proactive one. Infiltrating Joon-hee's office was the most forward-thinking thing she did this entire episode, but even that ended up as a botched opportunity. That moment was all but engineered to make her look cool, and it somehow missed the mark—though Soon-jung had every reason to be afraid of Joon-hee and clumsy because of it.
I really came to love Min-ho over the course of this series, and while he never failed to be cute and cuddly in this finale, it was frustrating that he never gave Soon-jung enough credit to engage with her on a deeper level. He had every opportunity to tell her about his illness but went the noble idiot route instead, which he pulled off, but having Soon-jung find out about another bad thing way later than everyone else again made it seem like we'd gone backward with her. Of course we know that Min-ho did it out of love and his need to protect her, but at that point in their relationship, hadn't Soon-jung earned the right to not be treated like a frail flower?
That poor thing went through a lot over the course of one series, and only a soulless robot would sniff in derision at the idea of her getting her happy ending. Without going into the frankly ridiculous business machinations or beating the dead horse that is Joon-hee (in that single tear he cried was all the wasted potential of Yoon Hyun-min's impressive acting capabilities), I can say I'm happy Falling for Innocence never made my blood boil. Being fairly innocuous is better than being absolutely batshit insane, right? Besides, sometimes it's way more important to just learn how to smile.

GUMMIMOCHI'S COMMENTS
Somebody get me a lollipop, because I've already got a cavity thanks to these two. As much as I'm delighted that our main couple got their happily ever after, I admit that I was fully prepared for a different outcome, one where Soon-jung would need to continue living her life without Min-ho. But then again, when you've got a drama that falls under the newly-coined "healing" genre, it's near impossible to not get a happy ending.
Speaking of which, it's always been evident that the show was more about Min-ho than about Soon-jung, despite having her name in the series title. The message was clear: turning Min-ho from his cold and ruthless ways who couldn't care less about people or life itself into a generous and human being who started living. We seriously have Jung Kyung-ho for injecting life into a hero that was equally unlikable and later on, lovable. Carrying a drama on one character's shoulders is no by means an easy feat, but Jung's acting range and stage presence speaks for itself. Even in the times we couldn't see the inner gears turning in his head (which is more of a writing flaw than an acting performance) Jung could bring us into the moment when it counted.
I wish the same could be said for Joon-hee, whose nonsensical behavior and thinly-strung motivation made him a wet blanket of a villain. Have you learned nothing from how Gold Partners treated Min-ho in your imitation character study, Joon-hee? Perhaps not, since the show chose to draw out self-reflective moments through other characters. But in all honesty, it really is a shame Joon-hee turned out to be a rotting apple because Yoon Hyun-min has shown time and time again that he's able to draw life from even the most minor of characters. So here's to hoping that the next drama (still with your best bud Jung Kyung-ho, preferably) is a better one. Or maybe I'm still desperately clinging to Heartless City.
I hoped I'd be able to drive-by the central murder case like Innocence did in this finale, but there isn't much I can say about the suddenly super efficient investigation apart from noting that Ok-hyun is a terrible friend and an even worse detective. I can't give her any credit when her partner did all the work, and there's a tiny satisfaction when Min-ho called her out for endangering her friend's life by sending her into the lion's den. Though I honestly had nothing to fear because Innocence was able to sap the dramatic tension from its conflicts by its third act anyway. By the third or fourth Hermia takedown, we could see the show building up pressure-point moments to then swiftly sweep them under the rug. Innocence is by no means the worst offender of doing this, but it saddens me that by doing so, it undermines the opportunity to draw out key moments of emotional attachment to our characters and the importance of said obstacles in this dramaverse. Although, bringing Min-ho back from the dead without a proper explanation is difficult to overlook.
In fact, that's exactly how self-awareness worked in this show—with people speaking into other people's lives. The strange thing wasn't that hearing the truth would benefit the other character, but rather it felt like the person spoken to wasn't even aware of the truth until someone told it to them. It's an odd merry-go-round way to draw out decisive moments in our characters, especially when your villain seemingly sounds like he's making sense because he's spouting the truth about another character for the latter's character development.
Even though it took some time, everything else seemed to fade once Min-ho and Soon-jung finally got to be together. It's no secret that they're too cute for words, and you know that they'll be taking wise advice from Papa Ma over bowls of makgulli and three packs of ramyun for the rest of their lives.

RELATED POSTS
Tags: Falling for Innocence, featured, Jung Kyung-ho, Kim So-yeon, Yoon Hyun-min