Falling for Innocence: Episode 9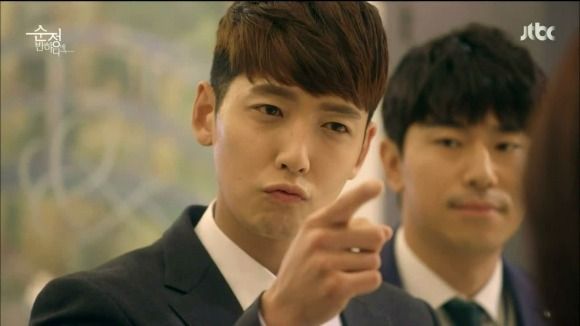 For all the adorable and loving moments we get on this show, it should really be called Falling for Min-ho. I'll never grow tired of watching our hero acting like a lovesick puppy around the girl who makes him go weak at the knees. While he may question where those feelings are coming from, he's certain of how they will continue to shape him into the man he's becoming.
What's more is that Soon-jung rises to the occasion this hour to team up with Min-ho's aspirations to save Hermia and everyone in it. Every superhero needs a superpower, and she has no idea that she's it.
SONG OF THE DAY
Kang Kyun-sung – "이번엔 달라 (This Time, It's Different)" [ Download ]
Audio clip: Adobe Flash Player (version 9 or above) is required to play this audio clip. Download the latest version here. You also need to have JavaScript enabled in your browser.
EPISODE 9 RECAP
Despite the frosty greeting, Papa Ma welcomes Min-ho into his home, giving polite answers to the latter's forthright questions about his deceased family members. His mention that Soon-jung was his late son's fiancee prompts Min-ho to ask if his son was Dong-wook.
We already know it is, and Min-ho's eyes grow wide when Papa Ma points out that his son had the same lollipop-sucking habit. The revelation that his new heart once literally belonged to Dong-wook triggers another round of heart palpitations.
Although Joon-hee is assured that Min-ho won't be able to win the hearts of the union members — which in turn will sway the board — anytime soon, he does take note of the news that Soon-jung frequents the central factory to rally support for Min-ho.
During the ride back that evening, Min-ho shuts down the idea of seeing a doctor, along with Secretary Oh answering any of Soon-jung's questions about him. Asking about Dong-wook only further drives the point home that Dong-wook's heart beats within him.
In fact, Min-ho is still baffled by this truth the next morning. He tells Secretary Oh that he doesn't feel like his old self anymore, and this revelation makes him question whether he's truly in love with Soon-jung or if his heart is acting like a location tracker searching for its past love.
He decides upon the rational approach in keeping things strictly business with Soon-jung until he can ascertain the truth. However this knowledge does sadden him somewhat, because he considered these feelings for her special and precious to him.
He's only more annoyed upon arriving at the company and seeing Ji-hyun, who makes it clear that Min-ho is up for a lonely battle to become Hermia's next chairman. No one on the board will extend a helping hand towards him, and neither will Gold Partners. So while Min-ho may be the majority shareholder, that twenty-percent cut won't do him much good.
Min-ho is immediately put to the test when he sees Soon-jung greet him with a smile. He tries not to appear too eager in front of her, afraid it might be his heart acting of its own accord. But Min-ho acts like a smitten kitten with her anyway, especially when she asks if he's free to accompany her to the central factory tomorrow.
Since no one is willing to write Min-ho a power of attorney form (which would allow Min-ho to make business decisions on their behalf), Soon-jung believes that gaining the union's support might sway the board of directors. That's why she went ahead to speak with the union reps on his behalf, and those last few words make Min-ho literally go weak at the knees, much to Secretary Oh's amusement.
Still, Secretary Oh reminds his boss that tomorrow will be about work and definitely not a date. He saw how his boss turn into a pile of goo earlier—does everything go out the window for him once Soon-jung is involved?
Answer: Yes, as evidenced when Min-ho goes ballistic upon overhearing the secretaries gossiping about how Joon-hee might propose to Soon-jung tonight because they found a ring in his office.
Dinner that night isn't at all a cozy occasion for either Soon-jung and Joon-hee, however, as Joon-hee asks if she believes that Min-ho could actually save Hermia. Soon-jung doesn't think it impossible, which is why she's going to help him.
Her efforts will be in vain then because Min-ho is nothing but a shell stripped of Gold Partners' support, Joon-hee tells her. But Soon-jung counters that the wrong man to bid on was Joon-hee, whom she and the factory workers wrongly placed their trust in.
When Soon-jung says she doesn't want to see him alone anymore, Joon-hee asks, "What will you do if I gave it all up? Would you see me again if I let go of everything?"
He asks Soon-jung to stop him because he can't do it on his own. "I can give it all up as long as you're by my side."
But Soon-jung knows that will hardly make a difference—as long as Joon-hee makes no effort to change his ways, his vicious cycle will continue. Angry now, Joon-hee asks if that means she'll stand by Min-ho then, unable to wrap his head around the idea that she has to be on that scumbag's side.
"Because I thought that he has more of a right than you did," Soon-jung replies. She's called away by Min-ho just then, but Joon-hee gets in the final word: Min-ho won't ever become chairman because he'll see to Min-ho's ruin, driven out as a penniless man. "Wait and see," Joon-hee ends bitterly.
An earlier interlude teaches us that Min-ho's mind was so filled with thoughts of Soon-jung that he was unable to focus on work and lied about being locked out of the house so she'd come. He's a bit disappointed that the locksmith will arrive sooner than he'd anticipated, then gives Soon-jung the third degree about possibly ruining her cozy dinner with Joon-hee.
She asks how he knew about that, and Min-ho immediately backs off, saying she mentioned it on the phone. Since they're on the topic, he asks if Joon-hee made her some kind of offer tonight. He's thinking of Joon-hee's marriage proposal while Soon-jung recalls her more serious conversation earlier, so there's some crossed wires when Soon-jung says yes, something like that.
He asks if they discussed a future, which has her think of Joon-hee' plans to bring Min-ho down. Min-ho asks if she's actually giving it thought, which she is because it's coming from her longtime friend. His blood boiling, he yells back, "So you're going to accept that guy's proposal?!"
He doesn't realize that the house keys have fallen out of his pocket until Soon-jung picks them up moments later. In his attempts to dissuade her, they tumble onto the ground together, and Min-ho pulls her close so she can listen to his racing heart.
He says this is what's driving him nuts lately, and tells her not to say anything because he doesn't have an answer for her. Crashing onto his bed afterward, he sighs how his mission to keep Soon-jung at arm's length totally crashed and burned today. Guess whose world revolves around her now?
Joon-hee is still rattled by Soon-jung's words about Min-ho, as he upchucks his meal. Over at the hospital, Noh hyungnim shows tiny signs of life.
In the morning, Min-ho looks crestfallen to hear that Soon-jung won't be riding with them to the central factory, all, Didn't she say we were going 'together'? Aww. In any case, today's a new day, and he's determined to keep his feelings in check.
Even though they get lost on the way, Min-ho stops the car because something about the road they're on strikes familiar to him. It's the same spot that appeared in his dream (and where Dong-wook died), and standing here makes his world spin.
After picking up Joon-hee's father who provides correct directions to the factory, Min-ho can't erase the image of him bleeding at that very spot in the road from his head. Neither Secretary Oh nor Min-ho are aware of Joon-hee's father looking anxious behind them.
Joon-hee, who arrives at the central factory the same time they do, looks surprised to see his father climbing out of Min-ho's car. Soon-jung comes out in greeting, and Joon-hee surprises everyone with his knowledge about the union leaders' meeting today.
But that's not all—he's distributed leaflets to the union members exposing Min-ho's former cruel corporate methods ahead of time. As the union members walk out, Papa Ma says Min-ho's name is smeared all over the internet too.
Joon-hee isn't the least bit guilty, citing that Min-ho's own past tripped him up—all he did was air out his dirty laundry. Min-ho is more than happy to return the favor by revealing Joon-hee's involvement in the product tampering incident, but Joon-hee counters that doing so will negatively impact Gold Partners too.
He's actually counting on Min-ho's dogged determination to destroy his enemies at the expense of himself. And there's more than just the chairman's seat on the line for him, Joon-hee continues. "Kim Soon-jung."
Min-ho asks if he's actually afraid of losing Soon-jung, but Joon-hee hardly considers him a rival. But then why else would you throw down the gauntlet for the lady's favor? Min-ho is no more than an annoying fly buzzing around Soon-jung and Hermia in his eyes, and he'll make sure that Min-ho gets neither.
It's nightfall by the Min-ho storms back in a huff (and hilariously orders Secretary Oh to buy him shoe lifts 'cause he's a few inches shorter than Joon-hee). He still doesn't know why seeing Joon-hee always puts him in such a bad mood, then turns to Soon-jung to ask why there's so many people putting themselves at risk for her.
Soon-jung has no idea what he means by that nor does she understand any of his half-mutterings, but she apologizes for being the reason why they argued anyway. But that only makes Min-ho fall for her even more, and he yells at her to stop being so charming.
Ok-hyun and her detective buddy's arrival just then reminds Min-ho about Dong-wook's fatal hit-and-run, and he's surprised to hear that the culprit is still at large. When he unknowingly guesses correctly that the incident took place near the factory, he has Secretary Oh look into the matter, hoping to piece together the fragments of his nightmare and the case.
Meanwhile, Soon-jung and Papa Ma are taken aback by the theory that Dong-wook was deliberately killed for discovering the truth about the tampering incident. Noh hyungnim's testimony is the key to solving this murder case once he wakes. Having overheard everything around around the corner, Joon-hee's father scurries off.
Min-ho is informed that the hit-and-run took place at the very spot they stopped at yesterday. What's more is that it's now being investigated as a murder case, and that's likely what the detectives came to tell Soon-jung about.
Joon-hee's father is a ball of nerves around Papa Ma, apologizing to him profusely after knocking down some boxes. Papa Ma has no idea of the kind of grave sin Joon-hee's father has committed against him, showing kind concern towards the old man instead.
Min-ho seems perplexed when Soon-jung greets him later looking unaffected. Glossing over the subject for now, Soon-jung says he must curry favor with the union leaders over dinner tonight in order to win their votes.
Ji-hyun presents Joon-hee with a revised plan that will accelerate Hermia's bankruptcy. We don't get to see what that is, but it requires Joon-hee to get hustlin'.
Min-ho sits down to dinner with the union reps, though he's left out of the drinking aspect for health reasons. So he's completely sober when Papa Ma drunkenly tells him off (in banmal) for all the awful things Min-ho previously said about the central factory, with Soon-jung nodding along in her equally inebriated state.
The problem is that none of them can trust him—how can someone who committed such black-hearted acts against the company claim to save it now? Preach it, Papa Ma. Min-ho defends that it wasn't easy for him to exchange everything he had to save a dying company and deal with those who won't support him when they don't have any other choice.
But Papa Ma says one shouldn't scrape at the bottom of the barrel for help, and to Min-ho's surprise, Soon-jung chimes in agreement. She describes Min-ho as a greedy and childish man who says whatever he likes, but she also knows that Min-ho doesn't throw empty words. So if he promises to save Hermia, then he must mean it.
She can attest to the sincerity of those words, as well as the countless sleepless nights Min-ho has been pulled to learn about the factory. Even though Min-ho shouldn't push himself in his condition, he's been throwing himself into the work.
She hopes that the union leaders will put their trust in Min-ho's sincerity and give him a chance. Drunk Soon-jung is far more outspoken than sober Soon-jung. How can we get her to come out and play more often?
Left to look after two drunks while waiting for Secretary Oh afterward, Min-ho freezes up and his heart pounds when Soon-jung's head falls on his leg. He wonders why Soon-jung is running around working so hard for him, to which she drunkenly mumbles, "Because you're Kang Min-ho."
Sighing over how he can't even keep his distance from Soon-jung for a few days, he notes that it'd be nice if his feelings had always belonged to him rather than his new heart. He wonders if Soon-jung likes him in the teensiest bit, because if she does, that could mean she likes him just as he is.
"I'm just Kang Min-ho, right?" he asks. Soon-jung giggles and answers, "It's Kang Min-ho," but her reply is too soft for him to hear anything. Patting her gently, Min-ho sighs that he failed again today.
While Joon-hee promises two factory workers employment following Hermia's bankruptcy, Min-ho is unable to sleep thanks to his snoring neighbors. Soon-jung can't either, and finds Min-ho reading up on reports.
Munching down on some late-night ramyun, the two bicker about eating with others vs. eating alone before Min-ho broaches the topic about how Soon-jung feels about hearing about Dong-wook's murder case.
Soon-jung sticks to Dong-wook's favorite saying that "happiness passes, and so does sadness," adding that this news will pass in time, too. Only the living can experience a range of emotions from joy to sadness to suffering, in both the personal and shared experiences with others.
So no matter what life throws at her, she's determined to work at it even harder, Soon-jung declares. Those words make Min-ho smile and they echo in his ears the following morning as he watches townspeople young and old start their day.
He's also reminded of the fatalistic words he once spoke, which weigh against his post-surgery memories with Soon-jung. Min-ho draws in each breath, listening to his thumping heart. When Soon-jung comes running with some spare clothes, he asks himself what he wants to do most in this very moment.
"Whatever the reason is, I want to be with her," Min-ho resolves in his head, which makes his subsequent words of accepting the bag (and essentially, his feelings for her) carry more weight.
Voting day for the union members finally arrives. If Min-ho is able to gain their support today, our exposition fairies tell us that will also win him two board members' support, which in turn will give him just enough shares to beat Joon-hee.
Standing outside the factory brings back old memories of when young Min-ho once paid a visit with his ailing father, who said his heart ached because of all the love he has for his family and factory workers.
Out of naiveté, Little Min-ho had told him to give up on that love if it causes him so much stress. But his father had gently taught him that a person stops living the moment they give up loving on people. In other words, a leader must always carry a heavy heart.
Min-ho starts to sweat when he stands in front of the union without his prepared speech. He has a shaky start, being mindful of his posture and words in front a disinterested crowd. But they start tuning in when Min-ho says his father taught him that earning a living is one of the hardest things to do in life.
He knows that becoming chairman means being responsible for thousands of hard-working employees. He's also realized how his past actions have affected their livelihoods, and believes the only way to show that he's truly apologetic is not to live like he used to.
So he's going to invest in the new product the factory's been working on. Unbeknownst to Min-ho, Joon-hee listens in via a live video feed with his union spy. Min-ho asks for the union's support so that he in turn can help them achieve their goals.
It's cute how Min-ho is momentarily proud of his own speech, then addresses the crowd again saying that he knows how cold and hurtful of a person he's been. "Protect me, so that I can protect you," Min-ho pleads earnestly.
Looking directly at Soon-jung, he finishes, "because now I understand that I'd be nothing without you all." His speech is met with resounding applause.
Still, Min-ho is still nervous about the vote, especially when Soon-jung approaches with an unreadable expression. But that frown turns upside down when he's told the good news that the union has voted in his favor, which Joon-hee hears as well.
The trio celebrates, and ha—Min-ho pushes Secretary Oh away so he can hug Soon-jung first. He lets Secretary Oh back in, and then narrates in voiceover, "Soon-jung, my heart won't be curious about him anymore. What's important is that I want to be with you. If I can laugh with you like this, then that's enough."
By the time we check in with Min-ho again, he's already the new Hermia chairman… 'cause I guess we can skip the board meeting vote? He's met with a warm reception from the board members, whose sincerity Min-ho puts to the test by calling for an immediate meeting.
True fear lies in deliberate inaction, Min-ho dictates, so his first course of action is to cut their executive pay and strip them of their compensation benefits. Not only that, their performance reviews will be reflective of what the other Hermia employees think of them rather than himself.
Keeping his enemies close was something his father taught him, but Min-ho was also told to do away with the old for the sake of the new. Which means Joon-hee will soon be dismissed from his position.
I'd been thinking that whatever plan Joon-hee and Ji-hyun had been brewing was rather weaksauce since Min-ho became CEO anyway. Now we learn that was all part of the plan: allowing Min-ho to think he'd won while they prepare for Hermia's bankruptcy with the new Hermia product in development.
It means that Min-ho will be oblivious of the fact that his destruction will be of his own making until it's too late, Joon-hee says. So Min-ho can enjoy his time as the head honcho while it lasts, because he'll be the one watching when Min-ho loses it all.
Speaking of whom, Min-ho is greeted outside his new office by his staff, led by Soon-jung. And this time, the same I've got my eye on you gesture he shot at Soon-jung when they first met is of fondness.
He extends a hand, only to pull her close when she takes it. "Good morning," he says in greeting, which makes her smile. He smiles in return.
And little does anyone know that Noh hyungnim comes to at the hospital.

COMMENTS
Aw man, I would've been just as content if this episode left us hanging with Min-ho and Soon-jung making eyes at each other. Because let's face it—they're adorable together. It's just that shot of Noh hyungnim reminds us of a subplot that we could do less of, since there doesn't seem all that much to uncover about Dong-wook's murder at this point. If anything, the lackey's testimony only threatens to strain Joon-hee and Soon-jung's relationship (as well as the two fathers) even further, leaving our main couple intact.
I'm glad that Min-ho finally got some overdue self-reflection once he figured out who his organ donor was. Questioning his feelings for Soon-jung was a natural progression of those thoughts, even though we all knew that his experiment to keep his feelings in check around Soon-jung would be a total failure as soon as he said it. It's important for him to ask himself whether it's truly him who cares for her or the heart that literally beats for her, and a little sad that he doesn't realize that his past self was still drawn to her. I'd hoped that he'd be more inquisitive about it, instead of accepting whatever unknown reason why he does care for her and running with it.
Love can be an inexplicable feeling, and yet there was a short time where Min-ho still wanted to know why. Where it gets fuzzy is that the lesson of loving on people extends further than his feelings for Soon-jung and to the central factory workers in this hour. It then rolls over into the idea of what it means to start living by experiencing the whole gamut of emotions that accompany the miracle of being alive each and every day. All of those concepts bloomed into existence at once that I wanted to see Min-ho experience more than the few breaths he drew in on his morning walk.
Because if the message is about Min-ho turning away from his former ways and start living (regardless of the heart dictating that change), then that's what I want to continue to see. His speech to the union members gives me hope that that's the direction Min-ho wants to take as well, in becoming a firm, fair, and understanding leader who knows that he can't do anything without people to support and cheer him on in the stands. He may fail at hiding his love for Soon-jung every day for the rest of his life, but taking each step with her towards securing a better future together — and for everyone — has got to be a win.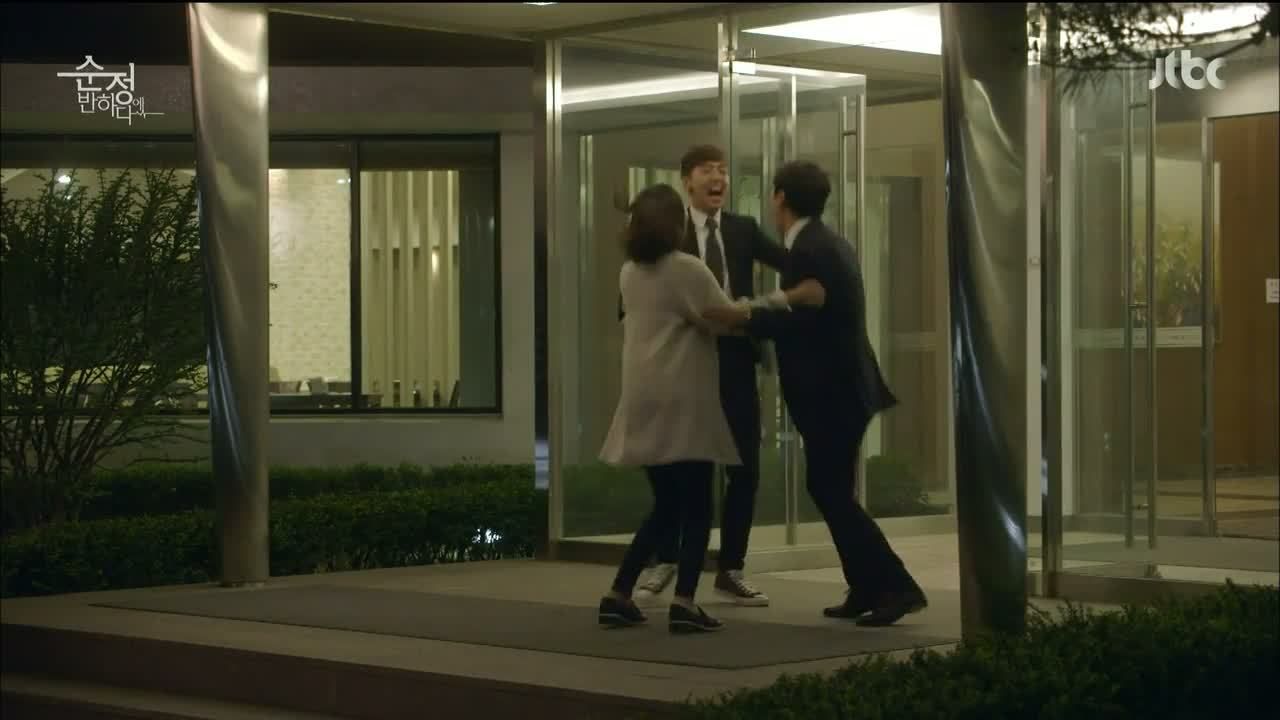 RELATED POSTS
Tags: Falling for Innocence, featured, Jung Kyung-ho, Kim So-yeon, Yoon Hyun-min