Girl Who Sees Smells: Episode 11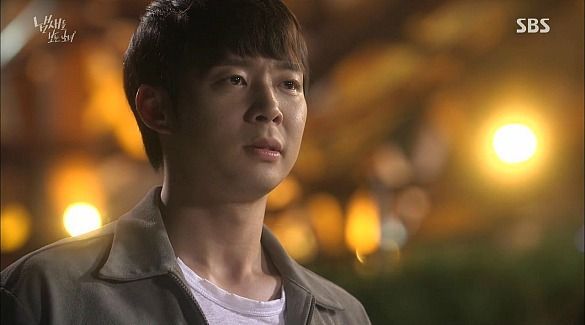 Ugh, it's Noble Idiot Time, though it comes from an unexpected direction. The final pieces of the puzzle of Cho-rim's past are ready to snap into place, and it's only a matter of who knows what, and when, that will determine how things play out from here forward. And since someone seems to have lost their ever-loving mind when it comes to common sense, at this point I'm just hoping everyone makes it out of this week alive.
EPISODE 11 RECAP
Alone in Jae-hee's library, Cho-rim reads Baek-kyung's letter explaining their past connection and who she really is — but before she can process anything, Jae-hee pops up behind her to ask what she's doing. She quickly crumples up the letter and covers by saying she was just reading over her script one last time. Jae-hee buys it for now, and they head upstairs to film the cooking show.
Lieutenant Yeom tries to have a meeting with what's left of her detectives, but they can't get anything done for Mu-gak pounding and yelling at the door, demanding to know her real reason for kicking him off the team. Detective Kang asks him to calm down so they can at least find out what's going on, but Mu-gak keeps up his hollering, refusing to leave until they finally have to bodily remove him.
Detectives Ki and Yeh ask him to go home and wait, and they'll do their best to change Lieutenant Yeom's mind. They try, but at the news that Mu-gak's sister was killed by the Barcode Killer, all three of the detectives can only gape in shock. But it's not even that that's gotten him removed from the team — it's his personal grudge, and vow to kill the murderer himself.
Cho-rim re-reads Baek-kyung's letter on the bus home, and she calls Mu-gak to talk. She finds out he's home instead of at the station, and goes there to find him drinking in the middle of the day. He tells her about being removed from the team and says that he feels like he's going crazy.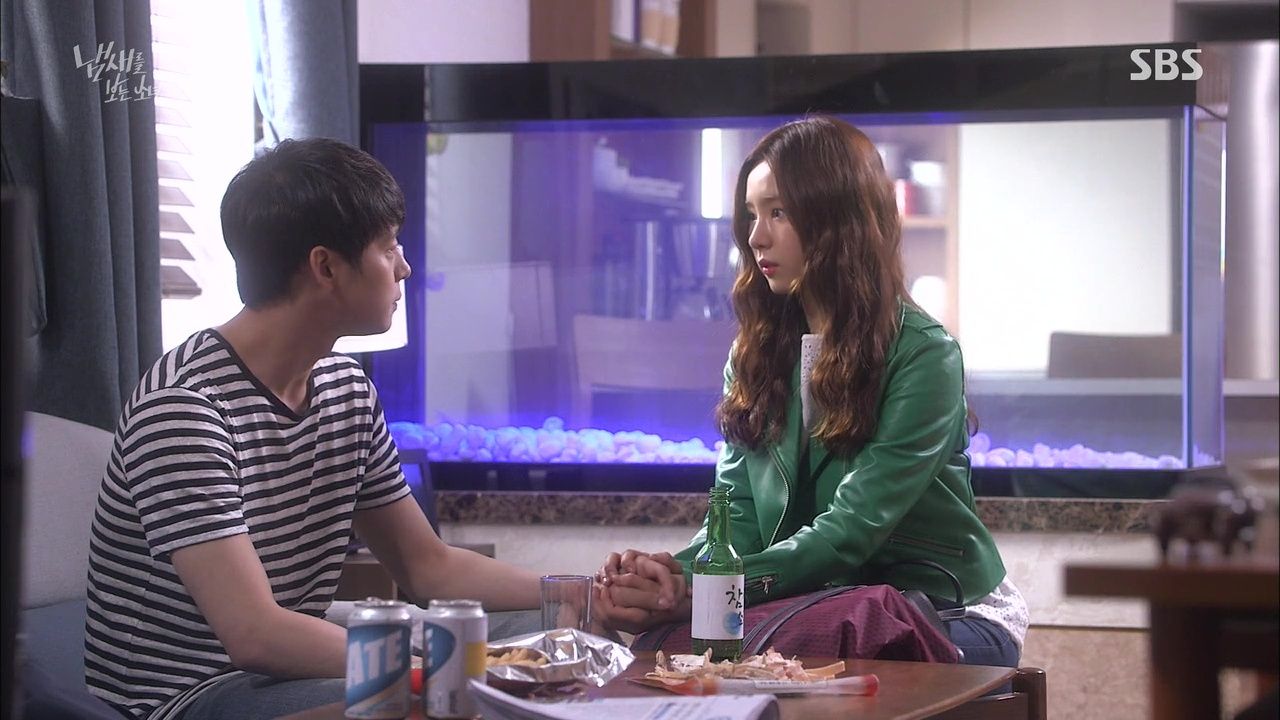 Turns out, he was only allowed on the team in the first place because his sister's death wasn't technically a Barcode murder. But now he's confused because his relation to a victim is Yeom's only reason (that she's admitting) for taking him off the case, so he's certain there's got to be another explanation. Cho-rim holds Mu-gak's hand and asks him to wait for now, while his friends fight for his reinstatement.
When Mu-gak asks what Cho-rim wanted to talk about, she says they can talk about it later. For now, she's going out of town to talk to her father. In her usual direct way, she asks Detective Oh flat-out if she's really Choi Eun-seol, and he's so taken off-guard that his face gives away the truth.
When Detective Oh confirms her true name, he also tells her that he was in charge of the case when she was in her accident. She had nobody back then, and reminded him of his own deceased daughter who'd gone missing at five years old. Her body had been found a month later, and she would have been about Cho-rim's age.
Crying now, Cho-rim asks about her real parents, but Detective Oh fibs and says he doesn't know anything about them. She forgives him for lying to her about who she is, and they share a sweet hug. Cho-rim promises that even if she finds her real parents, he'll always be her dad.
The guys take Mu-gak out for soju, where things get a bit awkward when Kang mentions his sister. He understands now why Mu-gak tried so hard to become a detective. Detective Ki said they couldn't convince Yeom to let him back, but Yeh swears they'll catch the killer. Mu-gak just growls, "I'll catch him myself." Okay really, now would be the worst time to go rogue.
He even asks for their help and they must agree, because next thing you know, a very suspicious-looking Ki and Yeh ask Lieutenant Yeom out to dinner. They lure her out of the station by saying that Kang needs to see her about something important, and Mu-gak slips in behind them.
HAHA, Kang's face is priceless when she asks what he wants, and Ki and Yeh are just gesturing him to go ahead and tell her. He thinks sorta-fast and asks how he can learn to do profiling like she does, which gets her to stay and buys Mu-gak some time.
He gets on the computer where Yeom was just looking up Cho-rim's family registry, and he finds her file with the pictures of the Barcode Killer's Jeju victim and Cho-rim's facial sketch, which are a near-perfect match. He realizes that this must mean Cho-rim is the daughter of the murdered Jeju couple, which means she's the only living witness. It also makes her the girl who was meant to have died instead of his sister.
Yeom heads back to the station, but she stops and calls Cho-rim to meet instead. She brings a cake (it's so cute that these ladies always have sweets when they're together) and asks if Cho-rim has ever thought about trying to remember her past. She offers to help, saying there are special programs for this kind of thing, but Cho-rim declines.
She's worried that she'll find out she was a vastly different person and that she won't be happy anymore, if her past wasn't a pleasant one. Yeom suggests that in that case, Cho-rim might actually be blocking her memories, which could be a good thing (especially since she knows exactly how unpleasant that past is). Yeom backs off and apologizes for pushing.
Cho-rim starts to ask about Mugak's sister, but at the mention of Choi Eun-seol, Yeom drops the sisterly demeanor and goes all official on her. She refuses to talk about it, and says that Mu-gak's removal from the team is not up for discussion.
Mu-gak and Cho-rim both spend that night brooding over their discovery that Cho-rim is really Choi Eun-seol. Mu-gak confronts Yeom in the morning, demanding to know if Cho-rim's true identity is the real reason he was kicked off the team. He knows that Yeom is afraid he'll go crazy over that fact, since he loves Cho-rim (OMG, he said it!) but Yeom still refuses to even discuss it.
Mu-gak wears he won't let his personal feelings affect his work and practically begs to be reinstated, but Yeom says that just the fact that he's doing this right now, is proof that he can't keep his personal feelings separate. Dammit, that makes a lot of sense.
In the face of her refusal, Mu-gak decides to find Detective Oh for some answers. On the way to Gangwon Province he meets another car on a bridge, and realizes that the driver is Jae-hee.
The men face off, each surprised to see the other so far outside of town. Mu-gak gets a text and Jae-hee's phone goes off at the same time, but Jae-hee deflects by wondering out loud of they're both looking for the same thing out here.
Jae-hee says he's a chef so he's talking about looking for a restaurant, and Mu-gak says he's a detective so he's talking about looking for a witness. Their phones go off simultaneously again, and now Mu-gak is (even more) suspicious.
Mu-gak muses that they're looking for different things so they must be on different paths, and one of those paths surely leads to death. Whoa, don't tip your hand too far!
Jae-hee says someone is waiting for him and starts to head for his car, but Mu-gak stops him — now he knows how Jae-hee knows about this place. Ohthankgoodness, he figured out about the spy app. Jae-hee takes it well, even cheekily waggling his phone at Mu-gak.
Unfortunately Mu-gak gets to the restaurant too late — Detective Oh has already packed up and left. As it turns out, Jae-hee was out this way to give him a ride back to the city, and the glint in his eye doesn't bode well for Detective Oh's continued safety.
Mu-gak, for some reason, takes Detective Ki out to lunch at Jae-hee's restaurant. To make things even weirder, Mu-gak makes a phone call to Ki, sitting right across the table (and oh my, his picture on Ki's phone is freaking adorable). Ki is confused but answers, and Mu-gak speaks rudely into the phone, "Are you listening, punk? Listen carefully."
It's a message for Jae-hee, who Mu-gak knows is listening. He warns him not to look for the witness and vows to catch him very soon, because the girl he accidentally killed in Jeju was Mu-gak's sister. He declares that this won't be over until one of them dies, ending with, "Let's make this quick." ~shiver~ I'm actually a little scared of Mu-gak right now.
That night Cho-rim waits for Mu-gak at the bus stop, not realizing that he's watching her from across the street. She texts him several times but he doesn't answer, and just watches her with this… face, it kills me. Finally a bus arrives on his side of the street, and he gets on without ever responding to Cho-rim.
Confused and a bit worried, Cho-rim goes to the police station looking for Mu-gak. Instead she finds the detective trio talking about Mu-gak's sister's death, and wondering if the real Choi Eun-seol is really still alive. It's the first she's heard of her connection to his sister's murder, and Cho-rim reels. Even worse, she now knows the murderer is actively looking for her to finish the job.
Mu-gak and Cho-rim spend another night thinking about everything they've discovered, this time with better scenery. Mu-gak even visits the aquarium where he used to work, and both of them spend some time thinking about what to do next. When Cho-rim goes home, she finds Mu-gak waiting with dinner fixings and even a cake — it's his birthday.
He's in a very good mood, and teases her for her lack of excitement over his birthday. His aegyo is too much for her (or anyone, let's be honest) to resist, and they go in to make dinner. He keeps laying it on thick as they cook, even joking about their both being left-handed. Cho-rim scoffs when Mu-gak teaches her his family's birthday traditions, saying she'll need to know them, "if you want to be married to me." EEE!!
Cho-rim valiantly clings to her grump even when Mu-gak sneaks in a few cuddles, but she eventually slips and smiles a little. By the time it's time for cake, she's more relaxed, and even sings "Happy Birthday" the way he requests. Awww, he's such a kid.
Cho-rim finds Mu-gak's phone in the dark by his blue crystal scent, amazing him that she can see scents even without any light. He muses that there's still a lot he doesn't know about her and says they'll learn over time, but Cho-rim wonders if he'll come to hate her if she gets her memory back.
He sweetly says that what they have now is what matters, and the past isn't important. It's obvious from the peaceful expression on his face, that this is the realization he's come to about her accidental involvement in his sister's death.
Cho-rim doesn't react and only tells Mu-gak it's time for him to go, and he swallows his disappointment and agrees. She does at least offer to walk him home, which mollifies him, though when he takes her hand she doesn't look happy at all. Oh no, tell me she's not. Not on his birthday.
But evidently she is, as she pushes his hand away and says without making eye contact, "Let's break up." Mu-gak thinks it s a joke but she's deadly serious, though she doesn't give a reason. Of course we know Mu-gak always wants to know the reasons, and he's tired of people keeping secrets from him, so he actually barks angrily in her face, "WHY ARE YOU DOING THIS?!"
But Cho-rim only apologizes and jumps in a taxi before Mu-gak can stop her, leaving him standing on the street. His anger gets him home where he collapses on the stairs, and they both think about everything that's happened since they met, and cry. Worst birthday ever.
Cho-rim goes to see Lieutenant Yeom, having changed her mind about recovering her memory. She admits that she overheard everything and she wants to help catch the killer. But when she says that Mu-gak's sister was killed because of her, Yeom is quick to tell her that's not true, and that it's not her fault.
Cho-rim has one request for helping catch the murderer — she asks for Mu-gak to be put back on the case, but not to tell him about this deal. Yeom agrees, then tells Cho-rim that Jae-hee is their chief suspect and asks her to stay away from him. But Cho-rim counters that if he's really the killer, she'd actually be the perfect person to get close to him.
Mu-gak spends the morning calling Cho-rim over and over, even though her phone is turned off. Yeom calls him to the station, where she returns his gun and badge, and puts him back on the team. All she says is that she's trusting him not to do anything to endanger the team, and the detective trio grin from where they're eavesdropping outside the door.
Jae-hee wanders in his Murder Library, thinking about Detective Oh telling him all about his involvement in the Barcode Murders, on the ride back to Seoul. He'd even started an association for the victims' families, after the third set of murders in Jeju.
Jae-hee is concerned, because everyone thinks the couple in Jeju were only his second victims, but Detective Oh somehow knows they were actually his third. He pulls out a book labeled with the name Hong Ji-yeon, with a death-date of 2010, a year before the first known Barcode Murder.
Jae-hee invites Detective Oh to his home and gives him some 30 million won (roughly $27,500) as a donation to his victims' families fund. That is so twisted. Detective Oh tells him the money will go towards helping catch the Barcode Killer, because the police aren't doing much to catch him.
He tells Jae-hee that the organization has a trump card — the only living witness. He even says that he's keeping the witness close to him, and Jae-hee thinks back to that mysterious first murder. It was Detective Oh's wife, Hong Ji-yeon, who'd written in her death book about their daughter's murder. It had been Oh's reason for becoming a detective, and led to their divorce two years later.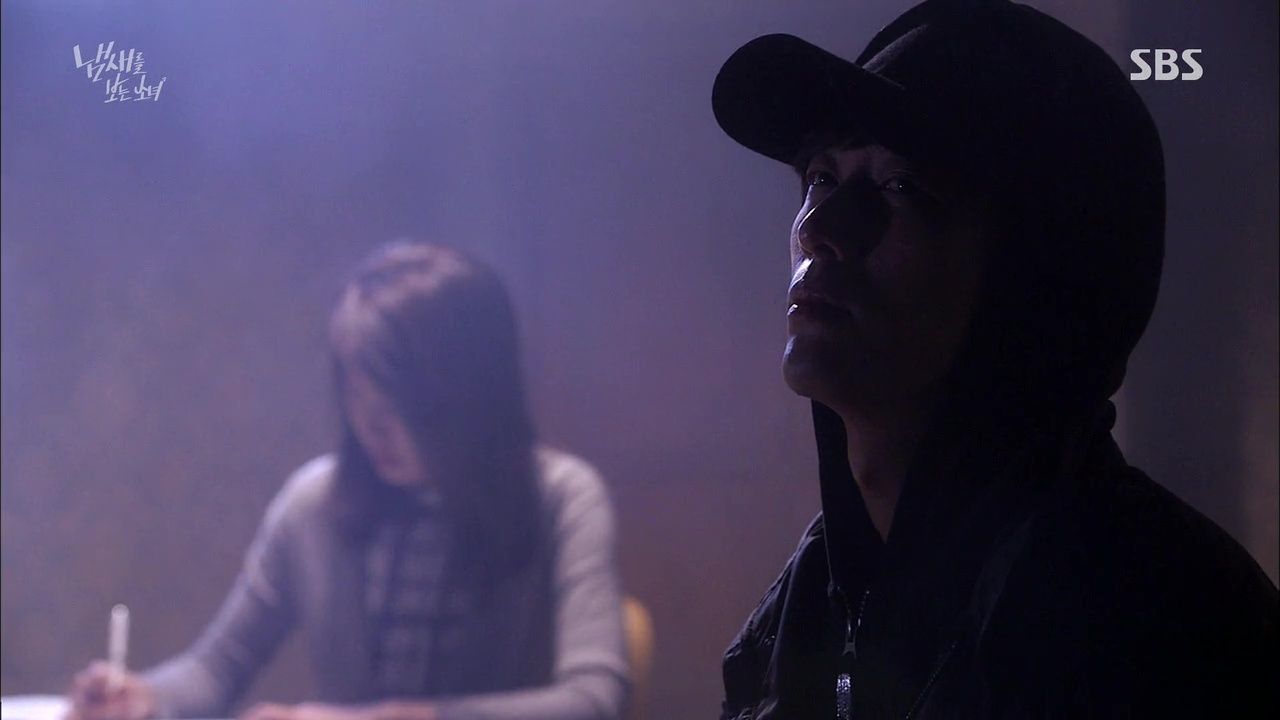 Jae-hee serves coffee, and asks if giving his time to the victims' families doesn't take away from Oh's own family time. Oh simply says that his daughter is grown and doesn't need much of his time. Jae-hee noticeably doesn't drink any of his coffee, but Detective Oh innocently drinks his cup thankfully.
Lieutenant Yeom and Cho-rim are also having coffee, as Yeom prepares Cho-rim for her hypnosis session the next morning to recover her memories. She tells Cho-rim to go straight home and rest, but Cho-rim tells her that might be difficult, because she's worried that her father hasn't returned home as promised. Yeom offers to look into his whereabouts for Cho-rim, and gets his phone number to run a trace.
She meets Mu-gak at the station and, directly against Cho-rim's wishes, tells Mu-gak that Cho-rim knows she's the witness of the Barcode murders. Horrified, Mu-gak asks how much she knows, and Yeom says she also knows about her accidental involvement in his sister's death. He cries, asking why she didn't tell him sooner, and Yeom just informs him that she's probably still nearby.
After Mu-gak runs out to find Cho-rim, a cop tells Yeom that he's managed to track Detective Oh's phone. It's in the area of Jae-hee's house, making she wonder what he'd be doing there.
Waiting for her bus, Cho-rim gets a text that seems to be from her father, saying that he's been drinking and asking her to pick him up. She texts Yeom to tell her she heard from her dad, and Yeom tries to call her but she doesn't notice her phone ringing.
Instead, Yeom calls Mu-gak and tells him that Cho-rim is on her way to Jae-hee's house. They both agree to go there now, and see what's happening.
When Cho-rim arrives she calls her dad, but now he's not answering. She lets herself in, but the house seems deserted. We see a hand holding Oh's ringing phone, but he's not the one holding it — it's Jae-hee, lurking like a spider luring a fly into his web. When Cho-rim nears his hiding place, he steps out and puts a hand on her shoulder, and she whirls in surprise.
COMMENTS
AAAARGH, I'm so frustrated! Seriously, Cho-rim is being an idiot in this episode, and not just of the noble flavor. Yeom just today told her that Jae-hee is their main suspect in the Barcode murders. Now her dad goes missing for a while, and then texts her from Jae-hee's house. He's not answering his phone, and this whole situation is seriously hinky, and yet Cho-rim just walks into Jae-hee's house without telling anyone where she is or what's happening. Come on, I knew she was innocent but she's never been stupid before. Thank goodness Yeom and Mu-gak are on the ball, and are on their way.
I knew that someone would be a Noble Idiot before this was all over, but I honestly expected it to be Mu-gak. I really hoped he wouldn't be angry or blame Cho-rim for his sister's death, and he didn't disappoint. As I expected, he just needed a bit of time to think, and he came to the (completely correct) conclusion that what he and Cho-rim feel now and what they have now is what matters. I really trusted that he would understand that she really was at no fault, and that he loves her and she's alive and that's the important thing. The past is done, and they still have a shot at a happy future, and there's no reason for them not to grab it with both hands.
Nevertheless, I did expect Mu-gak to be the Noble Idiot in this scenario — perhaps breaking up with Cho-rim to either protect her, or to get some distance so he could handle his vendetta with the killer, then go back to her when it was all safe. I didn't see it coming from Cho-rim, and her assuming that he would blame her. Not that I ever really love the Noble Idiot, but this is really the worst incarnation of it — when the person makes a unilateral (wrong) decision to break up, assuming they know how the other will feel if they knew the truth. But of course they don't know how the person will feel, because they withhold information and the other person doesn't even get the choice of deciding what they want.
There's nothing that infuriates me more, in real life or in dramas, than when a problem crops up that affects both parties, and one party decides what to do without letting the other have any input. When both people in the situation are adults, they each have the right to decide how they will react and what they want out of the relationship going forward, good or bad. When one person takes that agency away from the other, it's maddening, because they don't have that right. And that's my rant for the day.
Luckily, in keeping with the trend, the show isn't going to drag that out for very long. Mu-gak knows now, exactly why Cho-rim broke up, and now he can fix it. That is, provided the little twit doesn't get her silly self murdered before he can get there to save her.
RELATED POSTS
Tags: featured, Girl Who Sees Smells, Micky Yoochun, Namgoong Min, Shin Se-kyung, Yoon Jin-seo