Girl Who Sees Smells: Episode 12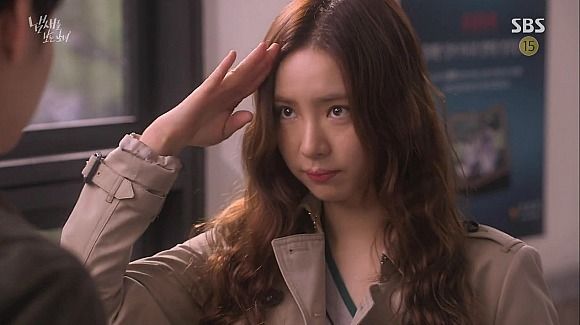 It's time to catch a killer, and time is running short. The detective team swing into action with the help of an unexpected volunteer, though her lack of training could get them all in trouble if they aren't careful. And the killer isn't about to stand still while they hunt him down – he's more than ready to reveal himself if it means finding his own quarry before they find him.
EPISODE 12 RECAP
Cho-rim is frozen when Jae-hee surprises her with a hand on her shoulder, and he stares at her for a long moment with those dead eyes. We see her face shift from his point of view, unable to determine exactly what she looks like. But he knows that she's Choi Eun-seol, and asks in a frightening voice, "You know me, right?"
Cho-rim has the presence of mind to remember that if she doesn't speak, he won't know it's her, and struggles to hold her voice. She stands stock-still, even when he reaches out and caresses her hair the way he did that first night they met. Something catches her eye and she turns to see (ohthankgoodness) Mu-gak's crystal blue scent drifting into the room. He made it.
Suddenly the lights go out. Oooh, smart — Mu-gak cut the lights, knowing that Cho-rim could still see his scent in the dark and come to him, which is exactly what she does. She trips on a step and turns to see Jae-hee feeling his way along the wall, his own scent bright gold and all sharp knife-edges.
She gets up and runs for the blue crystals, making it to Mu-gak before Jae-hee switches the lights back on. When he sees his target is gone, he roars in wordless frustration.
Mu-gak and Cho-rim make it outside and hide around the corner from the front door, Mu-gak with gun drawn. When Jae-hee comes outside, Mu-gak pistol-whips him and he falls unconscious. Seeing his chance for revenge, Mu-gak aims his gun at Jae-hee's head.
But Cho-rim grabs his arm and begs him not to do it, or he'll only become a murderer, too. He struggles but lowers the gun, and he and Cho-rim go inside to look for her father. Did you really just leave the murderer alone?!
They search the house (the parts they know, anyway) but Detective Oh is nowhere to be found. Back in the living room, Cho-rim succumbs to the adrenaline and stress, and passes out. Mu-gak carries her out to his car just as Detectives Ki and Yeh show up, and he tells them where to find Jae-hee while he takes Cho-rim to the hospital.
Jae-hee wakes up in time to be standing when the detectives get to him, and they ask if he knows why a missing person's phone might be transmitting from his house. Jae-hee readily admits that Detective Oh is here, and that he's simply sleeping off a bit too much wine. He blocks their entry and goes inside to get Oh, but once he's in, he thinks fast.
He takes Oh's phone from his pocket and deletes the text he sent to Cho-rim, and leaves the phone on the floor. He quickly hides the syringes and ketamine (a powerful drug that causes sedation and memory loss) that he'd readied, just in time for Oh to wake and apologize for drinking too much.
Embarrassed, Oh grabs his phone and starts to leave, and Jae-hee warns him about the cops outside. Meanwhile Ki and Yeh have decided Jae-hee is lying about Detective Oh, and draw their guns to force their way inside. One… two… ~needle scratch~ HAHA, Oh walks out the door confused, and Jae-hee looks like butter wouldn't melt in his mouth.
Oh takes a taxi home, unaware that Jae-hee followed him. Now he knows where Choi Eun-seol lives — he only needs to figure out how to find her. (Random unrelated thought: how seriously cute is their house? Though I suspect it's really a TARDIS — it's bigger on the inside.)
Cho-rim recovers, but when the doctor leaves, there's some awkwardness between her and Mu-gak. He tells her that her dad made it home okay, and that he'll fill her in on the rest tomorrow. She tells him that Jae-hee called her Choi Eun-seol, and asked if she remembered him. They both realize that this is irrefutable proof that Jae-hee is the Barcode Killer.
In a surprisingly calm voice, Cho-rim asks if Jae-hee was going to kill her tonight, but Mu-gak only says the whole thing was very dangerous. Cho-rim tells Mu-gak about Jae-hee's face-blindness, explaining that even though she was right in front of him, because Cho-rim didn't speak, Jae-hee doesn't know she's Choi Eun-seol.
Mu-gak praises Cho-rim's quick thinking, and she thanks him for showing up when he did. He warns her not to wear the outfit she was wearing tonight again, since Jae-hee probably recognizes clothing. After another awkward silence, they go outside to talk.
Cho-rim tells Mu-gak that she knows her real name and that she's the witness, and she can tell by his expression that he already knew. She cries as she says that his sister died because of her, and apologizes. Mu-gak holds back his own tears and insists that it's not her fault, but Cho-rim won't be swayed.
Mu-gak says that he knows this is why she broke up with him, and repeats that his sister's death was not her fault. He won't accept her breakup on those ridiculous grounds. He asks her not to worry about those things and just to accept his love… but she's too wracked with guilt, and she walks away.
Detective Oh is brought into the station the next day, where Lieutenant Yeom asks why he's been hiding the fact that Cho-rim is the witness. He claims it was pity, and that he didn't want to see a young girl dragged around to police stations, being forced to remember something she doesn't wish to remember. He had selfish motives too — to catch the killer himself, once her memory returned.
Yeom informs him that he'd better stay away from Cho-rim, now that Jae-hee knows his connection to the witness. Mu-gak promises Oh that he'll protect Cho-rim.
Oh says goodbye to Cho-rim at the hospital, apologizing that he can't do anything for her. She stays cheerful, promising to be careful, and Oh hands over her care to Mu-gak. Cho-rim agrees to Mu-gak's protection but keeps her distance emotionally, and politely refuses his offer to take her home.
He follows her at a discreet distance anyway, watching as Cho-rim lets herself inside. But when she does, she sees that her home has been ransacked, and she screams loud enough for Mu-gak to hear. He rushes in to find her kneeling in the chaos, but a quick search shows that the culprit is long gone.
Mu-gak makes coffee and Cho-rim calms down, and they check to see if anything is missing. Everything seems to be thrown around but nothing is gone — until Cho-rim realizes that a photo of herself is missing from it's frame. This confirms Mu-gak's suspicion that Jae-hee did this, and he refuses to allow Cho-rim to stay here alone, because Jae-hee now knows where the victim lives.
Jae-hee stares at the photo that he stole, but the image stubbornly reinforces his inability to recognize faces. He slams the photo face-down in frustration, then mysteriously makes a mark on the back of it.
Mu-gak takes Cho-rim to his place, offering to stay with a friend who lives across the street, and looking adorably pleased when she agrees to stay. He asks her to call him any time she leaves, and not to tell anyone where she's staying, not even her father.
He tells her to make herself at home and leaves, only to come right back for his phone. Then again for his clothes. And again to remind her not to go near the windows. So cute — especially his giant goofy grin every time he leaves again.
As expected, there's no friend across the street, and Mu-gak spends the night watching the windows from his car. He even calls to fuss at Cho-rim when she gets to near the window, and his adoring surveillance is just the sweetest thing ever. Cho-rim also sits up all night, wearing a sweatshirt of Mu-gak's and hugging herself as she revels in his comforting blue-crystal scent.
She's already suspicious of his "friend's place," and it doesn't help when he comes back in the morning to use his bathroom to get ready for work. He hustles her out and into the elevator, and when a neighbor ajumma mistakes them for newlyweds, Mu-gak just thanks her and grins. Cho-rim huffs at him, but secretly smiles to herself.
Cho-rim goes to the station to ask Yeom a favor — she's serious about volunteering to help catch Jae-hee, and she wants to get her photo back. Yeom gets frustrated, saying it's too dangerous since he's so close to figuring out who she is, but Cho-rim is just as stubborn.
Meanwhile the team go over the evidence found at Cho-rim's house, which pretty much boils down to nothing. No matter how certain they are that Jae-hee is the killer, they don't have anything they can use to get a warrant for his arrest, and they can't even use Cho-rim as a witness since she still doesn't remember anything.
Yeom announces that Cho-rim has volunteered to get her photo back herself, which is news to Mu-gak, and he loudly protests. He finds Cho-rim and demands to know what the hell she's thinking, and she rationalizes that she's actually pretty safe since Jae-hee already knows her as Cho-rim. Yeom concedes that Cho-rim is the only one with a shot at getting into Jae-hee's house, and they don't have much time to come up with a plan. They have to get the picture back before he shows it to anyone.
Later Cho-rim reassures Mu-gak that she'll be safe, since the plan is to do it during a cooking show taping, where there will be lots of people around. He reluctantly agrees, but only if she promises to only do what he says and leave immediately if it gets dangerous.
The team instructs Cho-rim on a variety of tools they're going to send in with her, and I'm getting a kick out of the fact that Cho-rim actually looks like she's having fun (though Mu-gak can't keep his eyes from rolling). They give her a book rigged with a spy camera, earpieces for communication, and a panic button disguised as a necklace.
Cho-rim braves the tiger's lair as Mu-gak directs things from a nearby van, and by sheer luck, the cooking theme is five-minute cooking. Cho-rim can count on Jae-hee being occupied for at least five minutes at a time. She tells Mu-gak her time limit, and he watches the clock while she heads down to the Murder Library.
After only three minutes, the PD unexpectedly stops Jae-hee's clock and suggests they shoot Cho-rim's segment now. But when she's not there waiting, Jae-hee goes on alert and starts to get suspicious.
Of course Mu-gak is telling her she's still got plenty of time, and she does manage to get the hidden camera set up on a bookshelf facing Jae-hee's desk. Mu-gak sends her back upstairs, and while she's in the elevator, Jae-hee makes his way there himself to go down and look for her.
It's a tense nail-biting moment as he waits for the elevator, but instead of finding it empty when the doors open, Jae-hee is startled by the sight of Cho-rim with her skirt up around her hips. HAHA, she thought fast and pretended to be there for privacy to adjust her hose, and Jae-hee hilariously can't figure out where to look.
After leaving her wallet in Jae-hee's bathroom (so she has a reason to go back for the camera later), Cho-rim gets the heck out of there and joins Mu-gak in the van. He takes her for pork rind to celebrate, saying that his boss took him out like this after his first field investigation, too. That's so sweet, and he adorably even feeds her the first bite.
They go for a walk and Cho-rim asks if Mu-gak likes being a detective, and he says he hadn't thought about liking it — it's just what he has to do. He points out that she's also put aside her stage ambitions to catch this killer. She asks if he plans to go back to the aquarium in Jeju after this is over, and he says he doesn't know if he can, but he'd like to.
As Cho-rim walks ahead, Mu-gak gathers his courage and asks her, when he does go back, would she go with him? She turns to him with tears in her eyes, and he steels himself for rejection. But Cho-rim only says that when he goes to see his sister again, she would like to go too, and apologize.
He says that's good, that Eun-seol can talk to Eun-seol. He sweetly wipes Cho-rim's tears and pulls her in for a long hug, and they both sigh in relief. It's not exactly a reconciliation, but it'll do for now.
Detective Yeh watches the video from the hidden camera, and gets excited when Jae-hee finally shows up. He gets lucky when Jae-hee pulls out the picture of Cho-rim to stare at some more, then calls someone to say that he's trying to find a person. He gives the man on the other line her information, and says he'll meet him tomorrow to show him a photo.
Mu-gak takes Cho-rim back to his place, and heads off to his "friend's" place to sleep. This time Cho-rim looks noticeably sorry to see him go, and who can blame her the way he grins at her again on his way out. But tonight he's busted, and Cho-rim catches him sleeping in his car.
She orders him to come sleep inside, but softens it with a smile, and Mu-gak looks like she just made his millennium. As she takes the bed and he snuggles on the couch with a stuffed walrus, they talk about going grocery shopping like she's planning on staying a while. They both stifle yawns and argue over who's sleepier, but they both nod off at the same time.
The next day, the team brings in Kang's nemesis to alter a photo to look like Cho-rim's, but with a different face. If they just take the picture from Jae-hee, he'll only find another one of her. Kang grumbles when the guy does a pretty damn good job of it, and gets teased for typing with two fingers, himself. Pfft.
Mu-gak gives the retouched photo to Cho-rim, assuring her that the girl in the picture doesn't exist, but is just an amalgam of random features. He tells her that they saw Jae-hee put her real photo in his wallet, and that she'll need to swap the photos at the restaurant, before his meeting with the investigator. He sends her off with a smile and a promise to be nearby, but he watches her go like he's scared to death.
Cho-rim gets lucky that afternoon at the restaurant, when Jae-hee takes off his jacket to help with a kitchen snafu, and she smoothly snatches his wallet when his attention is elsewhere. She switches the photos and manages to put the wallet back with nobody noticing. Then when he's leaving to meet the investigator, she tells him she left her wallet at his place and he gives her permission to get it from his house.
Cho-rim calls Mu-gak and tells him she switched the pictures and is heading to Jae-hee's place to get the camera back, but in a moment of distraction, she leaves her phone on one of the restaurant tables.
The investigator calls Jae-hee before he arrives at their meeting place, and asks if the person he's looking for is involved in a crime case. Apparently, their meeting point is swarming with cops, and the investigator tells Jae-hee that whatever he's up to, he's been exposed. Jae-hee pulls out the photo, which looks the same to him, but notices that this one is missing the tiny mark he made on the back. Dammit.
Furious, Jae-hee goes straight home and directly to the Murder Library. He looks around to find the camera that must be there for the cops to know about the photo, and Cho-rim also arrives just as Mu-gak realizes Jae-hee is home. He tries to call Cho-rim, but her phone is still at the restaurant
Of course, a man as meticulous as Jae-hee will notice a book he didn't place there, and he zooms right in on the unfamiliar tome. As Mu-gak frantically tries to contact Cho-rim, Jae-hee takes the book down and looks right into the camera, seeming to make eye contact with Mu-gak as he growls an angry, "Why are you so curious?"
When Jae-hee's face turns dark and the screen goes snowy, Mu-gak gives up on electronic communication, and just makes a run for the house. Cho-rim is already there, and she gets in the elevator to go down to the library.
Down below, Jae-hee starts to head upstairs, but he notices that the elevator is already on it's way down. He waits expectantly, and when the door opens, there's Cho-rim, shocked into silence to see him here. Jae-hee smirks at Cho-rim, as Mu-gak runs as hard as he can to save her.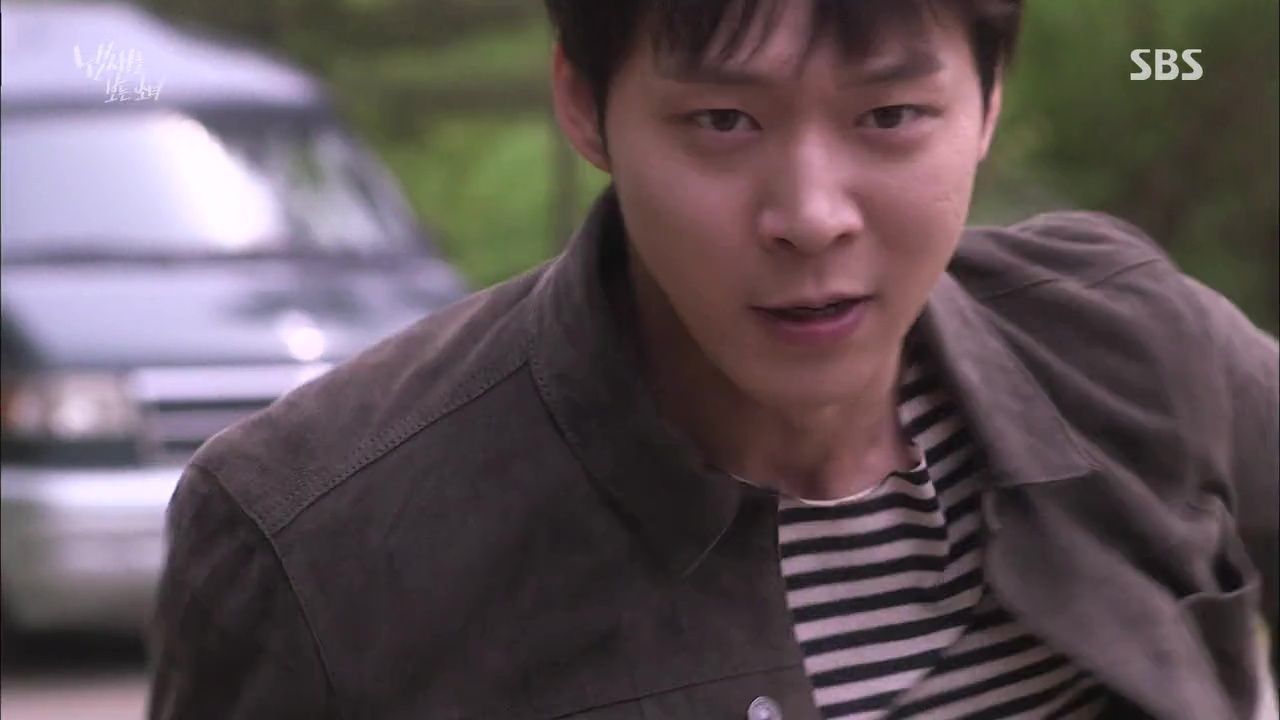 COMMENTS
Well it's a good cliffhanger again this episode — if you can ignore the fact that we basically got the exact same cliffhanger last episode. I'm willing to overlook a lot in a drama when it comes to plot holes and characters acting irrationally, as long as the writing doesn't get lazy, but I feel like we've gotten a bit lazy. But I did see some flashes of the original storytelling style in this episode, though, such as the high-tension scenes being undercut by ridiculous humor (like when the Detective Duo started to storm Jae-hee's house and were met with two very calm men, and when Jae-hee found Cho-rim in the elevator with her skirt hiked up). So I'm hoping the first episode this week was the low point, and that we're on the upswing as we head down the backstretch.
I'll just be honest… as much as I'm finding the serial killer story pretty interesting, and I'm dying to know Jae-hee's motives and reasons for his method, I'm mostly here for our main couple and their wonderful chemistry. Mu-gak and Cho-rim just work, and seeing them separate wasn't fun. I'm happy that the show stayed true to form and didn't let that last for long, and we definitely have Mu-gak to thank for that. He managed to respect Cho-rim's wishes and boundaries, while still protecting her and keeping her close without smothering her. But he paid attention to his girl, and every time she opened up just a crack, he took his chance to stick his toe in the door. Slow and steady wins the race, and all that.
But mostly what stuck out to me, was Mu-gak's utter respect for Cho-rim, and her ability and right to make her own decisions. In fact, he's being the exact opposite of a Noble Idiot, and allowing Cho-rim to do what she thinks is best even when he vehemently disagrees. As hard as it was for him to let her put herself in harm's way, he stayed logical and realized that Cho-rim and Yeom are right — Cho-rim had the best chance to get into Jae-hee's home and get them some hard evidence. You could tell it was killing him, and he was worried sick, but he didn't try to go all I am the man, do as I say on her. He let her decide, and he let her help for the good of the case. When it comes to swoony male leads, being cute and romantic and a good kisser (we'll get to see another kiss, right?) is all nice and good. But show me a man who gives his lady the respect she deserves, and I'm a puddle of goo.
And Cho-rim, to her credit, did redeem her past stupidity a bit in this episode. She was brave and strong, she insisted on doing the right thing, and she thought fast on her feet more than once. I mean seriously, that quick idea to adjust her hose on the elevator was pure genius — not only was it a plausible reason to be there, but it made Jae-hee want to get away from her as fast as possible. It doesn't quite make me forget that she stupidly went back into his house without her phone or her earpieces… but at this point, I'll take whatever I can get. She's not a trained detective, after all.
Mainly I'm happy that our couple are back on their way to each other, because if there's anything that would give this whole years-long ordeal of theirs some meaning, it would be for them to find love together. We all know they belong together, and Mu-gak knows it, too. He's already forgiven Cho-rim (or really, he's realized there was never anything to forgive) and now he just needs to find a way to convince Cho-rim to forgive herself. Again, that is, if she can keep herself alive long enough.
RELATED POSTS
Tags: featured, Girl Who Sees Smells, Micky Yoochun, Namgoong Min, Shin Se-kyung, Yoon Jin-seo