Girl Who Sees Smells: Episode 13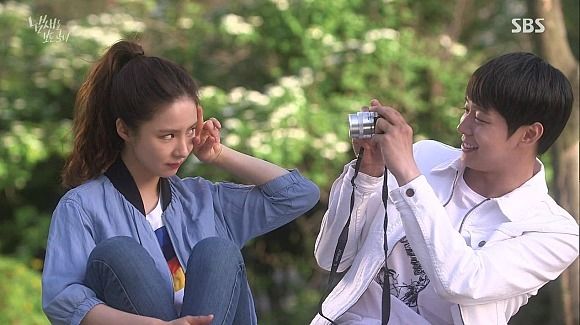 The cute is back! I love this show so much more when Mu-gak and Cho-rim are being adorable together, and this episode doesn't disappoint. Unfortunately, the killer is getting closer to discovering the true identity of Choi Eun-seol, and not even Mu-gak's increasing threats and challenges can put him off the scent. It will take the detective team truly banding together as one solid, strong unit, to solve this case and save Cho-rim's life.
EPISODE 13 RECAP
Jae-hee waits for the elevator door to open, and gives Cho-rim a long, searching look when he sees her. He takes note of her surprise to see him, and leaves her to find her wallet while he goes upstairs to make coffee. When he's gone, Cho-rim sinks to the floor and lets out her pent-up breath.
He's looking distinctly unhappy when she comes back upstairs, and when she tries to leave Jae-hee tells her to sit and have some coffee (no, don't drink the coffee!). He pretty much orders her to drink, and watches intensely as her hands shake and she raises the cup to her lips. But she doesn't drink, and simply praises the scent.
I do not like the way Jae-hee eyes Cho-rim as she handles the coffee cup again, but just when I think he's going to do something horrible to her, Mu-gak knocks on the front door. Phew.
Mu-gak is pretty frantic knowing that Cho-rim is in there with Jae-hee, and pounds and hollers Jae-hee's name. When he's let in, Mu-gak visibly relaxes to see that Cho-rim is alright, but tenses up again when Jae-hee gets in his face. He's maddeningly calm, and Mu-gak tells him that there's no point in talking — they both know why he's here.
He offers to stay and talk but only if Cho-rim leaves first, and Jae-hee agrees. After she goes, Jae-hee asks if he's here to get the spy camera, and Mu-gak says he should since he doesn't need it anymore. Jae-hee supposes with a smirk that the person who placed it should be the one to take it back.
When they get down to the Murder Library, Jae-hee tells Mu-gak that Cho-rim was just in here alone. He hopes the spy camera is still in place — was Cho-rim the one who placed it, and possibly retrieved it? They'll know who it was when they find out if it's still there. Jae-hee even admits that he hopes the camera is still there.
Mu-gak approaches the shelf where Cho-rim left the camera, but Jae-hee slips past him quickly and grabs it… it was still there. He looks furious, and when Mu-gak takes the camera, Jae-hee loses his ever-present cool and grabs Mu-gak's jacket. He warns Mu-gak never to trespass on his property again.
Mu-gak actually grins to see Jae-hee's control slip, and implies that his trespassing is nothing compared to Jae-hee killing his only family. He tells Jae-hee that he'll die soon, unless he kills Mu-gak first. Gauntlet. Thrown.
Back at the station, Mu-gak tells Cho-rim that Jae-hee is definitely suspicious, so she can't help with the investigation anymore. In fact, she needs to steer clear of him in general. She frets that she still needs to find something out from him — the scent that was on Baek-kyung's body in the car, the one she couldn't identify, was on Jae-hee today. She's never seen it on him before.
This could be a critical clue to linking Jae-hee with the murders, so it's time to tell the rest of the detective team that Cho-rim can see scents. Oh, this is gonna be fun.
Of course her claim is met with skepticism, so Mu-gak explains that her ability has been why he seemed exceptionally insightful in their recent cases (and awww, Cho-rim denies it, wanting her guy to get the credit). Yeom asks if she can prove it, so they set up a little test.
The team each stand in front of a locker, and Cho-rim has to guess whose locker it is (and OMG, Mu-gak tosses her a little kiss when she looks at his locker, how freaking CUTE is this guy??). Of course she gets them all correct, and now the boys look a little scared of her, hee.
Yeom immediately figures out that this is how Cho-rim knew Joo Ma-ri's car was in the river. Kang is the first to ask how she got this ability, and she shows them her blue-green left eye. Mu-gak asks them all to keep it a secret.
PFFT, the guys are all into this "supernatural gift" idea now, Kang saying that sometimes he thinks he can hear people's thoughts and Yeh claiming that he occasionally knows the future. Just before Mu-gak's eyes can roll right out of his head, some of the other detectives come running by with Kang's nemesis right behind, wailing that they let a perp escape right out of the station. The entire team looks expectantly at Cho-rim, heh.
Mu-gak holds up the perp's jacket that he left behind, so Cho-rim can check out the scent. She heads outside but doesn't go far, zeroing in immediately on the scent rising from the trunk of a car in the parking lot. Of course it's Kang's nemesis's car and he demands to know why they're all staring at it, so Mu-gak knocks on the truck and starts to count to three. POP! goes the criminal.
Now that the whole team is convinced that Cho-rim really can see scents, they try to track Jae-hee's movements to figure out where he would have picked up the scent that was also found on Baek-kyung. He went straight home from the restaurant, so Yeom figures the scent must be in his home.
Ki says there must be a part of the house where Baek-kyung stayed, and Mu-gak extends that to guess it must be where he keeps his victims before killing them. He offers to let Jae-hee kidnap him, and Kang loudly protests. Awww, he cares. So Mu-gak says if they can't do that, they have to shake Jae-hee up so he makes a mistake.
Detective Yeh gets his hands on the blueprints for Jae-hee's house, and Ki uses it to report a fire code violation. He and Kang create a huge scene, to get them entry into Jae-hee's house.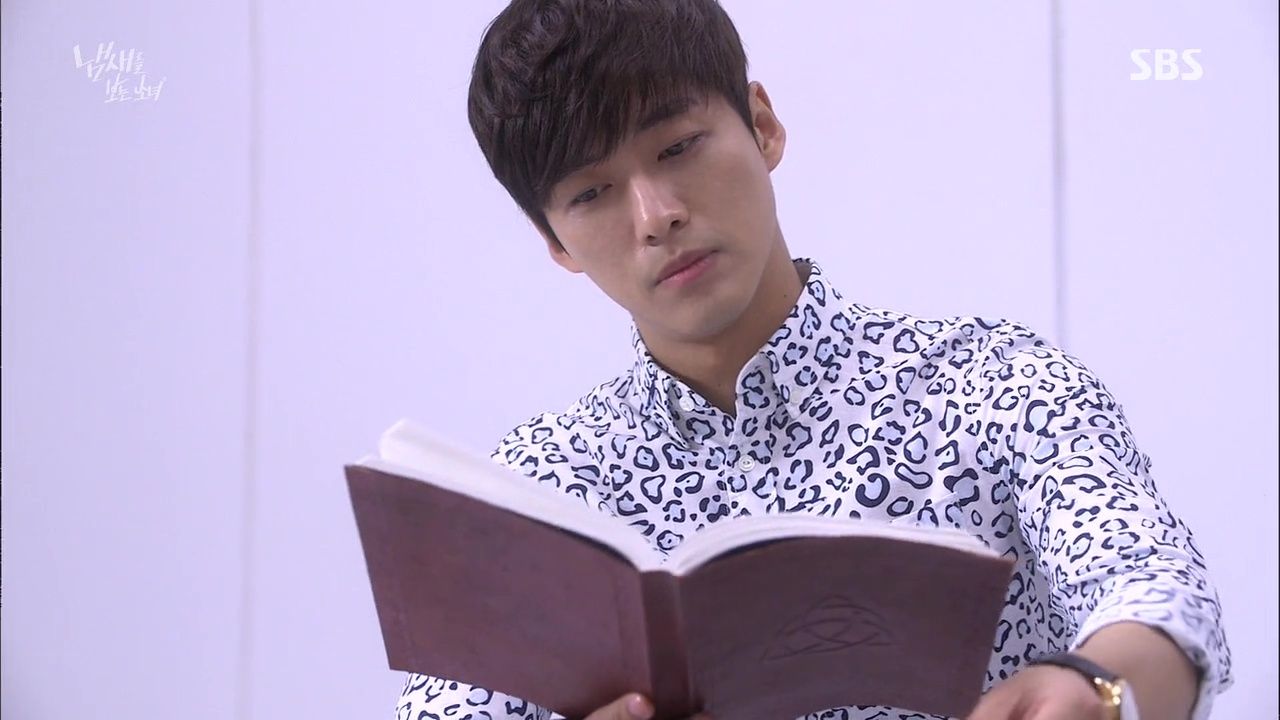 As Jae-hee works out yet again, he uses the time to think about the fact that he must have had the correct picture of Choi Eun-seol, or the police wouldn't have switched it. But if they switched it, then they must know about his face-blindness. And the only person that he told was Cho-rim — so she must be helping the police. But why?
He takes the victim books written by Choi Eun-seol's parents into the white room, flipping through them for information. He finds mention of Eun-seol's best friend in high school (why would you write someone's real name for a murderer to read??) and Jae-hee makes a note of the girl's information.
Apparently, Mu-gak is taking his new job as Cho-rim's 24/7 bodyguard seriously, as they walk into the station the next day with both of his arms tightly around her, making the detectives cringe. HAHA. She tries to at least help out, but Mu-gak ushers her to the sofa to relax.
Later in a meeting, Yeom reports that Cho-rim's hypnosis sessions to regain her memory aren't working out. I love how worried all the guys are about her. They decide to move on to "peer treatment," where people from the person's past are brought in and hopefully, spending time with them jogs the person's memory.
They head to Jae-hee's to do an inspection for the trumped-up fire code violation, and Jae-hee twitches a bit when they say they're looking for unapproved additions to the house. He actually looks nervous when Mu-gak specifically mentions the basement.
Just because he can, Mu-gak moves through the Murder Library knocking books off the shelves. It's vindictive, but somehow satisfying. Jae-hee blandly says he's getting upset, and Mu-gak says he must kill people when he's upset, even throwing in a "come at me" gesture. He reminds Jae-hee that he should kill him if he wants to live, himself.
Mu-gak practically invites Jae-hee to kidnap him right now, saying he's dying to see the secret room where he holds his victims before killing them. Jae-hee just tells him to keep looking, and leaves the library as Mu-gak throws down more books, calling after him, "Kidnap me!"
Lieutenant Yeom finds the girl who approached Cho-rim at the cooking show shoot, Soo-mi, explaining about Cho-rim's lost memory and asking for her help. She asks her also to spread the word to Cho-rim's classmates, the only caveat being not to mention her murdered parents.
Meanwhile Jae-hee is busy tracking down old friends of Cho-rim's as well, and he manages to find the girl that was mentioned in the victim book, whose name is Mi-na. Mi-na hasn't seen her friend since the accident, and is excited to hear that she's alive and living in Seoul. She plans to get all of their friends together, and agrees to tell Jae-hee when she finds her.
Cho-rim meets with Soo-mi, apologizing for not recognizing her. Soo-mi tells her she's organizing a get-together with all their old friends. Afterward Mu-gak offers to take Cho-rim to eat, but she pouts when he heads off on his own since he's supposed to be guarding her. He becomes adorably overly-solicitous and follows her every step, making her giggle at his cute antics.
At lunch, Mu-gak goes wide-eyed and gasps that he can taste the spiciness of the dish. Cho-rim starts feeding him the different foods and he guesses the flavor, but the smirk on his face finally clues her in that he's pulling her leg. Awww, he's too cute to be mad at, Cho-rim! He says that he won't regain his ability to taste and feel until she regains her memories first.
Mu-gak knows Cho-rim well, and guesses that she's feeling confined these days, not being allowed to do anything until they catch Jae-hee. He offers to take her biking, and she lights right up. He stops at a booth and picks out a hairclip for Cho-rim (after first choosing one meant for dogs — oops!) and he goes around taking cute pictures of her and her clip.
Mu-gak mugs cutely for an ice cream, then they rent a tandem bike where he pretends to be helping and laughs at Cho-rim's complains that it's too hard to pedal. They stop at a bench for more pics, and Cho-rim doesn't notice when her new hairclip falls out.
They get back on the bike, but don't get far before it starts to pour. They take refuge under a gazebo, and Cho-rim notices her missing clip. Mu-gak suggests she look for the shampoo scent that will be on it, but she can't see scents when it rains. Something tells me this will be important later.
Mu-gak uses the camera pics to pinpoint when she suddenly wasn't wearing the pin, leading him right back to the bench. He finds the clip, but pockets it instead of giving it to her.
Detectives Ki and Yeh stake out Jae-hee's house, where he's apparently stayed in all day. It's suspicious that he's not been to the restaurant, and canceled his TV show shootings. Detective Yeh asks why Elena hasn't called Ki in a while, and Ki chalks it up to "push-and-pull."
Cho-rim's old friend Mi-na calls Jae-hee, telling him that she's gotten in touch with Choi Eun-seol. The friends are all going to be getting together soon, and Jae-hee offers the use of a restaurant he knows, for free.
Cho-rim and Mu-gak go back to his place for the night, and he gives her the hairclip back. She smacks him for teasing her and he clutches his chest, then grins again, the big dork. Lieutenant Yeom calls him to discuss a security plan for the friends' get-together the next day, then asks Cho-rim if she's free to go somewhere with her.
She takes Cho-rim shopping for an outfit, saying it's a treat to help her get her memory back. She's all sisterly smiles and even buys the outfit, then they go to a shop that Cho-rim likes, because you can mix your own personal perfume scent.
Cho-rim mixes up a scent with the freesia that Yeom wears, and the rose that Cho-rim herself wears, saying that they even look pretty together. She puts it in a pretty silver locket for Yeom as a gift, and Yeom looks genuinely touched.
Mu-gak presents his findings on Jae-hee's past to the team, and it turns out that when he lived in America, he was accepted to Harvard Medical School but dropped out. That he'd particularly excelled in the anesthesia class is no surprise to anyone. The reason for his dropping out is unknown, but Mu-gak notes that in the US, medical students have to pass a psychological test, and Jae-hee dropped out right after the test. Interesting.
Mu-gak assumes that Jae-hee became a chef instead, because it allows him to kill living things without reproach. He thinks it was hard for him to reconcile his need to kill with the fact that doctors are meant to save lives. The fact that he keeps his victims for six days before killing him seems to carry some meaning, and is probably the key to why he kills.
If they can discover what happens during those six days, they'll know what makes Jae-hee tick, and be able to find evidence to arrest him. It's starting to sound like letting him kidnap Mu-gak is their only option, so he can experience those six days.
Mu-gak and Yeom leave the meeting to escort Cho-rim to her reunion, and Mu-gak inspects every private room in the restaurant. Unfortunately, he misses seeing the face of one man, who turns out to be Jae-hee in disguise right in the room next to Cho-rim's friends. Aack! We see that he'd approached two homeless men and offered them a bath, new clothes, and a meal, and had worn a grey wig to hide himself as another older man.
Mu-gak clears Cho-rim to join her friends, and she sits where Jae-hee can see her through a crack in the screen. Luckily she's wearing the new clothes that Yeom bought and that he won't recognize. Yeom and Mu-gak sit out in the main room, and Detective Ki reports that Jae-hee still hasn't left his house.
Cho-rim's friends tell her that they know about her memory loss and urge her to feel comfortable, which Jae-hee overhears, confirming that this is the right Choi Eun-seol. It's the first he's heard that she lost her memory, though, and as he listens to her talk, he thinks that her voice sounds familiar.
When one of the girls says she saw Cho-rim on television with Chef Kwon Jae-hee, and asks if Oh Cho-rim is a stage name, it all clicks into place. He's had Choi Eun-seol right next to him all this time. Furious, Jae-hee struggles to process this information.
After lunch, Yeom and Mu-gak smile at the girls like indulgent elders, both of them pleased to see Cho-rim surrounded by friends. Yeom heads to the car as Mu-gak hangs back, but he's distracted when he sees the two men from one dining room meeting friends with giant leftover bags of food. He follows, and one of the men tells him that the clothes and food were a gift from a stranger.
Back inside Cho-rim sends her friends off, but when she doesn't see Mu-gak near, she goes down the stairs to the parking garage alone. And right behind her is Jae-hee, in his black Barcode Killer garb. He comes up right behind her, says only, "Choi Eun-seol," and chloroforms her.
He takes her back to his house and down a storm door, leaving her in the white room alone, still unconscious. He makes two meals upstairs, sending one down a dumbwaiter, and sees his captive on video starting to wake. He takes his own meal down to the Murder Library and sits in his chair, pressing the button to open the wall between the rooms. There, on the other side of the glass…
… is Lieutenant Yeom. Oh snap.
Jae-hee doesn't immediately realize his mistake, since Yeom is dressed in the same clothing Cho-rim was wearing at the restaurant. He asks if he should call her Choi Eun-seol or Oh Cho-rim, and gets in answer, "You can call me Lieutenant Yeom Mi."
The look of shock, surprise, and oh shit on Jae-hee's face is every bit as satisfying as could be hoped, and more. We see how Yeom had stepped into the stairwell just behind Cho-rim in order to place herself between her and Jae-hee to get herself kidnapped on purpose. Jae-hee thinks fast but comes up with zilch, and Yeom sneers at his speechlessness.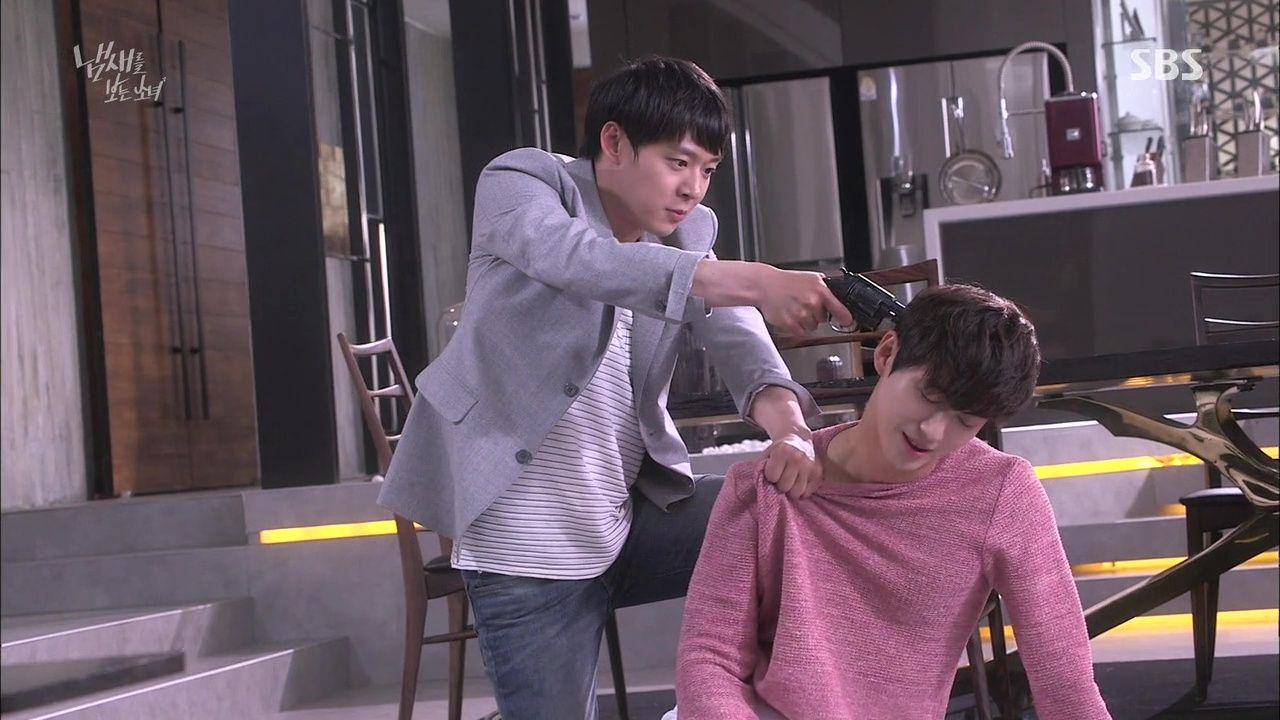 In the car with Mu-gak, Cho-rim demands answers, and finds out that Yeom got herself kidnapped in her place. Mu-gak had known what she was planning, having seen that she was wearing the same outfit as Cho-rim, the same one she'd bought for her as a gift. Cho-rim is beside herself with worry, but Mu-gak just growls that he's going to kill Jae-hee, right now.
When they get to Jae-hee's house, Mu-gak orders Cho-rim to stay at the car and runs to the door. He ignores formality and just shoots the lock open, and doesn't even pause as he marches in and punches Jae-hee hard enough to send him rolling halfway across the room.
Mu-gak grabs Jae-hee's collar and puts the gun to his head, demanding to know where Lieutenant Yeom is right now. Bleeding from the mouth, Jae-hee just laughs.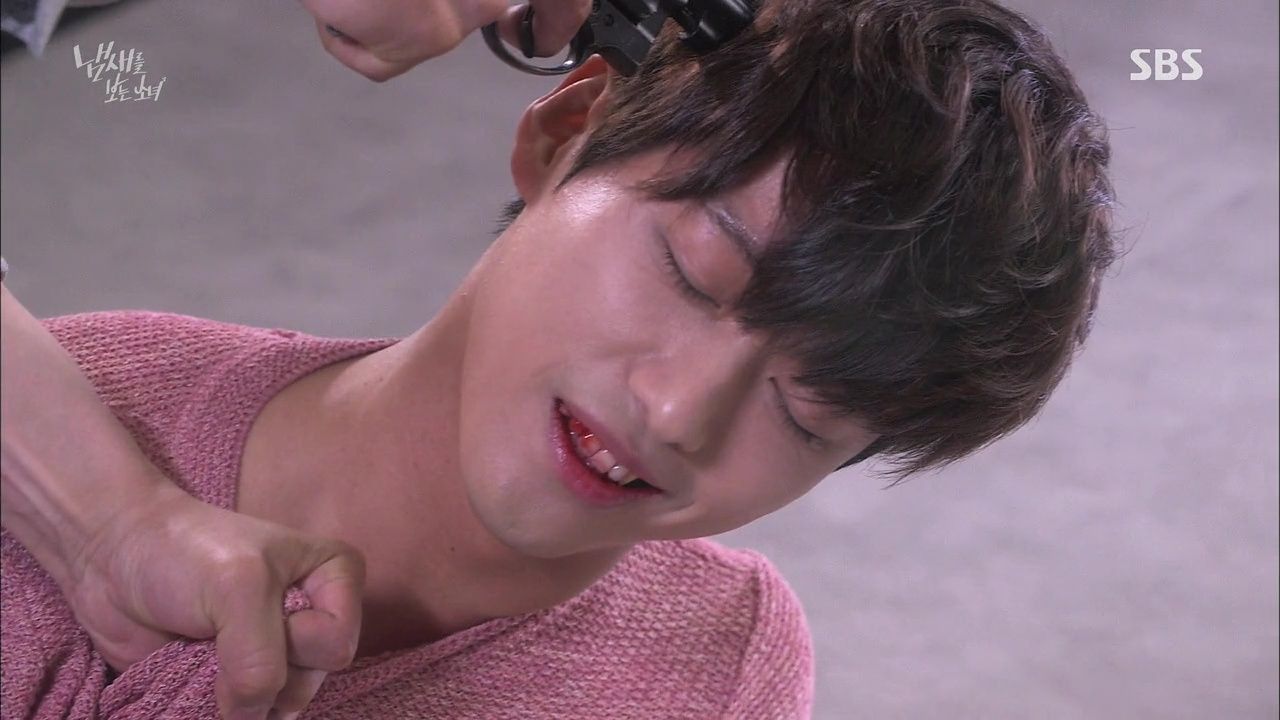 COMMENTS
Well I certainly didn't see that coming, but I admit I cheered when that wall opened and it was Yeom on the other side, with that Dude you are so busted expression on her face. I haven't always liked Yeom as a character in the course of the show, but I have to admire her dogged determination to do whatever it takes to catch the killer, even if it means offering herself up as bait. The look on Jae-hee's face made me laugh maniacally, because for the first time, he was totally thrown off-guard and had nothing, I repeat, nothing, to say. I think that's going to turn out to be the moment that the Barcode Killer knew that it was all over.
I know the show has gotten a lot of criticism for being as full of plot-holes as Swiss cheese, and I can't argue with a single one of the comments pointing out that it's not been as strong in the second half as it started out. Heck, I've complained a fair bit myself, and this episode was no different (really, wouldn't a real cop insist on looking at everyone's faces at the restaurant?). But I think that there's something to be said for a show that, for whatever reason, keeps me engaged and interested enough to cheer and whoop at the big "Aha" moments, and blush and sigh at the romantic moments, even when I have to suspend my disbelief for a large portion of the plot. I don't know exactly what it is that keeps me loving this show even when I'm thinking What the…really??, but I do, and a large part of that is the characters.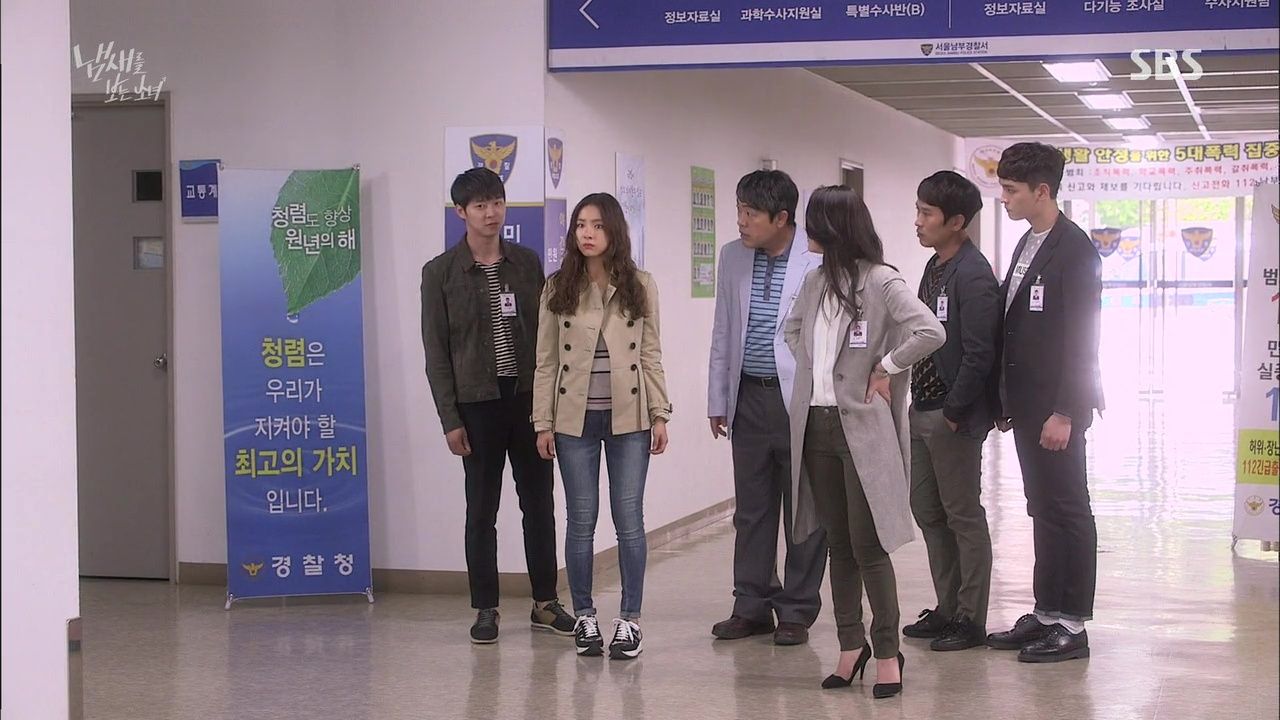 I just love how the detective team is coming together as a family, since none of them seem to have much real family to speak of. It's especially fun to watch the guys tease and include Mu-gak, who they recently tried to keep out of their group — particularly Detective Kang. The way he yelped in horror when Mu-gak suggested using himself as bait was so sweet, when just a few episodes ago he was telling him never to come near him again. Not to mention how badly the three detectives wanted Mu-gak back on the team when he was kicked off. This team really cares about one another, and now they're including Cho-rim as part of their in-crowd. It was telling that, even so soon after her revealing her ability to see scents, the moment an opportunity came up that they could make use of it, each and every one of them turned to look at her like, "You're up, Rookie." I joked in an early recap that Cho-rim would make a god cop, but now I really could see her joining the force and using her ability to solve crimes on a regular basis.
I do think that the show's strength also lies in its continued ability to surprise us as an audience, and Yeom's setting herself up to be kidnapped was a big one. It was a smart move on her part, because discovering what happens during the six days that he holds his captives is the thing that they need to know in order to figure out the why of Jae-hee's methods. Why does he keep his victims alive, and why the barcodes carved into their arms? They need to know, so they can stop him. For that reason, I almost hope that Mu-gak doesn't get Yeom back right away, because with all the theories and speculations flying around since the beginning, I still think we're in for even more surprises. Jae-hee is still an enigma, and getting Yeom back now would be enough to nail him as the killer, but wouldn't help them learn why he does what he does. She needs to experience those six days, and as dangerous as that is, it's necessary if they want to not only catch a killer, but learn what makes Jae-hee tick.
RELATED POSTS
Tags: featured, Girl Who Sees Smells, Micky Yoochun, Namgoong Min, Shin Se-kyung, Yoon Jin-seo