Girl Who Sees Smells: Episode 14
Hello, folks! I'm just popping in to pinch-hit this episode, which I'm happy to do since I've been enjoying the show with its cute chemistry and (as funny as it sounds) lightweight murder mystery. And while I would never argue that there aren't flaws in the show, I find enough to keep me entertained.
Episode 14 closes in on our killer even more, and it's quid pro quo time: He may get inside his victims' heads, but that doesn't mean a victim can't get inside his, too. The question is, can this victim hold out long enough to find a safe way out?
SONG OF THE DAY
Loco, Yuju – "우연히 봄" from the Girl Who Sees Smells OST [ Download ]
Audio clip: Adobe Flash Player (version 9 or above) is required to play this audio clip. Download the latest version here. You also need to have JavaScript enabled in your browser.

EPISODE 14 RECAP
Mu-gak shoots his way into Jae-hee's house, then lays Jae-hee flat with a punch. He presses his gun to Jae-hee's head and demands to know where Lieutenant Yeom is, his finger tightening on the trigger…
But his teammates burst in and drag him off, having heard the commotion while staking out the house. Mu-gak informs them about Yeom's kidnapping, then heads off to look for her on the premises.
Jae-hee keeps an even keel and speaks pleasantly to Cho-rim, as though she weren't glaring daggers at him. At her accusation of abducting Yeom, all he says is that he thought they were friends. Yes, but what about that part where friends don't let friends kill their friends?
When Mu-gak enters the library o' death, Yeom sees him on the camera that's mounted in her cell. She screams and bangs on the wall hoping to get his attention, but just on the other side of the wall, he hears nothing. Jae-hee's made certain of keeping his little murderous secret well under wraps, so Mu-gak wanders away and she slumps in dismay.
The detectives are forced to return to the station empty-handed, confused since they'd been staking out the house diligently and didn't see Jae-hee leaving it. (Not that they're that great at their jobs on the best of days.) But they're sure he is the Barcode Killer, which only gives Yeom six days left to live.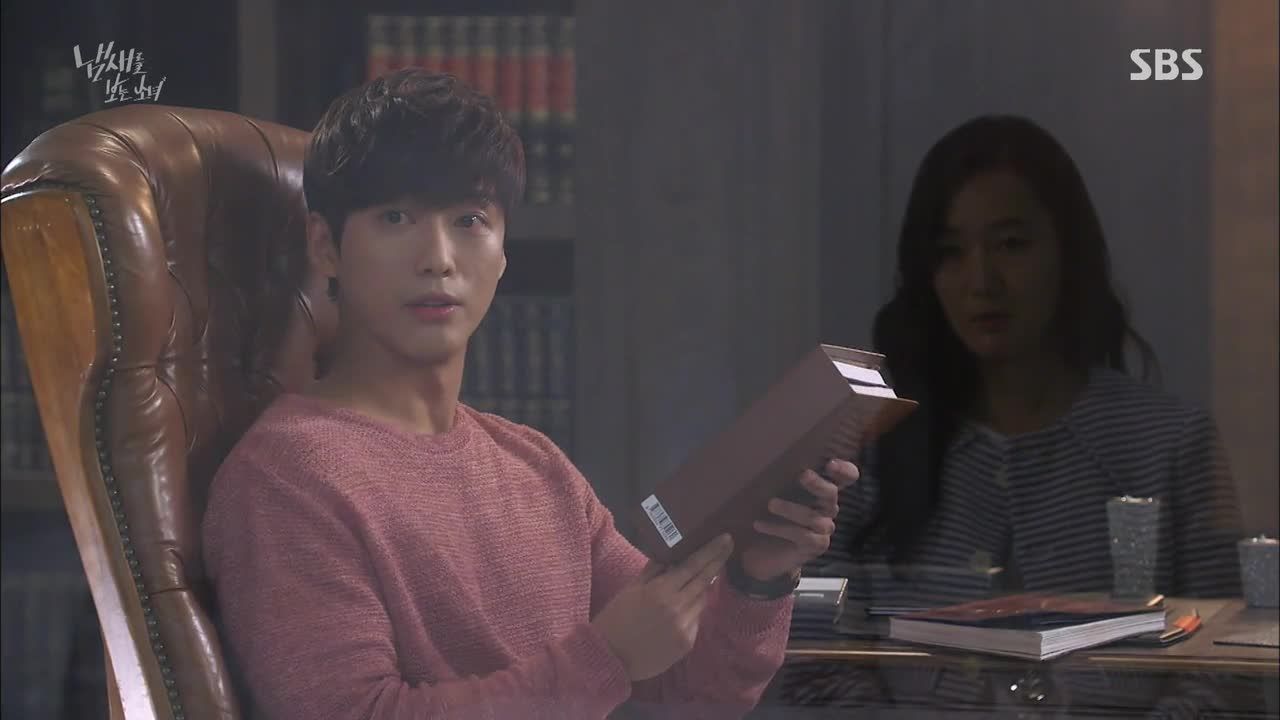 Before the killing, though, Jae-hee instructs Yeom to fill a book with her life story, as he had all his previous victims do. The spine of the volume bears a barcode, and Yeom calls him a parasite for deriving vicarious pleasure by claiming others' lives. Jae-hee informs her that if she refuses to write, he can kill her immediately rather than at the end of six days.
Mu-gak starts piecing together how Jae-hee managed the kidnapping—he must have talked to Cho-rim's friend and set up the reunion, then observed the reunion from next door. He managed to stay off the security camera by having one of his homeless diners settle the bill in cash. Of course, he bungled the final step where he kidnapped the right person, but points for trying?
Mu-gak manages to find the man who paid the bill, and takes him to Jae-hee's restaurant to confirm his identity. But thanks to Jae-hee's disguise, he isn't recognized and Mu-gak is stumped.
Day 3 of Lieutenant Yeom's captivity. Jae-hee reads her entries and prods for greater detail, such as why she became a detective. Ever cool, she purposely drops her pen to bend down and surreptitiously fiddle with her perfume locket—smart of her—then grabs Jae-hee's hand to transfer the scent. Her request for a clock is denied on the grounds that she doesn't get to demand anything, since he controls this scenario. Interesting how the issue of control sparks his temper.
Too bad Yeom's team isn't as clever as she is, and the detectives' stakeout is interrupted by Jae-hee himself, who walks right up to the car and knocks on their window. He drily informs them of his plans to leave for the next four hours, suggesting they can take a break. What, like they were working so hard before?
Jae-hee attends a fan signing event, and Cho-rim waits her turn in line and announces herself as Choi Eun-seol, startling him briefly. He's further surprised when she asks him not to kill Yeom and take her instead, but he hides it well.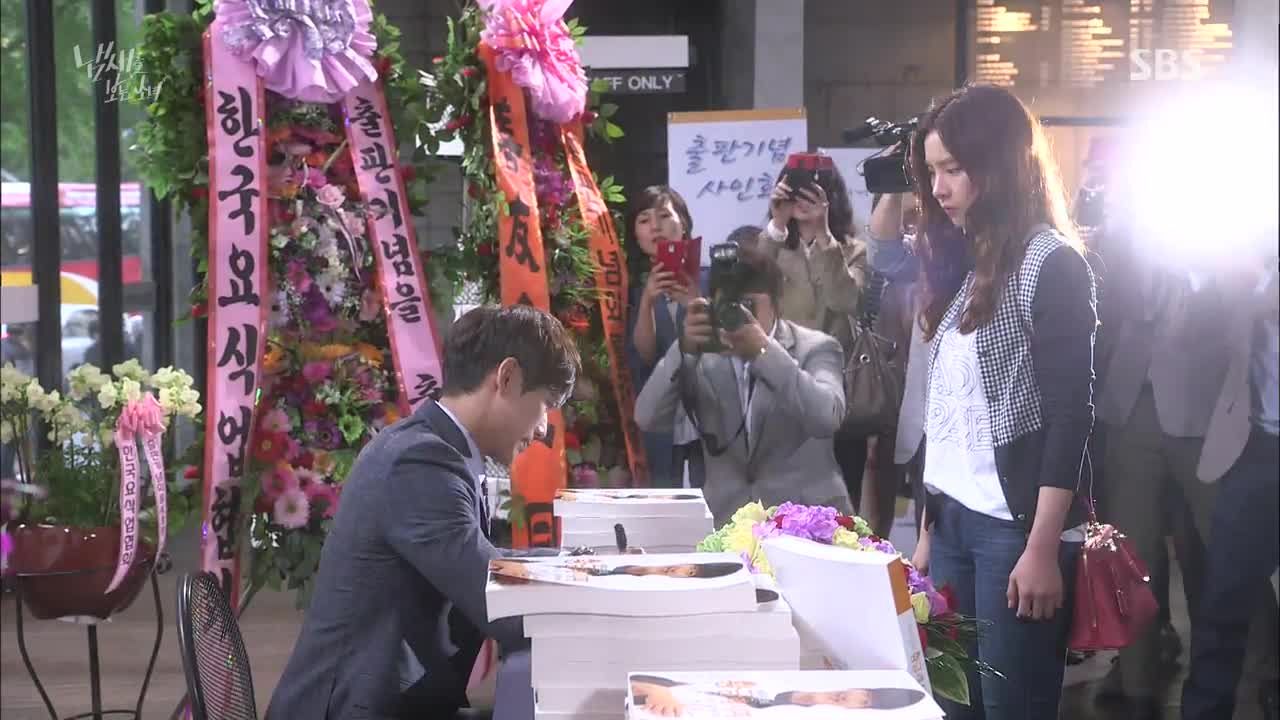 Cho-rim spies the telltale traces of Yeom's perfume on his hand, just as Mu-gak storms into the room and flings a trash can at Jae-hee. He growls that he'll get him, then pulls Cho-rim away while the bewildered crowd wonders what just happened.
Cho-rim had come here on her own without informing him of her intention, and he scolds her for hurtling into danger. She tells him of seeing Yeom's scent, which confirms that he's holding her at home, which would frankly be a more important revelation if the team didn't already know that. Cho-rim says that she has to exchange herself for Yeom, wracked with guilt and unwilling to substitute Yeom's safety for hers. "If she dies," Cho-rim cries, "I wouldn't be able to live!"
"What if you die?" Mu-gak asks. "Do you think I'd be able live? How could I live without you?" Aw, it's heartfelt and wrought, and if nothing else I really do believe that this couple loves each other. Cho-rim asks what she's supposed to do, and all he can do is hold her while blinking away his tears. She asks him to save Yeom, and he agrees.
In the white room of death, Jae-hee notes that Yeom drinks her coffee without fear, which, knowing his proclivities, is pretty brave of her. She replies pragmatically that he wouldn't kill her yet—not while she has yet to finish writing about her high school days. Point taken.
He mentions wanting to bring more people into this room, such as Mu-gak. She asks why, and he answers meaningfully, "Not everything in the world has a reason." She notes to herself that Jae-hee is looking for legitimization for his murders.
Day 4. Cho-rim goes to see Jae-hee and repeats her request to swap hostages, offering herself in exchange for Yeom's safe release. Jae-hee looks taken aback, but rejects her flat and tells her not to approach him about this again.
He mentions Cho-rim's offer to Yeom, musing that this must be what friendship is like. Yeom retorts that Jae-hee wouldn't know that feeling.
Despite Jae-hee's refusal, Cho-rim suspects he was just being wary. Mu-gak is more intent than ever on finding a way into that secret room, and they discuss a plan that we don't hear.
Yeom continues her profiling of Jae-hee, concluding that he feels pleasure in "having" the lives of his victims—that in killing, he can possess them. He's discomfited at her perceptiveness and tries to shut her down, but she prods anyway: He wasn't always unable to recognize faces, and developed the disorder out of the trauma of abuse. His brain is rejecting people's faces. When he gave into his thirst to kill, he considered himself seeing his victims' lives rather than their faces.
Jae-hee's unsettled to admit that she's accurate. She tells him he's deluded, however, because he's never "had" those lives, and even laughs in his face, which prickles his temper. He offers her a chance to gain hours of her life by answering a question correctly—or losing hours if she's incorrect. The question: "Do I want to kill Oh Cho-rim, or not?"
She replies, "You don't want to kill her." He counters, "No, I do want to kill her. Very much."
Yeom doesn't betray a single emotion as he informs her that she's lost three hours, waiting until he leaves to show her worry.
As the clock ticks down, the detective team is still grasping at straws for their way into Jae-hee's secret lair. Cho-rim writes an email to Yeom, calling her unni as she promises that they'll meet again. Then she receives a text from Jae-hee approving her swap proposal, instructing her to meet him tomorrow morning.
She takes the message to the team, which is a relief since I'd feared she'd do the stupid thing and sacrifice herself alone. Switching the women gives the detectives a window during which to identify the entrance to the secret room, and they devise the following plan: They'll mark Jae-hee with a scent, which will guide Cho-rim to the lair. He'll leave the secret room to make his rendezvous with her, but Cho-rim will be a no-show. When Jae-hee gives up and returns home, Cho-rim can track the scent. Uh, I hope they're accounting for a few of those glaring holes I see in that plan…
Yeom remains steely in the face of impending death, and even offers Jae-hee three more hours of her life, in exchange for three answers. Why did he kill the doctor? Where is Joo Ma-ri's diary? And why does he mark his victims with a barcode?
Jae-hee answers that the doctor found out too much, and the diary's in the living room. As for the barcodes: "After they've written their autobiographies for me, they become empty shells. They're merely book covers." She takes that further and guesses that it has to do with him not recognizing their faces, though he doesn't answer. And now she's got only eighteen hours left to live.
Day 6. Following Jae-hee's rendezvous instructions, Cho-rim arrives at the subway station and finds a locker, which contains a phone. Calling her on it, Jae-hee guides her through several steps to ensure that she's not trying to trick him or being followed by police. (She lies and says she isn't, but he's not the kind of guy to take her at her word on that.)
Alarmed to hear that Yeom's death time has been moved up, Cho-rim runs to the next location to await further instructions. Once there, Jae-hee calls to direct her to a different location, and Cho-rim runs again, and this time we see that Jae-hee is watching from a parked car nearby. He tells her to take the box he's left there, and breathe in the drugged cloth.
Cho-rim opens the box, and recognizes the scent—it had been on Baek-kyung's body. She hesitates, but Jae-hee presses her to do it before he rescinds the deal. She decides to proceed and breathes in the cloth, which sends her slumping over within seconds. Mu-gak and the detectives have no choice but to remain put and watch.
Jae-hee comes forward to collect her, and Mu-gak gives Ki and Yeh the order to move. They break into Jae-hee's car and slip a tracker under the dashboard, then douse the gas pedal and floor mat with a clear liquid.
Just as Jae-hee gets to Cho-rim, a jogger runs up in concern, and Jae-hee ducks his head to hide his face. Oh, it's Kang's cop nemesis! That's sweet, he poses as a concerned Samaritan and insists on calling emergency services. Then he yells loudly for help, drawing passersby to the scene and forcing Jae-hee to withdraw. Okay, this was a decent plan.
Jae-hee drives off empty-handed, checking his mirrors for followers, and arrives at what looks like an unfinished construction site. Underneath a tarp is a door leading to a basement, and he walks a fair distance down a long series of tunnels and hallways. A fingerprint gains him access to a door, which swings open on Yeom's cell.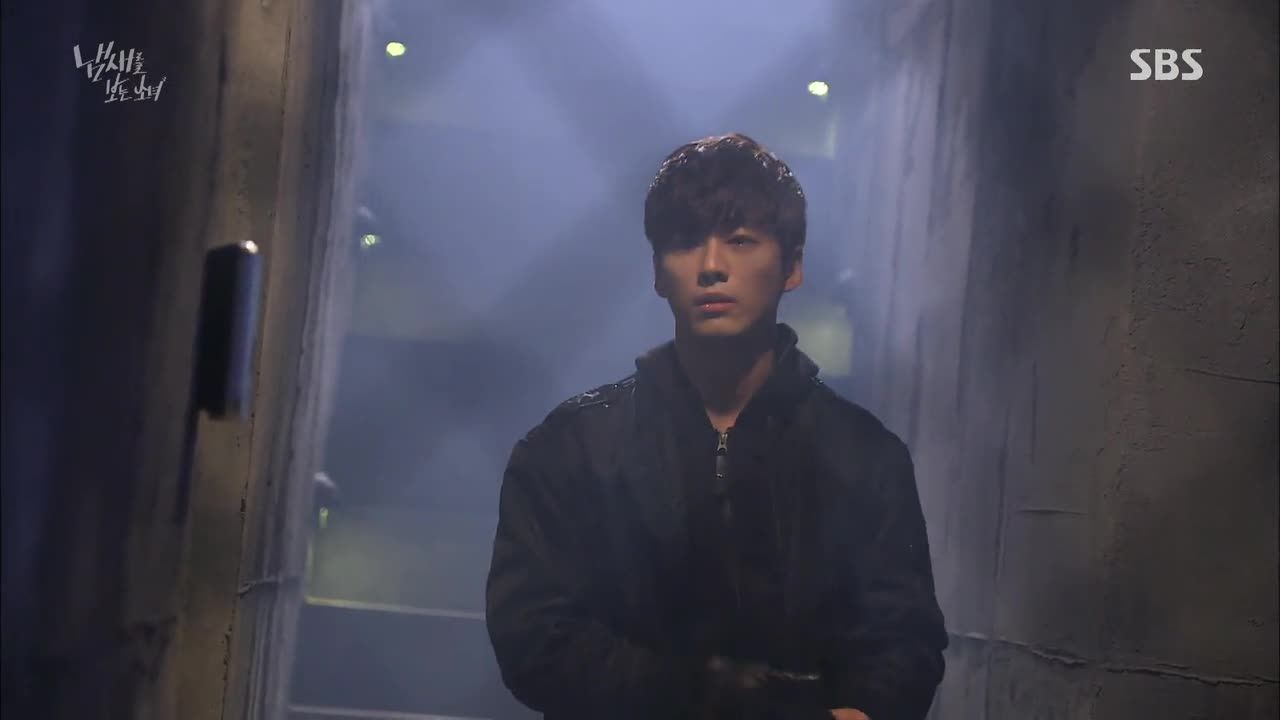 Jae-hee tells her that Cho-rim's a good friend, inhaling anesthesia willingly in an effort to save her friend's life. But the plan was interrupted and now, Yeom has two and a half hours left to live…
Cho-rim is rushed to the hospital, Mu-gak holding her hand anxiously all the way. She comes to mid-ride and rejoins the team, assuring them she's all right. The team turns its attention to the GPS tracker, which pinpoints the car's location a short distance away from Jae-hee's house. Mu-gak shows her the liquid they spilled in the car, which has no detectable odor but is visible to her eyes.
T-minus two hours. They arrive in the construction yard, and Cho-rim can see the footprint-scents on the ground… until it starts to rain. Curses. Smell faster!
In a flash, her hope turns to desperation. She refuses to give up, and continues to look even though all the traces are gone.
Jae-hee says that Yeom's autobiography has been the shortest of anyone's, and offers her the chance to extend her life by writing more. She replies that she's not a novelist, and had difficulty inventing things to write, taking things from movies and making them sound realistic. He looks honestly stunned at that, saying that the others all wrote the truth before dying.
She laughs, and asks him if one of his earlier victims wrote that she had an affair and abandoned her child. "Things that we police know about a person just by looking at a casefile—why don't you realize even as you kill them?"
Jae-hee looks so pitiful as that I almost feel sorry for him, except for that whole part where he murdered a bunch of people I guess. He looks like a little child as he tells her not to lie, insisting that he did have their lives before killing them. "Their lives that nobody knew—I read them, felt them, and took them as my life!"
Yeom snaps that this is a losing game for him, and he knows it. He says she'll feel differently in two hours, and prints off a barcode to affix to her book. She asks if he'll cut the barcode into her wrist after he's done, and when he confirms, she bursts into laughter. "Of everything I've seen in the world, that's the most childish," she says.
Jae-hee tells her it's no use trying to rattle him. Yeom says that people have an instinct to talk, and that's why she feels compelled to tell him that he's low-rent and silly.
I enjoy that I know both of them have all these conflicting emotions going on underneath the surface—we've seen the hints of them—but they're both supremely cool and collected on the surface, not willing to give an inch to the other side.
One hour to go. Stymied by the rain, the detective team suggests a brainstorming session to gather their wits. They go to a nearby cafe, wondering if they can invent pretexts for storming the house. They're dejected and desperate, and that's when Mu-gak takes notice of the exchange between the cafe owner and her granddaughter, with the little girl showing her a drawing in invisible ink, made visible by darker ink. What if they do the same with the rain-washed smell?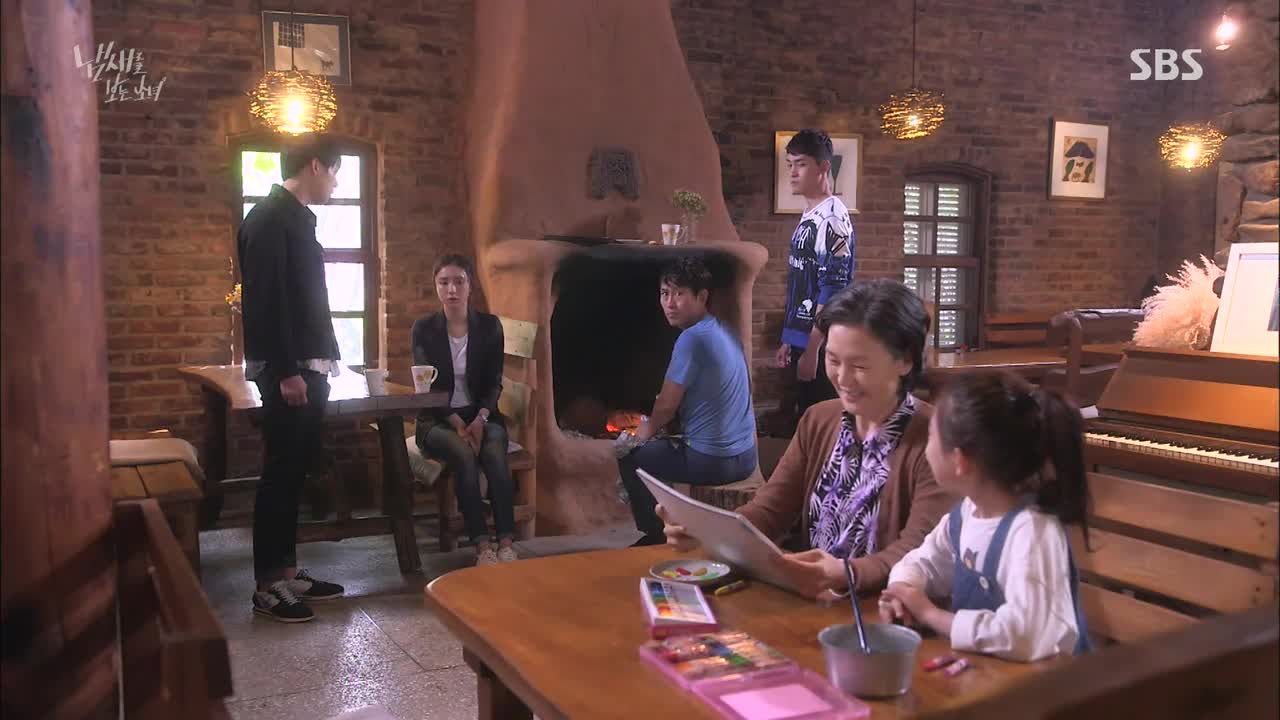 Jae-hee prepares his scalpels, noting that Yeom is the first victim to watch him till the end. She says she's occasionally thought of her death, wanting to "forget and forgive everything" before leaving. But not anymore, since she has no desire to forgive Jae-hee—"not for what you've done to me, but what you've done to humanity."
Thirty minutes. The team busily scatters soil on the ground, which… somehow makes Jae-hee's scent more visible? I don't know why? Eh, let's go with it, only two episodes left! She directs the scattering in the direction of the trail, and bit by bit, the wet ground is covered and the scent starts to peer through the dry layer. I'm sure it's all very scientific.
The scent ends at the tarp, and moving it aside reveals the trapdoor. Bingo.
Mu-gak directs the detectives and asks Cho-rim to stay away while he goes in.
Jae-hee explains how he will kill Yeom, beginning with the gas that will fill the chamber, rendering her unable to breathe. It'll make her death painless, and then he'll carve the barcode on her wrist and it'll all be over. He presses a button, and gas starts to fill the cell.
Mu-gak and Detective Yeh make they way through the underground tunnels.
Yeom falls, unconscious.
The detectives burst into the room, and Jae-hee's eyes widen in surprise. Holding their breaths, they run to check on Yeom, and then Mu-gak raises his gun to the glass between him and Jae-hee.
Jae-hee actually leans forward, pressing his forehead to the glass.

COMMENTS
It was an interesting exercise to drop in on a show I haven't been recapping, because it highlights how there's a disconnect between watching a show purely recreationally and watching it with enough attention to recap its details in somewhat coherent fashion. Sometimes the experience of watching a show is enhanced by the recapping process, and sometimes it's the opposite. Girl Who Sees Smells strikes me as the latter case, because I have been completely content while watching the episodes passively, finding it cute and easy to follow with a sweet couple and an interesting, if simplistic, mystery plot. But paying attention to all the details and making sure the facts align properly sort of shines a light on where it falters, since I can't gloss over those flaws as readily.
Even so, I still like the show, even if the detectives can sometimes be criminally stupid, the plot repeats itself, and the mystery lacks mystery. (Proving that a sense of heart and cuteness can really make up for plot missteps.) I find it an interesting choice to reveal the culprit's identity relatively early on (moreover, to the cop team), and focus the show's efforts on catching him. It reminds me of Gap-dong in that regard, and makes it less a crime mystery and more of a psychological thriller. Since Namgoong Min is knocking it out of the park as the unrepentant killer, I'm perfectly fine going in this direction, especially with this episode matching him so well with the icily composed Yeom Mi. Was she badass, or was she badass?
More than her nerves of steel, I was impressed with seeing the traces of fear in between sparring bouts with the killer, because it's much more courageous to be so frank and disdainful when you're actually afraid of death. It's less of a feat if she were impervious to fear, or had some kind of belief that she was safe; I liked that she felt weakness, but refused to give Jae-hee the satisfaction of showing it. And he, likewise, was just as unwilling to betray that she'd rattled him, and it makes it all the more satisfying since now we know he does care, and that he's capable of feeling misgivings.
The abuse and trauma line caught my attention because it's the first time we've approached the Barcode Murders from the murderer's perspective. We've seen glimpses of Jae-hee's thought process in recent episodes, and I do believe the writing has had his backstory mapped out in advance, but we haven't really considered his motivations beyond the surface level yet. (And how nice would it have been to get this kind of explanation earlier? Kill Me, Heal Me is one example of abuse trauma being explored with some depth, and Jae-hee's enough of a fascinating character that I'd have liked the time to spend on his backstory.)
I'm rather sorry that the recent episodes have relegated Mu-gak to the backseat, which partly seems inevitable since he's not the twisted psycho of our story, but is also a waste of an interesting hero. Sure, he's less complex than the sociopathic killer, but he's also got things going on, what with his insensibility to feeling, his pursuit of vengeance, his latent skills in gag comedy. I'm tired of seeing him barge in on Jae-hee (again and again) and accusing him of the same thing every time, and wish our story could move on already.
I think it's mostly a flaw of pacing, not that the writer doesn't know where this is going at all. I actually think the writing has been heading in a pre-determined direction all along; the plot doesn't feel like one that's being whipped up on the fly. It's just once we hit the latter half of the show, it suddenly felt like there was more screentime than there was remaining story, and that resulted in beats repeating themselves to fill up time, in order to arrive at the finale at the right moment.
On the upside: We're now at finale week, so let's hope that we can wrap up on a high note! Really, all I want is a wrap-up to the killings (a cursory one would be fine), some funny team bonding moments, a resolution of Mu-gak's loss of sensation, and a sweet romantic epilogue. With lots of skinship, though that probably goes without saying. And kisses. Maybe even a wig or two.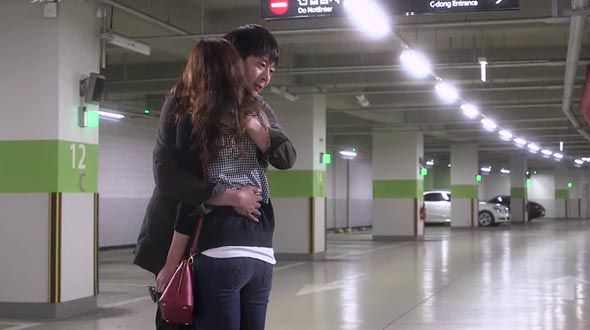 RELATED POSTS
Tags: featured, Girl Who Sees Smells, Micky Yoochun, Namgoong Min, Shin Se-kyung, Yoon Jin-seo