Girl Who Sees Smells: Episode 15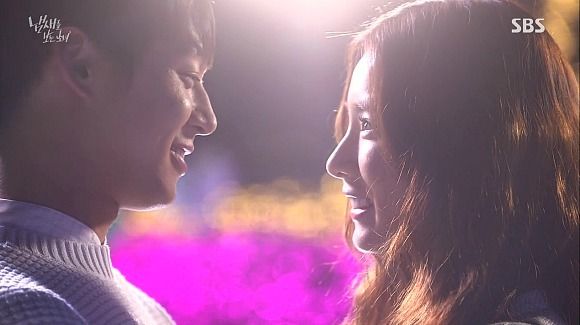 It's the calm before the storm — or is it the storm before the calm? Either way, this penultimate episode delivers a lot of action, be it suspense, romance or comedy. But catching this killer won't be as simple as it seems, even when everything appears to be tied up with a nice little bow. There's one more shock in store for our happy couple, that could end up tearing them apart forever.
EPISODE 15 RECAP
Mu-gak and Detective Yeh break into Jae-hee's underground holding cell just as Lieutenant Yeom collapses, as Jae-hee watches with mild, almost casual interest. Mu-gak points his gun at a defiant Jae-hee on the other side of the glass, and Jae-hee glares for a long moment before turning and bolting for the elevator.
It's a race between the two men, as Mu-gak tries to get to the main house before Jae-hee can escape. Jae-hee stops long enough to grab a stash of money and a duffel bag, which he stuffs with his death books, obviously having prepared for the possibility of needing a quick escape.
My heart is in my throat as Jae-hee makes a run for the door, but Mu-gak manages to get there in time and stops him by firing a shot into the ceiling. Jae-hee is more interested in how Mu-gak found his lair than in the fact that he's busted, so Mu-gak tells him to shut up or he'll shoot.
Jae-hee just sighs, "I guess you won't let me go. I did kill your sister." And Mu-gak (satisfyingly) keeps his word, and shoots Jae-hee in the ribs. Jae-hee actually has the gall to look betrayed as he sinks to the floor, but he picks up his bag again and stumbles to the door. Pretty much the entire police department is there waiting, and Jae-hee struggles to stay upright until Mu-gak just tips him over with a small shove.
As Jae-hee is cuffed Mu-gak looks in the bag to find the death books, seeing Chun Baek-kyung's and Joo Ma-ri's among others. Jae-hee shows more emotion than he has in… well ever, and screams for Mu-gak not to touch his precious books. Mu-gak looks at the books and realizes that the barcodes carved into the victims must match the books.
Yeom is rescued from her prison and taken to the hospital in an ambulance, with Cho-rim riding with her. At the same time, Mu-gak and Detective Ki escort Jae-hee in another ambulance.
The team talk about their close calls today, though Mu-gak admits he still feels uneasy even though the killer is caught. Kang says it's always this way when you finish a case, with a heaviness in the heart, as Ki and Yeh nod agreement. But at least Yeom is going to be fine, and the team let her know they caught Jae-hee and she sighs in relief.
Mu-gak and Cho-rim have dinner at his place, Mu-gak still a bit melancholic and musing that even when a culprit is caught, suffering still exists. As they eat Mu-gak gets a strange look on his face, and tells Cho-rim that for once, he actually feels full. Cho-rim is excited, assuming it's because he caught his sister's killer, and Mu-gak lets her think that.
That night, Cho-rim dreams of her parents sitting at the dining table when she comes home from school. At first everything seems fine and they smile at her warmly, but they don't respond to her questions and soon their smiles seem wooden. They disappear, and Cho-rim searches the house with increasing desperation.
Mu-gak hears her calling for her parents and goes upstairs to gently wake her. Cho-rim says with wonder and grief that she remembers her parents' faces. I can't even imagine the pain, remembering them only to immediately mourn their deaths. All Mu-gak can do is hold Cho-rim while she cries that she finally remembers everything.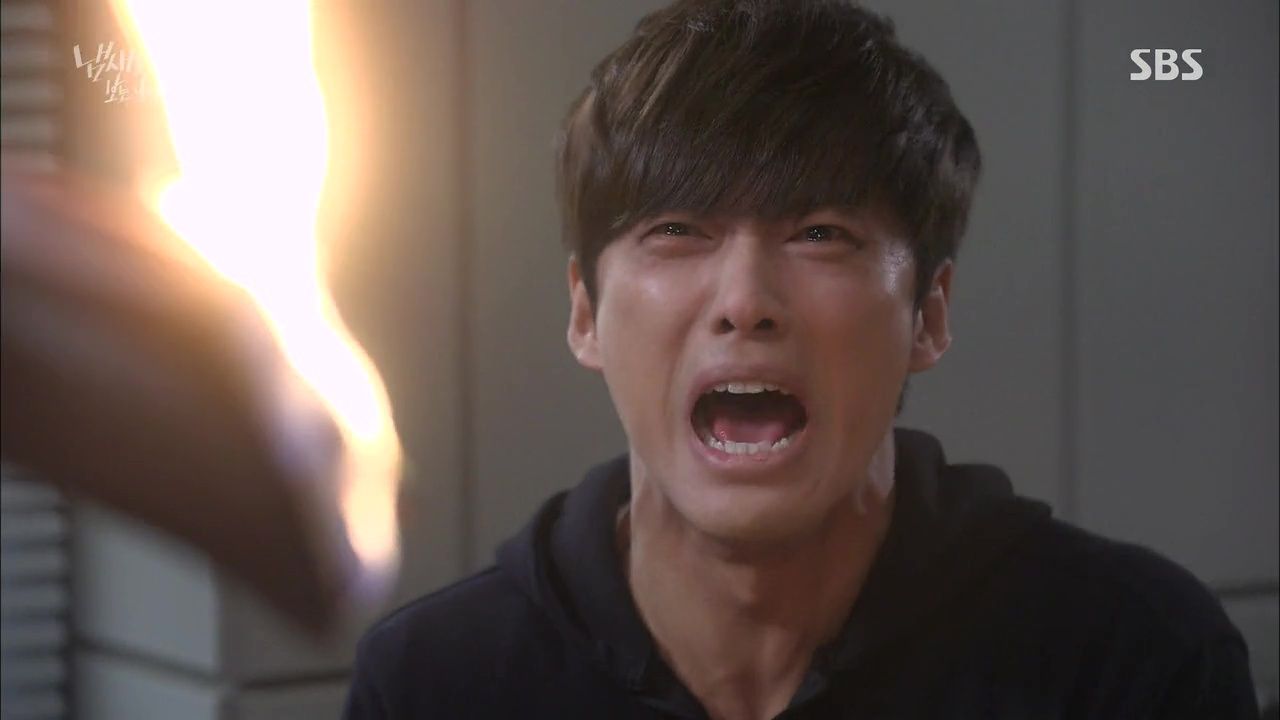 Jae-hee recovers enough to be questioned, though he looks pale and weak sitting there cuffed to the table. Ki tells Yeom that he won't respond to anything, but Jae-hee does ask what took Mu-gak so long when he tries his hand at getting some answers. He wonders why Mu-gak didn't just kill him, but Mu-gak is in charge of the conversation today.
He brings out Baek-kyung's death book and asks why Jae-hee had him write it, as he douses it in lighter fluid and sets it on fire. Suddenly Jae-hee screeches in agony, crying and begging Mu-gak not to burn his book. Damn, this is disturbing… it's not anger he's displaying, it's grief.
Mu-gak pulls out another book and Jae-hee blubbers that he'll tell them everything, if they'll only spare his precious books. Of course they're just dummy books, but Jae-hee doesn't know that.
When Mu-gak gets home, Cho-rim is preparing to go back to her place since there's no more need for him to protect her. He says he spoke to her adoptive father Detective Oh, whom she hasn't heard from in a while, and gives Cho-rim some keepsakes he'd kept for her.
Mu-gak also gives Cho-rim her mother's death book, and she has a chance to read about how much her mother loved her and was proud of her. She'd particularly written of how Cho-rim/Eun-seol was such a precious daughter, and she knew that one day she'll be a wonderful mother, too. Awww, ~sniffle~
The team conclude their interrogation of Jae-hee, and now he's the property of the prosecutor's office. Mu-gak asks to speak with him in private just once, and when everyone is gone, he uncuffs Jae-hee. He says almost regretfully that there's something he's got to do since he won't see Jae-hee again.
Jae-hee counters that he's determined to see Mu-gak again, but Mu-gak knows he'll never set foot outside of prison. He tells Jae-hee to apologize to Cho-rim's parents and his murdered sister. Right now. Jae-hee asks if that will make him feel better, refusing to do it but offering to tell Mu-gak how it felt to kill his sister.
Instantly furious, Mu-gak punches Jae-hee right in his bullet wound. "That was from my sister Eun-seol. And this is from Cho-rim's parents." Two punches to the face. Ki and Yeh bust in to stop him and handcuff Jae-hee again, who says that now he has something to pay Mu-gak back for.
Jae-hee is taken, cuffed and heavily bound, into the transport truck to transfer to the Prosecutor's custody. Kang is lauded by the Chief of Police for his hard work, and even his nemesis chimes in sincerely that not everyone can catch a serial killer.
The team go out to celebrate, and Yeom gives a nice speech that she doesn't want to leave now that the case is over (and haha, they all chant, "Go back! Go back!"). She offers them each a personal thanks, even crying a little, and they all drink a toast to her.
Now that she remembers her old life, Cho-rim has fun showing Mu-gak photos of all the places she used to spend time in her little town on Jeju. He asks if she wants to visit her parents tomorrow, saying that Detective Oh had their ashes interred nearby so she could visit once she regained her memory. Okay, that's sweet.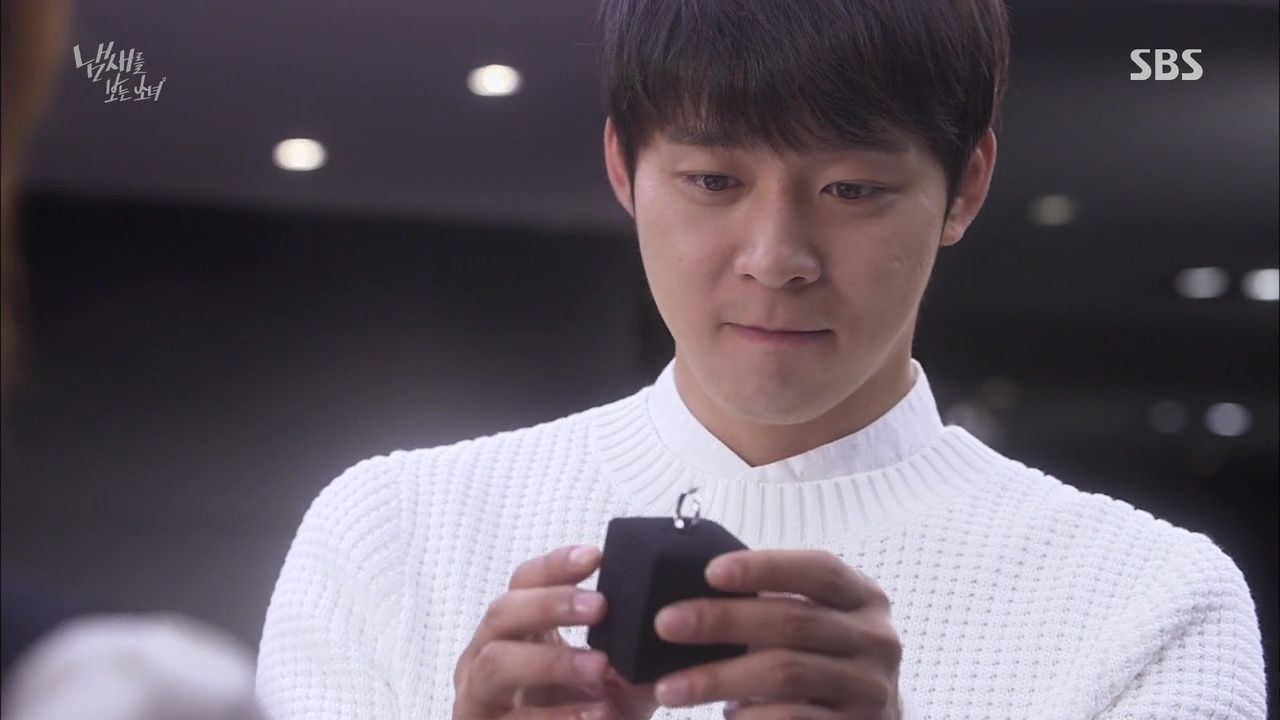 But before they go, Mu-gak takes care of one small errand by himself — ring shopping. He chooses a very simple, elegant ring for Cho-rim, planning to propose to her the next day.
They see Cho-rim's parents first, where she apologizes for taking so long to visit. She tells them she's fine now and not to worry, at the same time that a serious Mu-gak silently does the same, vowing to take care of her for the rest of her life.
Next they go see Eun-seol, and Cho-rim gets a chance to say she's sorry, and thankful to the girl who shared her name. She swears to make up for Eun-seol's having lost her life for her.
Mu-gak takes Cho-rim to visit a sunbae of his from the Jeju aquarium, who works nearby now. Cho-rim says she thinks he'd look better in his police uniform than a wetsuit, and Mu-gak adorably pouts that he looks damn good in a wetsuit, thankyouverymuch.
Mu-gak chats with his sunbae while Cho-rim gawks at the pretty fish, and his sunbae says that he'd be welcome to work at the aquarium if he's interested. Mu-gak puts out feelers and says to Cho-rim that getting married in a place like this would be nice, but she takes this for teasing and jokes back with him.
By lunch Mu-gak is getting twitchy, and he runs out to the car to prepare his proposal. He imagines Cho-rim being immensely moved at the balloons and banner in his trunk, but while he's making kissyfaces to the air, he accidentally pops the trunk and the balloons float away.
HAHAHA, there's that CHUUURRRR! as Mu-gak wails in frustration. Now he's got to think of another romantic proposal on the fly.
After lunch they find a pretty fountain, where Mu-gak goes off on a daydream again. He imagines getting on one knee and singing an overwrought song about Cho-rim, which is Just. So. Bad. Of course Daydream Cho-rim is incredibly touched, but by the time Mu-gak purrs, "My baby…" at her, I'm cringing in embarrassment for him.
Back in reality Mu-gak drags Cho-rim to the fountain, but just before he can start his proposal, another man gets on one knee in front of his lady and starts to sing. Cho-rim scrunches up her face at the badness and says she hates those kind of proposals, and suddenly Mu-gak can't get her out of there fast enough, hee.
On to Plan C. Mu-gak hides the ring in the sand at a park, planning to pretend his shoelace is untied and that he finds the ring by accident. Yeah, there's nothing about this that could possibly go wrong. Of course he can't find the ring again, and spends forever digging through the sand and trying to look casual while Cho-rim rolls her eyes at him.
Finally Cho-rim has enough and insists on leaving, but poor Mu-gak nearly cries. His nerves give him a stomachache and he scurries off to find a bathroom, telling Cho-rim not to move from this spot.
By nighttime Cho-rim is sick of being dragged around, but Mu-gak swears this last park is the final place. I have to admit, it's beautiful with all the brightly-colored lights. He asks if she has any perfume, and runs off with it to stand on a bridge nearby.
As Cho-rim watches, Mu-gak starts to spray perfume into the air randomly, which she sees as bright little hearts and flowers. Pretty soon the random spritzes form the words, "Will you marry me?" in the air, which only Cho-rim can see. Okay, that is the most perfect proposal ever, for a girl who can see scents.
Mu-gak gestures cutely at the words and watched Cho-rim nervously, and she makes him wait a long moment before giving him a big arm-heart over her head and nodding "Yes." Oh man, the joy on his face as he runs to her is breathtaking.
They seal the deal with kisses, then Cho-rim pulls the ring out of her pocket, which she found while Mu-gak was in the bathroom earlier. He puts it on her finger, making their engagement official, then of course it's time for more kisses.
As all this adorable happiness is going on, Jae-hee sits in his cell. His expression is dark and his eyes angry, and I'm positive he's thinking up some way to get revenge even from prison.
When Mu-gak gets home that night, he barely makes it in the door before he's struck from behind, and a familiar hoodie-clad figure grabs his throat. Jae-hee snarls that he told Mu-gak this would only be over if one of them dies. He raises his free hand,in which he clutches a heavy exercise weight, and with a roar he smashes it into Mu-gak's face.
Ohthankgoodness, it's only Cho-rim's dream, but she's darkly thoughtful the next morning as Mu-gak makes breakfast (did he spend the night? Rawr?). She's still pretty upset but Mu-gak reminds her that people say the opposites of dreams come true.
But the next day there's breaking news — the truck transporting Jae-hee to a crime scene simulation went off a bridge into the Han River. The guys on the team are worried that Jae-hee planned this as a way to escape, but Kang argues that it would be too difficult. I do have to say, it's kind of funny how Detective Ki is horrified that they have to wish for Jae-hee's survival now, so he can be given proper justice.
After five days Jae-hee (or even his body) hasn't been found, so the search is called off and Jae-hee is assumed dead. Kang isn't convinced, knowing what a weasel Jae-hee is, but his nemesis says that he was handcuffed – there's no way he could have escaped the water. Kang is disappointed the victims will never see justice, but at least it's all over.
And so, life goes on. The team are all given official commendations and promoted one rank. Kang's wife has yet another baby, the daughter he's always wanted after having six sons, and HAHAHA, all seven children have his mole.
Detective Ki is still getting calls from his girlfriend while on stakeouts, but this time she actually shows up and they share a romantic moment. Yeh fights with his father over becoming a cop instead of taking over the family business. Yeom became a professor, fending off cute little student suitors.
Mu-gak quits the police force and goes to work at the aquarium, and Cho-rim goes back to Frog Troupe. Though she doesn't seem to be any funnier than before, at least her director and sunbaes are no longer cruel. Mu-gak and Cho-rim decide to get married quickly, and shop for an apartment.
They make a cute little video invitation to their wedding, and pretty soon it's the big day. The guys from the detective team exclaim at how gorgeous Yeom looks all gussied up, and salute her cutely.
The wedding will be at the aquarium, which is frankly a stunning place to get married. Mu-gak and Cho-rim look happy as they pose for pictures, and they run into the team on the way to the bride's room. Ae-ri eyes the handsome clotheshorse Yeh, earning a smack from the bride, hee.
The whole Frog Troupe come to the wedding too, and Mu-gak breaks into a skit on the spot, joking that he came from Jeju to Seoul to meet a Seoul girl, but ended up with a Jeju girl anyway. CHUUUURRRR!!!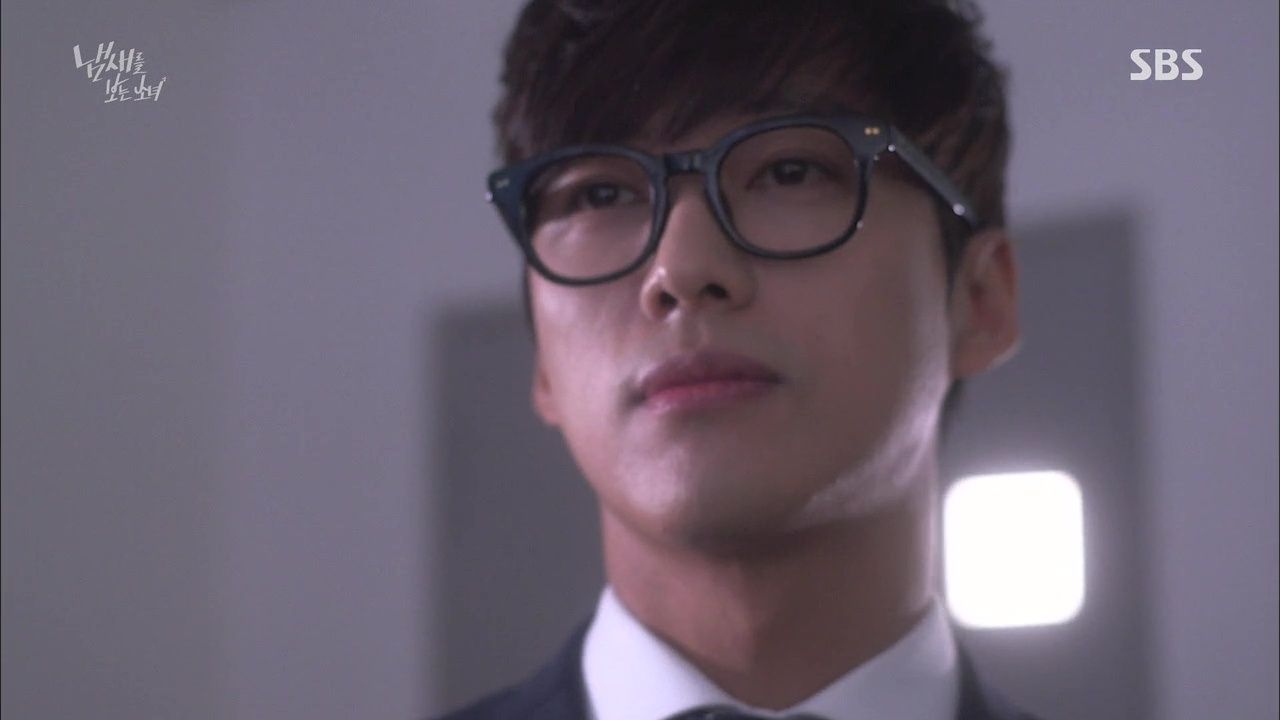 Cho-rim waits in the bride's room while the wedding starts, and Mu-gak makes his grand entrance. But just before the bride is called, the door to the bride's room opens, and Cho-rim knows who it is before she sees his face – she recognizes the golden knife-edged scent. Jae-hee is alive, and he's here.
Out at the ceremony, things get tense when Cho-rim doesn't respond when she's called to walk down the aisle. Lieutenant Yeom gets up to see what's wrong, but instead of Cho-rim, she finds signs of a struggle in the empty bride's room. Oh, no.
She heads back to the hall to tell Mu-gak that Cho-rim is gone, and he runs through the aquarium, frantically calling her name.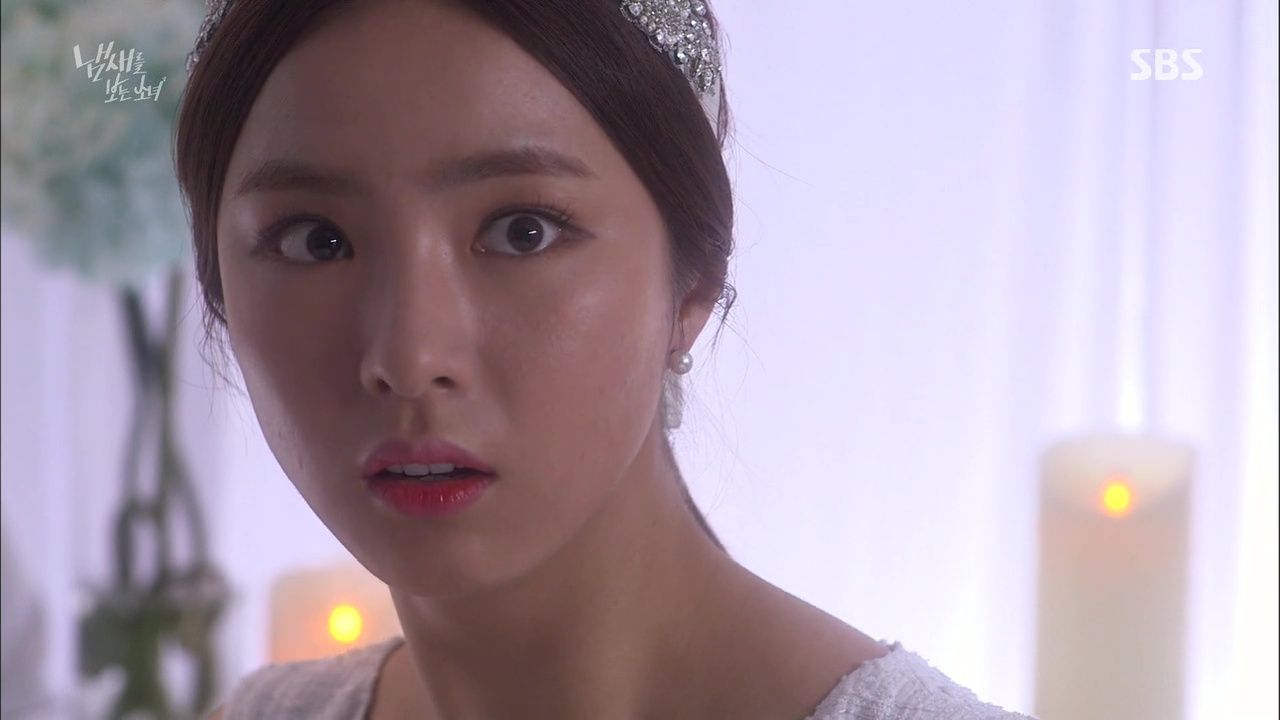 COMMENTS
Well, I did think that Jae-hee's capture was way too easy. We didn't go through fourteen episodes of push-and-pull between him and Mu-gak to get one gunshot, a quickie interrogation (in which we as the audience got zero answers, by the way), and that's it. Not to mention, there are way too many questions left unanswered. Why the books and barcodes? What do they mean to Jae-hee? Why did he start killing in the first place? How did his adoption and his adoptive parents' deaths contribute to his psychosis, if at all? Based on his intense reaction to the belief that one of his books was destroyed, he's clearly very emotionally invested in his victims' stories. Like I said previously, that was pure grief.
I think that in Jae-hee's mind, those books are more "people" than the actual people that wrote them, seeing how attached to the books he was and still is. At the very least, they fulfilled some void for him that can't be replaced if the books are gone. I think Yeom was on the right track when she profiled him from her cell at his house, when she said that by having his victims write their life stories, he feels that he possesses them. But I want to hear exactly why he killed those people and why he had them write their life stories for him, straight from the horse's mouth.
I want all the down-and-dirty details about Jae-hee's motivations for killing, how and why he chose his victims, why he had them write their life stories and why he chose books and barcodes to mark his victims. Though the show hasn't been as strong in the second half as it was in the first half, I have always felt that these questions have had answers since the very beginning, and I want to know how they influenced Jae-hee and informed his actions.
It's actually kind of a surprise the way this episode ended, not that "Jae-hee and Cho-rim exchange a tense moment" is a unique cliffhanger anymore, ha. But this time, it looks like he finally got her. I knew everything was too pat and perfect, especially when it started to feel like a final episode when we still have one more to go. And there was no way this show can end without a very big, very personal, three-way face-off between Jae-hee, Mu-gak, and Cho-rim. Those three still have unfinished business to discuss, and they need to discuss it far away from the legal system, as far as I'm concerned. I'm actually picturing something very like the way another Park Yoochun show ended, though possibly with less overwrought wailing and more scent-seeing and mutual rescuing on Cho-rim and Mu-gak's part. At least, that's what I'm hoping for.
RELATED POSTS
Tags: featured, Girl Who Sees Smells, Micky Yoochun, Namgoong Min, Shin Se-kyung, Yoon Jin-seo