Who Are You–School 2015: Episode 12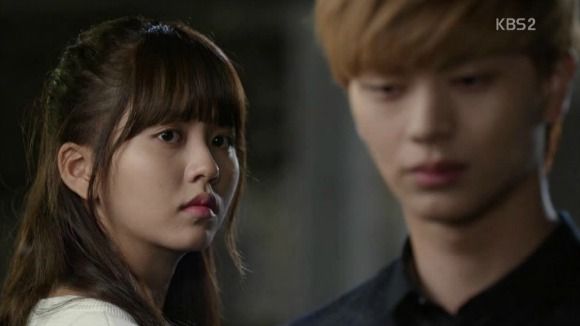 School serves up something different for each of our friends this hour. There are victories for Eun-bi, loss for Tae-kwang, reconciliation for Yi-an, and triumph for So-young, while Teacher Kim and Eun-bi's mom are dished up large bowls of disillusion. Although everyone gets something they've been chasing, some of those blessings come with a curse. And as we finally learn the truth about Soo-in, that one might be the hardest to bear out of them all.

EPISODE 12 RECAP
Once Soo-in's hooded avenger locks Eun-bi in the dark classroom, we see her face: trainee teacher, Jung Min-young. Eun-bi pleads to be let out, and even her phone is dead.
In the security office, the teachers don't notice the shadowy figure of Min-young on the CCTV. At the swimming pool, Yi-an finds a note from Eun-bi tacked on his bag: "Be strong, Han Yi-an!"
Eun-bi drops to the floor in defeat. But the door rattles open — it's Teacher Kim! He saw a flash of someone running away, and takes in her situation at a glance. When he brings her out, Yi-an spots them and comes running. Kim entrusts him with taking her home for now, and he tells her they'll talk tomorrow.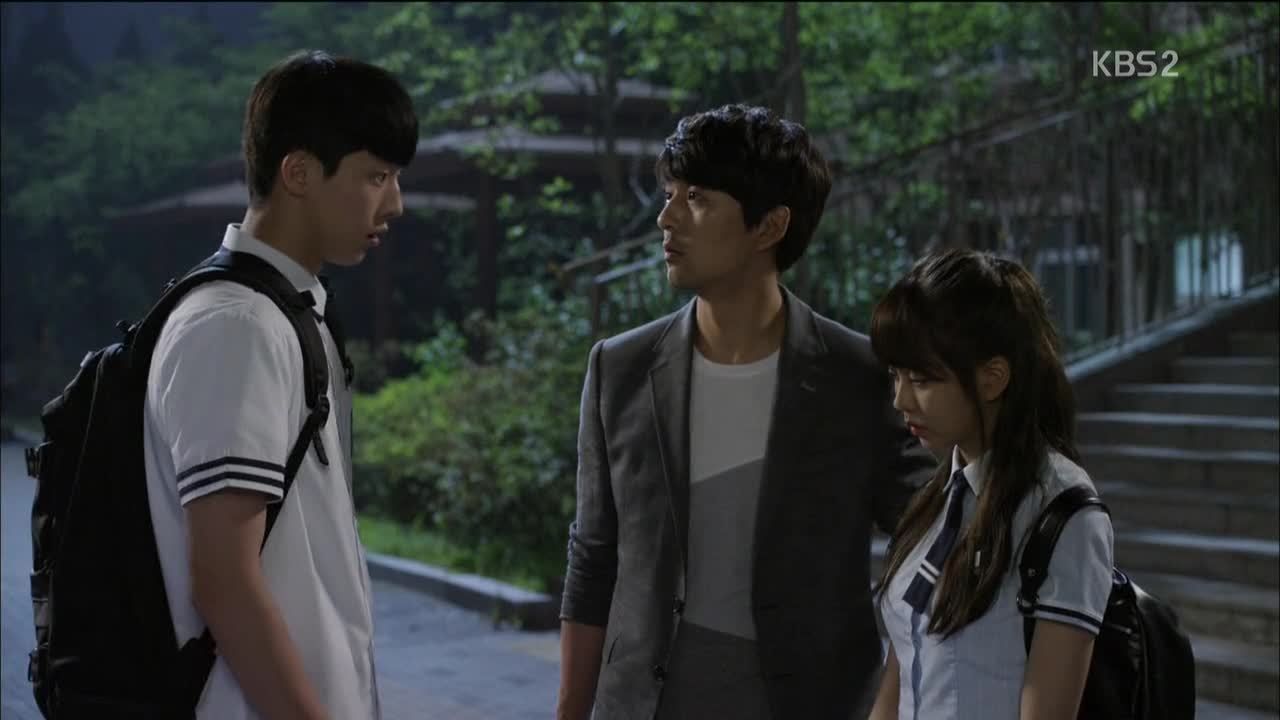 Yi-an treats her gently, and Eun-bi tells him she's okay. He takes her bag anyway, but hesitates a moment before settling his arm around her.
Tae-gwang catches his breath at Eun-bi's gate, having run all the way. He's frantic with worry when she finally arrives, Yi-an's arm still around her (that's so cute). He immediately rounds on her for having her phone switched off, but a word from Yi-an makes him notice how pale she is. He thinks swimmer-boy said something to her again, but Eun-bi defends him.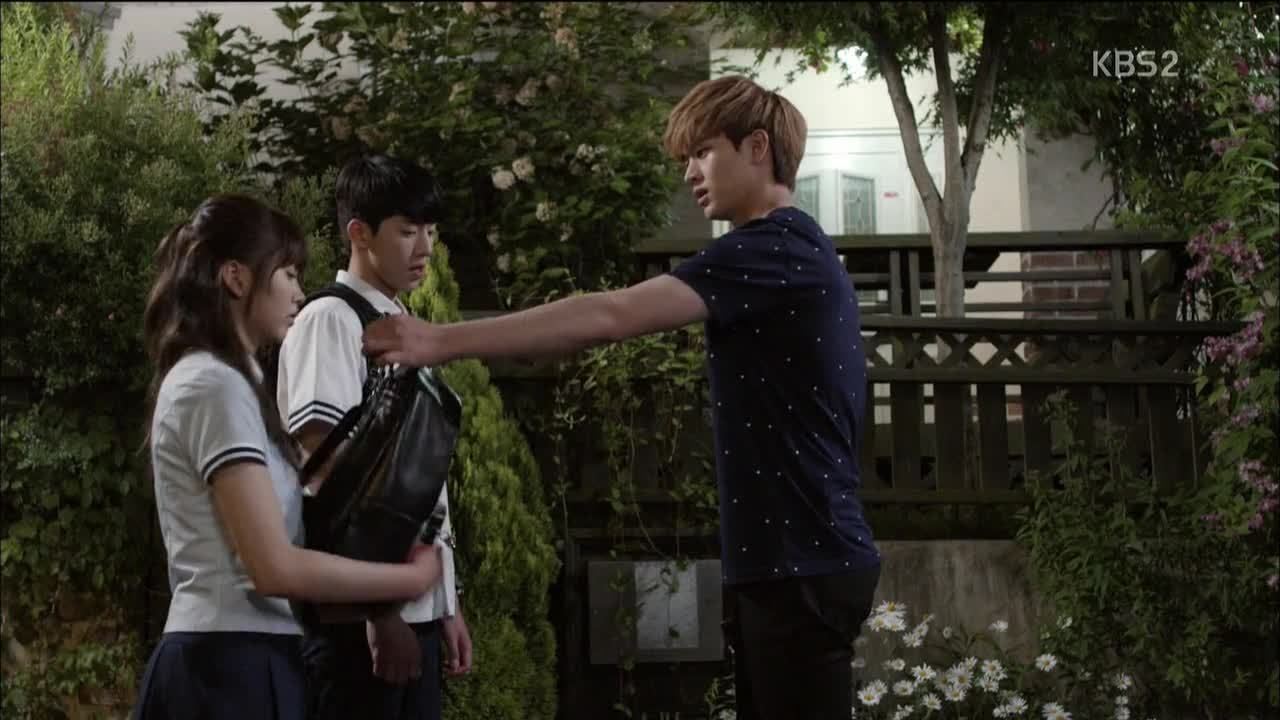 Tae-gwang is about to ask her about Soo-in, but a look at her distressed face stops him. Grabbing her bag back from Yi-an, he thrusts it at her and tells her to go in. She leaves both boys watching her go.
Yi-an turns to go, when Tae-gwang calls him back to ask what happened. But Yi-an doesn't know why he should tell him. Tae-gwang: "You dislike her. Isn't that right?" He tells Yi-an not to concern himself with her, "Or at least, don't make her cry."
The next day, Eun-bi tells Teacher Kim about the text that summoned her to that room, and how the hooded person mentioned Soo-in. She confesses that she's been getting messages from Soo-in's number all this time, which startles him. He tells her to let him know if it happens again, and asks her to wait a little while he looks into it.
He checks over the night's CCTV and traces the hooded figure from one camera to another, until she unhoods — in shock, he recognizes fellow teacher Min-young, just as the real one arrives to take him to class. Snapping the laptop shut, he looks at her with new eyes.
Min-young addresses the class in her usual syrupy tones, but Eun-byul gets a shock of familiarity with her captor the night before. Class lets out and Tae-gwang gestures at her to meet on the rooftop. Yi-an watches them go.
Song-joo asks Yi-an if they fought, and says they should make up since she's already having a tough time with the disciplinary committee. She's even more surprised that he doesn't know about it.
On the rooftop, Tae-gwang rants at her for going off alone the night before. She admits she was curious about what happened to Soo-in. We flash back to him reading the report which reveals that she was found dead in that classroom. He tells her that Eun-byul was the first person to discover the body.
He deflects her question about how he knows, and instead makes her agree to call him no matter what, if anything like that happens again. He also doesn't let her stay alone on the rooftop, and tugs her along with him. Agh he's so cute and yet so doomed.
She crosses paths with Teacher Min-young, and freezes in shock. Min-young reaches for a shoulder-pat, the smiling encouragement at odds with her hard eyes, and Eun-bi flinches. Tae-gwang witnesses the encounter and asks why she's spooked.
Teacher Kim does some undercover investigating on Min-young. He finds nothing in her employment record, so he looks up Soo-in's student record. Listed in family members is one sister: Jung Min-young. But he's interrupted before he can get any further.
Min-young approaches Teacher Kim later, to ask if he's free for a little Ask The Sunbae advice-time in the evening. He agrees.
Eun-bi finds Yi-an sitting alone at a circular bench. Headphones or not, he's aware of her taking a seat on the other side. Still a little awkward but at least no longer angry, he chides that she should have called him the night before. Turning to look at her, he asks if she's really transferring. "Why? Would you like it if I go?" she teases. He just looks at her a long moment.
Tae-gwang eats lunch with Song-joo and Shi-jin. LOL how did this arrangement happen? Shi-jin comments on his lack of appetite — she's been feeling the same way, she says, stuffing her face. Haha. He notes the same, and drops all of his chicken onto her plate, which Song-joo says feels like he's dishing her leftovers. To Shi-jin, he's all, "you're prettiest when you eat," and gets up. She calls out after him that she can't accept him, and his look of long-suffering is lol.
In the (opulent) House of Satan, So-young's mom whines that her husband should go see Director Gong himself. He balks, and So-young makes a querulous request to transfer somewhere else where she can start over. You poor baby.
With mounting anger, Dad accuses her of being weak — they've just managed to settle in here, and she wants them to run away again? He tells her to get it together and stick it out…all she needs is for that girl to transfer, right? She nods, suddenly hopeful.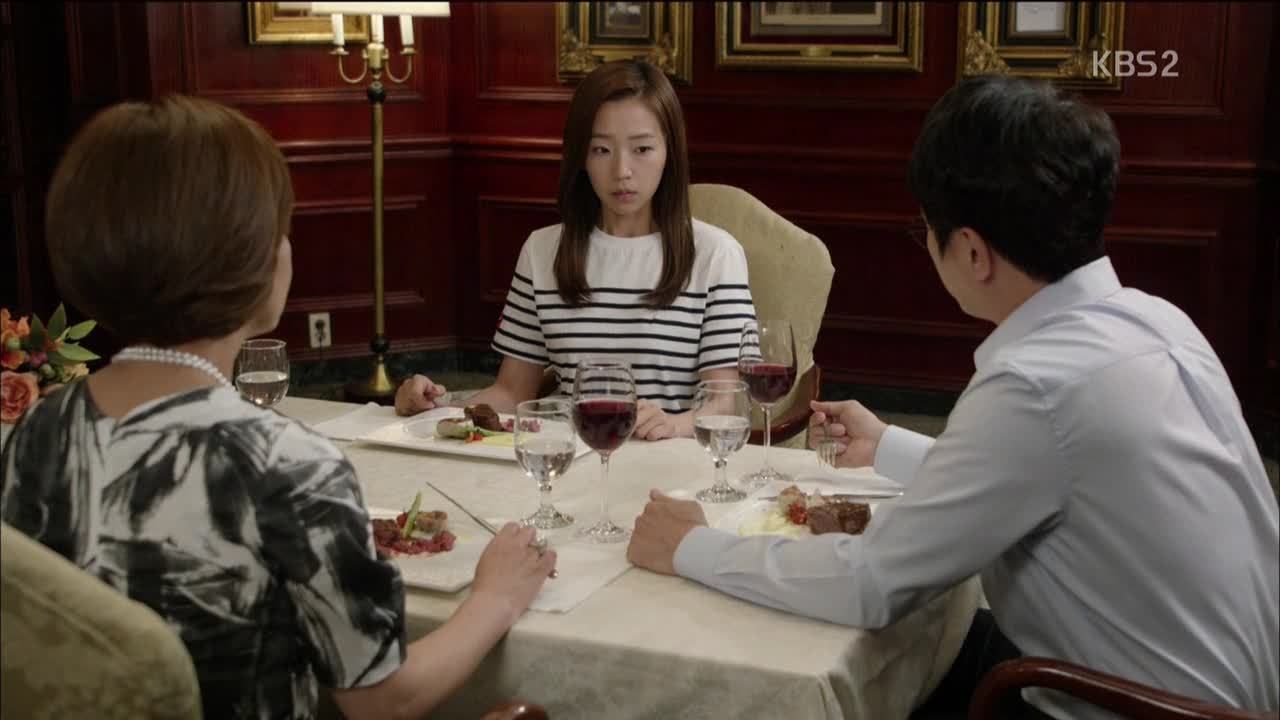 Teacher Kim tells Min-young that seeing her energy reminds him of when he was a bright-eyed student teacher himself. Slurring from drink, he admits he no longer feels that way since he lost a student, a year ago. "I couldn't protect her while she was alive, and when she died, I couldn't protect her. Because I'm a coward," he says, hanging his head. "It's all my fault, but I couldn't take responsibility."
Her face hardens and she reaches behind her for her phone, which we now see has been recording all this time. She's shocked when Teacher Kim's hand closes over it, and he raises his head. She tries to grapple it back, but he doesn't let go.
Alone, Tae-gwang broods on Eun-bi, and news articles about his mother's wedding in two days' time. Shaking off his mood, he goes to look for his dad. He asks Dad how he's connected with Jung Soo-in and Go Eun-byul — why is he so scared of a year-old death that he's forcing Eun-byul to transfer?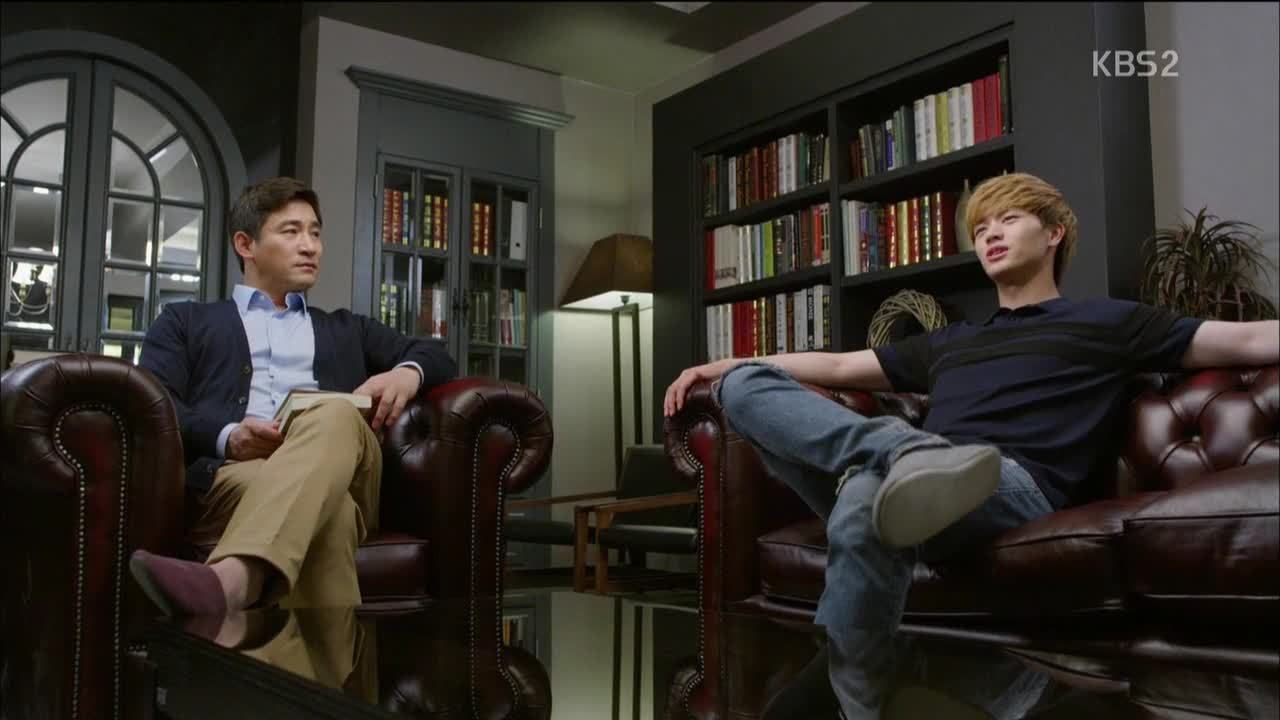 Eyes narrowing, Dad wonders what he's playing at, which Tae-gwang takes as being on the right track, and if Dad won't tell him, he'll just ask the committee himself…oh god, I thought he was going to hit Tae-gwang, but he only hurls the book away. Resolute, Tae-gwang asks him not to go through with the transfer. He reminds him that he's never asked for anything else.
Teacher Kim tells Min-young to leave the recording on; he hasn't finished yet. Unable to look her in the eyes at first, he apologizes and acknowledges her as Soo-in's sister. She pours quiet contempt on his late words, and confirms that it was she who called Eun-bi to the classroom — she doesn't need to tell him why. He accepts her blame and punishment, but begs her not to hurt the students, an entreaty which brings another harsh laugh from her.
He says he understands her feelings, but her method is wrong, and she snaps that she tried everything — police, reporters — to no avail. She asks him what's wrong about wanting a wrongdoer to pay, and he requests just one chance to correct things — if he can't, then he won't stop her doing things her way.
At school the next day, Tae-kwang continues to mull his mom's upcoming wedding. Coming to a decision, he rings her. He pretends a wrong number when she answers, but she recognizes his voice. "Tae-gwang, it's you, isn't it?" she asks. "Mo…" he chokes. She pleads with him to talk to her a bit, but it's too much for him and he cuts the call.
He gets himself together, when So-young comes by, but he can't be bothered with her and walks past. Not one to be snubbed, she aahs knowingly that he must be depressed since he hasn't got long left with Eun-bi. He tiredly tells her to just go away. Amen. She promises with a smirk that there's much worse to come, and drops a shoulder-pat for good measure. But being who she is, she adds a little shove to the end of it, because she's nothing if she's not winning. Ugh, just go away, nobody has time for you.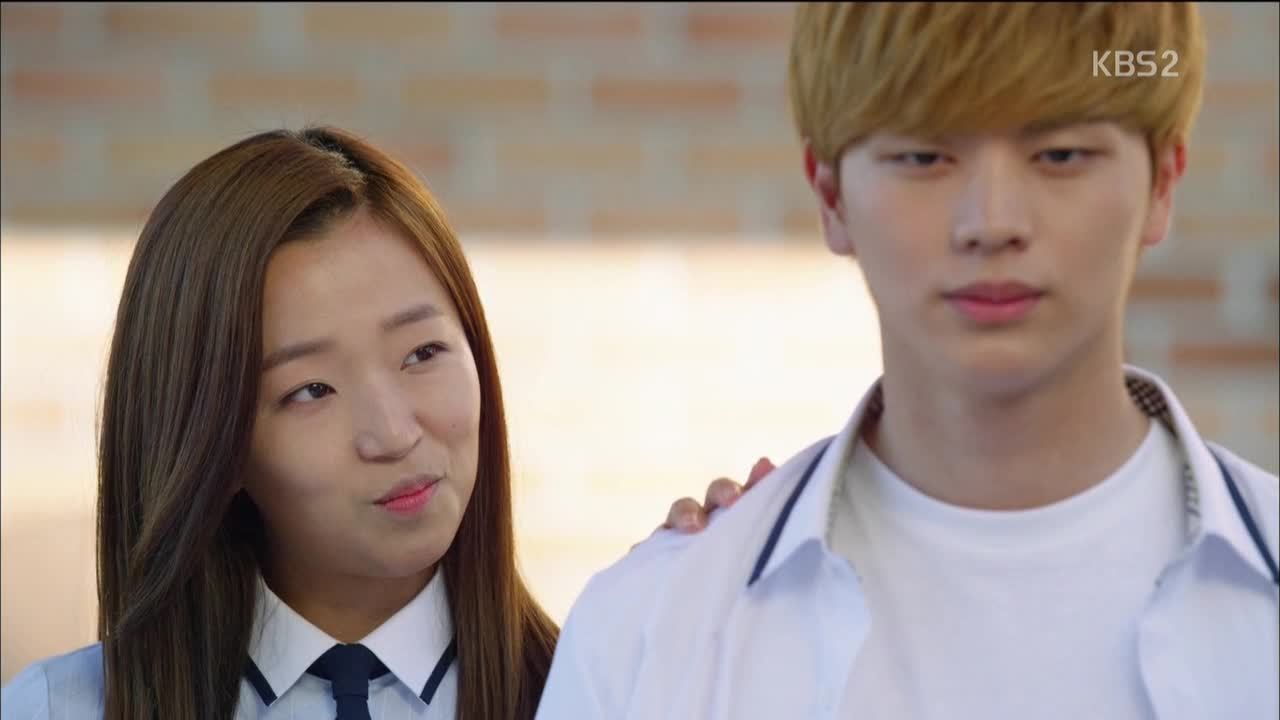 Teacher Kim meets with Director Gong for a chat. Ohhh, I see. That explains a lot: Gong was his high school teacher, and back then, Kim idolized him. We learn of an incident where he was suspected of stealing the class fees (he'd actually lost them). Had he given him the money or covered it up then, Kim tells him, it would have made a lasting scar on him. As he took his punishment, moving desks out from storage, Gong even helped him, despite pounding rain.
"I'll never forget that. I also wanted to become a teacher like that," he says, eyes bright and far away. He asks his old teacher to help him be honorable now, and Director Gong sighs. Calling him "Joon-seok-ah," he says with regret that things are different now. Disappointed, Kim resolves to set things right himself then.
Eun-bi comes face to face with teacher Min-young again, who acts surprised to see her. She calls the teacher out on it, and they relocate to talk. Why you followin' crazy lady?? Teacher Kim arrives just in time to see them go.
In private, she drops her façade, and Eun-bi asks why she sent the texts. "Because I'm Soo-in's unni," she reveals. "If I didn't do that, nobody would remember my poor sister." She tells her how they (Eun-byul and Soo-in) used to be inseparable in elementary school. Doesn't she remember? Last year, they met again for the first time since then, and were thrilled to be at the same school, and even the same class.
But it wasn't long before Soo-in was targeted by bullies, and Eun-byul stood silently by. A flashback shows us the day of Soo-in's death. Kids nap at their desks, and Soo-in's head is also down. Teacher Kim is called out, and a close-up of Soo-in's face shows us that she's fevering. The unsupervised students get a message that they can go straight home. Eun-byul pauses to look back once, and the class empties until only Soo-in is left, head still on desk. The hours tick by and night falls.
In the present, Teacher Kim bursts in. Min-young turns her stricken gaze on him. He moves to stand protectively in front of Eun-bi. Min-young carries on. That's how Soo-in died: alone. Cause of death, encephalomeningitis. Time of death, during Teacher Kim's last class of the day. If just one person had asked if she was okay, she cries, her sister wouldn't have died. For their conspiracy of silence, she vows that she won't let them go. By now, tears run down all of their faces.
Director Gong reads an anonymous post on the school website, "The girl who became lonelier after her death — Jung Soo-in." It's a stark telling of Soo-in's true story. He's frantic to shut the story down and find the culprit, but it's already leaked to the media.
Prosecutor Kang (So-young's dad) calls the director to inform him that he's blocked the reinvestigation for now. He reminds him of his wife's visit, and Director Gong promises to process her request asap. On his way out of the building, he's mobbed by reporters, which Tae-gwang watches from the rooftop.
That night, Mom sidles into Eun-bi's room, pillow in hand. They settle in, and Mom asks if Eun-bi finished the thing she had to do. Mom tells her she wants to transfer her as soon as she can, so she can make a fresh start — as Lee Eun-bi. Aww, Mom.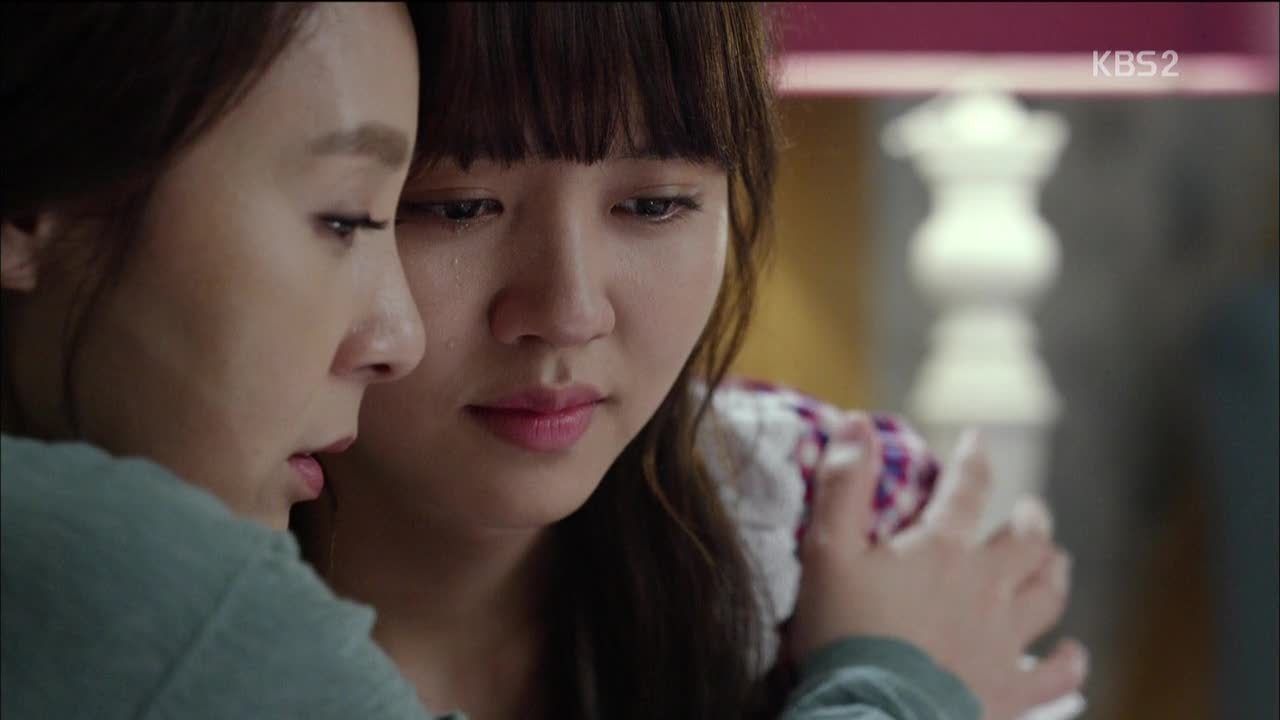 She apologizes to Eun-bi for putting her through such a hard time for her own selfishness. Eun-bi hesitatingly tells her she was afraid of what she would think if she told her she wanted to live as herself. She tearfully thanks her, and Mom draws her into a cuddle.
The next morning finds Eun-bi getting pretty. Pensive, she texts Yi-an to ask him for a favor.
Tae-gwang, heavyhearted, dresses sharply in a suit. Oh, of course — it's the day of his mom's wedding. He takes in all its glitter, and through a narrow window, he observes the bride. She smiles for the cameras, but when she catches sight of him, her eyes cloud with immediate sadness.
Flashback. Mom tucks little Tae-gwang in, and attacks him with tickles. He asks her if people die when they're 100, and will Mom and Dad? He doesn't want them to die, he says. She and Dad will be right by his side even until he's 200, she promises with a kiss.
The cameras continue to flash, but mother and son only have eyes for each other. He shows her a sincere smile, and she's able to turn back to the crowd.
Yi-an arrives to meet Eun-bi with tentative eagerness. She asks him if just for today, he can be with her like he used to be before. Even if he doesn't feel like it, could he do what she wants to do?
It looks like they really do shake off their recent awkwardness, as Yi-an sneaks contented glances at her skipping happily along. He makes fun of her for wanting cotton candy, but buys her it anyway. He even pulls her out of the path of rogue cyclists, which makes them both hyper-aware of his hand on her shoulder.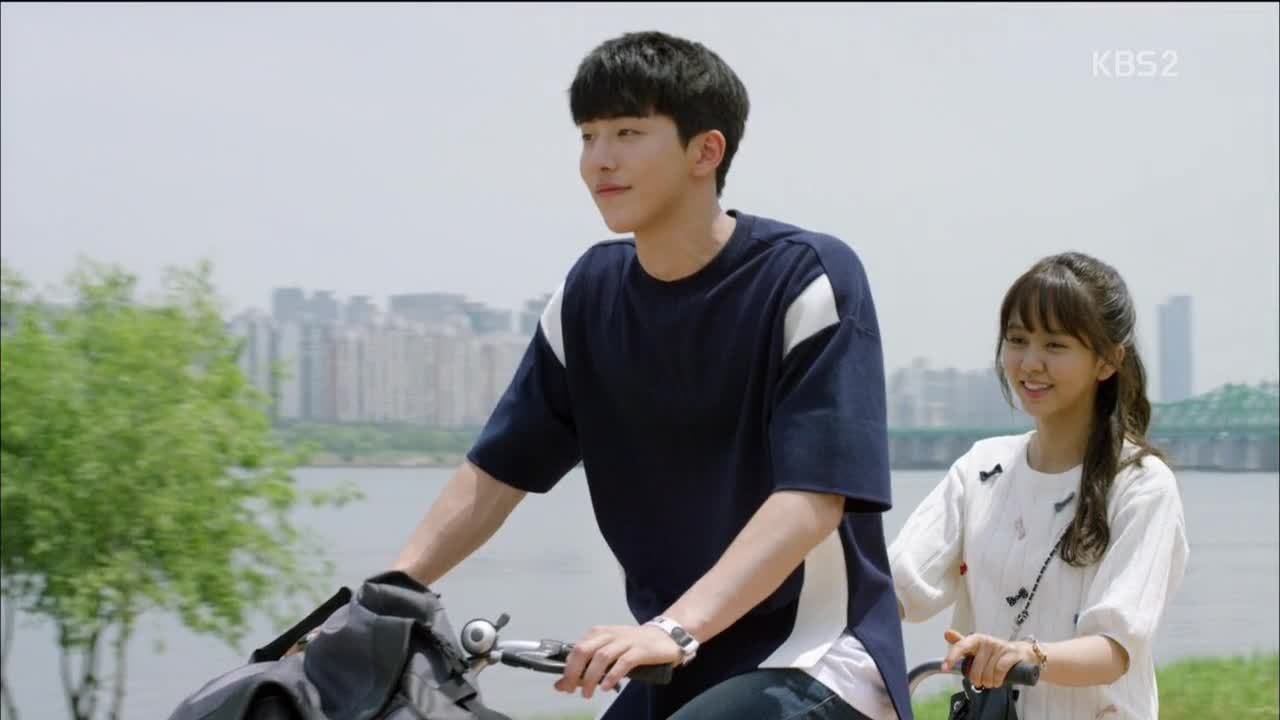 A tandem bicycle-ride later, they visit Namsan Tower. It's so nice to them smiling again. They look out over the city together, and she presses a swimming medal into his hand. There was a time that she also wanted to throw everything away, she tells him, but she didn't have a friend like him by her side then. Her wish for him is to find out what he truly wants, get better quickly, and return to his old self. She offers her help — even if it means she has to disappear.
They say simple goodbyes at the bus stop, and wave until they can't see each other anymore. That's when Eun-bi gets a message from Yi-an, which brings tears to her eyes. He says that it's been difficult for him because he didn't know what to call her. "Get home safely! Lee Eun-bi!" it finishes.
Director Gong receives a wedding snap of the bride from Tae-gwang, along with the message that he went in his stead and left a gift. Dad tears off to confront him. Tae-gwang responds to his angry suspicion with a sigh. With Mom's remarriage and the things happening at school, he asks, "Are you okay?"
Dad burns with rage, thinking the exposé on Soo-in is Tae-gwang's handiwork, as a ploy to save Eun-bi. He's more than capable, Dad accuses. The charge floors Tae-gwang, anguish written all over his face. Swallowing, he tells Dad in a hard voice that the exposure of his wrongs was inevitable. Dad's parting shot to him is that Eun-bi will be forcibly transferred tomorrow. He tells Tae-gwang to get out, but it's his son who gets the last word: Going after his friends just because Dad hates him is against the rules. Dad knows what happens when he loses it, right? Guys, something just died in his eyes.
Tae-gwang ends up lingering at Eun-bi's gate. She catches him about to leave, and he just gazes at her. A bit put off, she asks what he's thinking. Tae-gwang: "When I see you, what do I need to think about? I only do that when I'm not seeing you."
He cuts her off from dashing his hopes and breaking his heart what she tries to say. He already knows that he doesn't have a chance, "But still, I like you." Nooo, this is too sad. She can't look at him, and apologizes. Catching her hand as she passes, he gathers her into an embrace. She tries to pull back, but he holds on.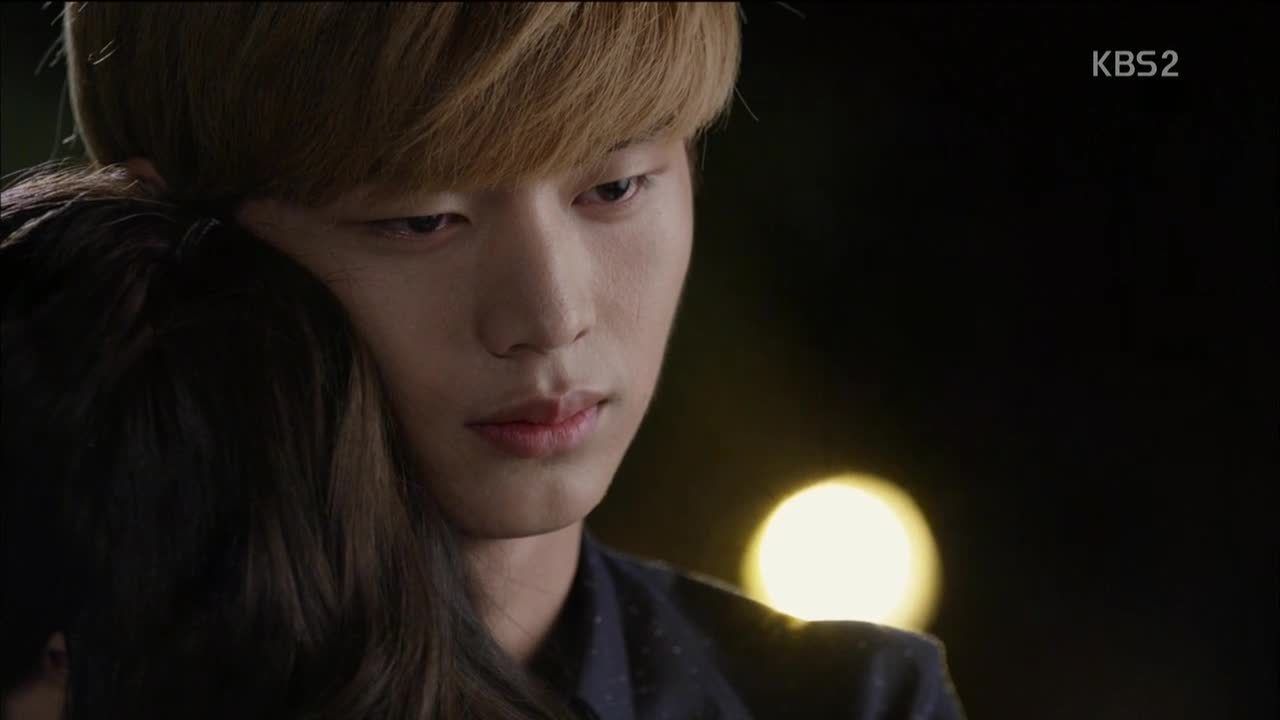 Leaning his head on hers, he repeats that he knows it all. Just a little longer, he asks. A tear escapes.
Next day, the disciplinary committee does a cursory round-up of charges. Teacher Kim tries to plead Eun-bi's case, but to no avail. Director Gong quietly enters the room. The committee makes to vote when Eun-bi's mom stands up and calls out their farce. She has no further desire to stay at Sekang, and her daughter will transfer voluntarily. You go, Mom!
At home, Eun-bi looks over her sister's journal again. The doorbell rings, but when Mom goes to get it, someone's tapping in the passcode already. To nobody's surprise but Mom's, it's Eun-byul, in baseball hat and glasses. "Mom," she says.

COMMENTS
Okay. I laughed. This "twist" loses its punch the third time you execute it, and for the first time, I find myself frustrated at the way the story is being handled. Until this point, I've been so invested and in love with the show that its missteps were too insignificant to take away from my enjoyment, but stretching this reveal out just feels like a cheap way to bait the viewer, and now the veil is torn from my eyes. Nooo.
Eun-byul as a missing piece is an interesting exercise in perception, because our conflicting images of her are mostly constructed from how other characters think of her. We know she has loyal friends, that she saved Eun-bi and was been looking out for her. But then, what about Soo-in? It's clear that Eun-byul looked the other way when Soo-in was bullied. That's not momentary weakness, it's systematic, but it doesn't agree with the impression we're given that Eun-byul wasn't someone you could mess with. We need her active presence to give us the real Eun-byul, and to connect present to past. But I'm really angry with her for turning up how she does. That's one crappy little party trick, "Hi Mom, I didn't die, lol." Really? Really? That's just…no. NO.
So-young taking the backseat was a welcome break from her machinations, but also a nice way of returning perspective to Eun-bi's new world. Her old life may have been dominated by bully So-young, but her new life — Eun-byul's past life meshing with Eun-bi's present — carries so many more complications and conflicts that there just isn't time for So-young's petty games.
I didn't think the truth about Soo-in would be sadder than what I imagined, but damn. That hit really hard. It's not only even the bullying. It's the fact that she died, right in the middle of her classmates, in the middle of the day, and nobody knew. How does that happen? HOW. I'm distraught. It's such a meaningless death and it could have not happened so easily. So I really feel Min-young, because she's driven by heartbreak — not malice, or greed, or something you can despise. As for whether Teacher Kim and Eun-byul deserve to suffer — it's true that they aren't the only ones to blame, but both of them missed their moments to save her, so I'm with Min-young. Every word she says, I'm with her. Punish them. Punish them all. (I know, they already can't forgive themselves. So: It's an arrangement that works for everyone!) On the upside, it was good to see more Lee Pil-mo, because he was beginning to feel wasted.
Aside from Soo-in, I really think this was Tae-gwang's episode. I admit I don't really understand why he and his mother don't have a relationship. There's obviously a great deal of love and longing between them, but the wall of pain seems more impassable for him than her, so it appears that the estrangement on his part is elective. But we see him rise up when he faces up to his father, and it's a powerful moment where he proves himself the better man. Knowing that Dad used to be a sensitive, upstanding teacher makes the moral reversal even more striking. Greed and ambition have driven more than one parent in this story, and has always come not just at the cost of conscience, but also their child.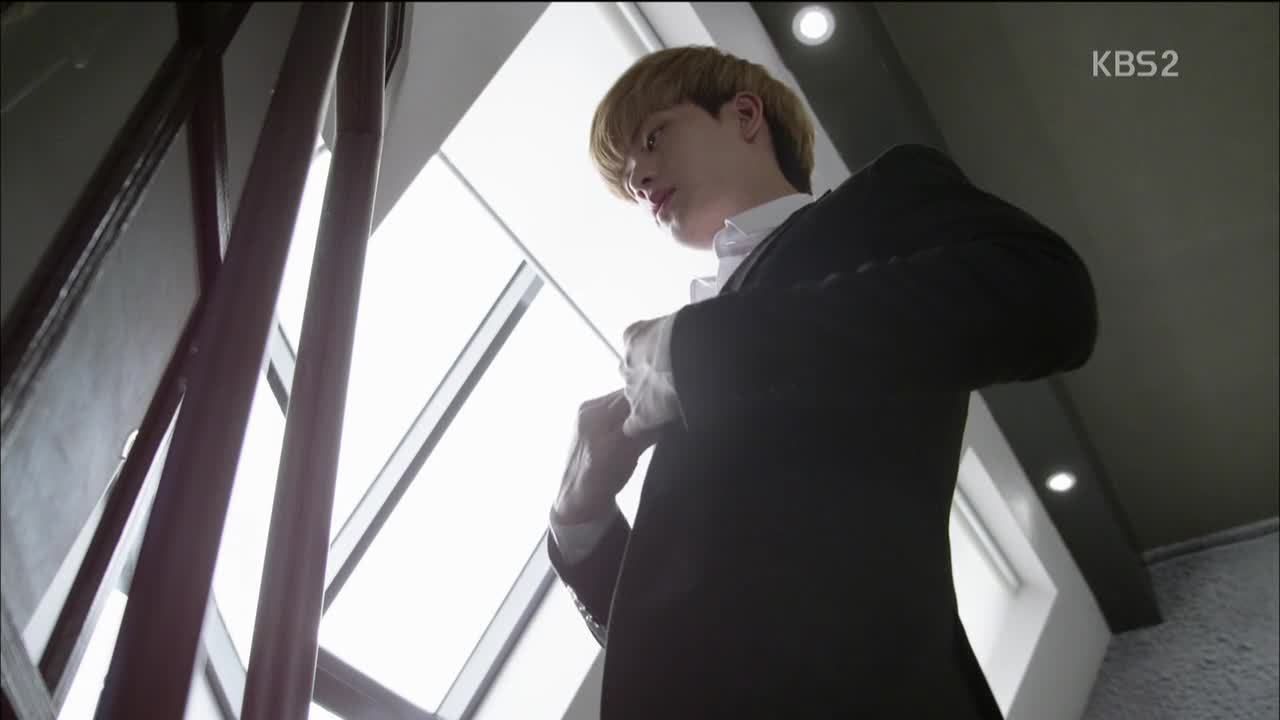 I feel like we just watched the light go out inside Tae-gwang, at that desperate point when he can't make his father see him. It gets worse when he goes to Eun-bi's, because he really, really just needs a friend at that moment, and she's the only one he's got. Like with Soo-in, nobody ever asks Tae-gwang if he's okay. I think his constant worry for Eun-bi betrays his deeper fear: People leave him. His mom left. It's a scar that means that as soon as he cares about someone, he's also governed by a fear of losing them. It's a sad truth that Eun-bi hasn't been much of a friend to him since her problems with Yi-an (or…ever?) — more frustrating because their recent interactions really try my patience as a viewer. You can only take so many mopey silences before you go bats, you know? But it was good to see her reclaim her identity at last, and being given that faith by the two most important people in her life. All that's left now is to see how Eun-byul's return shakes up the new world.
You guys were so upset last week that I tried to board the Yi-an ship as a…thought experiment? I agree (always did) that Yi-an is a good friend, etc., but he's just…not the one who tugs at my heart most. Sweet though he is, damaged he is not. Being loved is a mitigating factor for a lot of things (it's true, it's science!), and despite his difficult circumstances, like his relative poverty, and the shock of losing two of the mainstays of his life (Eun-byul and swimming), he crucially still has things to hold onto, particularly when regaining swimming is mostly a matter of time. He's going through the toughest time of his life, but he'll pull through. More importantly, he'll come out stronger. He's got the right mental tools, and he's got the right support. I don't worry for him.
I worry for Tae-gwang. He's gained an ability to withstand pressure, but not without breaking. Sometimes I think he purposely crazy-dances on the edge of a knife, but I can't help liking him more for his rough sincerity, for not lying to himself, for not refusing to face reality when it matters, even though that reality is painful or scary to him. And I will always choose that person.
Since a while ago, it stopped being about ships for me. Maybe in a different show. But in this one, I'm so much more invested in the individual characters, in the difficulties of choosing who you want to be, and finding the courage and strength to face not only your enemies, but also your friends, your weaknesses, and the next day.

RELATED POSTS
Tags: featured, Kim So-hyun, Nam Joo-hyuk, Who Are You–School 2015, Yook Sung-jae