High Society: Episode 10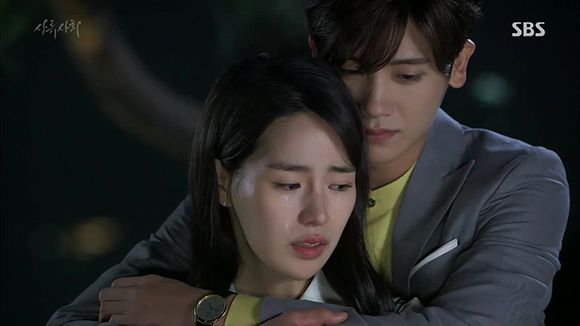 Everyone has to hear things they don't want to hear and confront some truths they'd rather leave unknown in an hour that's all about the harmful effects of meddling. Well, more like the harmful effects of classism. And favoritism. And elitism. Somehow our core four will have to make it out of this tangled web of lies and deceit without destroying themselves or their relationships in the process, to which I say: good luck. They're going to need it.
Ratings-wise, High Society was on top with 9.2%, beating out long-running competitor Hwajeong at 8.8%. KBS' I Remember You brought up the rear at 4.8%.
SONG OF THE DAY
10cm – "짝사랑 (Crush)" [ Download ]
Audio clip: Adobe Flash Player (version 9 or above) is required to play this audio clip. Download the latest version here. You also need to have JavaScript enabled in your browser.

EPISODE 10 RECAP
Ji-yi's eyes fill with tears the second she sees Chang-soo, his mother's ominous warnings still ringing through her ears. She embraces him, and Chang-soo urges her to tell him if something happened. She doesn't.
"You cry a lot. I really hate women who cry," he says, half-jokingly. Ji-yi sniffs and asserts that she's not crying, which is a good enough effort to receive a reward.
While Yoon-ha arranges to drop Joon-ki off at his house, Chang-soo takes Ji-yi to a hilltop spot with a great view of the city. Best of all, it's free! Ji-yi notes that he seems to like holding onto his money, seeing as the streetlamp he got her came from the city and now they're on public city grounds.
He doesn't deny that he tries to spend his money wisely, but that even so, there are women just lining up to date him. Chang-soo: "I'm very—" "'I'm very full of myself,' right?" Ji-yi finishes his sentence for him. Hah.
Chang-soo's happy to see some life return to Ji-yi's eyes, and when she naturally assumes he's brought all sorts of women here before, he teasingly asks if she wants to know who he last came here with.
She doesn't know he's teasing and slumps visibly, at least until he takes her hand and reassures her that this is the first time he's been here. And he wasn't being cheap—he knows she likes things that don't cost money, which is why he brought her here. He'd been saving it for a rainy day, but that day came sooner than he thought.
Ji-yi's overjoyed, and in her usual style, she milks the romantic moment for all that it's worth by requesting a piggyback ride. Her gallant suitor grants her wish to live like a drama heroine for all of two seconds, until he can't help but ask if something happened today.
At first she says no, but then she adds tearfully: "I'm not going to break up with you." Why connect dating with marriage when they're just in their twenties? Chang-soo seems to know what happened without asking further, and offers his support through a tender backhug. Aww, all the tropes.
Joon-ki finds his jilted ex waiting for him when Yoon-ha drops him off, and she asks him jealously if he thinks the world is his now that he has a daughter of Taejin Group chauffeuring him around.
His response is that who he dates is of no business to her now that they're broken up, but his ex begs to differ: "I still like you," she confesses. But then she turns vicious by claiming that Joon-ki cheated on her with Yoon-ha and dug up her family's background.
He adamantly disagrees, reminding her that she was the one who kept talking about her impressive lineage, so he finally just looked up her father's company—he didn't dig around. "Do you love her?" she asks, and Joon-ki's silence only seems to confirm her worst fears. "Do you really love her?"
Butler Hong is back on the job, at least for Madam Min, and gives her the results of the latest investigation she ordered on Kyung-joon: The circumstances surrounding his disappearance are so simple, it's suspicious. And the last person Kyung-joon spoke to was Chairman Jang.
Chairman Jang thinks back to his wife's accusations that he didn't even cry when he found out about Kyung-joon, remembering when he'd advised his son to be more heartless. Like him.
"I don't have a heart," Chairman Jang had told him. "Do you know what matters in the end? Money. Girls. Food. Material possessions are everything." That idea didn't sit well with Kyung-joon, who'd replied that there should be more meaning to life than that.
Now that he's thinking about what Kyung-joon said in the present, the supposedly heartless Chairman Jang can't stop himself from sobbing.
Yoon-ha opens up the USB her brother left behind to find evidence that Taejin Cosmetics (helmed by Ye-won) lied to the food and drug administration about the contents of their products, among other things.
Meanwhile, Butler Hong updates Madam Min on Yoon-ha and Joon-ki's relationship status, which is all the more dismaying to her since Chairman Jang isn't doing anything to stop them.
Ye-won is of the same mindset as her father, and advises her mother not to go meddling in Yoon-ha's affairs. Their talk inevitably turns to marriage and divorce, specifically Ye-won's, considering that she's handling hers with relative ease. It's because she prepared ahead, Ye-won claims.
Madam Min seems surprised by her daughter's shrewdness, as Ye-won explains that used evidence she'd been gathering on her husband's illicit affairs to help ease the process. If her mother were to get a divorce, she'd tell her to do the same thing and to leave everything else to her. "I'm the eldest daughter, after all."
While printing out incriminating documents from the secret USB, Yoon-ha thinks back to something Kyung-joon told her at the golf course, which is apparently where he told everyone everything ever.
"In the end, being kind will allow you to succeed," he'd advised. "What should I do? I'm not kind," Yoon-ha retorted. "An eye for an eye, a tooth for a tooth." In the present, she locks the printed documents back in her safe.
Mama Lee confronts her son now that she knows Yoon-ha's a chaebol, but her admission that she's worried about him because Yoon-ha's family likely wouldn't approve of their family really pushes his buttons.
He reminds his mother that it was she who preached about personal character trumping all, along with the belief that human worth can't be calculated. Why can't she stand by those statements when she's in a disadvantageous position?
This is the exact problem he has with poverty, he all but growls. He's angry at his mother for allowing herself to be intimidated and tells her to think instead that they're not inferior to chaebols—not now, not ever.
Madam Min finally flags Yoon-ha down to tell her to end things with Joon-ki for her own good. Yoon-ha looks her dead in the eyes and simply says that father already approved, regardless of his reasoning behind it.
Offended, Madam Min asks if Yoon-ha values her father's words over hers. Yoon-ha: "I'm saying that I will only respect words I want to hear." What now? Did that really just come out of her mouth? "I told you before," Yoon-ha continues matter-of-factly, "I'm going to marry who I want."
Despite her mother's arguments to the contrary, Yoon-ha defends that she and Joon-ki will end up differently than her mother or even her sister—because when they marry, it'll be out of love. Madam Min questions Yoon-ha's conviction that Joon-ki liked her before he knew who she was, only to remark in wonder, "You've lost your mind."
"Yes, I have," Yoon-ha fires back. "So don't stop me." She doesn't, because Yoon-ha's been made invincible through her love of Joon-ki.
Speaking of, Joon-ki drops his mother off at home, but pointedly declines going in to see his poor father. He offers Mama Lee money to send to his hyung in the military, which she declines.
She goes inside to find her husband looking fondly at an album of their family photos, clearly missing his son. That's when Mama Lee breaks the news that the girl Joon-ki's dating is a daughter of Taejin Group because she's worried that Yoon-ha's family won't accept Joon-ki and his comparatively meager background.
Chang-soo finds himself dealing with that class divide when his mother tells him that while she won't stop him from liking her, there will be consequences. Since she can't accept Ji-yi as a daughter-in-law, she's rescinding her offer to give Chang-soo some of her resort stocks.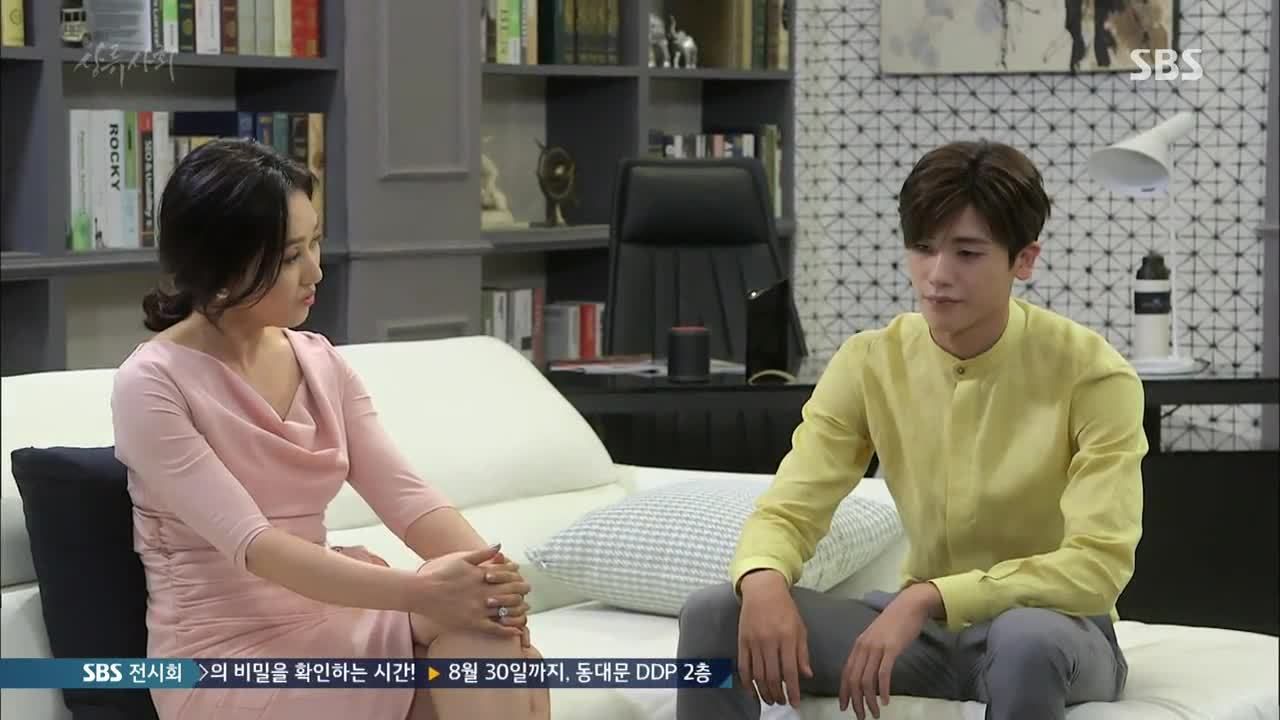 He knows exactly how his mother's operating, and is dismayed to learn that he won't find any refuge with his father, since she got to him first. When he asks why she's going the extra mile with Ji-yi as opposed to other girls he's dated, his mother cites intuition—she knows he really likes Ji-yi, and that's why she really can't allow them to continue.
"I know you," she adds with a smirk. "You can't live without money. You can't live without this kind of background either. So give up on Lee Ji-yi." If not, she cautions, she'll meet with Ji-yi again and make her life a living hell.
But the one thing Chang-soo does put his foot down on is his mother's plan to fire Joon-ki for stabbing him in the back with Yoon-ha. He wins that small victory before proceeding to brood angstily in the shower. (With clothes on. Boo.)
Chang-soo checks in on Ji-yi via text that evening, and just the act of receiving it brings her to tears. He also finds himself blinking back his emotions when Ji-yi responds positively—and without ever mentioning that his mother met with her today.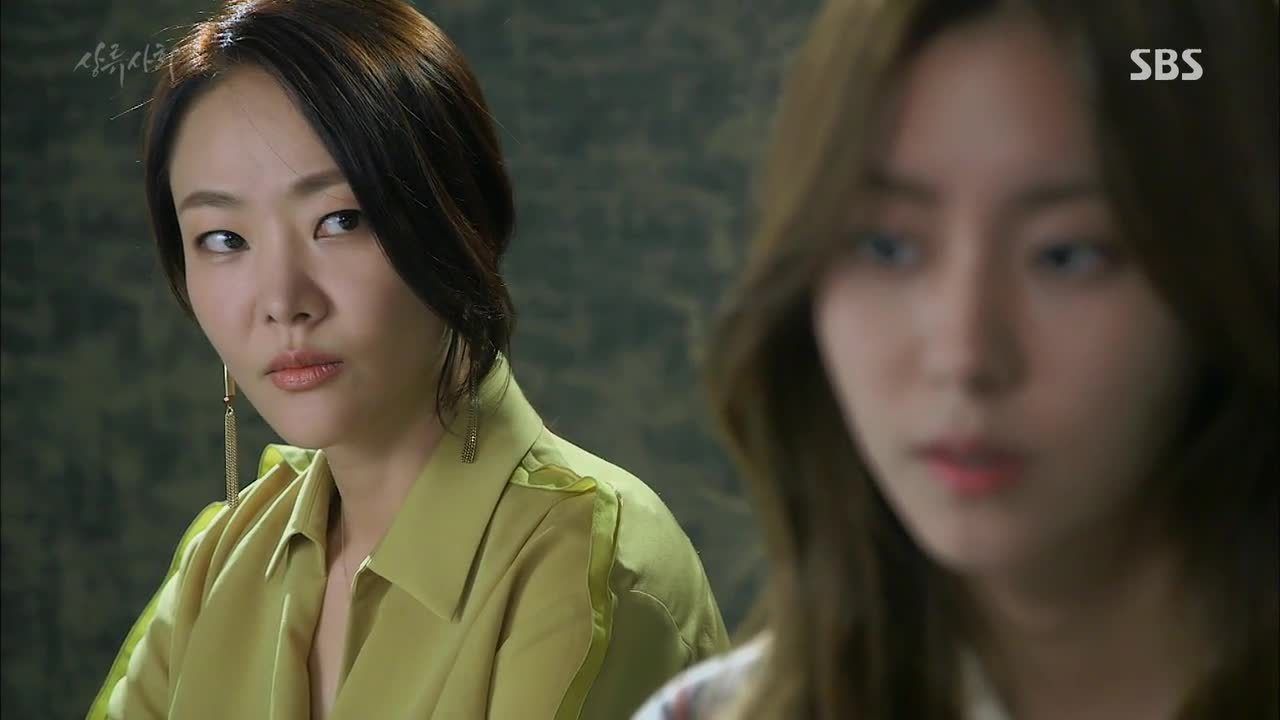 Then it's time to play who's-in-focus-now with Ye-won and Yoon-ha, with the older of the sisters casually informing the other that she can date who she likes, but her marriage will be arranged. Yoon-ha gives her the same spiel about marrying who she wants, prompting Ye-won to asks if she's going to marry Joon-ki.
"I want to, but I don't know if he does," Yoon-ha confesses. But then she brings up the scandal with Taejin Cosmetics, claiming Kyung-joon told her about it. She relates how she'd responded to his "Be kind and succeed" advice with her own: "An eye for an eye, a tooth for a tooth." It's clearly a warning to Ye-won that she doesn't pick up on.
But Ye-won does call her out on everything else regarding her future in the company, and actually holds Yoon-ha accountable for saying one thing and then frequently doing another. Her biggest concern now is that Yoon-ha will start work next week with no prior experience and make things difficult for everyone. She could've said it nicer, but she's certainly not being unfair.
Yoon-ha gets a call from Joon-ki's ex-girlfriend asking her to meet so she can tell her what kind of person Joon-ki really is. Yoon-ha says she only believes what she can see and doesn't need to meet her, thankyouverymuch. But her curiosity ends up getting the best of her.
Because of Chang-soo's mother, the two former best friends get to take an awkward car ride to work together. At least Chang-soo is frank when he says, "No matter how I think of it, I was sincere toward you. But you used me?" Joon-ki votes that they settle this like men: to the thunderdome/bike track!
While Chairman Jang's secretary gives Lady Kim a bizarre and unexplained warning regarding her otherwise loyal maid, Ji-yi receives an unwanted call from Chang-soo's mother requesting a meeting.
Yoon-ha meets with Joon-ki's ex, who explains that he just uses women for money to help his low income family. Yoon-ha rejects this "advice," making sure to tell her before she leaves that she can totally see why Joon-ki broke up with her.
The boys settle their score through a bicycle race to a rendition of Oasis' "Wonderwall," and though Chang-soo gives his best, he's unable to defeat Joon-ki now that he's no longer making any concessions to him.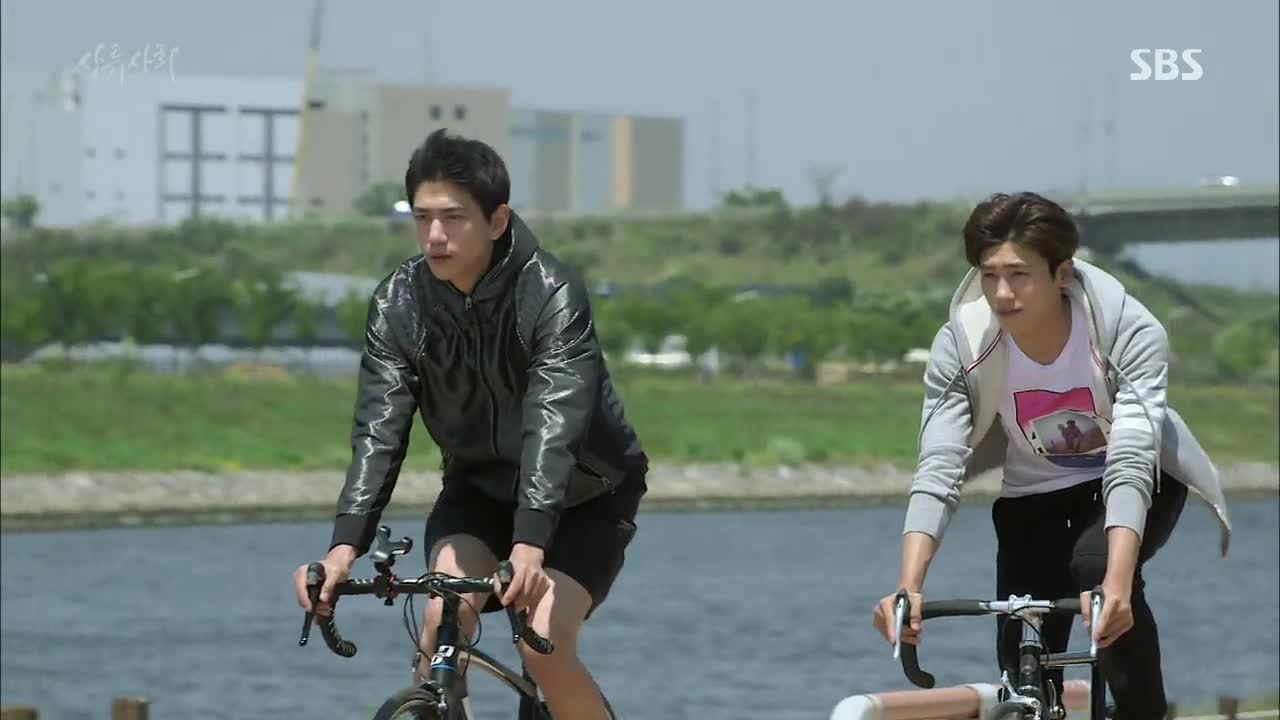 Now that Chang-soo knows how not-fun it is to lose, Joon-ki reminds him that he lost on purpose almost every time. But he finally says those words Chang-soo's always wanted to hear, and means it: "I like you."
He admits that he chose Chang-soo because he thought he could get the furthest that way, and used available opportunities (like protecting him from high school bullies) to his advantage.
Chang-soo shakes his head and wonders how he thought Joon-ki was a good person, when in reality he was just clinging to powerful people he thought he could benefit from. Joon-ki claims that's no different from how rich people build connections, and calls out the hypocrisy inherent in Chang-soo viewing him as "cheap" for doing the same thing he'd do, just with less money.
However, he knows Chang-soo is innocent and different from other chaebols, which is why they became friends. Chang-soo still sees what Joon-ki did as a major betrayal when he considered him family.
Joon-ki lays it down thick when he starts going into how Chang-soo's sense of elitism makes him think he can take other people's hearts whenever he wants, when that couldn't be any further from the truth.
"You can't overcome yourself," he adds. "You won't be able to marry Lee Ji-yi. It's not because your family opposes it or because someone is stopping you. It's because you yourself can't allow it. You will never be able to overcome your classism." Gee Joon-ki, tell us what's really on your mind.
To all of that, Chang-soo shoots back, "You don't know me. When I set my mind to something, I can change." Unsurprisingly, Joon-ki seems to disagree. However, if Chang-soo should prove himself worthy, Joon-ki will hold the metaphorical hand he might extend to him. But only if it will benefit him.
He cites his love for his family as his reasoning for doing what he's doing, because if he doesn't lift them out of poverty, no one will. And he can't stand the idea that they could delude themselves into thinking they're happy while living that poorly.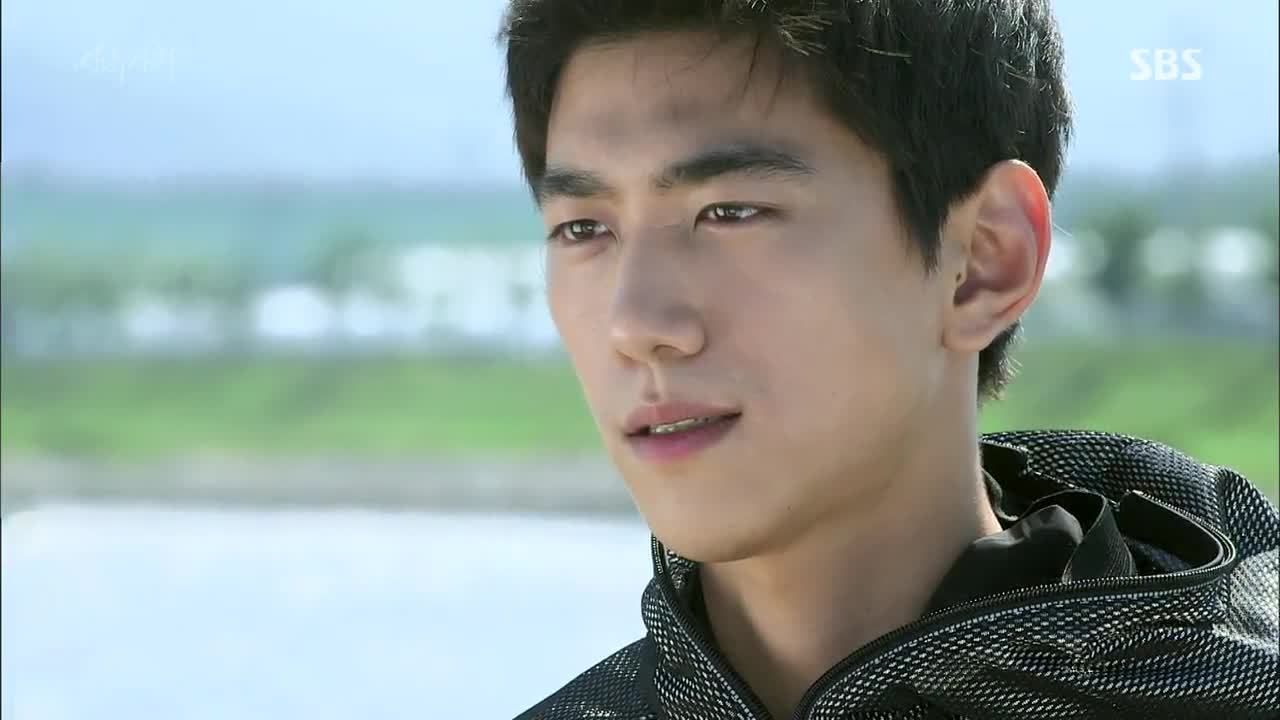 Chang-soo brings up the big question on everyone's mind: What does this all mean for the girl who loves him? Joon-ki claims he's given it a lot of thought, and has decided that though his motives were dishonest, the process of wooing her wasn't.
"I love Yoon-ha," he admits. So there—he's laid himself bare in front of Chang-soo just like he wanted. Is he happy now?
In her second meeting with Ji-yi, Chang-soo's mother pulls out Evil Chaebol Mother Manipulation Tactic #27a, and makes her feel guilty for what's been and will be taken away from Chang-soo should he continue to date her. If Ji-yi doesn't want to see him ruined, she'll break up with him for his own good.
But Mom doesn't let her son off the hook either, since she calls to tell him that he can ease Ji-yi's suffering by just ending things with her. Chang-soo calls Ji-yi, who hides the fact that she's crying and lies that absolutely nothing's wrong. She does have something she wants to say to him though. Ruh roh.
Ji-yi says what she needs to say fast, lest she lose the courage: "Let's break up," she cries. She tried to resist, and wouldn't have given in just because his mother is scary—but when she found out that she was affecting his future…
"Okay, let's break up," Chang-soo cuts in, taking Ji-yi by surprise. She can't tell him that she was hoping he'd offer some dissent, but she's devastated that he doesn't.
But then the funniest thing happens: Both of them stubbornly refuse to be the first to leave. They take this whole thing very seriously until the sky opens up and starts pouring rain. Still, they stand rooted to the ground, only now it's beginning to dawn on them that they look ridiculous.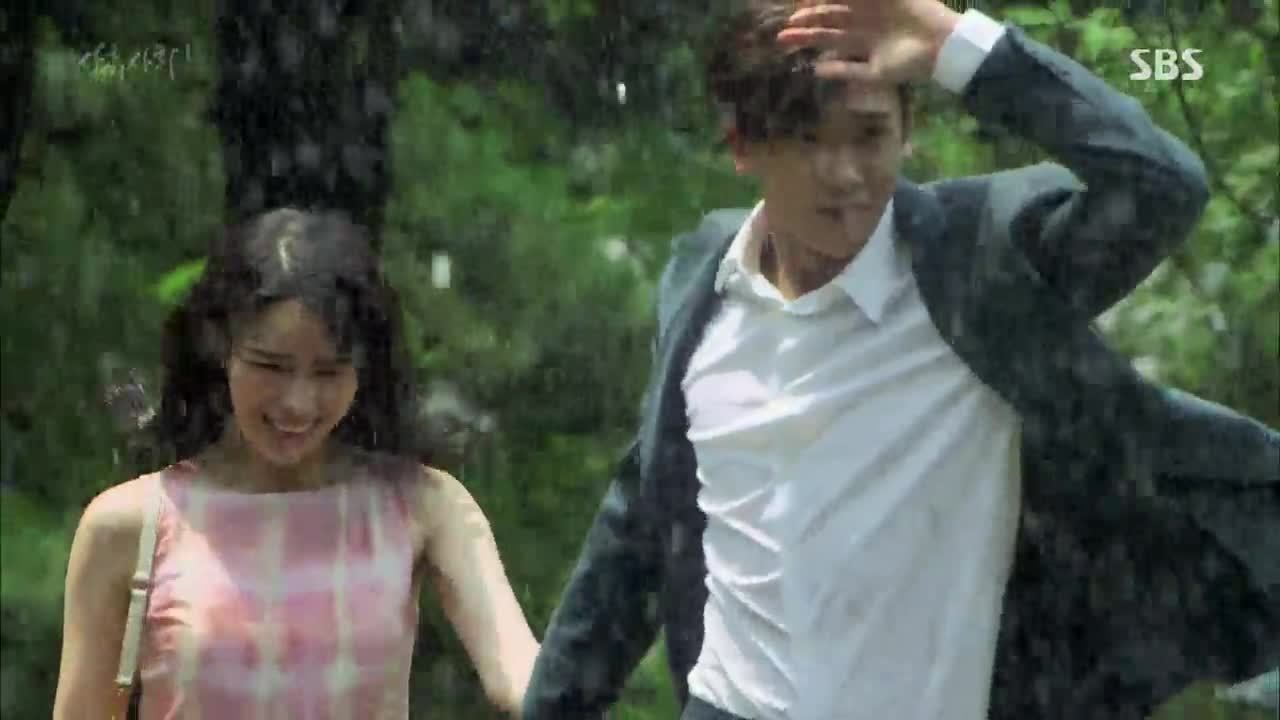 Chang-soo picks up on the mood before asking if they have to break up today. A lightbulb goes off over Ji-yi's head as she catches on, and realizes aloud that it IS raining. And they can't break up on a rainy day, right?
So they don't, and run together through the summer storm hand in hand until they reach the car. Chang-soo echoes Ji-yi's earlier thought that they shouldn't break up when the weather is bad…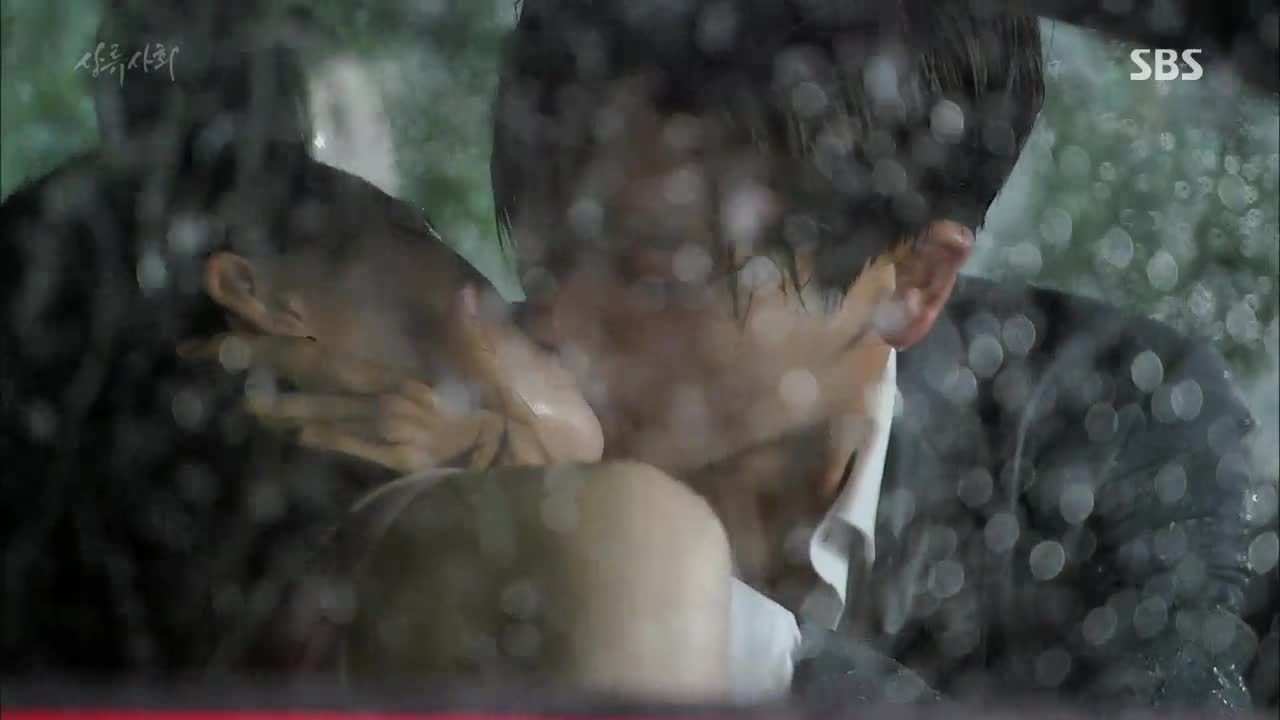 …Before swooping in for a kiss. Ji-yi returns the sentiment with gusto, and when Chang-soo pulls away to invite her to stay with him today, he definitely means exactly what you think he means.
Yoon-ha pays a visit to Mama Lee, who confronts her in the gentlest and nicest way possible about hiding her chaebol past from her. At least she doesn't hold it against her, and instead celebrates that Yoon-ha turned out so well in spite of her wealth.
They both laugh and share compliments, but one of Mama Lee's stops Yoon-ha dead in her tracks: "You look just like you did when you were little."
Yoon-ha blinks and asks how Mama Lee knows what she looked like back then, only for the older woman to say that she saw her in one of Joon-ki's photos. She'll show her, even. Ohhhhh no.
She takes Yoon-ha to the drawer where Joon-ki keeps his dossier on her, but doesn't understand why Yoon-ha suddenly looks so afraid.
Yoon-ha finds an excuse to leave the apartment so she can be waiting downstairs to confront Joon-ki. He stops, and she looks up at him…

COMMENTS
Based on Yoon-ha's inherently unpredictable nature, I'm going to make a conscious effort not to get ahead of myself on this one—I can really see this resolving one of two ways: Either Joon-ki denies that there's any nefarious purpose to the dossier and Yoon-ha believes him because that's the Yoon-ha we've seen until now, or she uncharacteristically changes all her prior convictions about him and lets all hell break loose.
I'm all for the latter scenario personally, since Joon-ki's made his bed and has so far gotten everyone else to lie in it but himself. All this time, we waited to hear an explanation straight from the horse's mouth with the vague hope that our lack of empathy for Joon-ki would solve itself if only we knew what it was he really thought. Now that we do, I'm not sure if I feel more or less confused about where he's coming from.
On the one hand, it's been made pretty clear that Joon-ki hates rich people. On the other, we found out this episode that he also hates poor people—or more specifically, he hates poor people who don't care enough about money and status to change their lot. It's equal parts fascinating and bizarre that the idea of his family being happy with their current income is so disdainful to him that he'd rather live as a professional leech (or "social ladder climber") than see them fall into that blackest of holes from which there is no return, otherwise known as living.
Which isn't to say that ambition is bad, or that Joon-ki's committing some sin by wanting the best for him and his family. It's just that it all feels like more moral grandstanding from him, where he once again knows better than everyone else and feels totally righteous in making decisions for others without consulting anyone but himself. Money is great and all, but if Joon-ki thinks that some arbitrary amount of it will help solve the shame he feels toward his family (especially his father), then he's got more growing up to do than Chang-soo.
It's a good thing that he made things semi-right with Chang-soo by finally being honest with him, but I do wonder if Joon-ki hears himself when he calls Chang-soo elitist before he inevitably says something super elitist. Chang-soo's not perfect, but we haven't exactly been given evidence that he's the big bad wolf Joon-ki makes him out to be—so watching him listen to Joon-ki's monologue of "You can't, you won't, and you never ever will" with just a whimper of dissent wasn't easy. I hope Chang-soo becomes his own man and proves Joon-ki wrong on every count. And that he doesn't reach out for Joon-ki's metaphorical hand when he does.
Last but not least, Chang-soo + Ji-yi = ♥. Yoon-ha's family drama can wait until next week.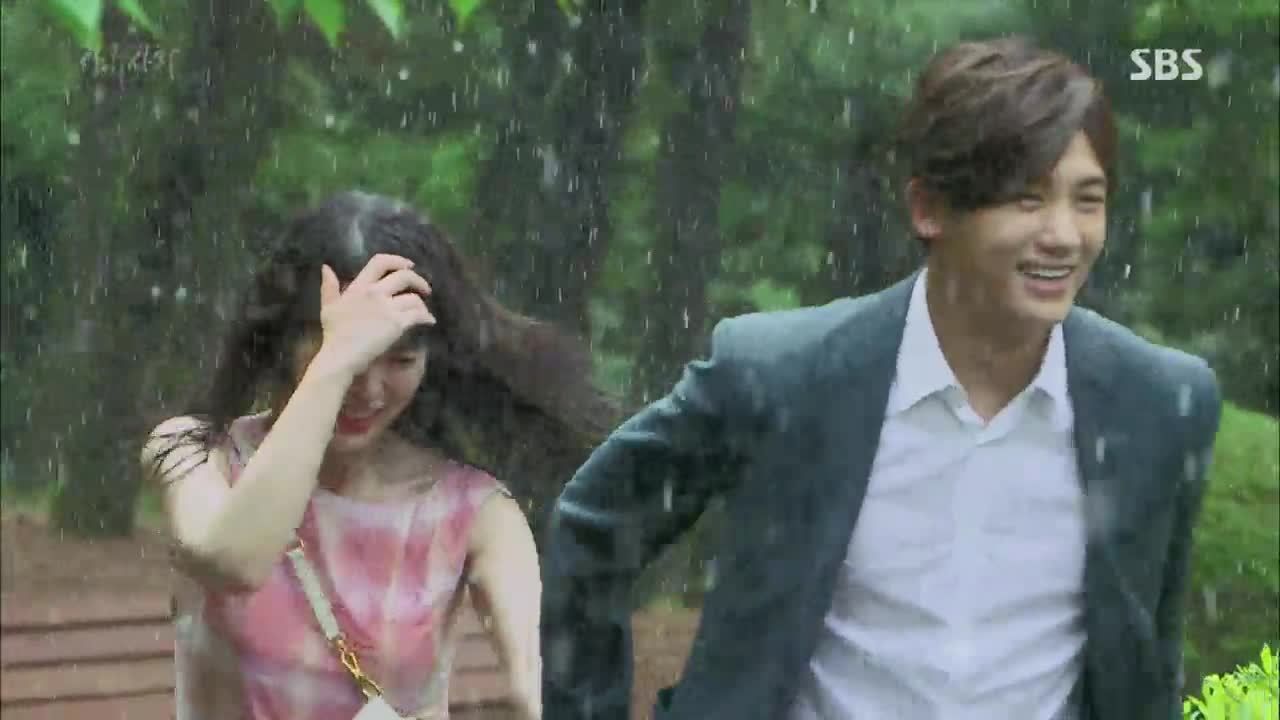 RELATED POSTS
Tags: featured, High Society, Im Ji-yeon, Park Hyung-shik, Sung Joon, UEE