High Society: Episode 11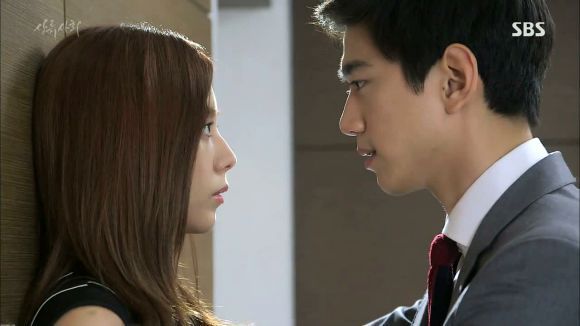 While a little honesty can be effective, a great deal of it can be a dangerous thing when it comes to maintaining a relationship. No one is as prepared to deal with the aftermath of the truth than Joon-ki is, who shows us what it means to be brutally honest about the words one has spoken and the actions one has committed.
Whether or not he's brave enough to be honest to himself remains to be seen, but if this the first glimpse of many truthful confessions to come, then by all means, share your heart with us.
SONG OF THE DAY
Kim Feel – "사랑한다면서 (You Said You Love Me)" [ Download ]
Audio clip: Adobe Flash Player (version 9 or above) is required to play this audio clip. Download the latest version here. You also need to have JavaScript enabled in your browser.
EPISODE 11 RECAP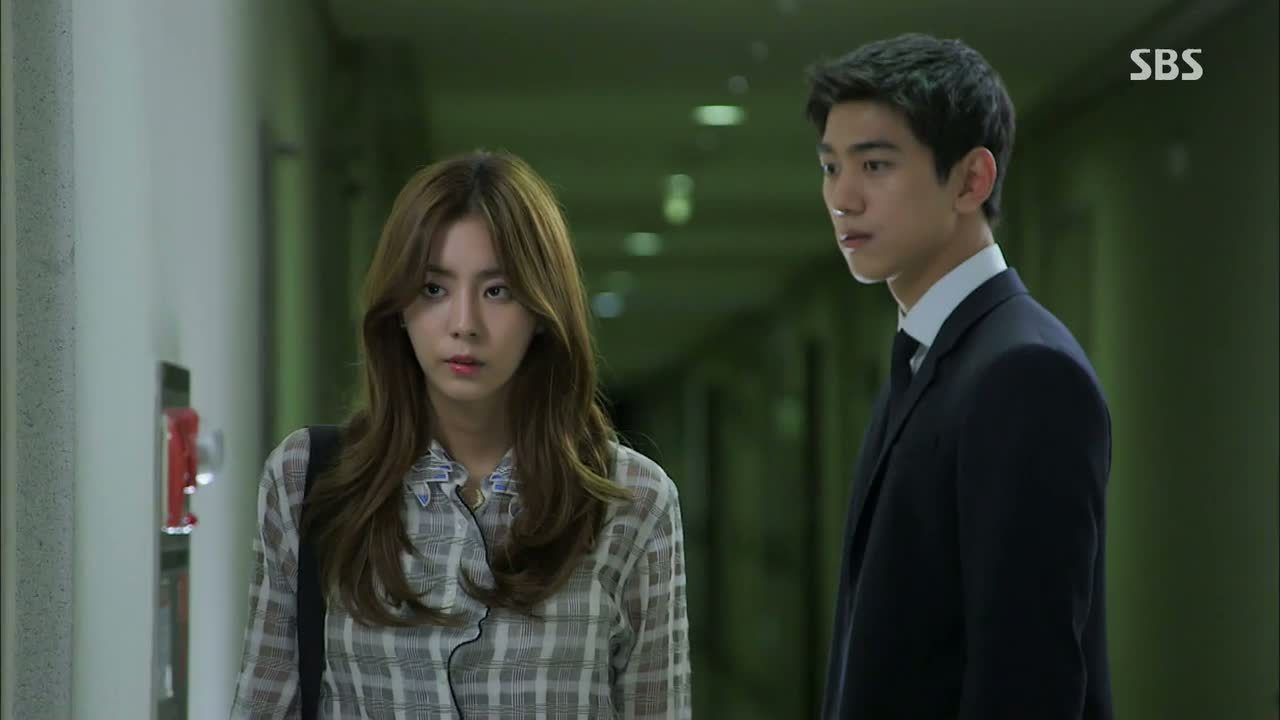 Instead of confronting Joon-ki right then and there, Yoon-ha says she needs some time to think things through. She's left him with an assignment though, and Joon-ki realizes what's happened when he sees that the contents of his secret drawer are gone.
Doubt creeps into Yoon-ha's mind while staring at her hairclip and childhood photo, and her calls to Chang-soo go unanswered. Seeing Joon-ki show up at the parking lot, she decides to have that talk now, asking him if he'd known which family she belonged to, but kept it a secret from her. He nods.
Next the hairclip, which Joon-ki claims he picked up by chance the day she went on an arranged date with Chang-soo. Accepting that answer, she asks if he'd known who she was upon their first meeting. He says yes, but only by face because he'd seen her a couple of times in the elevator earlier that day.
Moving on to the background check, Joon-ki honestly tells her it was on Chang-soo's request. He didn't put a name to the face until Chang-soo had recognized her at the supermarket that day.
This means he'd known who she was when she tried setting him up with Ji-yi, and asks if he'd planned this all out. He hadn't, but gave it a shot anyway. He furrows his brows when she asks if he'd used his mother as a tool in his plans, utterly relieved when he tells her no.
But that doesn't clear him of being somewhat calculative with his words and behavior toward her, and she asks why he put up an act then. She likely would've let her defenses down if someone who approached her acted as if he knew nothing of her background, Joon-ki replies.
It's as if Joon-ki is speaking of a different person than himself right now, which Yoon-ha picks up on. Asked why he wanted to get close to her, he delivers the blunt truth: "So that you'd like me and marry me."
Yoon-ha calls him cruel for toying with her all this time, but Joon-ki retorts that he didn't do all that much—she was the one who suggested that they go out and misinterpreted his kindness as something more. Her determination to fall in love was so great that she would've fallen for any man on those grounds alone.
A tear falls down her cheek as she asks if he truly thinks that. He takes a few seconds before answering, "Isn't it true?" Yoon-ha: "No. It surely isn't. Because it was you… I loved you because it was you, Choi Joon-ki. So don't insult my love, you son of a bitch."
Her tearful confession stuns Joon-ki for a few seconds before insisting that she cannot drive in her highly emotional state. But Yoon-ha ignores him and drives off out of the parking lot and into the pouring rain…
… where she swerves to avoid hitting a cat and crashes into the hedge. Having heard the noise, Joon-ki runs outside to check on her. Though her sobs say otherwise, Yoon-ha insists that she's fine, willing to abandon her car here temporarily before confronting Joon-ki once more: "Did you want my background that badly?"
Following her brother's death, she came back from the emotional brink because she missed Joon-ki so much and he gave her a reason to live. Even if loving him wouldn't solve all of her problems, that love would give her the power to overcome those issues, she says.
She turns to leave and hops in a taxi, leaving Joon-ki behind with his stirring emotions in the rain.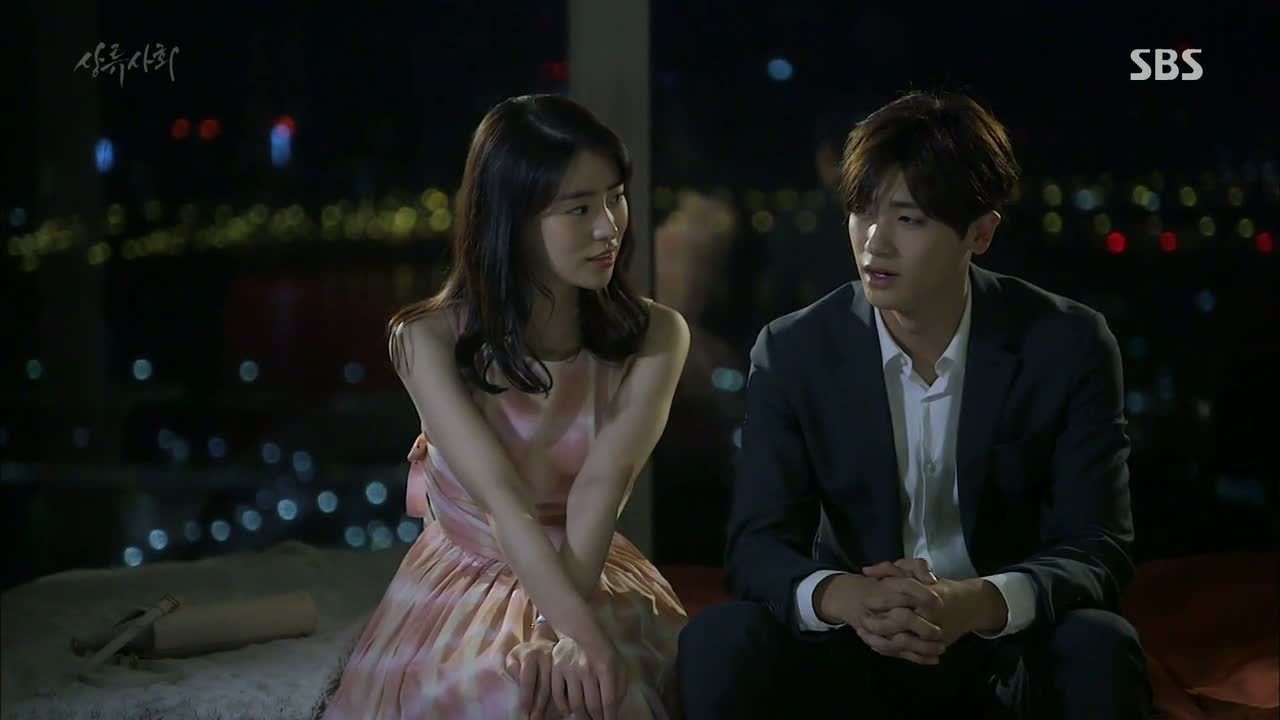 We see that Chang-soo is too preoccupied to pick up Yoon-ha's call anyway, having arrived at a hotel room with Ji-yi. He says this setting feels awkward, which she plays along with until she adds that it'd be odd to leave so suddenly, too. So he sits back down on the bed. Hee.
Sitting down next to him, she requests a story to break the awkward tension. He tells her a tale about The Scorpion and The Frog, and a simultaneous flashback shows Joon-ki and Chang-soo having watched a movie that featured the same story: a scorpion had asked the frog to help him cross a river, but the latter was afraid he'd be stung and they'd both drown and die.
The frog eventually agreed to help, but got stung anyway. When he asked the scorpion why he did it, he'd been told: "I couldn't help it. Stinging is in my nature."
She says it's a sad tale, to which Chang-soo says he could end up being a scorpion to her and unknowingly hurt her despite his best efforts not to. She says they'd meet the same fate if she did get hurt, then turns to him to say that's fine with her.
Chang-soo pulls her into bed, giving her a chance to back out now if she's afraid. But Ji-yi's already made up her mind and has nothing to fear. As Chang-soo leans in to kiss her, she does have him promise her one thing: that he won't apologize for what happens next. They seal it with a kiss.
Time for our requisite Jang family check-in: Madam Min is told that it won't be easy getting half of the assets and that Chairman Jang has no intention of pursuing a divorce. Chairman Jang tells his eldest daughter Ye-won to hand off her project to Yoon-ha when she start work next week.
Ye-won is neither interested in giving away her project nor sharing it with her inexperienced little sister. But Chairman Jang doesn't like unnecessarily dragging out a project, and furthermore, what would become of Ye-won if Yoon-ha actually pulled it off with flying colors?
That has Ye-won fuming that her father hasn't changed in his ways of setting his children against one another all in the name of healthy competition.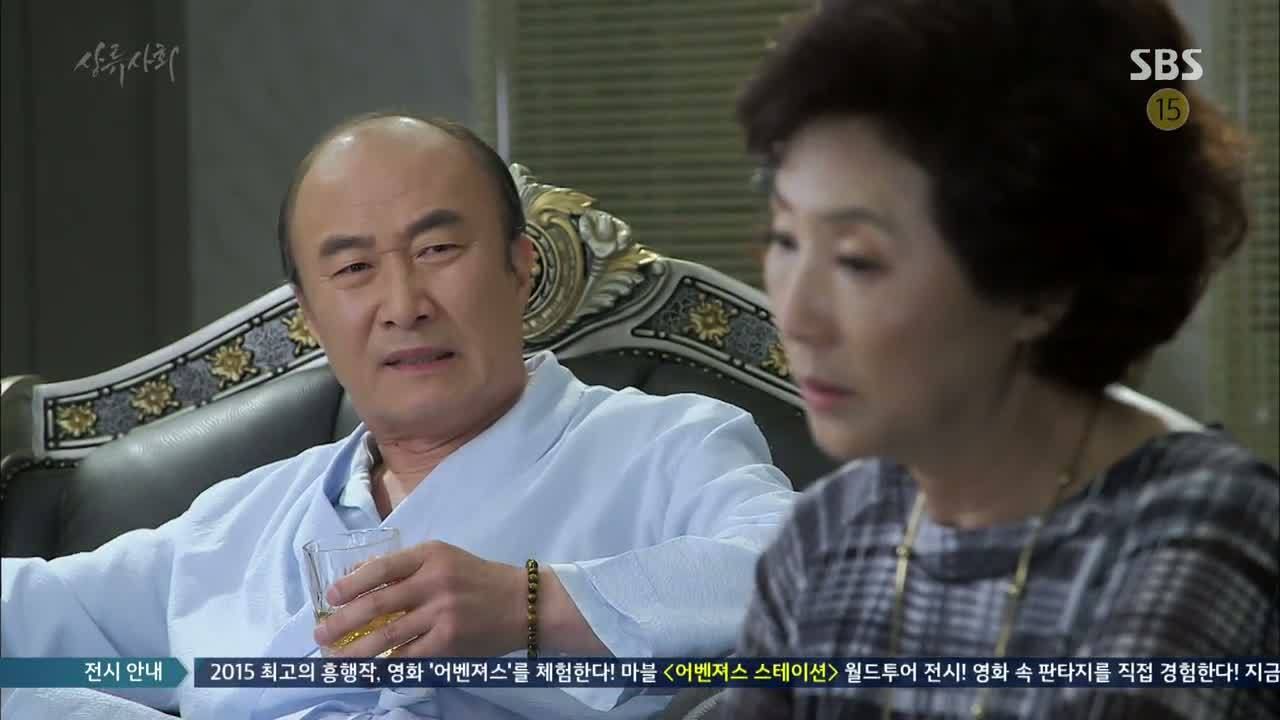 Pouring a drink for her husband and herself, Madam Min asks why he hasn't responded to her divorce request. They've been together long enough and all their children are grown up, so all there's left to do is divvy up their assets.
She considers her equal stake as compensation for being a supportive wife all these years, but Chairman Jang doesn't understand why she'd want to get divorced in their old age. She cites that he's threatened her to leave loads of times, to which he tells her that she's free to leave this house but he won't agree to a divorce.
He refuses to allow her to meet other men, and asks if she truly has nothing to protect now. She somehow took herself out of her own life over the years, he tells her, and tells her to protect herself. "If we get a divorce, you'll lose yourself. If you end up losing that title as my wife, you'll really have nothing to protect then."
So-hyun fills unni Ye-won in about how her friend spoke of Joon-ki's track record of approaching rich women. She thinks Yoon-ha probably found out about it and is currently bawling her eyes out.
That's not too far from the truth, as Joon-ki stares out of his window still in his damp suit. Tears well up in his eyes as he opens up the box containing the couple rings he had prepared.
As for Yoon-ha, she takes a broody shower, letting her tears fall among the droplets. She thinks back to everything Joon-ki had told her, including how he had yet to make his dream come true. Just like how Joon-ki vowed to his own reflection a few episodes back, Yoon-ha does the same now, as if giving him a reply: "Your dream is my reality. Just wait.. I'll step on you."
Cue the transformation from heiress next door to badass I-don't-take-your-crap bitch with Yoon-ha trimming her hair a full inch and donning an all-black wardrobe (complete with a choker!). She has Butler Hong dig up more info on Joon-ki.
Chang-soo tells his mother not to go looking for Ji-yi anymore now that they've broken up. Plus, he told Ji-yi to call him if his mother ever does. He sends his mother a disapproving look when she makes another dig at Ji-yi before heading out to meet the new Yoon-ha.
I'm rather impressed by his ability to notice her new look, asking if she got dumped or something. She asks why Chang-soo didn't tell her that Joon-ki already knew about her family background, but she appreciates that he didn't.
Still, the idea of being the last to know makes her feel pretty lousy, which Chang-soo disagrees with: "It is immature, though." He doesn't answer why he and Joon-ki fought that day, though he finds it amusing that Joon-ki was so honest with her about his intentions to marry Yoon-ha, pointing out that he once had the same motive. "Would it have been okay with me?"
But Yoon-ha fixates on how they're both victims to Joon-ki's betrayal, and as such, Chang-soo should fire him. Doesn't Chang-soo hate people who use him the most?
Even now, Chang-soo said it was mutual—he and Joon-ki both needed one another. Yoon-ha says she should've known that the two friends would act the same way, but Chang-soo pointedly interjects, "We're not friends."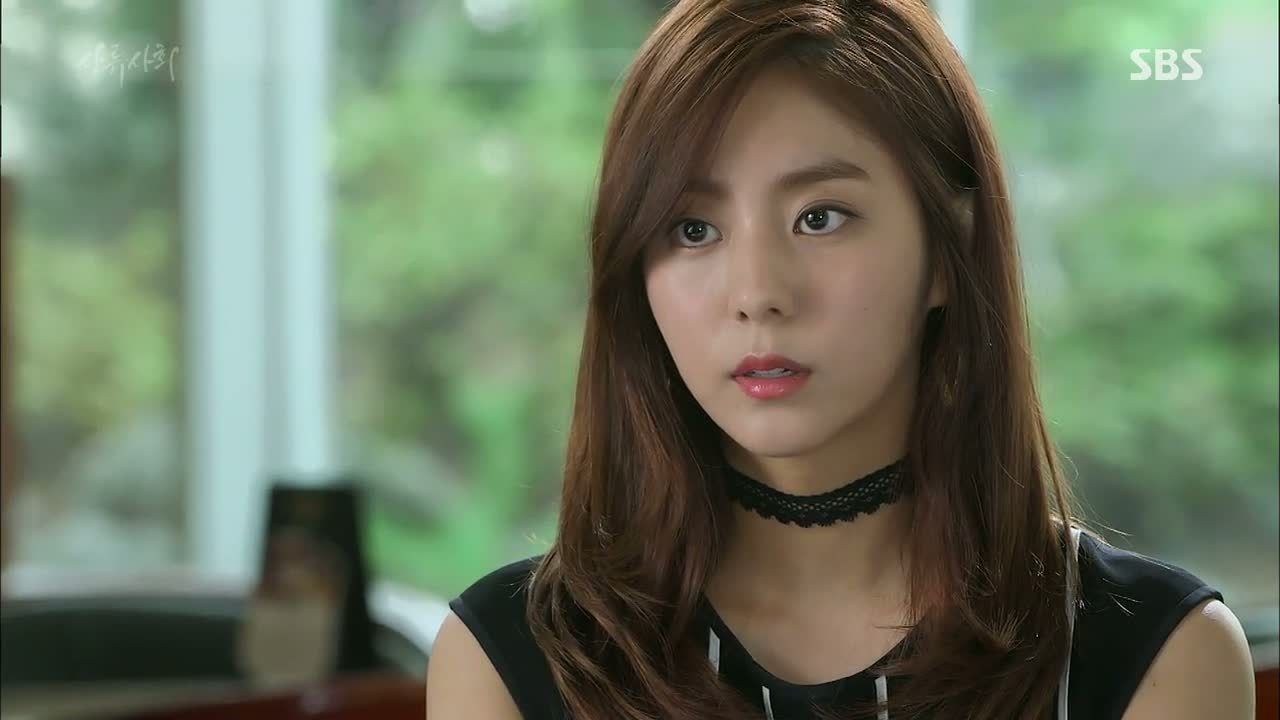 He rises to take his leave just then, but has one last piece of advice for her: If she plans to take Joon-ki on, she'll need a bit more finesse—because acting like the victim will only hurt her in the end.
That's not the reason why she asked to see him today, Yoon-ha says. She wanted to see who has more time to spare between him and Joon-ki, and if she could use that to her advantage. She's going to stomp all over what Joon-ki wants: her privileged background.
Ye-won meets with Joon-ki in her office to directly offer him a job at Taejin. He plays hardball, saying that he'll accept any job if the conditions are right. Yet he reminds Ye-won that she won't be able to get any dirt on Yoon-ha this way, even if they've parted ways now.
Ye-won promises to compensate Joon-ki generously if he secures a duty-free spot for Taejin Cosmetics at Yumin's airport storefront. He agrees and asks for negotiation authority in return.
Yoon-ha and Joon-ki miss each other by a hair when she arrives to see her sister. It's her first day on the job, but Yoon-ha doesn't let her sister's pointed jabs get to her, especially about being able to secure a shop for Taejin Cosmetics in an airport.
After agreeing to a sisterly gathering tonight, Yoon-ha boots So-hyun out of her office with the warning not to give away her number to strangers again.
It's Ji-yi's first day at her job, too, and Chang-soo gets all pouty when she says they can't do a lunch date and doesn't know when they'll get to meet up next. He's annoyed when her hungry stomach seems to be important to her than he is, but next thing we know, she pops out of the office to eat lunch with him anyway. Cute cute.
They opt to eat at a nearby snack food stall so that they can maximize her lunch hour. Chang-soo looks at the ddukbokki like it's alien food and whispers about its possibly unsanitary conditions. But that hardly bothers Ji-yi, who says that humans carry millions of germs all the time.
He finally digs in, mostly out of hunger, but nods approvingly when the food isn't half-bad. Watching her enjoy the vending machine coffee stirs up his curiosity, he's surprised when it's not awful.
Not that he'd let Ji-yi see him enjoy it, of course. He sends Ji-yi back to work, adding that he's got plans tonight, and then drinks the rest of the coffee.
Chang-soo gets a call from Yoon-ha asks him to help speed up the decision process so that Taejin Cosmetics can procure a spot at a Yumin storefront. In a good mood, Chang-soo agrees to get it done, but then hesitates when he realizes that he'd have to call Joon-ki.
Speaking of whom, he personally follows up on securing that spot. Upon hearing that Taejin's products carry higher costs to import, he suggests an action plan that will benefit both parties. Instead of being praised for getting the job done effectively and efficiently (and more importantly, faster than Yoon-ha), Chairman Jang admonishes Ye-won for not getting it done earlier.
Over at Lady Kim and the Giant Peach's place, Mama Lee resigns on the spot upon being asked if Taejin Group has dirt on her (since the chairman's secretary had asked that she be fired) and that Chairman Jang is Lady Kim's benefactor.
Per Yoon-ha's request, Joon-ki is called into a meeting at Taejin where he's left waiting for an hour before being turned away. Realizing that Yoon-ha was likely behind this, he heads for her office, fully ready to accept anything she throws at him. "Just don't ruin yourself."
He asks why she doesn't ask him the most important question of all. They both know what he's talking about, so Yoon-ha answers the question for him: "You don't love me." Swallowing back his tears, Joon-ki turns the question back on her: "Do you love me?"
"No," she replies. So Joon-ki asks if Yoon-ha loved him when he was pretending to make a good impression on her. When she answers yes, Joon-ki pushes her to the wall and tells her: "If you loved me then, you should also love me now. That's what love is. Even if I did wrong by you, even if it doesn't make sense in your head, you should accept me in your heart. That's what love is."
Yoon-ha searches his face for a few seconds before asking why he came clean about everything when she confronted him about it. Joon-ki takes a beat before giving his reply: "Because I love you. I couldn't bring myself to lie to you."
Joon-ki doesn't know when his feelings for her began, but what's important is that he's come to love her. He thought she was just like the rest of them, but he realized that she was different.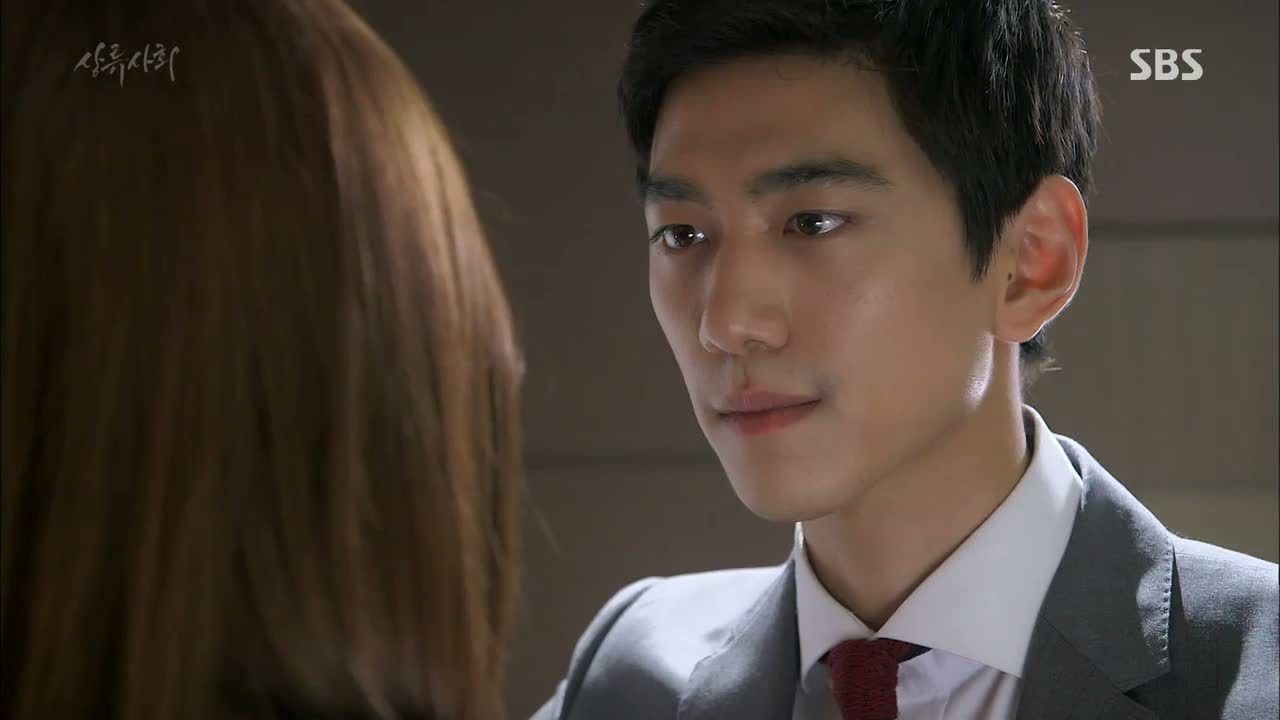 She vows that she'll have him blacklisted so that he can no longer work in this industry, but Joon-ki tells her that he'll accept a job here at Taejin. All the conditions are better than at his current job—any other person would've declined the offer out of the person they love, but he's accepted it because earning a living is more important to him than love.
It's hard to tell if his eyes betray the words he speaks now, but he falls back to the story he once told her about his hard-working father. The true moral of that story is that he doesn't want to become a father who is insulted and must beg to others in front of his own child.
Enduring that kind of insult and embarrassment in front of one's child is something Yoon-ha finds commendable. Joon-ki agrees, but admits that the idea still pains him. Yoon-ha: "Do you even have a heart?" Joon-ki: "Why wouldn't I?"
Even her threats of using that privileged background he so desires against him simply bounce off of Joon-ki. He's prepared for all the consequences, and tells her not to forgive him.
After sealing the deal with Ye-won to start working at Taejin as soon as next week, Joon-ki meets with Chang-soo on their usual rooftop. He comes right out with it and tells him about the new job and admits to hurting Chang-soo's pride.
Chang-soo in turn, acknowledges that Joon-ki was right about his latent sense of elitism. He hadn't known until Joon-ki pointed it out, and he's neither able nor has the desire to overcome it. Joon-ki nods that he knows, and Chang-soo tosses back, "Couldn't you have accept me just as I was, anyway?"
"I did," Joon-ki retorts—it's just that he wouldn't give Chang-soo his heart, and Chang-soo jokes, "How could you not have your heart stolen by me? Aren't I pretty decent?" That finally gets a laugh out of Joon-ki, who extends an opened helping hand anytime Chang-soo needs it.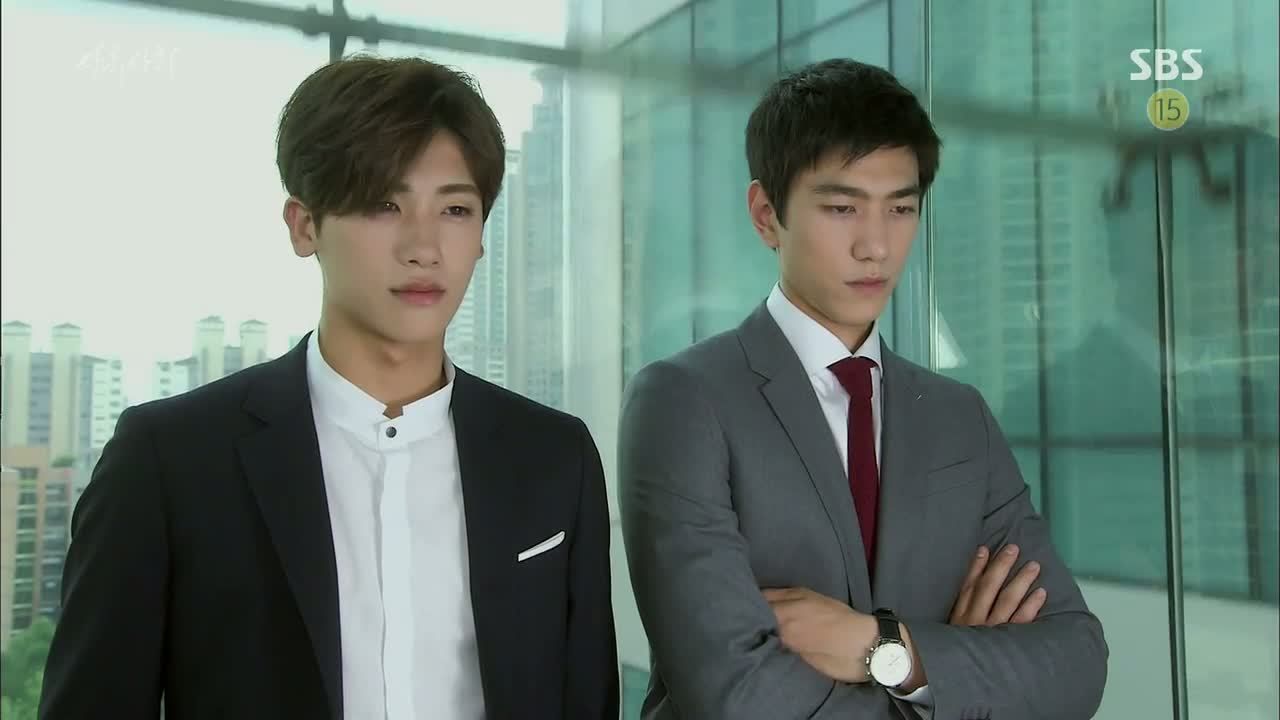 Chang-soo vows not to act childish anymore, but Joon-ki believes that this separation will end up being beneficial to their relationship. At the very least, Chang-soo may come to understand where he's coming from.
But Chang-soo doesn't like the idea of his longtime buddy leaving him and having to make new friends. Unlike what Chang-soo said once, there's actually only one reason why people don't express themselves: because saying it doesn't change anything.
That's how it was for him during their friendship, Joon-ki says. The two men take the elevator down in silence, with Chang-soo giving Joon-ki a pat to the arm before stepping out.
Joon-ki arrives home to see his mother waiting with his favorite dish. Seeing that dish only brings up happier memories with Yoon-ha, and Mama Lee notices that he's barely eating. She asks after Yoon-ha, though left stunned when Joon-ki says they've broken up.
Then the saddest thing happens: Mama Lee feels responsible for the couple's separation because she believes that Yoon-ha's family found out that she works for Lady Kim. Joon-ki hadn't known that little fact until just now and insists that's not the reason why.
"You liked her. You liked her a lot," Mama Lee says. And as Joon-ki tells his mother that he and Yoon-ha were never going to make it anyway, it's almost as if he's trying to convince himself of the same thing.
Yoon-ha shares a drink with Ji-yi by the river, still fuming over Joon-ki. She's reminded that she can't actually hurt or kill people out of anger, but seeing his face did stir her heart from vengeance. Ji-yi supposes that means Yoon-ha truly was in love, then cracks a joke to make her friend smile.
Ji-yi takes a brief call from Chang-soo before turning her attention back to Yoon-ha. She understands why Joon-ki made the choice that he did: as a fellow humble citizen, the idea of choosing to make a living over love hits home to her. It makes her wonder what she's doing now, having chosen to continue loving Chang-soo.
Speaking of whom, Chang-soo barely gets two steps in the door before his mother sits him down, showing him the paparazzi-style photos of him and Ji-yi on their lunch date earlier that day. Oh crap.
While Ji-yi arrives home to be told from her landlady that she's being evicted because another tenant will pay her a much heftier rent, Chang-soo's mother asks if this is the way he would treat her leniency.
He said that things were over between him and Ji-yi, but these photos clearly beg to differ. "Do you like having Ji-yi suffer?"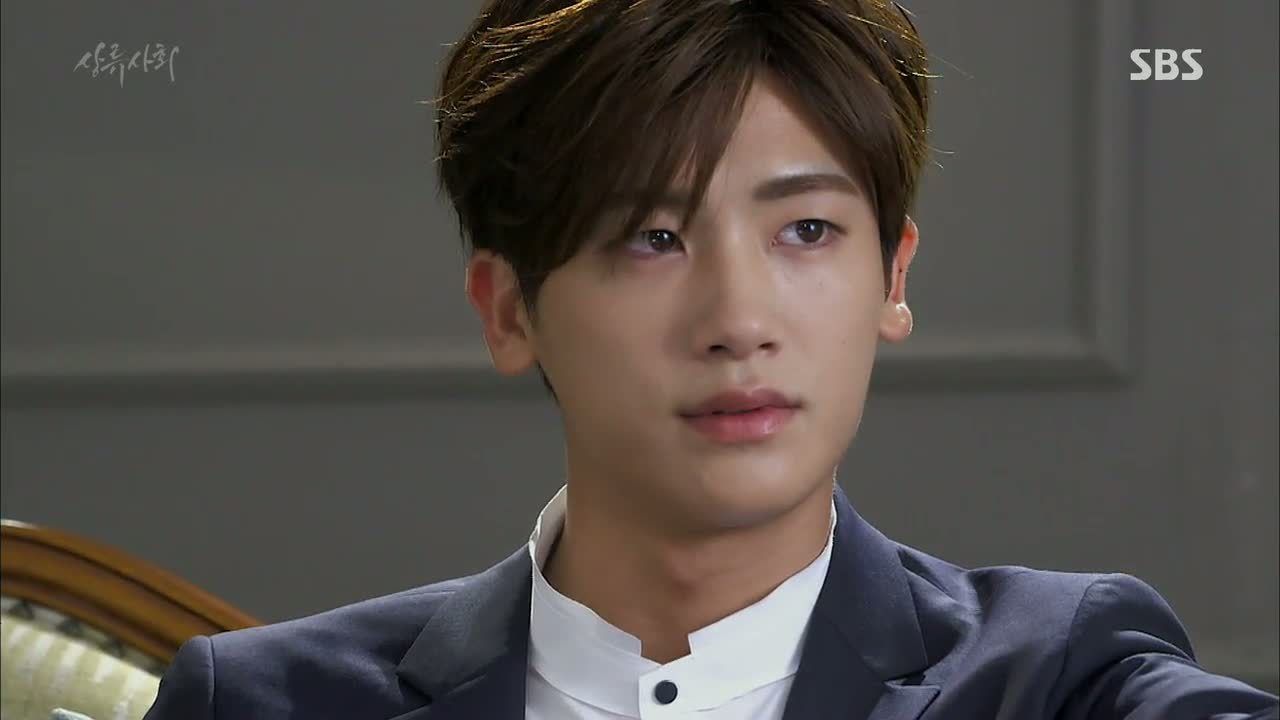 COMMENTS
No, no I don't like seeing Ji-yi suffer in the hands of anyone, least of all Chang-soo's mother. At the same time, did Chang-soo really think that he could keep his ongoing relationship with Ji-yi a secret when they have a very public (but very cute) lunch date?
High Society has given us some un-dramatic cliffhangers for what are seemingly dramatic moments in the past, but this episode is as if the show cut off mid-scene and called that a cliffhanger. That isn't to say that every ending needs to be riveting, but ideally it should make me yearn for more rather feel like there should be more build-up to its final moments. Still, it doesn't change the fact that I don't want anything or anyone intruding in and messing up Ji-yi's life.
The spotlight is on Joon-ki and Yoon-ha this hour as their whirlwind romance hits a major obstacle. I'm all for Joon-ki coming clean about his intentions for approaching Yoon-ha and how his feelings have changed since then, along with him feeling genuinely hurt with being rejected so coldly afterward. His motives are out in the open, and for some reason, I still have trouble wrapping my head around it. His bitterness toward being born poor is still evident even if he isn't verbally ashamed of his background, because he's made a personal vow never to become a father that grovels to others for being an ordinary working man. So then Joon-ki made it his goal to shed that label of being a proletariat by working his ass off to become successful and becoming friends with the rich. However, it still begs the question of why he desires that life of privilege, even when his resentment for the rich was still evident, both in the words he'd thrown at Chang-soo, followed by the realization that Yoon-ha was somewhat different than from what he'd thought about the wealthy.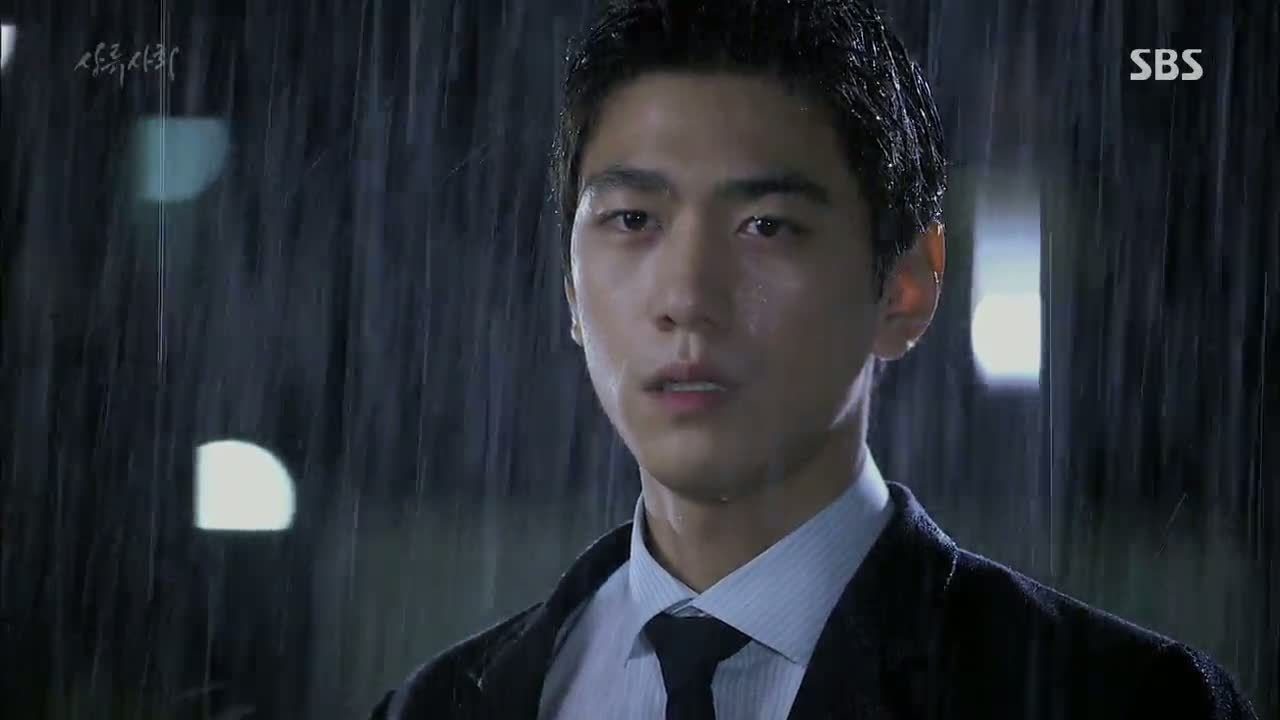 Choosing practicality over love is a pragmatic decision, which I do understand. Where it gets fuzzy is that Joon-ki is fighting with his emotions as he speaks these words. In these moments, I keep getting a sense that he himself wants to convince himself of the words he utters — that making a living trumps love — and yet he so wanted to rise above his station. I want to know what Joon-ki wants now, and be a part of the conflicting thoughts racing through his brain. I appreciate your decision to be fully honest, Joon-ki—help us out with a little more insight into your 'noggin, whether that's your internal struggle or what you want now.
Still, Joon-ki was absolutely spot-on in his insight into Yoon-ha at the top of the hour. Someone had to tell her that she was more in love with the idea of being loved than being in love… but then as soon as she insisted it was love and now she no longer needs it, well that was that. To that, I can only say that this show has shown us even stranger things before and continues to do so. Yoon-ha's about-face and lackluster revenge in this hour would be a fair example of this; it's primarily the execution that makes it fall short of a "hell hath no fury like a woman scorned" expectation. Add Yoon-ha's odd sympathy for the emotional plight of the poor and it becomes difficult to buy that she's totally out for revenge now. Good thing she has the black choker and eyeliner to remind everyone of that?
For all the built-up tension between Joon-ki's and Chang-soo's estranged relationship, we got a very subdued resolution to their fight. Chang-soo isn't without his flaws, but his acknowledgement to his unknowingly classist and knowingly childish ways is backed up with self-reproach while Joon-ki simply accepts that without saying anything about himself in turn. Granted, having the boys staying mad at each other would've felt like spinning our wheels in place, but it makes sense that because of that longtime grudge, they simply can't pick up their friendship where it left off. Maybe another bike race will help smooth things over. Or some coffee from the vending machine.
RELATED POSTS
Tags: featured, High Society, Im Ji-yeon, Park Hyung-shik, Sung Joon, UEE