High Society: Episode 12
This show is a pretty good example of why you shouldn't date in the workplace, because it's only nice until you break up and end up in a twisted love square. Or does that only happen in dramas? If it wasn't a thing before, it definitely is now, with our two chaebol characters drifting toward each other while our two less fortunate leads realize they have a lot more in common than they'd initially believed. It's all in good fun until jealousy rears its ugly head, and something tells me the tentative truce formed between Chang-soo and Joon-ki isn't going to last much longer.
SONG OF THE DAY
SHINee – "The Reason" [ Download ]
Audio clip: Adobe Flash Player (version 9 or above) is required to play this audio clip. Download the latest version here. You also need to have JavaScript enabled in your browser.

EPISODE 12 RECAP
Yoon-ha ends up saving Ji-yi from being evicted by using her connections to scare the landlady into submission, even though the woman comments that the person who wanted Ji-yi evicted is much worse than her. Ji-yi knows immediately who that person is.
It's Chang-soo's mom, as she asks her son whether he likes to see Ji-yi suffer. He has nothing to say to that, but warns his mother against meeting Ji-yi in the future, promising that he won't see her again. "You won, Mom. I lost. There, I said it. So have some mercy and leave Ji-yi alone."
Meanwhile, Ji-yi inquires about possibly getting a loan from their company for an apartment, since she'll likely have to move. Yoon-ha wonders how she can be thinking of money in this situation, but Ji-yi tells her that worrying about money is how she's always lived.
"Worrying about it now isn't fear, but reality," Ji-yi explains. But she also adds that she forgot about reality when she started dating Chang-soo, only to realize now that reality is an even stronger force than money.
Later that night, Ji-yi works up the courage to call Chang-soo's mom with what she believes to be good news: she got a job! She asks his mom to meet her outside her workplace for lunch so she can see it for herself.
Both she and Chang-soo think about the night they spent together before she sends him a text: "Let's stop filming a movie now. I'm going back to reality." Then he thinks back to Joon-ki's words about him being unable to marry Ji-yi because he'll never be able to overcome himself.
Ji-yi gets a call from her mom and immediately starts crying, since the one thing she needed most right now was to hear from her. But she only says things to make her mom happy, and denies that she's dating anyone.
While Lady Kim all but kidnaps Chairman Jang to take him to her house, Mama Lee tells her husband that she plans to get drunk tonight. "I love you," she says before adding, "I don't regret marrying you."
Papa Choi hears that as if she does regret it, which she breaks down and admits is true. She apologizes after, explaining that she's just upset and has no one else to take it out on but him. Her husband, sweet as ever, gives her the go-ahead to do so as long as it'll make her happy.
She confesses that she quit her job today, and was embarrassed to tell him. She was also embarrassed despite having nothing to do with Lady Kim being Chairman Jang's mistress when she only worked for her. "But today for the first time, I envied that woman," she admits.
She envied Lady Kim's money because she realized that it could change everything about the way people perceive you—and if only she had some, she'd be able to give her son all the opportunities he desires. Her husband remains supportive, and Mama Lee says with a sniffle that she's always liked him for his kindness.
Madam Min is incensed to hear that Chairman Jang won't be coming home tonight, which Butler Hong takes as a sign that she still cares for her husband. She disagrees, claiming she actually hates him, but Butler Hong points out that she wouldn't care about what woman he's with if she did.
That's when Madam Min sighs that she feels almost reassured that Chairman Jang refuses to get a divorce—after all these years living in a prison, the idea of leaving it is much more frightening than she'd initially thought.
As for her daughters, Min's preference clearly runs toward Ye-won, though Butler Hong urges her to think more about Yoon-ha. She's just broken up with her boyfriend, after all. Madam Min scoffs at that, and it's unclear whether she'll heed Butler Hong's advice to give Yoon-ha the time of day, at least.
Yoon-ha pays a visit to Ye-won, and the two talk about Yoon-ha hiring Ji-yi and Ye-won hiring Joon-ki. Yoon-ha wonders if her unni would've scouted him if he had no connection to her, to which Ye-won wonders, "Do you think you're that great?"
Because Yoon-ha came with an agenda, she asks Ye-won why she had that blowout fight with Kyung-joon shortly before he died. She shows her the files of the lawsuit Kyung-joon left her that they won. But, she has the USB he gave her, which she thinks has something to do with their fight and Kyung-joon's death.
"Are you trying to say I killed him?" Ye-won asks disbelievingly. She knows Yoon-ha's trying to get to something, though Yoon-ha says it has to do with the lawsuit. They didn't win because they did nothing wrong, they won because the other side had a lack of evidence.
But the USB Kyung-joon left her has that evidence, which would've changed the outcome of the lawsuit. Kyung-joon was ready to acknowledge their wrongs and move forward, while Ye-won is content to compensate the victims after the fact so as not to hurt the company image. Besides, what does Yoon-ha know?
Yoon-ha claims to know everything she needs to know, which Ye-won couldn't disagree with more. A person only gains power from knowing who they are, yet Yoon-ha could never reconcile her chaebol identity and even hid it by working part-time. So why does she want to work for the company now?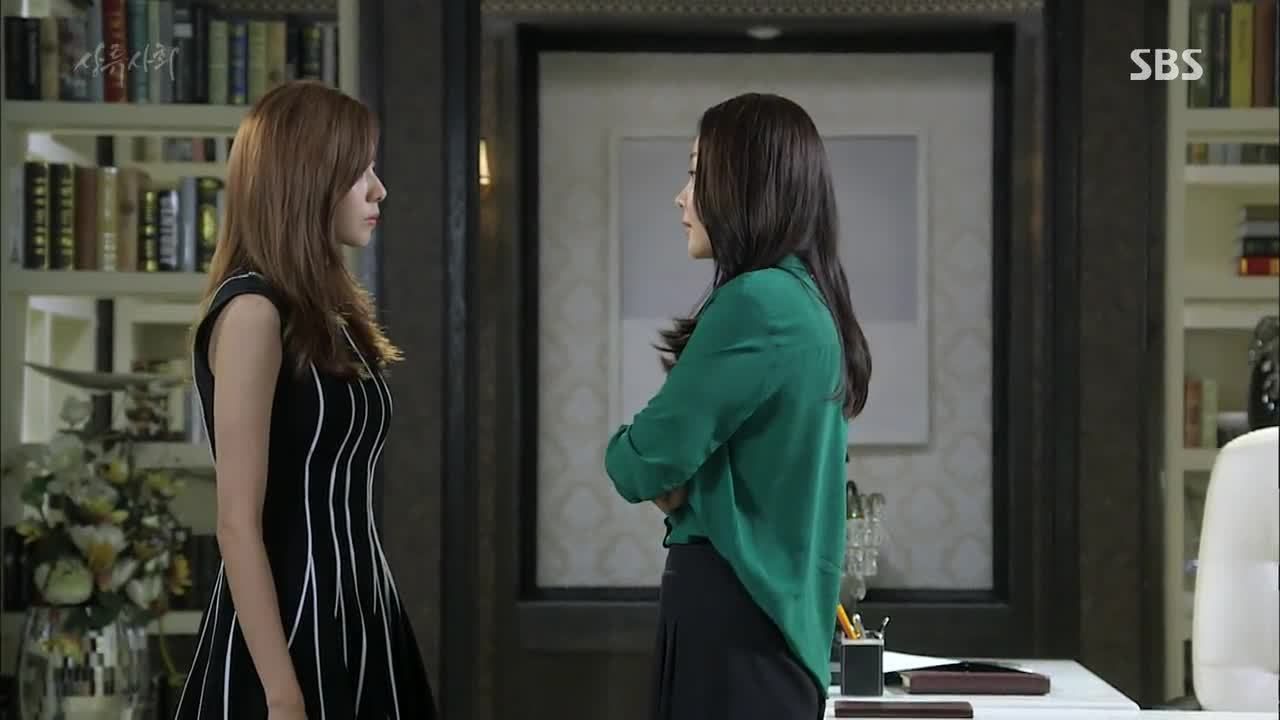 Yoon-ha wonders if Ye-won feels threatened by her entering the company, and while she first tries to reassure her that she has no intention of following their father's plans for her, Ye-won's adamance about the responsibility being put on Yoon-ha's shoulders piques her curiosity. She originally had no interest in company affairs, but with her sister acting the way she is, she suddenly has the desire to do her job and succeed.
But when Ye-won asks for the USB she deems "useless" now, Yoon-ha won't give it to her, citing that Kyung-joon must have left it to her for a reason. That's when Ye-won mentions her theory about Kyung-joon's accident: He was taking antidepressants and left for vacation during a time when the company was in turmoil. By planning ahead and giving Yoon-ha the USB and stocks, Ye-won's of the mind that Kyung-joon committed suicide.
Yoon-ha won't believe it, so Ye-won asks why she thinks Kyung-joon took his vacation during such a tumultuous time. Yoon-ha thinks it has something to do with the USB, but nothing more than that.
Butler Hong updates Madam Min on his investigation into Kyung-joon, including keeping watch over an account he had under a borrowed name, since they'd expect to see funds moving in that account if he were still alive. Though Hong is worried, Madam Min assures him that she'll be able to handle whatever shocking news he may find out.
Since Yoon-ha asked Butler Hong to investigate Joon-ki, he reports to her that there was nothing out of the ordinary. It's time to forget him now, he advises. Yoon-ha asks then why Butler Hong loves her mother, to which he replies that he doesn't. She knows it's a lie, and Butler Hong defends it: "Sometimes you have to protect your love with lies."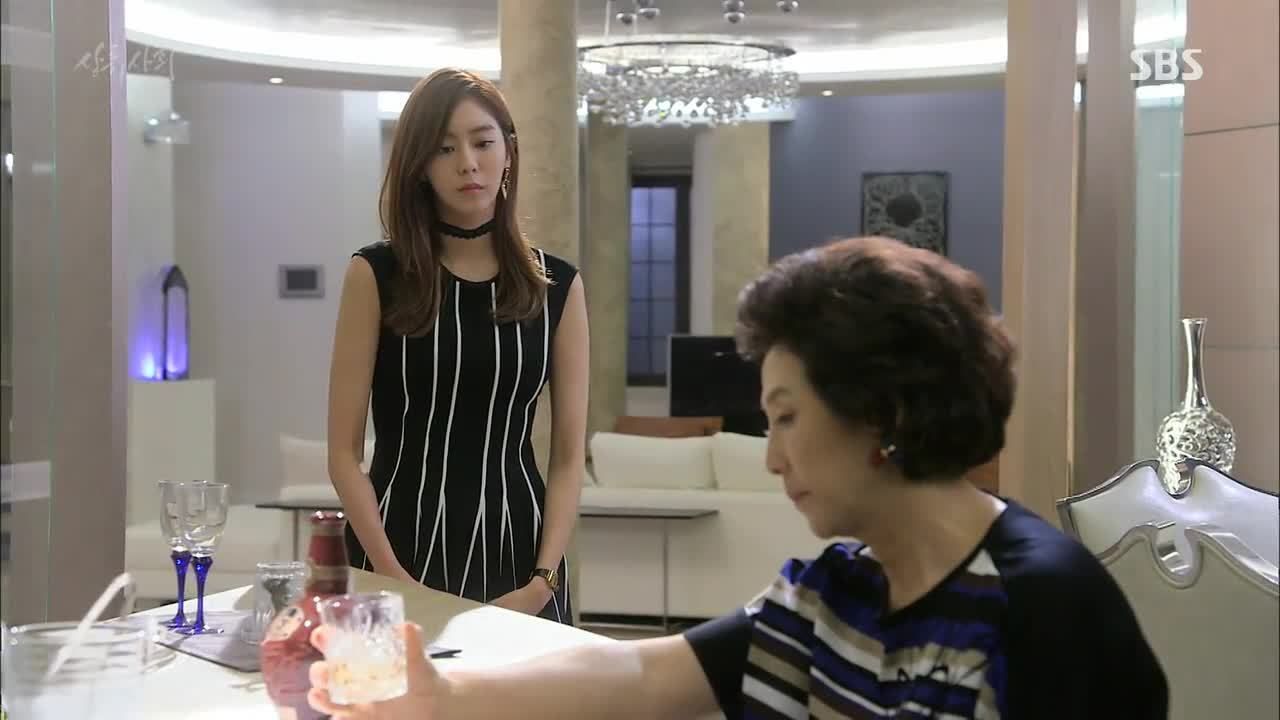 Yoon-ha finds Madam Min drinking, and she casually asks her daughter if her fling with Joon-ki is over. Yoon-ha says that she won't be marrying him, and obediently says yes when her mother advises her to find another man.
When her mother questions the sudden change in her daughter's personality, Yoon-ha simply says that she tried things her way, and now sees that her mother was right when it comes to men.
Ji-yi meets Joon-ki at their new workplace, and oohs and ahhs over his promotion to team leader. Since it was Joon-ki's job to secure a duty-free spot for Taejin Cosmetics at Yumin's airport storefront, Chang-soo makes a call to ensure the spots have been freed.
He calls to tell Yoon-ha the good news, and adds that if she's thankful, she can buy him a meal. She promises to buy two, but asks if he might be able to put some of their products in one of his department stores in China. He good-naturedly promises to think about it.
Yoon-ha mentions then that Ji-yi was almost evicted yesterday, and asks Chang-soo if he's unable to control his mother. He replies that he can't control her when it comes to marriage, but remains much more ambiguous when Yoon-ha asks if he's going to keep meeting Ji-yi still.
At work, Ji-yi gushes that she always liked Joon-ki as a person before asking if he heard the news that she and Chang-soo broke up. He did, but doesn't comment on the matter since he doesn't think it's his place.
They're about to board the elevator before Yoon-ha approaches, and after waffling about on whether to take it with Joon-ki inside or not, she eventually hops in. Cue awkward elevator ride.
After Ji-yi overhears a short call between Chang-soo and Yoon-ha about getting Taejin's products in his stores overseas, she says to herself that she's relieved Chang-soo's living well. Is she really, though?
When Yoon-ha and Joon-ki depart the elevator, he stops her by admitting to another wrong he committed against her: He was the one who broke the article about her being a part-timer.
But contrary to Yoon-ha's belief that he released the article because he was worried his goals wouldn't be accomplished if she left her home, Joon-ki tells her that he was trying to do what was best for her.
There's a dissonance between reality and the way she perceives herself, he claims, and he knew that even if she'd prepared money to leave her home it wouldn't have been enough. And in the future, if she wants to know whether someone's approaching her with hidden motives, she has to look at whether that person seems to match her completely.
If a person doesn't have any hidden motives, Joon-ki explains, then it's naturally difficult for them to like everything about the other person. Yoon-ha asks if he's giving her a tip because he doesn't have another objective, and he replies that he doesn't—he just wants things to turn out well for her. "Why?" Yoon-ha asks. "Why else?" he replies.
Chang-soo's mom meets Ji-yi for lunch as planned, and the girl is sunny and bright despite hearing confirmation that it was Mom who almost had her evicted. But she tells Mom that she won't have to do that again, since she won't be meeting Chang-soo anymore.
Likewise, Mom admits that Chang-soo said he wouldn't meet Ji-yi anymore, so at least they're on the same page. But the usual evil mother-in-law/prospective daughter-in-law conversation takes a radical turn when Ji-yi tells Mom not to come looking for her again—because if she does, Ji-yi might start to like her.
"If I start to like you," Ji-yi continues, "I don't think I'll be able to break up with Chang-soo. So don't come looking for me. It's our third time meeting now, and I like the third time better than the first." Mom's completely flabbergasted, having not expected this reaction at all. Ji-yi just wishes her well and leaves.
Yoon-ha reports to her father that they secured Yumin's airport spots for their products, only for Chairman Jang to put down her efforts by saying that Ye-won had that issue resolved yesterday. Yoon-ha acknowledges that Ye-won would be faster than her because she's worked at the company longer, and is just glad that the company benefitted from her work.
She mentions the work she's trying to do in getting their products sold in the Chinese market, and admits that she talked a big game when it came to doing well, but that she might just be all hat and no cattle. Regardless, her father promises to give her the help she needs to succeed, and has almost a non-reaction to Yoon-ha telling him she and Joon-ki have broken up.
While Lady Kim entreats Mama Lee to come back and work for her now that neither of them have secrets from each other anymore, Ji-yi sits next to Joon-ki in the company cafeteria and tells him about her encounter with Chang-soo's mother. Joon-ki tells her she did a good thing in breaking up with Chang-soo, and she believes it since it's coming from him.
Meanwhile, Yoon-ha sees them getting friendly and doesn't seem to like it one bit.
Chang-soo's hyung tells him what he already knows about Joon-ki securing airport spots for Taejin Cosmetics. Chang-soo's advice is for his hyung to offer Joon-ki money to work for him, since Joon-ki wouldn't ever turn money away… only to find out that his hyung tried and failed to bribe Joon-ki away from Chang-soo many times before.
Hyung then cuts to the chase: They're building a resort on Jeju Island, and want to partner up with Taejin Cosmetics to do so. Since Chang-soo has ties to Yoon-ha, Joon-ki, and even Ye-won, it'll be his job to make the deal happen.
The first thing Yoon-ha says to Ji-yi once they're alone is that she and Joon-ki sure looked friendly. "Just because it's not going well between you two doesn't mean I have to dislike him too, does it?" Ji-yi asks innocently. Besides, she always liked Joon-ki as a person.
Yoon-ha's a bit bewildered, and asks if it doesn't bother Ji-yi that Joon-ki tricked her. "He didn't trick me," Ji-yi replies honestly. And on that point, Yoon-ha doesn't have much of a leg to stand on when she tricked her when it came to her chaebol background. She also points out that she didn't retaliate when she found out.
Offended, Yoon-ha asks how Ji-yi could compare her to Joon-ki. "I really liked you!" "Do you think he didn't like you?" Ji-yi returns. "If he's a man, how could he not like you?"
Yoon-ha explains how disgusted she feels to know that Joon-ki didn't love her when he first kissed her, but Ji-yi brings her down to earth on that one: love isn't a prerequisite for kissing. Furthermore, after breaking up with Chang-soo because of their perceived class differences, she tells Yoon-ha to go easy on Joon-ki. Maybe it's because Ji-yi's situation isn't all that dissimilar from his.
After discussing possible collaboration plans with Ye-won, Chang-soo goes to Yoon-ha's office to discuss things further only for an unexpected guest to arrive in the form of Ji-yi.
He confronts her about her breakup text, which she defends on the basis that his mother told her he'd already planned to break up with her. He's surprised that it was Ji-yi who asked to meet with her, but then Ji-yi asks a question that should be asked in every chaebol drama ever: "Why does your mom interfere in our relationship when we're both adults?" Preach it, Ji-yi!
But she's surprisingly okay with the end of their relationship, since she considers it like the end of filming a movie. Nobody apologizes when the day is done, instead they thank each other for working hard. So that's exactly what she does before leaving.
Well, I take it back: She's just been hiding her emotions. When she's alone, all she can do is think about Chang-soo. It's not long before Yoon-ha and Chang-soo catch up to her, but she makes another excuse for why she can't hang out with them.
Chang-soo's eyes meet with hers for only the briefest of moments as they both remember him telling her that he could end up being a scorpion to her and hurt her even without meaning to. Looks like that part of the story's come true.
Yoon-ha and Chang-soo encounter Joon-ki in the hallway, and Chang-soo briefly chastises him for using his old Yumin connections now that he works for Taejin. Joon-ki is left to brood over what Yoon-ha said to him in the rain about how her love for him couldn't solve all her problems, but that it could give her the power to overcome them.
But then he encounters Ji-yi crying, and guesses that she ran into Chang-soo. To make her feel better, he invites her out for a drink.
Chairman Jang interrupts his wife's piano playing session to tell her to perk up and perform her duties—their children and other people are watching. Madam Min throws that sentiment right back at him—hadn't he laid down the law that they weren't divorcing, and that they'd sleep under the same roof no matter what?
He didn't stick to that, so she's sure that their children and other people are watching him too. Chairman Jang complains that it's because she makes it uncomfortable for him at home, so she snaps at him to go sleep at Lady Kim's house again. So he does.
While Yoon-ha and Chang-soo go out for their fine meal, Joon-ki and Ji-yi head out for some cheap eats and soju at a pojangmacha. Ji-yi's happy to hear that Joon-ki doesn't find the stools uncomfortable, since Chang-soo had complained about them before.
She gets a call from Yoon-ha inviting her to come eat with her and Chang-soo, which Ji-yi is quick to decline. She ignores her phone from then on and asks Joon-ki to keep pouring her drinks, and he happily obliges.
Chairman Jang gets up from his meal with Lady Kim and falls to the ground clutching his heart. Uh oh. Madam Min is notified and rushes to the hospital with Butler Hong, unable to believe her husband's like this when he cleared his last health exam.
Joon-ki walks a very drunk Ji-yi home, and she attempts to tell him the story Chang-soo told her of the frog and the scorpion with mixed results—luckily Joon-ki already knows it.
But they hit an unexpected snag when they encounter Chang-soo and Yoon-ha walking the same street. When Chang-soo asks Ji-yi what she's doing, she defensively answers that Joon-ki's taking her home.
Yoon-ha tries to calm the situation down by saying "Let's go" to Chang-soo, but the familiarity in those words rattles Ji-yi enough for her to take Joon-ki by the arm and say the same thing.
Chang-soo isn't having it, and grabs Ji-yi by the wrist to have a talk with her. "I don't want to!" she protests.
…And suddenly, Joon-ki has his hand on Chang-soo's arm to stop him, because the lady clearly said no. Both men glare at each other, both refusing to let go, while Yoon-ha stands like the odd man out.

COMMENTS
If this isn't the first genuinely noble act Joon-ki's ever committed, then it certainly feels like it, since I've had a notoriously difficult time finding ways to connect with him. Even if his love for Yoon-ha was true, even if he came clean about all his misdeeds, all of that came from an unapologetic point of view. Joon-ki's not sorry about the lifestyle he lives, and if he's made peace with that, I guess we have to as well.
Something's changed since his breakup with Yoon-ha, and I'm still struggling to pinpoint what it is—he's still firm in his beliefs about the class divide, but now that he's lost his golden ticket, what's his next plan? Is it just to work his way up the Taejin ladder the old fashioned way? But even that wouldn't make sense with his prior philosophy about the glass ceiling erected over his head the day he was born into a poor family, because if he believed in the power of hard work, he (ideally) wouldn't have felt the need to latch onto and manipulate wealthier people for his own personal gains.
Still, it certainly seems like he's going easy on being manipulative now that he's come clean, and it makes me wonder whether he's reached some sort of realization or if he feels—wait for it—remorse for how he's acted. All that's just inference at this point since we're given little to go on other than that Joon-ki's trying to do well in his new job and score points with higher-ups like Ye-won.
But it was his interactions with Ji-yi this episode that really surprised me, since we've seen him act like the perfect gentleman before… when it was a lie. Unless he's got some seriously nefarious plan going on that wasn't even hinted at, he has nothing to gain from helping Ji-yi or being friendly with her. Which would mean that his relationship with her is the most genuine of his we've seen so far, giving their interactions a sweetly unexpected edge that kept me more engaged than Yoon-ha's something-like-but-not-necessarily-revenge.
I'm not sure if the show is heading toward a couple swap when it comes to the four of them, but even if nothing romantic comes of Joon-ki and Ji-yi, I appreciate that they're drawn to each other because they understand each other, and know what they've both gone through in the process of dating chaebols. I still have to give Ji-yi a hand for handling a chaebol mother in a totally new and off-putting way, but now I think Joon-ki really was right about Chang-soo when he said that the biggest obstacle he has to overcome is himself. If Ji-yi can handle Mommy Dearest, then he's out of excuses.

RELATED POSTS
Tags: featured, High Society, Im Ji-yeon, Park Hyung-shik, Sung Joon, UEE