High Society: Episode 13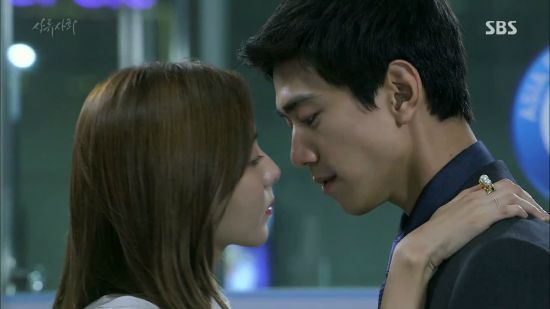 Two break-ups, four broken hearts. Even then, it seems it's never too late to have a change of heart. There are a few of those in this hour that takes some people by surprise and leaves the others more or less confused as to where that suddenly came from. Much of the Jang family dramatics we've come to know in this series dial down to a virtual zero, and getting Yoon-ha married becomes a hot topic again.
Some changes are like a breath of fresh air, like Joon-ki using words to express himself. Others are harder to pinpoint, like Yoon-ha's sudden self-introspective moments, and time will tell if it's for better or worse.
SONG OF THE DAY
Kim Ju-na – "너없이 어떻게… (I Can't Live Without You)" from the OST [ Download ]
Audio clip: Adobe Flash Player (version 9 or above) is required to play this audio clip. Download the latest version here. You also need to have JavaScript enabled in your browser.
EPISODE 13 RECAP
We pick back up on that three-way wrist grab—Joon-ki lets go first, followed by Chang-soo, who still wants a private chat with Ji-yi. She isn't interested in one, but will speak with Yoon-ha. The icy tone in their voices is evident, and the girls' one-on-one turns into a four-person conversation when the girls invites the other's ex to tag along. So… we're back at square one?
Completely out of his element at the convenience store, Chang-soo tells Joon-ki to pick out some stuff. His eyes grow wide when Joon-ki will have none of it and hands the basket over, leaving him to do the grocery shopping instead.
Chang-soo does feel better after convincing Joon-ki to hold the shopping bag though, then asks if he's any happier at his new job. Working in corporate is the same anywhere, Joon-ki says, but it feels nice not having to tiptoe around Chang-soo with his immature yet warm-hearted nature. Chang-soo: "Did you always talk this much?"
He isn't comfortable with Joon-ki being so frank with him just yet, especially when being told to let go of Ji-yi. He takes offense for being criticized on how he allegedly treated Ji-yi, but Joon-ki's point is this: Ji-yi's the first girl he's seen Chang-soo like this much, and she can stand up to his mom.
Chang-soo doesn't believe Joon-ki's in any position to speak so high and mighty—who was it that manipulated an innocent girl's heart just so he could marry her? Upon hearing that Joon-ki didn't know she was innocent and unlike the other wealthy folk out there, Chang-soo cites that he's a victim here too.
He would like nothing better than to punch Joon-ki in the jaw right now, but the ladies break it up before words can turn into action. Ji-yi speaks to Joon-ki's defense when Chang-soo pins the blame on him, but Yoon-ha swoops in to point out Joon-ki list of faults, including his arrogance.
At least being arrogant is better than being selfish, Ji-yi chimes in. In fact, he's so selfish that he doesn't even know his own flaws. Chang-soo tosses back that she went out for drinks with Joon-ki, to which she says it doesn't matter because they're broken up anyway.
It quickly spirals into a hilariously petty argument between Chang-soo and Ji-yi being jealous of the budding closeness with each other's friends. Joon-ki's disapproving expression is just spot-on. That effectively breaks the tension for a good two seconds though, until Yoon-ha gets a call about her father being in the hospital.
She doesn't miss Joon-ki looking for any excuse to tag along and asks if he's trying to pull another move on her. His past acts of kindness weren't necessarily moves, he returns—she was the one who fell for him so easily because of those gestures.
She walks off, annoyed that Joon-ki still thinks he's without blame. He does hail a taxi for her, then climbs in after her, ignoring her protests to get out. She's still fixated on the idea that this is some kind of move too, and man I'm with Joon-ki when he's like, Let's give it a rest already.
He does provide honest answers to her interrogation, and when Yoon-ha wonders why he can't just lie to her about some things, he reminds her that she hates it when people lie to her. Asked when his purposeful intentions turned into sincerity, Joon-ki says he can't discern when he crossed that boundary either.
Yoon-ha gets all huffy when the cab driver playfully suggests that the two continue their lovers' quarrel elsewhere. She's seriously angry, can't he tell? But the driver says it's apparent that the guy is hanging onto her—surely she can give him an inch.
When the taxi pulls over to the curb, Joon-ki tries (but fails) to lead Yoon-ha out by the hand. Once he gets out, she promptly locks the door and drives off. But Joon-ki won't give up and hails another cab to tail her.
In the darkened hospital room, Madam Min closes in Chairman Jang and starts strangling him. But that's just a scene concocted in her mindspace, as she briefly places a concerned hand to his forehead instead. Considering his recent brush with death, Chairman Jang looks pretty alert.
Yoon-ha is still skeptical about Joon-ki when he follows her to the hospital. She isn't afraid of giving him the third degree even though Joon-ki looks plenty guilty enough. He can't even meet her gaze, though stiffens in surprise when Yoon-ha draws near and tells him, "I like you."
She leans in as if to kiss him… and stops inches from his lips before telling him how it feels to be on the receiving end for once. "This is how you acted toward me," she says before heading inside.
After briefly greeting Yoon-ha in the lobby, Ye-won catches a glimpse of Joon-ki climbing into a cab. She doesn't understand this concept of "lingering feelings" when it comes to relationships (though one wonders if her secretary might feel something for her), and expresses her desire to meet with Joon-ki tomorrow.
Following individualized brooding sessions with Joon-ki and Yoon-ha, Chang-soo's mother sits her son down as soon as he gets home to tell him about her meeting Ji-yi. Chang-soo isn't surprised by his mother's impression of her, admitting that he too was caught off-guard by her gutsy personality.
His mother won't allow Chang-soo to marry beneath his station, reminding him of the repercussions that will follow if he chooses Ji-yi. Furthermore, he's the apple of her and his father's eye. Chang-soo gives in to his mother, but firmly reminds her never to forget that he chose her instead.
As Chang-soo lies down on his couch in his dark room, we see the rest of that conversation with Ji-yi shortly after she stormed off. He'd whipped her around and had said he won't ask the question he wants to address because he can't fix the major obstacle that stands between them.
Ji-yi had been well-aware of that, knowing that the only way to resolve their difference in social status would be for one to be reborn into the other's class. And when he didn't consider the hurdle to be that extreme, she had immediately challenged him: "Then what? Is what you want to protect that great?"
Chang-soo had defended himself, saying that he'd never lived outside of "the neighborhood" he knows. Ji-yi had worked off of his own metaphor to answer him, saying that she'd moved around a lot. It always seemed hard at first, but you get used to your new surroundings eventually, she had said.
But Chang-soo can live a nice life remaining in the one world he'd ever known, only for him to say that he probably wouldn't. "Not without you."
Tears welling up in her eyes, Ji-yi had vowed that she'd move on and meet someone from a similar background, be adored by her in-laws, and tell her children about the chaebol who had once loved her. She pleads with him not to come looking for her anymore because it's hard enough that she misses him terribly.
A single tear had fallen from Chang-soo's eyes as Ji-yi took her leave. Back in the present, another tear rolls down his cheek.
Ji-yi sobs in her room, thinking back to how Chang-soo had once offered to grant all of her requests. She calls Joon-ki because he's the only one she can turn to right now. She isn't looking to hear any empty words of hope; instead, she wishes she could be reborn (into the same class as Chang-soo, which would make their painful separation moot).
Back at Chairman Jang's hospital room, Madam Min is surprised that Yoon-ha isn't afraid of her father, unlike most daughters of chaebols. She had no reason to be since her father was never unkind to her, unlike her mother.
That spurs Madam Min to ask if Yoon-ha had ever been afraid of her, and she's surprisingly attentive to her daughter, listening to how Yoon-ha had felt bad for her for choosing to remain in an emotionally abusive marriage. Promising to find her a decent man to marry, Madam Min asks if the decision is up to her now, since Yoon-ha's attempt at love was a dud.
Yoon-ha agrees, but also asks why her mother is suddenly caring towards her. She's told that everything her mother did was for her sake, even if the words and actions came off as shrill. Yoon-ha is willing to accept that if that's what helps her mother sleep at night. Did these two just arrive at a mutual understanding?
Ye-won is still affected by how Chairman Jang isn't the invincible man she once thought him to be. Learning that Yoon-ha keeps her safe lying around in her closet, she orders an identical safe to be made. After somehow breaking into Yoon-ha's safe, Ye-won keeps the USB for herself while placing the rest of the contents back into the duplicate safe.
During her meeting with Joon-ki, Ye-won makes it clear that she takes care of her employees. He doesn't miss the subdued suggestion that he fall in line with her.
When he runs into Yoon-ha outside, she says he was right when he told her that she became more infatuated with him at the time because she wanted to fall in love. He shares how decisions are what rule his life, but realizes that love isn't a choice. People would say that three chance encounters is considered destiny, but he doesn't believe in fate.
She does, but regrets not having chosen to believe in choices instead. He in turn, regrets not having chosen destiny. She asks why he chose to work here — under Ye-won, that — of all places. Doesn't he know that he's made her into the family laughingstock?
Joon-ki can't give her an answer to that question, and the conversation spins back to Yoon-ha re-interpreting everything in the past, down to how he used to look at her. She thought it was love, but now realizes that he must've found her ridiculous.
Knowing that this topic will only have them running in circles, Joon-ki wonders if she'll be able to blacklist him from this industry like she said she'll do. He encourages her to become stronger before taking his leave.
Tea time with unni is far from pleasant, as Ye-won asks why Yoon-ha won't live up to her "eye for an eye, tooth for a tooth" motto of revenge when it comes to Joon-ki. Yoon-ha affirms that things are definitely over between them.
Yoon-ha asks why Ye-won always feels the need to prove herself in this family. Isn't it enough for one to protect one's own turf? But the tides can suddenly change and things can easily be taken away at any time, Ye-won says. She asks if little sis is keeping that USB safe, hinting that she's looking forward to how Yoon-ha will use it.
Ye-won is disappointed that her opponent in this round is a small fry like Yoon-ha. She wonders if Chairman Jang has gotten soft lately because of his age, but figures there must be something if both Chairman Jang and Kyung-joon bet on Yoon-ha. And the best way to get to her little sister is by swaying her emotions.
Left annoyed by a surprise appearance of the girl he once went on a seon with, Chang-soo calls up his mother to tell her that he may be going along with his mother's decision, but he won't marry a girl he cannot stomach for barely ten minutes.
Speaking of marriage arrangements, Ye-won visits her parents at the hospital to suggest pairing Yoon-ha up with Chang-soo. Their initial misunderstanding is water under the bridge now, and plus, it seems like the kids get along well enough.
Unable to get an update on Chairman Jang through her usual sources, Lady Kim opts to visit the hospital herself. She's refused entry, but crosses paths with Madam Min. The ladies take their conversation outside, where Madam Min tells Lady Kim that it isn't too late for her to give up her husband and live her own life.
When Lady Kim says she'll figure that out with Chairman Jang, Madam Min puts her foot down—Chairman Jang is her man, so she can back off. She thought that being subservient was the best way to keep her husband by her side, but then realized that Chairman Jang was always hers 'til death do they part.
She's willing to compensate Lady Kim for her troubles, but now it's time for her to carve her own path in life. Next on Madam Min's To Do List is to meet with Chang-soo's mother, saying that her daughter hasn't easy made friends in Korea since she spent some of her younger years studying overseas.
So Madam Min is glad to see that Yoon-ha's on friendly terms with Chang-soo and hopes they can come to an arrangement. When Chang-soo's mother plays hardball, mentioning the recent dating scandal, Madam Min doesn't push the matter. But Chang-soo's mother offers to lay the offer on the table for her son anyway.
She gets right on it too, beelining it for Chang-soo's office. Her jaw drops when Chang-soo says he'd rather date the annoying girl rather than Yoon-ha—she's his former friend's ex and his ex's best friend. His mother's attempts to spin their friendliness into romance falls flat to his ears—he merely considers Yoon-ha as a dongsaeng.
But the idea that Yoon-ha has let her family make the decision in her upcoming marriage does catch his attention. He plays off his mother's concern that he'll never get married at this rate with a joke, then follows it up to say that he and Yoon-ha will never happen, though it also looks like nothing will dissuade his mother either.
Inviting Joon-ki out to lunch in gratitude for being her emotional pillar, Ji-yi is determined to cheer him up from his dejected mood when it comes to Yoon-ha. In fact, the company employees hold a low opinion of Yoon-ha but it hasn't reached Joon-ki's ears because they think the two are still an item.
She asks if Yoon-ha ever stood him up here at the workplace, and the rumors are swirling that Yoon-ha is unable to draw a clear line between business and pleasure, and that all she has going for her are her looks. But what is one to say if that's true?
In her eyes, Ji-yi thinks her friend has lost her sense of ambition that drove her to work hard every day to find true love. She's done a 180 now, and Joon-ki wonders if he's to blame for that. Ji-yi would love to help her friend out, but it's not like she can do much about it.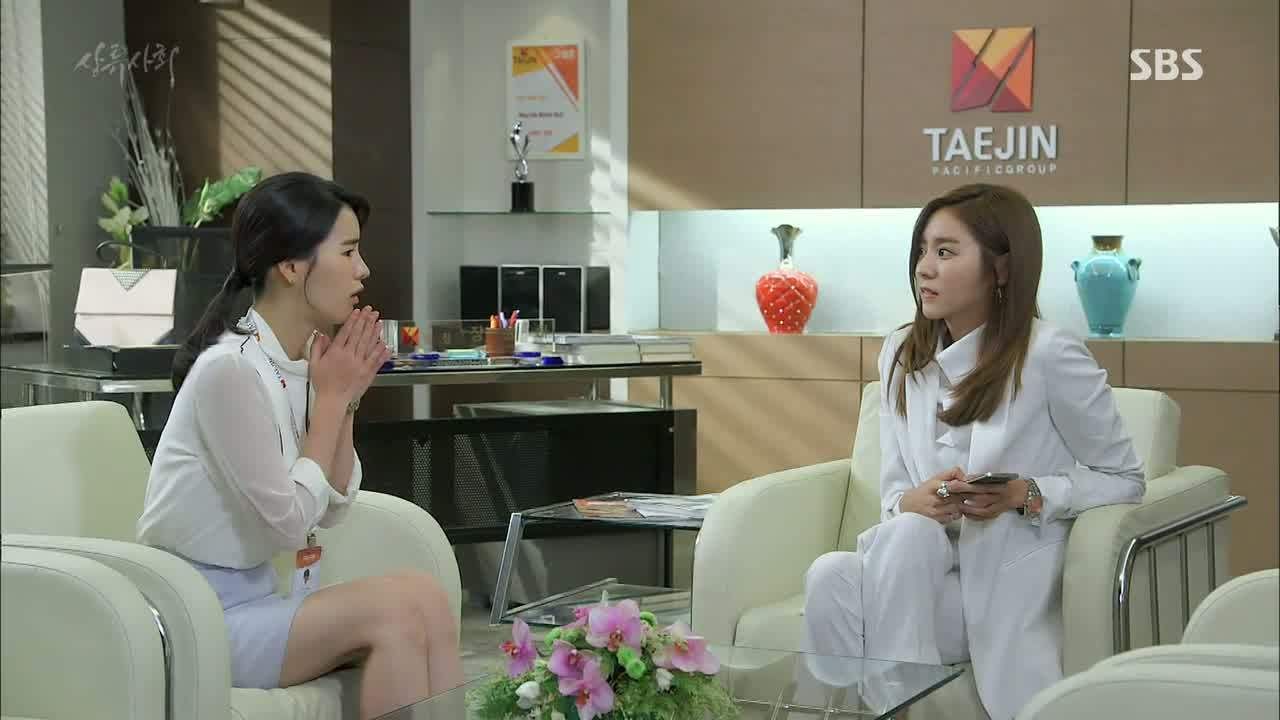 Yoon-ha calls in yet another favor at work with Chang-soo, who's all, Am I the only connection you've got? Answer? Yes. It seems she hasn't heard the idea of their mothers trying to set them up, and he quickly hangs up when he hears Ji-yi's name.
She's a bit thoughtless when telling Ji-yi that it was Chang-soo on the other end, but is understanding that Ji-yi isn't okay with it. After all her bragging to her mother about marrying someone for love, she's ashamed of how her sort-of relationship with Joon-ki worked out.
Ji-yi astutely points out that Madam Min has had it much worse, and somehow that gets accidentally turned into a moment of Ji-yi speaking thoughtlessly. But that moment quickly passes when Yoon-ha is open to one of Ji-yi's product ideas.
Chairman Jang has his family by his side when he's flocked by reporters all trying to get a word upon his discharge. He takes Madam Min and Yoon-ha's hands, which doesn't slip eldest unni Ye-won's notice.
Someone else is upset at the broadcast too: Lady Kim, who tears up at watching just how strong family bonds are. Hearing at how Madam Min grew a spine about protecting her husband, Mama Lee says that's a testament to the strength of marriage vows.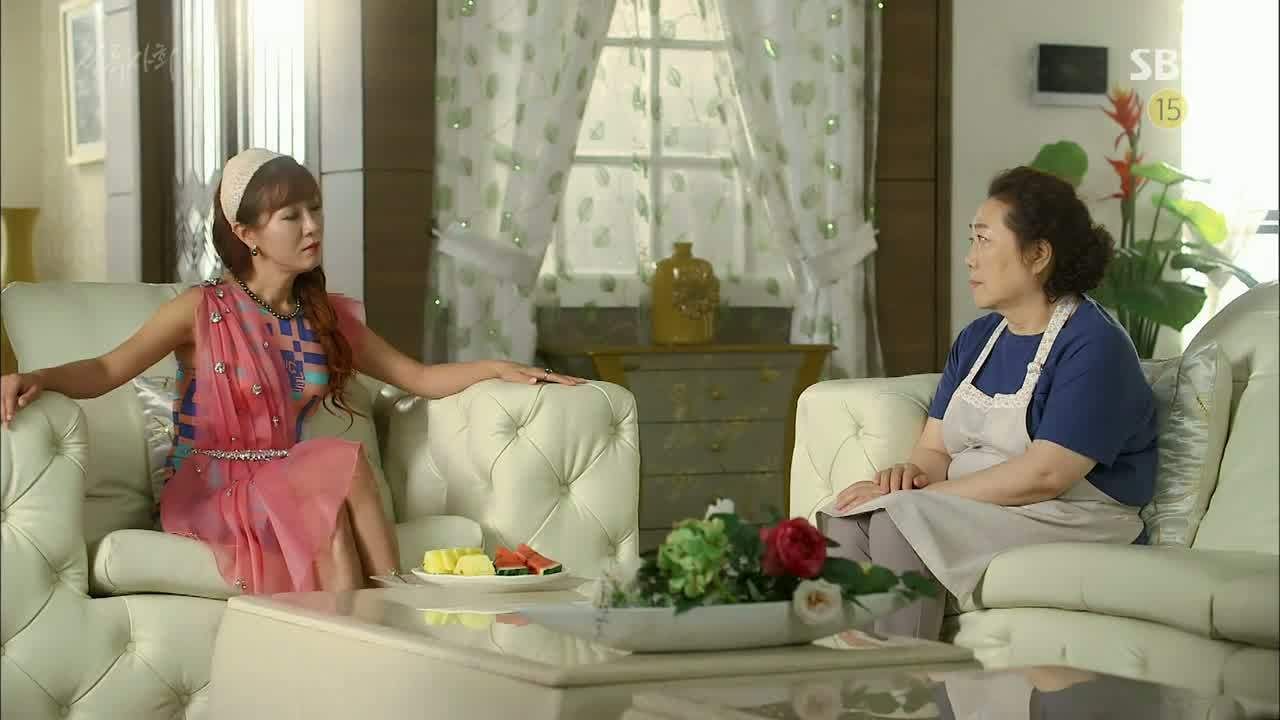 That's something Lady Kim cannot understand, because she was by the chairman's side when he was estranged from his own wife. But Mama Lee gently says the fact that Madam Min would fight for her husband speaks to her feelings for him. Still, she sighs that the years of an unhappy marriage likely took a great toll on the children.
And then Lady Kim asks a very insightful question: "If you're so happy in your marriage, why did your son do that?" She means how Joon-ki deceived Yoon-ha; Mama Lee probably had no idea that his dating record were all daughters of chaebols. Does any parent truly know their child?
Once at home, it boggles So-hyun's mind to see her parents looking, well, affectionate. She asks if Chairman Jang holding onto Yoon-ha's hand means that Ye-won will get squeezed out. Not that this sibling rivalry affects her, since she's more than content with spending money than earning any.
It's actually pretty funny watching Madam Min take care of her husband and telling him to drop the tough act. His brush with death made her realize that he isn't as invincible as he claims to be, and furthermore, provided her with some insight about herself. She'd realized all that hatred was driven by a deeper desired to be loved by him.
It amazes her that she still loves the man who had a longstanding affair, and wonders why it was so hard for her to admit that.
Yoon-ha realizes something is off when she's unable to access her safe. She too gets men to crack it open, and is shocked to learn that the USB is missing.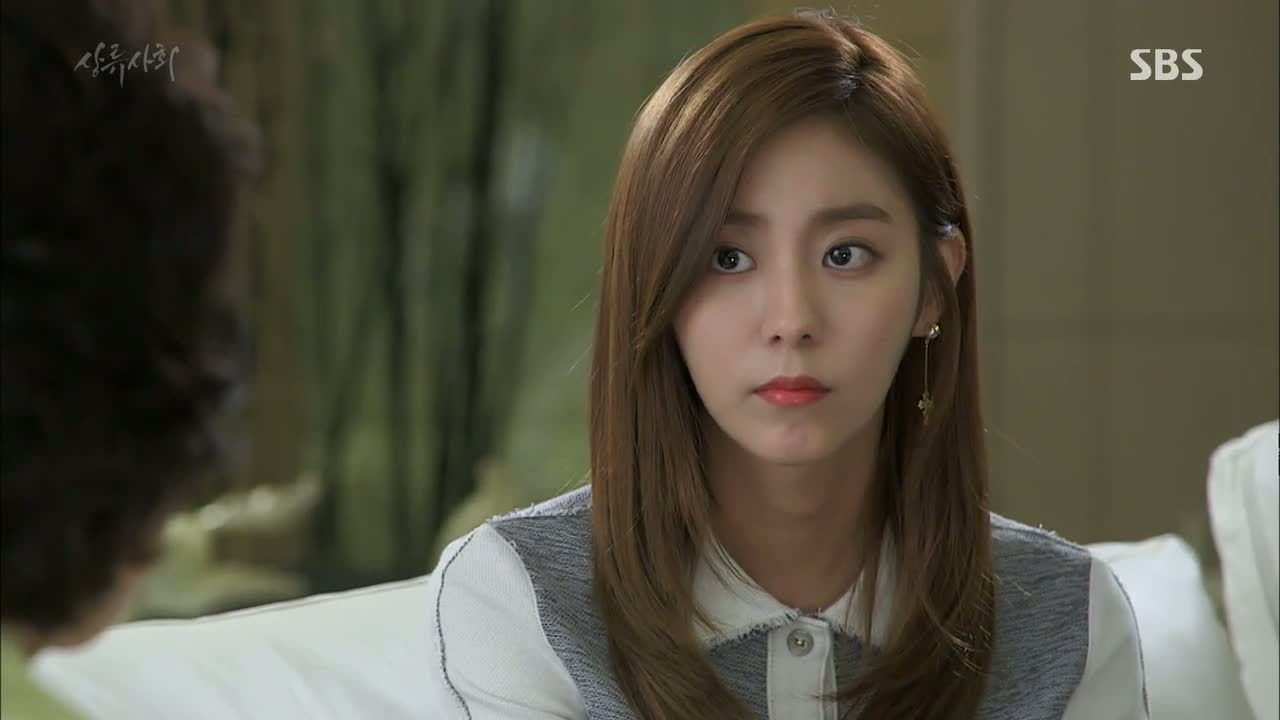 The revelation that Ye-won was behind this barely sinks in before Madam Min sits her down to talk about setting her up with Chang-soo. Her mother has heard how the two are friends—plus, this could prove to be a financially beneficial match too, since Taejin is considering investing in an upcoming Yumin department store branch in Jeju.
She's surprised to hear that Chang-soo is seeing someone, and actually respects Yoon-ha's refusal. When asked why she's so obedient lately, Yoon-ha says it's because she's ashamed of how her approach to love didn't pan out and she's not good at her job either.
Kyung-joon was the wizard who took care of all her problems, she reflects. But Madam Min sighs that love takes many different routes: a pure love can turn calculative and vice versa. "When something is pure, it doesn't mean that it's completely without impurities, but it becomes that way because you work hard to get rid of those impurities."
"A person without impurities means that that person is naive, not innocent. Being naive means that you can be easily manipulated and cast aside," Madam Min finishes. Her daughter can consider these words as a life lesson.
Yoon-ha almost seems as surprised as I am with her mother's words, which finally make Madam Min seem like a mother to her.
While Chang-soo is reluctantly ushered out the door to meet Yoon-ha, Ji-yi shows off her online advertising achievement to Joon-ki. She insists that they head over together to give Yoon-ha the good news.
Chang-soo and Yoon-ha meet over drinks to discuss just how ridiculous a match between them would be. And Yoon-ha asks the same question Ji-yi once asked: What is Chang-soo trying to protect that he would go to such lengths to preserve it?
Chang-soo doesn't know the answer to that either. Neither does he want to talk about Ji-yi, though he still refers to her by the more affectionate "our Ji-yi." Turning back to the topic of an arranged marriage, Chang-soo thinks getting married to Yoon-ha wouldn't be half-bad.
He rises from his seat and slowly lowers his head to her face… just as Joon-ki and Ji-yi walk into the same bar. Joon-ki whips Ji-yi around before she can see anything, as the distance between Chang-soo and Yoon-ha's face shortens with each passing second.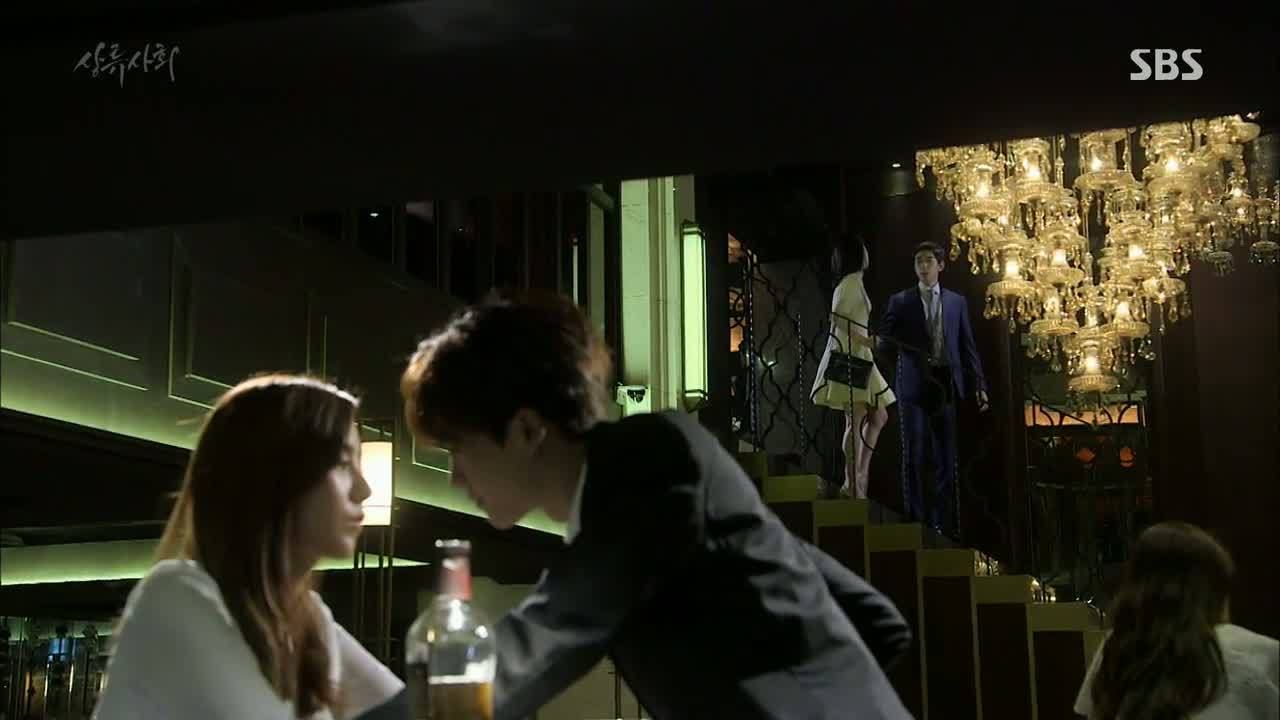 COMMENTS
*peeks through fingers* Is it over yet? I'd heard of the possibility of a couple swap down in the comments, and I know you're still hurting Chang-soo, but say it ain't so. Surely there must be other chaebol daughters in that small pond.
Most of all, it simply strikes odd to see a show spend a good chunk of its run to establish the romance between its leads, and then try to push for the couple switch with its own secondary characters leading the charge. It's one of many things that could've been executed sooner in the series if it so wished, because introducing it now only seems like a contrived barricade this late in the game. If anything, Joon-ki and Ji-yi's budding friendship seems more believable than ushering the two chaebols into marriage.
But strangest of all is Madam Min this hour, who suddenly went from imagining strangling her husband in his sleep to being a doting wife and mother. Simply put, it's jarring to see such an about face; I admit that this caring and vulnerable side was what I'd hoped to see from her character at the start, but then she turned full-on hysterical quickly after Episode 1. I even found her crazed state entertaining at times, and now her sudden change back to reason leaves me perplexed. Granted, kudos to Madam Min for telling Lady Kim off sans any psychologically-torturing threats, and yet I have a hard time watch her hold herself up with dignity and impart life lessons to her children when we saw her drinking twice her weight in liquor and screaming at everyone not too long ago.
What leaves me even more confused by her is how self-aware Madam Min is now, as she attributes her unreasonable behavior to a deeper desire of being loved by the man she thought she felt bitter towards. And even if she doesn't know for sure if he still loves her, she still does. Perhaps it speaks to the power of a marriage vow like Mama Lee said, or maybe the heart wants what it wants.
So it's hard to unpack Yoon-ha's own moment of self-awareness in this hour without first discussing Madam Min's own issues, and how her change of attitude affects their mother-daughter relationship. Because her mother is suddenly listening to Yoon-ha, and get this—respects her opinions. Now we're to believe that she's keenly aware that her approach to marrying for love didn't work out, and she has her brother to thank for a job she isn't even good at. Seriously, who are you and what have you done with the other Yoon-ha we knew?
Even if her ineffective revenge against Joon-ki is still sitting on the backburner, watching Yoon-ha deliberately toy with Joon-ki by almost kissing him was unsettling. There's something that makes me recoil when the intention is purposely malicious, and we can tell from Joon-ki's eyes that he feels guilty enough as it is. It may not absolve Joon-ki of how he deceived her, but he still owns up to his wrongdoings toward her. But bless his heart, he's still trying even if he gets kicked back down because his love for Yoon-ha has a mind of its own.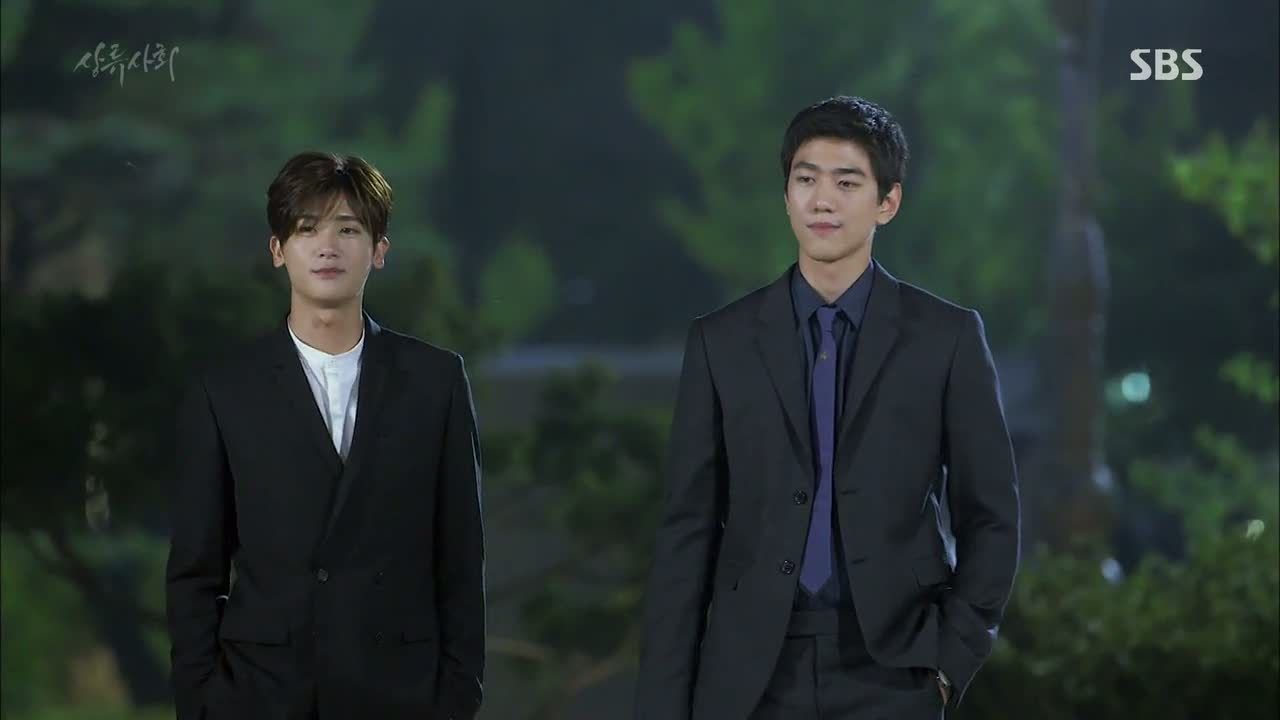 RELATED POSTS
Tags: featured, High Society, Im Ji-yeon, Park Hyung-shik, Sung Joon, UEE