I Remember You: Episode 3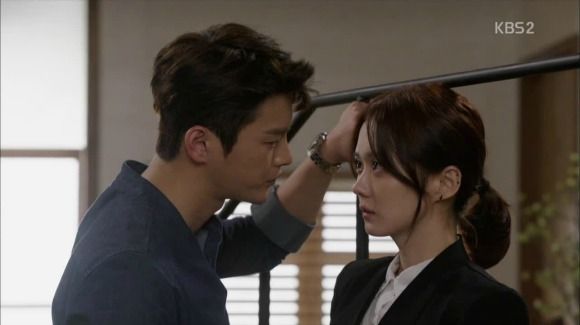 Don't let this top screencap fool you, the romance isn't here just yet. Instead, we get some growing tensions, intelligent mystery solving, and new suspects in Hyun's story. We learn more about how Hyun works and what he expect in exchange for his intelligence. Our resident Sherlock has some unconventional tricks up his sleeve, most leaving us questioning: Is that legal? He may frustrate the life out of Ji-an and the detectives, but he gets the job done. So do you want him to catch the killer or nah?

EPISODE 3: "Thou shall not kill, but…"
Ji-an races to our killer's next target location and desperately pleads for Yoon-ji to pick up the phone. Thankfully she does and gets the message that her special guest with the purple flowers is a murderer. We see the face of the killer, and though Yoo-ji attempts to play it cool, she trembles and charges at the man with her mug. The man pins her up against the wall and seethes about the caller who revealed his identity.
Meanwhile, Hyun listens to the Joon-young recordings and one suddenly stops with scratchy noises. The recording continues with Joon-young addressing him now, wondering what kind of adult Hyung would grow into. He says he'll be keeping his promise and will most likely be by his side now.
Gun at the ready, Ji-an storms into Ha Yoon-ji's home and catches the killer. He turns around a casually puts his hands up, not a slightest bit of guilt in his eyes.
As Hyun exits his room, we hear Ji-an's updates about her catch and the safety of the third target, who survived the attack. Before he leaves, he records himself promising Lee Joon-young to meet again and leaves the recording on the table.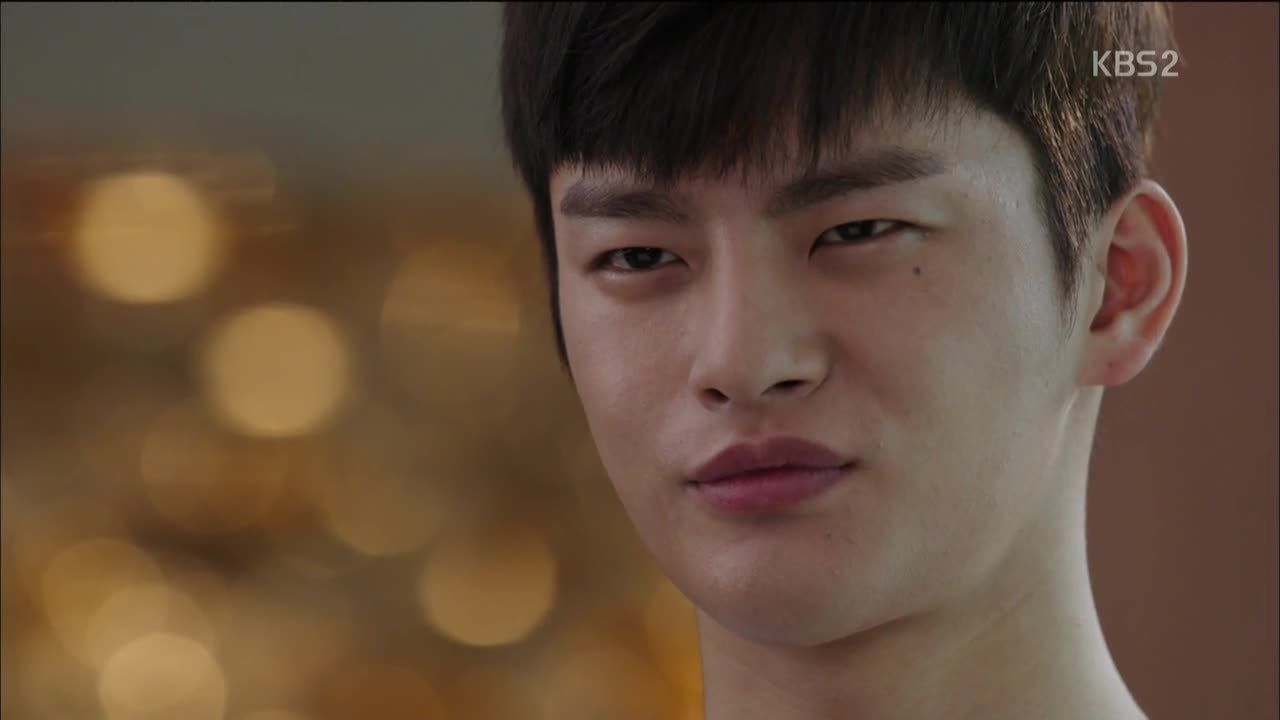 The murderer is Yang Seung-hoon, the youngest son of a chaebol family. He has experience with rowing, which explains his affinity for boats and yachts. He's also had some experience with the law — breaking it, that is — with his violence and traffic violations. But the law has been particularly lenient with him, and he claims that he's particularly generous with women, somewhat trying to seduce Ji-an.
Ji-an notes that he's generous with women, expect with Ha Yoon-ji, who he physically abused. Seung-hoon argues that he had to defend himself when she attacked him first and shrugs that he may have retaliated a little too roughly. Ugh, this piece of trash.
The detective team observe the interview, and Hyun watches as well from behind. He thinks back to Min and concludes that this man can't be his younger brother. Surprising the detectives from behind, he confirms that Ji-an called in advance to warn Yoon-ji about her imminent death and calls them all idiots under his breath. They saved the target, but they also saved the murderer.
Myung-woo catches his insult and prepares to pounce. Eun-bok holds his sunbae back as Hyun slyly apologizes for the misunderstanding: He was calling himself an idiot, not them. He shouldn't have overestimated Ji-an's level of intellect. Chief Hyun calms down the team and approves Hyun's request to quietly inspect this criminal, since he did help them get this far.
At the hospital, Seung-joo breathes a sigh of relief to find out that Yoon-ji will recover fine and asks when she'll be ready to testify. By her bedside, we see a man dressed in a doctor's gown, who gently smiles as Yoon-ji wakes. But her eyes widen with fear.
Seung-joo notices this mysterious man passing by him in the hallway but remains oblivious to his identity. When he talks to Yoon-ji in the hospital room, he's stunned to find her refusing to testify. She admits that she was the first to attack and claims that she bought the purple flowers herself. Seung-joo suspects that someone convinced her out of testifying, and his detective instincts tell him that the mysterious man in the hall is the one. He runs out to chase him down.
The interrogation seems to be going nowhere, with Seung-hoon shamelessly feigning innocence. He claims he doesn't remember what he did on the day of the murder, or even what he had for breakfast this morning! Oh, please. Hyun decides it's time for him to intervene, and he picks up some accessories walking through the office for his role.
With glasses and cups of coffee, Hyun enters the interrogation room and introduces himself as a newbie detective. The detective team behind the glass watch his act, hopeful for some new information.
Playing his role, Hyun asks permission from Ji-an to interrogate our killer, and she gives him a rough pat on the shoulder of approval, ha. Hyun enthusiastically asks Seung-hoon to identify the women he's killed, which prompts a snicker from our killer.
When Hyun puts down the last picture, our killer leans in to take a closer look and then shakes his head. Hyun eyes Ji-an to notify her that this woman is the one Seung-hoon believes he's killing over and over.
Upon request, Hyun gathers the pictures and purposefully drops the last picture twice. He tells Seung-hoon that this woman, Kang Ji-sun, seems to have something to say. Seung-hoon gets quick flashbacks to his time with Ji-sun and shows vulnerability about his dating history.
He seems nonchalant about her killer until Hyun shares his hypothesis: Seung-hoon got dumped and then killed the woman. And why did he go to that extent of killing her? His inferiority complex. Oohh, you just hit a nerve.
Hyun continues with his hypothesis, explaining that Seung-hoon's inferiority complex is fueled by his position in his family. He's the only one who does business outside of Korea, in China, which means that he's either particularly excellent or particularly unworthy. Hyun's guess is the latter because Seung-hoon straggles as the lowest ranked in the family. So what does he need to do? Prove himself.
His sales figures looked subpar so he invested excessively, which put his business in even more trouble. This stress triggered him, made him remember the pleasure and superiority he felt when he killed Ji-sun. He enjoyed the dominance from killing women weaker than him, like the feeling of being head of household. "Inferiority and superiority are intimately related."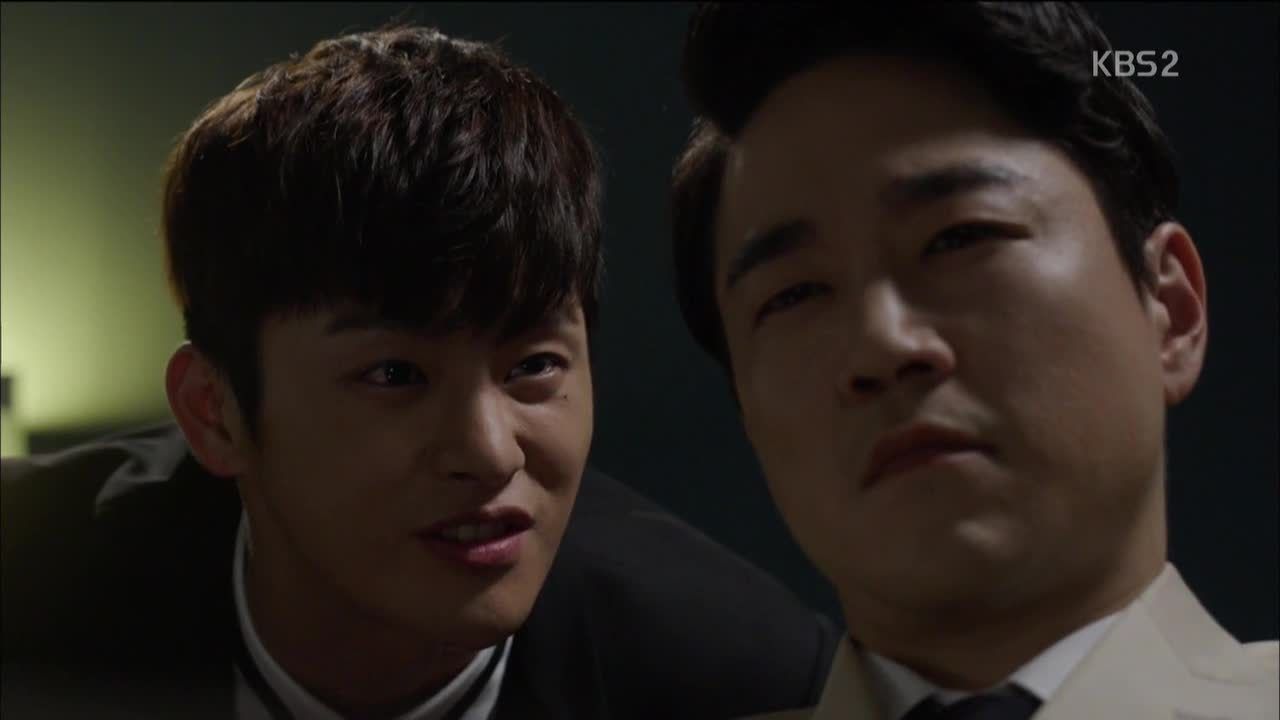 Seung-hoon slams the table and breaks his cool, yelling at Hyun to stop with the bullshit. But Hyun continues: "A perfect murder. You don't have those skills, so how could you have done it? Someone helped you. Who? Someone must have guided you to find targets, plan your murder, and get rid of evidence. Who's the boss behind you?"
Hyun continues to taunt Seung-hoon and baits him to reveal the real killer. "Who's behind you? Who manipulated you?" At that, Seung-hood jerks up and throws a literal temper tantrum screaming, "There is no one behind me! Everything, I…"
Then the door opens, and the mysterious hospital man tells Seung-hoon to stop. The detectives watching the interrogation yell in frustration. Arghh so close!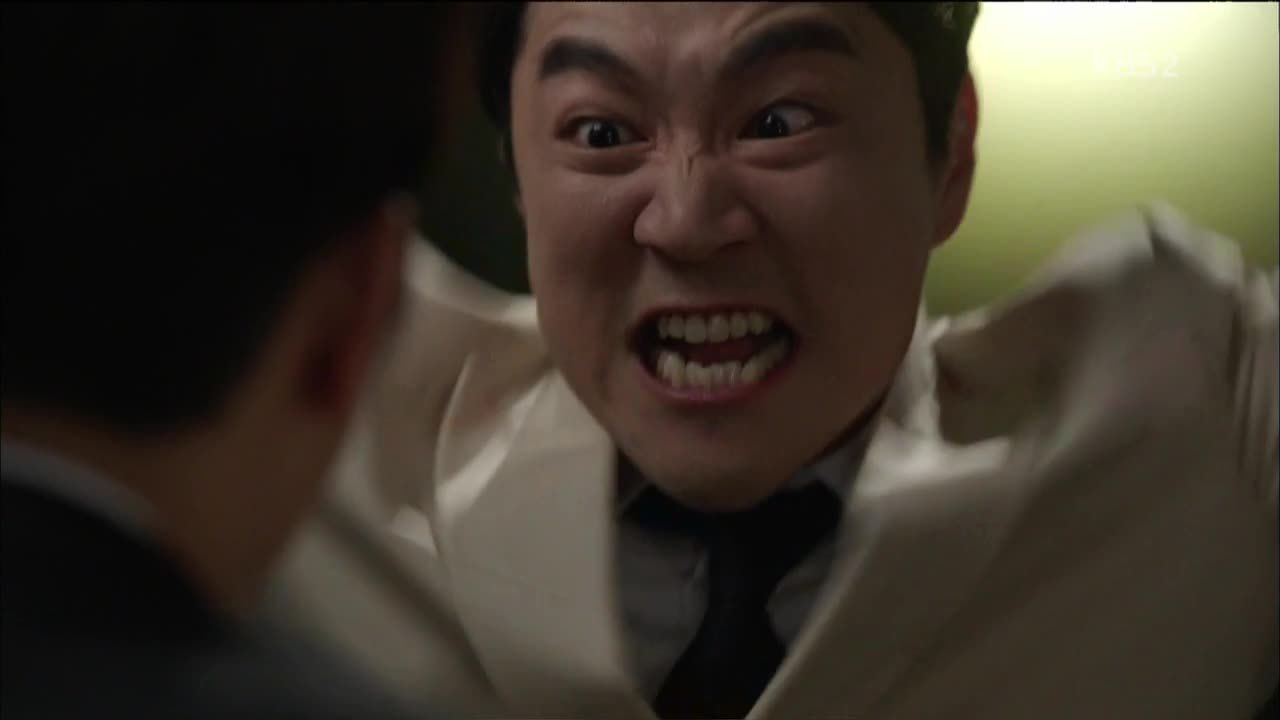 The presence of the mysterious hospital man, or Laywer JUNG SUN-HO (Park Bo-gum), calms Seung-hoon enough for him to continue on with his lies. Hyun notices Lawyer Jung's hand and finger tap on his client's shoulder, and Seung-hoon excuses himself from the interrogation to attend a mental therapy appointment.
Myung reacts with a startled jump to a call from Seung-joo, who delivers the bad news that Ha Yoon-ji refuses to testify or press charges. They're stuck without evidence or charges, and the only option is to let our killer loose.
Lawyer Jung speaks to Chief Hyun and matter-of-factly requests that she follow the law — call him back when they have evidence to back up their assumptions. He notices the piece of evidence and recognizes the semaphore code, which grabs Team Leader Kang's attention. Lawyer Jung simply smirks and asks if this recognition makes him a suspect.
In the bathroom, Seung-hoon approaches Hyun and whispers his confession that he's the killer. Hyun casually fixes his hair and tells Seung-hoon that he knows.
Seung-hoon maintains his haughty attitude about getting away with the murder, claiming that he'll be leaving the country and plans on killing Hyun soon. But Hyun kills his vibe by pointing out that Seung-hoon has no idea who's behind him. In fact, it's disappointing how oblivious he is.
Trying to gauge how much Seung-hoon knows about his manipulation, Hyun acknowledges his taste in art. Seung-hoon picks up on the comment a half beat behind and promises to leave Hyun a nice painting at his death.
As Lawyer Jung leaves, he talks on the phone to his father about a family gathering, and Hyun overhears this briefly.
Our detectives come to the frustrating conclusion that they must find evidence in time for an effective investigation. Hyun pulls Ji-an aside and asks to use her computer. She watches him carefully so that he doesn't dig through other files on her computer, but he assures her that her desktop is too disorganized for him to meddle.
Ji-an seems hopeful that they can induce a confession by poking at his pride again, but Hyun knows Seung-hoon won't fall for it again. It'll be hard to catch their killer because he's planning on leaving the country, and all the evidence is somehow nonexistent. Ji-an vows to catch him, but Hyun tells her that the lawyer is not one to mess with. They dropped the hint about mental health treatment, so in case Seung-hoon does get caught, they'll use the mental health defense to give him a shorter and more luxurious imprisonment.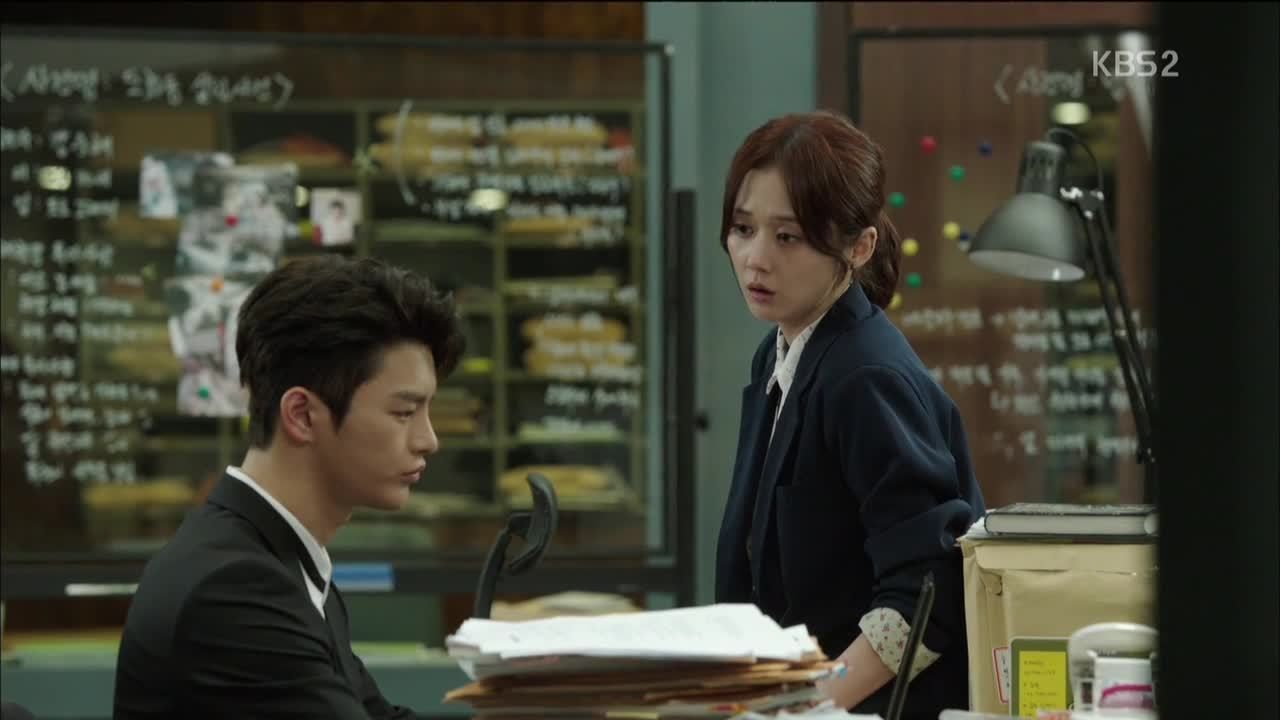 Frustrated with the loopholes, Ji-an wishes that she could take care of them herself. Hyun takes her offhanded suggestion and asks, "Should we…?" He thinks back to Seung-hoon's promise to kill him and sends something on Ji-an's laptop. Hyun's lips curl into a smile as he clarifies, "Should we kill them first?"
Young Hyun prays in a church, and a small girl watches around the corner. He walks into the confessional, and she follows into the other side. After a moment, he confesses: "My father died. But the person who really killed him is me." The girl gasps and looks through the screen. They make eye contact, and we flash forward to Ji-an waking up from a nap.
Joon-ho saves her from falling over and questions if she's pushing herself too hard. She acknowledges this, but they've been coming up empty. He says the same about his forensic evidence. He's scrutinized the victims, but there's nothing. Joon-ho suggests that she get help from her frustrating yet intelligent friend, but she refuses to let Hyun give her another headache.
As she leaves, she thinks back to Hyun's offer to kill the killer and her casual response, requesting that he notify her of the time and place. Hyun agrees and then warns her not to bother him until then. He's no longer interested in this case and absolutely does not want to provide assistance. Thinking back to this last interaction, Ji-an leaves in a huff.
Chief Hyun and Team Leader Kang attempt to get a warrant for Seung-hoon, but they are rejected any sort of advance in the investigation. Team Leader Kang accuses the institution for showing leniency towards a rich powerful man.
The detective team suffers through dark circles and lack of underwear (to which Ji-an suggest they just turn them inside out, HA) to continue their incessant search for evidence. Ji-an wonders why on earth they can't find the fake cellphones and drugs. How could they just disappear? Amidst their doubt, Team Leader Kang intervenes with an inspirational speech about perseverance, which touches no one. They all just go back to work. Ha, good effort.
Hyun decides that Yang Seung-hoon knows nothing and wonders who sent the email. Could it be Lee Joon-young? Min? Or maybe… Ji-an? Someone rings his doorbell, and it's none other than Ji-an, who forces entry. Hyung doesn't like looking at her face, so he pushes her face to the side while talking to her. He says that she's on his shit list — possible people who sent him the email — but he's least interested in her.
Personal distaste aside, Ji-an requests for Hyun's help on catching Seung-hoon. When her pleas don't work, she tries to flatter him, "You may not have the personality, but you definitely have the intelligence to help." He wants more than intelligence, so she gives him magnanimity and impudence. Getting to the point, Ji-an requests that Hyun help them get this scumbag off the streets.
Hyun agrees to do so, but his aid comes with a price, not just gratitude. When Ji-an agrees to compensate for his help, they get right on their way.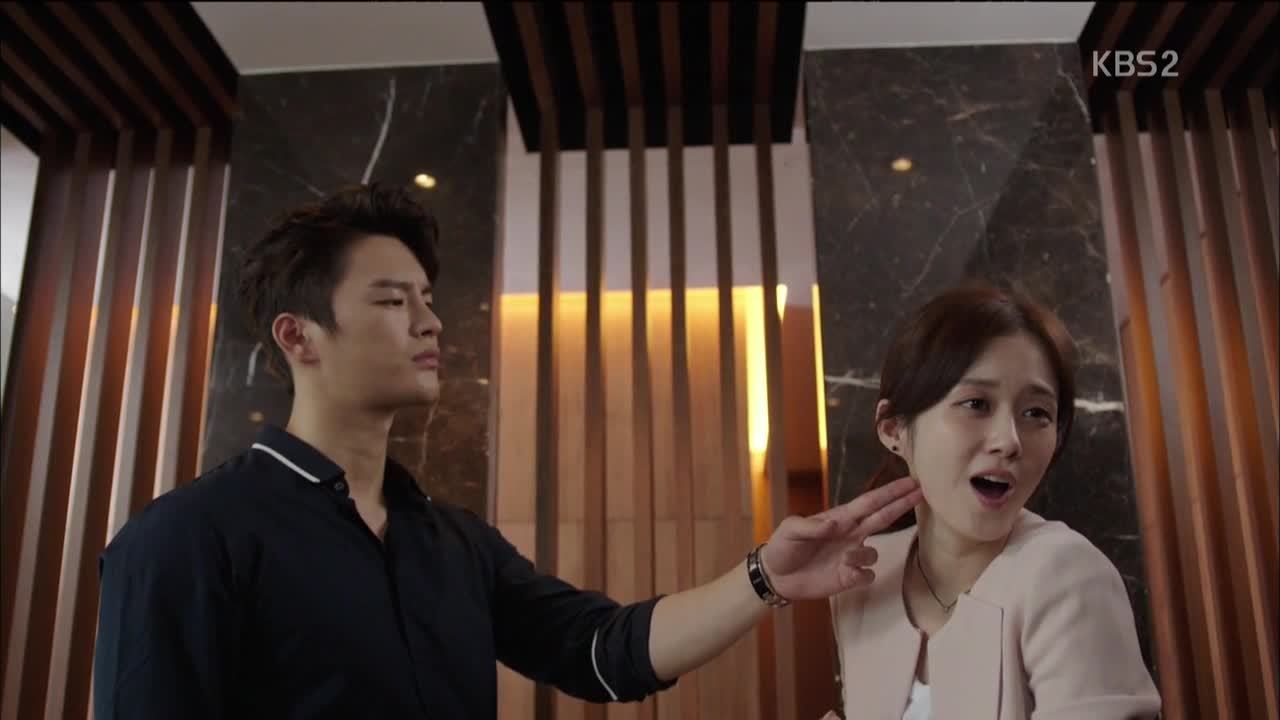 First stop is the art gallery to request help from Hyun's art director friend. On their way, Ji-an receives a message in Chinese and wonders aloud if it's spam, but Hyun takes note. The friend complains under his breath about Hyun but then politely apologizes in front of him for not having the information on the painting just yet.
But Hyun is here with a different request. They're going to visit this friend at the hospital. They go back and forth about who's going to the hospital: Who's going? Me? Why? "Because this person (Ji-an) has to visit. Right now." Why? "Because you're going to be admitted to the hospital." Wait why? "Because you're indebted to me, and I always receive repayment."
Thanks to the indebted friend, Ji-an gains access to the hospital's VIP lounge as a guest and sneaks into Ha Yoon-ji's room. She asks about the evidence, and we quickly flashback to earlier that day.
Hyun and Ji-an discuss the disposal of evidence, which was not found anywhere near the crime scene. When Seung-hoon chocked Yoon-ji and forced her to reveal the caller, he had enough time to safely dispose of the evidence. He left the evidence with Yoon-ji, who later surrendered it to Lawyer Jung at the hospital.
Back in the hospital room, Ji-an pleads for Yoon-ji to testify and accuse Seung-hoon for his crimes. She refuses to comply, and Ji-an relays one word of advice from Hyun before leaving: "All decisions have consequences." She thinks about the decision holding her back: Giving up the evidence to Lawyer Jung made her an accomplice to the crimes.
Ji-an reports to Hyun that her persuasion failed, and they wonder about Lawyer Jung's depth of involvement in the crimes. She asks what he's up to and offers to eat with him when he tells her that he's eating alone. She asks if he's lonely at all, but he clearly isn't, as he declines her offer and seems perfectly content with his solo meal.
Hyun's dinner is interrupted once again, this time by his art director friend, who asks why no one has visited him at the hospital yet. Oops, forgot about him. Hyun apologizes and tells his friend to go home.
Hyun replays Ji-an's question about his loneliness, and he happily imagines his father and younger brother eating dinner with him. It's sweet and tragic.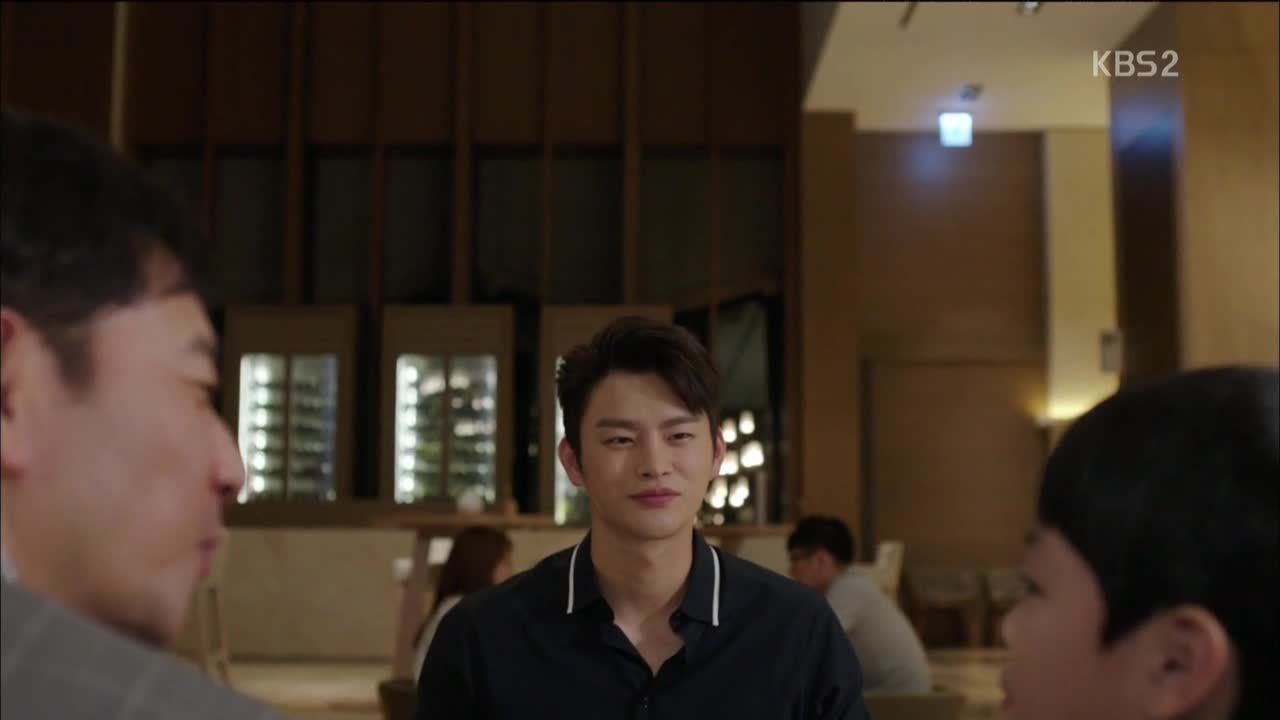 The next morning, Ji-an receives a call from the Chinese customs police, but she struggles to understand the message. Hyun also receives a call, but it's from Seung-hoon, who believes he's victorious as he prepares to go abroad. Hyun tries to convince Seung-hoon to stay in the country and give the detectives more time, but he refuses. Despite the supposed defeat, Hyun doesn't seem to try too hard to keep Seung-hoon in the country, which means he's got something up his sleeve.
Hyun returns to his old home and puts back the recordings. He notices the Ten Commandments and states the sixth one: "Thou shall not kill."
When Seung-hoon lands in China, the flight attendant asks him stay seated for a moment. Before he's told the reason, armed officers approach him and accuse him of drug dealing. Seung-hoon scoffs then tries to run away, but he's caught and dragged out of the plane. Hyun narrates, "Thou shall not kill, but there is no reason to live uselessly."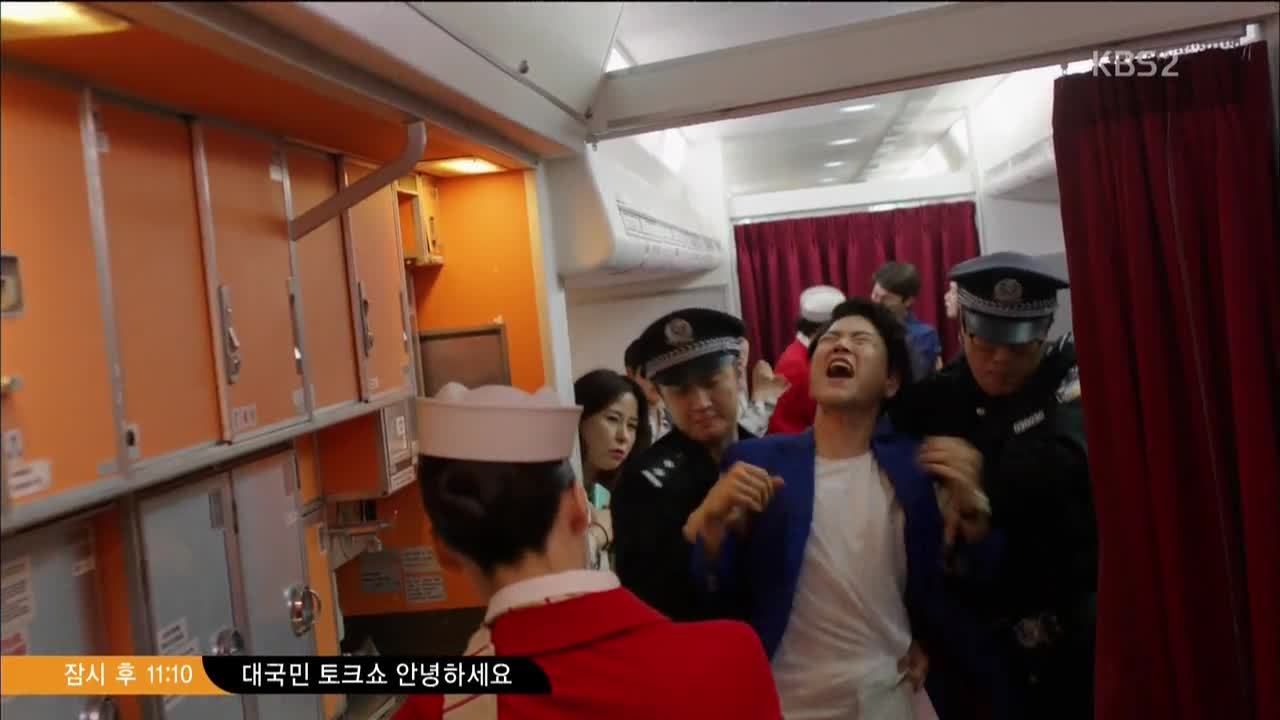 Refusing to accept defeat, Team Leader Kang joins Myung-woo to look through surveillance footage, but they're interrurpted by Seung-joo and Eun-bok who report Seung-hoon's arrest in China. Though he may find loopholes in Korea, his drug dealing charge will not be overlooked by the merciless Chinese forces. But how did the Chinese security forces receive notice about this?
Ji-an remains confused about all the Chinese messages she's been receiving and doesn't understand until she translates the emails. Chief Hyun barges into the office and demands to know why Ji-an sent out an official statement of cooperation without permission. She has no idea how she got involved with this, but then she thinks back to Hyun sending an email on her computer. She checks, and sure enough, he sent the email in her name.
In rage, Ji-an calls Hyun, and he sends his whereabouts. She storms into his old home and accuses him for wrongfully sending the email. Hyun shrugs that he was simply granting her request for help and that he warned her about the consequences. But Ji-an isn't an idiot. He sent that email right after Seung-hoon was let go, before she even requested his help.
Hyun stands up and challenges Ji-an on who's actually more brazen here. Slowly walking towards her, he accuses her of frequenting this house. He asks how she got here, and she shows him his text with the address.
But the address should have led her to the house a few doors down, not here. Hyun continues on with his hypothesis, "You saw the address and must have known right away where to come. I have a lot of time on my hands now, so I'm going to figure out the least interesting puzzle of the three."
He leans in and look right at her. "What is your identity?"

COMMENTS
So far, this is definitely my cup of tea. The show's got a good pace and format that slowly reveals our characters with the plot. Lawyer Jung's introduction was smoothly integrated into the chaebol psycho subplot, and although his appearance came in short spurts, I found that his meticulous nature made a striking impression. Someone we should look out for, no doubt. The subplot gave us a break from the main conflict of Lee Joon-young, but it also gave us extra interactions to better illustrate who are characters are. So while I could care less for our scumbag chaebol heir, I found Hyun's tactics of mystery-solving quite illuminating in building context for his character.
With Hyun, there seems to be little time or detail to waste. There are multiple dimensions to his character, and usually he speaks with some sort of goal in mind — the end justifies the means. You start to think beyond the surface level conversation and try to pick up the meaning of the conversation between the lines. Seo In-gook has great dramatic timing in that respect. Sometimes the words just roll off of his tongue, almost catching up the speed of his thinking process. But then he pauses for brief moments, long enough so that we can register that he's saying something that means something. He works the crowd, and as a viewer, I find his character quite engaging.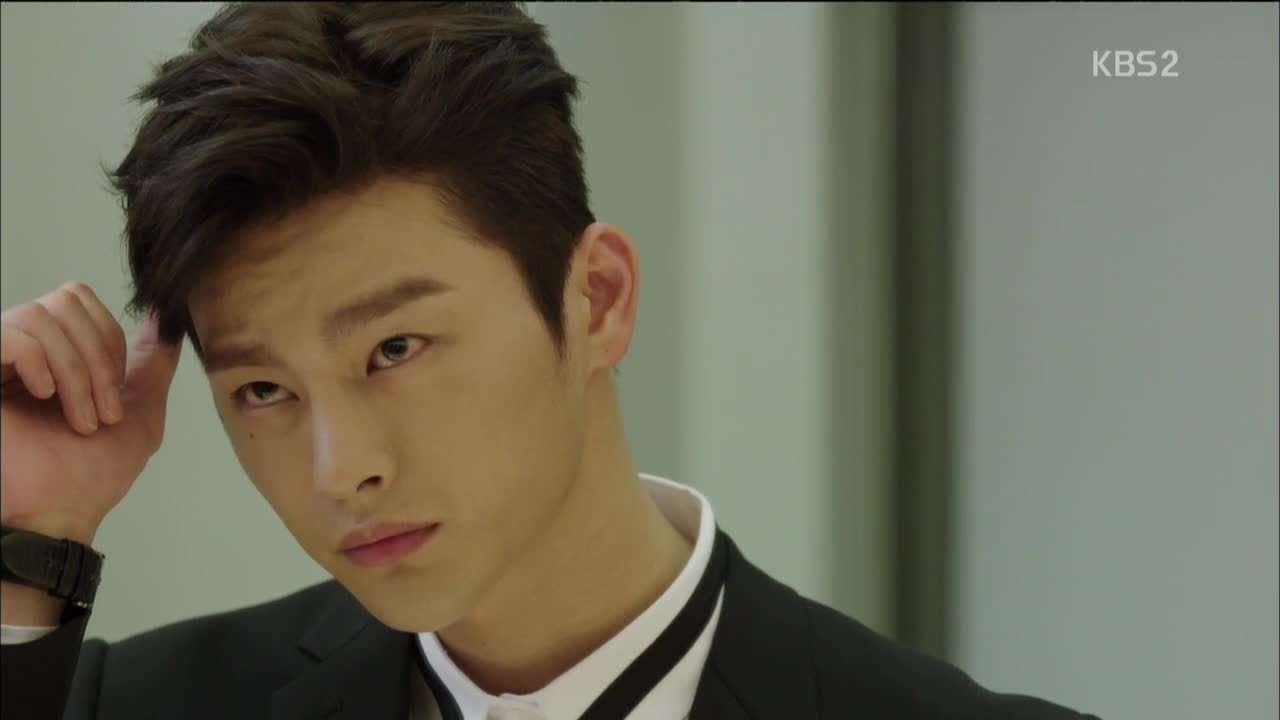 You can see the range in Seo In-gook's acting in the interrogation scene, when he started off as this eager newbie detective and gradually developed into a threatening profiler. I could see his eyes light up and adrenaline rush as he described, with precise detail, the killer's motivations, his vulnerabilities, and his pleasure in killing. It's fun and creepy to watch, because his performance is eerily convincing.
The flashbacks continue to give us some context on the relationship between Ji-an and Hyun, but I'm interested to learn more about Ji-an's story, not just her stalking of Hyun. The story still remains heavily focused on Hyun, and I don't have too many complains yet because he is the most interesting character to dissect. But giving us a little more background and depth to feisty Ji-an would be nice. She's very likable as a character, but the depth of her character pales in comparison to Hyun. I know, not everyone can be as complex, intelligent, and cheeky as Hyun (is my crush showing?), but I really want to know Ji-an more as herself than as an amusing detective intertwined with Hyun. Because she's definitely got her own interesting set of secrets, ones that even Hyun can't seem to uncover.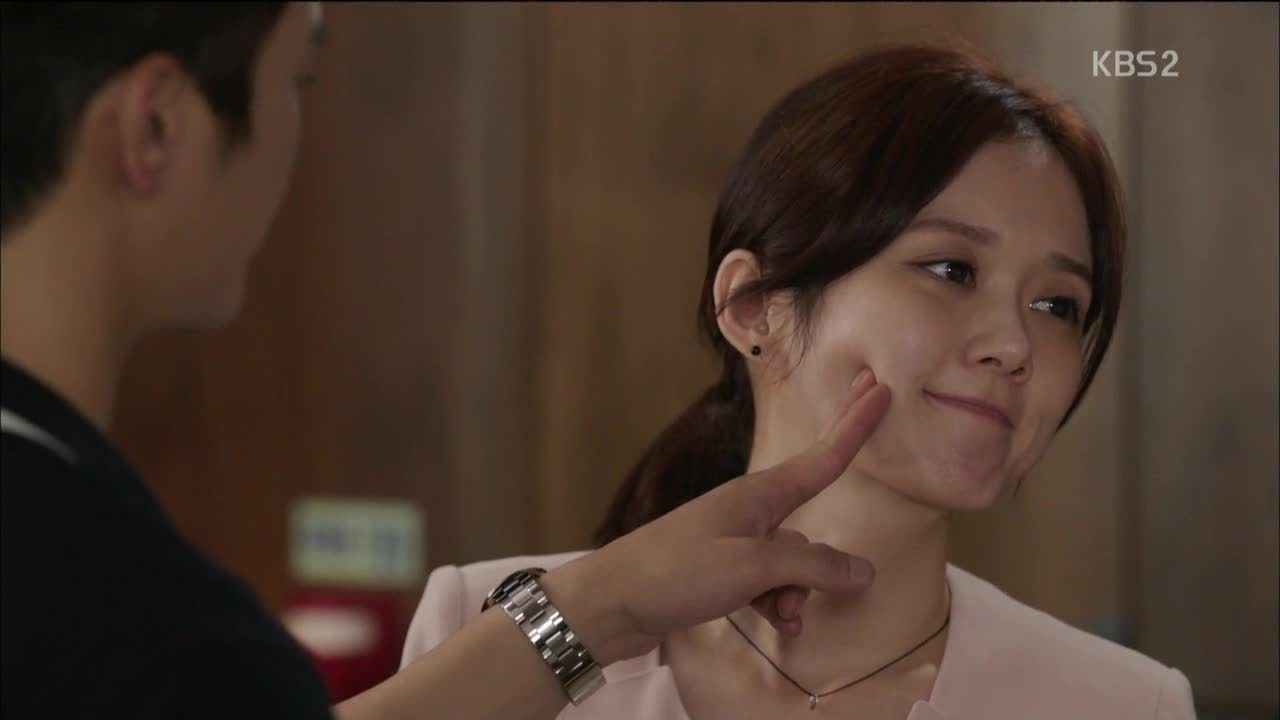 RELATED POSTS
Tags: featured, I Remember You, Jang Nara, Lee Chun-hee, Park Bo-gum, Seo In-gook