Press conference day for JTBC's Last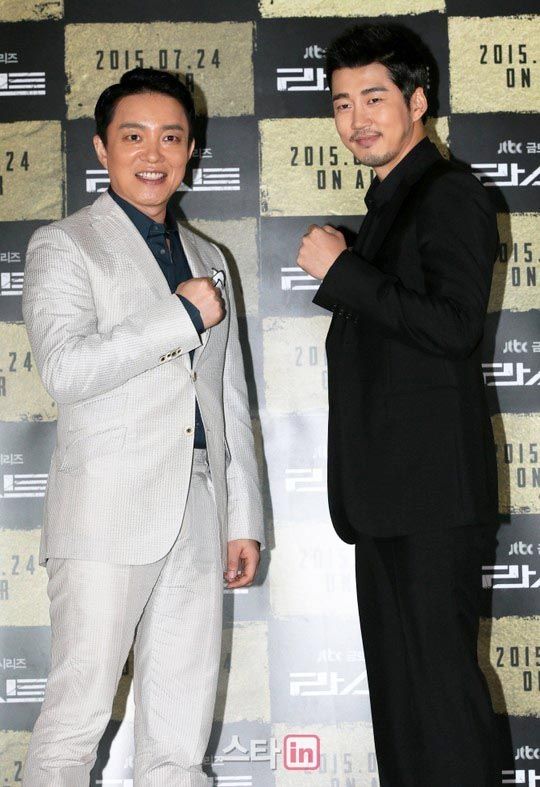 It's premiere week for action-noir drama Last, which held its production press conference on the afternoon of July 21 with its main cast and producers: Yoon Kye-sang and Lee Beom-soo as the two leads who face off in a fierce fight in Seoul's underground society, with Seo Ye-ji, Park Ye-jin, and Park Won-sang in supporting roles.
Everything I've seen about this show so far points to stylish, dark, and action-packed, and audience interest in the show comes from a few factors, such as the popularity of the webtoon on which it's based and the credits of the director, PD Jo Nam-gook, who previously helmed lauded thrillers Empire of Gold and The Chaser. Writer Han Ji-hoon has a few solid shows on his resumé as well (such as 2007's Time Between Wolf and Dog), even if that record does also include Road No. 1 and Dr. Jin. Does anyone ever get a mulligan in dramaland?
Last did begin filming in early May, so they've got two full months behind them; it won't be wholly pre-produced, but that lead time is a lot longer than most broadcast shows take, so hopefully it translates into high-quality results. The director stated his aim to achieve a high level of quality and preserve it through the end.
The drama is set in the underworld of Seoul Station, the homeless people who live there, and the fierce competition to establish hierarchy among its denizens. (There's also a battle over 100 million won, though I'm not sure exactly what that entails.) According to PD Jo, the show isn't only an action drama (though the plot requires a hefty amount of action) but also makes interesting use of Seoul Station, which is a world unto itself, full of desperation, ambition, and also hope.
Yoon Kye-sang plays the lead character of Tae-ho, a fund manager who is utterly ruined when a stock strategy goes awry on him. Left with nothing but the literal suit on his back (which he insists on wearing all through his homelessness), he joins Seoul Station's underworld, which is ruled by Lee Beom-soo, and must rely on his brains to survive there. He's aided by Seo Ye-ji, who becomes his love interest, and Park Won-sang, who's high up on the Seoul Station pecking order.
Yoon called himself a fan of the original webtoon and was drawn to the desperation driving Tae-ho, seeing the title as reflective of Tae-ho's last chance to make it. Lee Beom-soo, on the other hand, deliberately avoided reading the webtoon after getting the part, explaining that he didn't want to have his interpretation colored with preconceived ideas for his character. Since the original series provides a conceptual foundation for the drama but isn't being used for a shot-for-shot remake, I can see that strategy working to make the character his own.
Lee also called it his first time playing a drama villain, which I trust must be true but somehow seems wrong—he's such a badass that I feel like he must have played plenty of bad guys before. He explained the draw of his character as being more than a simple villain, one he aims to make a three-dimensional person; there's a father's death and family ruin in his background, spurring feelings of revenge and payback. He said the scripts are so entertaining that he's taken to pestering the director to find out when the next one is due.
Seo Ye-ji plays the only character not found in the original, and described feeling a bit intimidated by that burden, though she credited her sunbaes for helping her along. Her character is a forthright, friendly nurse in a free clinic and is called the flower of the homeless, not because she's pretty but because she grew up among them and is a warm and caring presence.
Park Ye-jin's character occupies the other end of the spectrum, all cool elegance and hidden pain. Just 'cause he inhabits the underworld doesn't mean a gangster boss doesn't like the finer things in life, and Lee Beom-soo has a secret club (called, aptly, The Club) that hosts all his VVIP contacts. Park Ye-jin is the club madam there, whose sleek appearance contrasts with her loneliness and tender heart.
And last (hur) but not least, Park Won-sang plays Seoul Station's second-ranked figure (under Lee Beom-soo), and explained that since the scripts come out in advance, he has plenty of time to figure out his character. Which sounds a bit obvious on the surface (of course scripts come out before you act them out!), until you recall that the live-shoot beast can sometimes steal away that in-between step where you get to process what you're acting before you have to act it. Let's hope that the ample lead time works to Last's advantage.
Last makes its premiere on July 24 on JTBC.
Via Star News, Joy News, X Sports News, Osen
RELATED POSTS
Tags: Last, Lee Beom-soo, Park Ye-jin, press conferences, Seo Ye-ji, Yoon Kye-sang