Last: Episode 10
Straw Cutter is out to seek revenge, which means Tae-ho has a new formidable opponent to face. But unbeknownst to him, Tae-ho is just a pawn in the deadly game between Straw Cutter and Heung-sam, the latter of whom does everything within his power to make sure the past stays hidden. Jong-gu is given the chance to find his daughter — but will he take this opportunity to break free from Seoul Station, or remain by Heung-sam's side?
EPISODE 10 RECAP
Straw Cutter threatens to take everything he knows about the man Heung-sam killed to the police if Heung-sam doesn't hand over Tae-ho, and the ever-loyal and ever-deadly Praying Mantis looks ready to kill to protect Number One, when speak of the devil, Tae-ho appears.
The atmosphere is a bit tense as Straw Cutter greets him, marveling that Tae-ho's suddenly here after all the effort Straw Cutter went through to look for him, to no avail. Heung-sam quickly regains his confident composure and invites Tae-ho to sit down. Straw Cutter bluntly asks if Tae-ho had anything to do with Sergeant Bae's disappearance.
With a calm, straight face, Tae-ho denies everything. Straw Cutter isn't so convinced, and Tae-ho pleasantly asks what he needs to do prove that he's innocent. Easy — just fight Straw Cutter in lieu of Sergeant Bae. Heung-sam tries to maintain his genial appearance even as he protests, pointing out it's against their rules. But Tae-ho quietly accepts the challenge. He'll be at the rooftop tomorrow as requested.
After Straw Cutter leaves, Heung-sam becomes serious, ordering Tae-ho to disappear for a few days. He'll cover for Tae-ho until Straw Cutter calms down. But Tae-ho quietly says that he knows that even if he can't win against Straw Cutter, they might be able to come to an agreement. Heung-sam scoffs at this idea, pointing out that Tae-ho's skills aren't enough to stop a monster like Straw Cutter.
Yes, but would Heung-sam's words be enough to stop Straw Cutter, either? Tae-ho will fight on his own and become a worthy successor. Heung-sam knows they can't do anything to Straw Cutter, anyway, until they find the documents he's hidden. Until then, he and Praying Mantis have got a little "house-cleaning" to do.
His bag packed, Jong-gu is headed out from his bus-home when he's met with a cheery greeting from Straw Cutter. Small-talk pleasantries aside, he's there to get an idea just what kind of a fighter Jong-gu's managed to train Tae-ho to be. Jong-gu assures Straw Cutter that even though Tae-ho is tenacious, he's not skilled enough to kill Sergeant Bae.
Jong-gu stops at the club where he tells Mi-joo he got a tip that his daughter might be in Busan, so he's headed down there to see for himself. Even if he isn't able to find his daughter, when he returns to Seoul, he'll be leaving Seoul Station for good. He won't demand that she to join him, but he'd like her to at least think it over while he's gone.
She cooly tells him she's busy at work and won't be able to promise anything, making it clear that this is her new world. But after he leaves, she runs outside to watch him walk away, fighting back the tears in her eyes.
The gang's all assembled in the office, but everyone is worried about Tae-ho fighting Straw Cutter. Foreman Oh knows only too well how deadly this guy is, and the practical Chairman hands over one of his "checks," telling him that if the conflict can be solved with money, then that's the way to go.
Hae-jin rushes in, demanding to know if Tae-ho has lost his mind — the news of his upcoming duel is all over Seoul Station. Straw Cutter is no joke, and Hae-jin begs Tae-ho run away to save his life. But Tae-ho refuses to back down.
At "their" corner garden, Nara waits for Tae-ho. But he's busy practicing for his upcoming fight, his phone forgotten in his gym bag as Nara tries calling him.
Straw Cutter sleeps in Jong-gu's bus until a strange noise wakes him. He's immediately up and, with wrench in hand, cautiously looking around to see who's there. He calls out, asking if it's Praying Mantis, but it's only a stray cat. He kicks at the punching bag to relieve his frustrated anxiety, and far away in the safety of his rented office, Tae-ho jolts awake.
This upcoming duel seems to have everyone at nerve's edge. Heung-sam hasn't been able to sleep, either. He keeps dreaming that an earthquake destroys Seoul Station, causing everything to crumble to dust. Normally he'd be able to listen to music and soothe himself back to sleep, but since Straw Cutter destroyed his beloved record, that's not an option.
Praying Mantis promises to find another record to replace it, but Heung-sam has bigger worries — they need to find Straw Cutter's documents ASAP, or Tae-ho is as good as dead.
In the morning, Praying Mantis secretly follows Straw Cutter — who seems to sense that there must be someone following him, but Praying Mantis easily stays out of sight. He goes to check on the envelope he's left in the locker, relieved it's still there — except now Praying Mantis knows exactly where it's hidden.
He calls Heung-sam, who orders Praying Mantis to get do whatever it takes to get his hands on those documents. Heung-sam's at the club for an early morning meeting, and as Mi-joo sets about preparing it for him, she asks if he really knows where Jong-gu's daughter is living.
She tells him that her life won't change — she'll be here forever, working alongside him. But for Jong-gu, if he finds out where his daughter is, he can start a new life, away from here. Mi-joo begs Heung-sam to tell Jong-gu where he can find his daughter, as a favor to her.
It's eerie how similar this conversation is to the one he had with Jong-gu before they caught President Jung — only that time, Jong-gu said he didn't care what happened to him, so long as Mi-joo could be free. Mi-joo is shocked to hear this, but Heung-sam sadly laughs, saying that it's funny how the two people he cares most about in the world will do whatever it takes to get away from him.
At Grandma's house, Hae-jin and the rest of the gang are freaking out, unable to find Tae-ho and worried that the duel started early and Tae-ho is already bleeding to death somewhere. But the zen-like Chairman points out that, no matter what they do, Tae-ho will fight alone. Nara overhears this, and she worriedly asks who Tae-ho will be fighting.
Jong-gu surprises Straw Cutter by returning home earlier than anticipated, but he's got a new goal — to finish the fight they started five years ago. If Straw Cutter wins, he gets to be Number Two.
Straw Cutter realizes that Jong-gu's just doing this to protect Tae-ho, and Jong-gu admits that it's true — besides, Tae-ho isn't worth Straw Cutter's time. If he wants a fight, Jong-gu's the worthy opponent. Even though he's long wanted to go up against Jong-gu, he's made a prior commitment to Tae-ho, and he intends to keep it.
Their conversation has been reasonably pleasant as they trade their barbs, but once Jong-gu starts to taunt him, asking if he's scared, when Straw Cutter punches Jong-gu in the side that still hasn't healed, giving him an extra kick when he drops to the floor in pain. Straw Cutter is dead serious when he warns Jong-gu to stay out of this — it has nothing to do with him, and everything to do with getting back at Heung-sam.
He reminds Jong-gu that the Seoul Station Seven was built on trust and loyalty, and apparently that's something Heung-sam seems to have forgotten. Jong-gu tells him those days are over, but they aren't for Straw Cutter. As he leaves, he seems genuinely remorseful for hitting Jong-gu on his wounded side.
Praying Mantis jimmies open the locker that holds Straw Cutter's documents. That seems a little too easy, now, doesn't it?
Alone, Tae-ho heads to the meeting space he and Straw Cutter had agreed on. But no one is there.
Straw Cutter is with Crocodile and Poison Snake, who show off how secure this new location it is — it's the chop-shop organ "donation" room, and Crocodile cheerfully points out that it's also super easy to clean up afterwards. They reassure Straw Cutter that Tae-ho has been informed of the location change.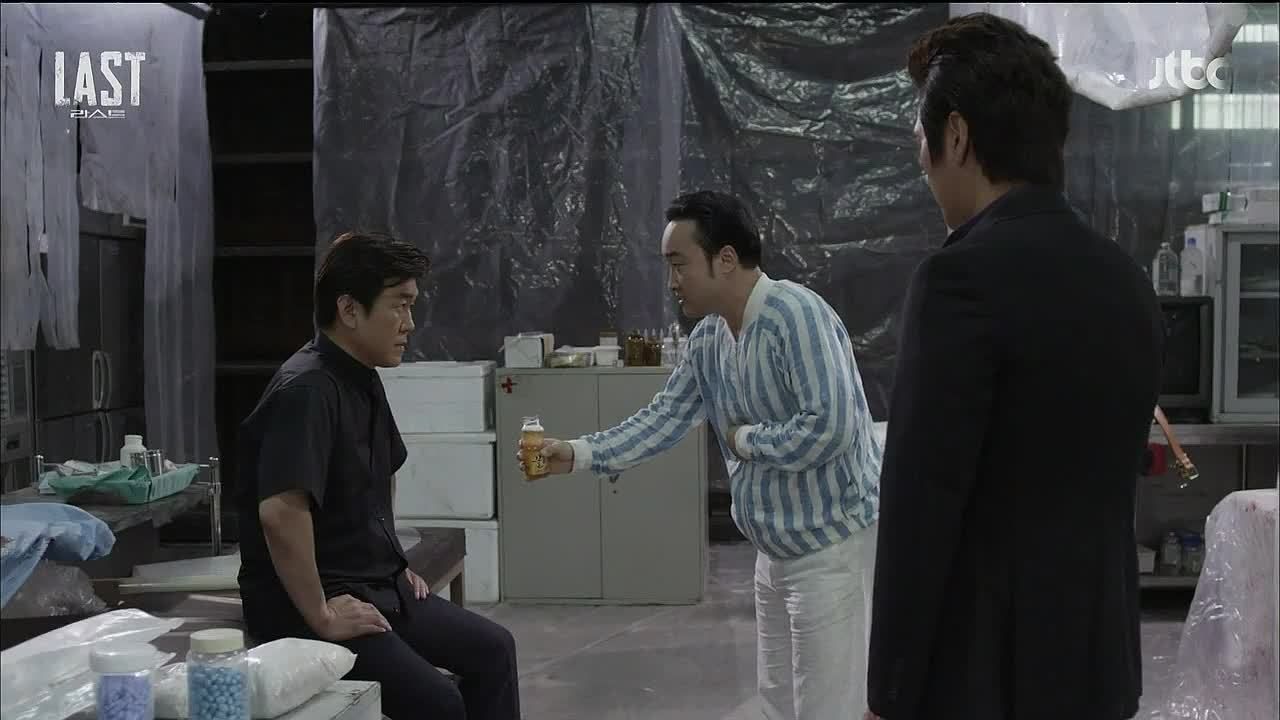 Except this location switcheroo was the reason Heung-sam had his early morning breakfast meeting at the club — his guests were Crocodile and Poison Snake, and Heung-sam orders them to put out the "fire" they lit on the "tiger's" tail.
At the surgery room, the bottle of juice Crocodile offered Straw Cutter crashes to the floor. Straw Cutter realizes that this is set-up — he's been drugged — and he bellows that he's going to kill them all. But his angry swings at their faces are unsteady, thanks to his drugged juice. Praying Mantis arrives, and, with a slice at Straw Cutter's arm, he orders Crocodile and Poison Snake to leave. He'll take care of this now.
Meanwhile, a bewildered Tae-ho stands alone on the rooftop. His phone rings — it's Heung-sam, telling him he's late for a meeting with him. Tae-ho tells him that he's meeting with Straw Cutter, but Heung-sam confidently tells him that Straw Cutter won't be coming.
It's a pretty even fight between Straw Cutter and Praying Mantis. It's almost unsettling to see Heung-sam's loyal body guard look so sweaty and rumpled, but it's a testament of how much of a fighter Straw Cutter is. But Praying Mantis has the upper hand (thanks to the drugs finally kicking in), and Straw Cutter stumbles to the ground after taking a few punches to the face and knife-slices to his body.
Tae-ho rushes into the operation room, and soon he and Praying Mantis are the ones fighting each other. Praying Mantis tells him to step aside, but Tae-ho tells him that if he wants to kill Straw Cutter, he'll have to kill him, too. Praying Mantis assures Tae-ho that he can't do that because Tae-ho is important to Heung-sam. Which is also why he had to get rid of Sergeant Bae.
The barely conscious Straw Cutter picks up on this, asking if Praying Mantis is the one who killed Sergeant Bae per Heung-sam's orders. He admits that he was, adding that Straw Cutter's God may be in heaven, but his god lives in the hotel penthouse.
Praying Mantis leaves, warning them that Heung-sam will not be happy, and Tae-ho tries to help the injured and drugged Straw Cutter to his feet. Straw Cutter's scary look of determination has me worried about Heung-sam's (and Praying Mantis') safety.
At the penthouse, Praying Mantis hands over the documents he stole from the locker, reporting that it was the only copy he was able to find after searching through all of Straw Cutter's belongings. Praying Mantis says he can finish the job (by killing Straw Cutter), but Heung-sam says that Straw Cutter is pretty much already dead, now that he's realized that everyone left in the Seoul Seven has betrayed him. His body may be alive, but his spirit will be destroyed.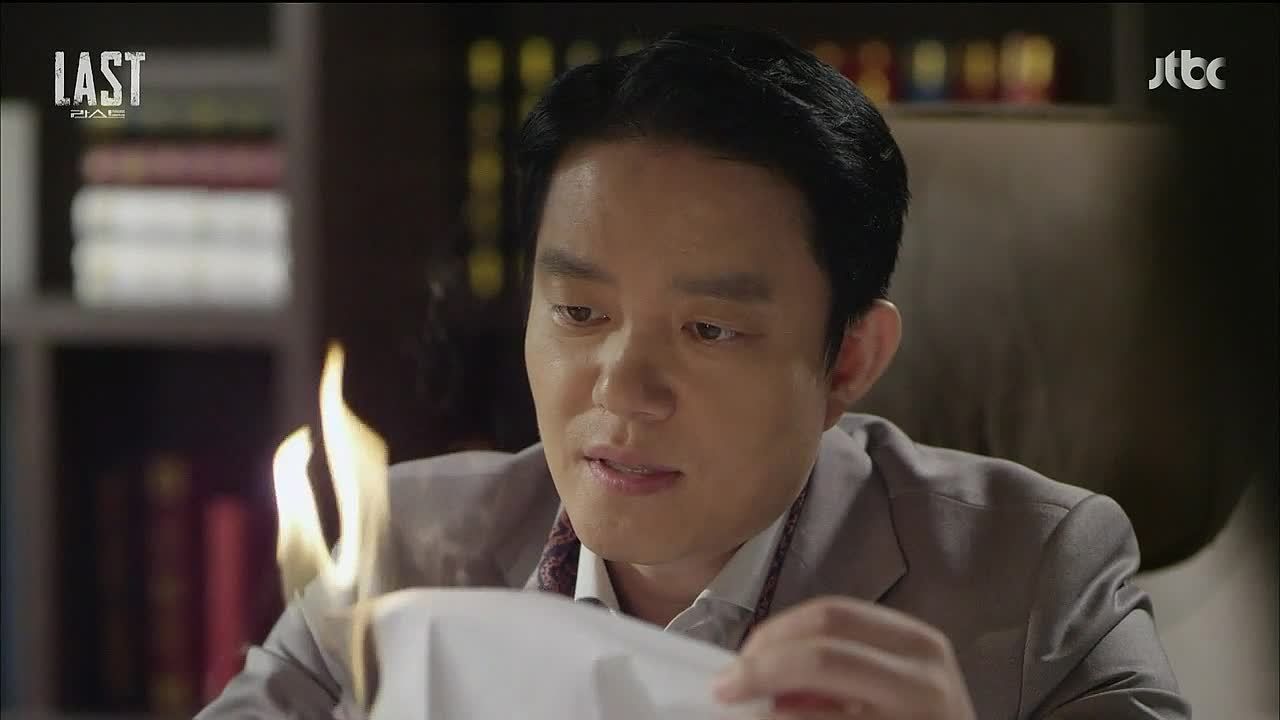 As Heung-sam burns the documents, he says that, thanks to Tae-ho's natural impulsiveness and tenacity, Tae-ho will be an important factor in completing Heung-sam's ultimate plan.
Tae-ho brings Straw Cutter to the free clinic, and while he waits on the rooftop, Nara comes to him. He thinks she's mad that he stood her up on their date, but she's furious that he was going to partake in the duel, likely ending up a bloody mess in one of her hospital beds. Is this what he meant by turning into a villain — getting the men of Seoul Station fighting against each other?
He says that it's the only way he's been able to survive so far — does she have any better ideas? Nara instead asks him what she should do, so she won't constantly be worried about him.
She tells him an old Indian story that says everyone is born with two wolves fighting in their hearts — one wolf for greed, jealousy, and arrogance, and the other wolf for good will, sacrifice, and conscience. The wolf that wins in the end is the one you feed.
Down in the hospital room, the injured Straw Cutter wakes up to see Jong-gu watching over him. He asks Jong-gu when Heung-sam changed, and Jong-gu says he doesn't know, just that Heung-sam has likely gone mad in his attempt to stay sane in this crazy world.
Straw Cutter says that he'll be leaving Seoul Station since there's nothing left for him here, but he says Jong-gu needs to stay to protect the rest of the men. They shake on it, and Straw Cutter says that he'll wait for Jong-gu and Heung-sam. It's a surprisingly tender moment.
True to his word, the next morning, Straw Cutter leaves Seoul Station, pausing only once to stop and give the building one last look.
Tae-ho is escorted into Heung-sam's penthouse, and in his roundabout way, Heung-sam asks how much he thinks he trusts Tae-ho, reminding him that he shouldn't have interfered with Straw Cutter. But Tae-ho points out that it wasn't a fight so much as a trap, and if Straw Cutter had been killed by Praying Mantis, Heung-sam's reputation would be even more ruined.
He also points out that the only thing in the way of the Future City Project is the final signatures, so they don't need any extra scandal hindering it. Heung-sam laughs, reminding him that it was out of sheer stubbornness Tae-ho was going to meet with Straw Cutter in the first place. Yeah, but that stubbornness is Tae-ho's greatest weapon. Now it's time to aim that stubbornness towards getting the final contract for the Future City Project.
As Tae-ho is leaving, he runs into Mi-joo, who pointedly says she's heard that Tae-ho is on the "fast track" in making his way up the Seoul Seven ladder. He jokingly asks if he's almost at her level yet, but she says that he's misunderstood — she doesn't have his drive or ambition. Tae-ho acts surprised, because he'd assumed that since she heartlessly turned her back on Jong-gu, she was more like him after all.
When Mi-joo meets with Heung-sam, he tosses a piece of paper her way, telling her it's Jong-gu's one-way ticket to freedom. In actuality, it's the address of where Jong-gu's daughter is currently living. Heung-sam reminds her that he kept his promise, and that the thing he hates the most is being on the losing end of a deal.
In his bus, Jong-gu finds Straw Cutter's Bible that he left behind. As he walks through Seoul Station, watching the men get kicked out by the police, he remembers Straw Cutter's admonition that Jong-gu must stay.
Mi-joo meets with Jong-gu at Grandma's restaurant (and Nara practically has to drag Grandma out of there to give the couple some privacy). Jong-gu calmly eats his breakfast while Mi-joo watches. He's about to leave when she pulls out the paper with his daughter's address.
He asks how she got it, since the agency wasn't able to find anything, and she tells him to just think of it as her last gift to him. In response, he tears up the paper without reading it. He's going to stay at Seoul Station. After all, how can he think about taking care of a daughter when he can't even take care of himself? It's just greed on his part — the same kind of greed that threatens to tear apart Seoul Station.
A dazed Mi-joo stays behind after Jong-gu leaves, and friendly Nara plops down across from her, bottle of soju at the ready to help soothe the frustrated heart. But Mi-joo takes a rain check, and as she leaves, Nara calls out after her, letting her know that Jong-gu's a bit focused on his mission, and can't focus on anything else right now. She knows another guy just like that, actually.
After Mi-joo leaves, nosy Nara pieces together the torn shreds of paper that Jong-gu left behind.
Hae-jin and Tae-ho are getting the contract documents finalized, convincing the Chairman that, unlike last time, this is a real investment. But Young-chil intervenes, pointing out that Heung-sam backstabs everyone he works with, so they should be careful. He particularly mentions the rumor surrounding Straw Cutter, and even though Hae-jin tries to downplay it, it's clear that the Seoul Station men think Heung-sam was responsible for his disappearance.
Se-hoon arrives at Tae-ho's office along with Jung-min, who is surprised to see Tae-ho there. This was not the business meeting she was anticipating when she and Se-hoon set out this morning, but she keeps her cool and they greet each other like the casual business acquaintances they're assumed to be. When Tae-ho mentions that it was unnecessary to visit in person when they could have easily faxed the documents, Se-hoon pleasantly says that he just wants to get closer to Tae-ho. Yeah, sure.
Jung-min and Tae-ho are left alone for a moment when Se-hoon steps out to answer his phone, and Jung-min drops the façade. She sneers at the office he's in, pointing out that this great job of his is just working with some homeless guys and using funds from the loan sharks. He agrees that, compared to her goal of catching a successful man, getting her father to accept her, and control the company, his new position is indeed pretty pathetic.
She says it's a pity that his life turned out the way it did, but it's too late to cling to past feelings. He scoffs, telling her there's no chance of that, and she should be more focused on her current boyfriend. After all, why does she think he brought her all the way out here?
On the drive back to the office, Jung-min confronts Se-hoon, asking if it's true that he knew she and Tae-ho had dated previously, and if that's why he drove all the way out to his office. She also says that Tae-ho knows that Se-hoon is her current boyfriend, and Se-hoon seems genuinely surprised to hear that. Jung-min has had enough of Se-hoon's lies and gets out of the car, preferring to walk.
Oooooh, it looks like Tae-ho is realizing that Se-hoon's ringtone is exactly the same song as the one on Heung-sam's beloved record. Will it be long before Tae-ho realizes the true connection between the men?
A shopkeeper kicks out a couple of the Seoul Station men who are lingering in front of her business. Jong-gu asks them why they aren't at the subway station, and they tell him that they were kicked out by the police for sanitary reasons, so they have to find a new place to go.
Tae-ho's busy punching the makeshift tire punching-bag at Jong-gu's place when Jong-gu returns home. It's convenient, since Jong-gu needed to find Tae-ho, anyway — he has something to give him from Straw Cutter. He hands over the locker key, telling Tae-ho that he doesn't know what it is, just that it's Heung-sam's "Achilles' heel."
But Tae-ho reminds him that he's Heung-sam's "right-hand man" now. If there's one thing he's learned from Straw Cutter, it's that loyalty is most important thing for a long life, and right now, he has no reason to betray Heung-sam. He sets the key down, telling Jong-gu that if he wants, he can be the one to open up this "Pandora's box," and walks away.
Jong-gu calls after him, telling him that Straw Cutter took the blame for Heung-sam killing a man. Isn't Tae-ho curious to find out what kind of man Heung-sam is really like?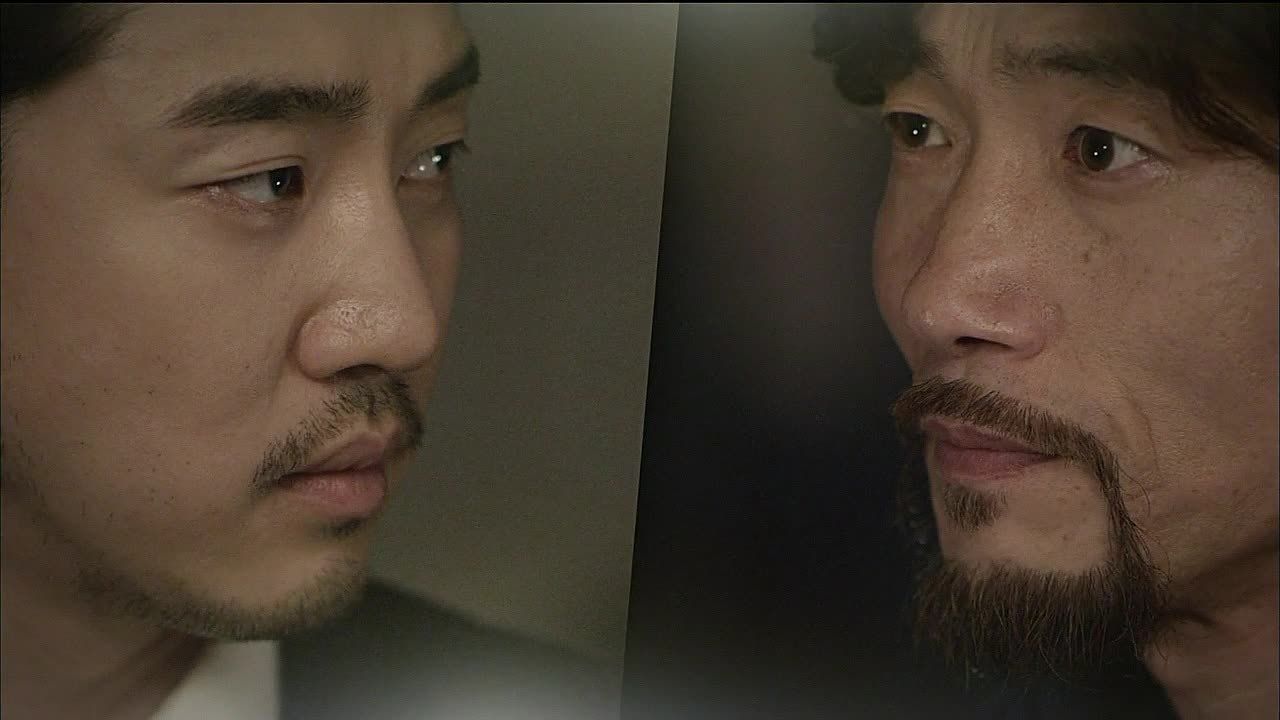 COMMENTS
I had idly thought last episode how interesting it was that Straw Cutter was essentially dressed like a priest but without the collar, and now it makes so much sense. There was this peaceful priest-like aura about him that barely hid his ruthless brutality — but he was ruthless for a purpose. Loyalty is the most important thing to him, and to have that stripped from him, to be betrayed by everyone he once trusted, especially by a man he went to prison for, well, it's definitely understandable why he'd want to fight for what be believes to be right. I'm still not totally clear how the Seoul Seven came to be, but it does seem like it was established as a way to protect the men who call the subway station their home. I have a feeling that the early days were less about power and greed and more about making sure everyone was able to have a place to sleep undisturbed and something to eat each day.
It does seem like something has happened in the last five years, and that something is centered around Heung-sam. Obviously he killed the man in order to protect his brother — is that still his same focus? More concerned about protecting his brother (and by extension, his business interests) than the men of the subway station? Whatever it is, it's starting to crumble around him. Even though he's as ruthless as ever, the cracks are starting to show.
First, there's those documents — the confession — that Straw Cutter made. I know Heung-sam thinks he destroyed the only copy, but Straw Cutter is no dummy. He knew that he was being followed; he knew that Heung-sam would take the bait and look for those papers; and he knew that he'd have to have a back-up. It's only a brief glimpse at the end of the episode, but the locker key number thatJong-gu gives Tae-ho looks to be for locker #9, whereas the show made it very clear that the locker Praying Mantis broke into was locker #7. Which means this isn't over, yet.
Second: the sweet-yet-sad "Gift of the Magi" thing going on between Jong-gu and Mi-joo. Both are so desperate to save the other they'd willingly sacrifice themselves to free each other. Jong-gu will sacrifice his one real goal in life — that of finding his daughter — so that he could protect the Seoul Station men (and, by default, Mi-joo as well). Mi-joo will sacrifice her love and freedom to stay with Heung-sam so that Jong-gu can be free to find his daughter. While I'm not convinced these two will ever get their "happily-ever-after" (unfortunately!), I do love knowing how deeply they truly care for each other. Still, there's got to be a way they can both break free, and that way will likely come at the expense of Heung-sam.
Third: Heung-sam is closer to being exposed, and not just through Straw Cutter's documents. Tae-ho seems to be realizing there's a connection deeper than just business acquaintances between Se-hoon and Heung-sam, and Jung-min also seems to be suspicious, too. Everything is starting to converge on him and his secrets, and I don't think even the deadly loyalty of Praying Mantis will be able to save him.
I'm not sure whether I should be glad about that, or sad, or what. I care about him as one of our many complex characters, but I also care about the characters he seems to be using and abusing. As pointed out before, these are characters who are made up of shades of grey. There are no real "good" guys, there are no real "bad" guys — there are just guys who are using all they know to get through each day. Heung-sam seems like he's in control, but that control is precarious and based primarily on his wits and the remaining loyalty of the men around him — loyalty that is continually being tested and may, perhaps, one day be found wanting.
RELATED POSTS
Tags: featured, Last, Lee Beom-soo, Yoon Kye-sang