Last: Episode 3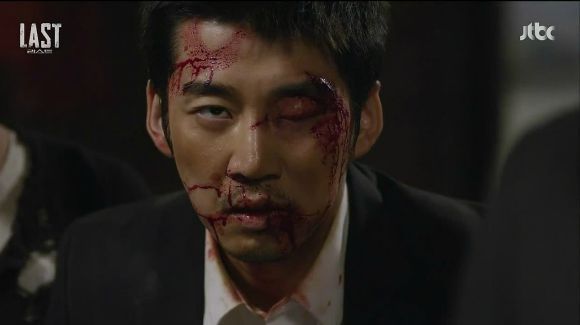 Tae-ho may have been able to establish himself as one of the Seoul Seven by his tenacity (and perhaps pure dumb luck), but attempting to take out the rest of the Seven won't be so easy. Not that it was easy before, exactly. But it's definitely an uphill battle so long as the higher Numbers are stronger, smarter, more conniving, and have the backing of Heung-sam and his sticky web of power and influence.
EPISODE 3 RECAP
In order to save the Chairman, Tae-ho challenges Sergeant Bae to a duel, telling him that Sergeant Bae can pick the time and place, but Tae-ho will beat him to a pulp. Then he and Hae-jin lead the shell-shocked Chairman to the free clinic. But Sergeant Bae's sneering smirk as they walk away implies that Tae-ho's challenge was exactly what he wanted.
As they stand next to the Chairman's hospital bed, Hae-jin fills Tae-ho in about the Chairman's past. Turns out he was actually a Chairman — he owned a factory that was unfortunately going bankrupt, and while he was busy trying to pull out all the stops to keep the company alive, it caught fire and burned down.
The fire not only destroyed what was left of his business, making him penniless (and homeless), but it also killed his wife. Hence the PTSD when he hears the sirens of a fire truck.
Hae-jin sighs, wondering if it's better for the Chairman to live in his dreamworld where he's still a Chairman, handing out his pretend 100 million won "checks." Nara bustles in, busily taking care of the new patient and pausing only briefly to do a double-take when she sees who it is. She's clearly concerned that the Chairman is in the hospital, but she brusquely reassures Tae-ho that the Chairman will recover after some rest.
As the two men leave the hospital, Nara overhears Hae-jin ask if Tae-ho really plans on fighting Sergeant Bae, worried since the Sergeant is a fierce fighter and won't be easy to beat. But Tae-ho doesn't want to continue being stepped on, so he at least has to try.
Jong-gu walks back home, passing Heung-sam's club and giving it almost a wistful glance before arriving at Nara's grandmother's restaurant. He sits himself down at the table, looking utterly dejected. In an effort to raise his spirits, Grandma pours him out a glass of soju, reminding him that blood is thicker than water and he's sure to meet "her" soon.
She gets Jong-gu to pour her a glass of soju, too. But it's bad timing since Nara arrives just then and tries to take the glass from her grandmother, reminding her that she can't have alcohol due to her health (but Grandma still manages to gulp it down anyway, ha!). As she puts the bottle away, Nara asks Jong-gu if he's going to the duel tonight, wondering if the "new guy" is only here to fight all the time.
Meanwhile, Tae-ho faces off with Sergeant Bae, his confident expression belying his inner thoughts. He knows that Sergeant Bae is the strongest, toughest guy he's met yet, and if he fights him today, Tae-ho could possibly die.
Jong-gu has the same thought as he runs to where the fight is being held. He arrives in time to see Tae-ho thrown through the window of the abandoned factory. The rest of the bums hurry inside to watch the fight continue, and Poison Snake and Crocodile also make their way to the front of the crowd.
Despite the fact that Tae-ho still manages to somehow get back on his feet with his fists out in a challenging manner as he gets in a few punches, it's clear that he's barely hanging on. Sergeant Bae hardly breaks a sweat as he continues to pummel Tae-ho. Hae-jin urges Jong-gu to do something before Tae-ho is killed, and Poison Snake smirks in satisfaction.
Jong-gu seems willing to let the fight play out, although it seems he, too, is concerned for Tae-ho's life. In the safety of his penthouse suite, Heung-sam reads through the file on Tae-ho. He sighs that it's a pity that such intelligence will go to waste, since he knows that in the fight tonight, there's no chance Tae-ho will win — or even come out alive.
However, when Sergeant Bae lifts up a sharp-edged shovel, ready to deal the final blow, Jong-gu says that the fight is over. The other three Seoul Seven leaders don't seem ready to give up yet, though, but Jong-gu reminds him that their challenge-duel rules forbid the use of weapons.
Poison Snake says that this fight is none of Jong-gu's business, and Jong-gu laughs to himself before challenging Poison Snake to a fight. If he wants to become Number Two, now's the chance. Jong-gu's readying himself by wrapping his necktie around his fists when Praying Mantis drives up, informing the Seoul Seven leaders that their presence is requested by Heung-sam.
Of course, Jong-gu refuses to go, sauntering off with a "tell him I died." But the other four are chauffeured to Heung-sam's club, where they file in to receive Heung-sam's chiding that they were squabbling with each other when they should be worried about President Jung.
Heung-sam bans any further duels until President Jung is killed — the men should be focused on keeping the loan sharks away from their turf. He then dismisses them — except for Tae-ho, who he orders to stay behind and have a drink.
As they leave, Poison Snake asks Praying Mantis if Heung-sam knows that he was the one who found out who Tae-ho really is, but the stone-faced assistant tells them, per Heung-sam's orders, that they are to keep Tae-ho's identity a secret.
Heung-sam offers Tae-ho a drink, which turns into an order to drink as a "thank you" for saving his life. If it weren't for him, Tae-ho would still be at that factory right now, getting the crap kicked out of him. But as Tae-ho finally starts to drink, Heung-sam drops the bomb that he knows who Tae-ho really is.
He says that President Jung is desperate to catch Tae-ho, but Tae-ho defends himself, explaining that he was a victim, too. Laughing, Heung-sam says that actually there's another victim — himself. He lost 5 billion won in that transaction. He cackles as he points out that by hiding from the fox (aka President Jung), Tae-ho's now in the tiger's lair.
But Tae-ho is also realizing that he's been drugged, and after he passes out, he dreams that he's driving along with Jung-min, but he slams on the breaks when he sees the shadowy figure of his old colleague, Park Min-soo. When he looks over at the passenger seat, Jung-min's replaced with President Jung, who smiles as he forces Tae-ho to step on the gas. Tae-ho screams "No!" and just as he runs into Min-soo, Tae-ho wakes up with a start in a fancy hotel room.
He's all bandaged up now, but his bruised body is still sore and he gingerly moves his body to a seated position. Mi-soo sits at the vanity, asking who Jung-min is — he was calling her name all night. Is she his girlfriend?
But Tae-ho wants to know why Mi-soo's there, and she says it's a gift from Heung-sam — both the bandages, and her. She slips off her bathrobe, and we can see there's a burn scar on her shoulder blade. Tae-ho tells her to stop as he eases himself out of the bed and starts to get dressed. Mi-soo pulls her bathrobe back on, saying — not unkindly — that he must really love his girlfriend.
But what about her? Tae-ho wonders who Mi-soo's true lover is — Heung-sam or Jong-gu. Perhaps she gets money from one and love from the other? She warns Tae-ho that once you've attracted the attention of Heung-sam, there's no escape until he consumes you and then randomly decides to throw you away. She and Jong-gu are just caught in the same web as Tae-ho.
In his bus, Jong-gu studies the photos of his wife and daughter. Then he digs through all secret storage areas until he finds a bag of hypodermic needles. Just as he's uncapped one and is ready to plunge it into his arm, Mi-soo arrives and yells at him not to do it. She reminds him if he starts up again, he won't be able to find his daughter.
He growls at her to go away and throws a soju bottle at the ground, smashing it into little pieces of glass. Fine, then — he can live as an alcoholic and die as a drug addict. As she turns to leave, he asks that she keep from going to the train station on the last day of the month.
At the free clinic, Tae-ho watches over the Chairman. Hae-jin is delighted to find him still alive after last night. Aw, Tae-ho asks about Foreman Oh, who'd already been discharged. Nara teases Tae-ho, telling him he must be a better fighter than he looks.
The Chairman wakes up just then, and Hae-jin eagerly greets him. But the old man anxiously insists he's not a chairman. Ooof. Hae-jin reassures Tae-ho that in a few days he'll be back to his old Chairman self. Worried about the Chairman's condition, Tae-ho asks Hae-jin to find a room to rent nearby. They may be broke and homeless, but since Tae-ho is Seoul Station's Number Seven, he should be able to afford something.
As Tae-ho approaches Jong-gu's bus, he sees the scattering of hypodermic needles on the pavement outside. Jong-gu tells him that one needle is like a case of soju, and that he was just testing to see if he's over his addiction. Uh-huh. Sure.
He reminds Tae-ho that he'd accepting him as his first-ever student only to have Tae-ho ignore his teaching (by getting into a duel with Sergeant Bae when he wasn't ready yet). Tae-ho apologies, and Jong-gu tells him he should just give up. If he teaches him how to hit, Tae-ho will just run straight to Number One to try and fight him. Instead, he should just stop now and live a long life.
As Jong-gu stomps on the rest of the needles, crushing them under his feet, Tae-ho tells him that Heung-sam knows everything — who he really is and why he ran away. There's obviously something up his sleeve if he let Jong-gu live after discovering that he was responsible for losing 5 billion won.
Tae-ho's new plan is to not try to fight Heung-sam, but get as close to him as one of his men, and then when Heung-sam trusts him, Tae-ho will steal everything from him. That will be the only way he can escape. He begs Jong-gu to give him another chance.
As an answer, Jong-gu punches him in the chest, right where his broken ribs are, and Tae-ho steps back in pain. He tries to hide it, but each half-hearted jab Jong-gu gives to his body clearly has him reeling in pain. The first thing Tae-ho needs to learn is how to tolerate the pain from being hit.
Hae-jin's managed to find a room to rent — and it's none other than a room in Nara's grandmother's house. Nara's annoyed that Grandma let them stay there without asking her first, but Grandma says they're paying rent, and if she has a problem with it, then Nara can just get married and move out. Pffft.
It's pouring buckets when Tae-ho hurries home after his workout with Jong-gu, but he stops when he sees Nara tending some flowers in a communal garden. He stoops down to help her, but when he realizes that the plants will become waterlogged, he asks for her umbrella to protect them. As they run home in the rain, Tae-ho creates a makeshift umbrella by hoisting his jacket above their heads. It's super sweet, but knowing he spend the day practicing with Jong-gu, it's probably the not best-smelling "umbrella" ever.
Aw, it's adorable how delighted Tae-ho is to have a proper pillow under his head and roof over it. He wonders what kind of house Heung-sam lives in, and Hae-jin says that he lives in the penthouse suite of a hotel. Heung-sam refuses to buy a house since he still considers himself to be one of them, one of the "homeless."
In that fancy-pants penthouse, Praying Mantis packs rolls of cash into a whiskey box to give as a bribe, and as Heung-sam looks out on the cityscape below him, Tae-ho quietly practices punching the air while Hae-jin sleeps beside him.
Early the next morning, Tae-ho is ready and eager for his training, much to Jong-gu's sleepy bemusement. Montage time! Tae-ho works hard to learn to fight and build up his muscles, while Jong-gu spends most of his time napping or drinking soju. During a break time, Tae-ho asks about Mi-soo — exactly what is going on between them?
Jong-gu simply says that he's the beggar and she's the madam, but Tae-ho wryly responds that she seemed awfully concerned about him. Even though Jong-gu brushes him off, Tae-ho's not done prying — he asks about the photos Jong-gu keeps of his wife and daughter. They look like they were taken a long time ago. In response, Jong-gu punches him.
At Grandma's restaurant, Tae-ho pouts into his bowl of stew. Sliding a glass of soju over by way of a peace offering, Jong-gu teasingly tells him that he shouldn't take it so personally, but Tae-ho says that he still shouldn't beat up his student just because he didn't want him nosing into his personal life.
But he still pours Jong-gu a glass of soju, and Jong-gu laughing accepts it. His face grows serious as he says that his daughter disappeared when she was twelve years old, around the time he got out of prison, and he has no idea where she is now, eight years later. As for his wife, she died, and he can't remember where spread her ashes.
Tae-ho also opens up about his past — his step-father was an a colonel in the army who believed the best way of controlling his men (and his step-sons) was by beating them. When he could no longer endure it, he ran away from home, and hasn't been back since. Jong-gu tells him he'll have to beat Sergeant Bae so that he can also beat the Colonel from his past.
The past is also rearing its head for Jung-min, who's worried about being accepted by Chairman Yoon's family — since she is, after all, an illegitimate child. But Chairman Yoon reassures her it will all work out.
The most important thing is to focus on the business, anyway, since she's been transferred to Se-hoon's department. Jung-min slowly begins to realize that Chairman Yoon only really cares that she's his daughter because it means he can add another option for a blood relative to inherit the company.
In the morning when she arrives at work, Se-hoon gives Jung-min a chilly reception while they ride up in the elevator together. She asks him to give her a chance to explain, but instead he reminds her that he's told her everything about his past, and all the struggles he went through growing up, yet she didn't open up to him at all.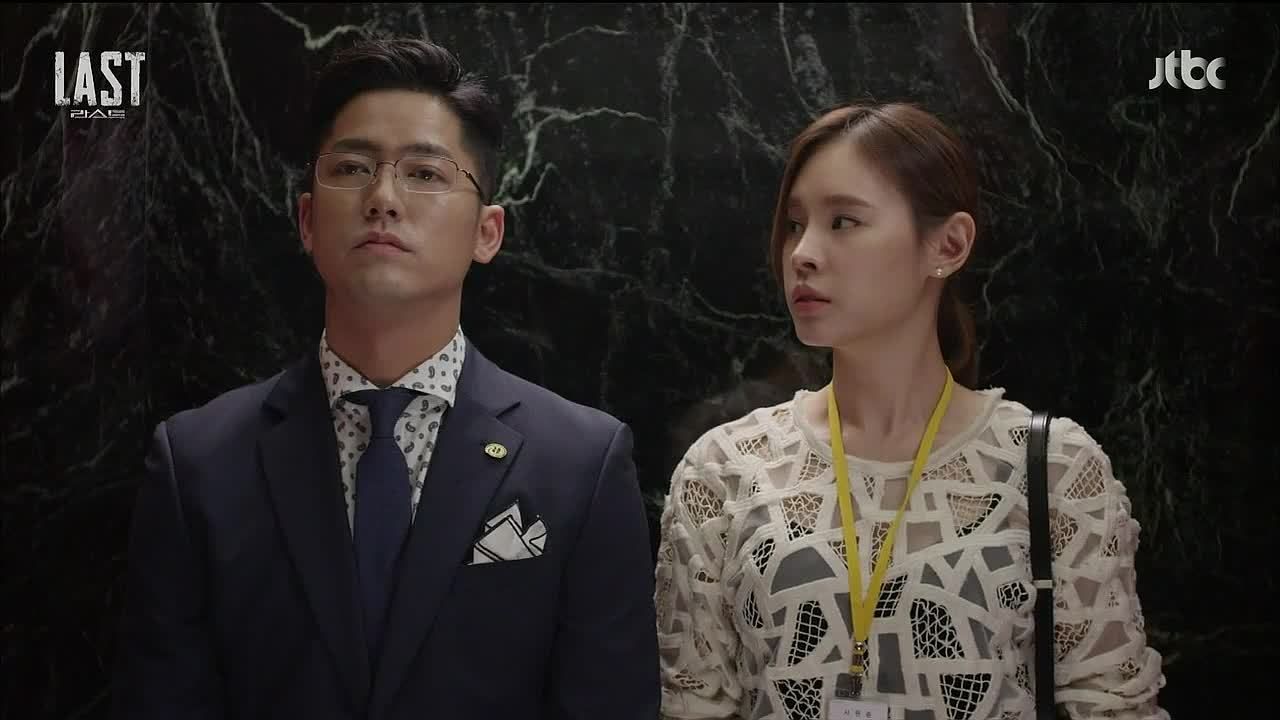 \
She suddenly hits the emergency "stop" button and pulls him into a tight hug, telling him that she's the type of person to live as she likes, which doesn't exactly endear her to others. She promises to share her life with him, so long as he stays by her side.
Se-hoon has a meeting with some businessmen later, and is surprised when he and his boss arrive at Heung-sam's club. They're there to meet with Vice-Minister Moon from the Department of Transportation, who's already having a grand time chatting with Heung-sam (who's introduced to Se-hoon as the Chairman of the New Seoul Hope Society). Heung-sam greets him pleasantly, but it's clear Se-hoon does not want to be there.
Tae-ho's retrieved the engagement ring he bought Jung-min from the shop where he had pawned it, and he tries to call her by using a payphone, but only gets the message that the number is out of service. As he steps out the phone booth, he sees President Jung in a car across the street, and immediately turns around, fearful of being seen. But whew, it looks like President Jung didn't notice him.
Heung-sam's busy making sure everyone's glasses are kept full. Or, rather, Mi-soo and the other girls are busy making sure the men want for nothing. But Se-hoon is still annoyed that they're playing around when they should be focused on doing business through proper channels. He stands up to leave, but just then Director Choi arrives — quickly followed by President Jung. Heung-sam is delighted to see the former, not so much the latter.
Despite his polite insistence that President Jung should join them for drinks, it's clear that Heung-sam doesn't want President Jung there — a fact that President Jung knows all too well. After the other men leave (drunk and with women on their arms — except for the straight-laced Se-hoon, of course), President Jung candidly warns Heung-sam that the congressman they're trying to woo is won over with money.
He implies that Heung-sam must not be making enough from his "hobos" and that he was out-bid (or, to be accurate, out-bribed) by President Jung. Heung-sam warns the overly confident President Jung that he's being too cocky, and he'll make him pay. But President Jung just swaggers out of the bar.
Angry, Heung-sam demands the car keys from Praying Mantis. He drives recklessly, speeding faster and faster as he gets closer to the edge of a parking lot overlooking the river. In the passenger seat, Mi-joo watches in alarm until they almost reach the guardrail, then she cries out in fear and he swerves at the last minute.
They park by the river, and Heung-sam wonders why she doesn't try to leave him. If it's in the hope that Jong-gu will come for her, she should just give it up — if he had really wanted to run away with Mi-soo, Jong-gu would have done so years ago. But Mi-soo says that's all in the past and forgotten.
She tries to distract him by asking what he'll do about President Jung, but Heung-sam scoffs. He's just a bug that Heung-sam will crush. Then he looks over a Mi-soo, sincerely asking (or ordering/) her to not leave him. She promises that's not something she even considers doing.
COMMENTS
I think what I love most about this drama so far is that there is a depth to not just the characters, but the world they inhabit. I love that there are "rules" to fight so that it remains civilized. These are men who struggle to survive each day, yet strive to maintain a code of conduct. Yes, you can challenge someone to a duel, but you can't use weapons, only our fists. You can't kill each other, either, or chaos wins. It's easier to survive in a pack and the alpha wins — both the glory and frustrations of responsibility for being a leader.
When I first met Tae-ho (er, a few days ago… hey, I may be a little late to this party, but it's one I'm eager to get caught up on!), I didn't think much of his character at first. I didn't think he was a terrible person, but neither did I really classify him as a "noble hero," a do-gooder who first-and-foremost wants to right the wrongs of an unjust system. But there is definitely a strong streak of integrity about him, and I suppose hitting rock bottom will cause a man to seriously contemplate his life and what he wants out of it (especially if he still has to figure out how to keep from being killed).
I also really appreciate that the show didn't have him magically win his first fight (or first few fights). It was clear that Sergeant Bae was going to end him (after all, that did seem to the point of provoking him in the first place), and even though it's admirable that Tae-ho is so tenacious, I did want to scream "no just give up already!" as he tried to continue to insist that he could totally keep going even though he could only stand up with Hae-jin's help. I like it when the hero has to work hard to succeed — and repeatedly fails in his attempts — instead of just being handed success on a platter just because he's the designated hero of the story.
As enjoyable (and painful!) as it will be to follow Tae-ho on his journey, I'm actually more curious about Heung-sam, Mi-soo, and (most especially) Jong-gu. Getting little glimpses of their past lives, and how they might be entertained, almost gives the feeling that Tae-ho's story is a sequel of sorts. What happened twelve years ago that Jong-gu might have taken the train with Mi-soo? Why does it seem like she is willingly (if a bit reluctantly) snared in Heung-sam's web? He clearly cares for her, even if he's aware that he's not the one she loves. There's a richness, too, about the glimpses we've seen of their backstory that give me hope everything will come together in a meaningful way.
I'm also a total sucker for the wise-but-broken mentor forced to adopt the eager young mentee. Even though I enjoy the diversity of characters in the show, Jong-gu has swiftly become my favorite. There's a realness and rawness to his struggles with alcoholism and drug addiction, even as it's clear he's fighting to redeem himself as he attempts to find his daughter (and I have my sneaking suspicion that Heung-sam might know exactly where she is, and would tell Jong-gu if only he would agree to support Heung-sam like the other "Numbers"). Plus it doesn't hurt that Park Won-sang (and his amazing cheekbones and floofy hair) imbues this character with a mischievous twinkle that sometimes masks the deeper sadness and general weariness of a man who's spent the last dozen years or so on the fringes of society, fighting (and giving in) to vices that giving meaning to a life that feels so empty. Or maybe I'm reading too much into his character (or every character, actually) — but I don't believe I am.
Watching a drama with an interesting plot and characters is one thing, but watching a drama where you're convinced the writer and director already have crafted a fully-developed world and history for each and every character even if we might not ever see that world from where we sit on the other side of the screen, and where it seems like their actions are motivated beyond more than just a slapped-on gimmick to move to the next episode — well, that's definitely refreshing, to say the least. I just want to live with these characters (all of them! Not just the main ones, but minor characters, like Grandma and Hae-jin, too) and and get to know their stories.
Which is probably the best place to be at when you're only three episodes into a show, and have many more to go. (Thanks again for your patience as we hurry to get these recaps out and *fingers crossed* get caught up to the live air-dates soon!)
RELATED POSTS
Tags: featured, Last, Lee Beom-soo, Yoon Kye-sang