Mrs. Cop: Episode 7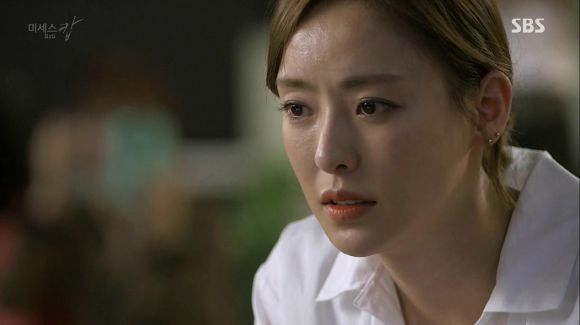 As one case is closed, another opens, and Young-jin's team refocuses on the teenage sex-trafficking ring. But some things just don't add up, and there may be more to this case than meets the eye. Meanwhile Do-young still has a lot to learn about how to be part of a team, and Jin-woo seems to be just the guy to show her how it's done.
EPISODE 7 RECAP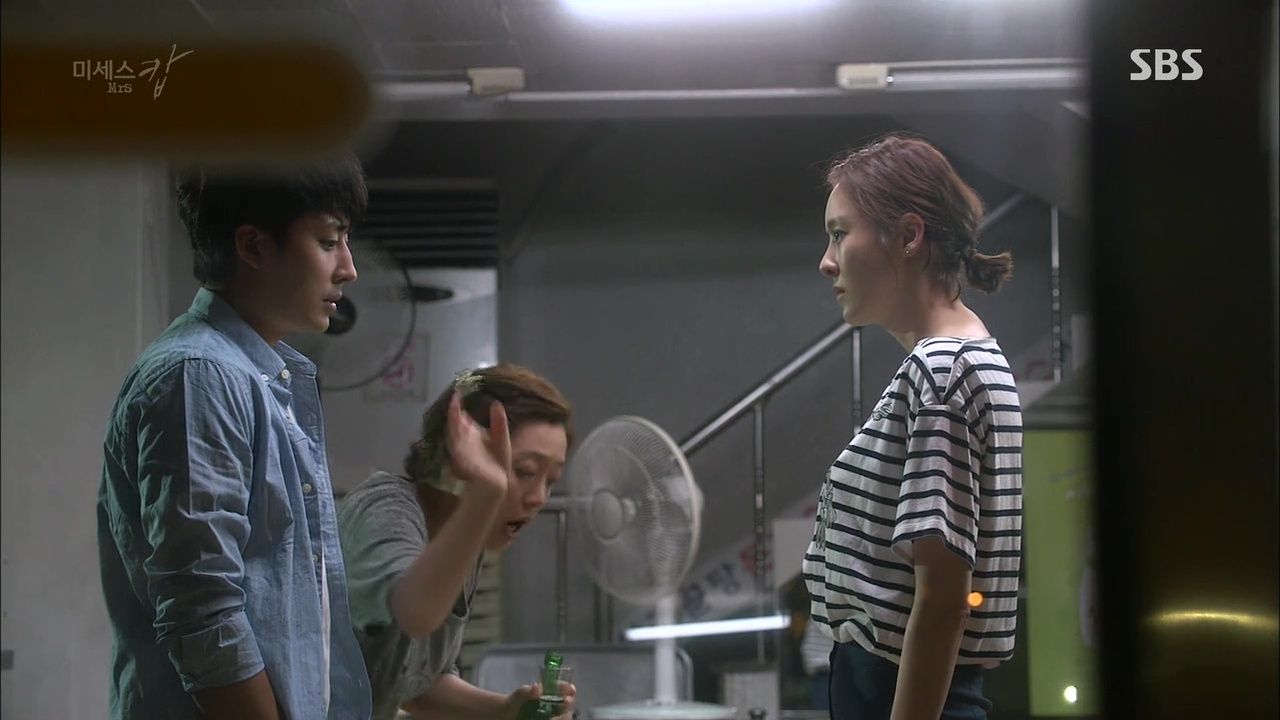 Jin-woo finds Do-young drinking alone at Jae-soo's restaurant, ignoring her when she basically tells him to get lost. She's still angry at the way he recklessly got Ji-yeon hurt on the subway, and she talks to him in banmal and throws her drink in his face. They both stand and Do-young says that guys like him shouldn't be cops.
Jin-woo asks what she means by that, and she says there's a name for the way he behaves — intermittent explosive disorder. He's too dangerous to be a cop, because more people will get hurt than arrested. Jin-woo calmly points out that she's the one who had a tantrum because she couldn't catch the criminal.
Jae-soo grumbles at them to stop yelling, and just go outside and shoot each other already, heh. Jin-woo apologizes to her and leaves, with Do-young shooting eye-lasers at his back as he goes.
President Kang visits his son Jae-won in jail, bringing the news that Prosecutor Go has agreed to their plea bargain of five years. Jae-won has the nerve to complain, but his father says that not all five years are the same, promising to explain when the details are ironed out.
That night President Kang drinks with Chief Yeom, congratulating himself for helping Yeon catch the drug dealers. Chief Yeom wonders what he means, but figures out that Kang was profiting from the drug ring.
President Kang just says that even Chief Yeom doesn't live off his salary alone, though Yeom says that he could if he wanted to. Yeom asks after Jae-won, and President Kang says he's doing well, "Thanks to you." Things are definitely getting tense between these two.
Young-jin brings a report to Chief Yeom on the drug dealers, having noticed that they sell a lot more than they grow. They must be importing it. Yeom wants to give permission for her to pursue the drug smuggling but worries that the narcotics team will object, so Young-jin proposes they work together.
Young-jin notices that Do-young seems out of sorts and tells her to cheer up, then hands Jin-woo a file. It's the one girl from the sex trafficking ring who was stopped at the border and sent back, Eun-young, and she directs Jin-woo to find her.
Jin-woo and Do-young wait outside a high school, Do-young still glaring holes into Jin-woo's back. She says she plans to write a report on his actions, annoyed when he's just all, "Sure, you do that, don't forget any details." When they find Eun-young's friend, she takes them to see where Eun-young's been staying, and they're horrified to find an abandoned building filled with garbage.
Back at the station Do-young works furiously on her report on Jin-woo, glaring at him so hard it looks painful, hee. Jin-woo tells Young-jin that they found where Eun-young lives — her mother ran off and her home is a hovel, and she has no phone so they can't contact her.
They did learn from her friend that there's a jjimjilbang that Eun-young visits often, and she should be there tomorrow. Jae-duk found out that the phone that "President Wang" was using to solicit girls was a burner that's been tossed already, but that the GPS showed he was at the location where they tried to catch him using the other girl as bait.
Do-young turns in her report on Jin-woo, but a call alerts the team that Ji-yeon has woken in the hospital. Young-jin gently chides her for trying to stab her attacker herself, saying that she's lucky Jin-woo was there. Ji-yeon thanks him for saving her, and Do-young looks shocked to hear that Ji-yeon had pulled a knife.
She and Jin-woo end up drinking at Jae-soo's again, and this time Do-young is much more contrite. She apologizes, but Jin-woo says he understands — she didn't see Ji-yeon holding the knife, so to her perspective it made no sense why Jin-woo attacked.
Jin-woo lets out a small laugh which Do-young mistakes as him being amused by her over-reaction, and now she's angry with him for not just telling her about the knife. He growls that that's not why he was laughing, so she demands to know why. "Because I like the way you are." Oh.
A young girl is gagged and tied to a pole, half-submerged in water, and a man comes to taunt her. He holds a phone up and says if someone answers within ten rings, then they can save her — but if not, "the game ends here." He calls the number labeled "Mom," grinning as the phone rings… and rings… and rings…
Young-jin and Do-young talk in a coffee shop, where Young-jin mentions Do-young's report on Jin-woo. She advises Do-young that partners will fight and have misunderstandings, and tells her not to lose to the men.
Do-young asks why Violent Crimes is working on the sex trafficking case, since it's not the usual sort of case they handle. Young-jin explains that if those young women aren't found, they could start stealing, and eventually who knows what they'll do. Prevention is as important as catching already-violent criminals.
When Do-young asks why they have to think about that, Young-jin laughs that when you've been in the department as long as she has, you eventually worry about this sort of thing. She tells Do-young that, being an elite graduate, she'll probably be promoted even faster than Young-jin. She should get in the habit of thinking about prevention.
A teenage girl sits nervously in a jjimjilbang, and she makes several attempts to swipe a customer's cell phone. She finally nabs it, and nearly immediately gets a text from the owner asking for its return in exchange for a reward.
The girl waits in an alley for the phone's owner, who offers her a meal in addition to the reward. She's nervous but needs the money, and he's handsome and friendly, so she gets in his car. He asks if she really just found the phone, saying that he saw her at the jjimjilbang, and locks the doors as his smile fades.
The man says he knows she stole his phone and threatens to call the police if she gets out of the car — but he'll forget about it if she plays a game with him. He starts getting handsy and she throws a drink from the console in his face, then jumps out of the car and runs with the man right on her heels.
The team doesn't find Eun-young at a cafe where she was supposed to be going either, but they hear a scream outside and catch a glimpse of the girl heading down into the subway. The man catches up and knocks her down, but thankfully Jin-woo grabs him before he can hurt her.
Of course the man claims he was only trying to catch her because she stole his phone, but Young-jin recognizes her as Eun-young, the very person they're looking for.
They all go to the station, where the man (whose name is Seung-hoon) swears that he was trying to teach the girl a lesson by catching her himself and taking her to the police. Eun-young tells them he was trying to molest her, but it's her word against his.
The CCTV footage from the sauna shows Eun-young clearly stealing the phone, and Eun-kyung offers to forget the whole thing and call it even, thinking they won't believe her side of the story. But they have to take her in since there's evidence of her stealing.
Young-jin takes Eun-young to the interrogation room and feeds her, and offers to help her if she'll reveal where the men are who tried to sell her to Japan. Eun-young isn't inclined to cooperate, and figures that at least in jail she'll have food and shelter.
Young-jin lets her go anyway, which of course annoys straight-and-narrow Do-young. Jin-woo pulls her out for a talk, and Do-young argues Young-jin is only doing this to get information on the sex traffickers. But Jin-woo is thinking about the girl — she only stole because she was hungry, and the phone was returned, so there's no harm done.
Do-young argues that letting a thief get away isn't justice, and Jin-woo asks if she really sees nothing wrong with putting a hungry kid in prison. Of course Do-young knows that's not a good thing either, but she says they're still police officers, and it's their job to stop criminals.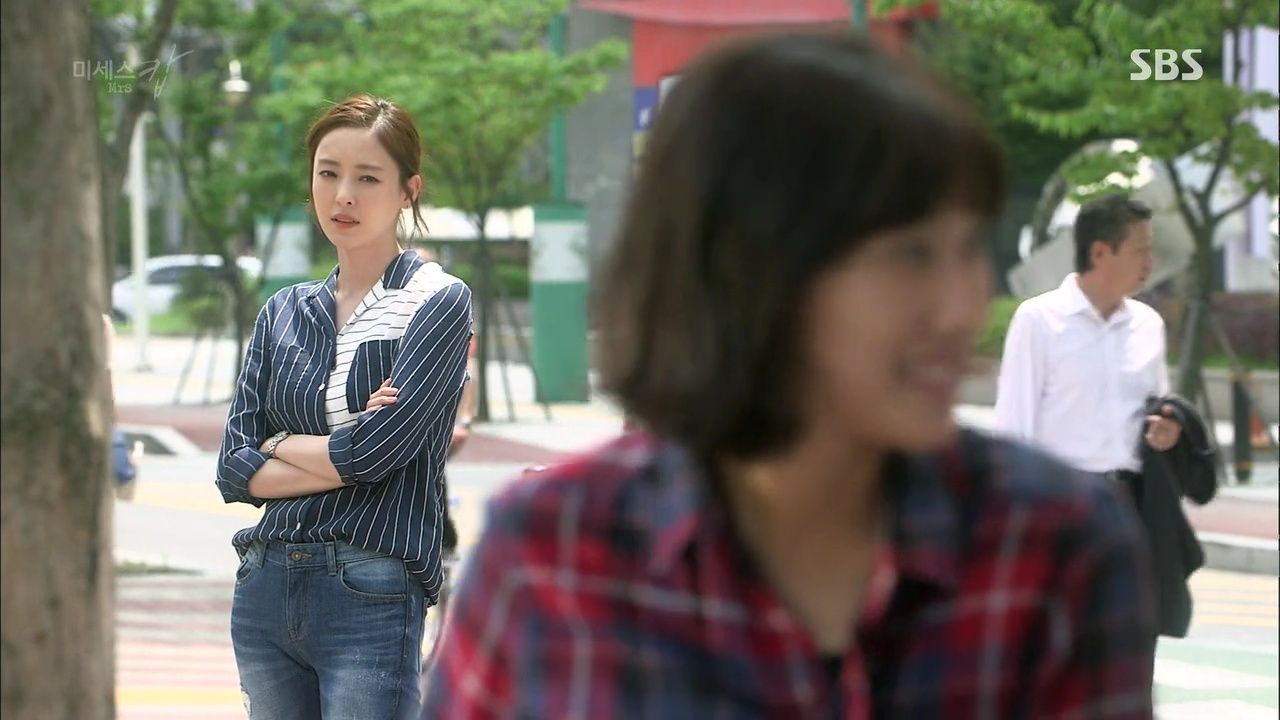 Jin-woo ultimately tells Do-young to follow orders, and they set Eun-young free. She's not even grateful and leaves with an attitude, and Do-young just gapes at her. They drive her home, and Jin-woo says to Do-young not to come back until Eun-young talks. Then he kicks her out of the car. HA.
Do-young has no choice but to go inside, where Eun-young warns her in a snotty tone about the bugs and rats. But she's determined not to talk about the men who tried to kidnap her, and Do-young despairs of ever getting out of here.
She follows Eun-young around, slackjawed at her tricks for getting free food and lying to people for bus fare. She reports every law violation to Jin-woo, who tells her to just do whatever she wants with Eun-young to discipline her. And then kicks her out of the car again. This is my new favorite thing.
Meanwhile Young-jin seems to have found Eun-young's mother, and she tells her that Eun-young has no place to go. She asks her not to throw out Eun-young like trash, like her school and the shelter did — but if she does, the least she can do is to give up her parental rights. That way Young-jin can make legal arrangements for her, and find her a place to stay.
Do-young finds Eun-young in a restaurant, all dolled up in order to con alcohol from the owner, and Eun-young sticks her with the bill. Eun-young says that everyone gets used — Do-young was used for a meal, she got used for sex by the traffickers — people only care about you when they need you for something. That's so sad.
Eun-young says she's tired of Do-young looking at her like she's a bum, and stalks away. Do-young takes a walk, suddenly noticing people she's never noticed before, like a group of young girls wearing too much makeup and cheap shoes. Knowing what she knows now, she can tell the girls are soliciting men for money.
The next day when Do-young's coin is eaten by a vending machine, Eun-young is there to give it her special kick that gives back the coin and a drink. The two sit in a playground, and Do-young offers to teach Eun-young how to fight when she says she doesn't know how.
She even teaches Eun-young the difference in fighting whether your opponent is a man or a woman, and the ice between them seems to be melting. Do-young apologizes for looking at Eun-young like she's a bum, and impresses the girl with her filthy mouth.
Young-jin's team bring her information on a man named Shin Myung-ho, who hires underage girls to work in his nightclub. Not only that, but he wears a monitoring bracelet for a previous sexual assault on a minor. Ick. But Eun-young still isn't talking, and Young-jin tells Do-young to get the information from her soon.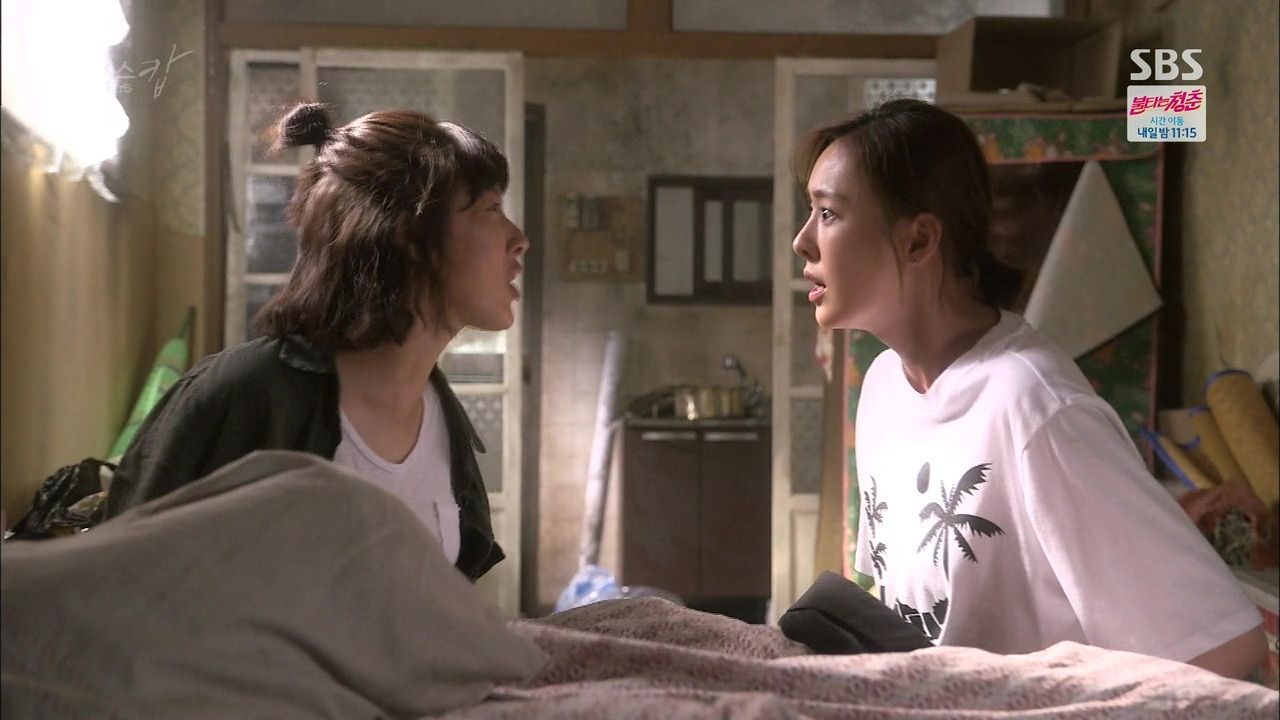 Do-young finds Eun-young putting her fight training to good use, taking down a bully to get back money that was previously stolen from her. But Do-young assumes that Eun-young was stealing, and Eun-young doesn't correct her.
Angry, Do-young tells Eun-young that she can't stay in this run-down place anymore, saying that she'll take her to a shelter or prison, she doesn't care. Eun-young yells for Do-young to just hit her — she's nothing but a thief anyway. Do-young leaves, running into Jin-woo on his way in after hearing them yelling, and she tells him that she can't do this anymore.
Eun-young sobs at being abandoned once again, but Do-young comes back inside and finds her. She leaves food, money, and a note, and leaves again without saying anything. But in the car on the way back to the station, Do-young cries herself even as she insists she doesn't care about Eun-young.
Young-jin, Jae-duk, and Se-won go to the nightclub to talk to Myung-ho, but his employee says he's not there. However, when told to call him they find his phone charging under the desk, and Young-jin knows he wouldn't leave without his phone. They all sit to wait, annoying the employee.
Alone at the station, Do-young gets a text from Eun-young telling her that they can find the sex traffickers at a hotel in Youngjong-do, and that she was only taking back money from a bully that had stolen from her. Do-young calls Young-jin with the location of the traffickers, and the whole team goes to check it out together.
At the hotel, they bust in quickly so the traffickers don't have time to escape, catching them as they're manhandling three teenage girls. They make the arrests and take the men back to the station, but Young-jin suspects the men haven't told them about all of their victims. She has some girls' files that don't match up with the traffickers' records, but the traffickers swear they don't know them.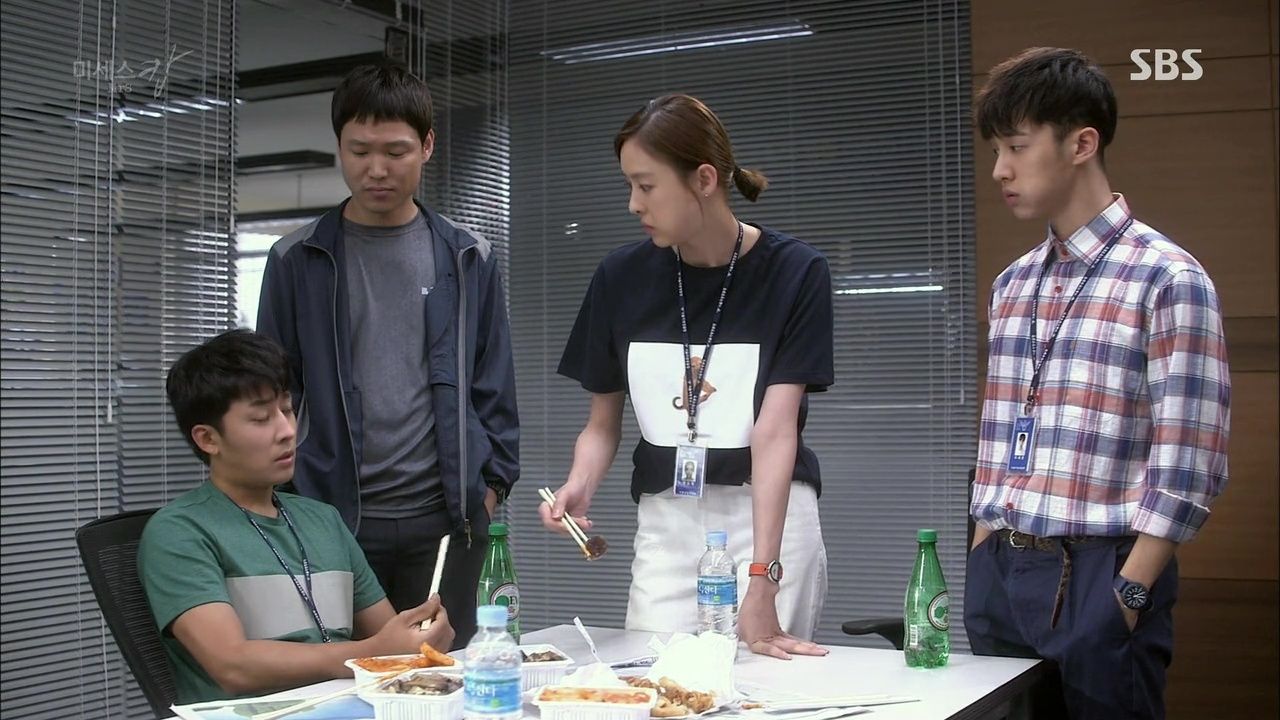 Do-young assumes that they're finished now that they caught the criminals, but Se-won says that to Young-jin, this has always been more about rescuing the girls. Jae-duk actually agrees with Do-young this time — this is Violent Crimes, not Missing Persons. Jin-woo wonders if the girls could be dead, and suggests they check the unclaimed bodies that met unexplained deaths.
Nam-jin meets with Ha-eun's teacher, who tells her that Ha-eun's been irritable and fights with her friends a lot lately. She suggests they give her more attention at home, and asks when she'll ever get to meet Ha-eun's mom.
Jae-soo brings side dishes to Nam-jin, and horrifies her by revealing that she uses MSG, hee. Cranky Ha-eun storms in and lights into Nam-jin for doing her hair in pigtails, saying that she got teased at school.
She's also angry about her wardrobe, and yells at Nam-jin for… basically everything. Nam-jin says that she never acts like this when her mother is around, and gets kicked out of Ha-eun's room. Crying, Nam-jin calls Young-jin for support, but gets no answer.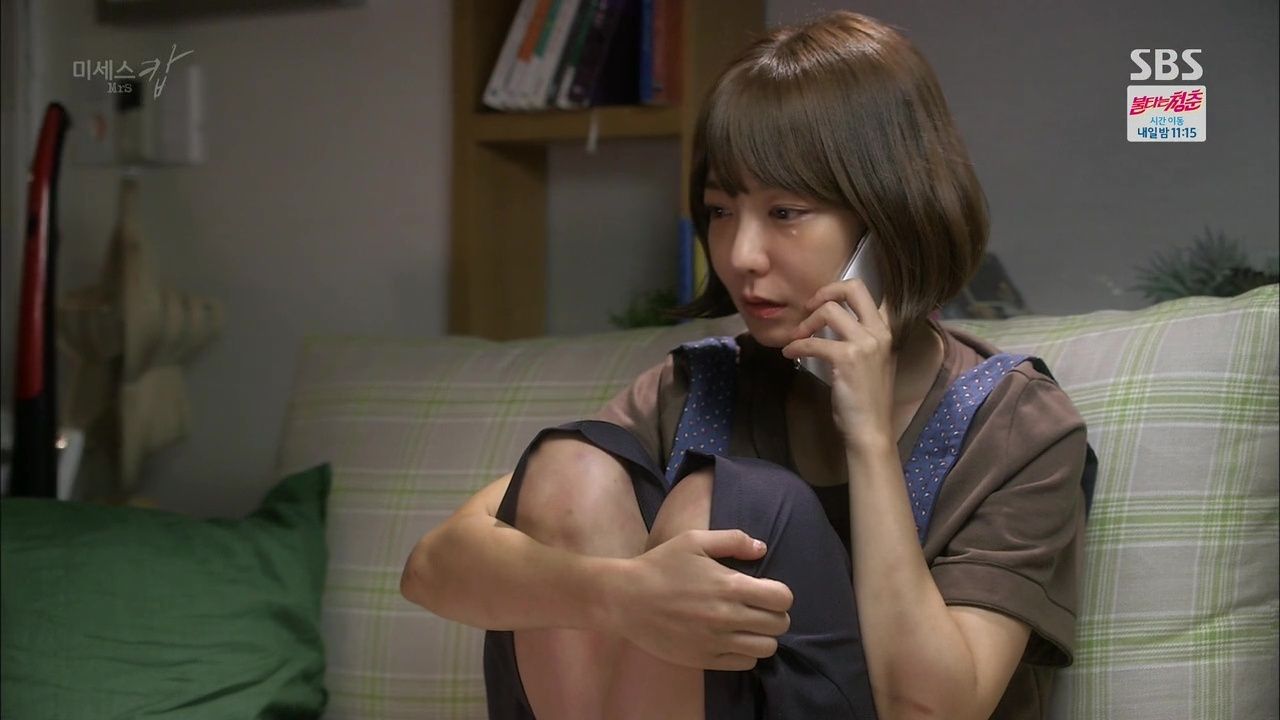 The girl who was tied up in the water is found dead, still lashed to the pole. Jong-ho finds Young-jin sleeping on her desk in the morning and tells her that one of the missing girls has been found. We see in flashback that the girl had found a familiar-looking phone, and the same man who tried to kidnap Eun-young had taken her.
Young-jin puts the clues together and figures out that the girls they assumed were taken by the sex trafficking ring, but whom those men claimed not to know, might have actually been kidnapped by the same man who killed this girl. She reports that she plans to investigate this death as part of a serial killer case, along with several other missing girls.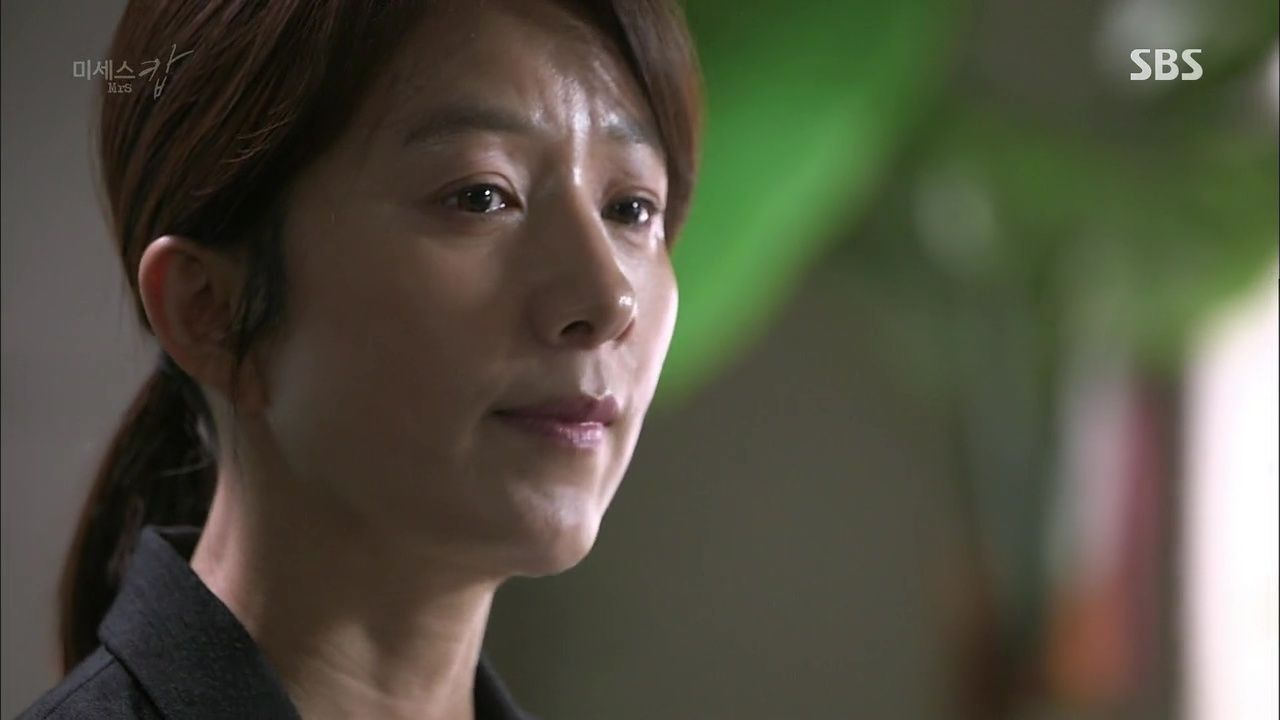 COMMENTS
I don't know what happened to the show that we were supposed to be watching about an experienced female cop who tries unsuccessfully to balance her work and her family life, but I'm giving up on that premise for now. Or at least until the show itself picks up that plotline again, because it's pretty much gone in any significant way. I don't know why, but the show has only given Ha-eun and Nam-jin token scenes in the past few episodes, and is practically writing Young-jin herself out of the plot except as a mentor to her team. I suppose it's possible that the writer saw the initial response to the story and decided to try something new, but it's strange to think you're watching a show about a cop who's an absent mother, when her family life is barely even mentioned. So rather than continue to complain about it, I'm just going to accept it.
At this point we've spent so much time in the last few episodes focusing on Do-young and her development as a detective, I'm just going to treat her as the real lead of this drama for now. For some reason the writers have taken a left turn and Mrs. Cop is an entirely different show now than it was when it started. Not that I'm really complaining, believe it or not, because I actually like what we're being given now. Do-young is a fantastic and relatable character, and I love her struggle as she tries to reconcile her desire to put all the bad guys away with her realization that not all "bad guys" are actually bad. She's so adorably horrified every time she discovers something that's not black and white, and her added conflict with Jin-woo is really sweet. So if the show is going to make this more about Do-young and her education in learning to be a god detective — well okay, count me in. It's not the show I expected, but it's still a fun and entertaining drama.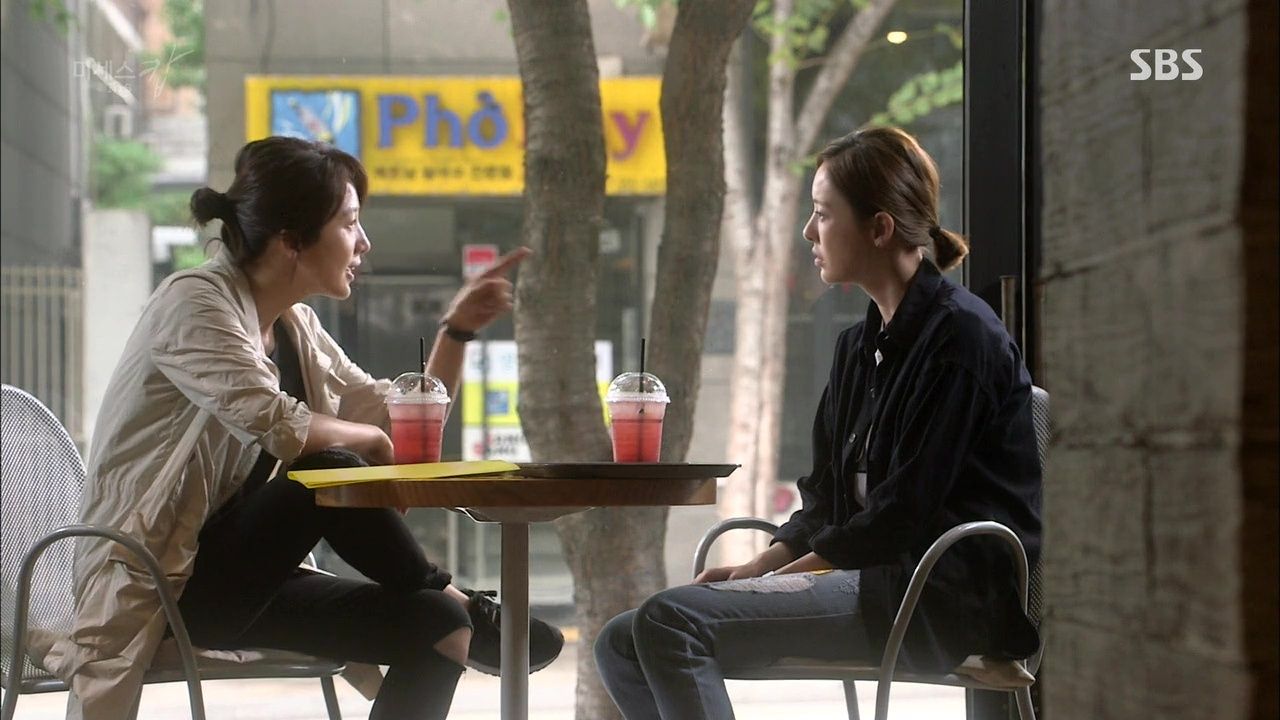 It's interesting how Do-young has so much to learn, and yet I don't feel as if the show is getting preachy or obvious with her lessons. In fact I almost didn't catch that she basically needed to learn the same thing from both cases in which she reacted emotionally without knowing all the facts. First she got angry with Jin-woo and blamed him for getting Ji-yeon hurt, when the truth was that he knew Ji-yeon had a knife and was about to get herself killed. Yes, his attack on her assaulter got her injured, but if he hadn't acted right then she almost certainly would have ended up dead.
then almost the exact same thing happened when Do-young saw Eun-young taking money from that girl – she jumped to the conclusion that Eun-young was stealing without even asking the girl what was happening. A simple calm discussion would have cleared up the misunderstanding in both situations, but instead Do-young assumed the worst and hurt people with her assumptions. It's ironic that her biggest complaint about Jin-woo is his impulsiveness, when the truth is that Do-young is probably more impulsive than he is.
Speaking of Jin-woo — how much do I love him? SO MUCH. For a quiet guy, he's pretty expressive, and I like that he doesn't try to talk Do-young out of her wrongheaded ideas. He's got better ways to make his point — for example, if you don't understand why a homeless teenager might steal, and think that theft is theft and should be punished no matter what, well, try living with the thief for a few days and see how you feel. Much easier for him than trying to argue with her, and it certainly taught Do-young that not everything is as clear-cut as it seems in a way that just telling her with words couldn't get across. But Jin-woo definitely has his own demons and he's going to have to face them sooner or later. I just hope that Do-young can help him as gently as he's been helping her.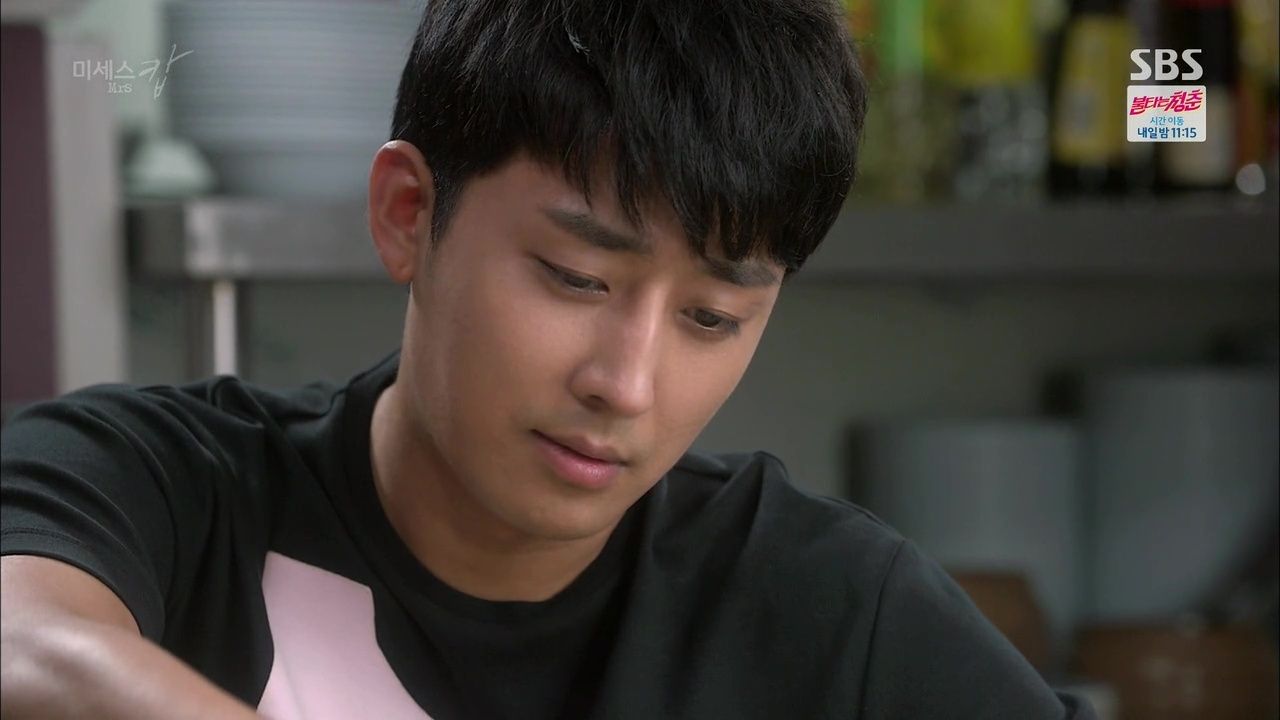 RELATED POSTS
Tags: featured, Kim Hee-ae, Kim Min-jong, Lee Da-hee, Mrs. Cop, Sohn Ho-joon