Last: Episode 16 (Final)
No turning back now — it's finally the last episode of Last. Noooooooooo! I'm not ready to say good-bye! But we have to find out how well Tae-ho's plan to out-smart Heung-sam works, if it works at all. More importantly, we need to find out who survives until the bitter end (and whether or not that end is, indeed, bitter). Will it be total death and destruction, or is there a chance for a happily-ever-after? Even though this is Dramaland, there are no guarantees when it comes to Seoul Station.
FINAL EPISODE RECAP
The news breaks about the Director Choi's shady investment of the Mi Rae City project, and the project has been halted so the prosecutors can look into it. Heung-sam is far from happy to hear this news, chucking the TV remote across the room and asking Mi-joo to pack him a change of clothes in anticipation for being brought in by the prosecution office.
As he's escorted to the prosecutors office, he passes Se-hoon (also being escorted), and he snidely remarks that this isn't how he thought a big company like the Han Joong Group would handle itself.
Nara puts up some flowers on Jong-gu's bus — or I suppose it's now Tae-ho's bus. *sniffle, sniffle*
He catches her in the act and she says that she just happened to be in the area. Yeah, uh-huh, suuuure. As he drops wearily onto one of the sofas, she asks if he's the one responsible for Mi Rae City project being halted.
He laughs it off, saying he's not that powerful. But she's onto him, and thanks him on behalf of her grandmother, since that means she'll be able to keep her restaurant. Tae-ho pats the space on the sofa next to him, telling her if she really wanted to thank him, she'd do him a favor.
Aw, that favor is to just be his pillow for a few minutes, and he leans over to put his head on her shoulder. She smiles to herself as Tae-ho takes a much needed nap. So. Cute.
Heung-sam is finally released from his interrogation by the prosecutors office (aw, the disappointed look he gives his brother on the way out makes me actually feel bad for the puppy-face Se-hoon). Back in his penthouse, the sounds of the Vienna Boys Choir begin to soothe him as Tae-ho tells him that it will be contractually impossible to get enough investment for the Mi Rae City project to continue.
That's okay — Heung-sam has a back-up plan. He shows Tae-ho that there will be a shareholders meeting next month to decide on who will be Han Joong Group's successor. Right now, President Yoon's son is the sure winner because he's been quietly buying up a majority of the stocks in one of the holding companies.
In retaliation, now that Han Joong Group's stocks have taken a nose-dive thanks to the recent scandal, Heung-sam plans to buy as many as possible while they're still dirt cheap. Tae-ho points out that you need money to buy stocks, and even if they used up every cent Heung-sam has, it won't be enough to out-buy President Yoon and his son. Heung-sam just chuckles, because he's got another source of stocks in Jung-min, his brother's girlfriend.
Tae-ho still doesn't think Heung-sam has enough funds to put his plan into action — he'll still need at least 140 billion won. But Heung-sam isn't worried. After all, he's still got his connections.
Or at least a connection with a loan shark who agrees to give the money (at an outrageous interest rate) provided that Heung-sam puts up everything he owns as collateral. Since that isn't much, he also requests Heung-sam to put himself up as collateral. Yikes.
But Heung-sam confidently signs the agreement, although his confidence sags slightly afterwards when Tae-ho points out that if he fails, Heung-sam will lose everything he's worked so hard for all these years. As for Tae-ho, he's not afraid — he's already hit rock bottom, so this is his last chance to get his life back.
Praying Mantis is still alive (whew!), lying on the floor of the abandoned factory, his hands tied behind his back. When Heung-sam stops by, Praying Mantis asks Heung-sam for another chance. But Heung-sam points out that he's not one to give chances — Praying Mantis has to take it for himself.
Tae-ho's busy organizing his men for the next step in his plan to steal Heung-sam's money and oust him as Number One. It's a little complicated, but basically Tae-ho is planning to steal all of Heung-sam's money by faking the results of the stock market and cashing in on investments against Han Joong Group by using Heung-sam's stolen identities from the homeless men against him. It's very Ocean's 11.
While Tae-ho and his band of merry men set their plan in motion, Heung-sam drinks alone with Mi-joo. She wonders why Heung-sam doesn't seem nervous about gambling with so much money. But this isn't about money — it's revenge. It's a fight to regain everything that was taken from him.
He laughs when she tells him that he could stop now before he loses everything. This fight tomorrow is exactly why he's being living his life the way he has — if he stops now, then it means his life has no purpose. Of all the people who have been trapped in Heung-sam's web, it seems like he's the one who's stuck the most.
He still needs her help, though, to see the plan through to the end. Tae-ho knows too much, so he'll have to be eliminated. He orders her to spike Tae-ho's drink tomorrow — and Praying Mantis will take care of the rest.
That night, Mi-joo visits Tae-ho. He has a passport and airplane tickets, but he hasn't yet told Nara that he's leaving. He says he doesn't have the right to say "good-bye." But does he have the right to hurt her by just leaving without a word?
It's morning, and the Big Plan is put into action. Heung-sam practically licks his chops as Tae-ho (with the computer genius Young-chil at his side) explains how they'll manipulate the market shares — it's all a matter of timing. He tells Tae-ho that this is the real duel that he'll be fighting — a duel of brains instead of brawn.
As they get ready, Tae-ho quietly tells Young-chil to put the same fake stock program on Heung-sam's computer. That's the easy part — the hard part will be getting out of the building if Heung-sam finds out the truth.
The stock markets open, and the men stare intently at the chart as their plan begins. They're not the only ones — Se-hoon is keeping an eye on the charts, as is President Yoon. The stocks shouldn't be rising this quickly before Han Joong Group announced their revitalization plan. He orders Jung-min to look into it.
Meanwhile, the Chairman, Hae-jin, and Foreman Oh go to their respective financial offices, each with a dozen homeless men in tow, ready to take out loans against the stocks that had been purchased under their names. Despite how the men look, there's no denying that they're customers, and so the financial offices start processing the loans.
As Heung-sam nervously paces, Young-chil spots his moment to switch the computers to reflect the fake stock system. Whew. They're in.
Except Se-hoon, on his non-tampered-with computer, sees that the stocks are drastically bottoming out. He immediately picks up the phone to call Heung-sam, but Jung-min barges in, interrupting him. She just got an anonymous message from Mi-joo, proving that Se-hoon is actually Kwak Heung-soo, and she angrily demands an explanation. Uh-oh.
Heung-sam is exultant that their plan is working, since according to his computer, the stocks are jumping through the roof. The clock ticks down until the market closes, and the second it does, Heung-sam cheers. His life-long goal to destroy everything of President Yoon's has finally come to fruition. Or so he thinks, because he's not the only one celebrating as Hae-jin, the Chairman, and Foreman Oh have reunited, and all the men now carry full bags of money.
Mi-joo and Praying Mantis arrive at the penthouse just as Young-chil scurries away, and Heung-sam says that it's perfect timing for a celebratory drink, and it will taste all the sweeter being poured by the beautiful Mi-joo. Oh, it'll taste like something all right.
As Mi-joo readies the drinks and, under Praying Mantis's watchful gaze, pours a capsule of white powder into one of the glasses, Heung-sam tells Tae-ho that he's must be very unlucky to have ended up in Seoul Station and met Heung-sam. Yet he somehow managed to turn it all around by becoming Heung-sam's right-hand man, so perhaps he's exceedingly talented.
Tae-ho says it has nothing to do with talent or luck — it's simply survival instinct. That instinct had better kick in soon, since Mi-joo hands him his glass and, after toasting with Heung-sam, he downs the drink in one gulp.
Leaning back and sipping his drug-free drink, Heung-sam asks Tae-ho if he remembers when he first came to meet him, and discovered that in order to avoid the fox, he'd climbed into the tiger's cave. Tae-ho starts to ask what he means, but then the drugs begin to hit his system, and despite his struggles, he succumbs and passes out. Praying Mantis picks him to take him to the factory to be "harvested." Nooooooo!
Under Mi-joo's reproachful gaze, Heung-sam nonchalantly asks if she wants to rebuke him. She simply says that she did as she was ordered, then stands up to take her leave. Heung-sam tells her that it's now all over, and she's the only one left for him. She turns back, quietly affirming that yes, it's all over.
At a stoplight, a van pulls up alongside Praying Mantis. It's Hae-jin and Foreman Oh, and Hae-jin waves to get Praying Mantis's attention, revealing that he was the one of the masked men who'd taken President Choi. It's just a distraction, though, to allow the totally-not-drugged-after-all Tae-ho to grab Praying Mantis from behind.
He's angry that Mi-joo used a fake drug, and warns him that Tae-ho will die by his hands for betraying his boss. Except he's no match for Tae-ho's strangle-hold and Hae-jin's knock-out punch to his head.
A happy Heung-sam reports to his brother about the success of his plan, but Se-hoon yells at him that it was an utter failure — they're totally wiped out. Heung-sam rushes to check his bank account (or, rather, the many accounts he used by taking the homeless men's IDs), but none of the passwords work. Uh-oh.
The doors to the penthouse fling open. It's Chairman Wang's men, there to collect their collateral. Perfect timing, because now Heung-sam is itching for a fight. It's four-against-one, but Heung-sam's fighting skills are still excellent, and he manages to get in a few nasty kicks and punches of his own.
Praying Mantis arrives, and when he sees the hallway littered with the dead bodies of the homeless men who were there to protect Heung-sam, he rushes in, screaming for Heung-sam. Rage fills his eyes, and he easily takes out one of the thugs, grabbing a discarded knife to use as a weapon.
But they've all got knives, and they know how to use them. When Praying Mantis sees one of the thugs attempt to attack Heung-sam, he flings himself in front of the knife, taking it in his stomach. He still manages to fight off the man, but soon another thug puts a knife in his back.
The man who'd been so deadly with a knife succumbs to the blade himself as another thug twists a knife into his stomach, and Heung-sam furiously beats the thug to a bloody pulp. He then rushes to Praying Mantis, embracing the bloody man in his arms. Ever the loyal servant, Praying Mantis's last words are "I'm sorry."
Heung-sam does not take his death well, and orders Poison Snake and Crocodile to get Tae-ho. They proceed to hunt him down, destroying the office and Jong-gu's bus. But Tae-ho is with his men in an abandoned factory, making sure that the homeless men they used today are far enough away (and have enough money) to avoid Heung-sam's wrath.
But Tae-ho also knows Heung-sam won't last long, since the same greed that made it so easy for Heung-sam to destroy President Jung is the same greed that will destroy him, too.
They ask about Tae-ho's plans for the money. He's not sure — he knows he wants them to use it well, and he'll only take his portion and leave for New York (something he still hasn't told Nara about). He thanks Hae-jin, Foreman Oh, Young-chil, and the Chairman for all their help. Aw, and the Chairman hands him one last "check."
I'll miss this band of merry men, and it looks like they will miss Tae-ho too, as it's teary-eyed hugs all around. Even so, Hae-jin yells out to Tae-ho to never come back to Seoul Station again, which Tae-ho acknowledges without turning back around. These boys and their bizarre ways of saying "I love you, man."
After realizing that Mi-joo has disappeared, too, Heung-sam is more determined than ever to ferret out Tae-ho. But instead of trying to find him, they'll make him come to them by using Nara as bait. He sends Poison Snake to the free clinic to kidnap her.
Tae-ho meets with a little boy — his old colleague's son. The boy innocently believes his father is working in America (instead of having been killed, thanks to Tae-ho), which, oof. No wonder Tae-ho feels so guilty. He hands over an envelope for him to give to his mother, and I have a feeling it has a mighty big check in it — probably most of Tae-ho's share of the money.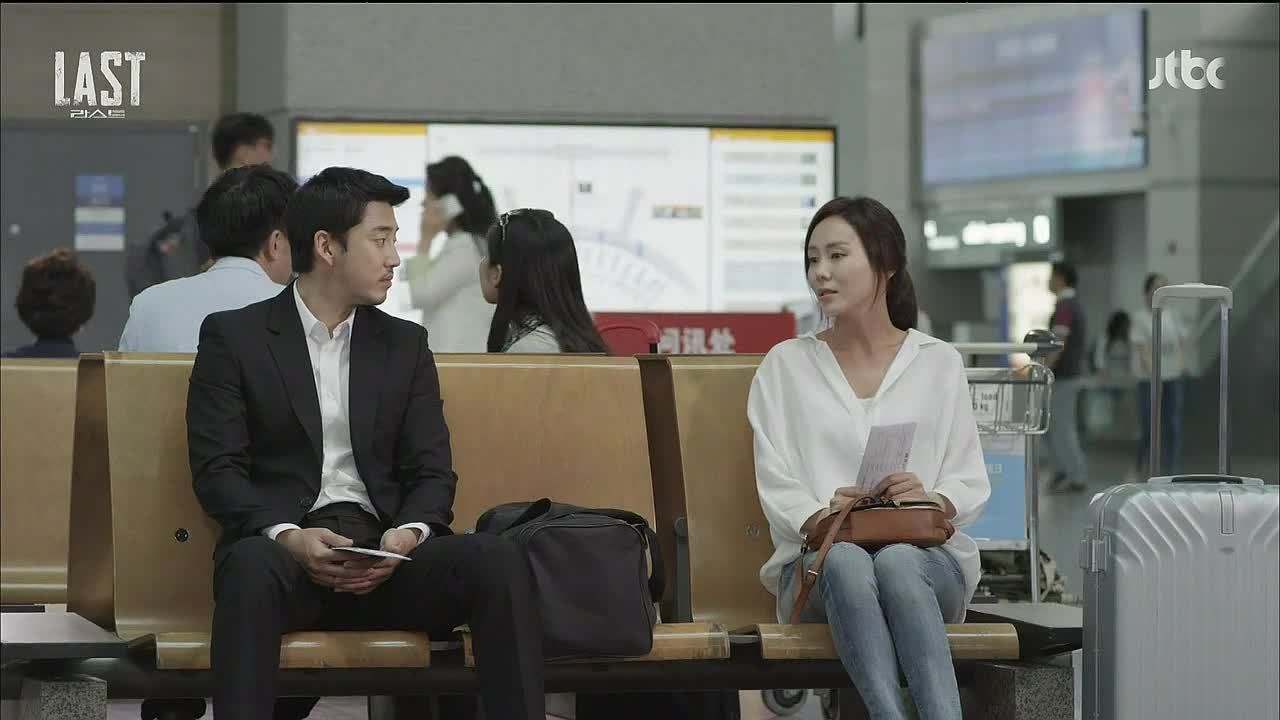 At the airport, Tae-ho waits for his flight to New York when Mi-joo finds him. She's on her way, too — to Paris. She met Jong-gu's daughter and gave her the portion Tae-ho set aside for him. But she kept the teddy bear for herself. *cries*
As she stands to leave, Mi-joo admits that she misjudged him. She originally thought Tae-ho was like Heung-sam, but now she realizes that he's more like Jong-gu, who couldn't leave when he had the chance and instead, like a fool, returned to Seoul Station.
The conflicted Tae-ho finally makes his decision, tossing his passport and plane tickets in the trash as he resolutely walks away.
Heung-sam cheerfully greets his hostage, apologizing for bringing her to this abandoned building, but he's not exactly in the best frame of mind lately, thanks to Tae-ho. Nara insists that they won't be able to capture Tae-ho by using her, because they're not that close, but Heung-sam knows better. Tae-ho has a conscious that won't allow him to become fully evil, and therefore, he'll return for her.
Hae-jin and the rest of the men find out about Nara's kidnapping, and soon they're marching their way to get her back, their numbers getting larger as everyone rallies to protect their angel nurse.
A worried Se-hoon arrives at Heung-sam's abandoned building, warning him to leave Seoul Station as soon as possible to avoid being caught by Chairman Wang's men. He got his revenge on President Yoon, so he should flee to save his life.
But Heung-sam's got a single-track mind and is determined to focus his revenge on Tae-ho. He knocks Se-hoon down with a punch to the face when he tries to intervene, angrily yelling that yes, he's crazy, because you have to be crazy to become Seoul Station's Number One.
Hae-jin and the men (who I still think of as Jong-gu's men) face off against Crocodile's men, demanding they release Nara. But neither will give up without a fight.
Tae-ho arrives at Grandma's restaurant, happy to tell Nara that he's not leaving after all, but instead he's surprised by the Chairman who's helping out (in his adorable apron). But the Chairman surprises Tae-ho by telling him what happened to Nara.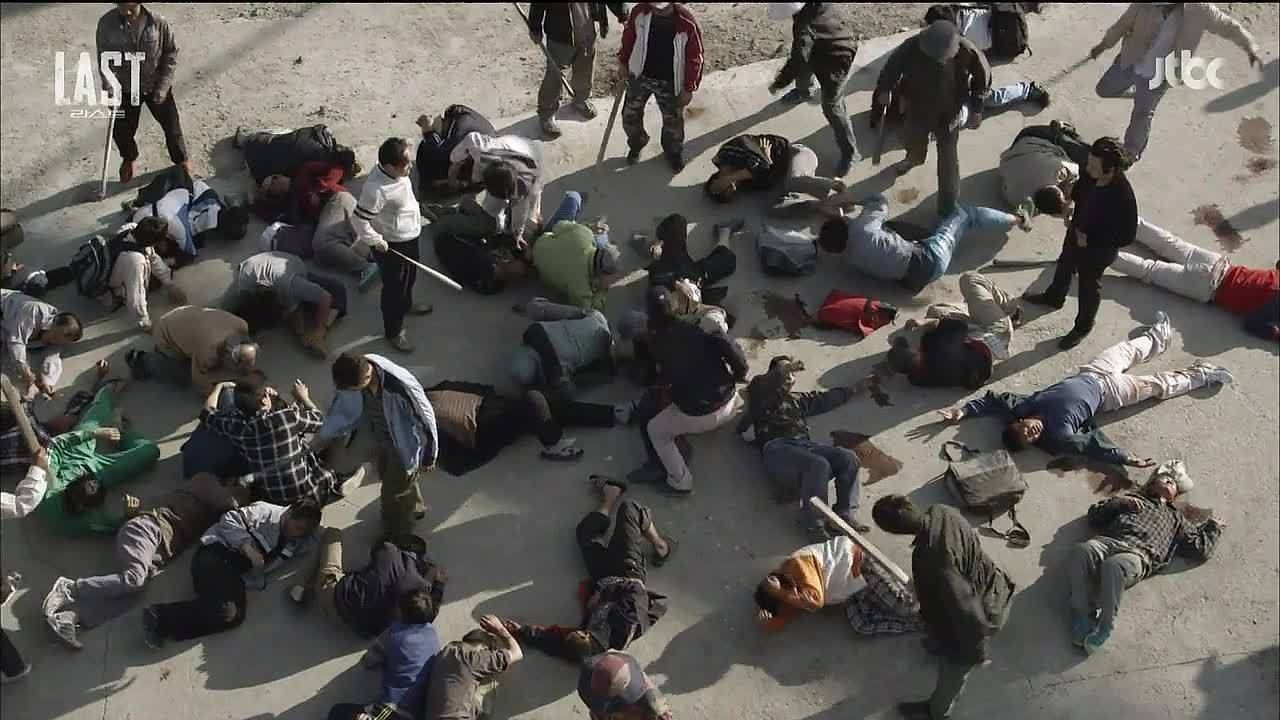 Meanwhile, the homeless men are having an out-and-out brawl. It's utter chaos as they fight each other, but it looks like a pretty even fight (and possibly even beneficial to Hae-jin and the rest) until Heung-sam arrives with Poison Snake and his men, all of whom who are armed with pipes and wooden sticks.
Heung-sam watches quietly as Poison Snake and his men beat up the other homeless men, easily overcoming them. They drag Hae-jin to Heung-sam, since they know he's closest with Tae-ho, forcing him to kneel down. He asks Hae-jin where Tae-ho is, and Hae-jin stubbornly tells him Tae-ho is long gone, sarcastically telling him to take his pick of countries.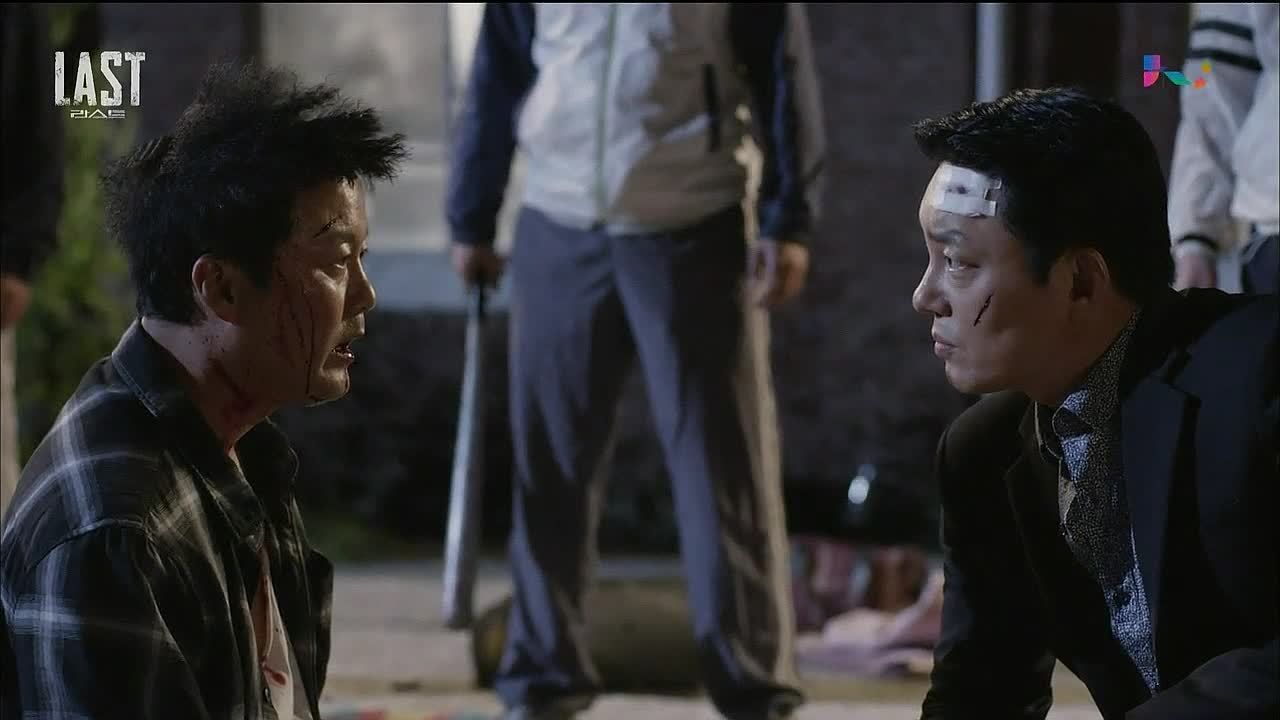 Even when Heung-sam stabs him in the leg, Hae-jin refuses to answer. But it doesn't matter anyway, because Tae-ho finally arrives, yelling out Heung-sam's name. Heung-sam greets him, telling him that's the Tae-ho he knows. Tae-ho challenges him to a fight, saying they should end it right here and now. All the man step back to form a ring around them, and without hesitation, Tae-ho and Heung-sam begin their battle.
Foreman Oh and Young-chil find Nara in one of the nearby buildings, and they easily take out her "guards." She's astonished to discover that Tae-ho returned, and even more worried when she realizes he's fighting Heung-sam.
It's raining buckets as Nara pushes her way through the circle to see Heung-sam and Tae-ho brutally fighting each other. They're fairly evenly matched — those injuries Heung-sam endured at the hands of Chairman Wang's men put him on the same level as Tae-ho.
Police sirens make the men panic, and most of them scatter so they won't be taken to jail. But Poison Snake is loyal to Heung-sam, just as Hae-jin, Foreman Oh, Young-chil, Nara, and others are loyal to Tae-ho, and they stay behind.
Exhausted and bleeding, Tae-ho and Heung-sam lay gasping on the ground as the police cars drive up. Tae-ho says that it's time for both of them to give up, but Heung-sam reaches for a knife, taking a few swings until he has Tae-ho pinned on the ground.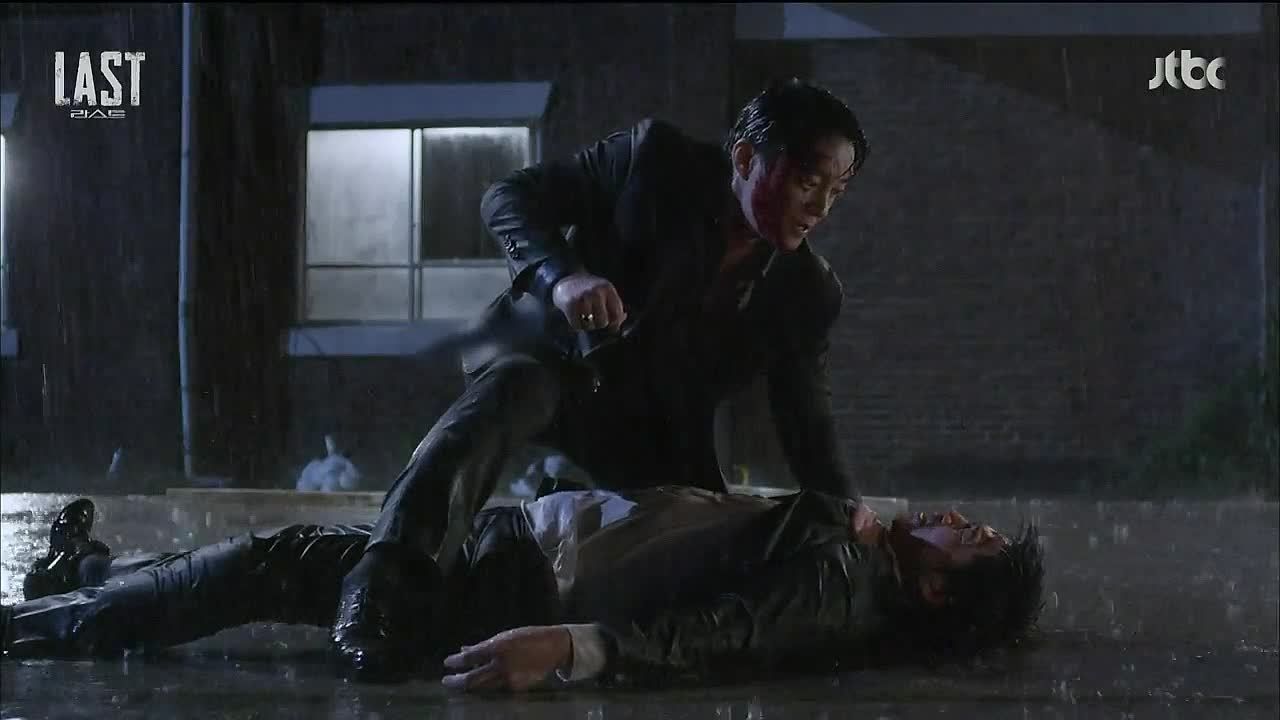 The policemen yell at him to drop the knife or they'll shoot, but Heung-sam tells Tae-ho that he doesn't regret what he did — he only regrets what he wasn't able to do. He raises the knife, telling Tae-ho "Let's succeed in our next plan," but before he can lower the knife, the policemen shoot him in the chest.
As Heung-sam collapses, dying from the gunshot wounds the images of his lifelong pursuit of revenge flash over the vinyl record he holds so dear.
A year later, Tae-ho sits in jail, reading a letter from Nara who updates him on all the goings-on of everyone. Young-chil returned to college; the Chairman now lives in a recuperation hospital, but still occasionally wanders by Seoul Station handing out "checks;" Hae-jin and Foreman Oh went into business together selling produce from a truck; and Grandma got to keep her restaurant.
As for Nara, she's still working long hours at the clinic. She doesn't understand why Tae-ho refuses any visitors, and even though she knows that he won't answer her letter, she still wonders what he'll be up to once he's freed next year.
The next summer, Tae-ho is released from jail. Nara finds him standing on top of a rooftop, staring down at Seoul Station, and, much like their first meeting, she cheerfully asks if he's eaten. Does he have money? Because she can give him a free meal.
Oh, he's got money, no question. But he didn't spend his time in prison thinking of ways to spend it. Instead, he pondered over which of the two wolves inside him he should feed. He says he'll tell her after he eats — after all, he's hungry. Aw, it's cute how they laugh as they stand out overlooking the station that brought them together.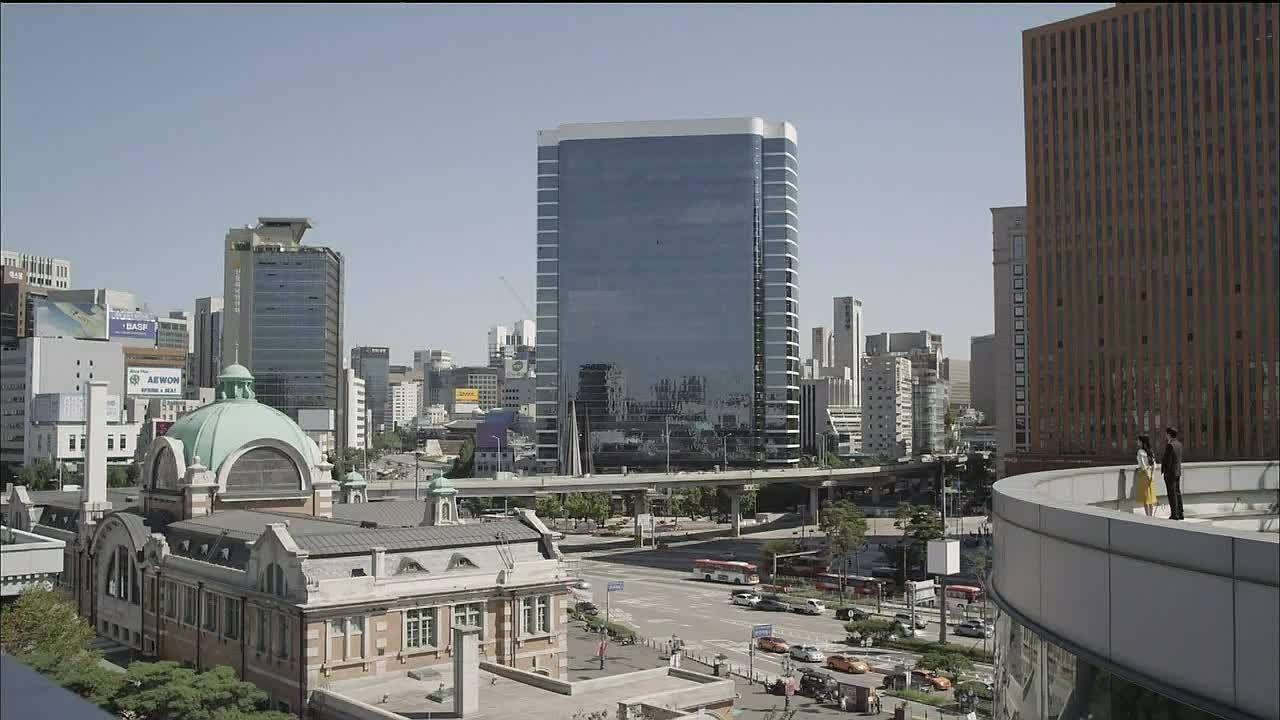 COMMENTS
After the loss of Jong-gu, I wasn't sure the show would have enough momentum to keep going for the last couple of episodes, but I admit I was on the edge of my seat, biting my nails as I watched the clock tick on, wondering if everyone would survive until the end. Even though the epilogue felt mildly rushed, I'm reasonably comforted that nearly everyone seemed to at least finally find some peace in their lives.
Although I'm curious about Se-hoon — surely he would have had to pay for his crimes, too, which would be a bitter victory for Heung-sam considering that I don't think his original revenge plot was to also destroy his brother's life. I'm also curious about Jung-min, who felt like such an innocent victim in this whole mess. I hope she was able to prove to the Han Joong Group board members that she's extremely capable and able to recoup any losses, taking the company in a new (and less corrupt) direction.
As for Heung-sam, well, I knew he had to die. There was no way he could have a happily-ever-after, not after all the blood on his hands. It just didn't work narratively. His story wasn't a story of redemption, but of revenge, and once that story was taken from him, his whole reason for existing was taken from him (as he himself pointed out). As for the true cause of his death, I think it's up to the viewer to decide if it was suicide or not. For me, it certainly looked like he knew that the cops were going to shoot if he raised the knife like that — it was almost like he was telling them, "Yes, kill me now; let me go out in a blaze of glory."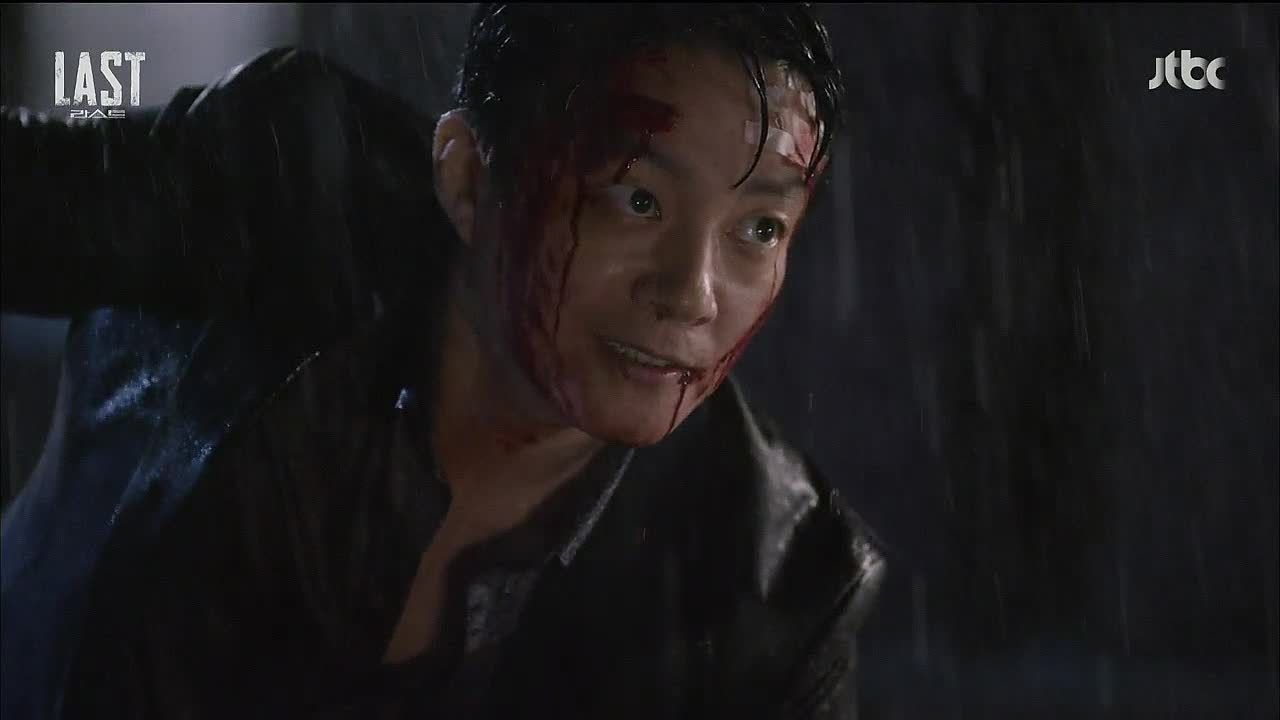 I was, however, a little crushed over Praying Mantis's death. Perhaps I'm an optimist, but I still held out hope that he'd discover that his penthouse god was a false god, and would realize that he's more than just a killing machine. If the other men could discover their self-worth, then surely this obedient watch-dog with killer instincts could, too. I feel like that makes me almost hypocritical — I'm sad that a minor character was killed defending his master, but I shed no tears for one of our protagonists dying in the face of his failure. Not that it was a total failure. He did manage to destroy Han Joong Group, at least a little bit. But only by destroying himself in the process.
Perhaps that's the point, and the reason the show ended on that "two wolves" parable. The wolf you feed is the wolf that consumes you, and even though Tae-ho clearly could have become another Number One, he had enough of his own conscious (and the guidance of Number Two) to be able to break away and not only save himself, but so many other men as well (and Nara, and Grandma, and an entire neighborhood). I'm not sure if I'd go to such lengths to call Tae-ho noble, but I am relieved that he seems to finally believe that "good" wins over "evil."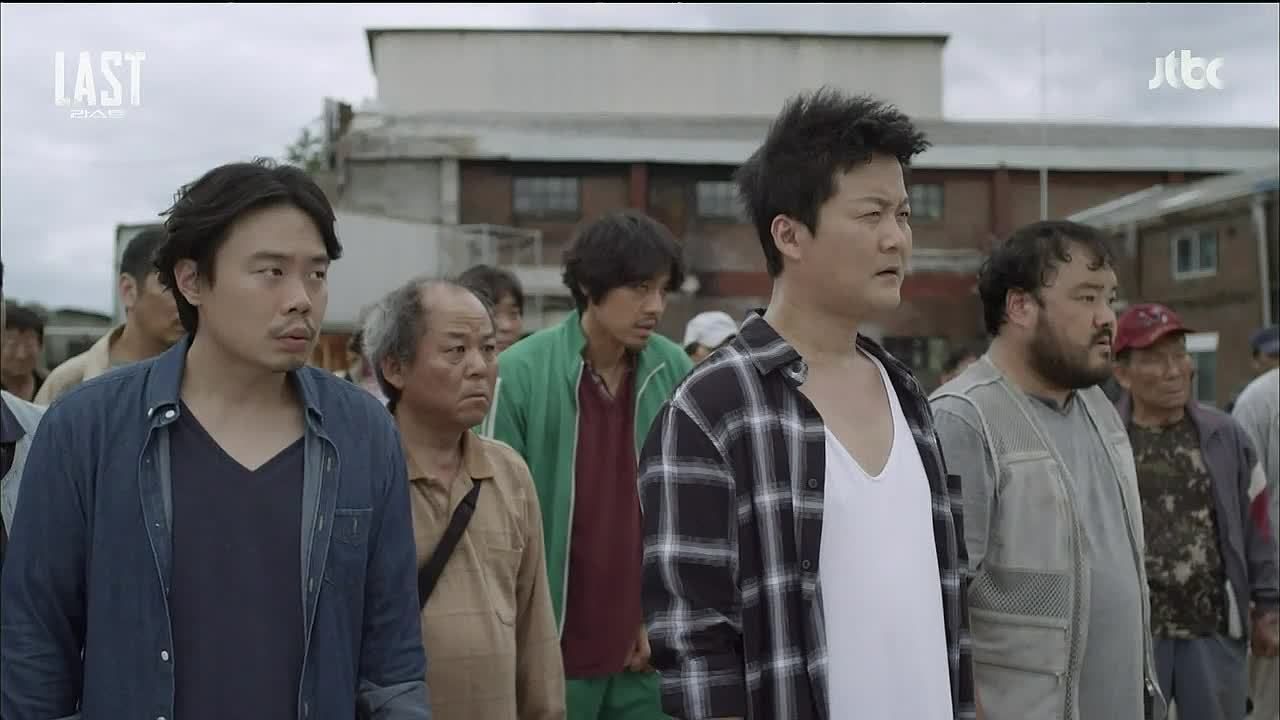 It sounds like a simple "moral of the story," but if you've watched this show, you'll know it's so much more complicated than "good vs evil." It's about struggling with those inner demons, those two wolves, to make your own decisions. Sometimes those decisions could possibly be classified as good, sometimes as evil, and sometimes they're just decisions you have to make in order to keep surviving another day.
I'm incredibly grateful for the chance to recap this show because I'm not sure I would have watched this on my own. The premise didn't exactly scream "watch me" and I would have easily passed it by without a second thought. But now it's become one of my favorite dramas of the year, and I'm glad that LollyPip and I had a chance to share it with all of you. I'm also thankful for everyone's patience as we tried so hard to get caught up to the airing episodes (really, we did!) and for respecting the "no spoilers" rule.
Thanks again for joining us on this trip through the depths of Seoul Station, and may we forever feel sentimental over the Vienna Boys Choir.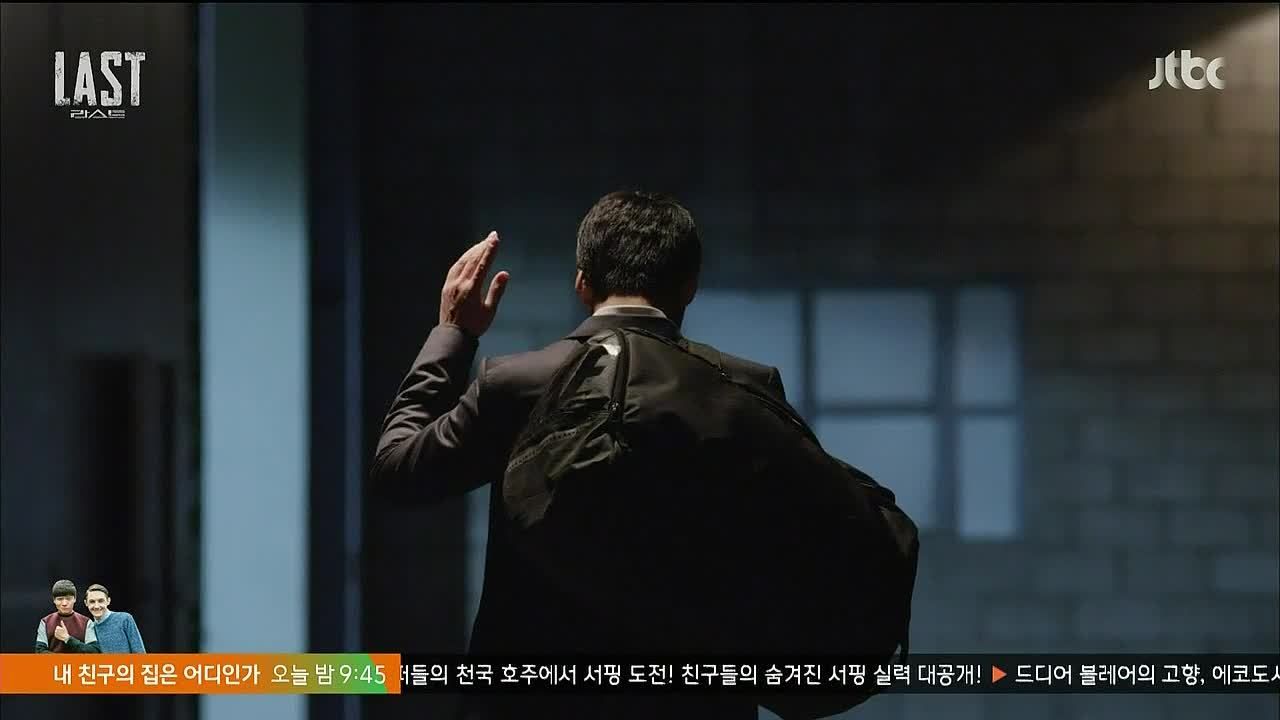 RELATED POSTS
Tags: featured, Last, Lee Beom-soo, Yoon Kye-sang