Mrs. Cop: Episode 10
With the serial killer case solved, Young-jin's team takes on a new crime ring. Boss Park steps up his own personal revenge plan and we learn a bit more of his history with President Kang, though there are still a lot of unanswered questions. I'm not really surprised though, as unanswered questions seem to be standard operating procedure these days, and it could be a while before we get the full picture.
EPISODE 10 RECAP
Young-jin catches Nam-jin speaking with Boss at their father's gravesite, and she orders Nam-jin to come with her, practically dragging her sister home. In the car Young-jin says she knew where to find Nam-jin because she goes to Dad's grave every time she fails the government exam, prompting Nam-jin to yell at her to stop the car and get out to make her own way home.
Young-jin goes to Dal-hwan looking for Boss, whose name we finally discover is PARK DONG-IL… we'll just call him Boss Park to keep things simple. Young-jin gets Boss Park's phone number and meets with him, wanting to know what he said to Nam-jin. She's only told Nam-jin that their dad died while catching a robber, and doesn't know that Boss Park killed him. She tells him that she doesn't want Nam-jin to know the truth.
Boss Park confirms that he only told Nam-jin he was an old friend of their father's. She belly-laughs at the idea of his being a friend, and Boss Park just meekly says that he wanted to visit her father one last time. Young-jin misses the hint and warns him never to ask for forgiveness or show up in front of her family again, or she just may kill him herself. As she walks away, Boss Park quietly says that he'll see her again very soon.
Using his time off productively, Jin-woo cleans up his place for the first time in what must be months, by the looks of it. Probably more like a year, since he finally packs up his girlfriend's things for storage as well.
Do-young uses her days off to scam her roommate at cards, and the grouchy roommate (who's also a cop) asks when Do-young plans to give Jin-woo his keychain back. Do-young's had it for so long by now, she cringes at how awkward it will be to return it now, but her friend isn't sympathetic.
Jin-woo goes hiking and ignores a series of texts from Do-young, finally just turning off his phone to avoid the annoying interruptions. He sees a woman at the campsite and stops to talk with her, calling her "noonim," and she's happy to hear that he's stopped drinking. She says that Hye-ri, his girlfriend, would be happy, too — she must be Hye-ri's sister. Jin-woo gives the woman Hye-ri's old hiking gear, and she gently tells him to find someone new so he can move on.
Frustrated by Jin-woo's lack of response to her texts, Do-young sends him a photo of the keychain and waits. He doesn't see it until that evening when he turns his phone back on, and he calls her right away. This time she ignores his calls just to be petty, so he switches to texting her to pick up, now.
She continues to ignore him so he hustles over to her place, but he gets there while she's gone out for snacks. She sees him pounding on her door and hides in the stairwell. He texts again, hears her ringtone, and catches her looking guilty as sin, ha.
Do-young takes Jin-woo out for conciliatory ice cream and apologizes, saying that she always meant to give back the keychain but the timing was never right. Jin-woo is pretty angry, though she points out that at least she picked it up in the first place so he wouldn't lose it, and he leans in veeery close and says she shouldn't live that way.
He leaves her there, but outside the shop he stops to look at her messages still on his phone, and smiles at them. He watches her shovel ice cream into her face and give herself an ice cream headache, grinning adorably at how cute Do-young is when she's grumpy.
Everyone comes back to work after their week off to find that Do-young cleaned and organized all their desks, and they look over all the new cases. Jae-duk expresses some interest in a vehicle theft and export gang, having made some connections while he was researching cars to catch the serial killer, so Young-jin allows him to look into it.
President Kang instructs Secretary Yoon to procure some gold bars in exchange for a Shanghai investment, though Yoon says it will be difficult to get that much gold in the allotted time. Kang says that the money from China is important for his Mi Rae City project so that they can begin construction. He also tells Secretary Yoon to bring someone named Madam Park to see him tomorrow.
After researching the vehicle thefts, Do-young tells the team that it's mostly SUVs that have been stolen, and that all of them were four-wheel drive. There's a high demand for four-wheel drive cars in Russia, so that's where she supposes the cars are being illegally exported.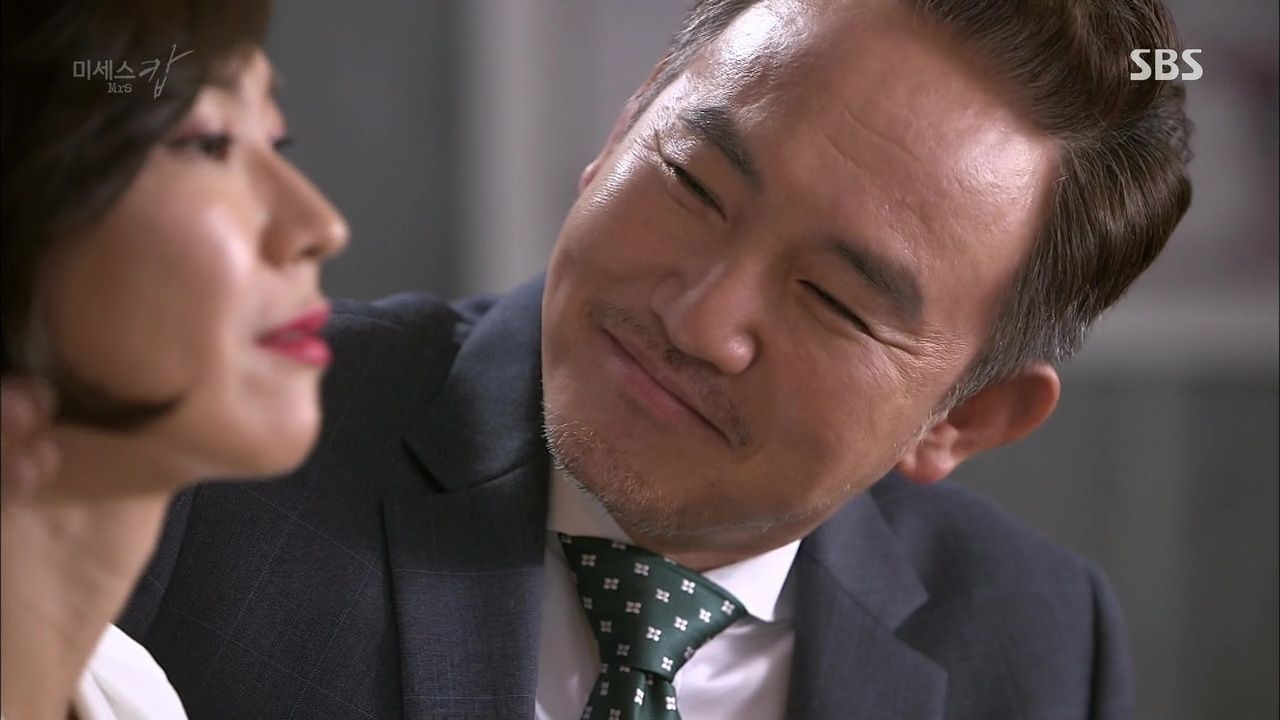 Jae-duk is put to work compiling a list of associated ex-convicts, and Do-young and Jin-woo are sent to the field to look into the sellers. Young-jin tells them not to arrest anyone yet, and keep things on the downlow for now.
President Kang meets with Madam Park as he planned, and it's immediately obvious they have a long and intimate history together. He asks her if she's got access to gold, cutting their playful banter short by offering to cut her throat if she can't get it. She doesn't take him entirely seriously, which will probably be a mistake.
Boss Park confronts a man (the same man he had tied up earlier) for taking the money meant for his daughter's hospital fees, leading to her death. The man whines that she would have died anyway, and that President Kang lied to Boss Park to manipulate him.
Boss Park's lackey brings him a gun and baggie of drugs, and Park tells him to get out now before he becomes an accomplice to what's about to happen. The man swears his loyalty and stays, and Boss Park leaves him to enact the next part of his plan.
Boss Park borrows a car from Dal-hwan despite his license having expired while in prison, unaware that Dal-hwan's installed a tracker in the vehicle. He drives back to where the man is tied and calmly informs him that he'll be dying today, and hands over the car keys to his lackey.
The doomed man asks if they have to kill him, and Boss Park says that for twenty years, he lived only feeling one thing — holding in his tears as an innocent man. He's waited all that time for this day, and even tearing him to shreds won't be enough.
Later in the KL Group building, Boss Park is at work cleaning the restroom, and narrowly misses being seen when President Kang comes in. He makes his way into Kang's breakroom and replaces some energy drinks with similar-looking packets, which Kang is served by his secretary.
A conveniently-timed delivery has the secretary leaving her desk for a few minutes, giving Boss Park time to enter Kang's office while he's drugged into a deep sleep. Soon after he makes his way down to the parking garage with his trash can, where his lackey waits to help him load an unconscious Kang into the getaway car.
A sleepy security guard missed the critical moment on the CCTV footage, but Secretary Yoon discovers President Kang missing two hours later and they witness the men kidnapping Kang on video. Yoon calls someone to trace the license plate, on the verge of panic.
While Boss Park waits for Kang to sleep off the drugs, he has his lackey send a text to Young-jin for him, saying The day for me to beg for forgiveness has come.
A man finds a note on his car saying that the writer damaged it, and that he's only writing the note so onlookers will think he's sharing his information. But while he's reading the note, someone slips into his car and drives away. Ah, apparently this is how the stolen car ring is getting its vehicles.
Secretary Yoon calls in a whole posse of goons to handle President Kang's disappearance, assuming that if a simple killing were the point then he would have just been killed in his office. They immediately identify Boss Park from the CCTV cameras.
Yoon and the goons rough up Dal-hwan, who cries that he doesn't know where Boss Park is, but he quickly folds and tells about the borrowed car when he sees one goon's giant knife. He hands over the tracker without much more fuss.
When President Kang wakes, the first face he sees is Boss Park, and he nearly has a heart attack. But he quickly composes himself back to his regular "laugh in your face" demeanor, ignoring Park's threats and acting like he's simply meeting an old friend.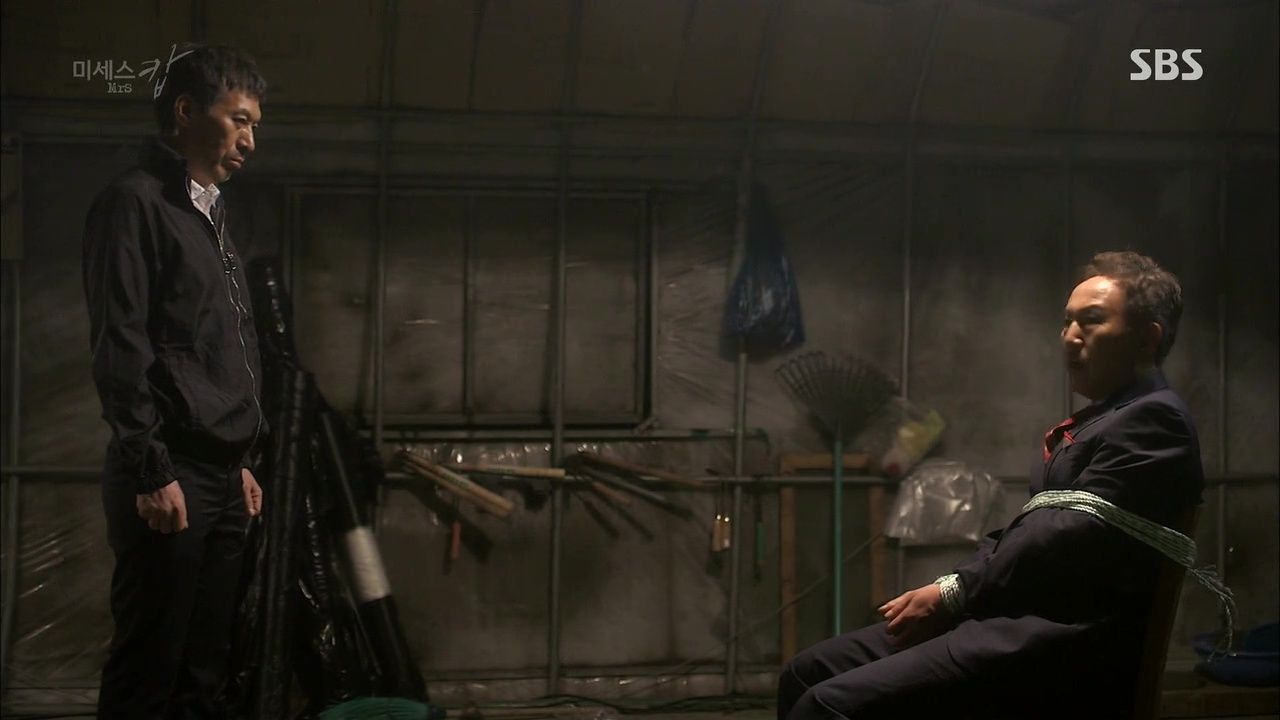 Boss Park isn't having any of it, asking why Kang deceived him, but Kang refuses to make excuses for his behavior. We finally find out something of what happened between them — President Kang promised to take care of Boss Park's sick daughter, in return for Park doing the time for Kang's crime (though the nature of the crime itself is still unsaid).
No wonder Park is ready to kill Kang, because Kang is so casual about it, just all Oh right, you did have a daughter! Park delivers a vicious slap and says that he endured the last twenty years by imagining doing horrific things to President Kang. Frankly, I don't blame him one bit.
Kang just retorts that Park was always too weak and that it's good to see him with some spirit. But he still thinks Park isn't smart, and lets his emotions rule him. How will killing him change anything?
Kang proposes that instead of getting revenge, Park should find an opportunity to improve his life. Oh, and I guess you're here to offer that opportunity? Boss Park roars at him to shut up, and Kang just laughs again.
Young-jin gets the text from Boss Park and knows right away that it means bad news, and takes the whole team out to find him. We see that the text had gone on to say that Boss Park would be killing a person today, and that his wish is for Young-jin to be the one to arrest him.
The lackey drags in the other man, and Park orders them both untied. They're tossed a knife and told to fight, though the winner will only live a few extra minutes. President Kang kicks the other man and grabs the knife, and Park tells him calmly to kill the other man.
Of course President Kang runs his mouth first, but he does eventually grab the man and hold the knife to his throat. Tired of the delays, Park tells his man to shoot and he does, killing the man Kang is holding in front of himself. Kang shoves him at the lackey and uses the distraction to run at him and stab him.
Thinking fast, Boss Park goes for the dropped gun, but Kang sees him and lunges. Now close to the building, Young-jin and her team hear a gunshot, and we see Park and Kang grappling over the gun. The two men fall and President Kang comes up with the gun pointed at Boss Park.
Kang laughs that Park should have followed his advice and made a deal with him — revenge is for stupid people, and isn't profitable. Park makes a move to run, and Kang shoots him point-blank. Ugh, I hate his satisfied smirk as he watches Boss Park collapse.
President Kang is having a nice refreshing drink of water amongst the bodies when Young-jin and her team arrive, and he congratulates them on their speed in coming to save him. Boss Park is still alive, just barely, and he gasps out a weak, "I'm sorry…" to Young-jin. She tells Jin-woo to get him to the hospital.
She asks if President Kang killed the other two people in the room, and he admits that he did, still laughing. Just then Secretary Yoon and the goons arrive, and President Kang sneers in Young-jin's face, knowing she can't touch him since technically this was self-defense.
Boss Park makes it through surgery but he's in bad shape, and they're unsure if he'll wake. President Kang is taken to another part of the hospital to recover, but he refuses to talk to Young-jin about anything that happened, only saying that the two of them must be fated to keep meeting.
Young-jin, Jong-ho, and Chief Yeom go over the CCTV video of Kang's kidnapping with his lawyer, who argues that the killings were justified since he was the victim. She tells them to ask Boss Park what happened when he wakes, but Jong-ho complains that the victim should know why he was taken.
The team is back to the car theft and export case, and Do-young says she thinks that the theft and the reselling are done by the same people. Jin-woo even has the same key-cutting machine the thiefs use, and Young-jin commends them on their attention to detail.
But she assigns Jae-duk and Se-won to look deeper into President Kang, making Jae-duk complain that Kang is too big a target for them. Jong-ho delivers some information that he gathered himself, saying that Kang is a former gangster, and that he'll support them if they want to investigate him further.
Madam Park visits President Kang in the hospital and tells him that she collected the gold he wanted. He offers her cash for them, but she insists on bonds instead. Madam Park gets all flirtatious, cooing at Kang to call her to play sometimes instead of only for business. Gross.
Ha-eun goes on the most adorable ice cream date ever with her crush, and she's horribly embarrassed by aunt Nam-jin's presence but she lights up when Jong-ho arrives. Her little boyfriend asks if this is her dad and, too shy to say she doesn't have a dad, she says yes. Bless him, Jong-ho goes along with it.
Jong-ho offers to set Nam-jin up on a date, and her friend who works at the shop pops up to say she wants to meet that flower boy cop (the line starts back there). Nam-jin claims to like younger men so Jong-ho says to keep her weekend free.
Young-jin watches over Boss Park at the hospital, while Do-young and Jin-woo search car lots for further evidence in the illegal vehicle export case. Secretary Yoon pays Madam Park for the gold she procured, and she asks him to call her if President Kang ever fires him. HA, he doesn't even bother declining, he just walks away.
President Kang is released from the hospital in time to take delivery of a large statue of a woman, which he immediately smashes to smithereens. Inside are hundreds of gold bars, and he cackles like a madman to see them.
COMMENTS
I know I said I was trying not to complain about the lack of clear plot, but if you're going to throw stuff like that last scene in my face, Show, I'm going to start whining again. We get all these conversations about President Kang's Mi Rae City project, and how President Kang is so eeevil and he's willing to (apparently) smuggle gold and kill his opponents and block the formation of a union and whatnot, all to make sure this project happens. But I'm really, really getting tired of not being told what the project is. What's his plan and why is it worth breaking the law to get it to happen? I just want to understand, because just being told the bare bones and not really understanding the details of the plan is starting to get boring. Why should I care that President Kang got his hands on a whole lot of gold, when I don't understand what he needs it for or why that's a bad thing?
There's a fine line when writing a drama where, if a show plays on a certain line of suspense too long, it starts to lose its heat and your audience will lose its interest. I'm hitting that point now with this show, and it's frustrating, because I still see so much potential. It's got great characters and it had an interesting and unusual premise, which it still seems to have completely forgotten, but the cop-case arcs and interesting and Young-jin and her team are fantastic. So when it comes to the main plot and conflict, I've been willing to be patient and hope that the answers were coming, but the show is more than half over now. It's time to give us some answers, or we're going to stop caring. To be honest, I feel as though I have more patience than most when giving a drama the benefit of the doubt, so even though I'm still holding out hope, there are probably a lot of people who have given up already. President Kang used to scare me, and make me nervous for what he could do to Young-jin and her family, but it's been many episodes since he swore revenge for her putting his son behind bars. And yet he's done nothing… not to her, and not to anyone else. He's starting to be more laughable than frightening.
We do still have Boss Park, who I think is a pretty great character. He's one of those people that you know is bad news, and yet you still root for him. It's no secret that Boss Park fascinates me, and it's not just because of his connection to Young-jin and their father's death. I love a good complex character, and Boss Park is wonderfully layered. Clearly he's a Bad Dude, willing to kill when he considers it necessary, but I have yet to see any actual cruelty in him like we see in President Kang. On the contrary, Boss Park almost seems to be an exceptionally gentle soul, very self-deprecating and humble. He's even quite kind at times, like when he told his lackey to feed the man he was about to kill a good last meal. That's not a man who takes human life lightly, even when he's planning to take it. Knowing that about him makes me understand how he could be a person involved in organized crime (or something, it's still not clear like so much else in this show), and yet I'll buy that he feels deep remorse for inadvertently causing an unplanned death even while in the process of committing a crime, as I'm assuming happened with Young-jin's father.
And we still have the rest of the team, who are getting much more competent and cohesive as a team as I mentioned already, and I especially love Do-young and Jin-woo's growing friendship. Well, Jin-woo's growing friendship anyway, as he seems to be having quite a lot of fun yanking Do-young's chain and watching her flounder around thinking he still hates her. It's nice to see him moving on with his life and falling for someone new, and it's kind of cute to watch him ruffle her feathers just so he can see her off-balance. I do hope he tells Do-young about his feelings soon, though, because the look on her face when she hears that he doesn't hate her, and in fact really really likes her, will be priceless.
RELATED POSTS
Tags: featured, Kim Hee-ae, Kim Min-jong, Lee Da-hee, Mrs. Cop, Sohn Ho-joon