Running Man: Episode 262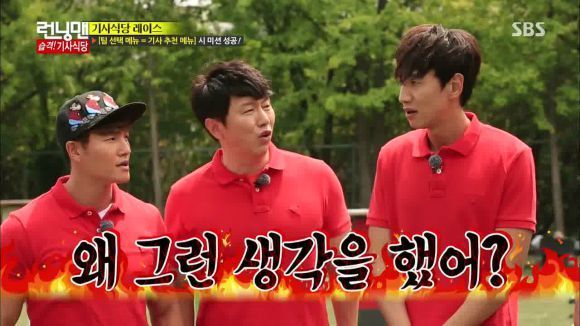 This week, it's a food lovers' paradise where our cast will eat their way through Seoul following the recommendations of their taxi drivers. Get ready for an all-day adventure that requires speed, luck, and most importantly, an empty stomach because today's teams will get to eat to their hearts' content. While the idea of tasting all this food seems delish, all this eating comes at a literal cost, 'cause by the day's end, one person will end up picking up the check.
EPISODE 262. Broadcast on August 30, 2015.
Deep in the heart of Yeoido, our cast is told to call for a special taxi service. The five drivers are today's guests, who are free to accept (or reject) any incoming calls. Some nicknames are more obvious than others ("'Su-ro su-ro' is Kim Su-ro!"), but off they go to pick up the cast members.
Jong-kook is the first to call Kim Su-ro otherwise known as the Game Devil 'round these parts (for his fierce competitive spirit). Jae-suk calls up "Navy Violet," guessing that she must be female. She is—it's actress Nam Bo-ra.
Despite Haha swearing that he won't call anyone else, his potential driver doesn't believe him for a second: actor Kang Sung-jin. Then there's actor Kim Min-kyo, and last but not least, actor Park Gun-hyung.
After picking Jong-kook up, Su-ro remarks how Kwang-soo keeps hanging up on him. Jong-kook: "He's probably looking for a female guest." Bingo.
Two seconds later, a taxi pulls up and Sung-jin tells him to get in. Once in the car, Sung-jin says he's the best choice today, then asks if Kwang-soo would get out if he knew what today's lineup was like.
And that's exactly what Kwang-soo does upon hearing Navy Violet's voice. Sung-jin isn't about to let his teammate get away, so Kwang-soo tells her to call the police because he's being kidnapped. Hahaha.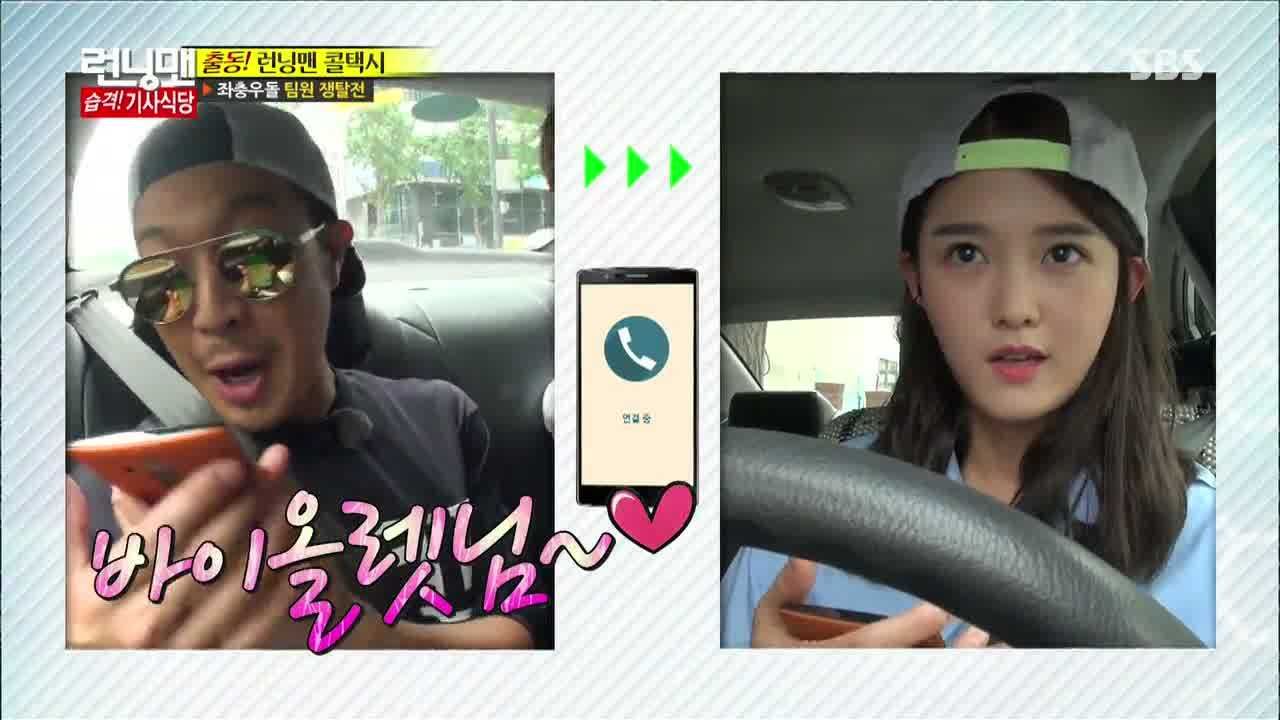 The car pulls up to Haha's location a little later, and though the idea of meeting Miss Violet is awfully tempting, Haha gets in for now anyway. While Gun-hyung is lost in Yeouido, Su-ro and Jong-kook are busy discussing teammates: Haha's energetic, but he isn't that great at games.
Speaking of whom, Haha finally gets through to Miss Violet and gets super excited when she calls him "oppa." He and Kwang-soo jump out as soon as Sung-jin is distracted. HA.
Poor Gary—he's called everyone and is so happy when Sung-jin shows up. The sting of abandonment still fresh, Sung-jin engages the child safety lock, which works like a charm.
Bo-ra invites both Haha and Kwang-soo to get in, then whispers to the VJ that she'll later forsake one for Ji-hyo instead. She brightens when they hop in and assures them that she's been accident-free for two whole months.
Jae-suk is reluctant to pick up Suk-jin, but he eventually lets him in. At the mention that Su-ro and Jong-kook have teamed up, Min-kyo remarks that Su-ro's competitiveness has always been his weakness. Sui-Jin: "What about you?" MIn-kyo: "If I picked you up, can't you tell?"
Even the PD calls to check in to confirm their team roster, but Min-kyo stays optimistic—today's games could also be a battle of wits. Sui-Jin: "And are you confident in that?" Combining all of their notable features (Min-kyo's eyes, Suk-jin's nose, and Jae-suk's mouth), Jae-suk says, "If hell exists, wouldn't that be it?"
Looks like Kwang-soo got bumped over to Su-ro's car after all—he basically got wrangled in when he stopped to say hello earlier. When Ji-hyo calls, he whimpers, "I'm in a taxi I can't ever get off of. The door doesn't open."
Haha must've been bumped out too because we see Ji-hyo running into Bo-ra's car. He gets into Gun-hyung's car instead, and the three cars of two people each meet in the road. Sung-jin gets out before his customer escapes for the third straight time today.
In the chaos, Haha and Gary climb into Bo-ra's taxi, leaving the other two drivers bewildered. So that's how Ji-hyo, Gun-hyung, and Sung-jin end up together as a team.
At the soccer field, Jae-suk introduces his team (Gray) with the apt name "Eyes, Nose, Lips." The fiery Red Team is led by Su-ro, and the White "Young Blood" with Bo-ra looks adorable. When the Rejects—er, I mean the Green Team finally arrives, Ji-hyo says they all share a decade-long friendship.
Jae-suk: "When was the last time you guys called each other?" Ji-hyo: "Ten years ago!"
Turns out Sung-jin was a co-star in Ji-hyo's film debut, and boasts some killer calves. Jae-suk says Min-kyo is so nice that he didn't even think of bending the rules, to which Jong-kook jokes that he should've just abandoned the hyungs for better choices.
Taking offense, Suk-jin goes in for a low-kick, though it's later pointed out that he simultaneously attacked and defended himself in that moment.
Today's race builds upon the taxi opening with the title "Taxi Drivers' Restaurants" which offers some quick but yummy eats. They'll be choosing one dish out of twenty possible choices, and whoa—there's a dinner waiting for them at the end of today's race.
Each team will hail a cab and receive recommendations on eateries, but here's the catch: they must eat whatever dish the taxi driver recommends even if it isn't what the team has in mind. The process will repeat until the choice and recommendation match.
This means the teams could end up eating all day even before they go out to the outing that evening. Out of the possible twenty, Su-ro eliminates the more unpopular choices (along with Kwang-soo's preferences because it's about the team).
LOL, Sung-jin is nicknamed "Ha-baek" for his pale legs (ha refers to "low" and baek for "white"), who also gives a dish a score of 100 (which is also baek in Korean).
To determine who gets to choose first, the teams will engage in a game of Bumball, where one can only use their chest and bums to handle the ball and score. The White and Green Teams face off first, and things get a little hairy when Ji-hyo picks up the ball with her chest.
The ball eventually transfers to Gary, and that's when Ji-hyo charges at him… to get the ball of course, though it looks like she's embracing him. Gary totally sinks into it and hangs on for a few extra seconds. Hee.
The guys yell at Gun-hyung when he chases after Bo-ra. Haha grabs him so she can escape, but she gets caught again and lies down… on top of the Green Team's goal. Whoops.
When Jong-kook is explicitly warned NOT to grab people by their shirts, he says that's too bad—it'll hurt more when he grabs them by their flesh. Oww. Once the whistle blows, Su-ro fends off two people on his own, and then Kwang-soo picks the ball up with his butt and leisurely walks over to the goal.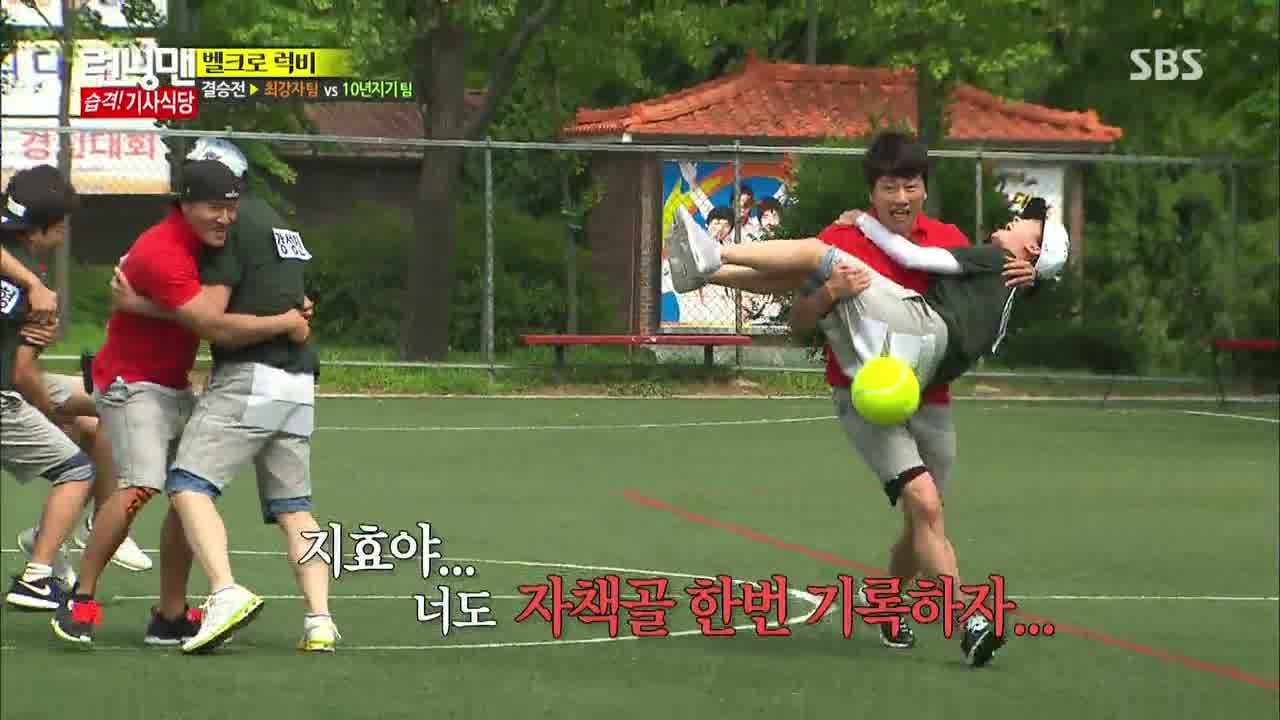 Jong-kook can already tell that the Green Team will use Ji-hyo to their advantage in the final round. So what do they do? Have Su-ro pick her up as soon as she picks up the ball and princess-carries her over to their goal. And I love how the epic Death Star theme is robustly playing in the background.
When the Red Team can't come to a decision, the others tell them to hurry up already. It looks like they're about to go with the beef and pork when Kwang-soo blurts out: "Sullungtang [ox bone soup]!" Cue shocked looks and scolding from the hyungs.
The Green Team picks up the beef and pork, Team Eyes, Nose, Lips, chooses the spicy pork, and when the White Team tosses a few ideas around, Jae-suk jumps in: "Spaghetti alle vongole!" Suk-jin: "What about the naan in Indian restaurants?"
So many choices, but they choose donkatsu (pork cutlet) in the end because that's still better than the Red Team. Su-ro screams, "Who would have sullungtang on a hot summer's day?!"
Kwang-soo is still convinced that the older taxi drivers would go for soup, arguing that their red shirt would make the drivers think of kkakdugi. Jong-kook: "No, it's your blood that'll be bleeding out."
It seems the Green Team may have the greatest advantage, as Gary points out that their beef and pork dish is a hit in his neighborhood. But the most important conclusion is that the Red Team is at a disadvantage, Haha says. "Today will be buffet for them."
Out of those three, Bo-ra thinks only one of them will be throwing up: Kwang-soo.
Speaking of whom, the Red Team climbs into their first taxi and braces themselves when they're told "spicy pork." Setting in for the ride, Kwang-soo asks if the taxi driver goes to eat that often. He's told no… because the driver usually has sullungtang. D'oh!
Team Eyes, Nose, Lips is recommended the other pork dish, and the Green Team gets close-ish with pork belly. Close seems to be the theme of the day because the White Team, who had been debating between pork cutlet and kimchi stew, is recommended the latter.
The Red Team sit down to order spicy pork when Kwang-soo notices that sullungtang isn't on the menu. That's when they're told that not many customers come looking for it, and two glorious things happen: Su-ro chokes on his water and Jong-kook looks pleased.
Kwang-soo explains that he blurted out the soup because that's what he really wanted to eat, so the hyungs tell him that they'll definitely buy it for him next time (aannnd probably the next hundred times after that).
Not only that, their spicy pork comes with one large stone bowl of rice EACH, and the rules state that they can't have any food leftover. Oh boy.
Team Eyes, Nose, Lips gets their own stone bowls of rice with their meat too. Elsewhere, Gary shows off the proper ajusshi way to have kimchi stew. After everyone eats their lunches, they receive a text regarding the final mission: the last team to arrive will pay for the crew's meal.
That's over 200 people to account for. Yiiiikkkkesss. Haha (to the PD): "Have some food now." PD: "No thanks, we're purposely not eating."
Jong-kook figures that Kwang-soo will pick up the bill tonight, but they've got more pressing concerns, like the kind restaurant owners offering them carbonated drinks and watermelon.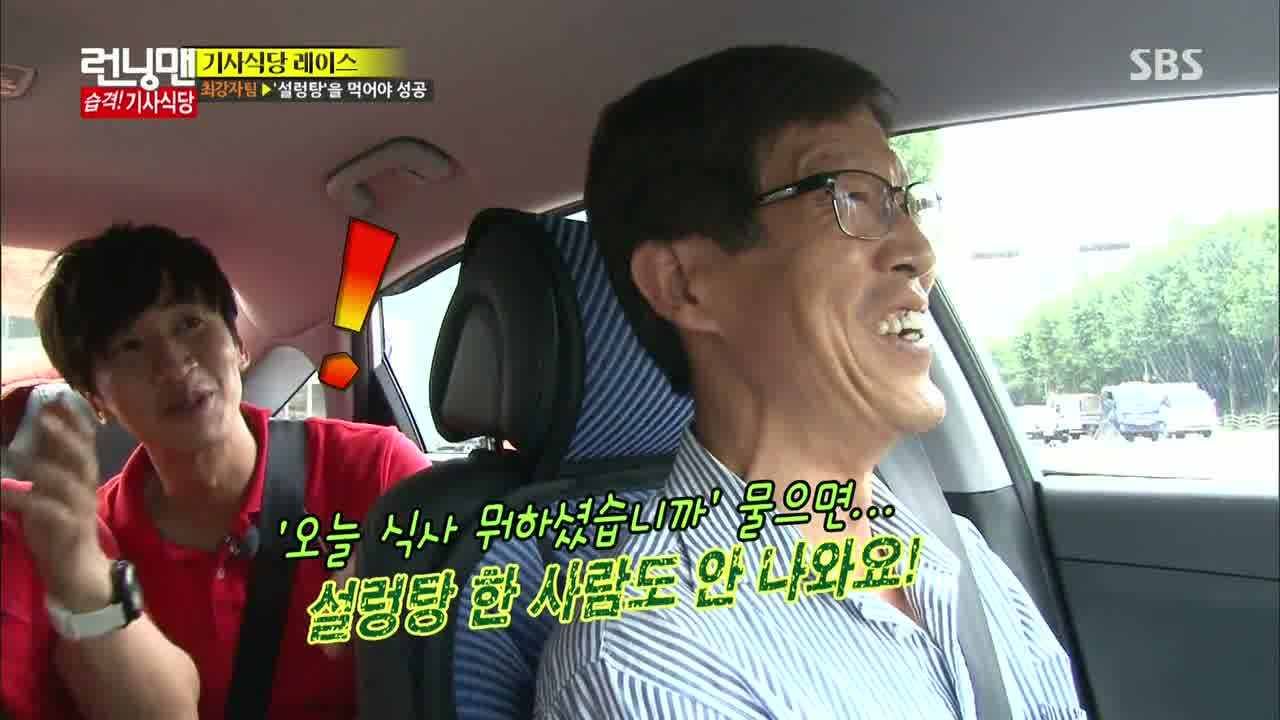 The White Team looks defeated when the next driver recommends them pan-fried pork. The Red Team is completely stuffed thanks to the watermelon when they're told to have squid next.
Even if you asked ten drivers on what they had for lunch, none of them would suggest sullungtang. But, they could try Shingildong because there's a well-known sullungtang restaurant there.
If they're really desperate, Kwang-soo suggests that they can call for a taxi service and request a driver who really really likes sullungtang. Ha, that'd be smart.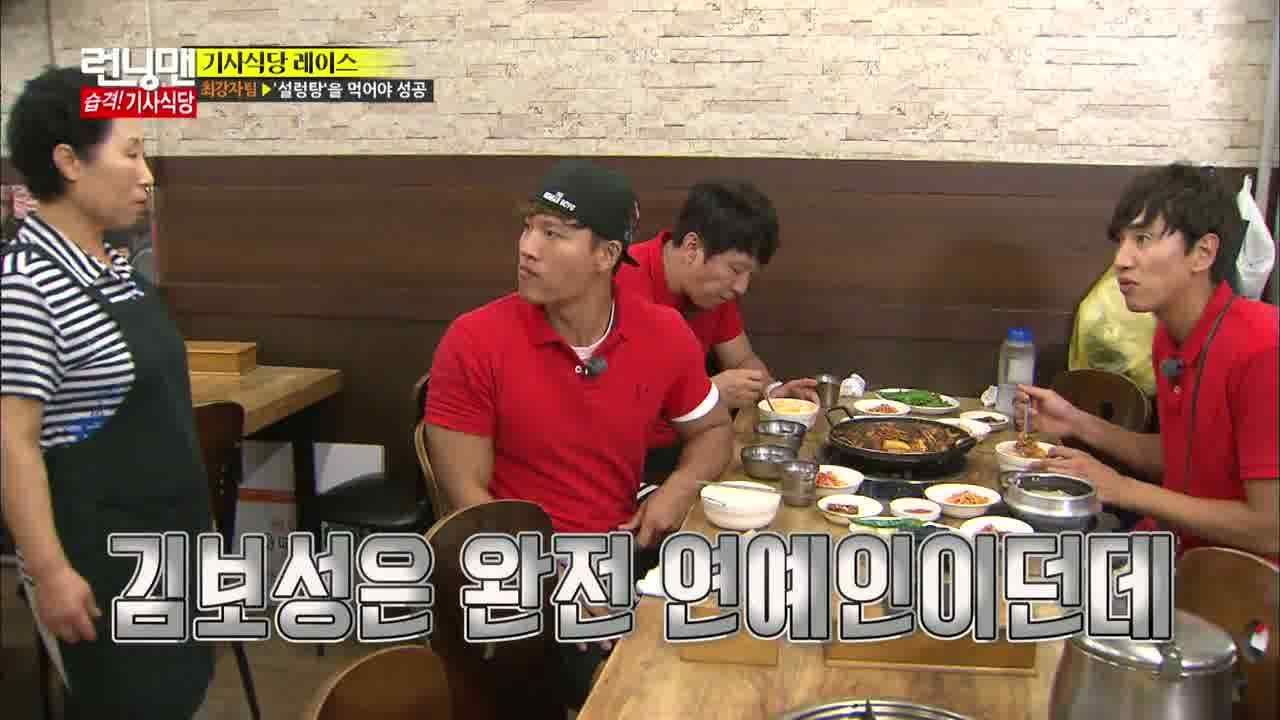 When the Red Team chomps down on their next meal, the restaurant ajumma asks Jong-kook: "You're not a singer, right?" AHAHAHA. See?! This is what happens when your variety presence overshadows your day job.
He even sings a bit of "Lovable" to trigger the ajumma's memory. She knows who Su-ro is, and Kwang-soo is referred to as "Giraffe." Jong-kook: "It'll be my twenty-year anniversary since my singing debut this year."
To add insult to injury, the ajumma gives a backhanded insult that at least actor Kim Bo-sung seemed like a celebrity.
The Green Team celebrates when they get their pan-fried pork on their second attempt. Sung-jin shares some of the other teams' choices including sullungtang, to which the driver says a lot of places the drivers frequent don't even offer that dish. When told that it was Kwang-soo who suggested it, he replies, "[Kwang-soo] looks like the type [to say that]."
Team Eyes, Nose, Lips cheers when they hear the words "spicy pork," and the White Team makes sure to specify the Namsan area when asking their next taxi driver for a rec. It works, and they speed off to have donkatsu.
Ji-hyo sighs when she sees the word "Garden" in the final mission location's name because that means meat. They hurry and finish in order to beat rush hour traffic.
We skip ahead of the Red Team's third meal to their fourth taxi and give the driver a few distinct clues. And then the driver says "samgyetang." Su-ro can only laugh at the absurd prospect of eating FOUR meals in a row. Not only that, the restaurant doesn't have a free table, so they're forced to take their food to-go.
When Haha calls, Su-ro says they're in Gapyeong (which is outside of Seoul) because it ain't over 'til it's over. The White Team is pleased to find out that the final mission location isn't far from where they are now.
That restaurant is holding 150 crew members now when one team arrives—it's Team Eyes, Nose, Lips who is told that they're aren't last. They aren't first because the Green Team has already arrived, and the teams are free to leave or eat more food.
Su-ro flips out when he sees a sullungtang just a stone's throw away, so they come up with a plan: They'll ask the next taxi driver to recommend THIS place. Sure enough, the driver does, and the Red Team couldn't be happier.
Kwang-soo practically cries when the restaurant owner says the most popular menu item is sullungtang. The White Team appears to get going just around the time the Red Team finally finish their fifth meal.
When the Red Team arrives, they wonder if they're dead-last. The White Team arrives and is confused by the warm reception. That's because they aren't last, which can only mean one thing: the Red Team is.
So when the Red Team walks in, the room is already empty. All they have to do now is pick up the bill. Well, one of them, that is. Kwang-soo rejoices when he finds out that that poor, unfortunate soul will be decided through a game of chance. Jong-kook: "Doesn't matter. I'll pay with your card anyway."
There's still another whole roomful of crew members still eating, and Bo-ra will be the one to spin the wheel… which stops at Jong-kook's name.
Haha gapes at the number, and Jong-kook happily says the restaurant owner gave him a discount of a hundred pennies. Happy 20th anniversary, Kim Jong-kook!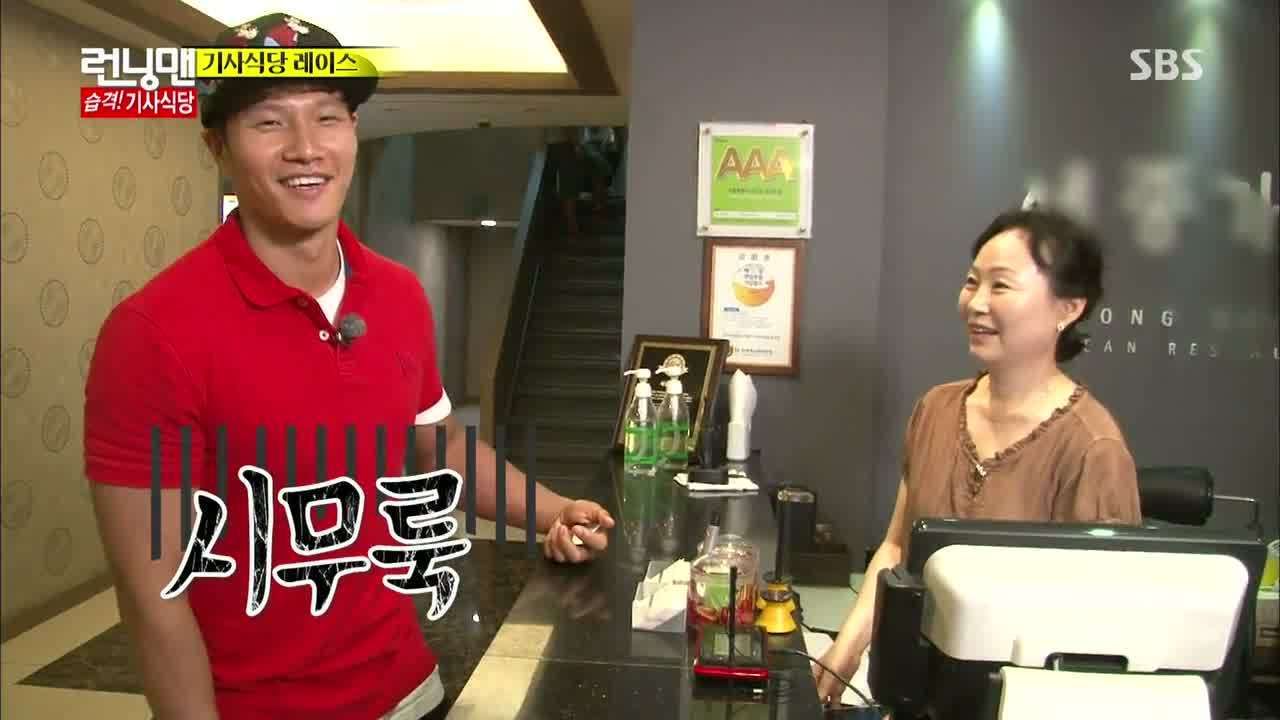 RELATED POSTS
Tags: featured, Haha, Ji Suk-jin, Kang Gary, Kim Jong-kook, Lee Kwang-soo, Running Man, Song Ji-hyo, Yoo Jae-suk