D-Day: Episode 8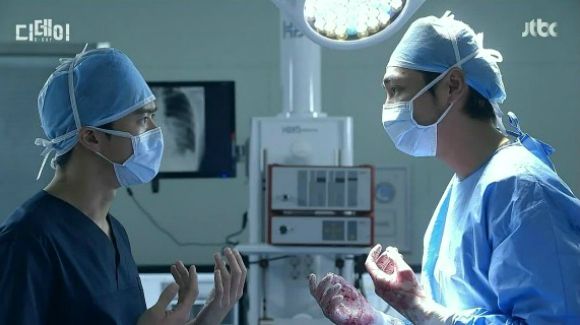 Just when you think that things might be looking up for our stalwart crew, everything falls to pieces. Again. And again. And again. There's just no letting up for the Mirae Hospital team. How can you save a hospital full of patients on life-support without any power? Hye-sung will die trying to answer that question, apparently, and Woo-jin will be dragged into it whether he likes it or not, because Drama Law dictates that not even natural disasters can completely sever the bonds of a once-flourishing bromance.
EPISODE 8 RECAP
Captain Choi slides over the envelope containing the picture of the boy the firefighters found, and Chief Kang readies herself to identify her son. But after she glances at it, she collapses, weeping in relief that it's not her son — or perhaps the tears are for the agony in knowing her son is still out there, missing, and a set of unknown parents will have to deal with the grief of losing their child.
She insists that she'll continue to look for him herself, but Captain Choi reminds her that she's most needed here, at the hospital, where she can take care of the patients so there aren't further deaths. He promises he'll look for her son.
Ddol-mi checks on Min-chul, and to keep herself awake, uses her scarf to do some yoga stretching. Hye-sung happens to walk by and stops in the doorway to linger as he watches her. It's much cuter than it is creepy stalker, as he smiles, remembering their adorable moments together, and how passionate she is to help save the patients.
Ji-na catches him with a big ol' goofy grin on his face. She interrupts his daydreams to hand him a bottle of pills that will help him sleep for a few hours, since she knows that he hasn't been able to sleep properly. Her patients aren't the only ones with PTSD nightmares. Aw, he's momentarily sad to realize Ddol-mi left when he was talking to Ji-na.
I'm not sure he took any of those pills, though, since he sits on his bunk, staring straight ahead. Chief Kang oversees her staff attending to another emergency patient; Ddol-mi studies as she keeps watch over her patients; and Woo-jin is ever-vigilante with the VIP patient. Ha, at least someone's asleep — the firefighters are totally passed out in their tents, with their boots neatly lined up, ready at a moment's notice.
In the morning, there's a flood of new patients, all thanks to Director Park's television interview. Patients with non-life-threatening injuries are flocking to the hospital to be treated, and then kicking up a fuss when they're attended to but not allowed to stay at the hospital.
Captain Choi and his men are readying their trucks to go back out on the streets, and he hesitates before gingerly asking Chief Kang if the hospital will accept any of the wounded they find. He knows that they're already overloaded as it is, and he doesn't want want to risk bringing them to the hospital if they'll just be rejected and left to die without treatment. Chief Kang promises him that she'll accept everyone he brings her.
Director Park overhears her promise and chides her for going all in with the "big hero" act. She tells him she's doing the best she can, reminding him that as one in charge of the ER department, she'll take responsibility for everything. Except she doesn't think it's solely her responsibility now.
After all, it was Director Park's grandiose speech yesterday that suddenly made their over-worked hospital even busier as hundreds of new patients sought them out this morning. Since they can't lose their good image now — or turn all the patients away — they'll just have to make do with what little they have until the fuel trucks and governmental assistance arrives.
Just then a women staggers over, calling out informally for Director Park. It's his older sister, and she's weeping in worry for her husband and son, who were the ones that were trapped at the swimming pool. She's surprised that they didn't come to the hospital, and Director Park assures her that they'll find them.
He first checks the list of dead and injured patients — or at least the most accessible list, since it still needs to be updated with the most recent information. But neither his brother-in-law and nephew are on the list.
That's because they're still trapped in the swimming pool's locker room. At least they're still alive, and Dad uses one of the crutches to bang on a pipe in hopes that someone will hear and rescue them.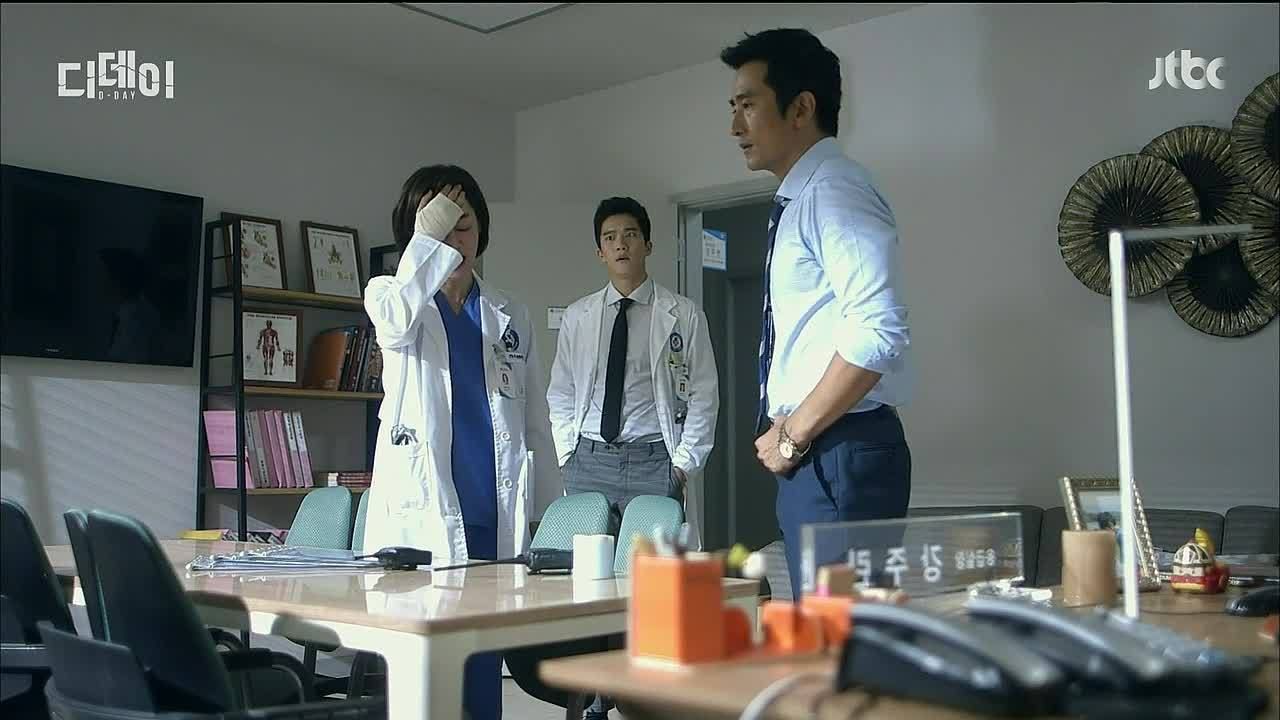 Ja-hyuk breaks the bad news to Chief Kang: the fuel tanker truck rolled over en route due to the blocked roads, so it's going to take a little longer since they have to send another truck. Chief Kang flips out as she yells at him that they only have half a days worth of fuel for their generator, so what will happen to their patients on life support if the tanker doesn't come until later?
Woo-jin still stubbornly believes the blame is on Chief Kang's head since she was the one who wanted to help as many as they could while they waited for assistance — assistance that is now late and could cost the hospital thousands of lives. Ja-hyuk promises to make sure it won't happen again, but Woo-jin points out they have to survive this right now in order to have a "next time."
His suggestion is for Ja-hyuk to figure out a plan to transfer the patients to another hospital and for Chief Kang to work with the maintenance department to find alternate sources for fuel. At least he's willing to problem-solve instead of just whine about who's going to be responsible.
Hye-sung accidentally overhears everything, and he gently reassures Chief Kang they'll find a way to get through this. He suggests getting all the available staff together to teach everyone how to use an Ambu bag in order to keep the patients on life-support alive should the generator fail.
They also gather all the able-bodied guardians, since they have too many patients on life-support for their staff to handle alone. The guardians aren't exactly thrilled to realize that their loved ones might be taken off life-support at any moment, but Mr. Kang and the deaf girl's father are Hye-sung's biggest cheerleaders and they help everyone see how important this is.
Cute little Ddol-mi has to stand on her tip-tippy-toes in order to show them how to apply the correct pressure for CPR. But everyone seems to be taking their lessons to heart — as well they should, since this is literally a life-or-death situation.
The firefighters are still trying to dig out the roads by hand, and when Captain Choi gets word that HQ is sending heavy-duty equipment to clear the roads, he tosses aside his battered shovel in happy relief. But the fuel tanker is still stuck far behind, and there's no guarantee how long the gas will last in the heavy equipment vehicles.
Min-chul's condition is getting rapidly worse — it looks like he's hemorrhaging internally. Ddol-mi asks if Hye-sung will do the follow-up operation, and he hesitates a moment for answering resolutely that he will.
But what about the fact the hospital could lose its power any time today? It's still a half-day chance for what could be another twenty years of life for Min-chul if they succeed in the operation.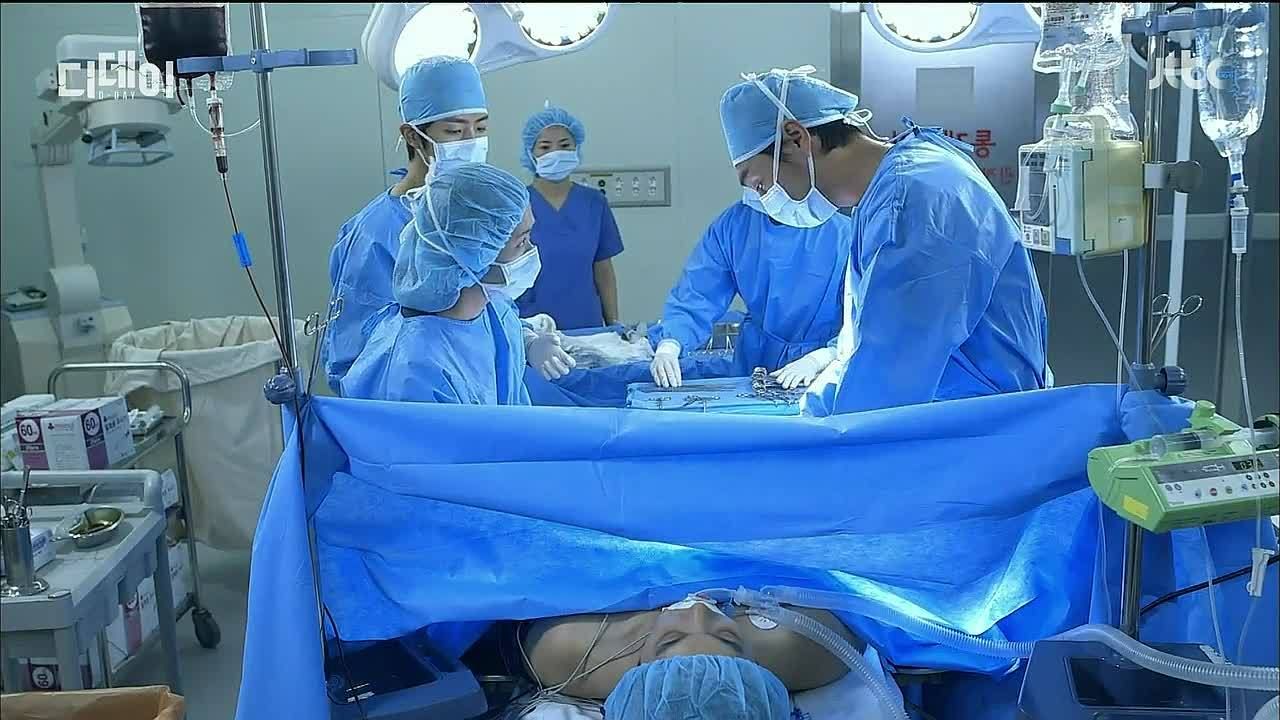 They quickly prep an operation room and Hye-sung leads his staff in the surgery. As Hye-sung goes into professor mode and explains the procedure, both Ddol-mi and Dae-gil answer his questions at the same time. Aw, Hye-sung teases her about spending more time studying as she gives text-book worthy answers, but he's all business when it comes to his patient.
The fire department HQ radios to Chief Kang that they won't be able to send a helicopter for patient transfer due to high winds, and when she desperately asks about the other fuel tanker, they simply reply that it will be there eventually.
During the surgery, the ground begins to tremble again. Another earthquake! Or an aftershock, to be more precise, since it isn't as strong as the first earthquake. It's still enough to knock patients out of their beds and disrupt power, putting the patients' lives in danger. Chief Kang checks in with her staff, making sure everyone is okay. It looks like the hospital still has power, too. Whew.
In the surgery room, everyone seems to be unhurt — except for Hye-sung, who's arm was cut by falling equipment when the earthquake hit. There's also the fact that there was extra blood loss due to Hye-sung being unable to keep the clamp on Min-chul's artery, and now they're only down to one bag of blood.
Hye-sung tells Dae-gil to go get Woo-jin, much to the intern's surprise, since he knows that Woo-jin doesn't like these kinds of surgeries and likely won't come. Ji-na says that he'll come if she's the one to ask, and she takes off running down the hallway.
Woo-jin is surprised to hear that Hye-sung attempted surgery at a time like this, and then suspiciously asks if Ji-na is asking for his help just for Hye-sung. His fragile male ego can wait as she shouts at him that it's to save the life of their patient.
Down in the basement, one of the water pipes has burst thanks to the aftershock, and now one of the generators is flooded. They're down to only one generator, but because of the water leak, it could eventually be flooded, too. Forget half a day of power — there now could be only hours left.
The hospital manager gives a damage report to Director Park. He's surprisingly unfazed, but then again, his solution to everything is to pass the buck and avoid any personal responsibility. He orders the manager to fire all the facilities maintenance staff and blame them for not managing the building well enough. Yeah, because that's going to help matters.
Our hardworking firefighters pay their respects to the dead victims they've uncovered, and one fireman plops down on the ground, frustrated that no matter what they do, everyone seems to die. What's the point in trying to save anyone? Woo-sung tries to redirect his energy by asking him to imagine that the people they find and save are his own family.
Bad news — the heavy digger is out of fuel, so there's no more clearing the roads until the tanker arrives. Meanwhile, Chief Kang is on the radio, demanding the firefighters return so they can help pump out the water from the basement.
Sister rushes up to Chief Kang's office — she's there to tell her about Hye-sung's issues in the surgery room, but when she overhears that the power could go out soon, she wonders if she'll be able to go home, then.
As Hye-sung tries to continue to the surgery relying only on his good arm, Ddol-mi apologizes for not being much help because she doesn't know how to do the surgery. But Hye-sung says it's not her fault — it's the earthquake and his hurt arm that is making it difficult. Not to mention his greedy desire to save the patient which made him drag her into this, even though she's not very experienced. At least he's self-aware.
Dae-gil still doesn't think that Woo-jin will take part in this surgery, but he's quickly eating his words as Ji-na returns with a prepped-for-surgery Woo-jin in tow. That's when the OR crew also learn of the damage to the hospital generators and that, at most, they have about an hour of power left.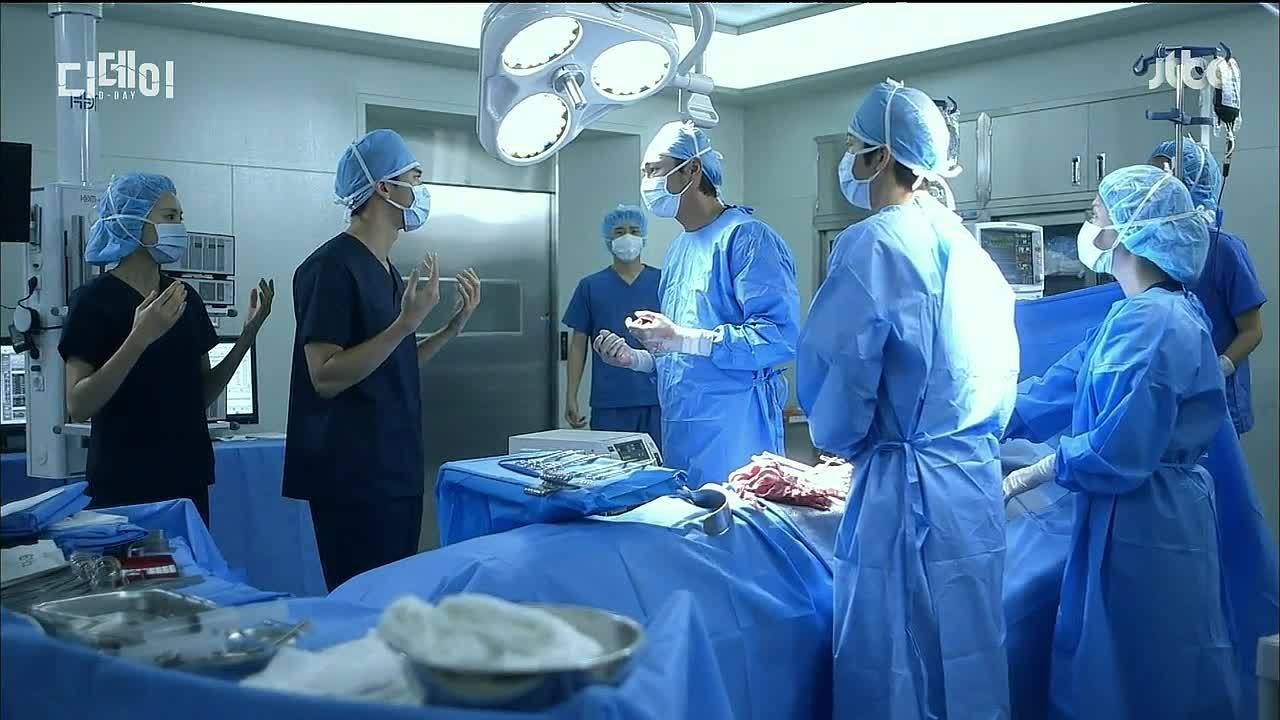 That's not much time at all, but Hye-sung starts to calculate how it's still possible to work with. If they hurry finish the surgery in a half-hour, that leaves maybe an extra hour or so of leeway, if they count the back-up batteries. Woo-jin angrily points out that they'll still need plenty of power post-op to observe the patient's vitals.
Hye-sung stubbornly believes that the men who went to find fuel will return successful, but Woo-jin continues to drive home the point that this surgery could be the thing that kills the patient. How will Hye-sung feel if he fails in this? But Hye-sung yells back that he'll feel even worse if he doesn't try and a lack of surgery is what kills the patient instead. Oooh, in the heat of the moment, he calls Woo-jin "hyung."
A flashback to Hye-sung and Woo-jin's earlier, more friendly days, as Woo-jin shows the frustrated Hye-sung how to neatly tie sutures. Aw, Hye-sung freely calls Woo-jin "hyung" and they seem so happy together. That memory is apparently the tipping point to make Woo-jin grudgingly agree to help, but he reminds Hye-sung that he won't take responsibility for this surgery. Yeah, yeah. We get it already.
Chief Kang is holding a staff meeting to make sure everyone is doing everything they can to keep the hospital running. She orders the staff to make sure the front is clear for the arrival of the fire trucks and to scrounge around for every source of diesel fuel they can, starting with the available cars in their parking garage.
The rest of the staff are trying to keep the waiting room from totally rioting as word of the potential power outage spreads. Chief Kang stands up on the desk and sets off the bull horn siren to get their attention. She doesn't mince words as she gets the guardians up-to-speed on the power issues (and also yells at them for harassing her staff, because that's not going to get them anywhere, either). It might be sooner than they thought to put their Ambu bag skills to the test.
Myung-hyun finds a truck with diesel fuel and gags as he tries to siphon it out. But at least there's a source of fuel, however small. The hospital manager is ordering the blockades to be returned to the front of the hospital just as Chief Kang is yelling that they need it clear for the fire trucks. But the hospital manager smugly tells her that they'll be closing down the hospital soon. Funny; I seem to have heard that before.
Just then the fire trucks drive up and now its time for Chief Kang to be smug as Captain Choi yells at them to move the blockades so they can start pumping out the water from the basement.
Back in the surgery room, Ddol-mi silently marvels to herself at how well Hye-sung and Woo-jin work together, so efficient and neat in their suturing. Hye-sung thanks him for helping out — if it weren't for Woo-jin, they likely wouldn't have been able to complete the surgery and save Min-chul's life. But Woo-jin's vision gets a little blurry, even though he tries to shake it off. He explains it away as sweat getting in his eyes, but considering we've already had a hint about his vision issues previously, it's probably something more chronic.
The firefighters start pumping out the water from the flooded basement as Woo-sung works on welding the burst pipe closed. There's a moment of friction between Myung-hyun and Captain Choi as the former resents being treated like an errand boy instead of the prestigious doctor he is, but status doesn't matter when lives are on the line.
Director Park isn't exactly pleased that Chief Kang seems to actually have a plan to keep the hospital running in the middle of the chaos. As he enters his office, he hides an updated list of deceased patients from his sister as she asks him about his desire to shut down the hospital. What if her husband and son need medical assistance — especially when this is her husband's hospital, established in her son's name? Funny how he can't seem to look his sister in the eye.
The medical staff try to capture some of the excess water being pumped through the hose, and it's such a joyous moment of freedom and relief as they frolic in the impromptu shower. Even more reason to celebrate is the discover that they'll still have power for a little longer since the firefighters have managed to get enough water out to save the generator.
Director Park is still pounding that "if we had shut down the hospital and transferred the patients we wouldn't be having these problems" drum. He snidely implies that the lives lost over the past couple of days are a direct result of Chief Kang's decision to keep the hospital open and greedy desire to play the hero. OMG, we get it already. You're not liable for anything.
At the destroyed swimming pool, Director Park's brother-in-law wakes up and starts to weakly bang on the pipe pinning him down. Ji-won, his son, calls out that he's thirsty and sleepy, and Dad urges him to stay awake. But the only source of water is from the leaky pipes, and he hands over a drenched shirt to wring out for a few drops. It may be dirty water, but at least it's water, and they need it to survive.
The VIP patient regains consciousness, and surprisingly Director Park seems annoyed by this. It sounds like he's been keeping the patient sedated but because Woo-jin wasn't around to administer the next dose, he woke up.
But Director Park appears at his most pleasant next to the patient's side, explaining the situation about the earthquake and making it sound like they strategically made sure Minister Suk was treated at Han River Mirae Hospital in order keep his relationship with his mistress a secret.
The news station reports that there's a chance a typhoon off the coast of Japan will soon be headed towards Korea, which currently accounts for the extreme wind in Seoul. Chief Kang puts her head in her hands as she whimpers, "Why do these kinds of things keep happening?"
Some of the staff, including Myung-hyun, have decided that it's pointless to stay at a hospital where the power will soon be out. Besides, they're worried about their own families. He says that he'll return once the hospital is back to rights, and then high-tails it out of there with a half-dozen staff following him.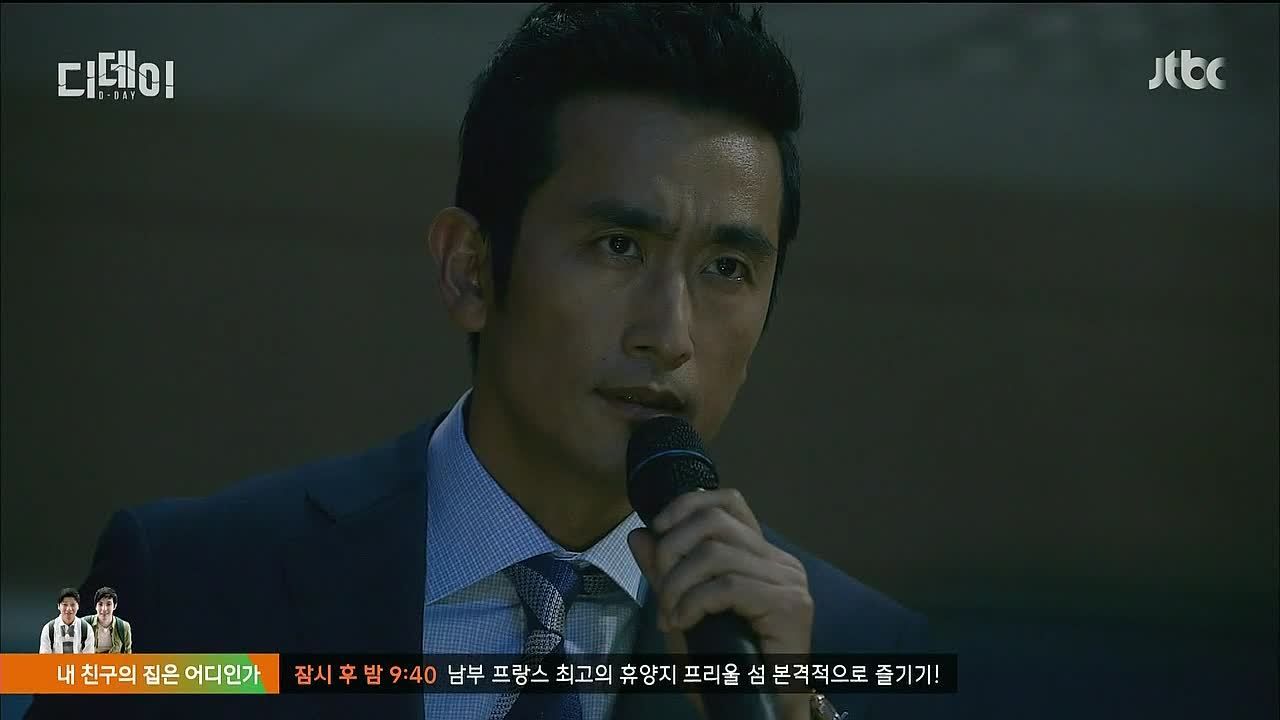 Chief Kang gets back on the radio to ask Ja-hyuk when they are getting the diesel trucks and the helicopter to transfer patients. He keeps repeating the platitudes that the fuel tanker will be there soon, but as for the helicopter…
Min-Chul's surgery is just about completed, and Woo-jin grumbles that it's a miracle they were able to do such a difficult surgery with such an inexperienced staff. But as they're wrapping up, one of the generator blows and the power cuts out.
Immediately the medical staff begin using the Ambu bags for the life support patients. In the OR, there's still about a half-hour of back-up power through batteries, but Woo-jin is freaking out over the fact that they won't be able to monitor the patient's vitals. Hye-sung points out before this technology existed, doctors were able to perform surgery and save lives. Why can't they do the same? Back then lots of people died on the operating table, too. But even if Woo-jin declares their patient dead after the surgery, Hye-sung still believes they need to try.
COMMENTS
Another earthquake and a typhoon? Yikes. I was expecting some aftershocks, definitely, but just like Chief Kang, when they brought up the typhoon, I may have groaned "are you kidding me?" Our little team has endured so much already — they're barely able to handle the destruction from the first earthquake, I can't imagine how they'll handle more natural disasters.
Then again, we're not even halfway through yet, so I suppose we need to continue to make sure there's the constant threat of peril. And this whole "we're shutting the hospital down" vs "no we're keeping it open!" dilemma is getting a bit stale. We get it. Director Park doesn't want to keep the hospital open. I feel like there's got to be a deeper reason than just the fact he doesn't want to lose the hospital by getting it tied up in malpractice suits. Does he hate his brother-in-law or something? I have to hope there's something more with this constant "it's your responsibility, not mine!" insistence.
I almost wonder if this isn't one of the issues of a pre-produced show. Maybe this constant (and slightly annoying) repetition isn't as noticeable when you're filming months in advance, but watching the episodes back-to-back, it becomes rather tiresome. One faction wants to shut everything down and kick all the patients out. Another faction wants to save every single person no matter the cost. Blah blah blah lawsuits blah blah responsibility blah blah we are doctors we must do whatever it takes to save a life blah blah we're exhausted but we're heroes too. Like I said, we get it.
The bright spot of this show is definitely the cast and their chemistry with each other. Especially my beloved Ddol-mi, but then again, Jung So-min is so delightful I could probably be sufficiently entertained just watching her tend to patients for an hour (perhaps Hye-sung and I have something in common… hmm…). I think our core cast is fantastic and I like seeing them interact. But dang it, show, this typhoon better bring a whole new level of drama because I no longer care about whether the hospital is open or not. I just want my first responders and medical staff to be awesome and save lives and be sassy with each other.
I want more focus on my unlikely heroes in Mr. Kang and the twins' father — stories about the Average Joe who becomes a leader in a crisis. I want more interesting and outside-the-box ways for people to save citizen's lives. I want more cute coffee-sharing adorableness between Ddol-mi and Hye-sung. I want more bossy noona and bratty dongsaeng sassiness between Ddol-mi and Dae-gil. I want more of Ji-na, period, because she is super awesome and no one seems to appreciate her enough.
Despite my grumblings, I'm still enjoying the show, and hopefully next week when we hit the halfway mark there will be more drama than deciding whether or not the hospital should close down for the nth time. C'mon, typhoon — time to mix things up!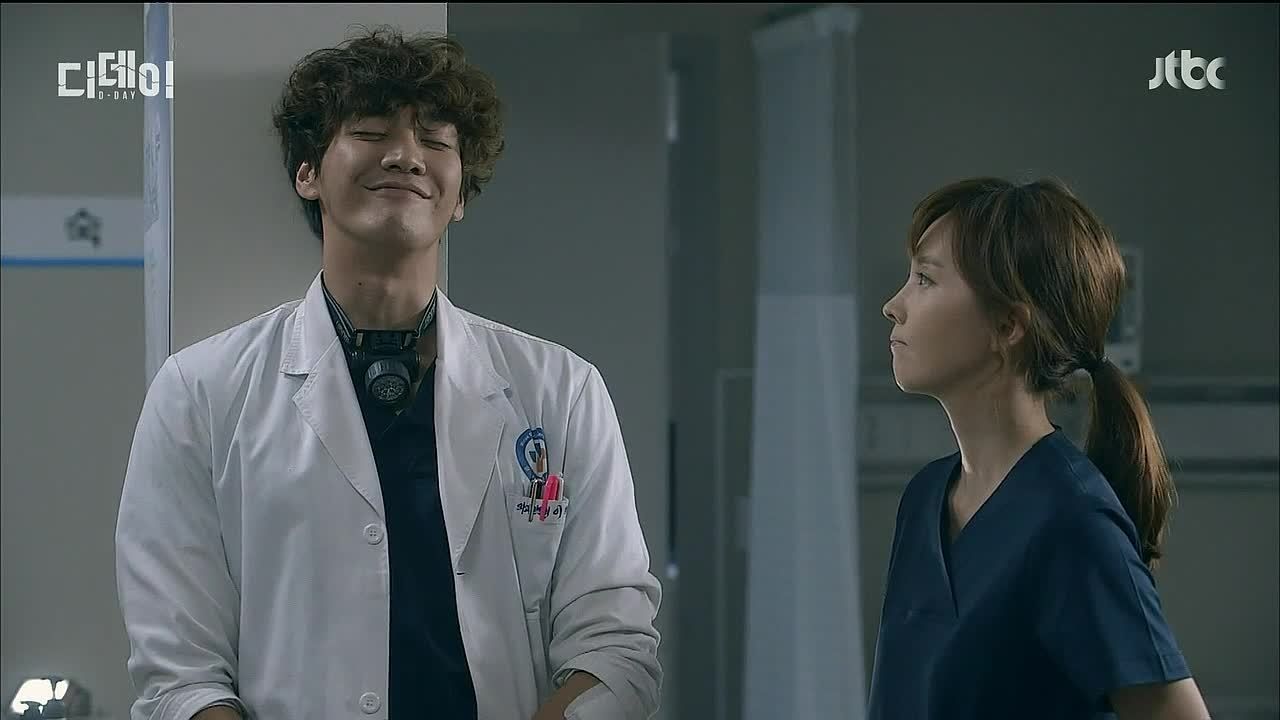 RELATED POSTS
Tags: D-Day, featured, Ha Suk-jin, Jung So-min, Kim Young-kwang