Village: Secret of Achiara: Episode 3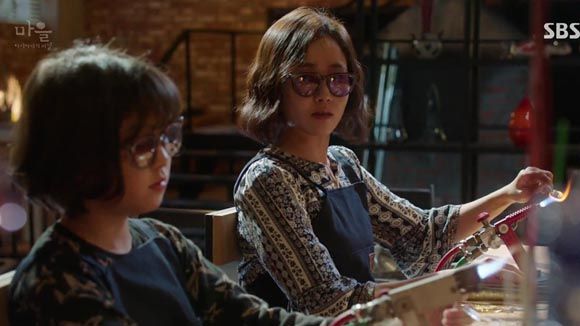 For the wimps among us (which includes me), you may want to watch Village in the light of day, or at least with all your lights turned on. It's not expressly scary, in that there's no violence or gore or even a creepy paranormal angle. It's more that the show plays up the suspense, creating tons of tension-filled moments to keep us on edge, and then making us jump with eerie music or surprise cuts or startling moments.
In that sense a lot of the fear is created by the director rather than the story, which is interesting. I find myself in the odd position of wanting the show to be less scary (my nerves are wimpy with suspense), but also a lot more scary (the plot could use some actual fright factor).
SONG OF THE DAY
JihoonOwl's Project III – "R.I.P. (Last dream)" [ Download ]
Audio clip: Adobe Flash Player (version 9 or above) is required to play this audio clip. Download the latest version here. You also need to have JavaScript enabled in your browser.

EPISODE 3: "The woman nobody looks for"
It's a rainy night in Achiara when high school mean girl Ga-young sneaks out and gets picked up by a driver she knows, on her way to meet her friends. The driver puts a hand on her leg, and suddenly Ga-young looks worried, while back at home her mother finds her bedroom empty.
When we come back to the car, though, it's a woman who steps out of the driver's seat, dressed in a tight dress and fishnet stockings. Hm.
At the police station, Woo-jae takes a late-night call. Ga-young's mother heads out into town in the rain to search for her daughter, and the situation triggers a flashback, showing her through the woods in the rain, mouth gagged like she's escaped from a kidnapper. She'd tripped in the woods as her attacker approached, a man dressed in all black.
Which is why Mom screams now as a man in black approaches her in the street, who turns out to be Woo-jae. He tells her to go home while he looks for Ga-young, but Mom seems locked in her memory, stammering, "P-please… s-spare my life."
Ga-young appears in the street, thankfully safe, startled to see her mother out here in the rain. Her mother staggers to her feet, then sends Ga-young to the ground with an angry slap.
After finding that heart necklace in her apartment, So-yoon visits her family's ashes. She assumes it's another copy of the necklace unni once bought for them and opens the vault to leave it there, but something strikes her as odd. There's an urn of ashes for each parent, but nothing for unni.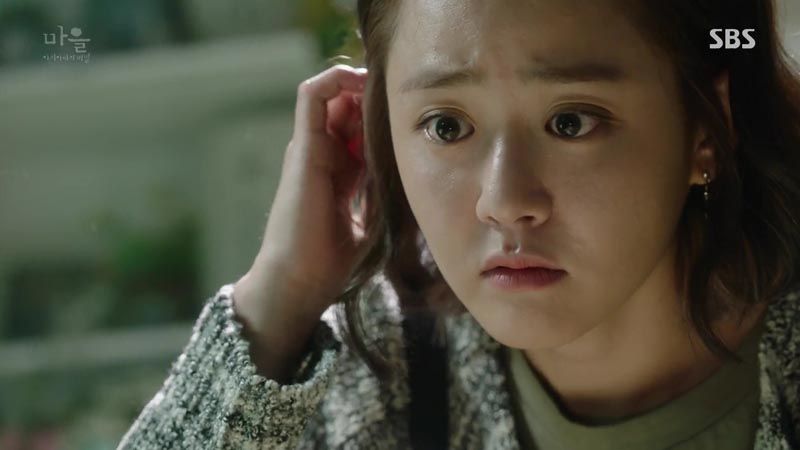 So-yoon checks with the office in charge of the vaults, insisting on seeing the records to see what happened to unni's ashes. The office manager assumes she's overreacting, but is shocked to find that only her parents were listed. There's no entry for the sister having a space here.
Yoo-na goes to the police station to identify the mysterious corpse as Hye-jin's, showing her matching bracelet to back up the claim. Woo-jae says that's hardly proof, but she informs him that Hye-jin made them herself, so they're unique.
Then Yoo-na joins her friend Ba-woo in the woods to dig up that time capsule. When they arrive at the site, they find a big gaping hole in the ground where they'd been digging the other night. It was dark then, but now they see that someone else got the capsule before they did.
Ba-woo points out that the two of them and Hye-jin were the only ones who knew where it was. Yoo-na wonders if Hye-jin had taken it, which means maybe it'll be among her belongings.
Oppa Ki-hyun drives past So-yoon at the bus stop, and offers her a ride into town. Small talk leads to the question of where her family is, and she explains that they died in an accident. Ki-hyun doesn't see until the last second that Yoo-na's riding her bike in the road, and screeches the car to a stop before hitting her.
Yoo-na clocks that her brother's with So-yoon and shoots him a glare. So-yoon mentions that Yoo-na's mother talked to her about seeing dead Hye-jin and asks if it's scary. Yoo-na replies that it was scarier seeing So-yoon that night: "The dead don't scare me. It's the living who are scary."
Yoo-na says the dead body is Hye-jin, telling her about their matching bracelets. So-yoon wonders how a village resident could have escaped everyone's notice, and Yoo-na replies, "Because nobody looked for her. I'm going to catch that murderer."
Woo-jae puzzles over Yoo-na's claim—she's not exactly a reliable source, but he did hear the rumor of Hye-jin disappearing. The problem is, nobody reported that disappearance, so she's not officially noted anywhere as being missing.
Woo-jae heads over to talk to the nosy ajumma neighbor, who turns out to be a fortuneteller. She shares her suspicions that Hye-jin didn't leave willingly, recalling that before she went missing, she'd brought home a bunch of goldfish—not something you'd do if you were intending to skip town. When they eventually forced open Hye-jin's apartment, those goldfish were all dead and rotting.
Woo-jae asks why ajumma didn't file a report, and ajumma retorts, "Why should I report her? That's for her family to do." From her apartment, So-yoon overhears the whole conversation.
So-yoon goes to the police with the suspicion that her sister, whom she'd thought dead, may be alive. But she has no concrete clues, so Sergeant Han tells her they have no way of tracking her down.
Woo-jae interjects to say that the police system is super capable and will be able to find the relevant information right away. He tries to engage in a team cheer, which he has to finish on his own when the other two leave him hanging, ha.
He puts in the request to see the accident report with the traffic department, where his contact says he's so busy he hasn't had time to look into it. Woo-jae gets indignant on So-yoon's behalf, but his colleague just tells him to do it himself if he cares so much.
At the dinner table, Assemblyman Seo asks Yoo-na why she lied to the police about being attacked in the street. Ji-sook jumps in to give the smooth answer, that Yoo-na fell and got dirty and thought lying would get her in less trouble. Assemblyman Seo sighs that his elder child never gave him this much trouble, but Ki-hyun says that he had his phase too—Dad just didn't know about it since he was busy all the time.
Yoo-na's amazed to hear that her brother hated Ji-sook when she first became his stepmother, and Ki-hyun answers that for a year he wouldn't speak to her. But she tried daily to connect with him, writing notes in his lunch, showing concern for his well-being.
Out of the blue, Yoo-na announces that Mom lied just now, and tells her father accusingly that she saw Hye-jin's ghost, and that the body is Hye-jin. She seems awfully angry at him in particular—does she think he had a hand in killing his mistress?
Ji-sook looks at the assemblyman with some fear and tries with no success to shush Yoo-na. Assemblyman Seo is ready to lock her up in a psych ward, saying seeing ghosts means she's crazy. Ji-sook says that their daughter wouldn't be in this condition "if that thing hadn't happened." He retorts, "You didn't do anything good either."
Assemblyman Seo puts in a call to see whether the police have identified the corpse. Hearing a negative, he wonders where Yoo-na got her information.
Yoo-na drops in on Ki-hyun to ask oppa for a favor—to get a job at Dad's company for an unni she knows. It's the demand Ga-young made of her in exchange for information about that body.
Ga-young shows up at school with her hair hacked off in ungainly chunks. A mother's punishment, perhaps? She perks up to hear that on the outing she missed, her friends ran into Agasshi (Lady). In a photo, we see the fishnet-clad woman we'd seen stepping out of the car—and I don't suppose it's too much of a giveaway to say it's a man in drag.
Ki-hyun takes up the school director post at the middle-high school, where he tracks down So-yoon to ask about Yoo-na's request. He finds it strange that his sister would ask this kind of favor of an older student, when she doesn't have any friends her age. Ki-hyun has agreed to give the job, intending to keep an eye on the girl, and So-yoon promises to pay attention to Yoo-na.
Yoo-na meets with Ga-young to tell her she'll get her job, and asks for the answer about Hye-jin's killer. Ga-young says she won't tell until she's officially employed. Yoo-na asks about her hair, and Ga-young just replies that something huge happened, but a kid like Yoo-na doesn't need to know it.
Ga-young lights up to see art teacher Gun-woo in the hall, stopping to primp. But he's waylaid by another student, who flirtatiously asks for a pass on her homework. Suddenly stone-faced, she walks by without a word, glaring at the other student. Eek, I wouldn't like to be that girl right now.
And wouldn't you know, as that girl walks by her on the staircase, Ga-young gives her back a shove, sending her tumbling down the steps. Gun-woo didn't see the push, but as soon as he meets eyes with Ga-young he seems to have a clue as to what happened. That she's a devil-child?
So-yoon sees not only the push down the stairs but also the strange exchange between Gun-woo and Ga-young. Hm.
Ba-woo breaks into a locked storage closet containing Hye-jin's belongings and starts rooting through her things. He beams upon finding what he's looking for—the time capsule.
Gun-woo prepares a romantic dinner at home for his (secret?) girlfriend, pharmacist Joo-hee. It's their third anniversary and he presents her with a necklace, and throws out a proposal. She replies, "I can't marry a con man like you." He replies that if she's going to be conned, she might as well get married and be conned right. So… yes, shady teacher is shady.
Gun-woo tells Joo-hee of the new school director, and she comments that Ji-sook was after the position and must be smarting to have it go to her stepson. Ji-sook looks like an angel, she says, but she's full of ambition. She adds that she'll put in a good word to get Gun-woo upped from temporary contract to full-time teacher, which makes him happy.
In an art workshop, So-yoon sits next to Yoo-na as they work on glass sculpture and casually asks whether Yoo-na has any close girlfriends to confide in, and why she thinks Hye-jin was killed. Yoo-na replies that Hye-jin had said there was a monster in their village, and that the monster would kill her. She doesn't know why, but she intends to find out.
It's Ji-sook's studio, and she overhears the exchange nearby. She asks So-yoon how the chat went, though it's still too early for much to have come of the attempt to bond.
She steps aside to take a call from Woo-jae, and is stunned to hear that he confirmed her sister survived the car crash and were taken to the hospital. Next he'll have to confirm with hospital records, and he assures her that he'll let her know what he finds. She thanks him profusely, lighting up with hope as she confides to Ji-sook that her sister may be alive.
Woo-jae inquires at the art academy where Hye-jin once worked, and while the director tries to fob him off with vague answers, she has a chipper assistant who offers up all the information: Hye-jin worked here for six months, and was terminated after not showing up for a week. The director admits remembering after all, saying that it was quite a pain covering Hye-jin's classes, and that she tried to call and got no response.
Woo-jae is appalled that the extent of her interest stopped here, and that she didn't try looking further into the disappearance. The director replies that she doesn't know Hye-jin's family, and employees skipping out on work is hardly rare. He asks for Hye-jin's hiring documents, and gets them from the helpful assistant.
A police sketch is submitted for the unidentified body, and Woo-jae scratches his head over the poor quality. (The face is beautiful, though nothing at all like Hye-jin.) He was able to locate Hye-jin's mother, but they'd been out of contact for five years and the mother hadn't known anything.
It's a good thing Woo-jae has the level-headed Sergeant Han to direct his efforts, since he's the one who suggests finding Hye-jin's dental records through her health insurance. Just then, he gets a call alerting him to a theft from Hye-jin's old apartment.
Nothing was stolen, which is puzzling because the lock was clearly broken and the contents searched. Hearing that the tenant in question was Hye-jin, Woo-jae looks through the belongings and takes a photograph of Hye-jin lodged in one of her books.
He runs into So-yoon on his way out, and she guesses the photograph is of his girlfriend. Heh, I notice that Woo-jae is becoming flustered and awkward around So-yoon, and he blurts that it's absolutely not his girlfriend, which is a thing he doesn't have. He identifies it as Hye-jin, insisting that it's only for investigation purposes, and that he has no other interest in it.
Assemblyman Seo checks in with the police chief about the status of the investigation, displeased to hear that they haven't ruled it an accident as he wanted. The chief insists (feebly) that the corpse was once a person, who deserves to be investigated properly. Assemblyman Seo lauds him for his righteousness, but advises him to be more efficient about the process. Message delivered. The chief agrees to rule it an accident if nothing turns up by the end of the week.
He gets a call from pharmacist Joo-hee, and while they talk pleasantly, I'm guessing there's a river of dislike between the two in-laws. She mentions Ki-hyun's new post as school director, and guesses that Ji-sook was disappointed not to get it. The assemblyman just laughs that it was all Grandma's doing.
Ki-hyun calls in Ga-young regarding the job, and asks why she wants to work at the company and whether she's friendly with Yoo-na. Ga-young replies that she likes Yoo-na for being quirky and cute, and promises to continue being friends with her: "Yoo-na and I communicate our feelings quite well with each other."
He agrees to take her on as a secretary's assistant with a three-month probationary period, and his father happens by as the meeting finishes. Assemblyman Seo looks approvingly on the pretty girl (ugh, of course he would), but Ki-hyun looks at her sharply when she knows who the assemblyman is on sight.
Dad instructs Ki-hyun to promote Gun-woo to a permanent teacher position, which must have been Joo-hee's reason for calling. Ki-hyun asks why, only to have Dad say all he needs is to do as told.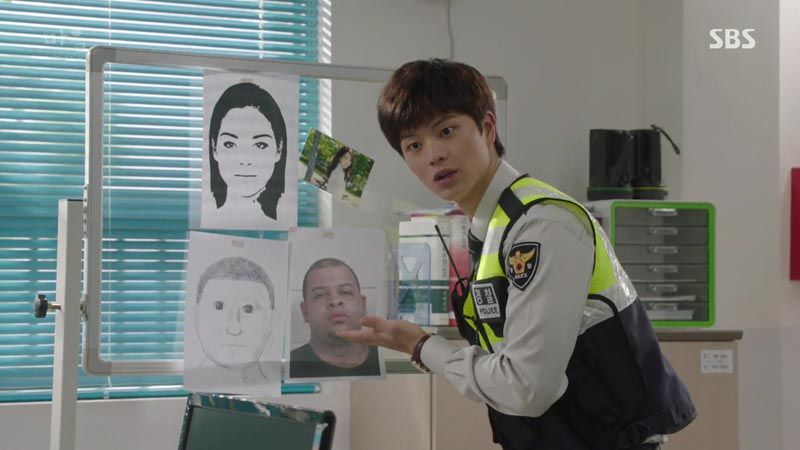 Woo-jae posts Hye-jin's photograph next to her police sketch, finding it a poor match. Then he pesters Sergeant Han for a hint regarding that serial killer mark that he mentioned earlier, swearing to keep the secret. Sergeant Han gives a partial clue: The serial killer left something in all the victim's bodies, but that wasn't found in Hye-jin's.
Hye-jin's former dentist is located, and Woo-jae jumps to move on to the next step of comparing her records to the corpse's.
Ga-young meets with Yoo-na now that her job has been secured, and this time she obliges Yoo-na with a photograph of Hye-jin's killer. She hands over her phone, and on it is the photo of "Agasshi" her friends had taken the other night. Yup, definitely a dude.
Yoo-na stares blankly, and Ga-young explains that Agasshi is a notorious pervert. Yoo-na wonders how she can know he's the killer, and Ga-young leans in to whisper the answer, which makes Yoo-na's eyes widen. Ga-young adds that she went to the corpse site to confirm it with her own eyes.
Ga-young is pretty cavalier about the case having nothing to do with her, but Yoo-na tells her the body is Hye-jin's, and that seems to mean something. At the very least it makes her care.
That night, Yoo-na sits through another crafts session, this time at So-yoon's apartment, though she's more interested in texting Ba-woo that she found who the killer is.
Looking around the room, she sees the painting of a woman and baby and seems to recognize it, though she's surprised to hear it was Hye-jin's. So-yoon calls it a warm picture, depicting a mother and child, but Yoo-na finds it more along the lines of horrible, eyeing it darkly. I'm with the kid on this one.
Yoo-na excuses herself abruptly, since Ga-young has arranged to meet her at "that place," and hurries to a dark shack in the woods where Ga-young waits. Agasshi has just left the premises, but Ga-young is too nervous to go inside, though she promises to call Yoo-na as a sign to run away if Agasshi returns.
Alone, Yoo-na heads inside the creaky shack lined with wigs and women's clothing. Gack, this whole scene is nerve-wracking, as Yoo-na makes her way through the hovel, finding lots of junk and clutter but no real clues.
Outside, Ga-young spots headlights approaching in the distance and hurries to hide Yoo-na's bike out of view. Huddling in the bushes, she watches Agasshi step out decked out in party clothing and inspecting a tire.
The police receive the results of the dental record comparison. At home, So-yoon hears that her sister was released from the hospital healthy, not seeing Yoo-na's dropped phone ringing—she'd forgotten to take it with her, which means she can't hear Ga-young's warning calls.
Ga-young looks on in horror as Yoo-na's flashlight shines brightly through the window as she looks around. Outside, Agasshi doesn't see because he's hunched over to fix the tire, but it's a precarious situation….
Intent on inspecting something on a shelf, Yoo-na sets her flashlight down—pointing straight out the window. Yoo-na reaches up to retrieve a box, which falls to the ground and spills a stack of photographs—all of Hye-jin.
Woo-jae reads the dental results: They're a match. Hye-jin is the dead body.
Inside the shack, footsteps sound behind Yoo-na, and she turns slowly to face the sound. It's Agasshi.

COMMENTS
It's an interesting choice to identify the corpse for us right away, given that it solves one of the biggest mysteries for us before the story has gotten very far. And while I leave open the possibility that Agasshi isn't the killer (or that there are additional killers afoot), it also seems rather likely that he's a culprit and criminal. So how will the show maintain its level of suspense when these questions are already answered?
I don't think it's impossible to accomplish, and I have seen dramas that continued to be compelling after we found out who the killer/culprit was. And for sure, the why question could certainly be more interesting than the who, especially since it seems as though practically anybody could have done it. Even outwardly sweet Ki-hyun, who had a moment where the camera seemed to linger on him meaningfully just as Yoo-na was vowing to root out the murderer.
Given a lot of obvious suspects—the ruthless assemblyman, the smarmy Gun-woo, the town pervert with Hye-jin's photo in his shack—I hope the drama will manage to at least twist the explanation in an interesting way, so that we get more to the story than the obvious answer.
I'm intrigued by the unexpected alliances that are starting to crop up, such as Yoo-na and Ga-young, the latter of whom I wasn't sure I'd ever like; I dearly wanted to smack some sense into her last week. I could find myself warming to her depending on how her relationship with Yoo-na develops, though she is also the jealous brat who literally shoved a girl down the stairs for flirting with the cute teacher. That was a pretty evil place to take her if we're then going to turn her around, considering her lack of conscience about it.
I do also like our bumbling officer Woo-jae's burgeoning interest in So-yoon, because it's making him even more bumbling and cute, and adds some appreciated levity to the proceedings. I do wish he were a little quicker on the uptake since he seems pretty naive for an investigator, but maybe he'll need to join forces with So-yoon and Yoo-na in order to be his most effective. Right now he wins points for caring and pursuing the case—it's partially because he's just bored at his job, but also in part because he has a genuine interest in asking after Hye-jin and seeing through the case, as he feels every decent neighbor and citizen ought to feel.
I'm less interested in So-yoon's relationship with Yoo-na thus far, mostly because it's still in the forced stages. I was hoping So-yoon would find a genuine way to forge some bonds, and I still expect some kind of turn down the road, but right now she's doing the annoying adult thing of trying to act interested in a child and gain their confidence, thinking the child won't know it's all a calculated ploy to gain their trust. Which is the total opposite of how trust works.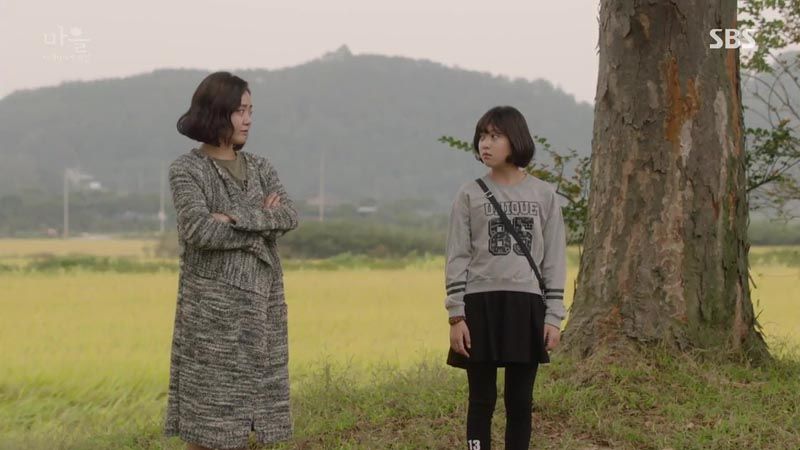 RELATED POSTS
Tags: featured, Moon Geun-young, Ohn Joo-wan, Shin Eun-kyung, Village: Secret of Achiara, Yook Sung-jae